Behind-the-Scenes Trend Round-Up from The Knot Bridal Fashion Week Couture Show
by Rachel Torgerson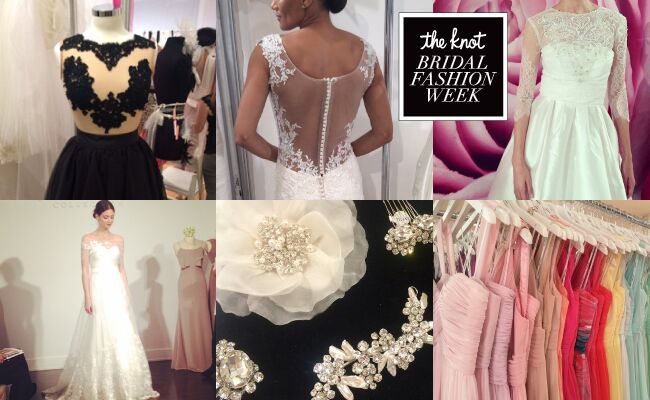 If you hadn't noticed, we immersed ourselves in beautiful wedding dresses and accessories over the past seven days at Bridal Fashion Week — from amazing bridal capes (in lieu of veils!) in chiffon and lace patterns to super detailed bead work and embroidery, interesting, colorful patterns on hemlines, illusion necklines and sleeves, open backs (very sexy) and black accent pieces, we saw it all. Below, a few of our favorite bridal fashion ideas and trends that you can totally pull off!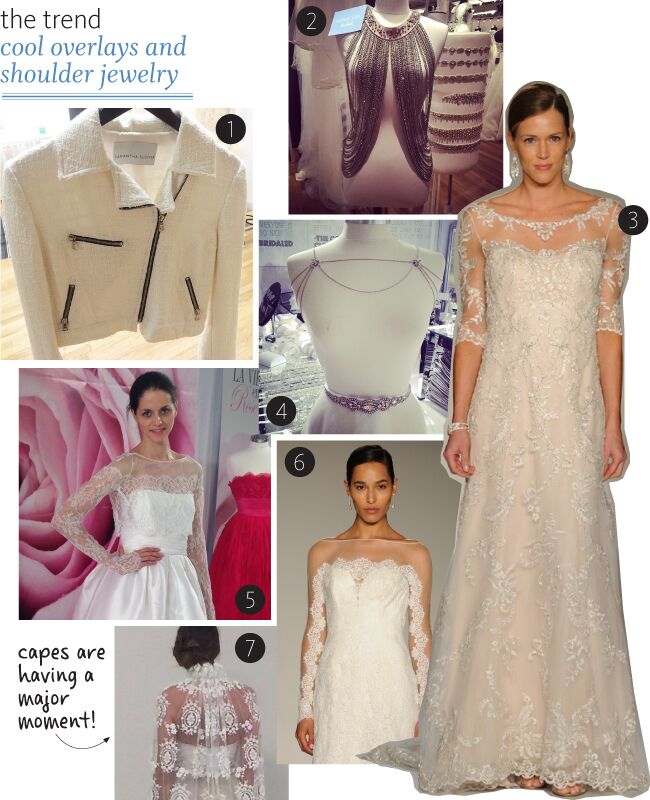 Caution, these pieces aren't for the timid bride! To make a statement on your wedding day, amp up your bridal style with a sheer cape, or get haute with shoulder accessories that hang artfully over your arms and back.
1. Samantha Sleeper, 2. Nina Shoes, 3. Maggie Sottero, 4. Sara Gabriel Veils, 5. Cymbeline, 6. Maggie Sottero, 7. Madeline Fig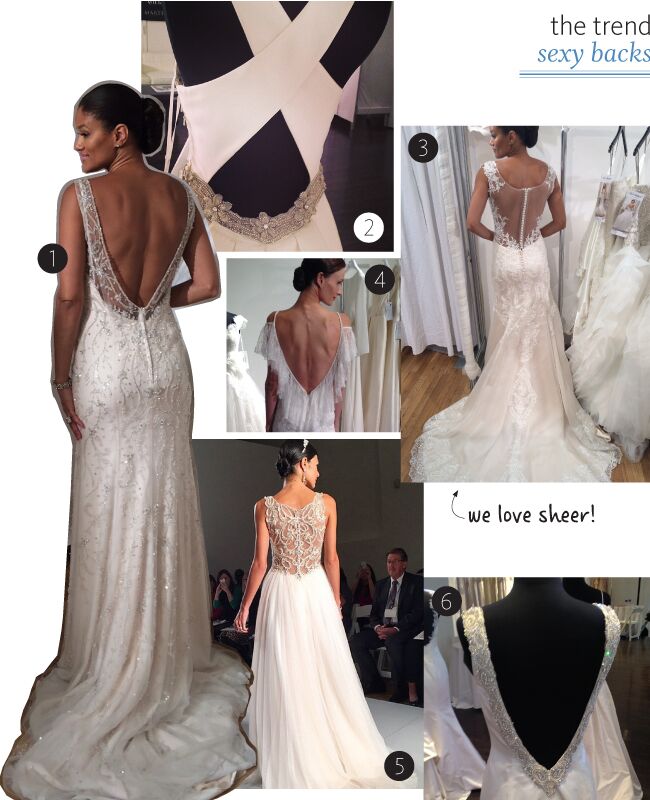 Showing skin is seductive, and these backless or illusion backless dresses really heated up bridal fashion week.
1. Moonlight Bridal, 2. Rosa Clara, 3. Val Stefani, 4. Rosa Clara, 5. Maggie Sottero, 6. Paloma Bridal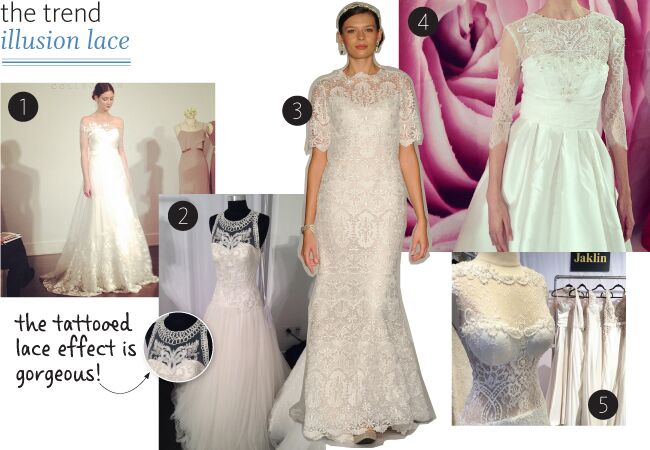 If you want to stay on the more modest side, but you love the look of a strapless or V-neck dress, have no fear! Illusion sleeves are perfect for the bride who is getting married in a conservative religious space and wants to be respectful, but also alluring. Lace patterns cascading down the arms and around the collar bone line of these pieces even give the effect of tattooed lace, which we love!
1. Jenny Yoo, 2. Rosa Clara, 3. Sottero and Midgley, 4. Cymbeline, 5. Jaklin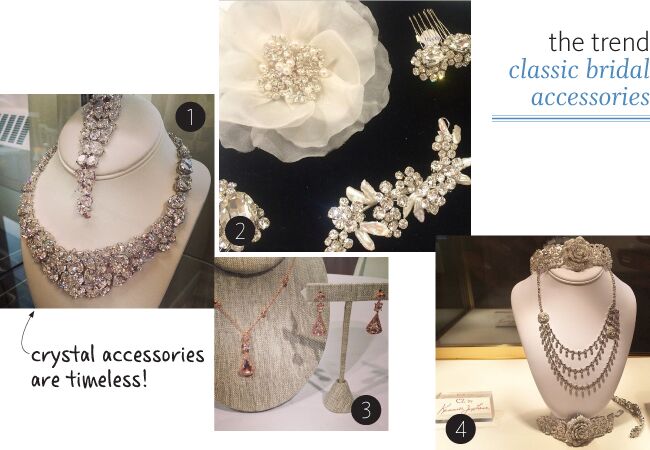 If it's not broken, don't fix it! These classic accessories have proven their worth with their staying power.
1. CZ by Kenneth Jay Lane, 2. Allin Rae Accessories, 3. Thomas Laine, 4. CZ by Kenneth Jay Lane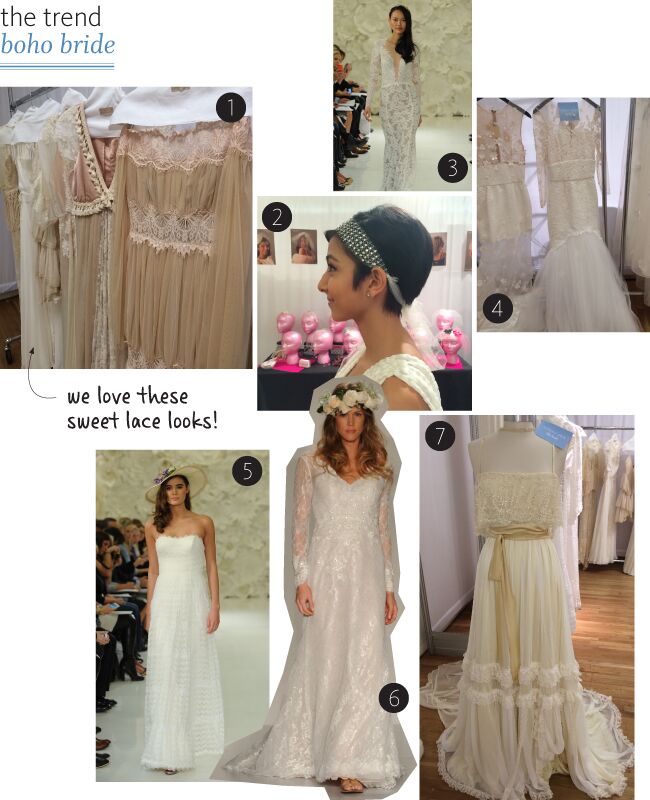 We've seen this trend for a long time, but it doesn't look like it's going anywhere! We love the lacey, flowing bohemian look we're seeing out there on the runway.
1. Celia D., 2. Elisha Caplan, 3. Watters, 4. Samantha Sleeper, 5. Love Marley, 6. Desiree Hartsock with Maggie Sottero, 7. Celia D.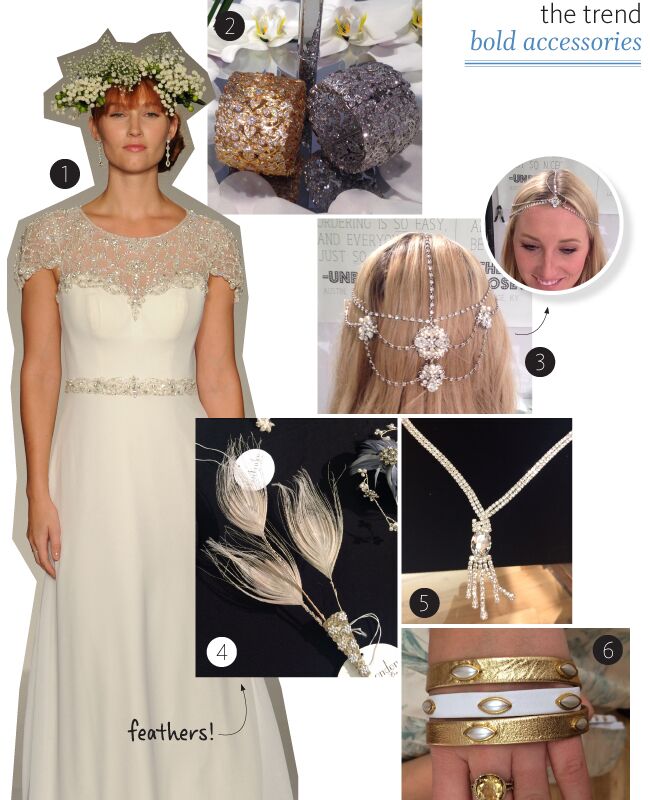 Not every bridal accessory has to be a crystal floral design. Enter these more out-there looks, like Egyptian bangles, feathers and tassels.
1. Desiree Hartsock with Maggie Sottero, 2. Tejani Bangle Bar, 3. Sara Gabriel Veils, 4. Lori London, 5. Ansonia Bridal Veils, 6. Samantha Sleeper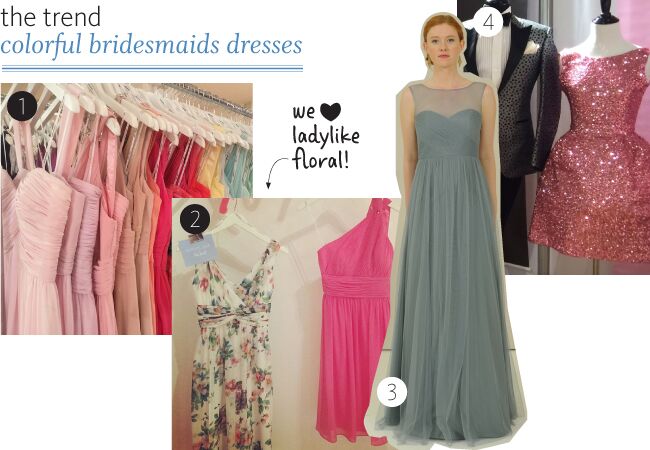 Don't forget about your attendants! Stylish bridesmaids this season will be wearing an assortment of colors, from frosty blues to bright pinks and even pretty patterns, like these floral creations from Donna Morgan!
1. Donna Morgan, 2. Donna Morgan, 3. Jenny Yoo, 4. Red Carpet New York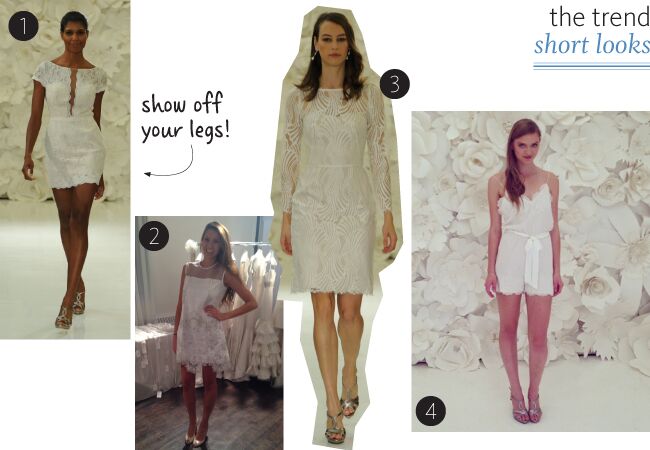 Whether your wedding is super casual or you're looking for a reception dress, look no further than these shorter frocks (and rompers!).
1. Watters, 2. Madeline Fig, 3. Watters, 4. Love Marley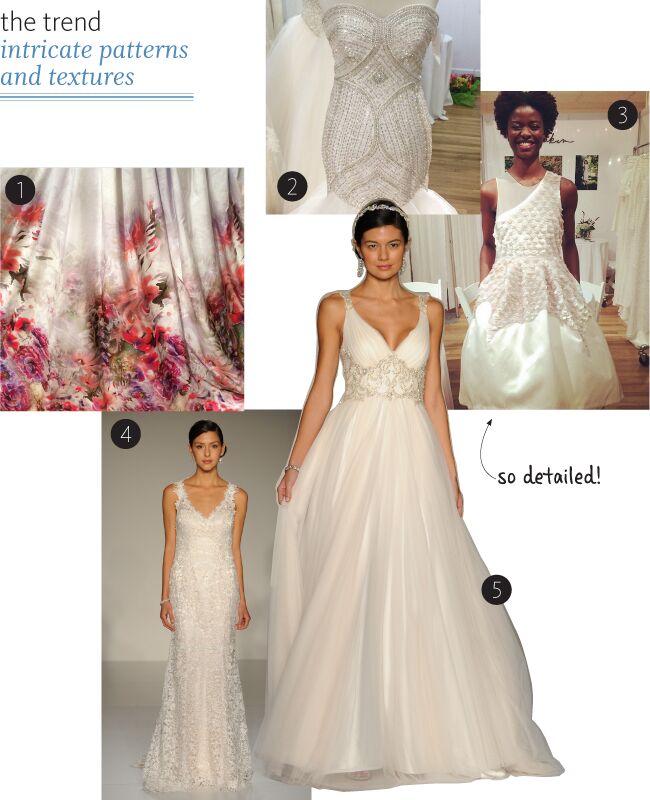 We're loving the detail that goes into some of these gowns. Intricate beading, custom embroidery and even colorful, floral patterns dotting the hemlines of wedding dresses make for an eye-catching bridal look.
1. Heidi Elnora, 2. Jana Ann, 3. Lakum, 4. Maggie Sottero, 5. Maggie Sottero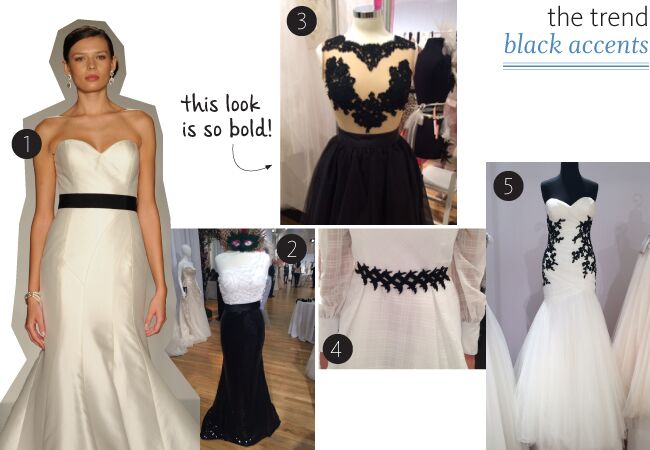 It's a bold bride who wants to accent her wedding dress with stark black designs, but done right, this trend gives off a dramatic, Gothic look.
1. Sottero and Midgley, 2. Attitude Couture, 3. Vicky Anglo, 4. Madeline Fig, 5. Jasmine Bridal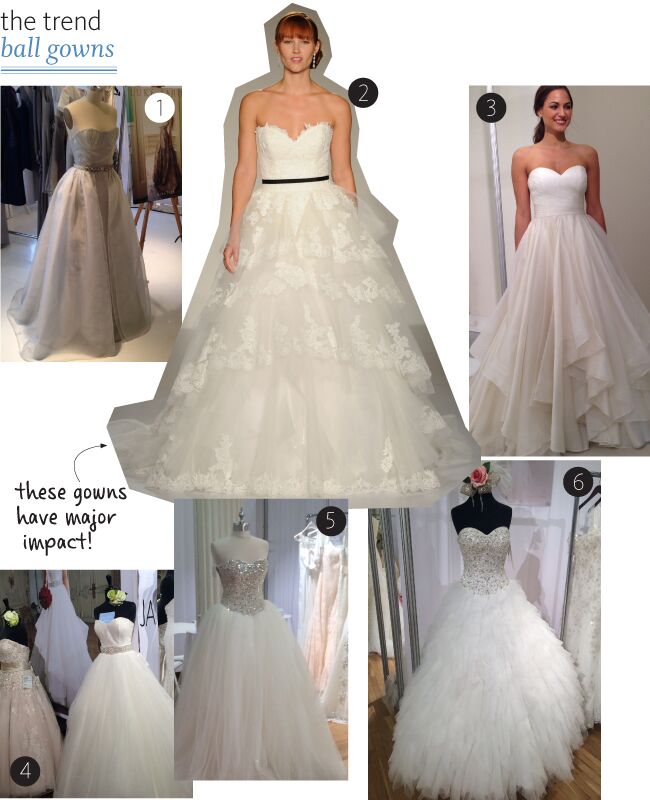 If you're looking for a dramatic entrance that will take your guests' breath away, the classic ball gown is for you — and we saw plenty of them at this season's Bridal Fashion Week.
1. Luke Aaron, 2. Maggie Sottero, 3. Heidi Elnora, 4. Justin Alexander, 5. Kenneth Winston, 6. Christina Rossi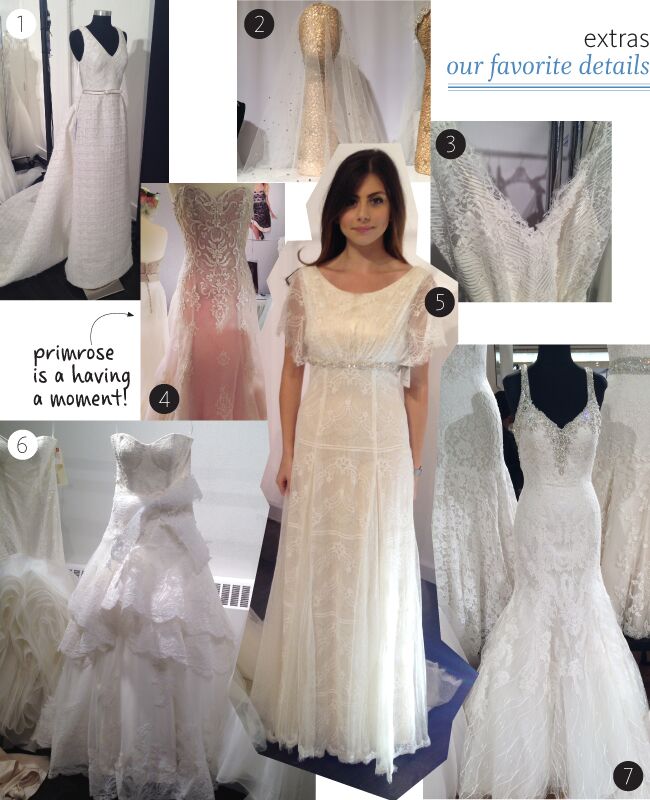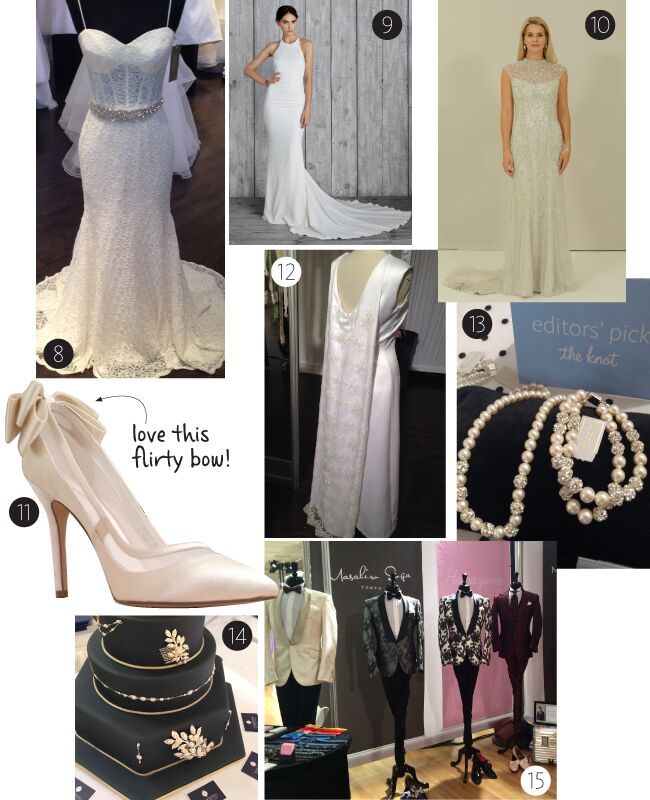 From structural shoes to pink dresses, embroidery and sparkling accessories, there was just too much pretty at our Couture Show this year. Take a look at all our favorite details!
1. Rosa Clara, 2. Lasting Memories, 3. Something Blue Vancouver, 4. Jordan Fashions, 5. Fiore Couture, 6. Anaiss on Weddings, 7. Ella Rosa, 8. Mikaella Bridal, 9. Nicole Miller, 10. Eddy K, 11. Menbur, 12. Madeline Fig, 13. The Windsor Company, 14. Thomas Knoell, 15. Red Carpet New York
Want more? Right here!
> See all the latest from Bridal Fashion Week right here!
> Browse hundreds of wedding dresses you can buy right now