40 Flawless Wedding Favors for Your Guests
See what's trending in the world of wedding favors.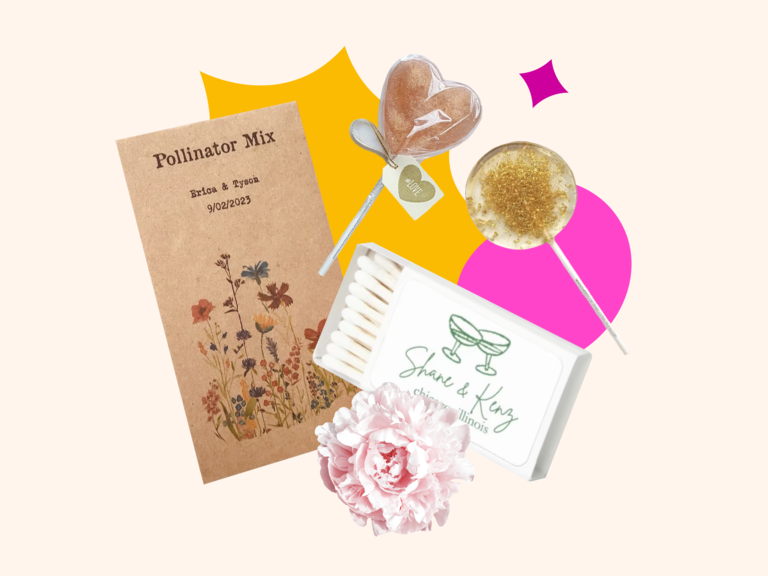 Photos: Etsy,Design: Natalie Romine
We have included third party products to help you navigate and enjoy life's biggest moments. Purchases made through links on this page may earn us a commission.
There are lots of reasons why you should give out wedding favors—they serve as thank-you tokens to your guests and provide a tangible memory of your celebration. As you head into the final months before your wedding, you'll want to start browsing party favors to pick the right gifts for your guests. To help inspire you, we're sharing all the best wedding favor ideas, from edible treats to eco-friendly keepsakes and much, much more.
The first step to choosing the perfect wedding favor for guests is figuring out your budget. The average cost of favors and wedding party gifts combined is about $440, according to The Knot 2022 Real Weddings Study*, a survey of nearly 12,000 newlyweds who married in 2022. Once you've got your budget down, choose the type of wedding party favors you'd like to give out. The Knot's 2022 Guest Favors and Gifts Study** shows that about half of couples prefer favors that are unique (50%), followed by favors that fit their wedding theme (49%).
Still not sure where to start? Don't worry, we've got lots of cute and fun party favor ideas for weddings below. Keep reading for the lowdown on wedding thank-you gifts, including what couples are loving right now and 40 of the top wedding gifts for guests you can buy online.
In this article:
The Best Wedding Party Favors This Year
There are lots of different places to draw inspiration from when you're looking for good wedding favors—starting with our list of the best wedding favor ideas. From cute, to creative, to simple, to cool, these party favors for your wedding guests will have them remembering your day fondly.
1. Matchbox Wedding Favors
If you're looking for an affordable wedding favor, matchboxes are a go-to. They strike a chord in both cuteness and practicality. Plus, you'll find hundreds of different designs to personalize on Zazzle, so they can always fit your wedding theme. These have a watercolor nature scene perfect for a wedding in the mountains.
2. Botanical Lollipop Wedding Favors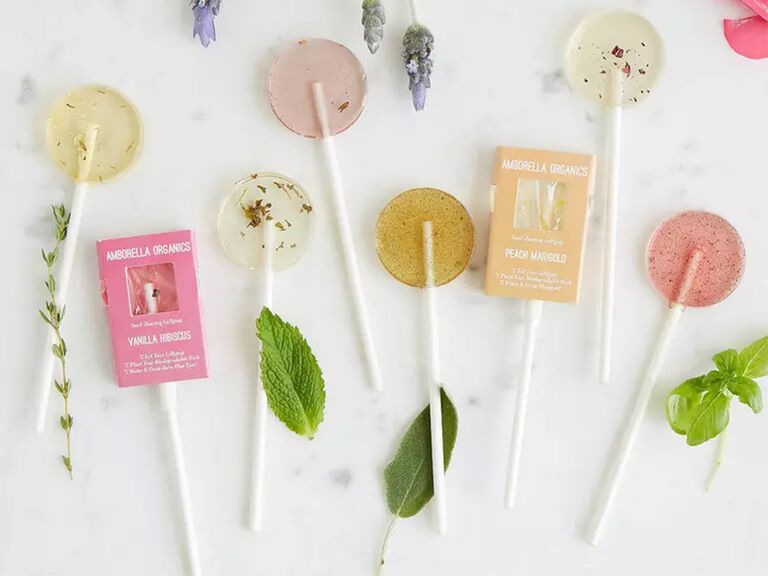 Calling all foodies: Your search for edible wedding favor ideas ends here. For a celebration that's big on blooms, hand out these floral-inspired lollipops as wedding reception party favors. There are eight surprising flavors in each set, including sweet Champagne and Roses, refreshing Rosemary and Mint, and zingy Lemon and Thyme. But that's not all: The sticks are infused with seeds, so guests can plant their own herbs or flowers when they get home. Giving guests a gift this sweet is certainly one way to make them happy.
3. Heart-Shaped Tea Bag Wedding Favors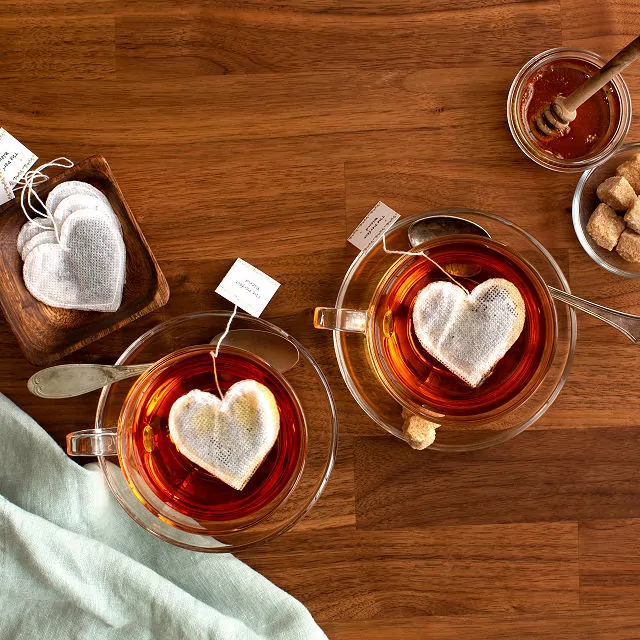 These heart-shaped tea bags are simply adorable. Each tea bag has an on-theme label attached that reads: "The perfect blend." We appreciate the sentiment and the attention to detail. (Plus, they go really well with honey favors.)
4. Artisanal Maple Syrup Wedding Favors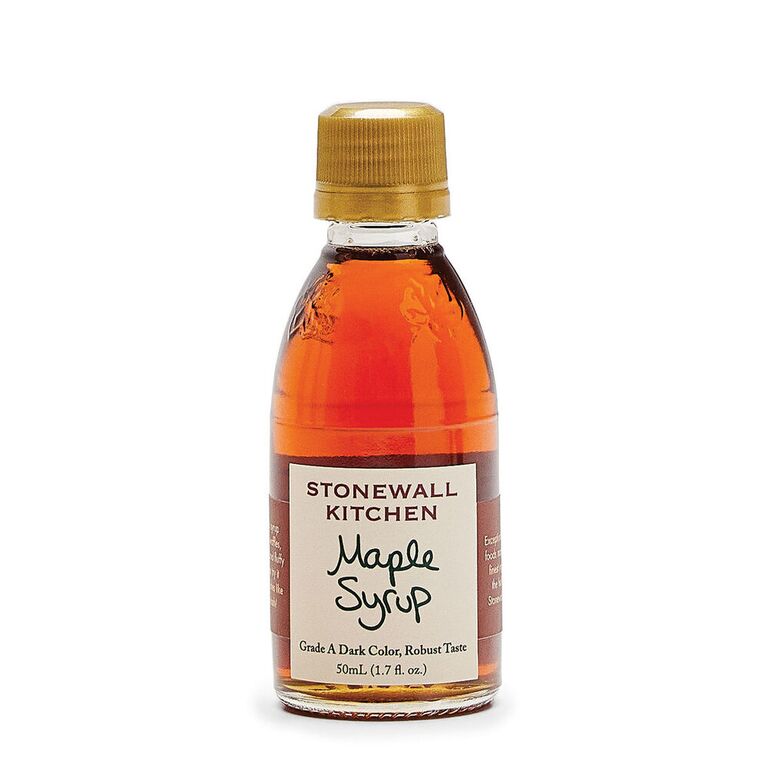 If you're aiming for useful wedding favors, one of the golden rules is that edible wedding treats will always be a hit. Take these mini maple syrups for example: Your guests can tote them home and spruce up their stack of pancakes, morning oatmeal or even make an autumnal ice cream sundae—all courtesy of your big day. And since Stonewall Kitchen is known for their exceptional pantry goodies, your guests will be so excited once they peep the brand on the label.
5. Honey Jar Wedding Favors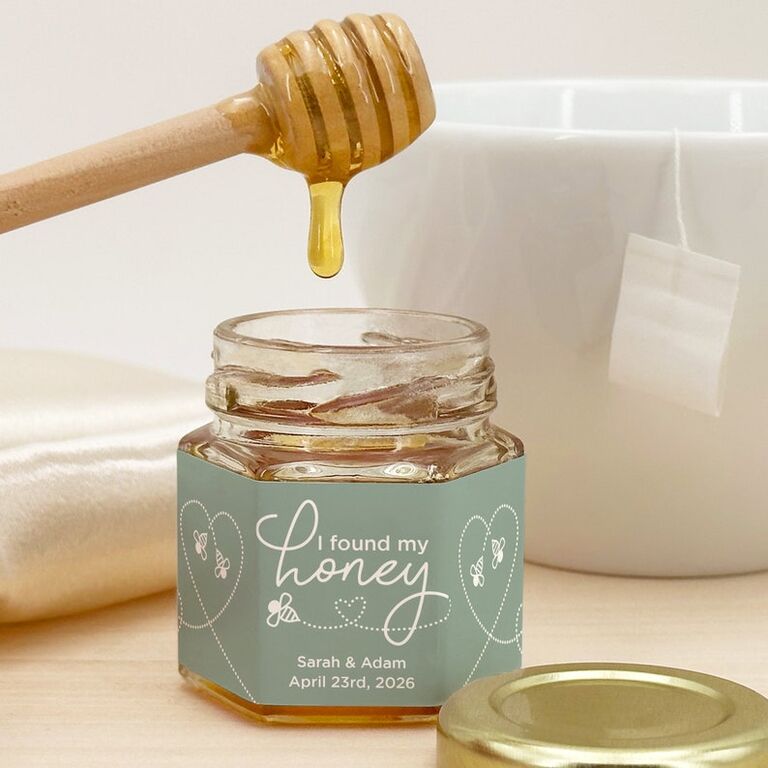 Edible wedding favors are a popular choice for couples because they're seen as something everyone can enjoy—especially when it's something sweet, like honey. These adorable mini jars filled with all natural honey and affixed with a personalized label and optional dipper are sure to be a hit with guests. We especially love the different puns you can choose for the labels, like "I found my honey," "Love is sweet" and "Thanks for bee-ing here." (Just to name a few.) They're an especially complementary wedding favor if you're hosting morning nuptials or a farewell brunch.
6. Custom Message Lip Balm Wedding Favors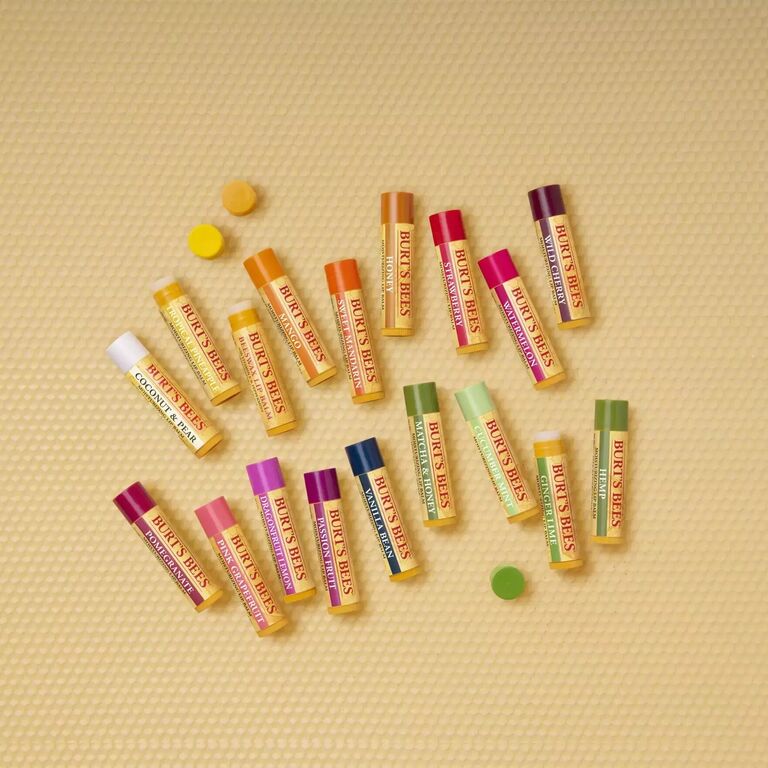 If you're hosting chilly nuptials when the air is a little dry, lip balm will be a well-received wedding party favor. Don't just get any lip balm, though. Burt's Bees can be personalized for your wedding. Just pick your flavor—like Pomegranate for seasonality—then add a custom message to the label, like: "You're the bee's knees." Keep one for you and your to-be-spouse, so you're both ready for smooches.
7. Small Pizza Cutter Wedding Favors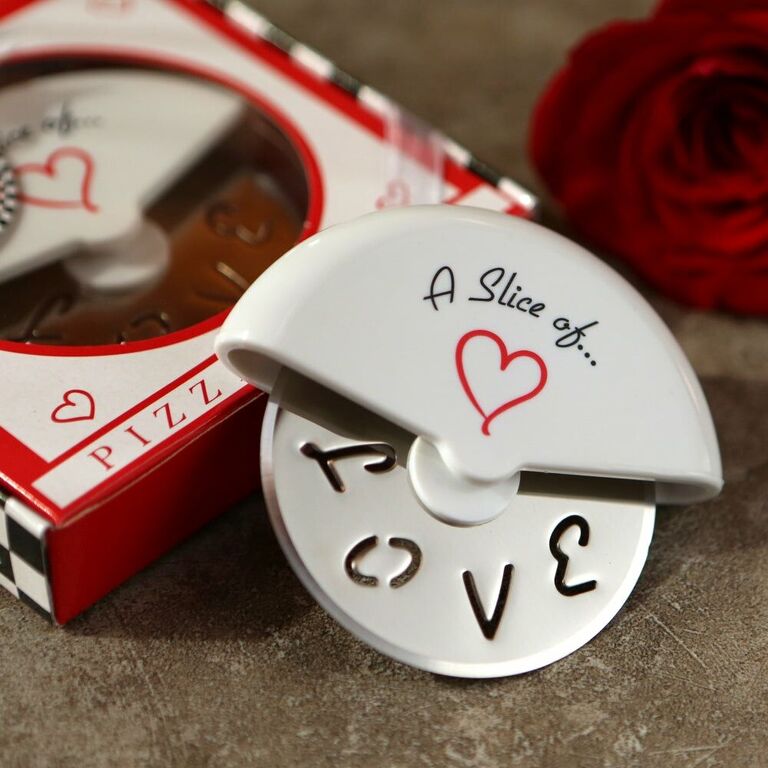 Give everyone a pizza your heart with mini pizza cutters as wedding thank-you gifts for guests. Plus, they're a sweet way to nod to you and your partner's favorite food. The white protective plastic grip says "a slice of..." just above a red heart, with the word "love" cut into the stainless steel to finish the phrase. And their mini size makes them a great small gift idea for wedding guests, since they'll tuck away in their kitchen drawers easily. They're even gift wrapped. (Bonus if you're serving pizza as a late-night snack at your reception.)
8. Personalized Wine Glass Charms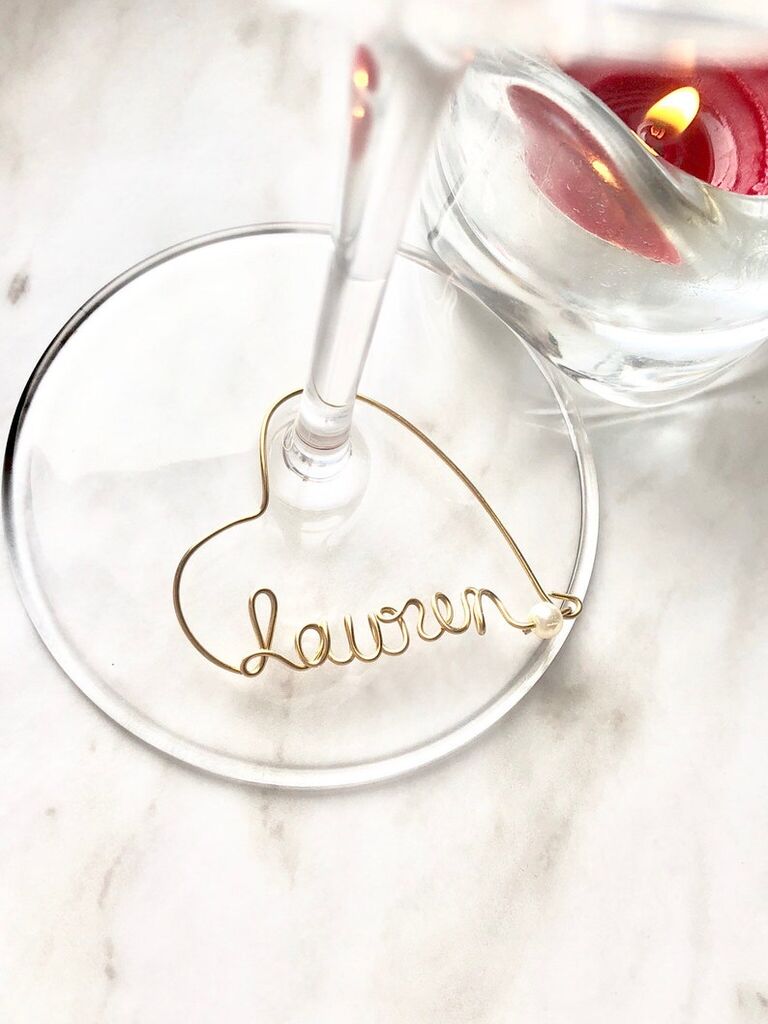 Nearly a quarter (28%) of couples surveyed in The Knot's 2022 Guest Favors and Gifts Study** use favors as seating or table assignments. Make sure each attendant knows where their place at the reception is with personalized glass decor. Each guest's name is intricately formed into script out of metallic wire and punctuated with a pearl. The charms sit at the base of their drinkware—whether it be a champagne coupe or wine glass. It's also a great way to make sure they don't lose their drink throughout the night.
9. Cute Soap Wedding Favors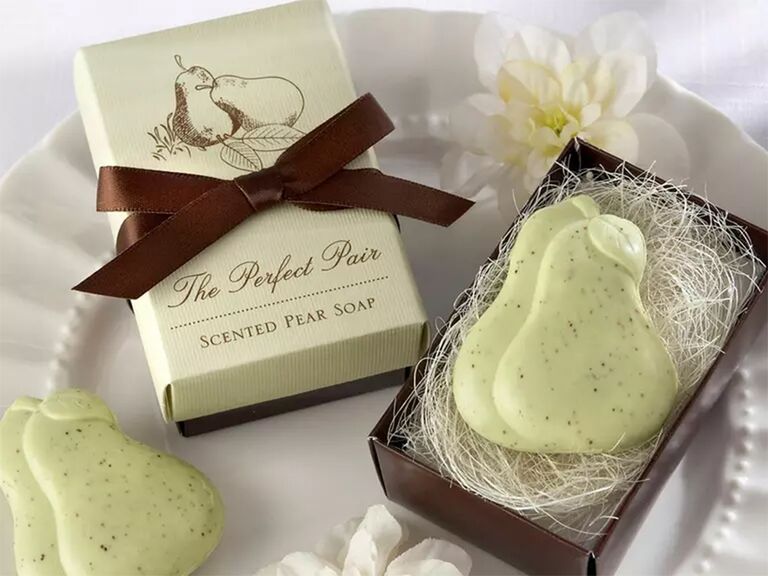 Speaking of hygiene products, bath- or beauty-related favors were chosen by 35% of couples according to our 2022 Guest Favors and Gifts Study,** making this another winning wedding souvenir idea for guests. These pear-shaped soaps are the cutest, packaged individually in gift boxes that read: "The perfect pair." This sweet-scented giveaway will bring a hotel-worthy touch to guests' bathrooms. You could even gift them as part of a welcome bag.
10. Classy Candle Wedding Favors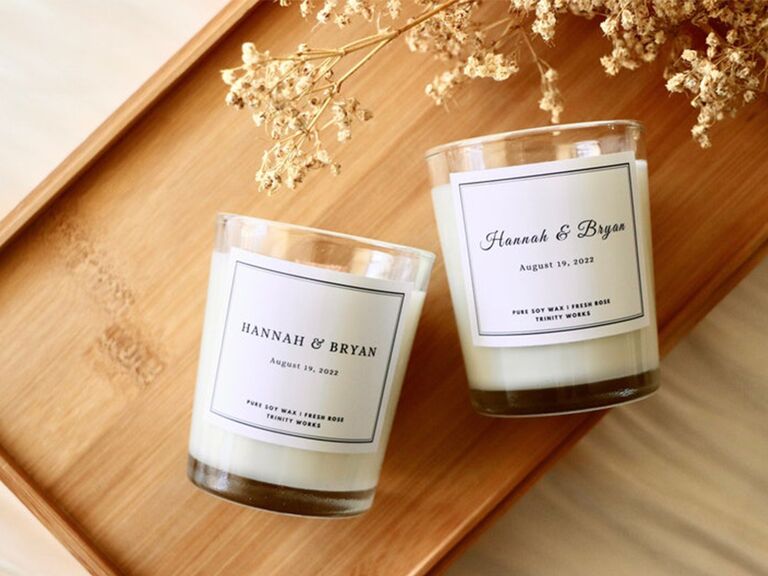 Still wondering what wedding souvenirs you should give out? How about a scented candle? You found your flame, now give each guest one, too. We've seen a ton of candle favors out there, but none as sophisticated and high-quality as this one. Each is poured from premium soy wax and features a wood wick, scrumptious scent (like Honey Almond) and a gorgeous label spelling out you and your love's names that look like they're from a designer candle company. (Jo Malone, who?)
11. Hot Sauce Wedding Favors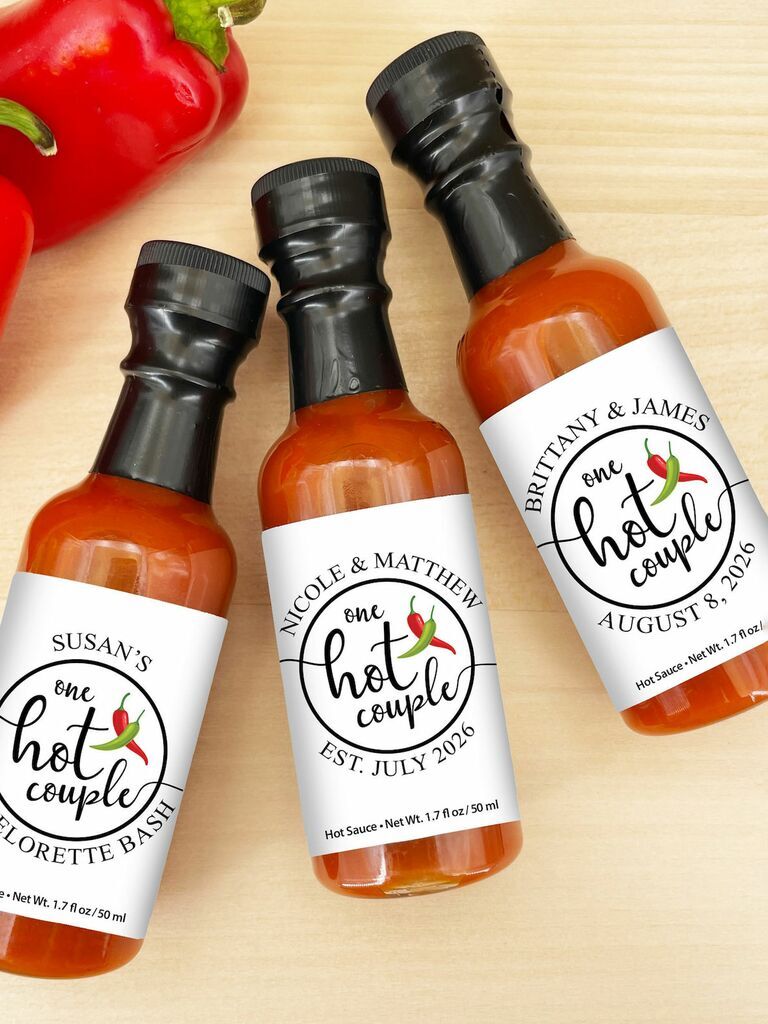 If you're never without hot sauce in your bag, these wedding favors are totally ideal. The mini bottles of Louisiana Cajun-flavored gourmet hot sauce (note: medium heat) are labeled with your wedding details and a pun, like: "One hot couple." They can come preassembled or, if you want to save a little money, you can put the labels on the bottles yourself. Now you've got an unforgettable giveaway that your guests will be totally hot for!
12. Champagne Flute Wedding Favors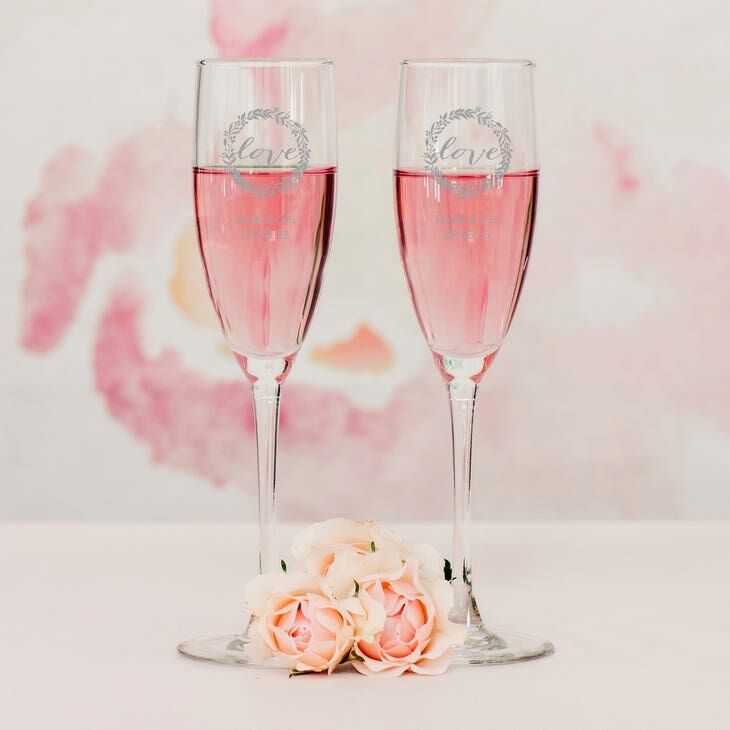 According to The Knot's 2022 Guest Favors and Gifts Study,** 52% of couples surveyed wanted favors their guests could enjoy at the wedding. What better way to fill this need than custom glassware? Place a personalized champagne flute at each table setting so your guests can toast to your nuptials with their souvenirs. Choose between dozens of designs, like "Pop the bubbly" and "Sip, sip, hooray," then you can add your names and wedding date underneath.
13. Funky Match Wedding Favors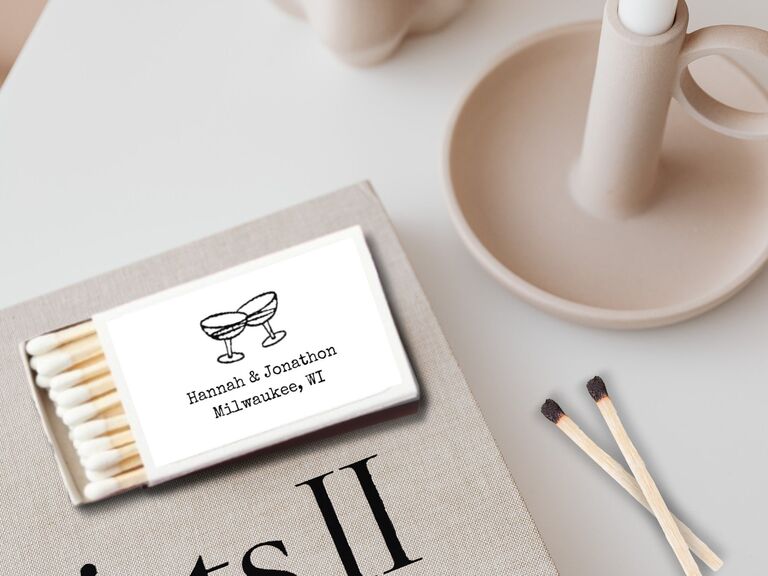 Matches are always popular wedding favors, but elaborate patterns and pictures have gone by the wayside in favor of a more simple, vintage-style matchbox. This type of wedding take-home gift was super popular in the 70s, so what better way to pay homage to the trend's return than with this retro champagne coupe motif? These goodies are perfect for a couple channeling those vintage vibes on their big day.
14. Coffee Mug Wedding Favors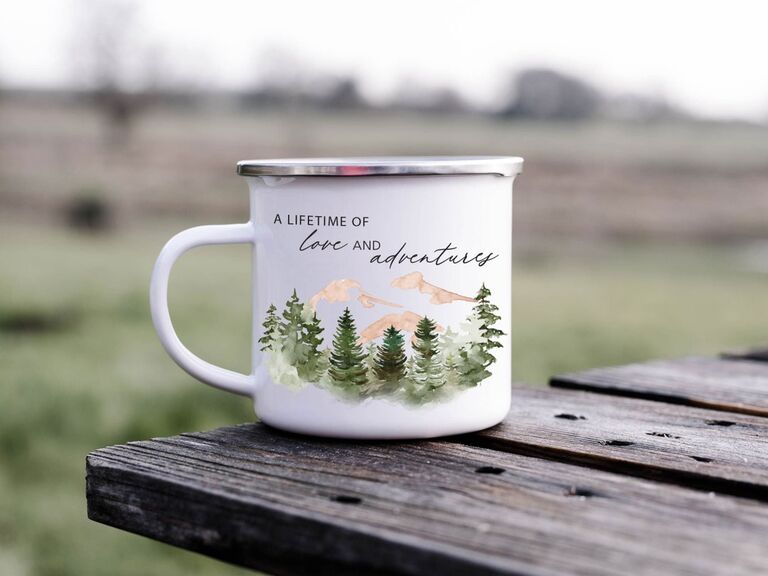 Some wedding favor ideas may seem cool in theory, but aren't always practical. That's not the case with these metal camping coffee mugs. The front of each is printed with a stunning mountain scene and the phrase: "A lifetime of love and adventure," while the back is reserved for your names and wedding date. (Perfect for a fall wedding in the mountains, don't you think?) Trust us, your loved ones will be drinking their morning tea or coffee from these clever wedding reception gifts on the daily.
15. Heart Lollipop Wedding Favors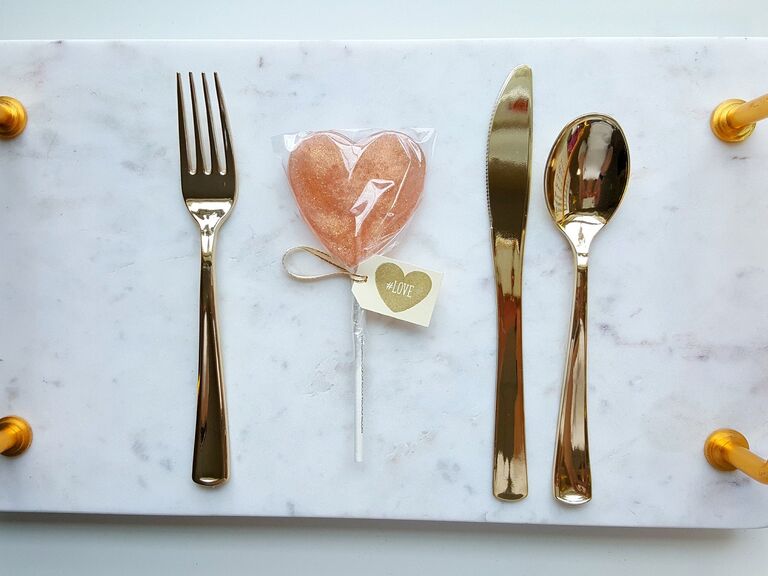 How darling are these pink heart lollipops? It's one of the sweetest wedding favor ideas we've seen out there. Each one of these candy wedding favors is speckled with gold edible glitter and adorned with a little "love" tag.
16. DIY S'more Kit Wedding Favors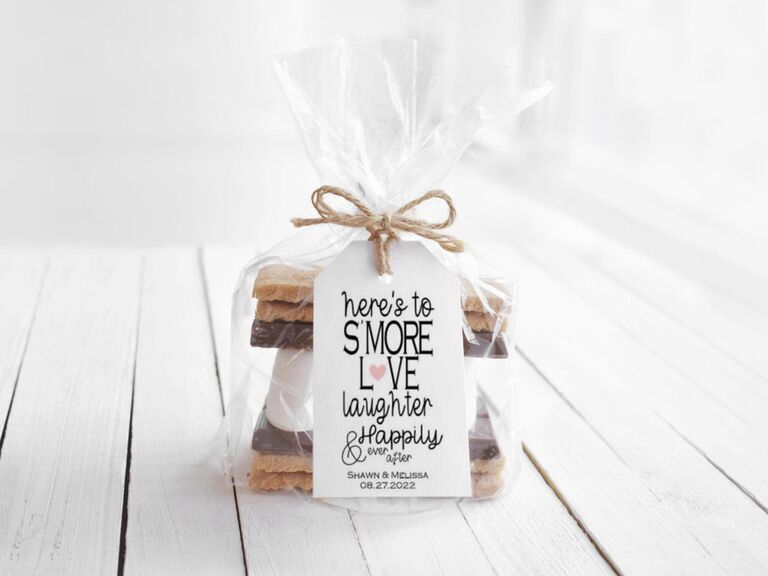 While you might be tempted to DIY your wedding favors, know that the process may be time-consuming, so make sure you have the energy to assemble your giveaways. If you're set on putting together your own party favors, s'mores kits are a classic option. Though this wedding favor idea doesn't include the ingredients to make a mouthwatering s'more—graham cracker, chocolate and marshmallow (pick those up yourself)—it's the favor tag that seals the deal. It says: "Here's to s'more love, laughter and happily ever after" with your personal wedding details underneath. Choose from purchasing just the tags or bundles of the tags, bags and twine.
17. Constellation Coaster Wedding Favors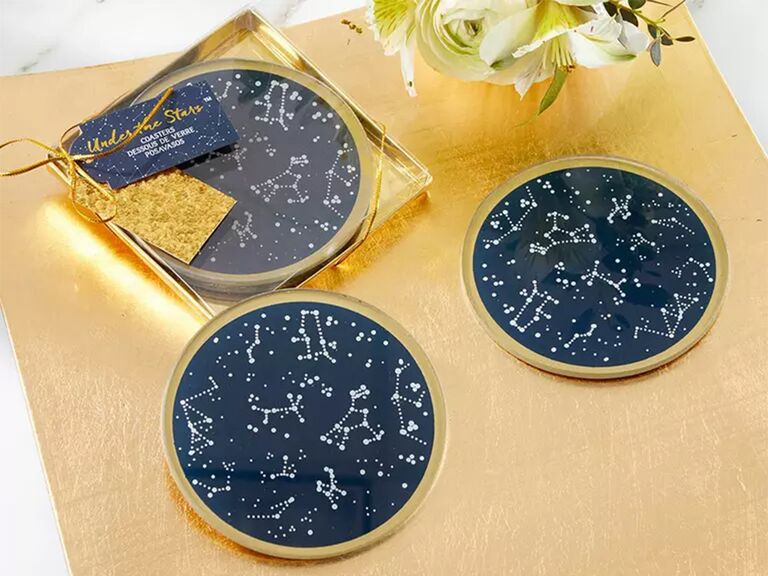 Coasters are a great way to highlight your wedding theme in your tablescape. If you're having a celestial-inspired celebration, these are one of the best wedding party favor ideas. The constellation-adorned round glass coasters with rubber feet will really emphasize that your love was written in the stars. Talk about romantic wedding keepsakes for guests.
18. Measuring Spoon Wedding Favors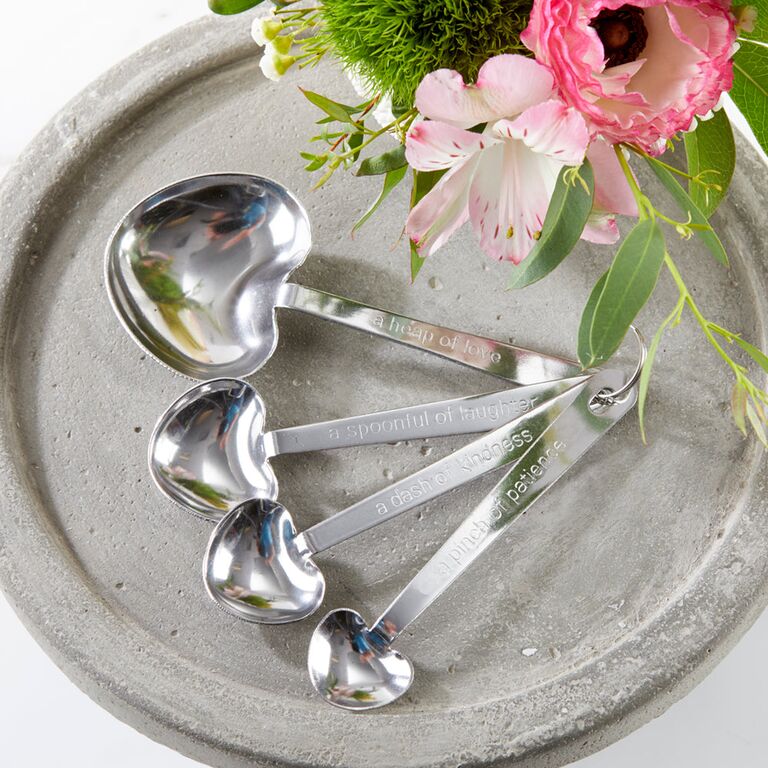 Give your guests a helpful tool to whip up something scrumptious while they're still dreaming of your wedding cake. These heart-shaped measuring spoons make the perfect wedding favors for guests. They can keep them in their kitchen and be reminded of you and your boo every time they bake something sweet.
19. Mini Cupcake Wedding Favors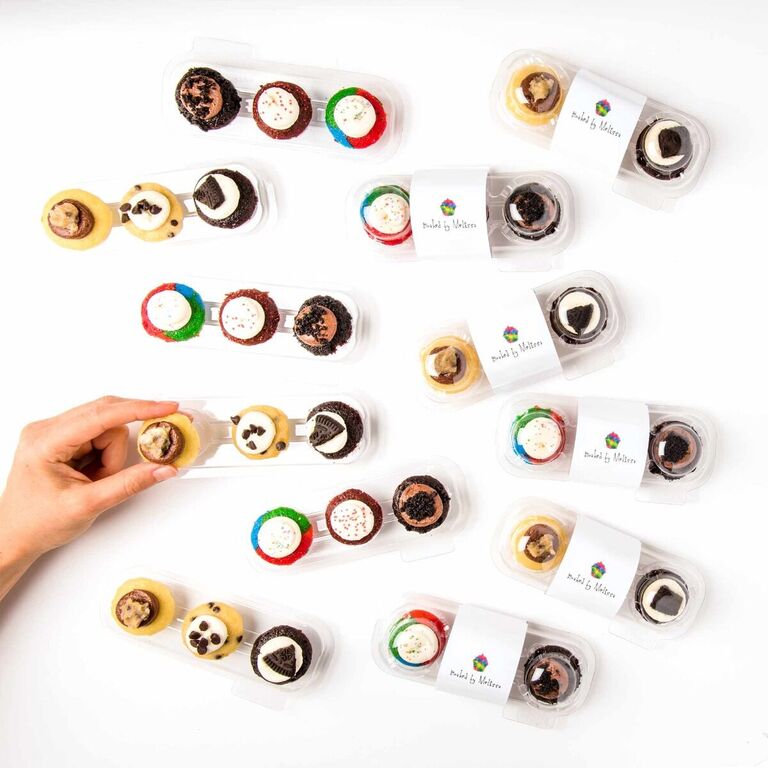 One slice of wedding cake just isn't enough sometimes. Send guests home with mini cupcakes in rich flavors like Triple Chocolate Fudge, Cookie Dough and Red Velvet with the help of Baked by Melissa. Best of all, there are gluten-free, nut-free and vegan options available to accommodate all of your guests' dietary needs.
20. Gourmet Candy Wedding Favors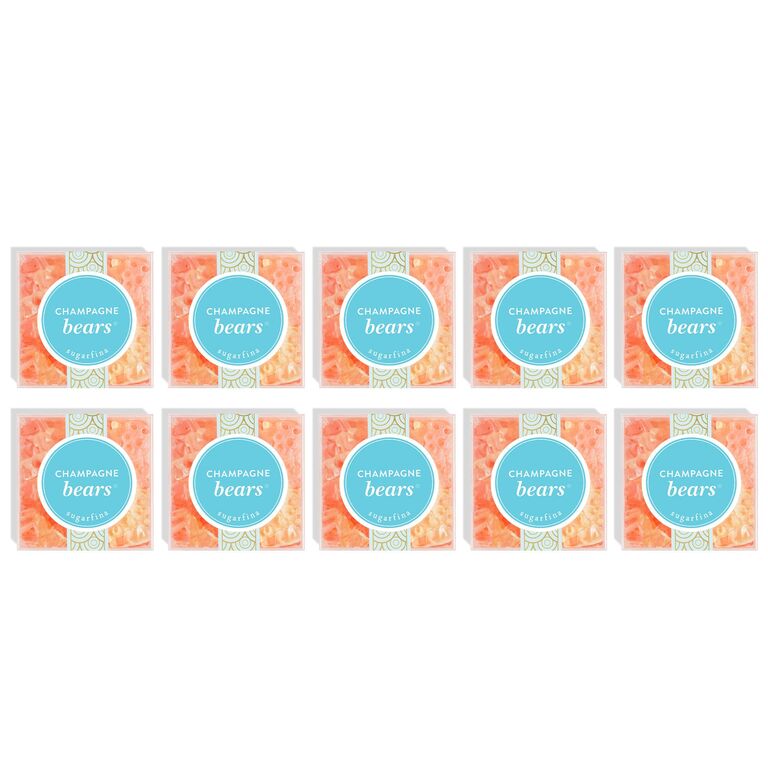 Did you know Sugarfina (everyone's favorite gourmet candy brand) makes little boxes of festive champagne gummy bears perfect for an extra-sweet seating chart or as a fun late-night snack? They're an especially fitting wedding favor idea for couples who have a sweet tooth! Spring for even more luxurious wedding favors by handing out a personalized version of the brand's signature candy cubes.
21. Mini Prosecco Wedding Favors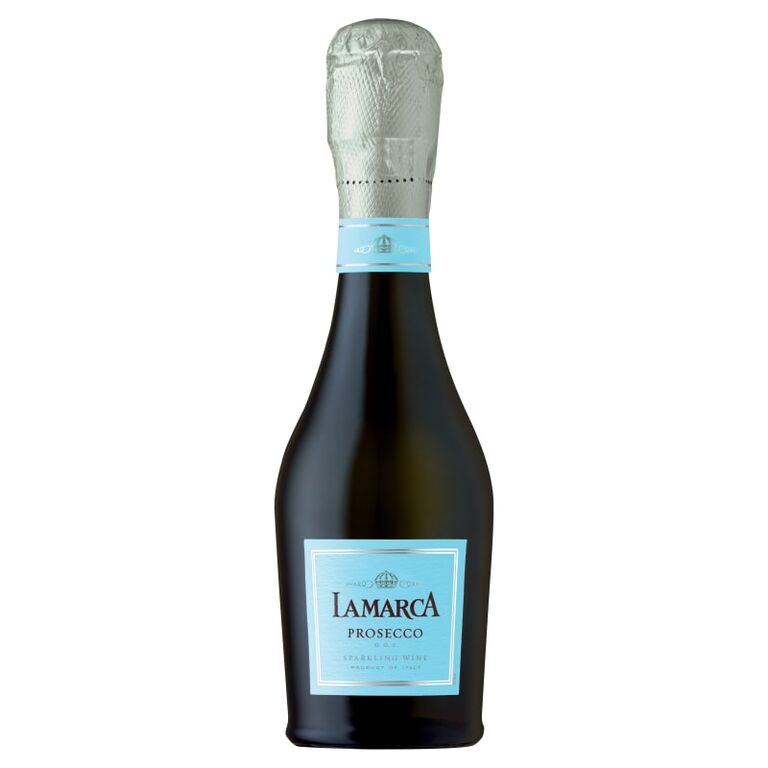 Planning a NYE-themed or otherwise glamorous wedding? Meet your perfect wedding favors: miniature bottles of bubbly. Our data shows that alcohol and alcohol accessories were the second most popular wedding favor idea in 2022.** Save time by ordering online for delivery or pick up. Pair your mini bottles with these personalized "thank you" labels to give your party favors a luxe finishing touch.
22. Pressed Flower Art Wedding Favors
Some of the best wedding favors are ones that can do double duty as escort cards and pretty parting gifts. That's why we can't get enough of these pressed flowers set in copper frames. Each features a different real bloom suspended between two panes of glass. They'll look stunning on the day and they're truly something guests will want to display in their homes after.
23. Temporary Tattoo Wedding Favors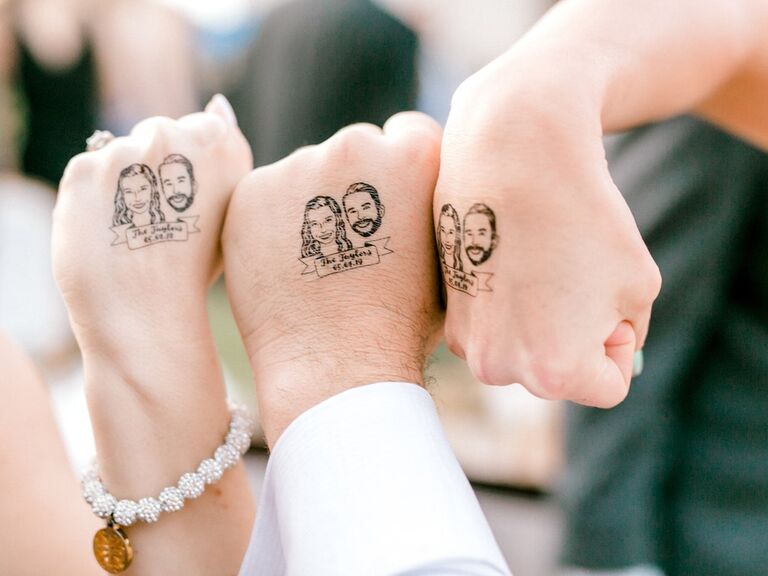 We've seen couples bring in an actual tattoo artist for their big day, and we love the commitment. But if you're looking for a memento of your nuptials that isn't quite so permanent, temporary tattoos make perfect wedding guest favors. This design features cartoon portraits of you and your beloved, with your name and wedding date underneath. You'll be wearing your hearts on your sleeves, and your guests will be wearing your faces under theirs.
24. Burlap Tote Bag Wedding Favors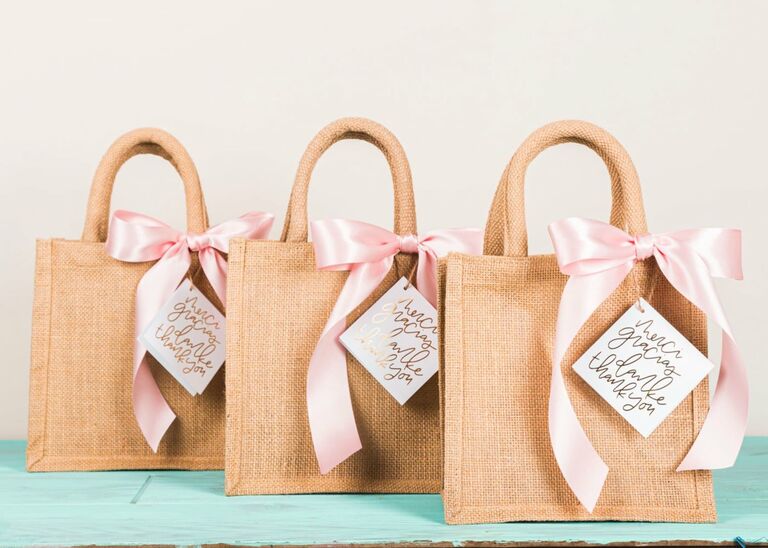 A good welcome bag starts with the bag itself. Sold in bulk, these reusable jute totes with cotton straps can be filled with small goodies like toiletries and candy to thank your guests for coming to your special day. They're especially clever party favors for a destination wedding, so guests have something they can cart to the pool or beach.
25. Guest Portrait Wedding Favors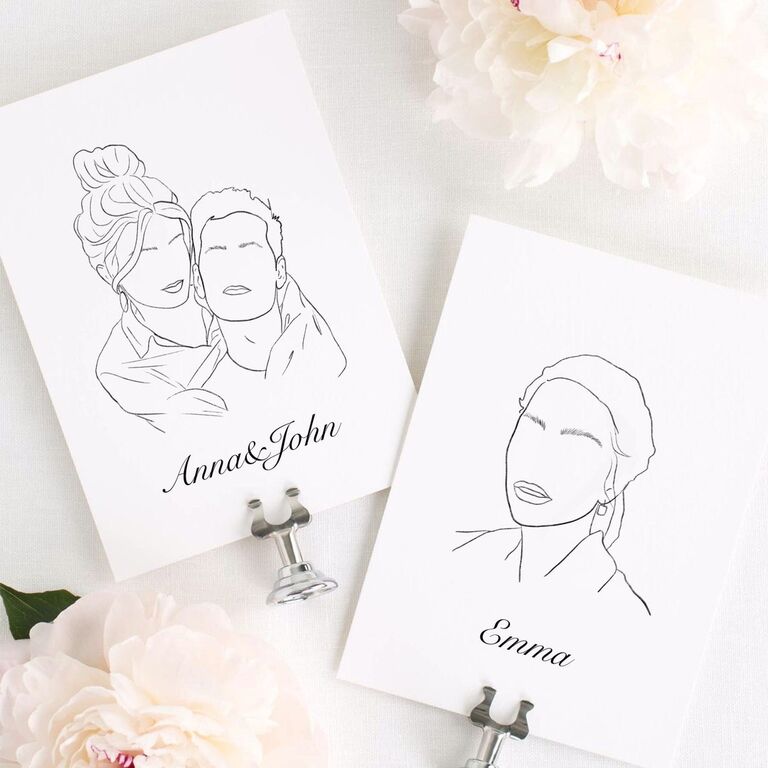 If you're planning a more intimate celebration, consider budgeting a little extra on wedding favors per guest. These seriously cool custom portraits can be used as place cards that let your loved ones know they've found the right seat. Then, they can take them home to treasure forever. It really is one of the best wedding keepsakes for guests that they likely haven't seen at any other wedding. Just purchase the digital download and send it to your go-to printer.
26. Hot Chocolate Bomb Wedding Favors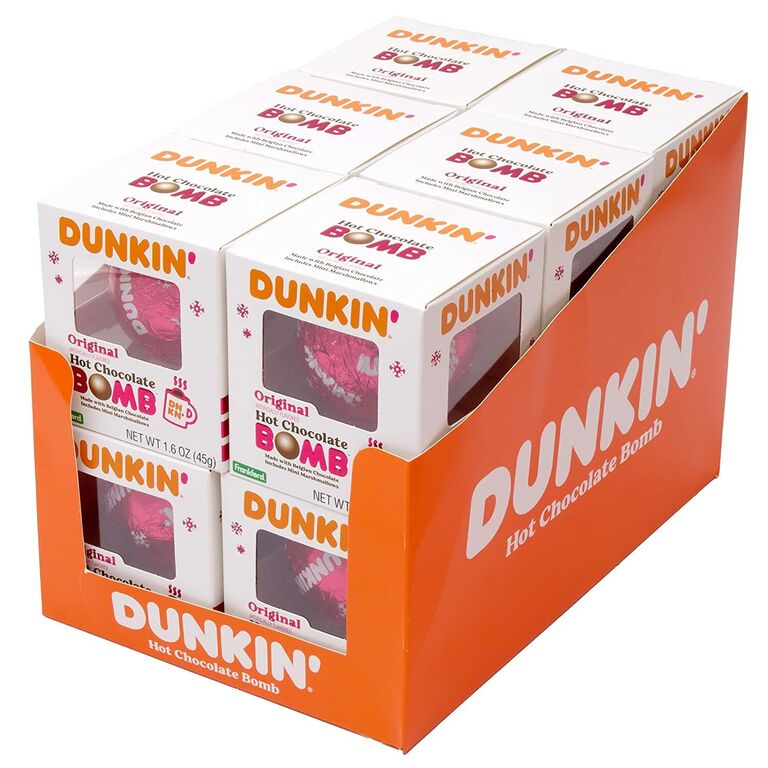 A classic warm drink makes an excellent fall wedding favor idea. We're particularly fond of hot chocolate, but with a twist. Kids and adults alike will love cracking open hot chocolate bombs filled with cocoa powder and marshmallows. And if you're getting hitched in New England, a Dunkin' wedding favor is totally the move to impress your guests. Yum!
27. Bottle Opener Wedding Favors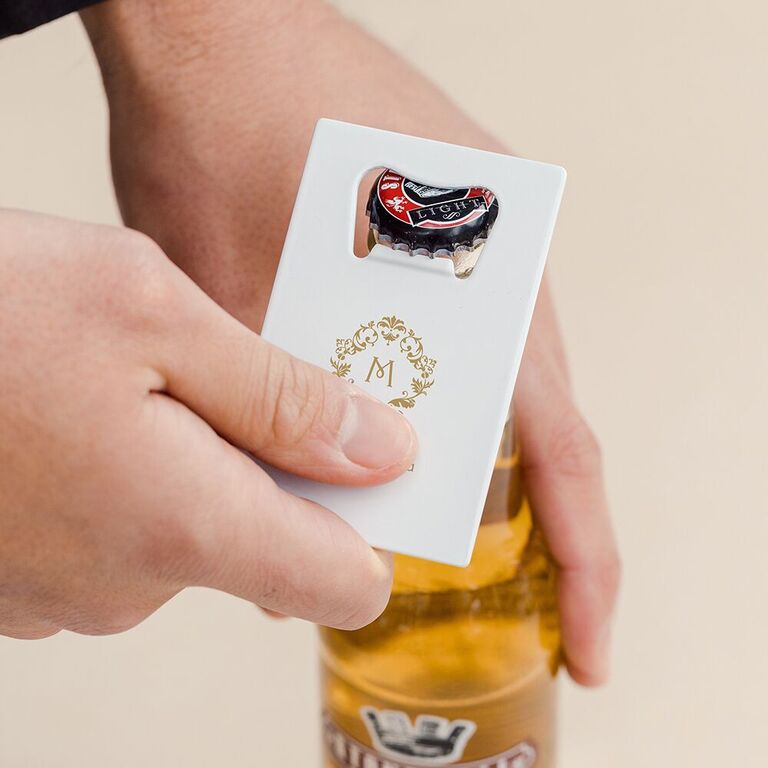 Just like koozies, bottle openers are a handy tool most people don't even realize they need until it's too late. These metal bottle openers slide conveniently into a credit card slot in their wallet, so they can always have it on hand. And thanks to the personalization, these popular wedding favors will always remind your loved ones of you.
28. Luggage Tag Wedding Favors
Stylish luggage tags printed with a fun, travel-themed phrase are a cute wedding favor idea for destination nuptials. Whether guests are traveling domestic or internationally, these chic leather luggage tags will come in handy on the trip home. Plus, since they aren't stamped with personalized details of your wedding, your loved ones can use them for all of their future travels. (Psst, the more you buy, the more you save!)
29. Playing Card Wedding Favors
After playing games with far too many singles, you finally drew a solid hand with your one-and-only. These playful cards will lead to plenty of games for your guests in the future—plus, they'll keep kids entertained at the wedding. There are dozens of different designs to choose between from The Knot Shop, but one of our favorites is this chalkboard-style deck that says, "We sealed the deal" with your names and "I do" date.
30. Infused Olive Oil Wedding Favors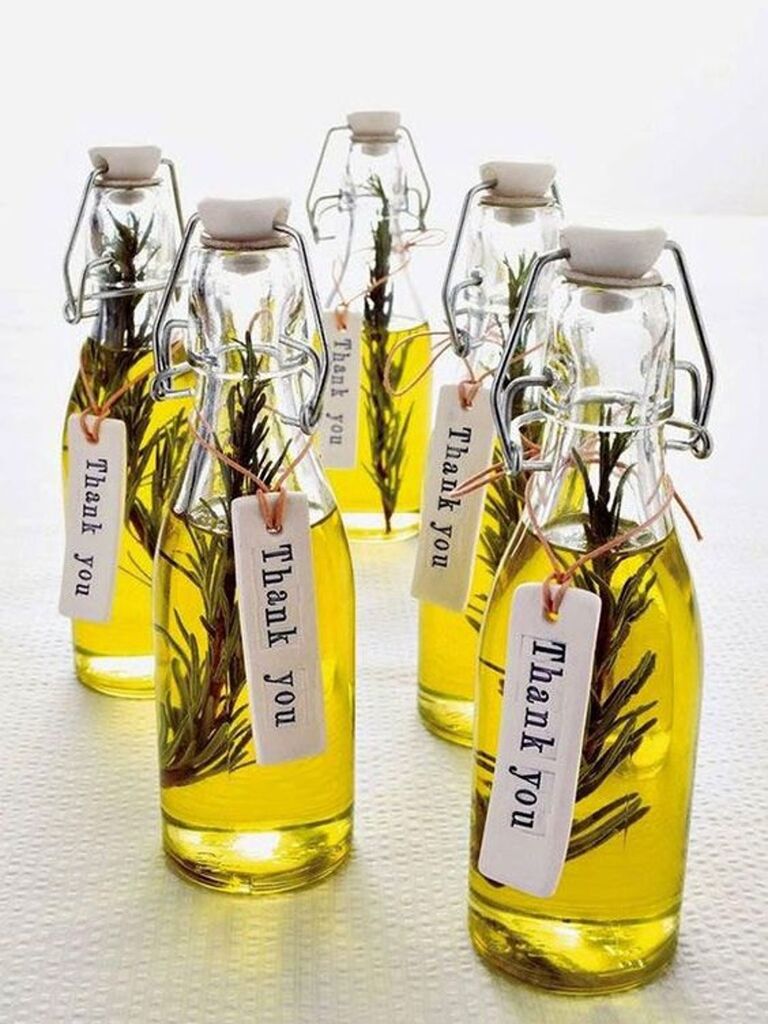 Everyone uses olive oil—probably on the daily—so little bottles of the stuff definitely make awesome wedding favors. These bottles of extra-virgin Greek olive oil can be infused with the herb or flavor of your choice—think: rosemary, lemon, garlic and oregano. The little "thank you" tags are a cute finishing touch, too.
31. Ceramic Trinket Bowl Wedding Favors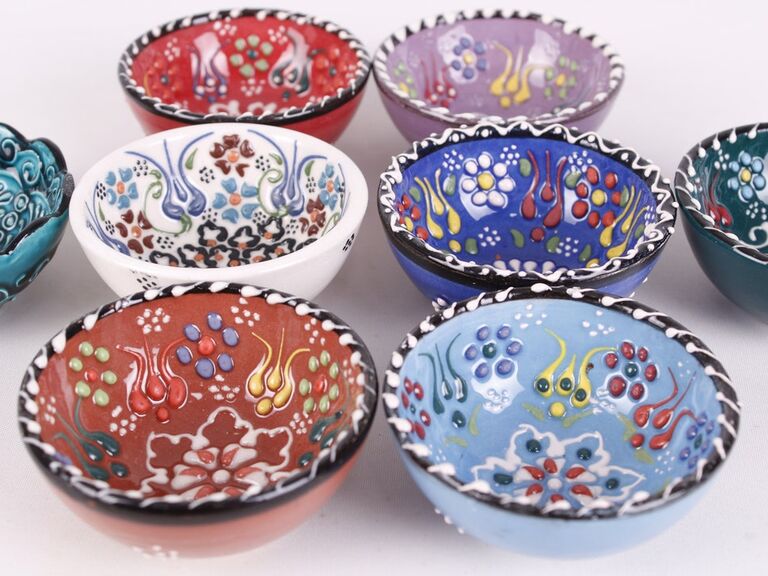 Ring dishes are classic wedding gifts, so why not carry the trend over to your guests? A small trinket tray will come in handy, even if they don't have their own baubles to store. They can use it in their front entry for keys or on their desk for paper clips, clamps or tacks. The handmade ceramic bowls have a boho design that'll add a pop of color wherever they place it. They can come gift wrapped with a personalized thank-you tag for an extra charge.
32. Wildflower Seed Wedding Favors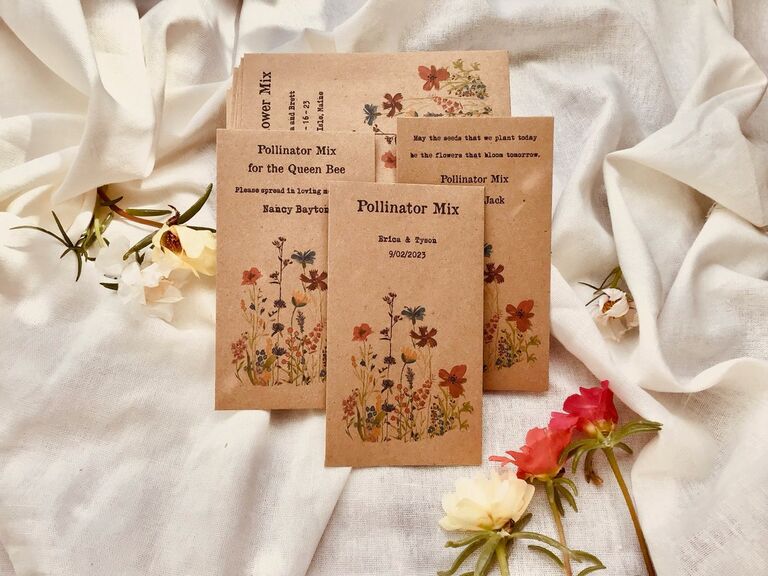 Flower seed packets are one of our favorite party favor ideas, they're the perfect balance of sweet, symbolic and somewhat practical. As your love and new marriage blooms, you guests can watch wildflowers spring to life wherever they decide to sprinkle these seeds after the big day. And the design of these wedding favors is just gorgeous, with a pretty wildflower illustration and a vintage font.
33. Paper Airplane Wedding Favors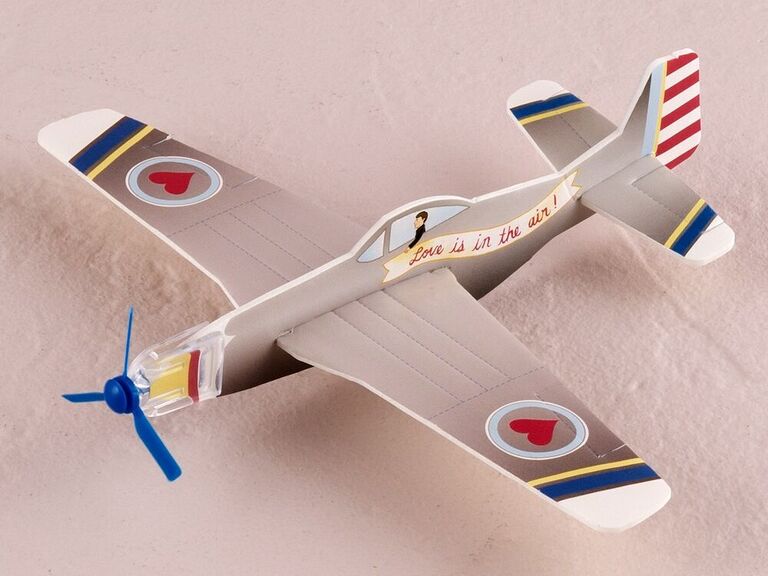 Up, up and away you go into a happy marriage. We love these sweet gliders to hand out at a small destination wedding that takes your romance to new heights. This is one of the best wedding favor ideas for guests if you're hosting lots of little ones at your event—though we know adults will love the nostalgia too.
34. Custom Koozie Wedding Favors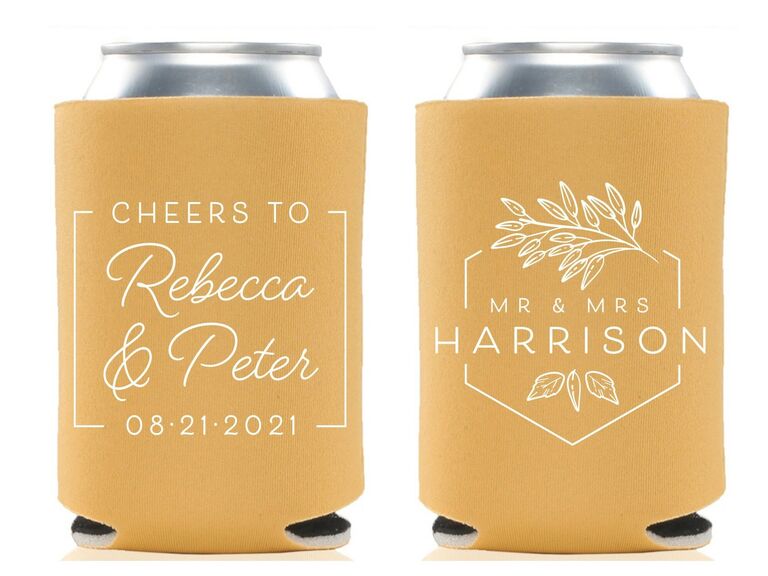 When it comes to traditional wedding favors, can coolers may be one of the first ideas that come to mind. That's because they're really practical! Tailgating during football season, lounging by the shore, enjoying a round at home—wherever your guests are, they'll appreciate having a koozie to keep their drinks cool. Buy these personalized can coolers in bulk for a discount.
35. Heart-Shaped Wine Stopper Wedding Favors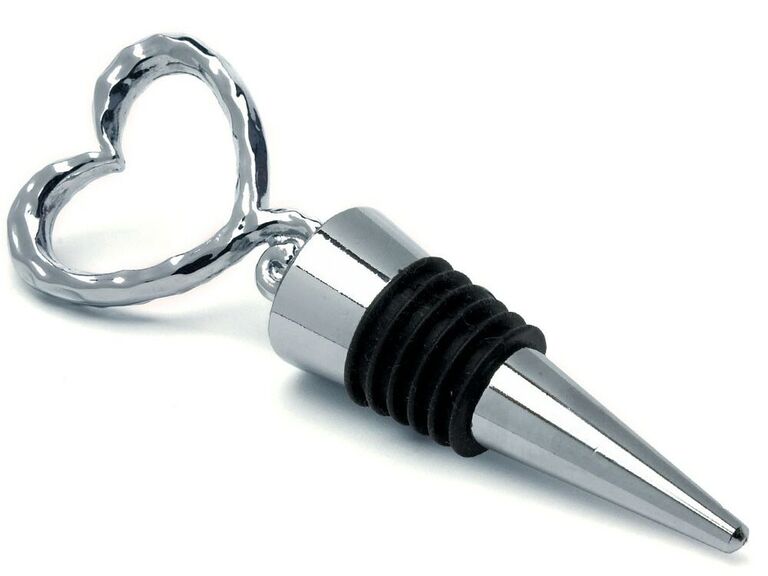 If you could share a bottle of wine and reflect with every one of your wedding guests, you would. But there's only so much time in the day. Instead, capture the sentiment with a bottle stopper as a cute wedding favor. Plus, it has a sweet heart to really emphasize the love.
36. Chopstick Wedding Favors
If your background as a couple calls for incorporating some East Asian traditions into your big day, then these chopstick wedding favors are a creative way to nod to the culture. Each pair comes engraved with your names and wedding date. It's an even cooler wedding favor idea if you'll be serving food that requires chopsticks on the big day.
37. Hangover Kit Wedding Favors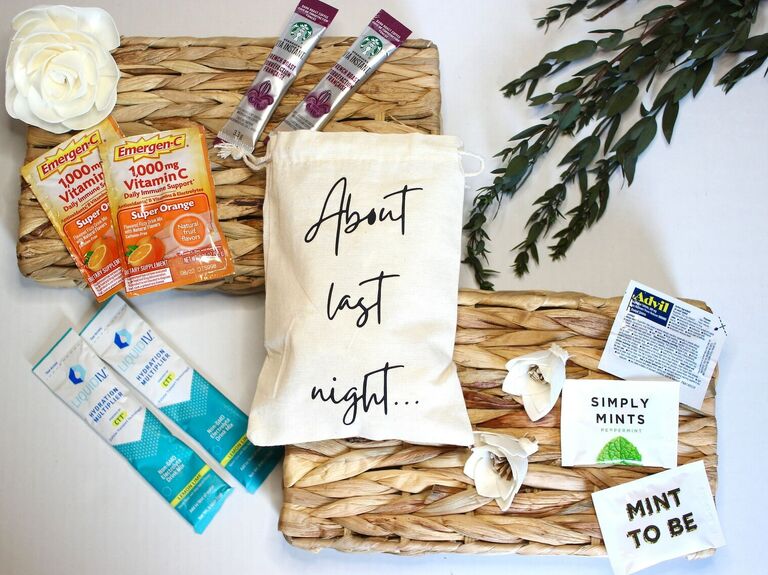 About last night…these funny wedding favors are sure to be snatched up as people leave the dance floor. Each small canvas drawstring bag is prepacked with mints and Advil and then your choice of EMERGEN-C, instant coffee or liquid-IV—AKA essentials after a late night of partying.
38. Mini Succulent Wedding Favors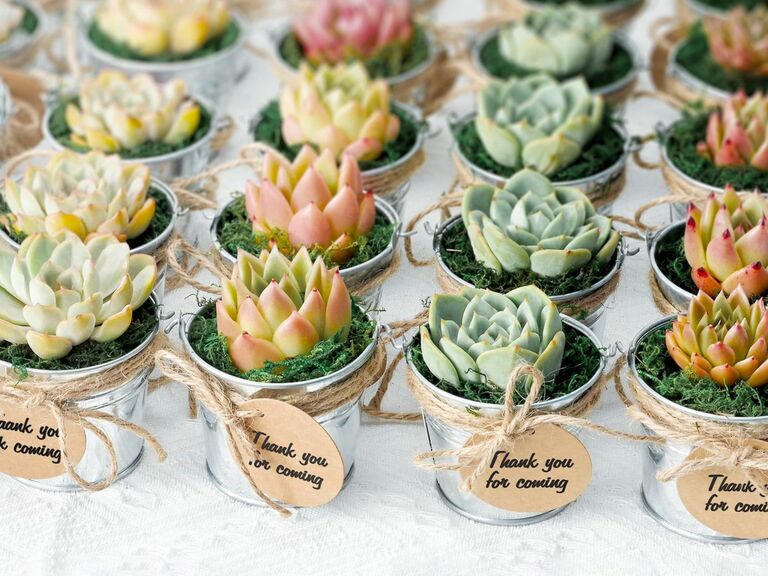 Instead of flower seeds, give your guests a miniature succulent as a rustic wedding favor. Sold in sets of 100, these plants are handpicked from the Etsy seller's farm to ensure the highest quality greenery for your guests. Best of all, they come with matte or shiny silver buckets for potting as well as twine and a kraft paper tag so you can write a simple thank-you note. Think: "Love grows! Thanks for joining us." Talk about a cute, small gift idea for your wedding guests.
39. Personalized Turkish Beach Towel Wedding Favors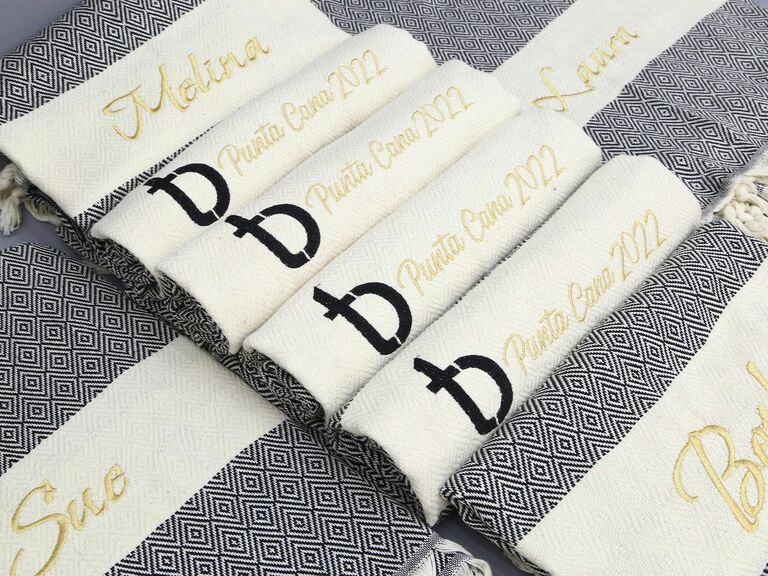 If you're having a small celebration, surprise each of your guests with a colorful Turkish towel that they can use as a beach blanket, to dry off after a swim or even as a shawl for breezy nights. Best of all, they can be custom embroidered. We suggest personalizing each with the destination of your nuptials so guests will still want to use them long after the big day.
40. Wooden Fan Wedding Favors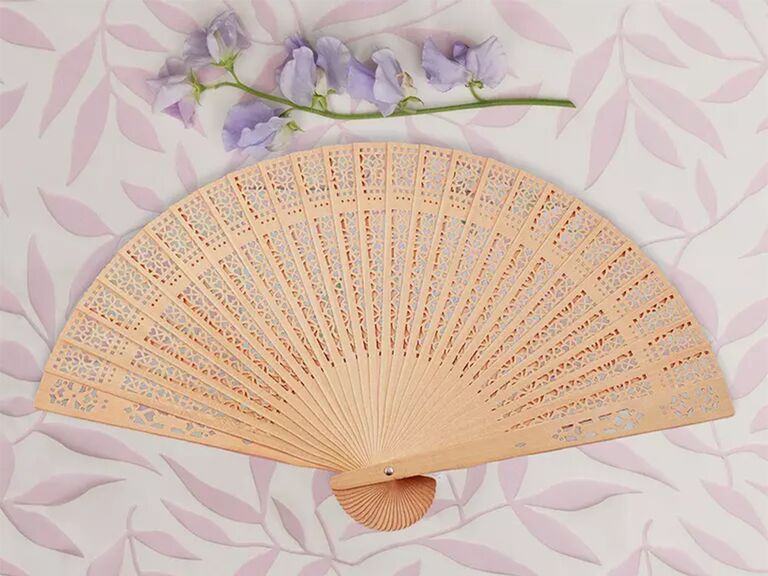 Perhaps you've picked a beautiful, tropical oasis as the backdrop for your big day. Here's another thoughtful wedding souvenir idea for your attendees: These sandalwood hand fans are a classy keepsake that'll come in clutch when guests get a little hot during the ceremony or reception.
Wedding Favor Frequently Asked Questions
*The Real Weddings Study captured responses from 11,646 US couples married between January 1 and December 31, 2022; respondents were recruited via email invitation from The Knot and/or WeddingWire membership. Respondents represent couples from all over the country with various ethnicities, income levels, race, age, sexual orientation and gender identity.
**The Knot's Guest Favors & Gifts Study gathered responses from nearly 500 Gen Pop engaged and recently married couples in the US who did/plan to give favors out at their wedding in July 2022.
Emily Rumsey and Cathryn Haight contributed to the reporting of this article.