See BHLDN Wedding Dresses From Bridal Fashion Week
Here's the designer's latest collection to hit the bridal runways.
by Allison Manuel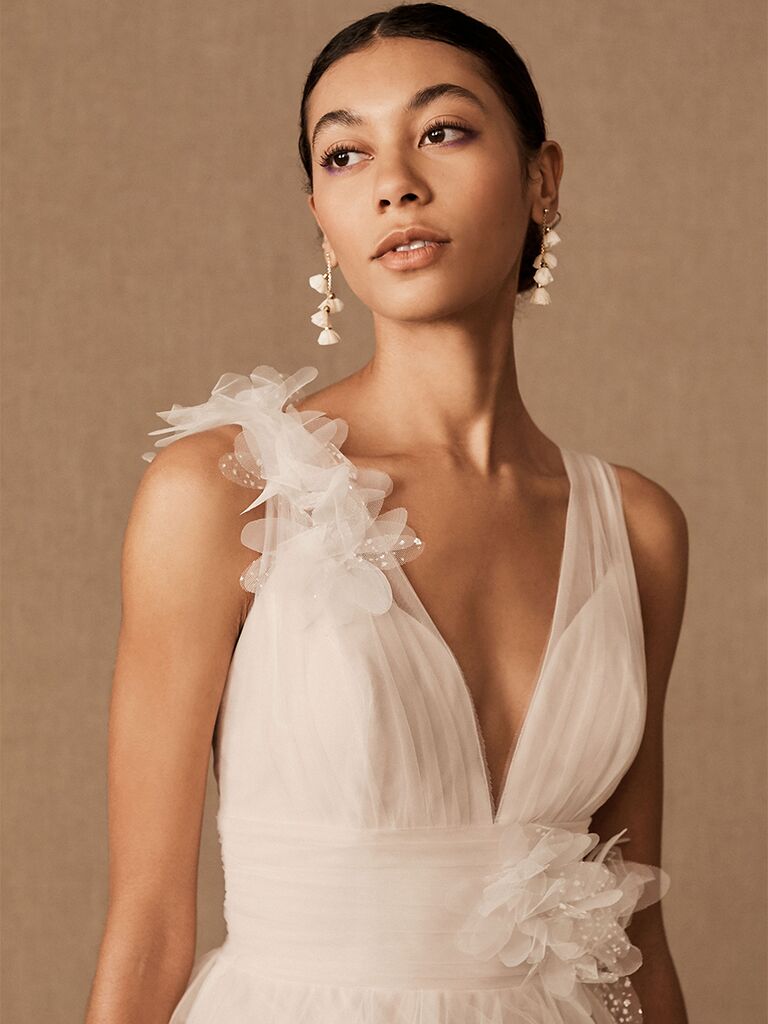 Owned by Urban Outfitters and a sister brand to Anthropologie, BHLDN focuses specifically on weddings with a curated assortment of gowns, bridal party dresses, accessories and décor. The boutique and e-comm store is stocked with styles from designers including Badgley Mischka, Catherine Deane, Donna Morgan, Jenny Yoo, Monique Lhuillier, Needle & Thread, Tadashi Shoji, Whispers & Echoes, Yumi Kim and more. Whether you are looking for a sleek and simple gown for a small ceremony, a romantic lace wedding dress or a modern two-piece number, you are sure to find the one that fits your unique style. They have all of the current wedding dress trends at affordable prices, and they can be delivered to your doorstep in just days!
BHLDN's Spring 2020 Wedding Dresses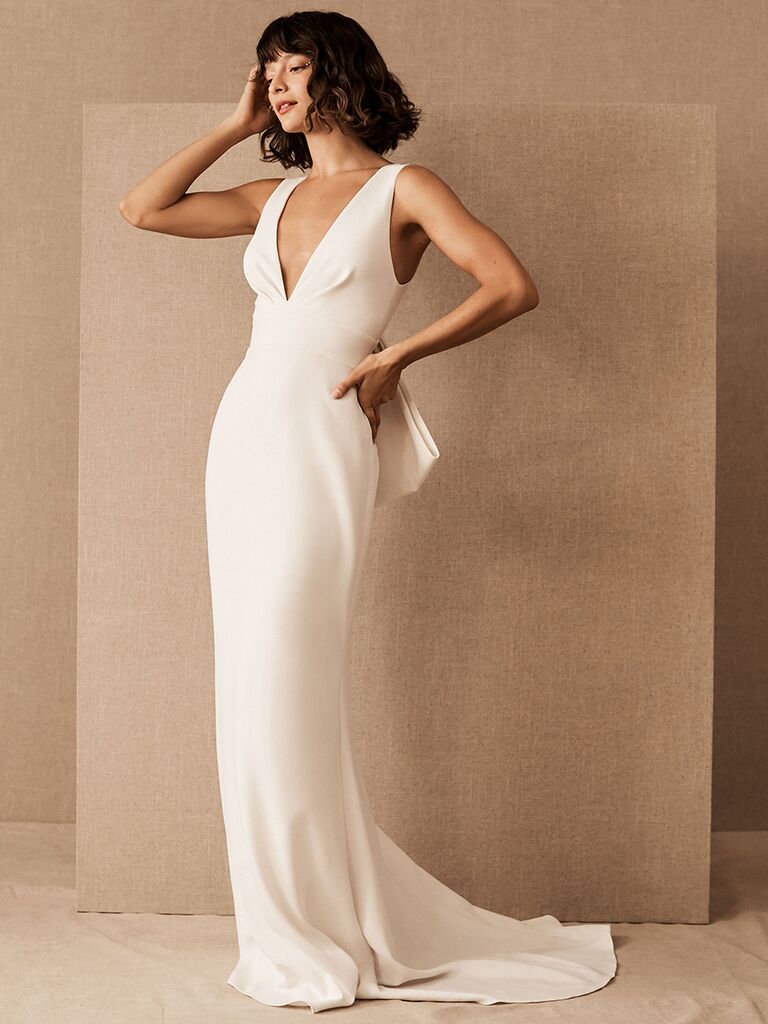 Branwell gown; Fitted dress with deep V-neckline and bow detail on back.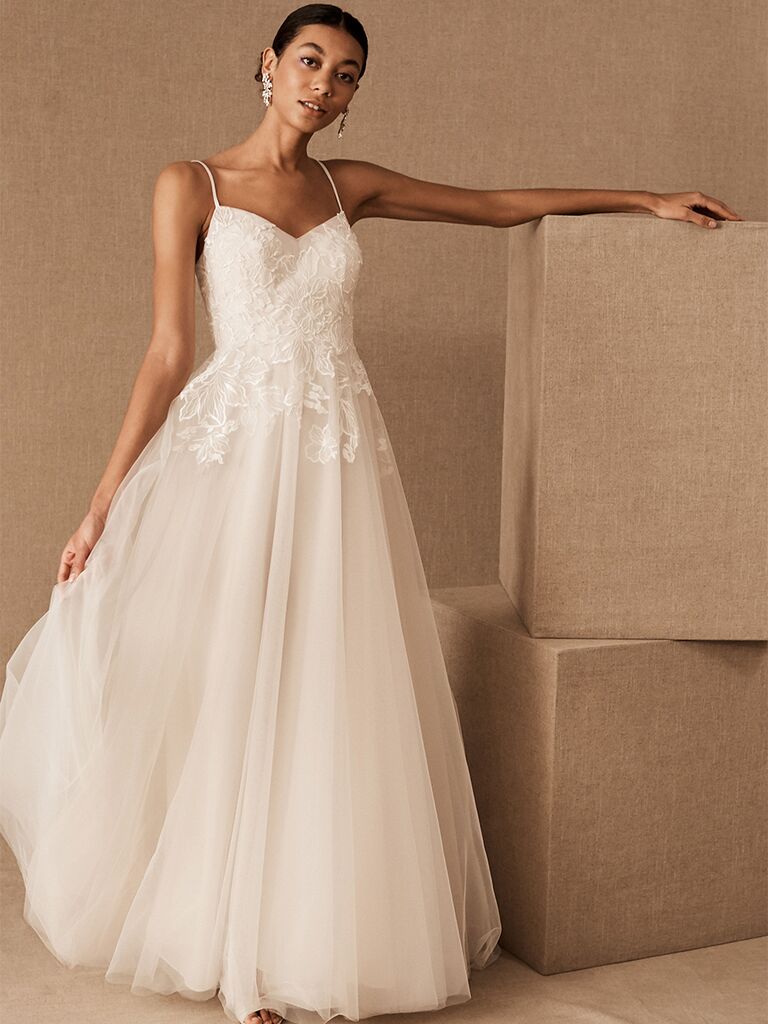 Celimene gown; A-line dress with lace bodice, V-neckline, spaghetti straps and tulle skirt.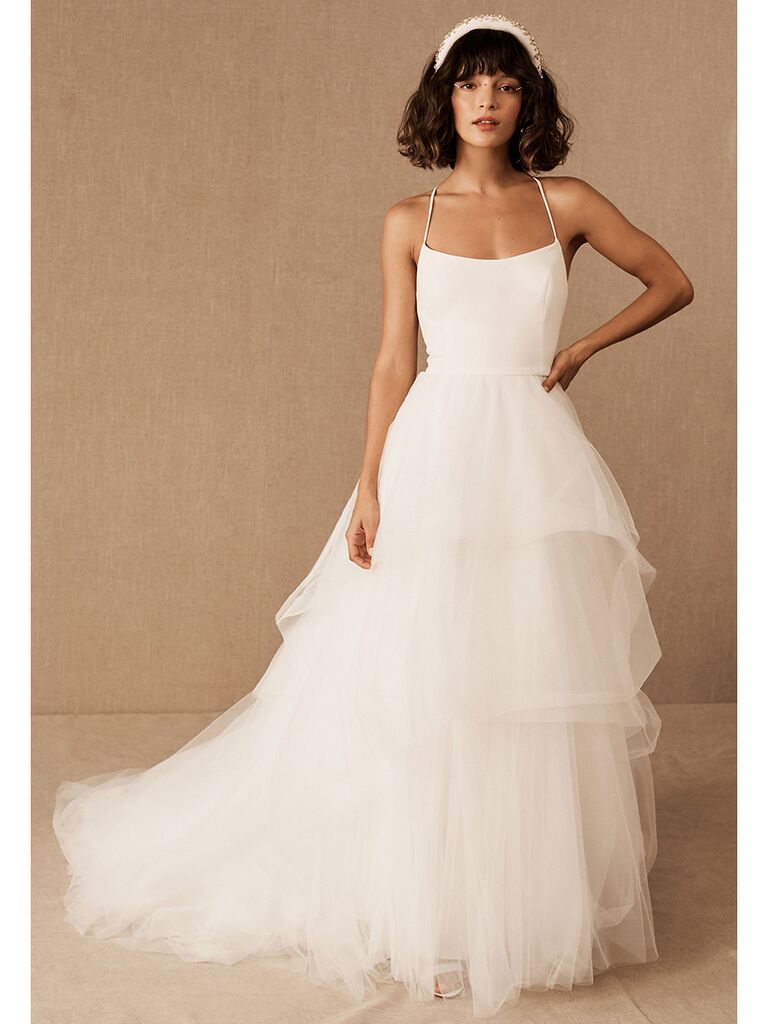 Cera gown; Dress with tiered tulle skirt, scoop neckline and spaghetti straps.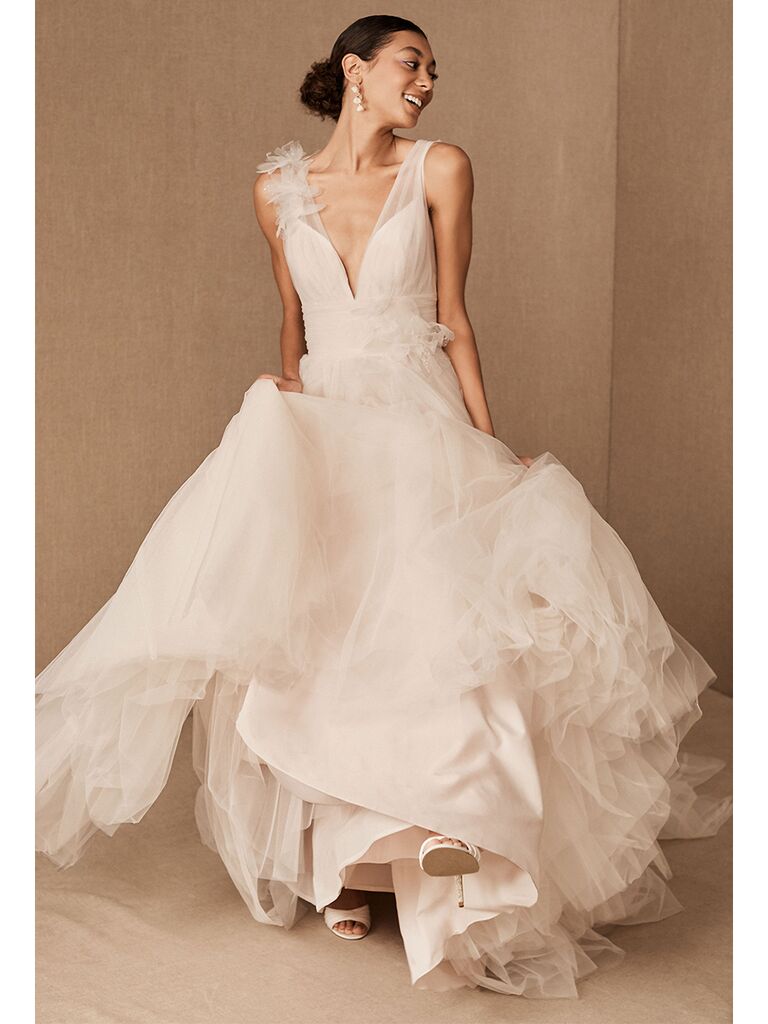 Chrysa gown; A-line dress with tulle skirt, V-neckline and floral appliques.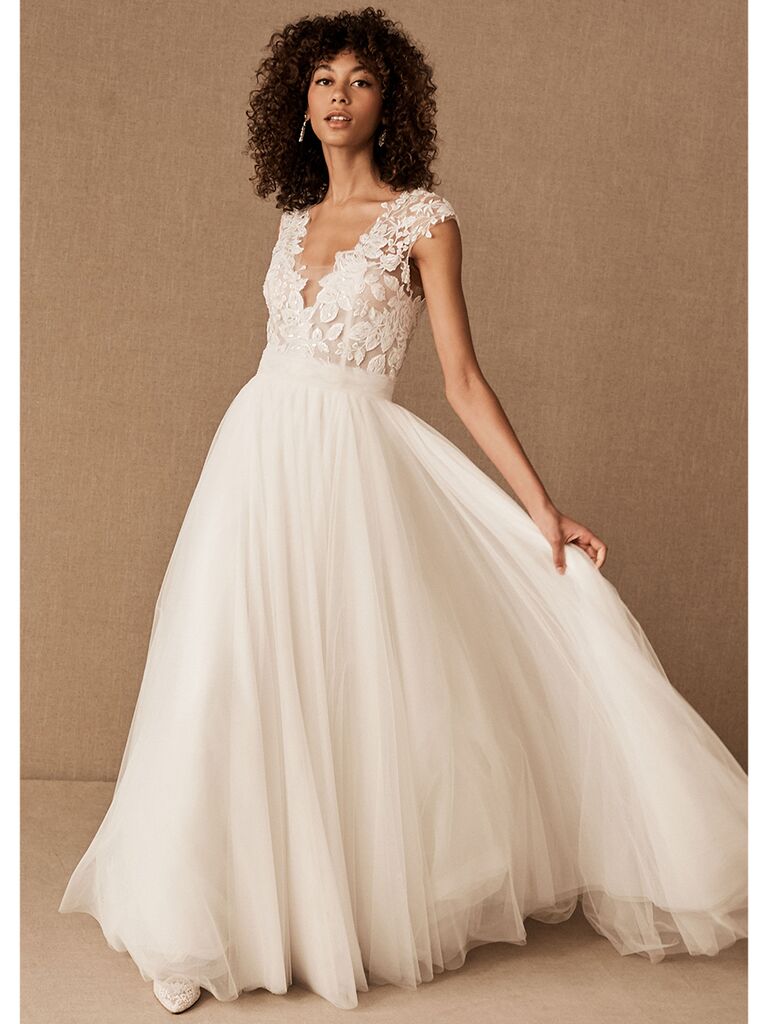 Danielle gown; A-line dress with deep V-neckline, lace bodice and tulle skirt.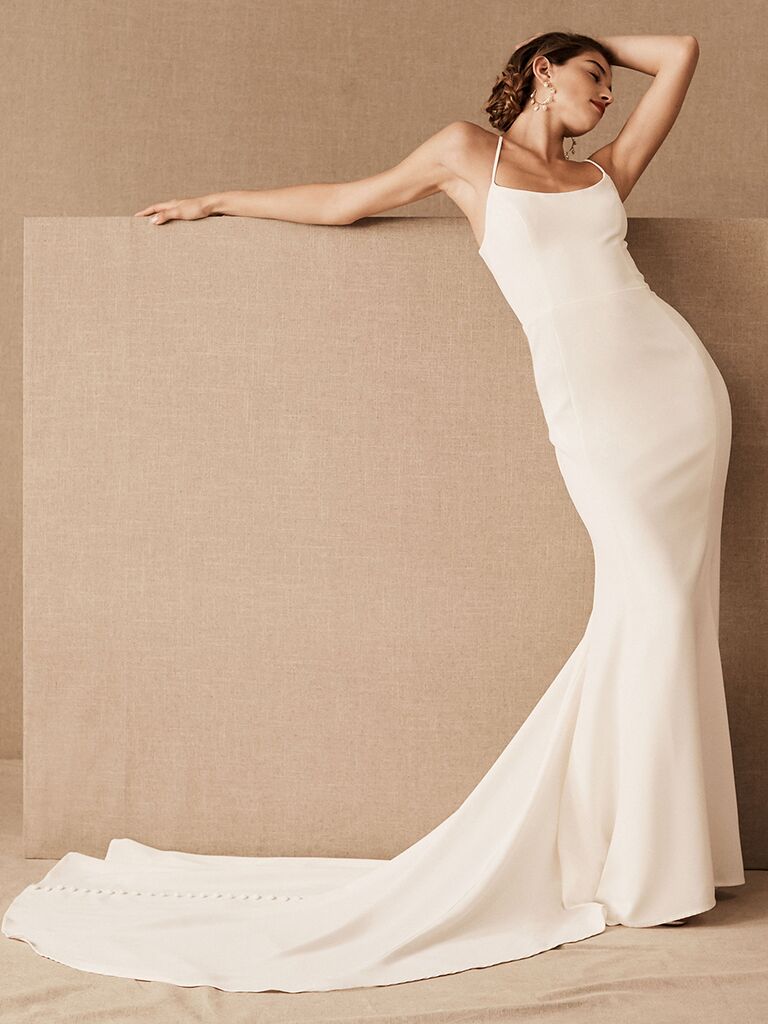 Dimanche gown; Fit-and-flare dress with scoop neckline, spaghetti straps and train.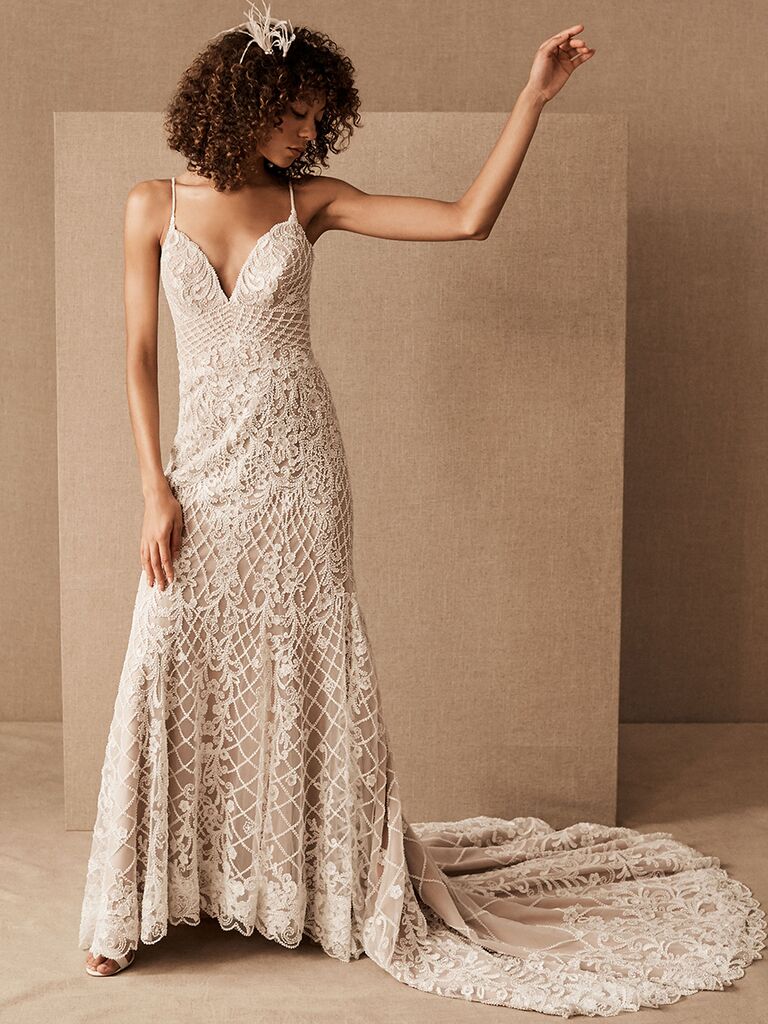 Dixie gown; A-line dress with beaded lace overlay, V-neckline and spaghetti straps.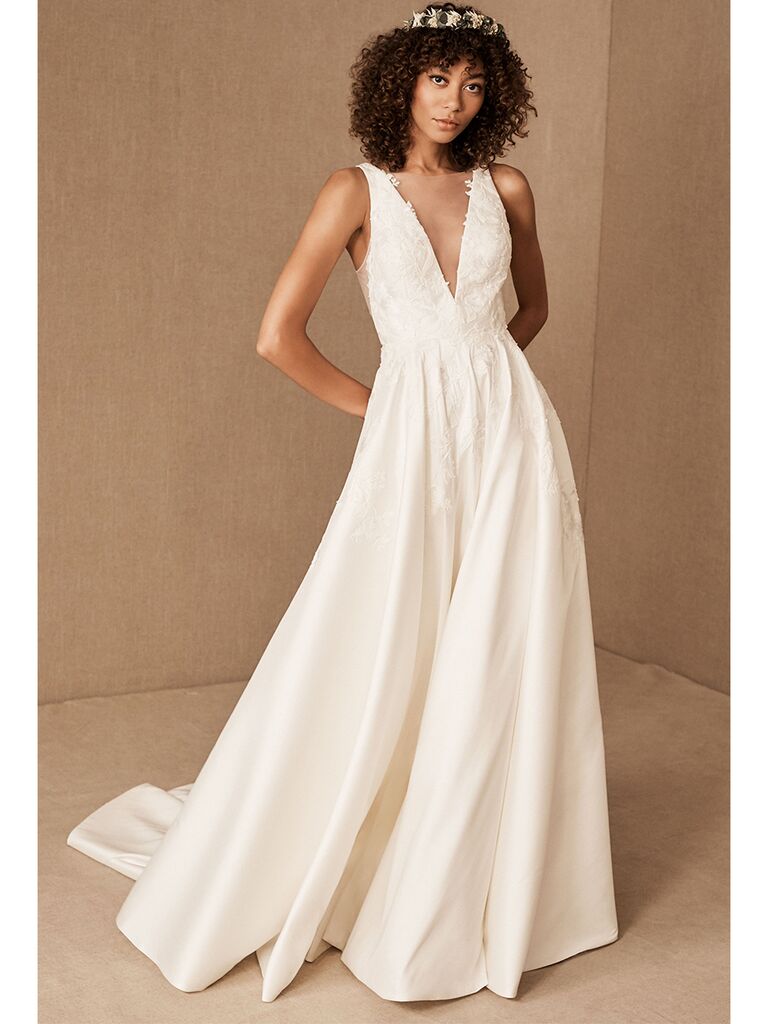 Eden gown; A-line wedding dress with deep V-neckline and floral lace appliques.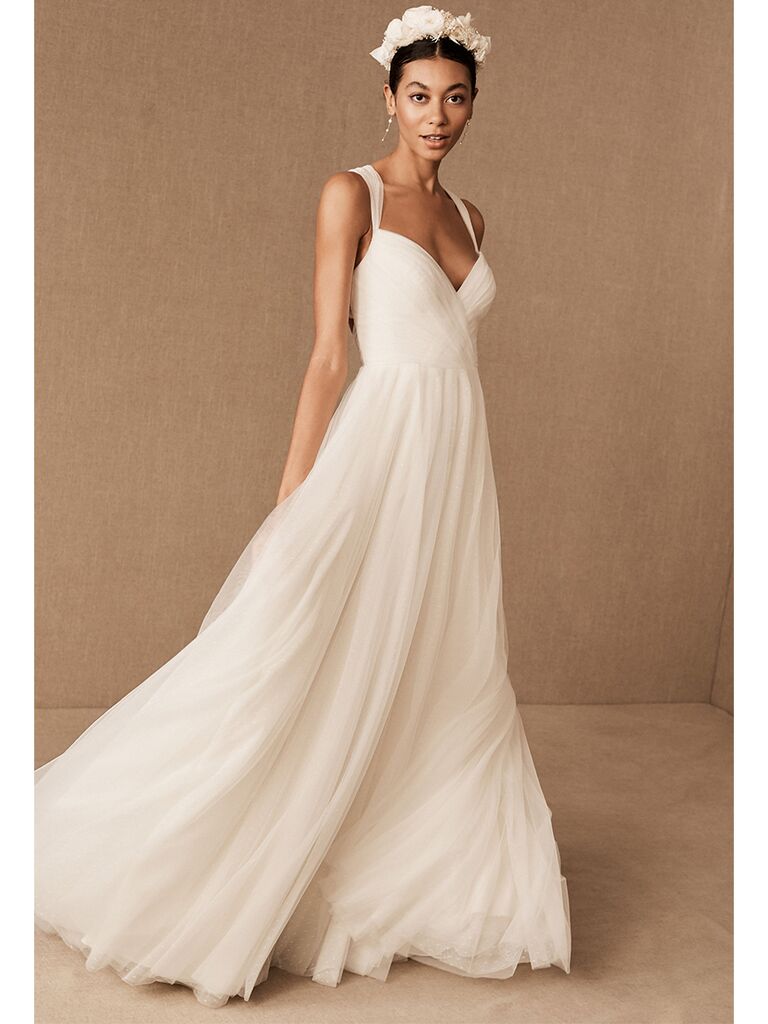 Esperita gown; A-line dress with V-neckline and sheer straps.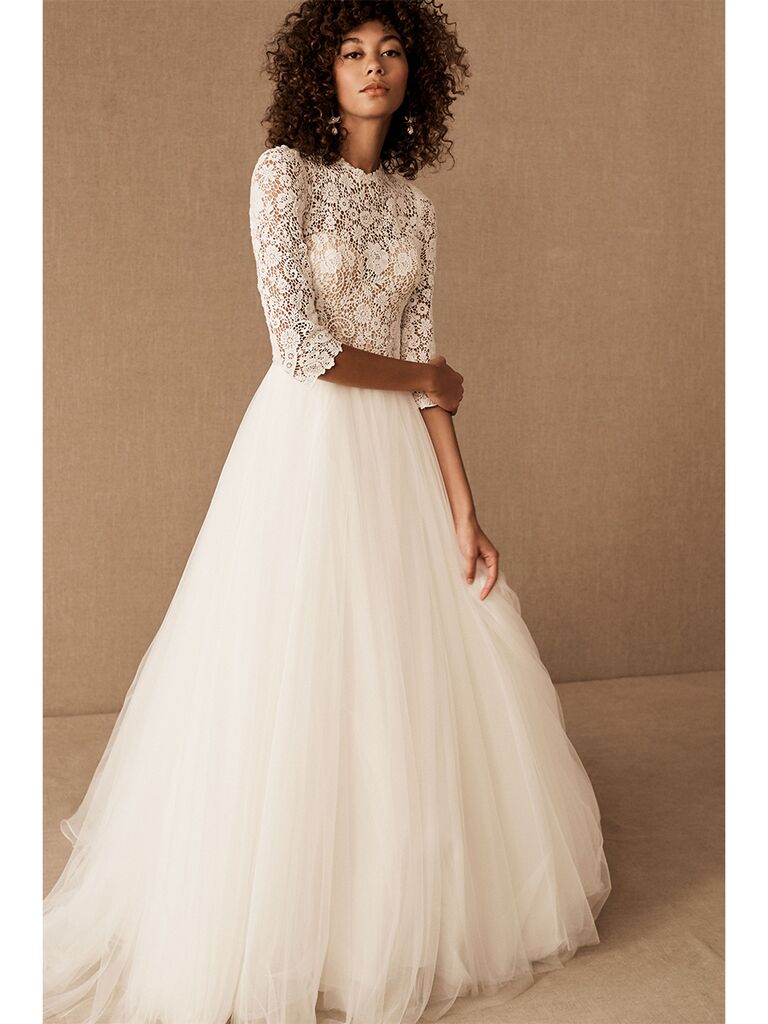 Frederique gown; A-line dress with full tulle skirt and lace bodice overlay with 3/4 lengh sleeves.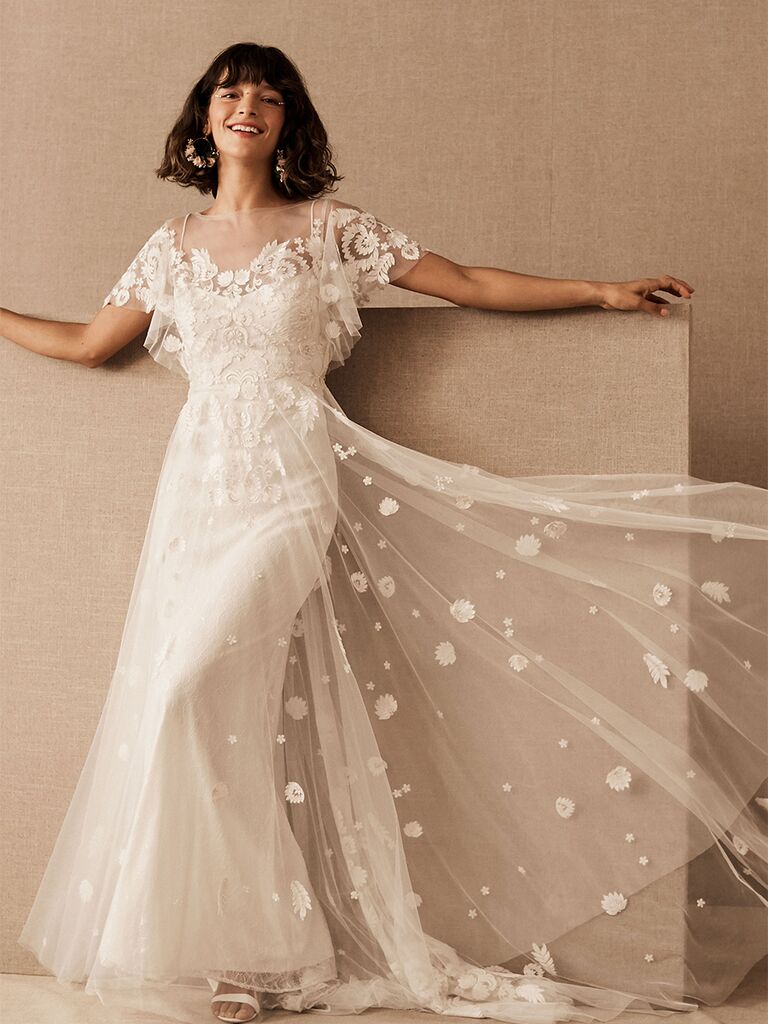 Heartleaf gown; A-line dress with sheer overlay embroidered with floral appliques and butterfly sleeves.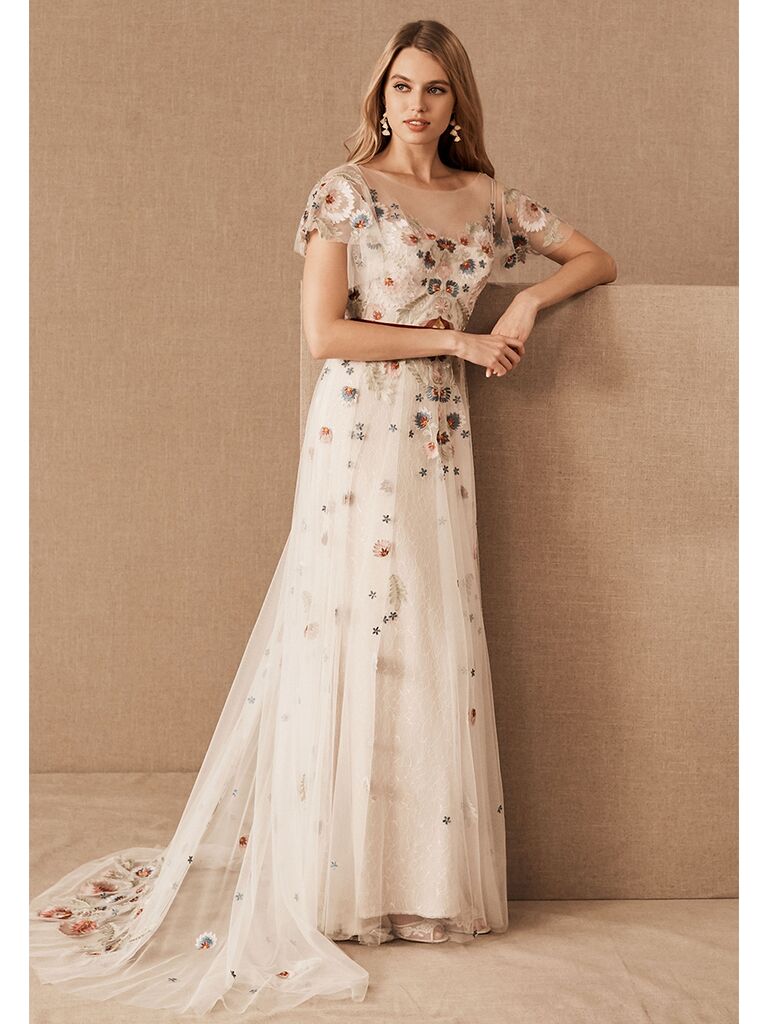 Heartleaf gown; A-line dress with sheer overlay with colored floral embroidery and butterfly sleeves.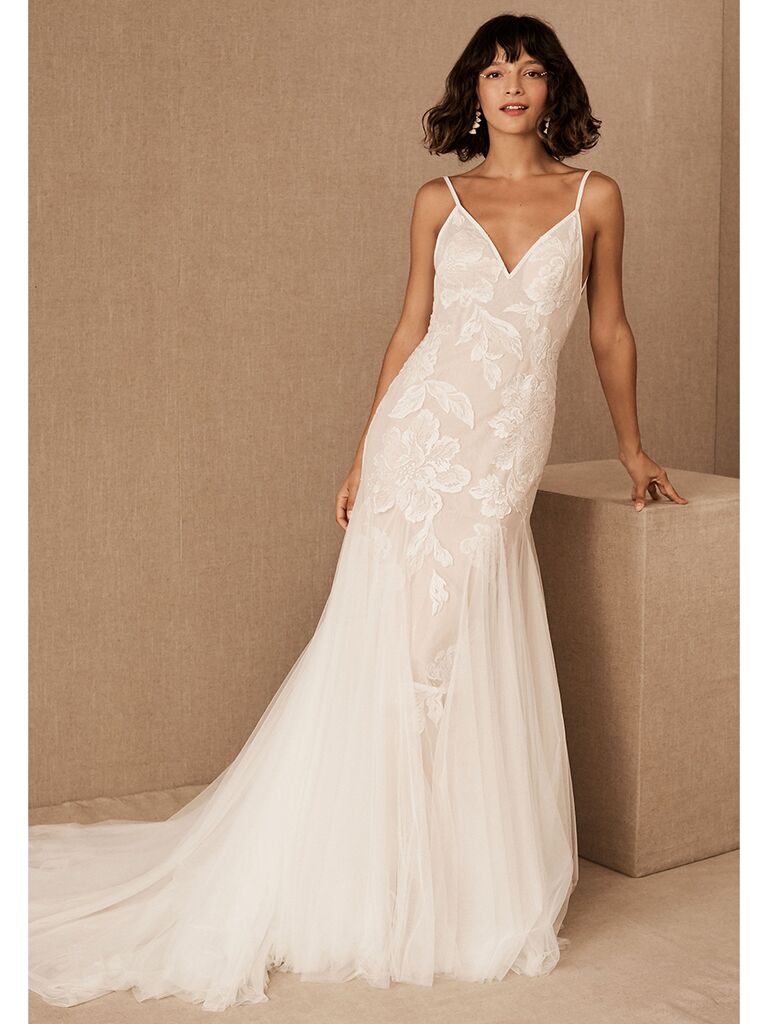 Holden gown; Fit-and-flare dress with tulle skirt, lace-embroidered bodice, V-neckline and spaghetti straps.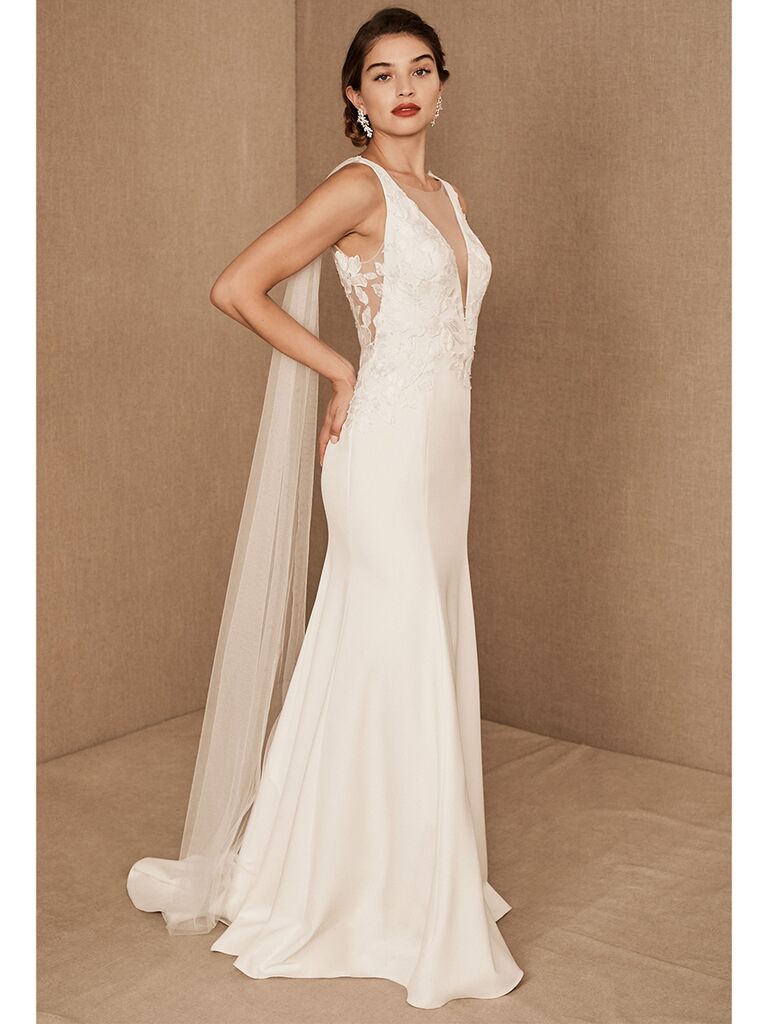 Langdon gown; Fit-and-flare dress with sheer illusion V-neckline and lace-embroidered bodice.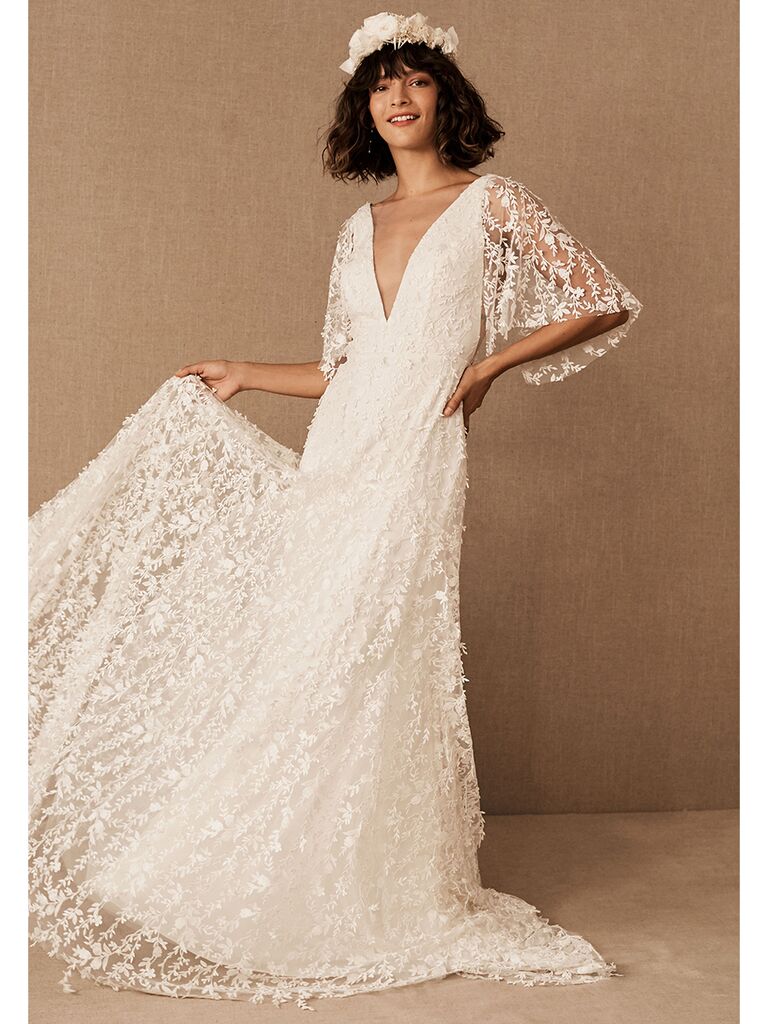 Lourdes gown; A-line dress with floral lace overlay, loose sheer sleeves and V-neckline.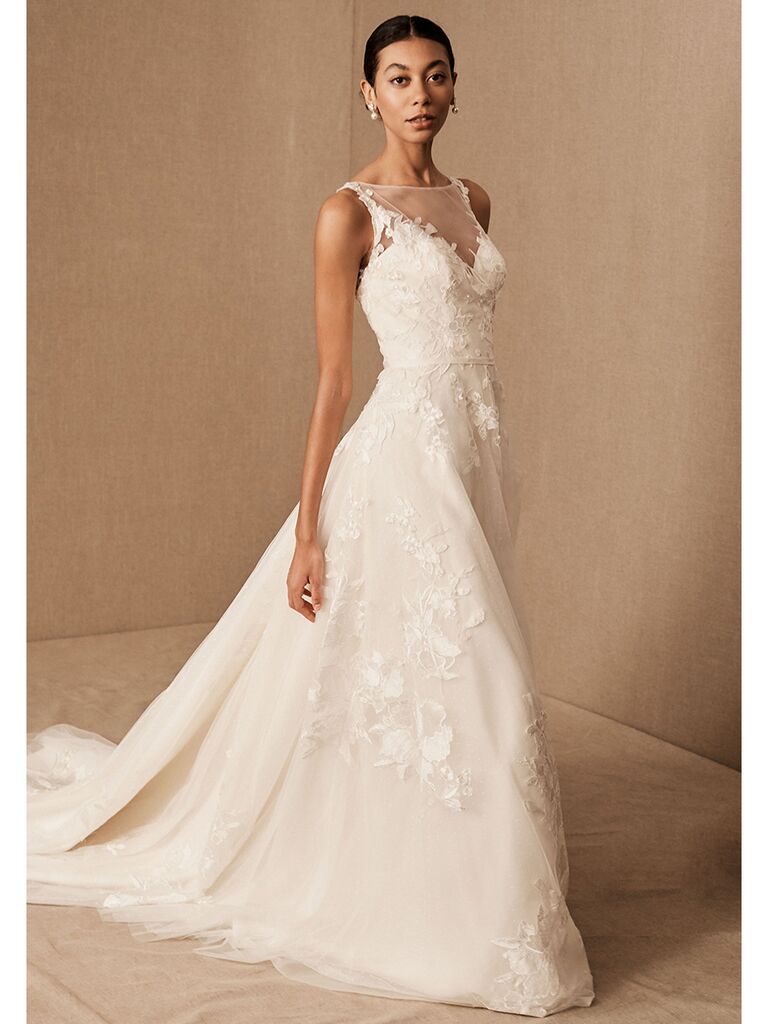 Marceline gown; A-line dress with illusion V-neckline and lace embroidery.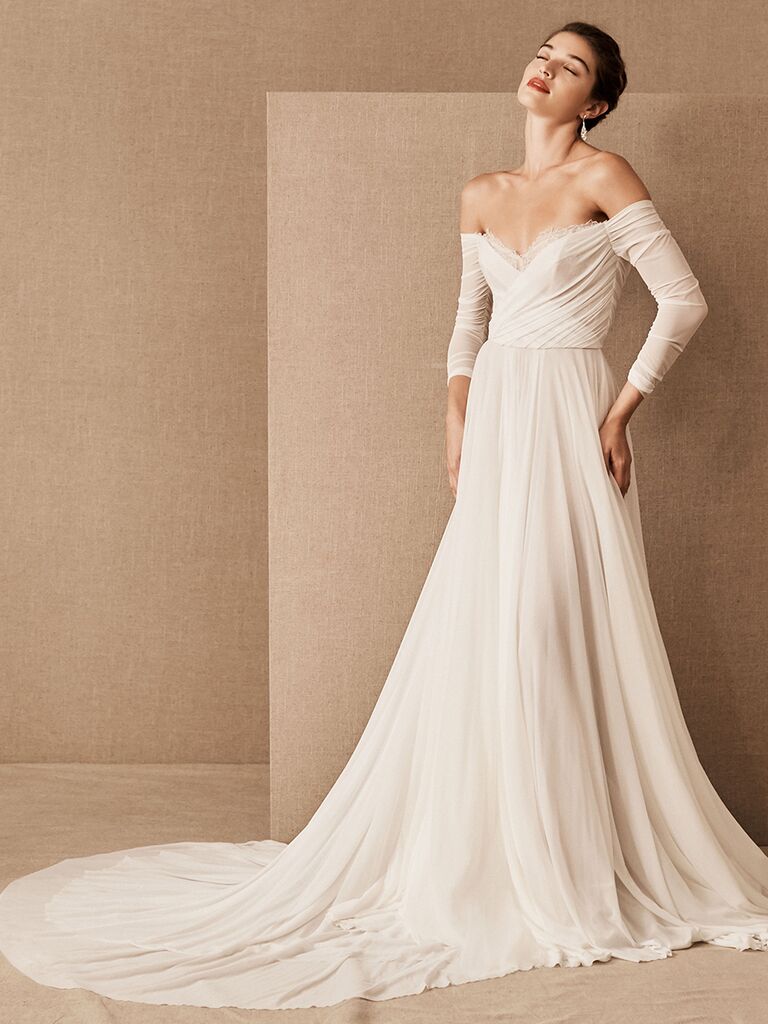 Miles gown; Off-the-shoulder A-line dress with V-neckline, 3/4 length sleeves and train.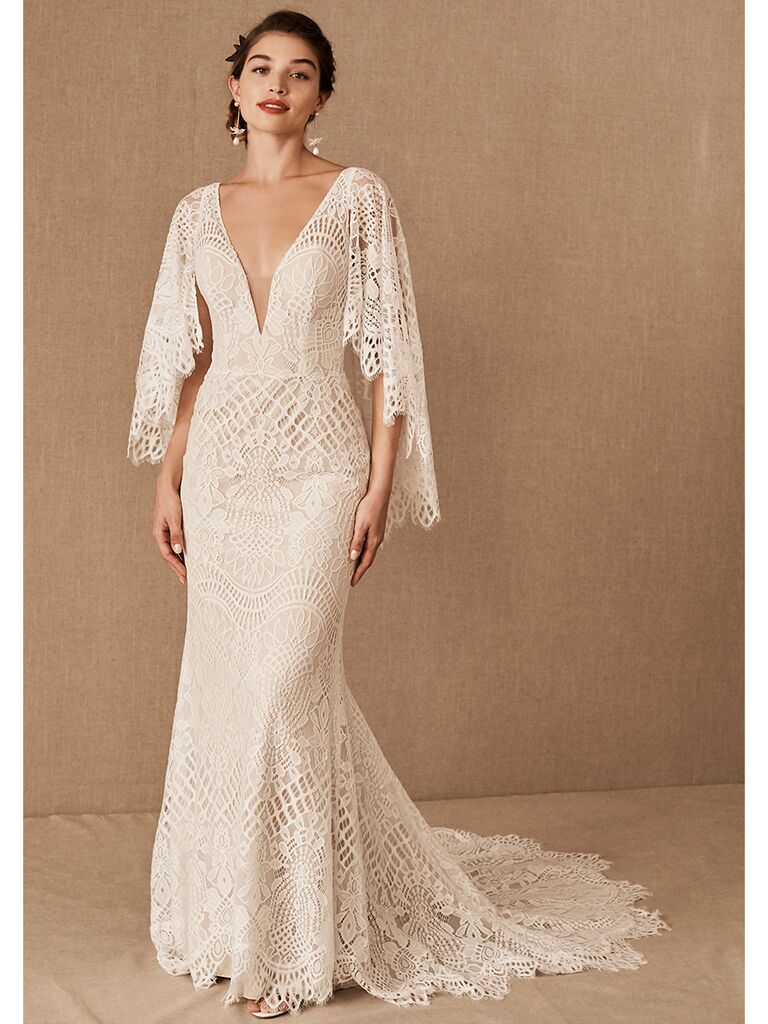 Odalis gown; Fit-and-flare lace dress with loose draped sleeves and V-neckline.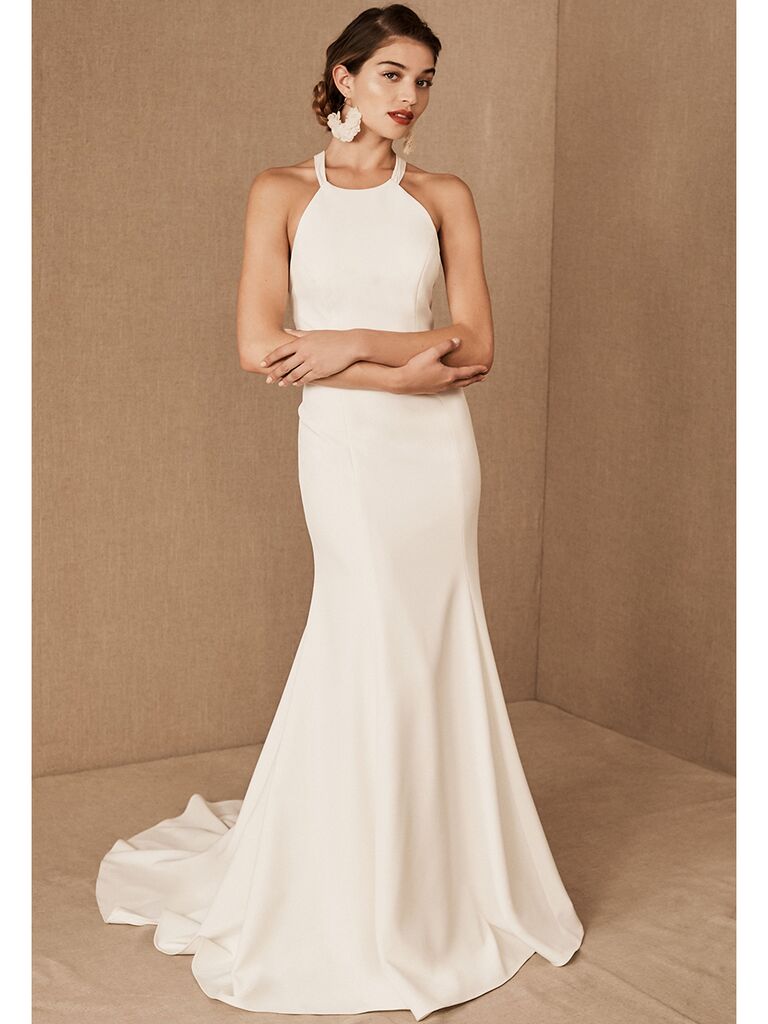 Shipley gown; Fit-and-flare dress with high neckline.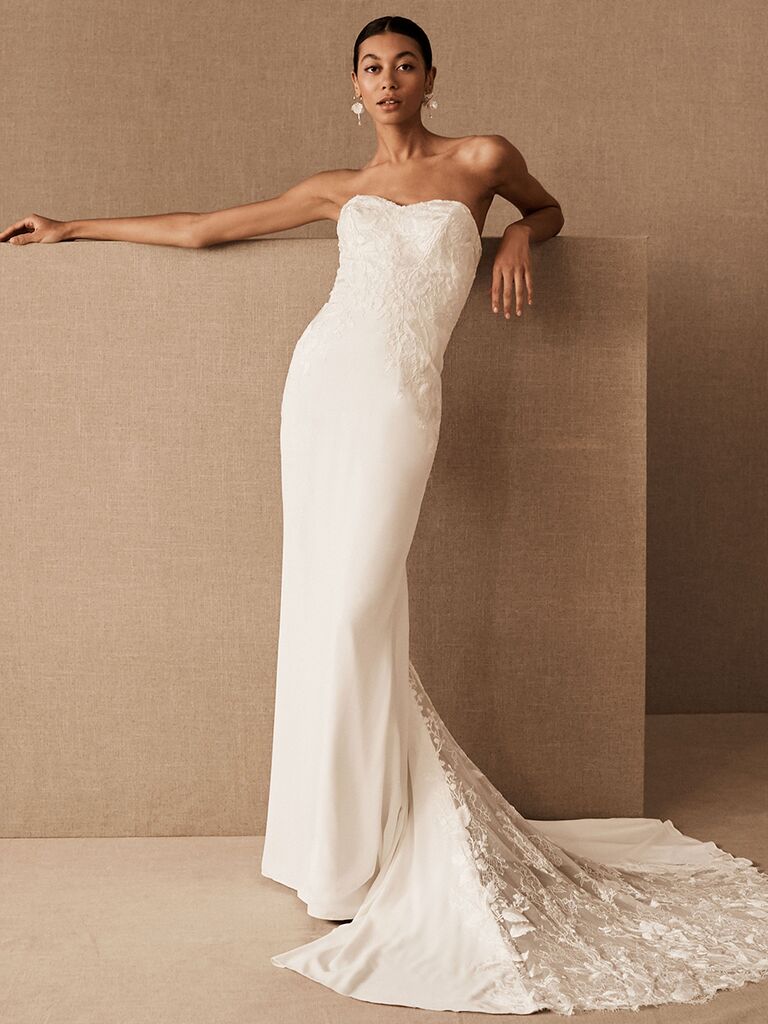 Vanya gown; Strapless column dress with lace bodice and lace train. 
BHLDN's Signature Style
BHLDN offers vintage-inspired wedding dresses, catering to the bride in search of something uniquely beautiful. Their signature bohemian style dresses feature fresh silhouettes, contemporary embellishments and intricate details, as well as romantic fabrics and noteworthy sleeve options. 
A Brief History of BHLDN
BHLDN launched its website on Valentine's Day 2011 and opened its first brick-and-mortar store in Houston in August 2011. They have since expanded to additional brick-and-mortar stores in Chicago and New York, as well as shop-in-shop locations in Anthropologie stores in Atlanta, Boston, Beverly Hills, Denver, New York City, Philadelphia, Seattle, Washington D.C. and more. As of 2019, there were seventeen shops within Anthropologie stores and three standalone stores.
BHLDN Collection History
In August of 2018, BHLDN launched its first eponymous collection since it's initial launch in 2011. Deemed "BHLDN the label," the 15-piece wedding dress capsule keeps in line with BHLDN's signature bohemian look. Tapping in to modern bridal style, the gowns feature exquisite of-the-moment details that run all across the board, like bold shapes, color mixing and mixed media beading.
BHLDN's Fall 2019 collection features eye-catching necklines and sleek designs along with tiered ballgowns and exquisite trains. Gowns in ivory and blush pair perfectly with fall wedding color palettes. 
Other BHLDN Labels
BHLDN offers more than just wedding dresses. They also provide attire for the other members of your wedding party: bridesmaids, flower girls,and mothers of the bride. They also offer additional attire for brides, such as little white dresses. Usually shorter and less ornate than a traditional gown, a little white dress lets the bride cut loose and celebrate after the ceremony is complete. Many brides choose reception dresses embellished with sequins, ruffles, or even feathers for a bit of whimsy. This BHLDN collection features everything from slinky silk and satin gowns, to knee or tea length dresses that are ready for dancing. They can also be used for other bridal occasions, such as bridal showers, engagement parties, rehearsal dinners, and bachelorette parties. 
Famous BHLDN Brides
Actor Jacob Zachar, beloved by fans for his role on ABC Family's series Greek, wed set costumer Brittany Saberhagen as she wore a BHLDN gown in May of 2019.
WNBA Star Elena Delle Donne married Amanda Clifton in 2017, and both wore trendy BHLDN outfits to their reception. Elena wore a cropped lace spaghetti strap tank top with a high-waisted white floor-length skirt, and Amanda partied in an open-back shift tank with a pair of high-waisted, wide-leg white pants.
Another star also opted to change into a BHLDN outfit for their reception — Crazy Ex-Girlfriend star, Gabrielle Ruiz, showcased a dance-floor friendly sheath dress with beautiful lace and detailed neckline.
On her childhood best friend's wedding day in 2016, Taylor Swift donned a blush-tone chiffon cap sleeve BHLDN bridesmaids gown with a hand-embroidered bodice as she stood beside bride, Britany Maack, as her maid of honor.
Fun Facts about BHLDN
BHLDN collaborated with Wedding Paper Divas, a subsidiary of Shutterfly, in 2014 for a collection of wedding stationery. The collection offers a series of distinct designs, featuring striking pops of color, vivid floral imagery, romantic script and other elegant details inspired by BHLDN's favorite wedding trends. Couples can choose from a variety of premium paper options, including a luminescent pearl white shimmer paper, premium double thick matte paper and various trim options.
BHLDN Previous Wedding Dress Collections
BHLDN Fall 2019 Collection
See every dress from BHLDN's Fall 2019 line below.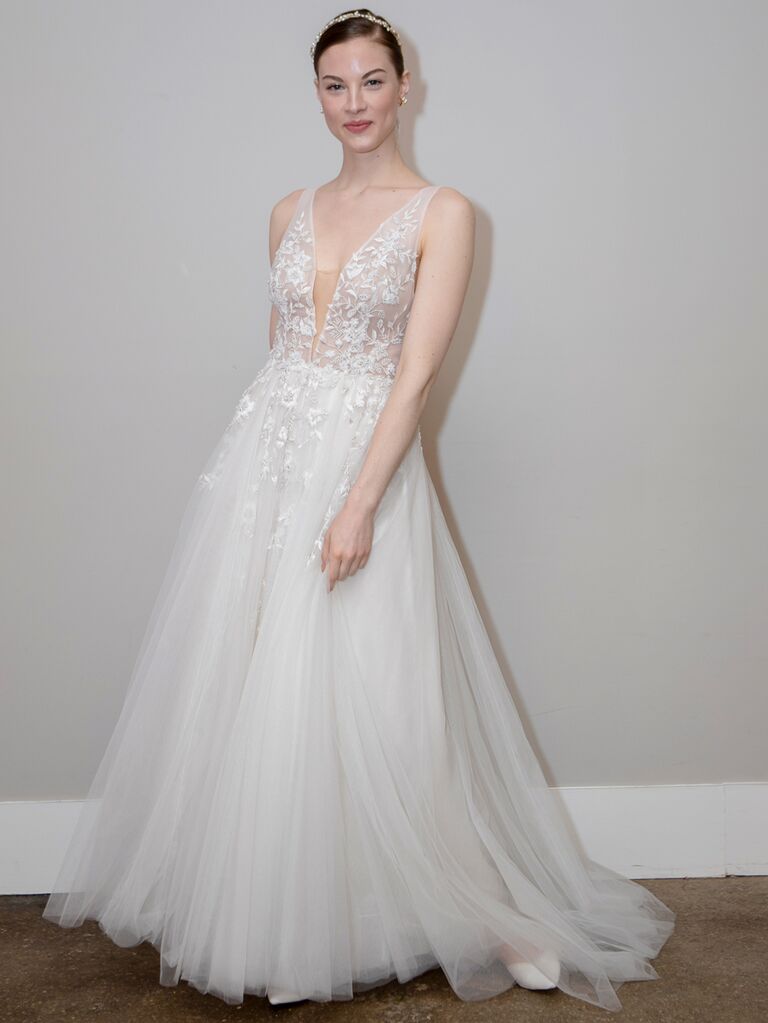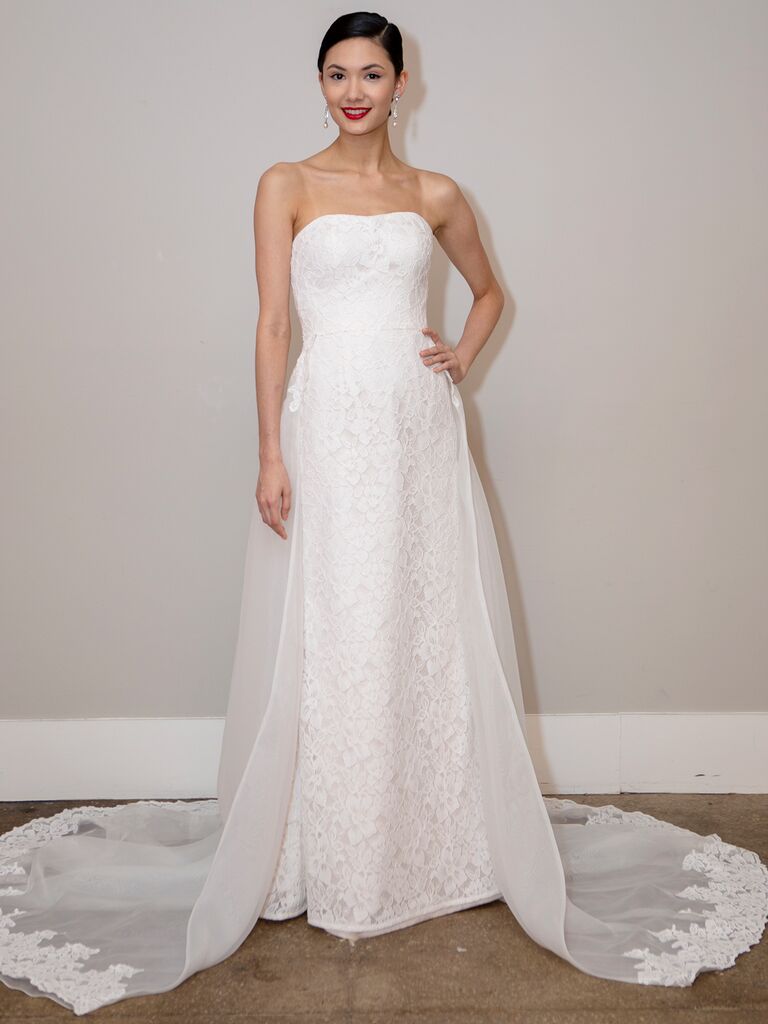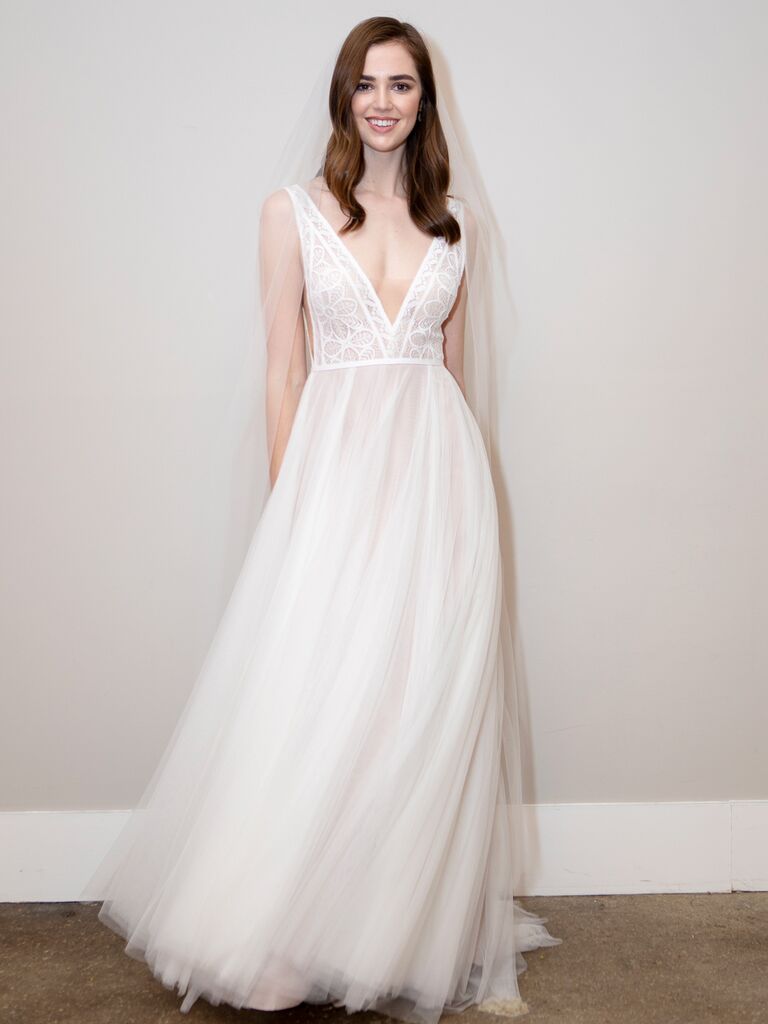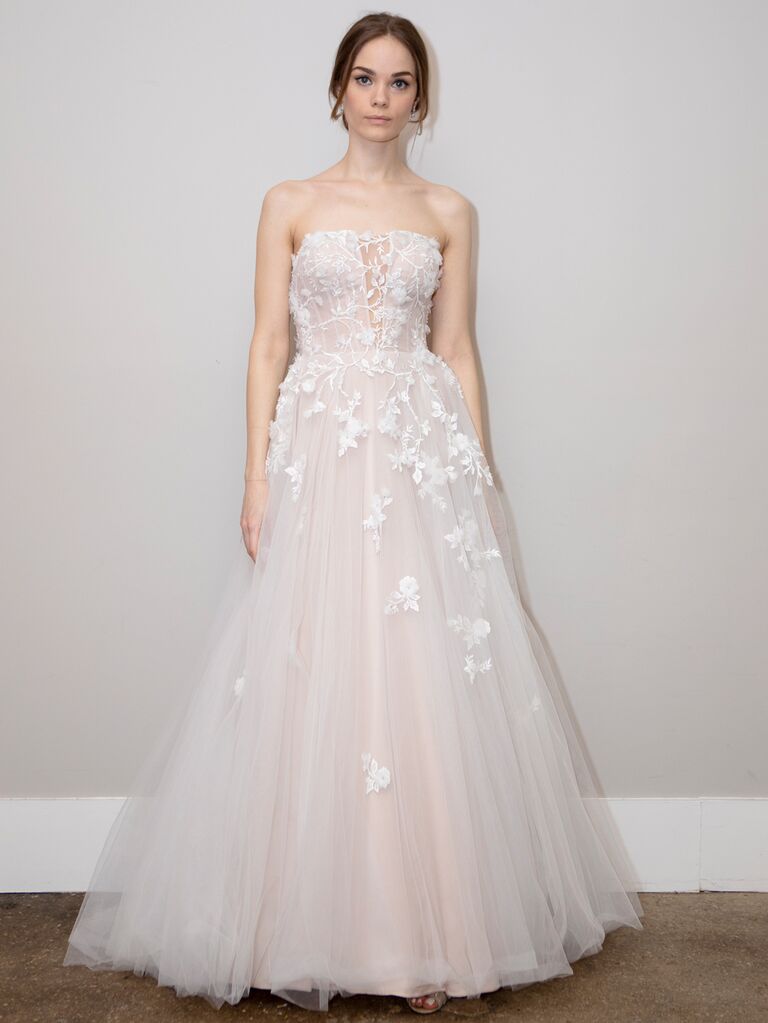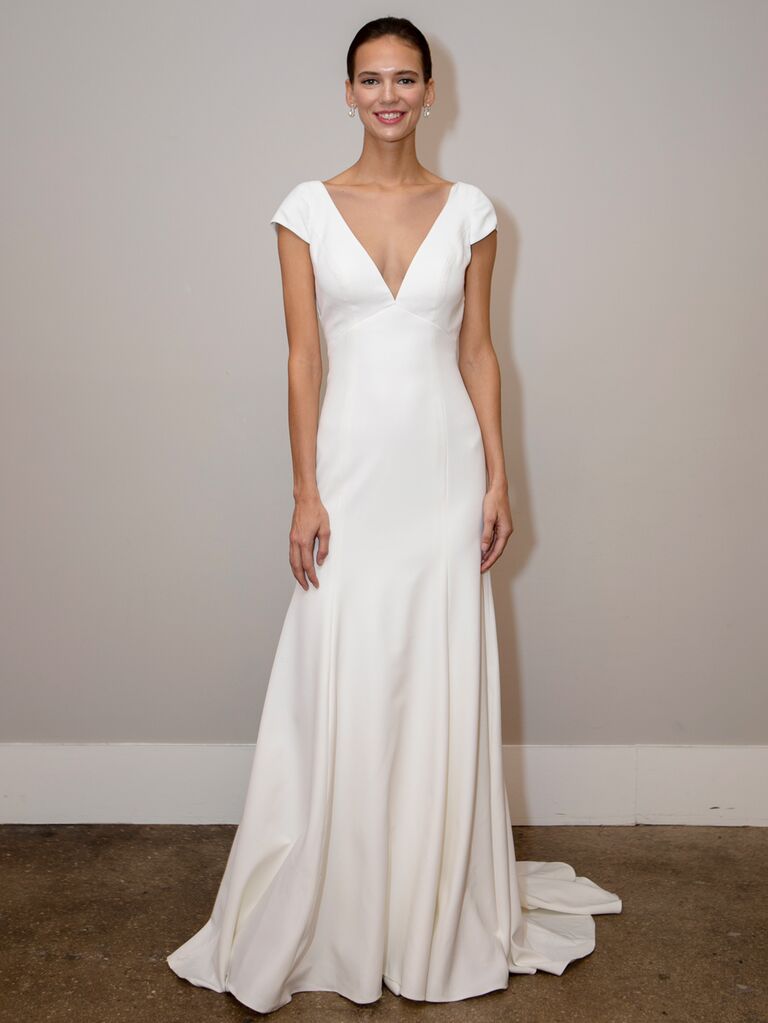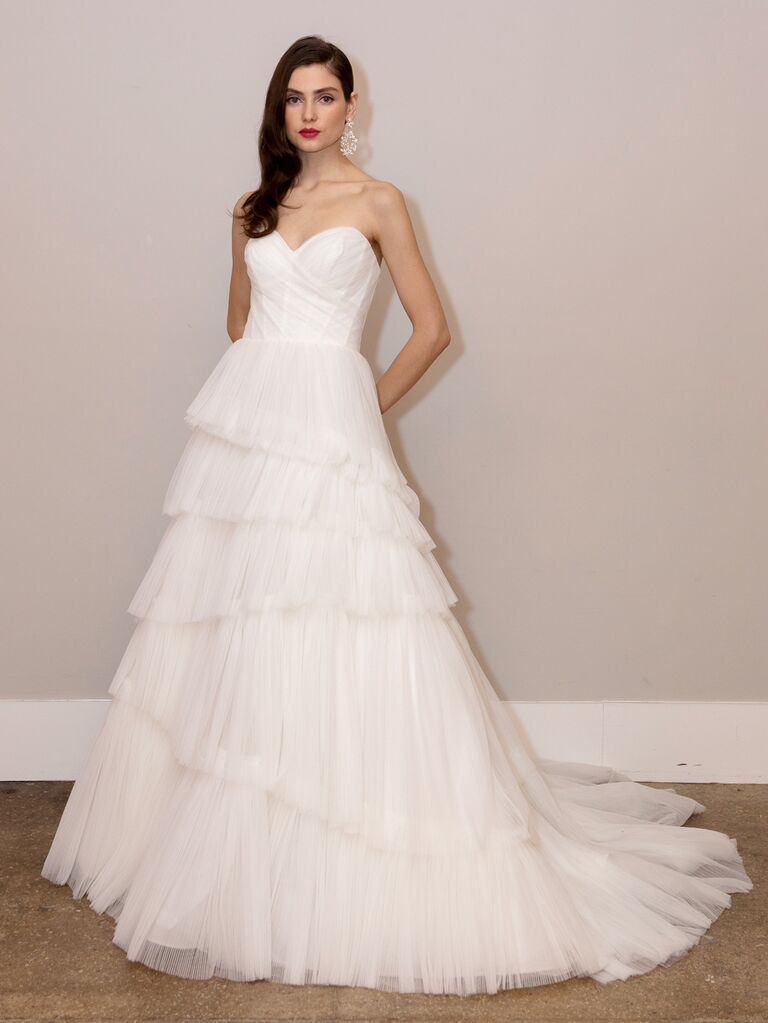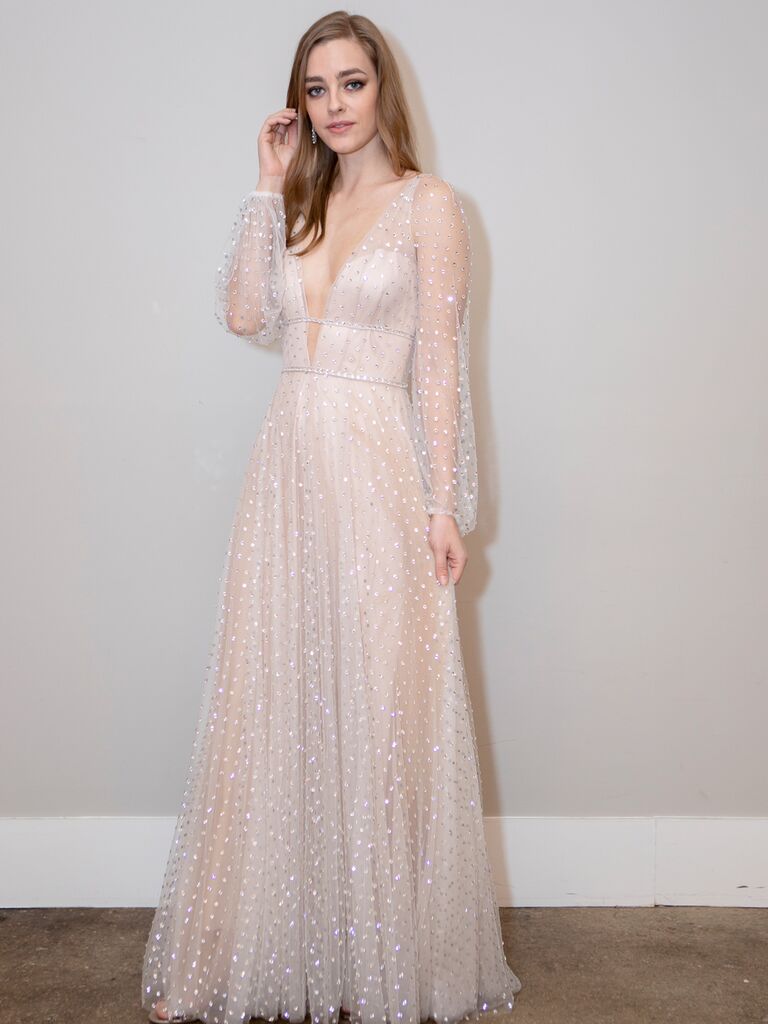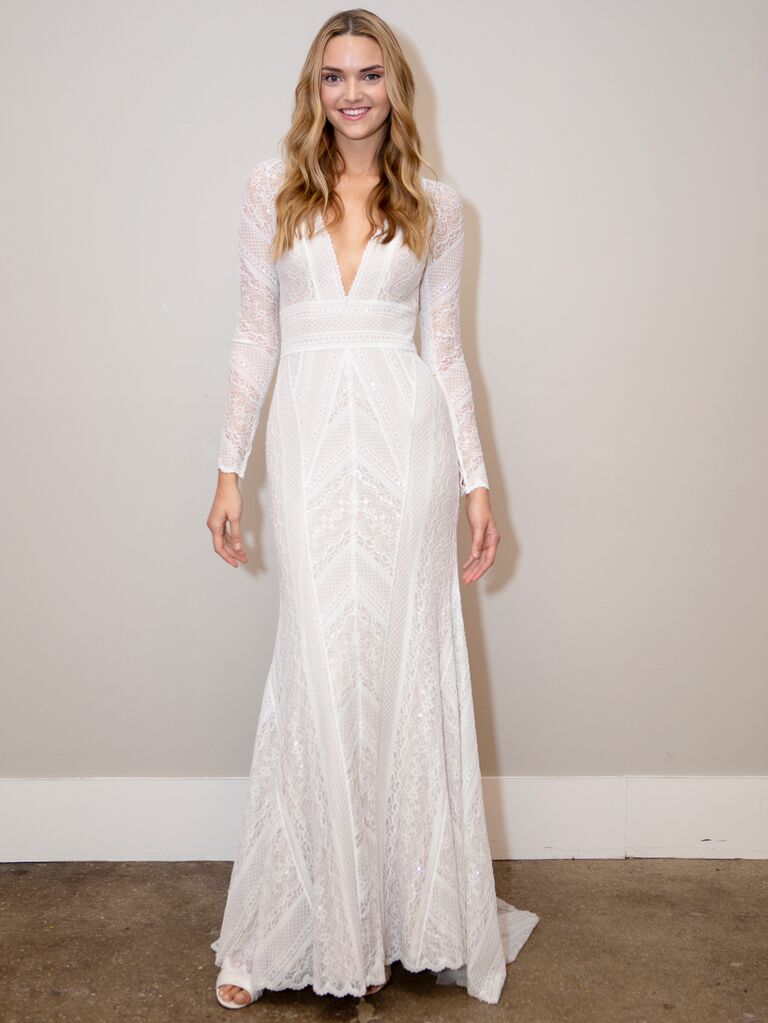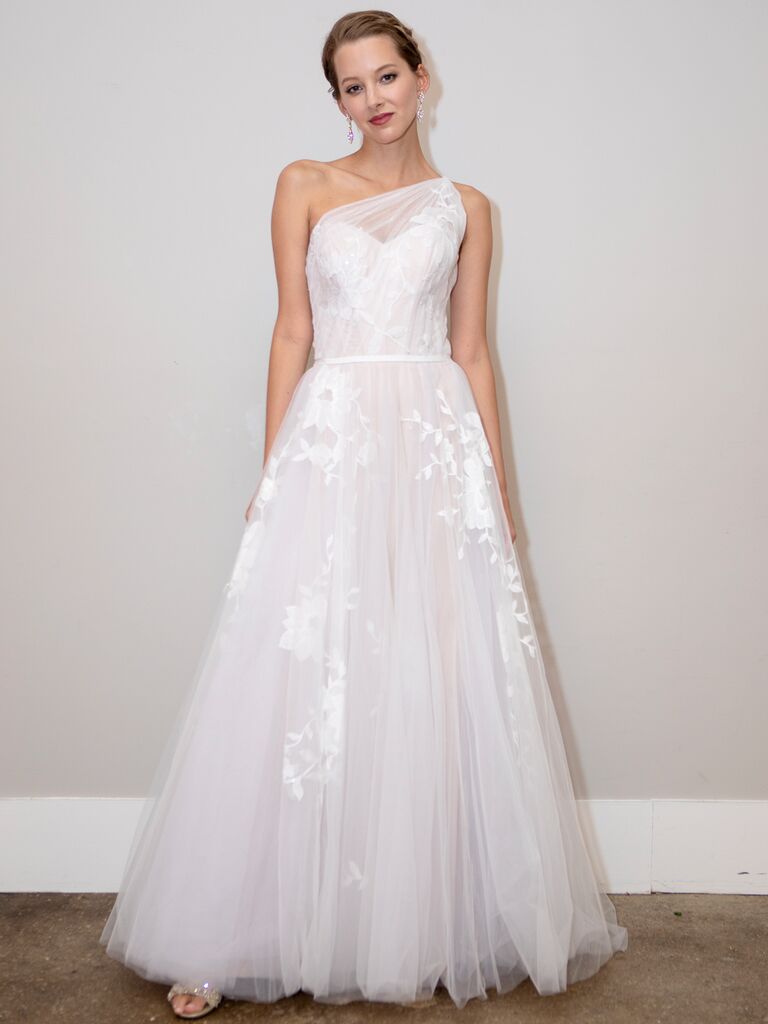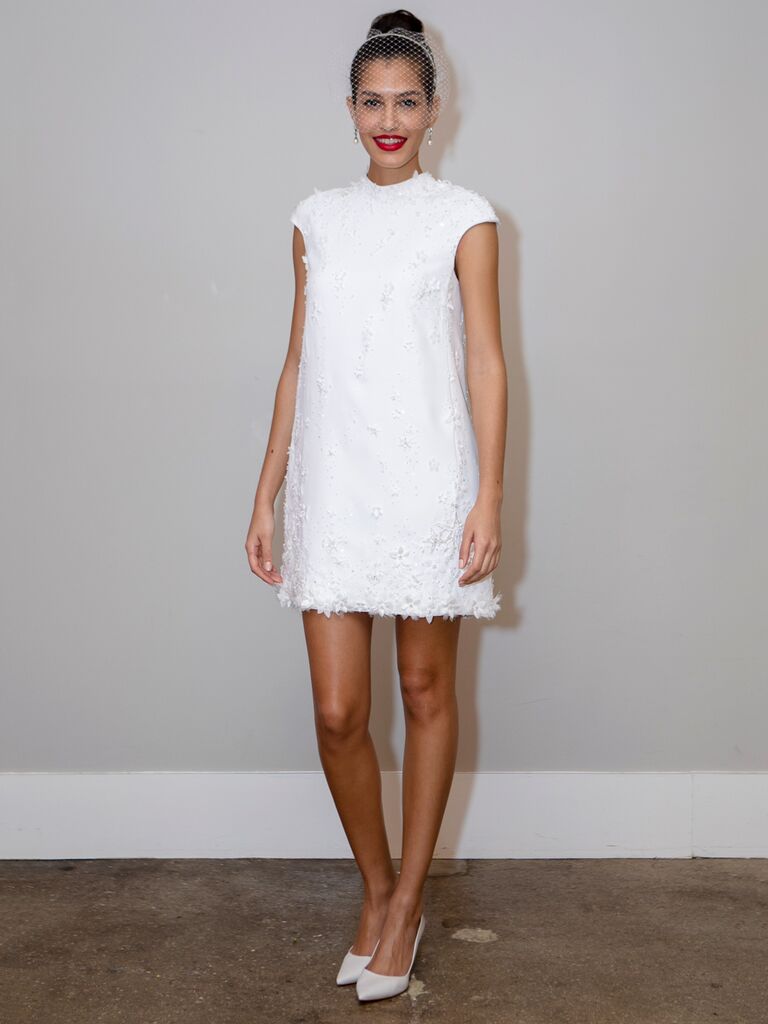 To check out all the Bridal Fashion Week galleries, plus wedding dress advice and more, go to TheKnot.com/bridal-fashion-week.