The Biggest Wedding Budget Myths
The truth about budget-trimming strategies that will really save you money.
by Amelia Mularz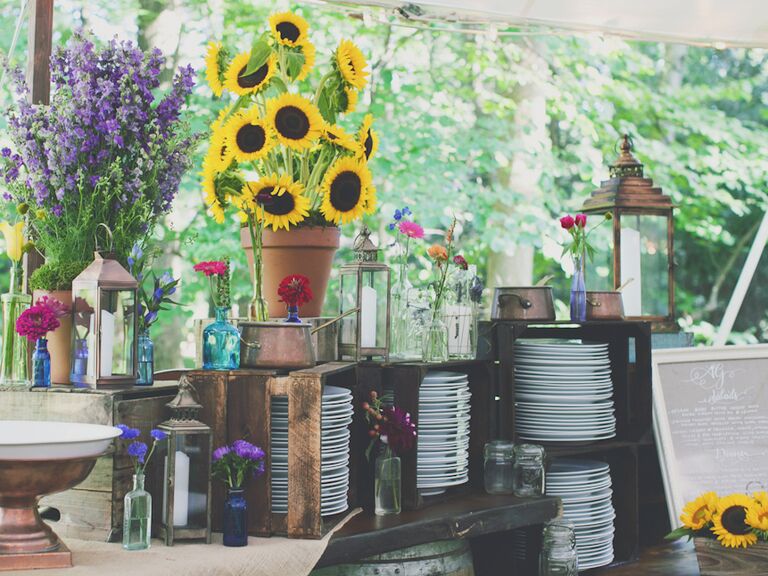 photo by
Levi Stolove Photography
Before you start planning, it's hard to imagine that the average wedding costs more than $30,000. Once you realize how quickly things begin to add up though you're going to become a cost-conscious queen. But beware: Not all of the money-saving tricks you've heard are true. Do the seasons really affect flower prices? Are buffets actually budget friendly? We separate the fiscal fact from fiction so you can save (and celebrate) smartly.
Myth: Go Seasonal to Save
"It's true that flowers that are in season and available locally will generally be more cost-effective than importing that same variety," says Liza Roeser Atwood, founder of FiftyFlowers.com, a wholesale floral company. "However," she adds—and this is where the myth part comes in—"some varieties are grown year-round on commercial flower farms near the equator, so their costs don't fluctuate. One could say that those flowers are never out of season." But it still comes down to availability. Sunflowers, for example, can be imported from farms in South America year-round, so prices stay constant. Peonies, on the other hand, have to be chased around the globe from season to season. This limited availability is what drives prices up.

Instead: Opt for look-alike blossoms. If your favorite florals won't be in-season for your wedding, ask your florist about similar buds that will. For example, garden roses have a similar look to peonies, but they're often a more cost-effective option as they're more easily sourced year-round. Or, splurge on a couple stems you really want, then complete the arrangements with lush foliage or less expensive fillers like baby's breath.

Myth: Backyard Equals Budget
Low-key doesn't necessarily mean mean low-cost. "One of the biggest misconceptions is that you can wed at home for less," says Andrea Correale, celebrity caterer and owner of Elegant Affairs. "It can cost three times as much as renting a venue." Sure, there's no site-rental fee, but you'll have to factor in a laundry list of other expenses, such as porta-potties, catering trucks, a tent, tables and chairs.
Instead: Investigate an all-inclusive wedding venue. These have-it-all event spaces come fully equipped with tables, chairs, dinnerware and linens, so you don't have to worry about pricey rentals, including tents, which may not even be necessary. Plus, all-inclusive venues often bundle their amenities into wedding packages that cost less than if you were to pay for everything a la carte, and that can add up to hundreds of dollars or more in savings.
Myth: A Destination Wedding Will Save You Big
Yes, destination weddings can mean savings if the travel required trims your guest list (your biggest expense) significantly. But if all your friends and family are on board for a weekend in Turks and Caicos, those savings can quickly disappear once you factor in the added costs of planning trips, airfare, hotels and importing decor and vendors. Also consider the sometimes-expected courtesy of helping members of the wedding party pay for their travel expenses.
Instead: You can still venture away from home, but skip the high prices of the peak season and book for the shoulder season (just after high season) to save yourself, and your guests, money. Keep in mind: The further you go into the off-season, the lower the prices will be—but the weather can be iffy, and you may find that stores, venues and vendors close up shop.
Myth: A Buffet Is Budget-Friendly
Correale warns that skipping a sit-down dinner in favor of a buffet or food stations will not save you money. "You have more tables, more linens and people will eat for longer," she says. Unlike taco night at the college cafeteria, a wedding buffet can't look picked-over after the last guest has been served. So your caterer actually has to order more food than they would for a plated dinner, where portions are controlled, which adds up to extra costs.
Instead: If you really want to save on catering, embrace the idea of brunch and consider celebrating when the sun is still up. While a sit-down dinner can run up to $200 or more a head, the average brunch costs quite a bit less, depending on your venue. Even if you offer an open bar, you're still likely to save on a morning reception, since most people tend to drink less during the daytime. Also, many vendors will cut you a deal for hosting your celebration during nonpeak times. And finally, early birds can save on entertainment: A 12-piece band or DJ blasting dance hits might be a bit much at 11 a.m.
Myth: Cupcakes Cut Costs
While cupcakes can be a fun alternative to a wedding cake, they're not necessarily a more economical one. Each cupcake has to be individually decorated, which means you'll need more pricey sugar appliques and often just as much of the baker's time and effort.
Instead: Use the "sheet cake trick." Many bakeries charge $4 or more per slice for a decorated, tiered cake, with fancier confections costing upward of $2,000 total. But those same bakeries charge way less for a sheet cake that serves 100 guests. To take advantage of this savings without losing your photo op, order a smaller cutting cake for you two and a sheet cake to feed the rest. Or go for a Styrofoam model covered in icing with an edible top tier. When the cake is wheeled to the back to be plated, no one will realize you're pulling the old switcheroo.