You Have to See This Creative Birchbox Proposal
Style blogger and Birchbox fan Lisa Rosado's engagement ring came inside a very unique ring box. Watch the proposal video!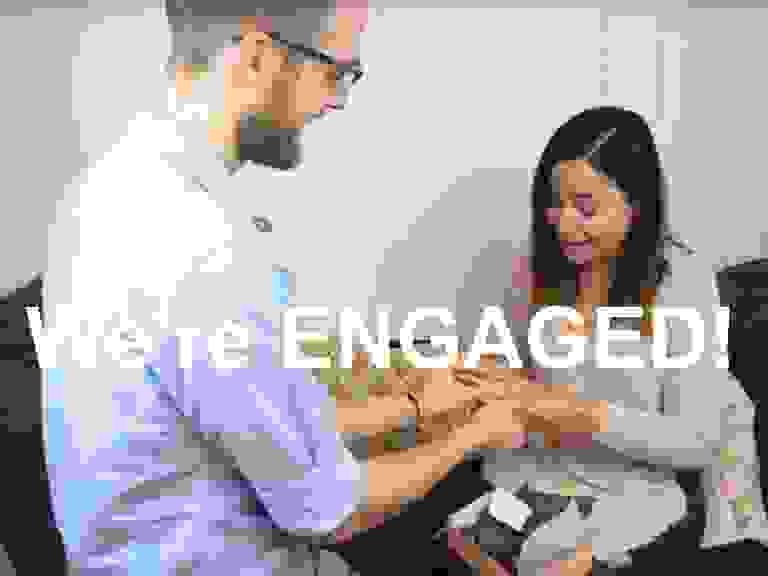 Lisa Rosado/Birchbox

To find a creative way to propose to Lisa Rosado, founder of style blog The Style Theory based in New York City, Lisa's boyfriend decided to think inside the box—Birchbox, that is! Beauty blogger Rosado features a sweet monthly segment on The Style Theory playfully named "Battle of the Birchboxes," in which she and her now-fiance unpack and compare the grooming products inside their respective Birchbox and Birchbox Man deliveries.
With the camera rolling and their brand-new Birchboxes ready to be revealed, Rosado and her man settle onto the couch for their February 2016 beauty product matchup. But little does Rosado know, her then-boyfriend had tucked a ring—an nontraditional single rose cut white diamond—into the bottom of her box.
Of course our favorite part of the video is the finale, when Rosado thinks they've exhausted their boxes, and she has no clue that under her new products sits the most beautiful thing by far. With a quick prompter from her boyfriend to keep opening—"You have one more!" he says—Rosado unwraps her delicate sparkler and looks up to find him on one knee. A tear- and giggle-filled "yes" follows quickly—and it's seriously adorable!
Rosado took to Instagram to flash her new rock with the caption, "What?!?! We're engaged!!!" along with a few celebratory ring and love emojis. She later posted another pic with a sweet shoutout to Birchbox. We're absolutely obsessed with her unique engagement ring, which she stylishly stacked with another diamond studded curved band for a super-feminine, eclectic look. See her rings and proposal video, below!
A post shared by TST || Self-Love + Girl Power (@thestyletheory_) on
And watch the full "Battle of the Birchboxes: February 2016" proposal video here.
Congrats to the happy couple!