33 Stunning Blue Engagement Rings For Your Inner Mermaid
These trendy sparklers are simply mermazing.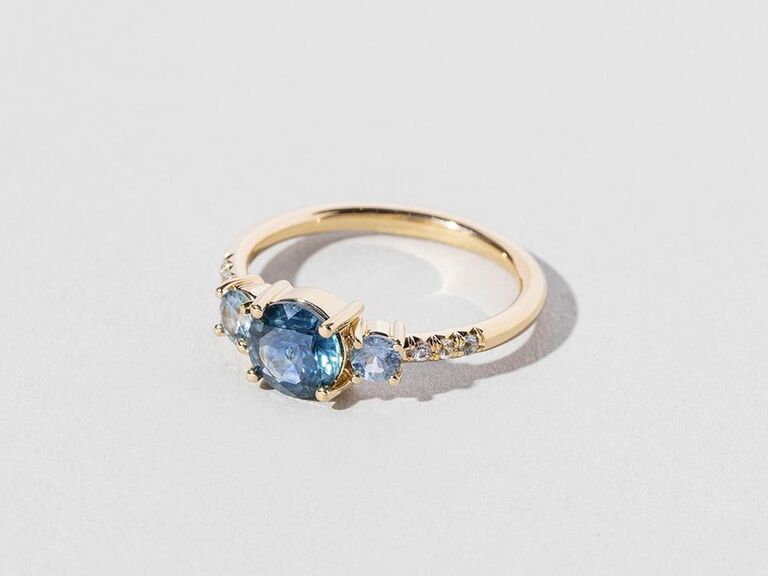 Courtesy of Mociun
We have included third party products to help you navigate and enjoy life's biggest moments. Purchases made through links on this page may earn us a commission.
You heard it here first: Blue engagement rings are the "it" jewelry trend of 2021. And while sapphire engagement rings are nothing new (they've actually been around for centuries), the trendiest rings put a new spin on sapphire center stones in addition to a wide variety of other gemstones, like blue diamonds, aquamarines, tourmalines and tanzanite. The end result? Ethereal sparkle that brings something more unexpected to the table. So, whether you're in the mood to splurge on a luxe "Something Blue," appease your inner mermaid (same), or you want to have your very own, "I thought the old lady tossed into the ocean at the end?" Titanic moment with a statement piece, look no further than these beauties in every shade of blue.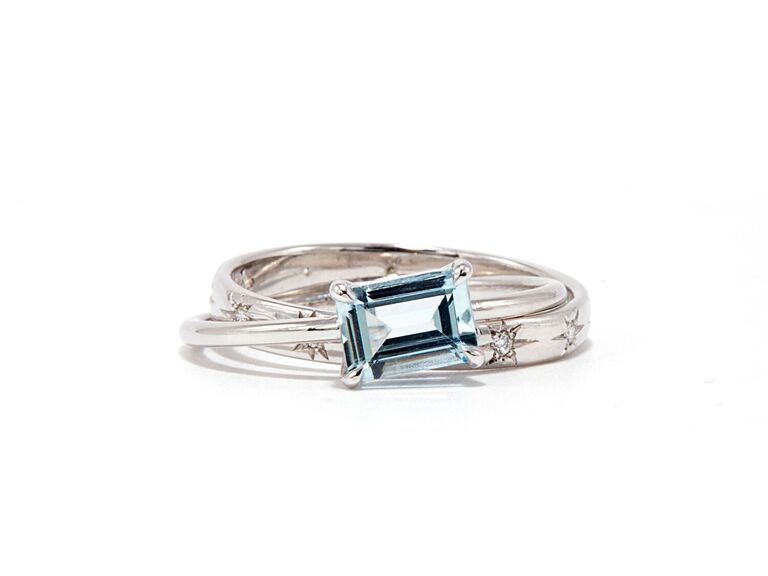 A pale aquamarine center stone plays up the pretty, celestial vibe of this interconnected ring stack.
Ashley Zhang Blue Light Aquamarine Rolling Ring, $1,950, AshleyZhangJewelry.com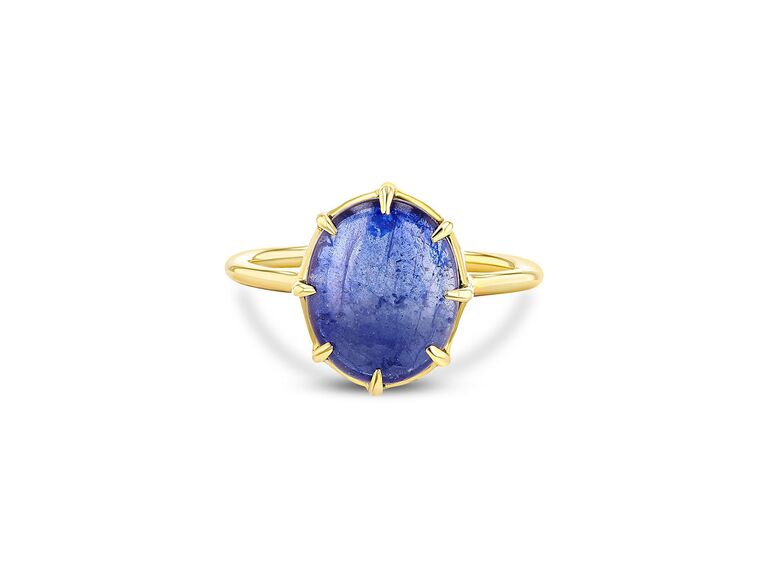 For a fashion-forward take on a sapphire engagement ring, consider one with a cabochon cut (read: a stone that has been polished as opposed to faceted). This unique cut brings out the natural color variation in a gemstone, making each piece feel extra special.
Grace Lee Blue sapphire cabochon ring vertical, $2,388, GraceLee.com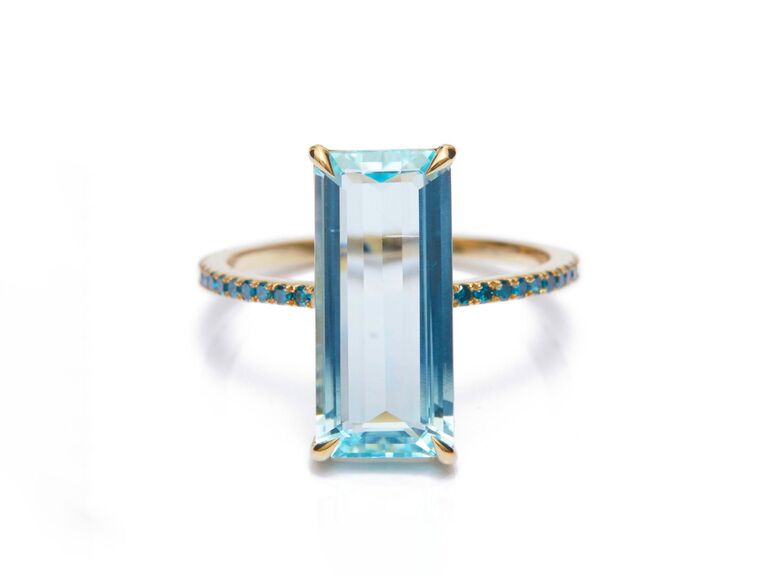 Fun fact: Aquamarines are also referred to as the "sailor's stone" because they were believed to have the power to calm waves and protect sailors. This cerulean blue aquamarine in a complementary blue diamond setting truly brings the nautical vibes.
Yi Collection Aquamarine and Blue Diamonds Oceans ring, $1,950, YiCollection.com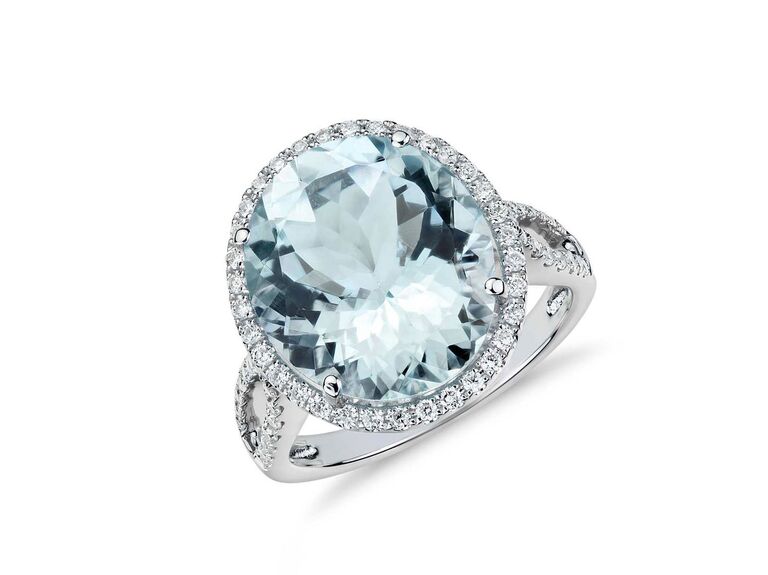 If you're going for a lot of look, aquamarines are also a great alternative to traditional diamonds for two reasons: They still have a pretty luster, but they also tend to cost significantly less than diamonds.
Blue Nile Aquamarine and diamond halo ring, $3,600, BlueNile.com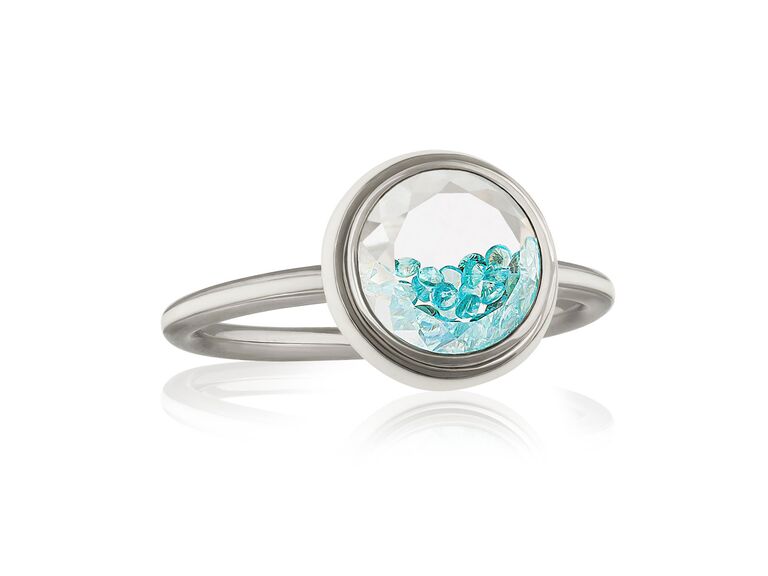 Calling all modern brides. Loose paraiba tourmalines enclosed in a white sapphire dome give this one-of-a-kind ring a gorgeous kaleidoscope effect.
Moritz Glik Paraiba Enamel ring, $4,800, MortizGlik.com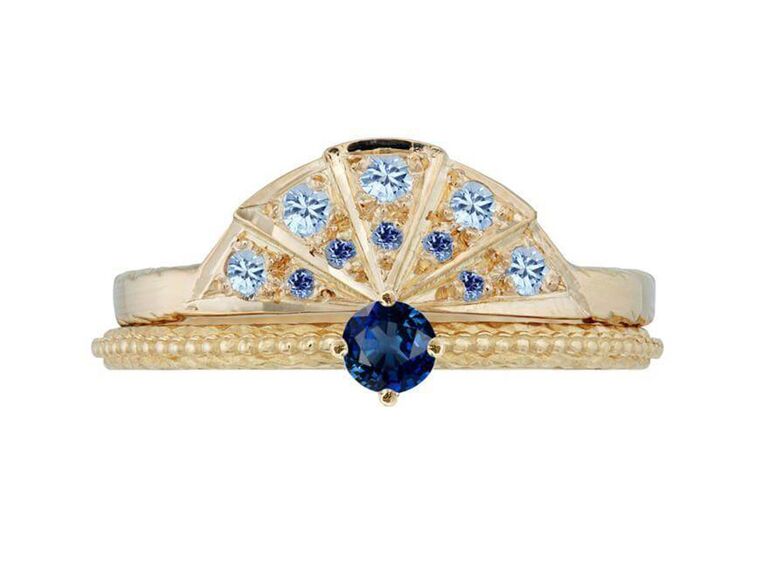 A bigger center stone isn't always better. A petite sapphire paired with an ornate, sunbeam-inspired band makes for a standout bridal set.
Phoebe Coleman Tender Love Sapphire engagement ring with Sapphire Sunbeam, Inquire for Details, PhoebeColeman.com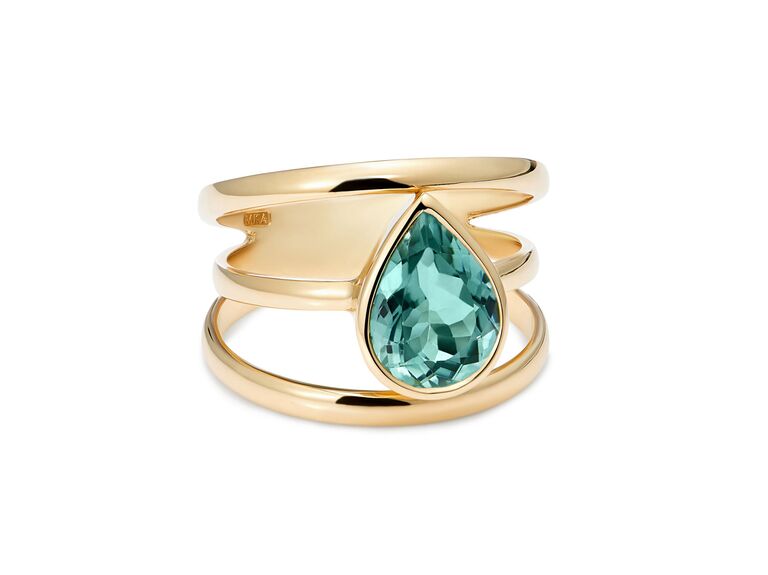 There's just one word for this minty ring: fresh. The green-blue hue of the pear-shaped tourmaline center stone is as unique as its triple band setting.
Minka Jewels Three-Way Mint Tourmaline ring, Inquire for Details, MinkaJewels.com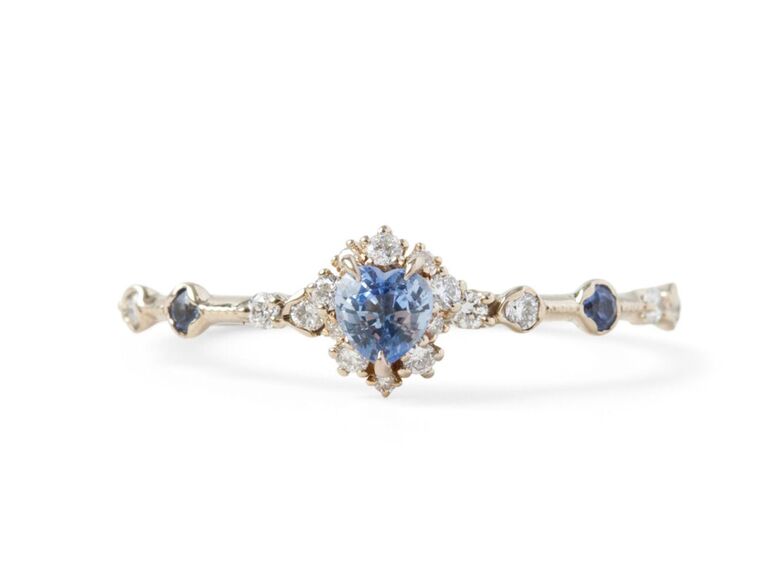 Bring the romance with a delicate, heart-shaped sapphire ring. Pro tip: Pair this pale blue engagement ring with a chevron-shaped pavé band for an elegant effect that won't overpower its intricate setting.
Kataoka Wisteria ring, $4,180, CatbirdNYC.com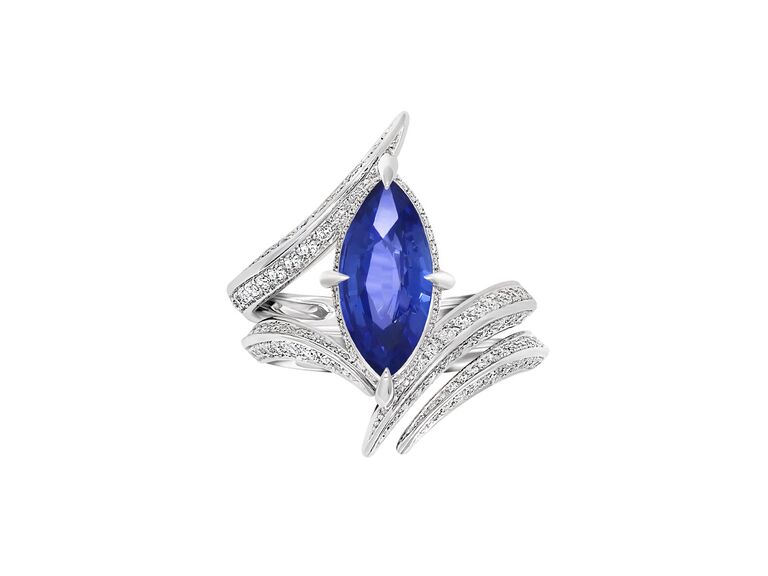 Inspired by ancient Egyptian snake jewelry, this standout piece is all about the cool contrast of a stunning marquise-cut sapphire and a serpentine, diamond-encrusted design.
Angie Marei Marquise-cut sapphire engagement ring , $12,500, DiaboliKill.com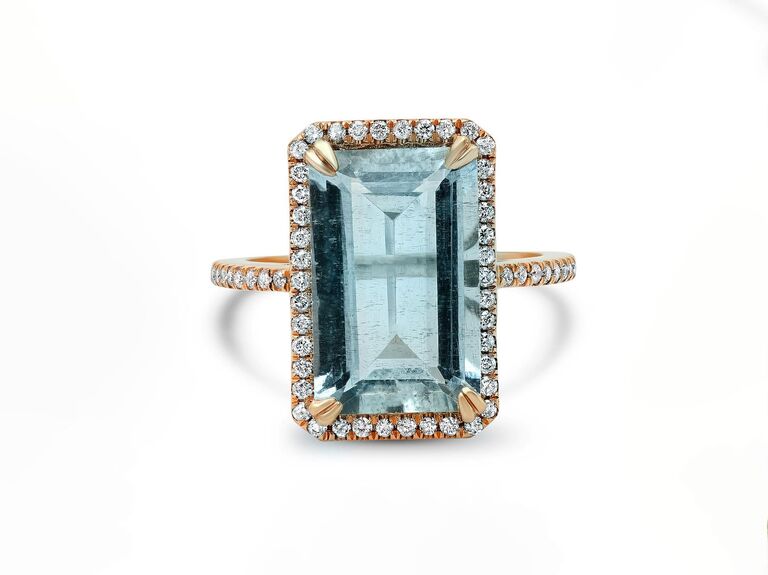 There's nothing wrong with wanting your new bling to be the center attention, okay? This 5-carat aquamarine dazzler is sure to turn a few heads—but also won't break the bank.
Kyle Chan Design One of A Kind Aquamarine with Diamond Halo ring, $2,695, AshleighBergman.com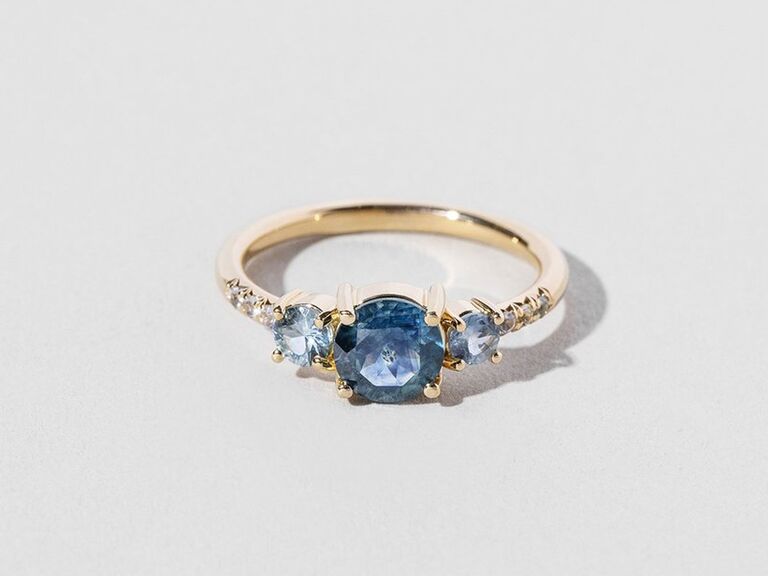 Editor's note: While they're most commonly associated with cornflower blue, sapphires actually come in almost every color. Varying shades of light blue give this cluster ring a pretty ombre effect.
Mociun Sapphire Orion ring $4,250, Mociun.com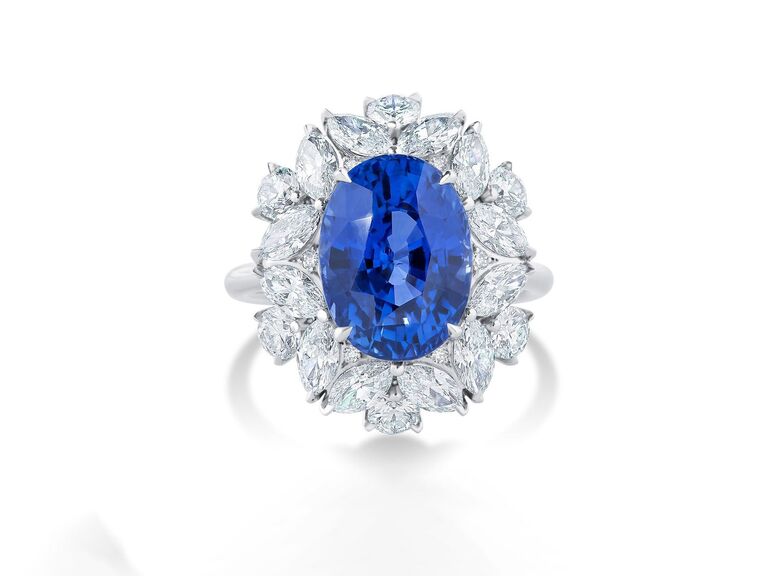 If you're in the market for a blue engagement ring but your vibe is more classic, consider a blue sapphire in an elaborate diamond setting, a la Kate Middleton.
Nicole Rose Platinum oval sapphire and fancy cut diamond ring, Inquire for Details, NicoleRoseJewelry.com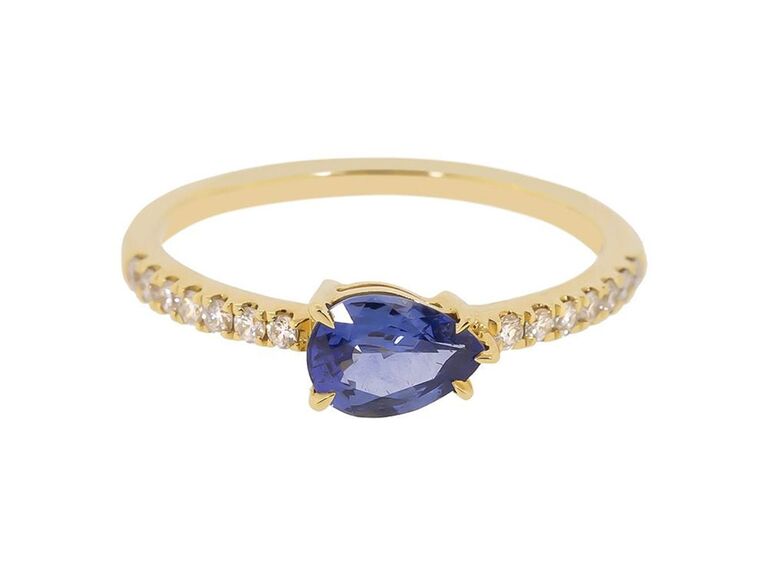 You don't have to opt for a giant rock to make an impact. This pear-shaped sapphire in a simple east-west (that means the stone rests horizontally across your finger rather than vertically) is all about effortless glamour.
Anita Ko 18kt yellow gold blue and white diamond ring, $6,880, Farfetch.com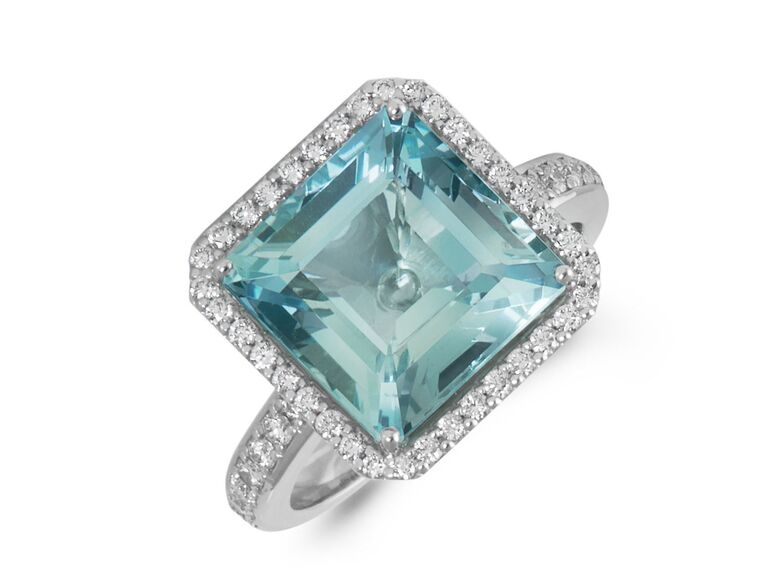 Ice ice baby. Simply put, there's nothing subtle about this Asscher cut aquamarine and blinged out diamond pavé design.
Anne Sisteron 18k White Gold and Aquamarine and Diamond Antonella ring, $10,200, AnneSisteron.com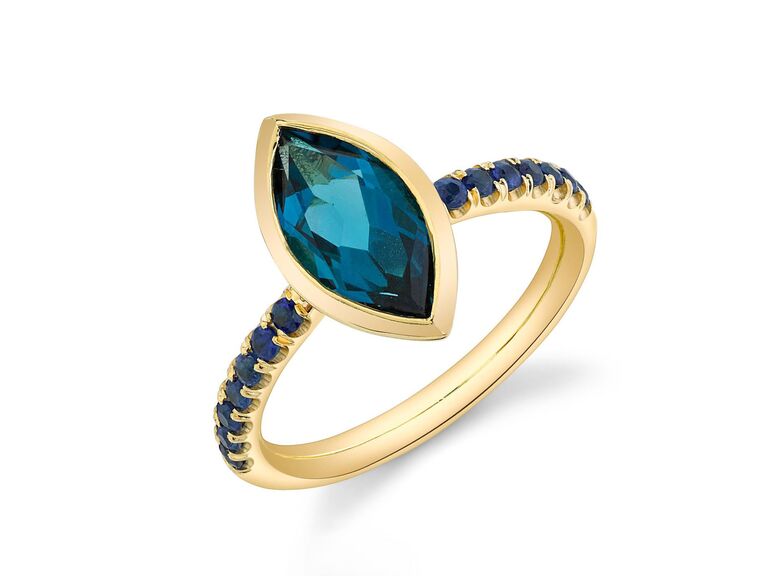 We love this vivid marquise-cut ring for a few reasons: The shape of the center stone elongates your hand, its shallower cut gives the illusion of a larger rock and its teal hue will set you apart from the crowd.
Sarah Hendler Pave Shirley Bezel Set Marquis Cut ring, $2,400, SarahHendler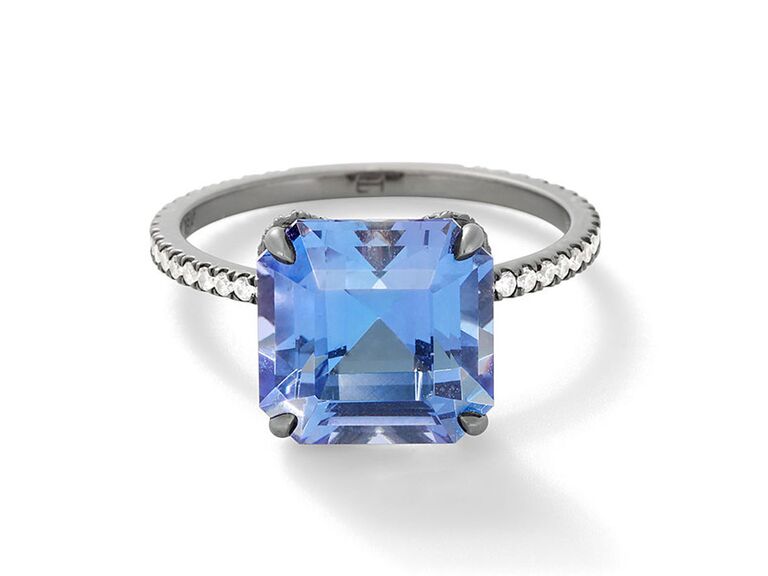 An understated, blackened white gold setting brings out the cooler tones of an icy tanzanite center stone.
Eva Fehren The Infinity ring, Inquire for Details, EvaFehren.com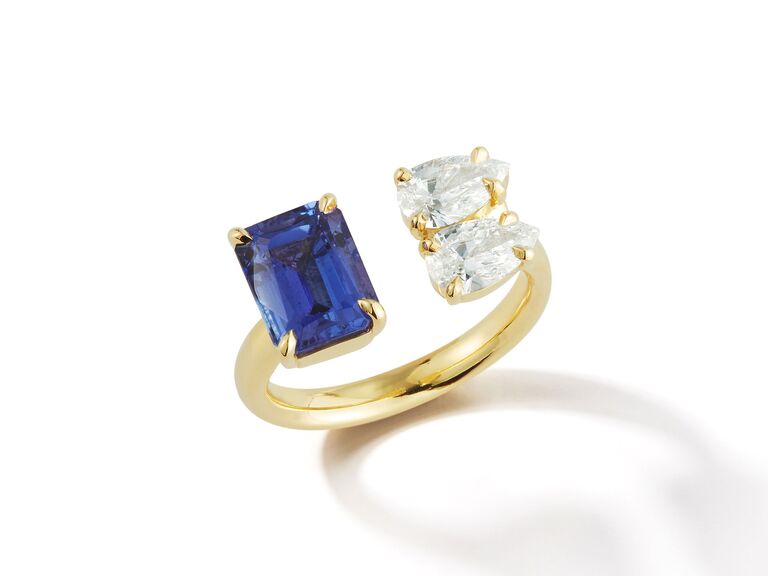 This engagement ring with an open setting gives you the best of both worlds: The vibrant color of a blue center stone plus all the sparkle of two white diamonds.
Jemma Wynne Prive Luxe tanzanite and double diamond pear open ring, $15,960, JemmaWynne.com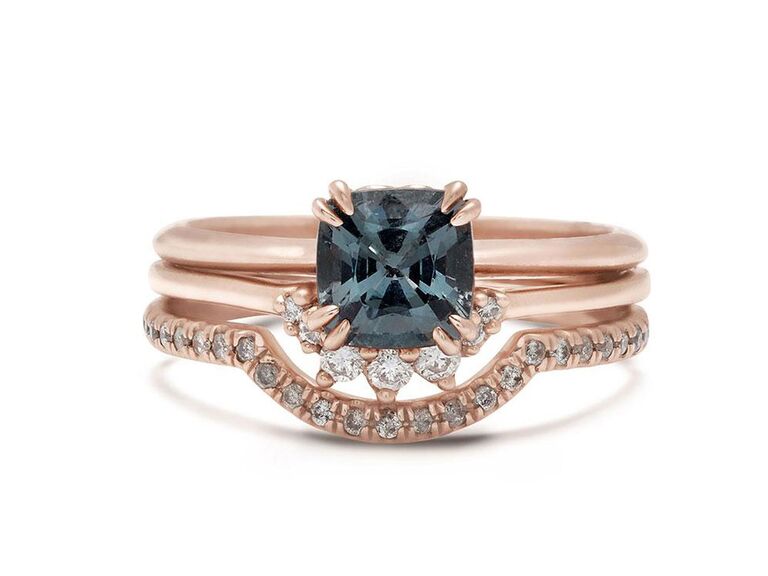 A contemporary riff on vintage rings owned by the designer's grandmother, this gray-blue sparkler and accompanying rose gold bands is an instant heirloom.
Anna Sheffield Hazeline Suite No. 36 rings, $5,327, AnnaSheffield.com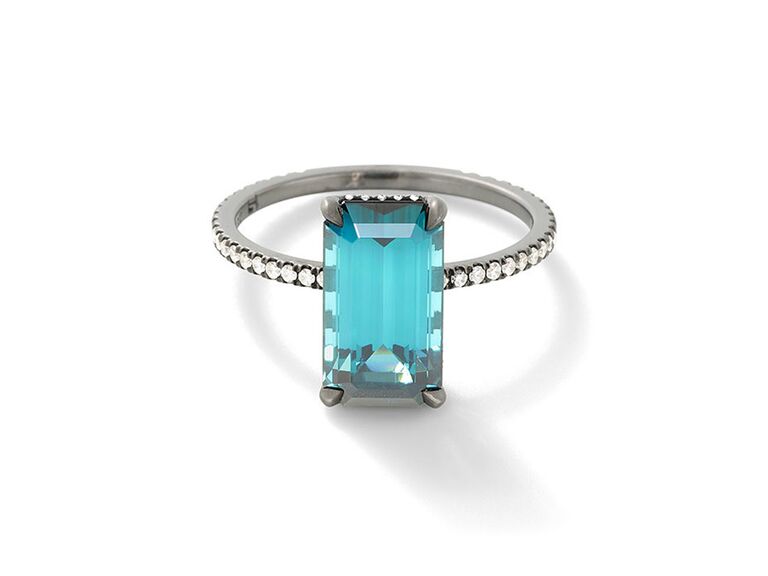 Made for the modern mermaid, this minimalistic style is all about letting the rich teal color of this emerald-cut indicolite (also known as a blue tourmaline) really shine.
Eva Fehren The Matrix ring, Inquire for Details, EvaFehren.com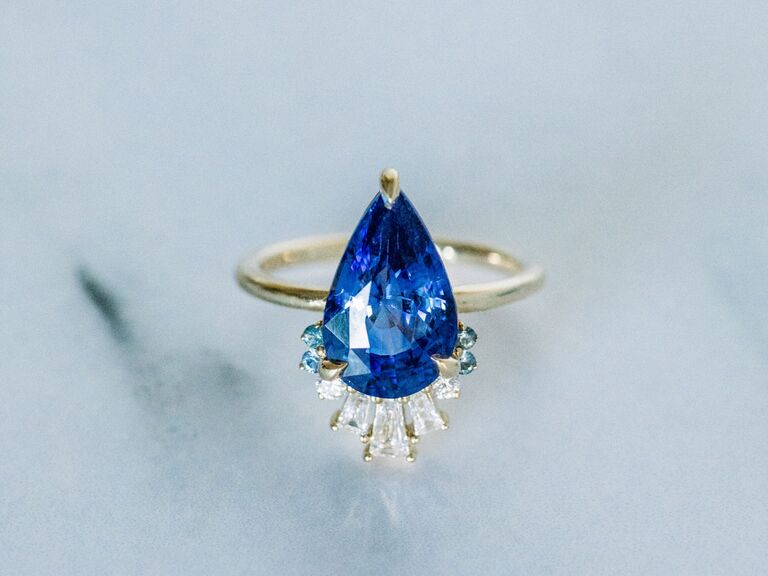 If you're in the market for an engagement ring with a vintage feel, consider this striking Art Deco-inspired, pear-shaped sapphire with geometric diamond accents.
Marrow Blue sapphire pear and white diamond ballerina ring, MarrowFine.com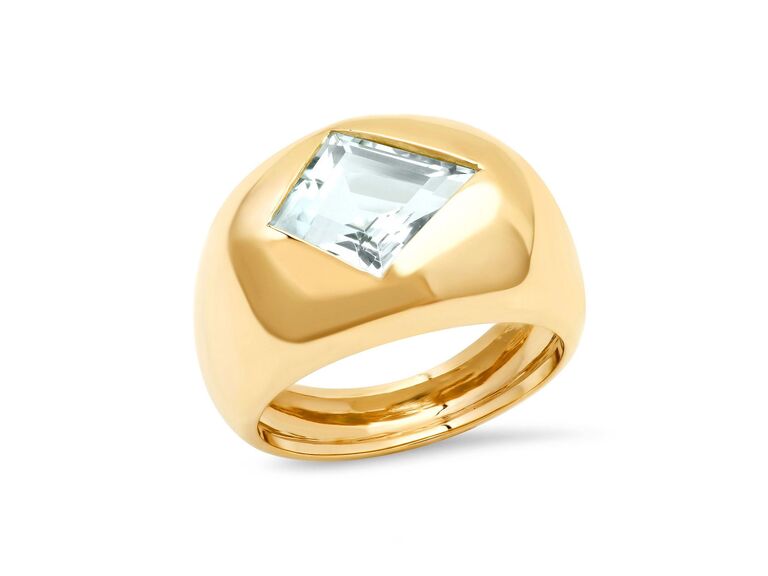 We've established you don't have to opt for a diamond engagement ring—but you actually don't have to opt for a traditional setting either. A kite shaped aquamarine puts a dazzling twist on a domed yellow gold band.
Sig Ward Jewelry 14K YG Aqua Kite Gypsy Dome Ring, $ 3,000, SigwardJewelry.com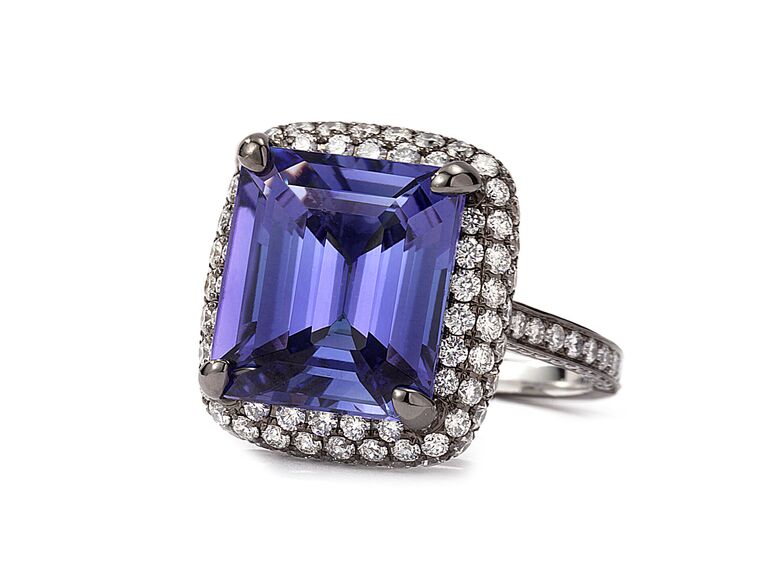 Pastels not your vibe? Go for the edgier combo of a deep tanzanite center stone and black white gold and black rhodium setting.
Nam Cho 18K White Gold Tanzanite & Diamond cocktail ring, Inquire for Details, MitchellStores.com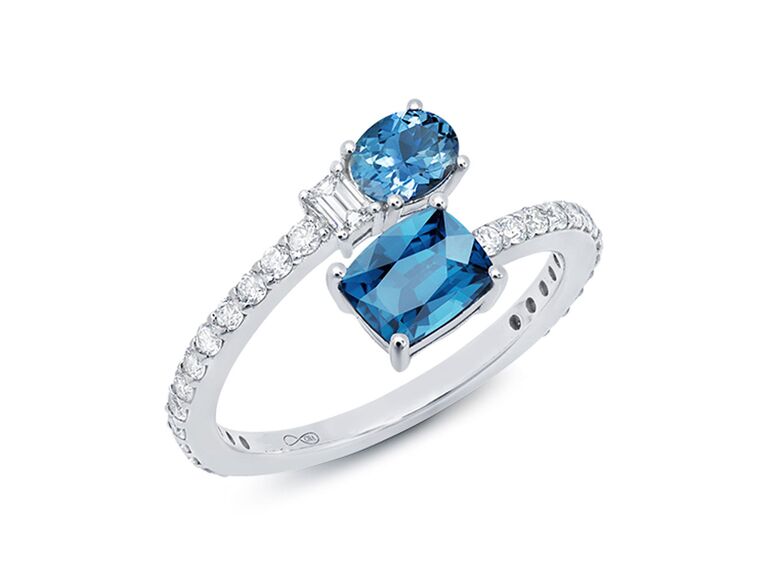 This darker aquamarine two-stone ring is low-key enough to add to a more elaborate stack—but also gorgeous enough to stand on its own.
Graziela Midnight aquamarine ring, $3,100, Graziela.com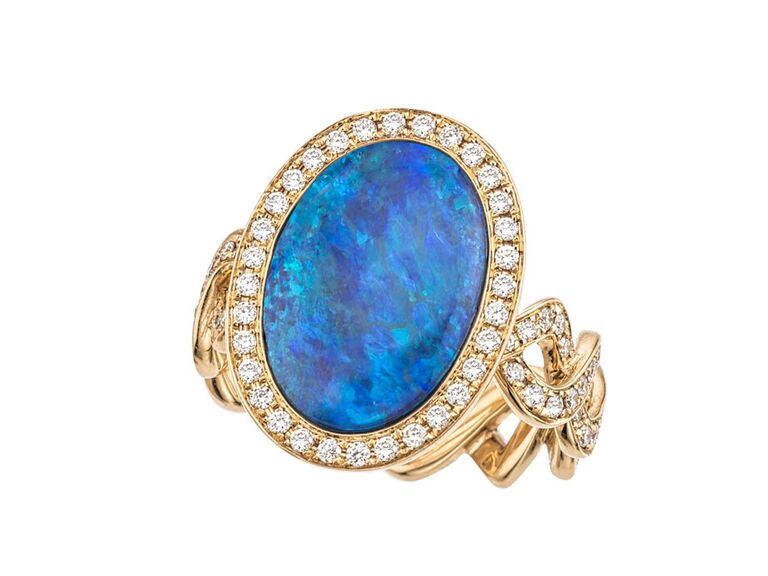 Calling all boho-glam brides. A rare black opal in a nature-inspired design is equal parts offbeat and opulent.
Katherine Jetter Black opal with twisting vine ring, $15,400, KatherineJetter.com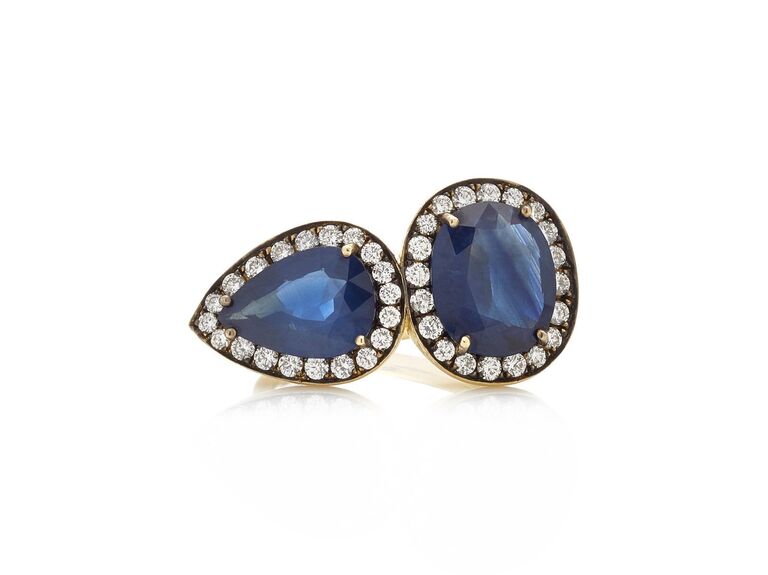 Take the already unexpected toi et moi ring trend up a notch with a pair of deep blue, mismatched sapphires.
Sylva & Cie Sapphire and diamond 18K yellow gold ring, $18,875, ModaOperandi.com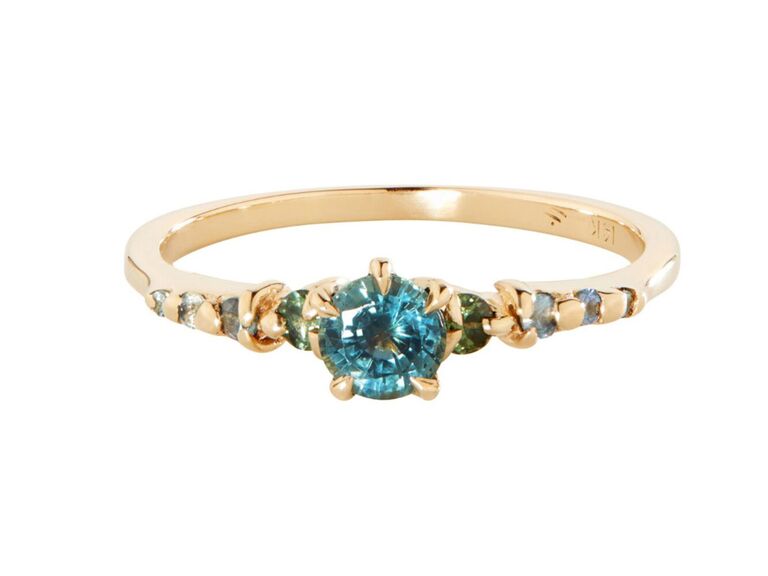 Lush green-blue sapphires and an intricate yellow gold setting give this dainty engagement ring a distinctly mystical vibe.
Laurie Fleming Cyndra sapphire ring, $1,325, CatbirdNYC.com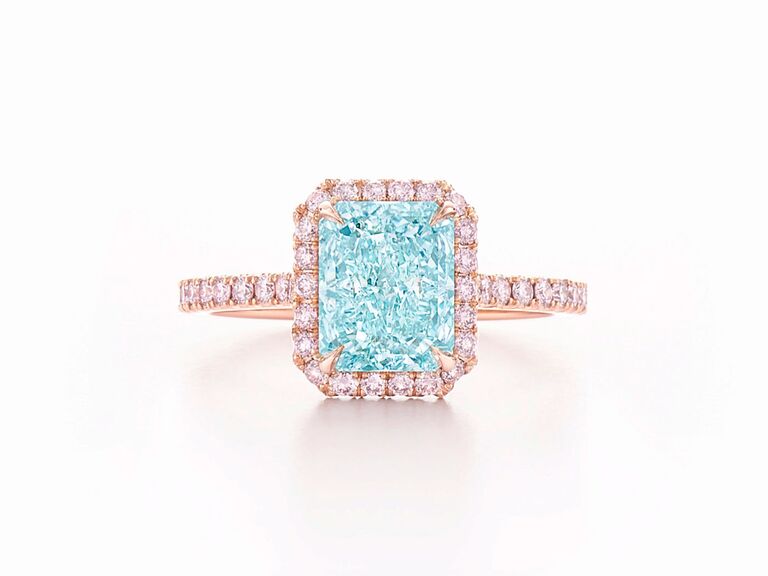 Bring on the bling. This rare, blue-green diamond in a pink diamond-encrusted setting is for the bride looking to make a luxe—and colorful—statement.
Kwiat Bluish green radiant cut diamond engagement ring with a pink diamond halo, Inquire for Details, Kwiat.com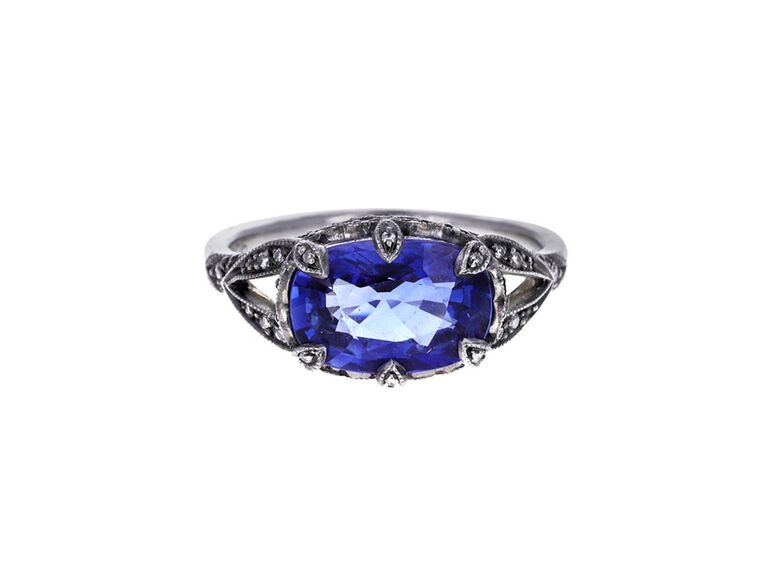 With its shimmering cornflower blue sapphire and botanical design, this blue engagement ring offers a magical alternative to more mainstream options.
Cathy Waterman Blue sapphire and diamond ring, $21,350, TwistOnline.com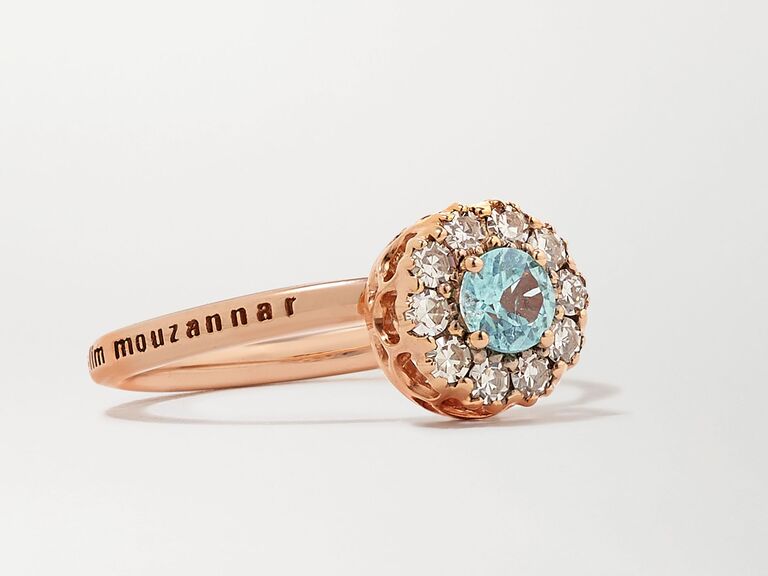 Like a tiny crown for your finger, this vivid paraiba tourmaline surrounded by diamonds has a seriously regal feel.
Selim Mouzannar Beirut Basic 18-karat rose gold, paraiba and diamond ring, $2,770, Net-a-Porter.com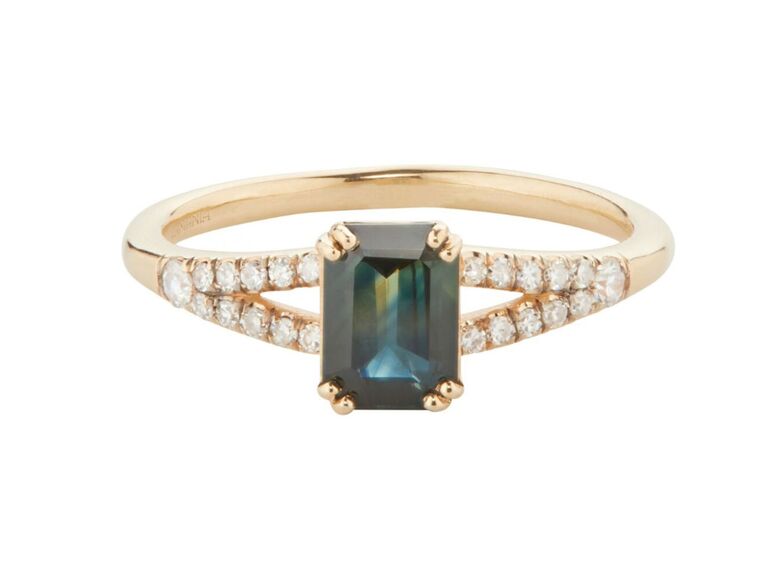 An ode to the color of the sky at dusk, this mesmerizing bi-color sapphire changes from blue to green depending on the light. (How cool is that?)
ManiaMania Eternal bi-color emerald cut sapphire ring, $3,200, CatbirdNYC.com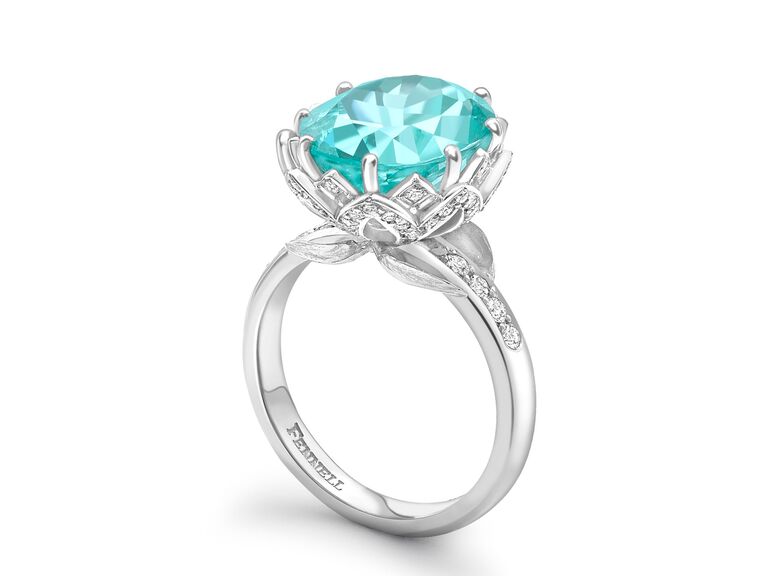 This floral-inspired engagement ring is anything but garden variety. Diamond petals ensconce a paraiba tourmaline center stone for a whimsical effect.
Theo Fennell Paraiba Tourmaline Waterlily ring, Inquire for Details, TheoFennell.com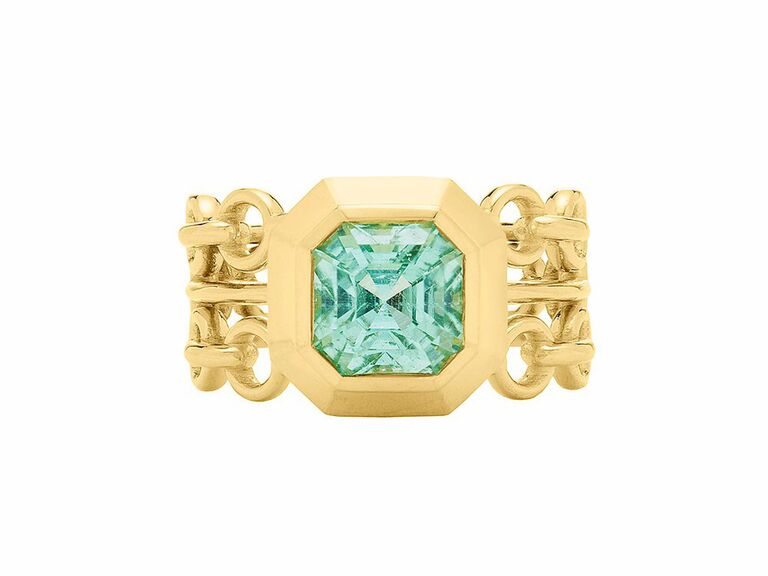 They're not just all the rage, chain motifs and weddings actually go hand-in-hand: Historically, chains represent interconnectivity and a solid bond. Just add a mint tourmaline for a look that's both meaningful and of the moment.
Rush Jewelry Design Signature Chain Band with Mint Tourmaline ring, $5,500, RushJewelryDesign.com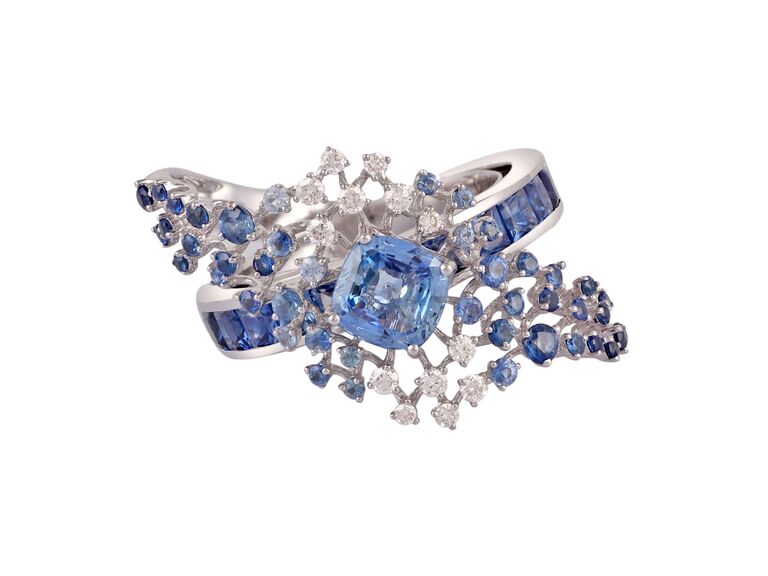 A work of art as well as an avant garde choice for an engagement ring, this architectural sapphire piece symbolizes the flow of energy and movement.
Ananya Scatter sapphire ring, Inquire for Details, Ananya.com