3 Creative Wedding Flower Ideas
From lighting to color, here are 3 easy ways to ensure wow-worthy wedding flowers.
by The Knot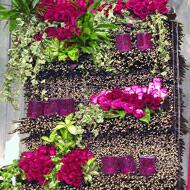 1. Light Wedding Flowers Right
Add candles to any floral arrangement and you'll instantly create a romantic ambience. From simple small colored votive candles to large pillar candles, and even pin spot lighting, adding the right light to your floral arrangements will really enhance the look and feel of the room.
Good ideas: Hang candles from tall branchy centerpieces to add warmth to a white-on-white winter scene. For a beach setting, incorporate the surrounding elements using water filled vases and filling them with fresh orchids and small floating candles. To set the tone for a formal affair, have small votives wired into floral arrangements for the escort card table and entryway arrangements. Find a wedding florist who can make it happen.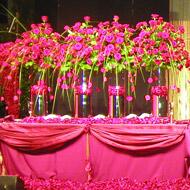 2. Choose Eye-Catching Colors
To get head-turning arrangements, think color before flower type. Bring color swatches, invites, and other inspirational details to your florist so they can help create arrangements that coordinate with the look and feel of your wedding day.
Good ideas: For a laid-back wedding outdoors, look to your surroundings for color inspiration -- think earthy greens, browns, and soft ivories. See green weddings. If it's a glam look you're after, think tall dramatic monochromatic and monobotanic arrangements to really wow your guests.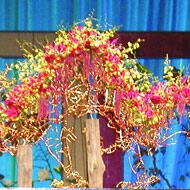 3. Change the Shape
In lieu of perfectly compact bouquets and centerpieces, consider loosening up those arrangements and going for a more unstructured look. The key to getting a look that is modern and not messy the type of flower you choose. Think hearty blooms like gloriosa lilies, red hanging amaranthus, and yellow oncidium orchids -- all good choices because they're less likely to lose their modern shape throughout the evening.
Good ideas: Change the shape in other ways by incorporating a few nonfloral elements into your arrangements. To give depth to a formal bridal bouquet, have feathers and crystals threaded throughout. If it's simple you're after, consider adding a few in-season extras like berries or even herbs to add interest to an otherwise minimalistic look. Get more wedding centerpiece ideas.
-- Cait Rohan

Special thanks to the National Symposium of the American Institute of Floral Designers (AIFD)

Photo 1: Laurie Lemek, Photo 2: Tim Farrell; Photo 3: Pete Samek