14 Creative Ways to Use Books as Wedding Décor
Embrace your inner bookworm with these fun ideas for escort cards, centerpieces, favors and ceremony accents.
Don't leave your favorite books on the shelf while you celebrate—incorporate them into your wedding for décor that's fun, eclectic and personal. Take your book theme to the next level by saying "I do" in a renovated library, eating dinner in your favorite bookstore or styling your place cards like library cards. Start celebrating the newest chapter of your life with these creative book-themed wedding details.
1. Centerpiece Stacks
Stack your favorite hardbacks for a sturdy centerpiece base, then top them with whimsical blooms and lots of greenery.
From: A Whimsical Garden Wedding at Calamigos Ranch in Malibu, California
2. Books for the Ring Bearer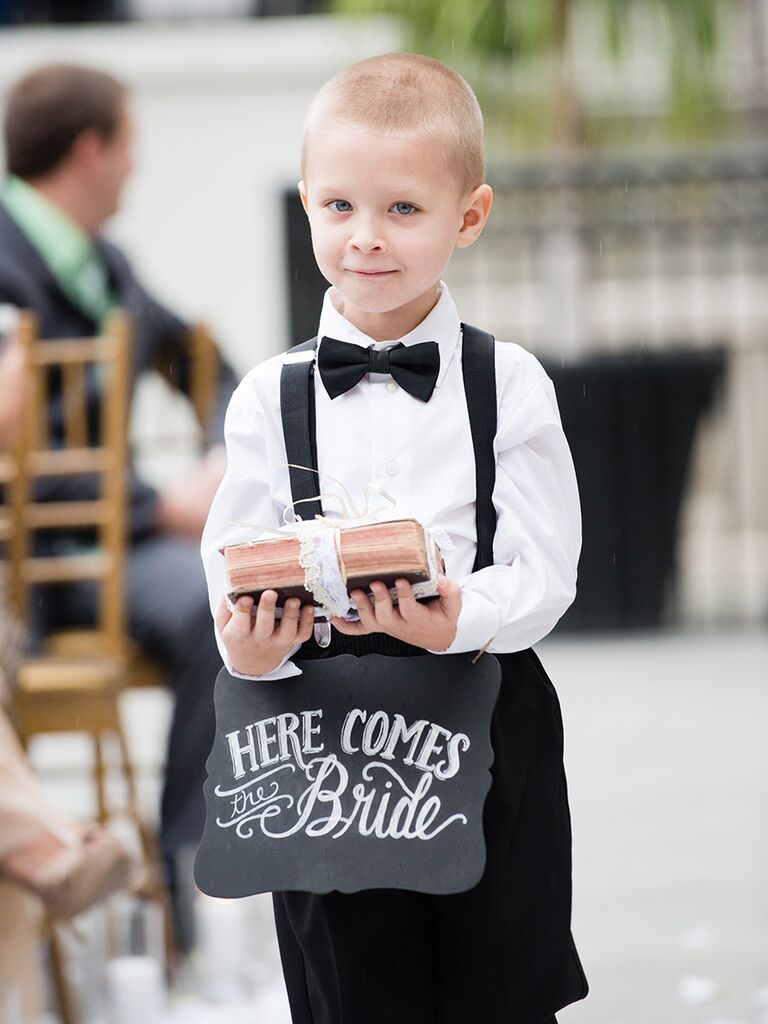 Instead of having him carry a traditional pillow, have your ring bearer walk down the aisle with your favorite book.
From: A White and Gold Wedding at Casa Monica Hotel in St. Augustine, Florida
3. "Table of Contents" Ceremony Program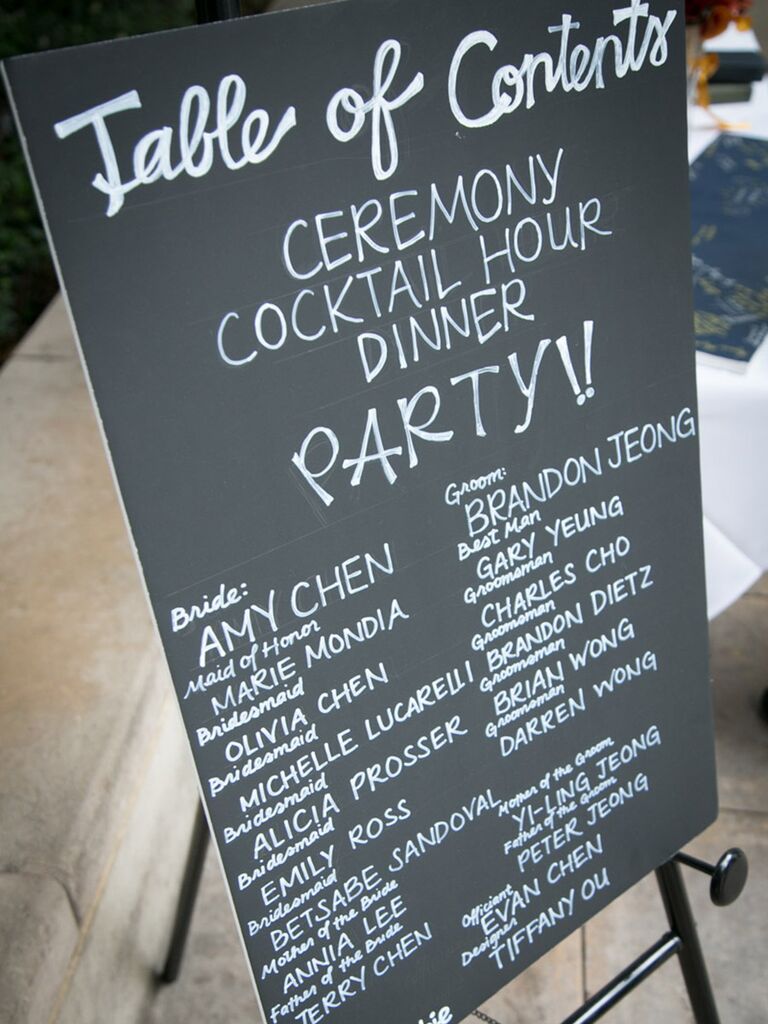 Your wedding program is a great opportunity to show off your book theme.
From: An Elegant Literary-Themed Wedding at Cafe Pinot in Los Angeles, California
4. Book Jacket Place Cards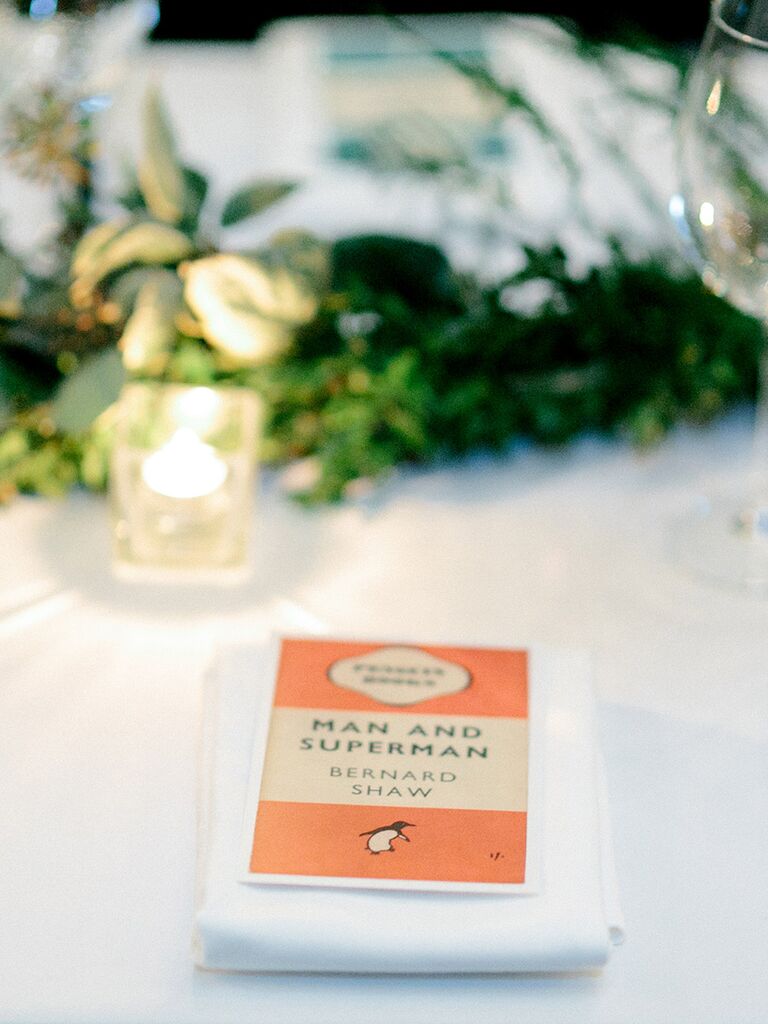 If you don't want to include real books at your reception, opt for cardstock or post cards of your favorite book covers for your place cards.
From: A Rustic, Bookish Wedding at Gramercy Park Hotel in New York City
5. Volumes as Favors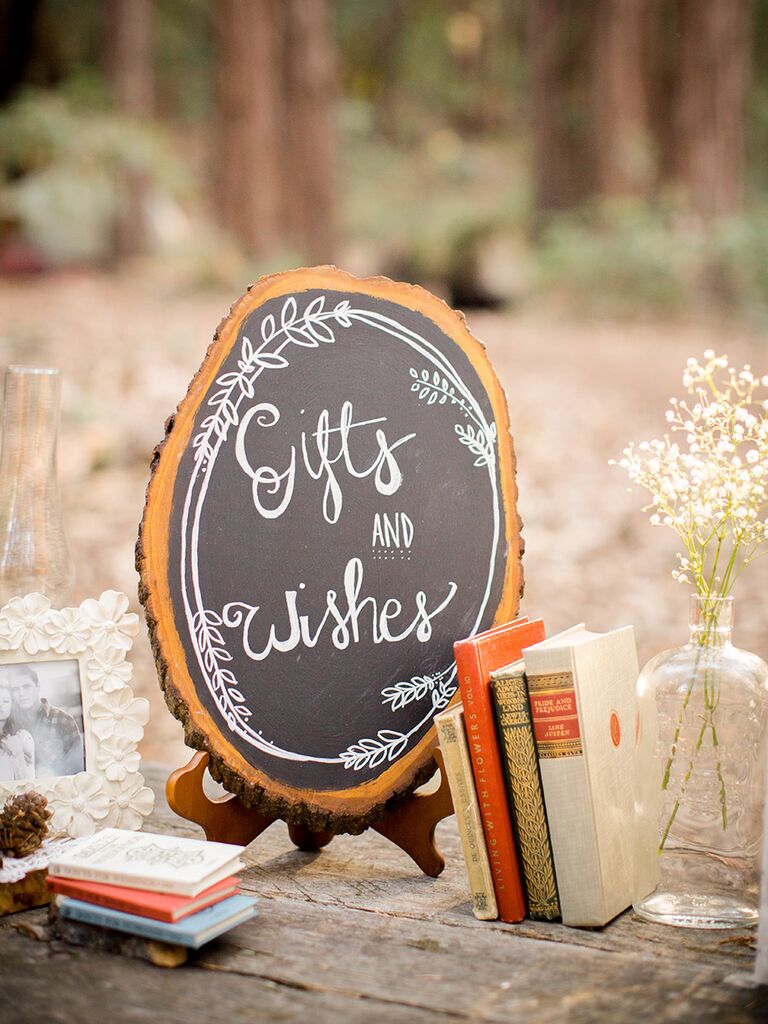 Check in your area for local bookstores and libraries that offer free books you can present as wedding favors. Your guest will appreciate the thoughtful gesture as well as a good read.
6. Dinner in a Bookstore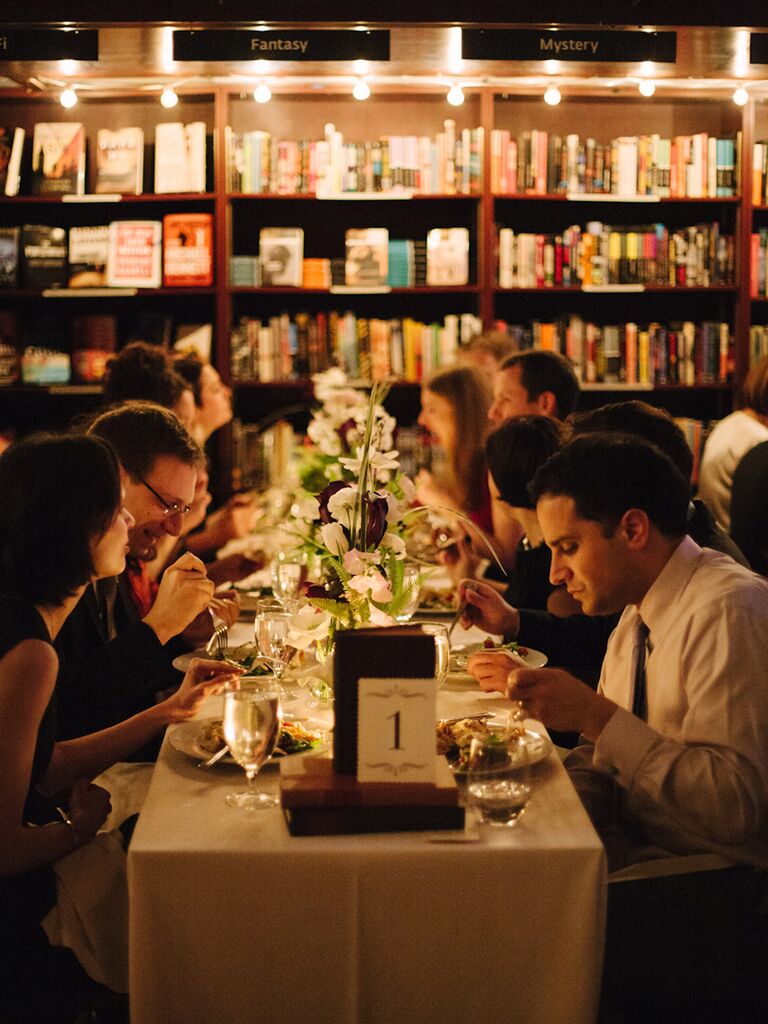 With low lighting and simple décor, a vintage-inspired bookstore or library provides the ultimate setting for an intimate wedding.
From: A Vintage, Winter Wedding at Housing Works Bookstore Cafe in New York City
7. Library Checkout Escort Cards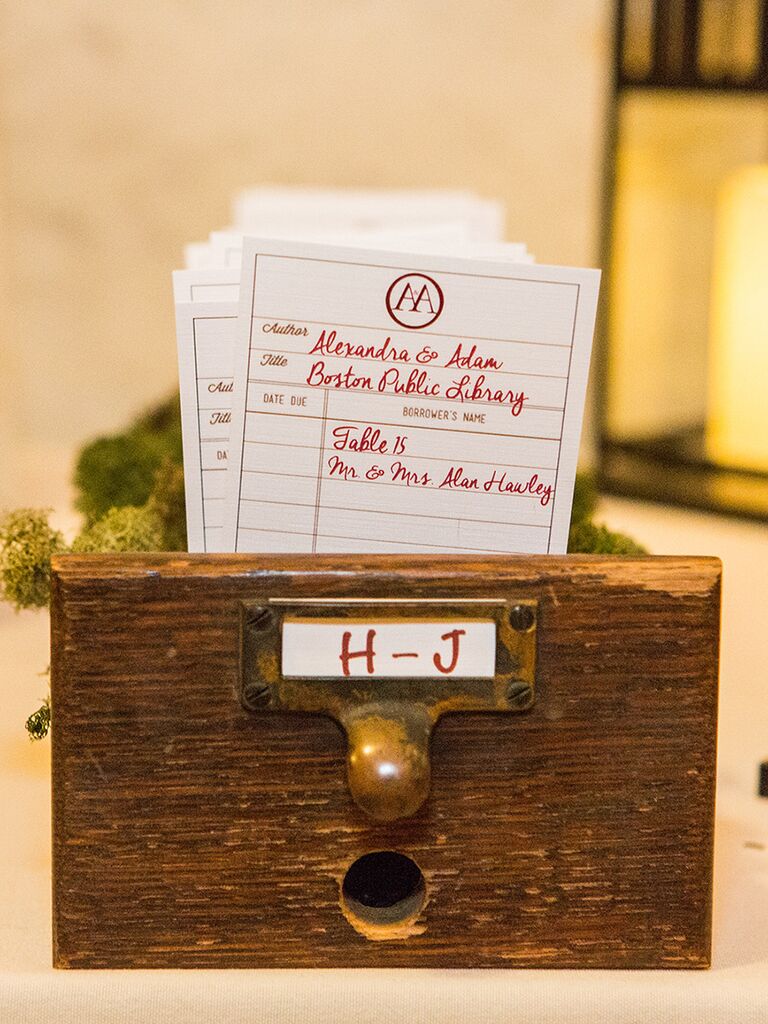 As a fun nod to the library setting, use book checkout cards for your seating assignments instead of traditional escort cards.
From: A Modern, Fun Wedding at Boston Public Library in Boston, Massachusetts
8. Eclectic Centerpieces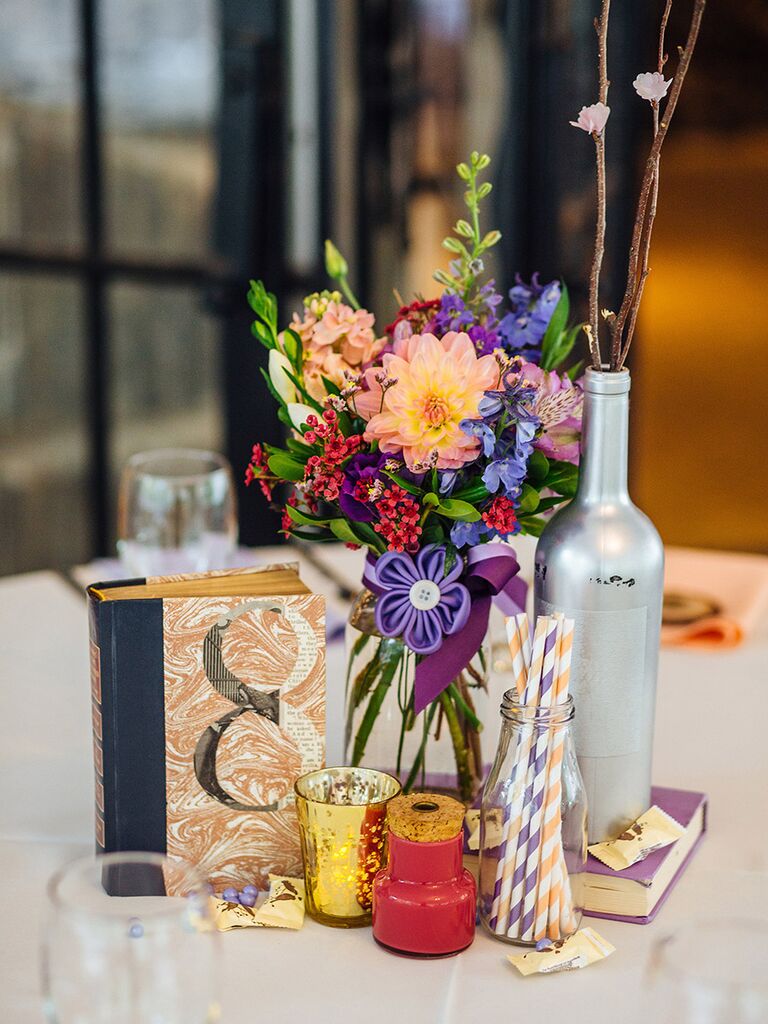 Add vintage books to your centerpieces for textural variety and a touch of whimsy.
From: An Ultra-Chic, Romantic, Whimsical Wedding at Dunafon Castle in Idledale, Colorado
9. Spiral Book Archway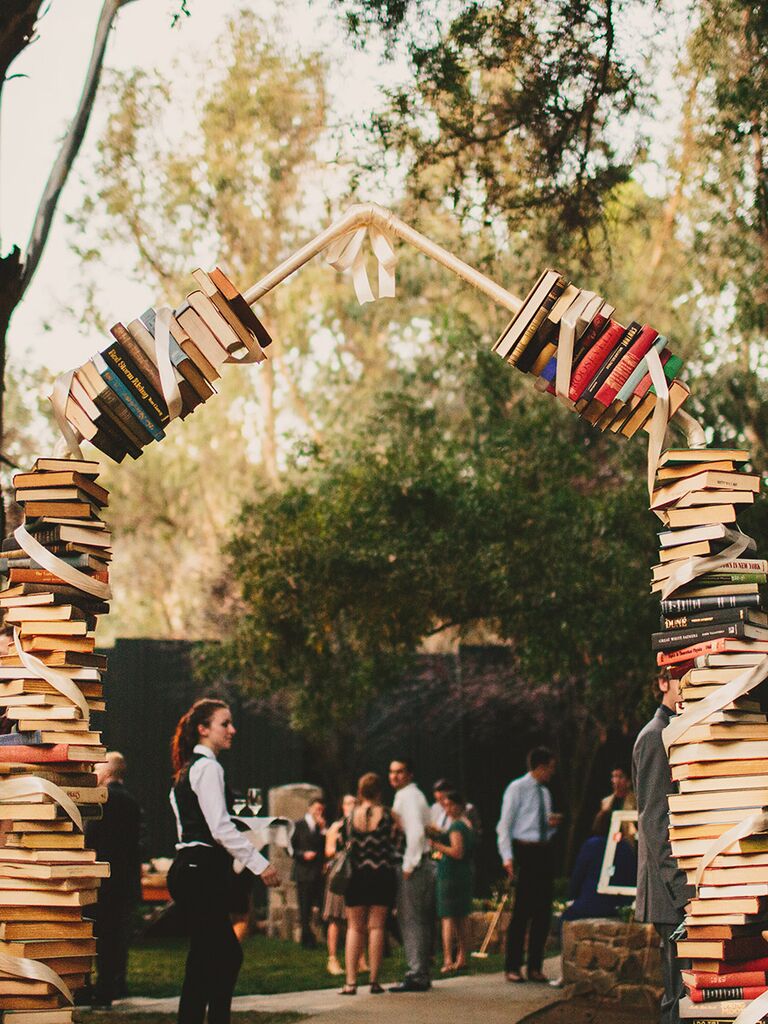 If you really want to wow your guests, create an archway made of donated hardback books and place it at your reception entrance.
From: A Literary-Inspired Garden Wedding at Calamigos Ranch in Malibu, California
10. Open Pages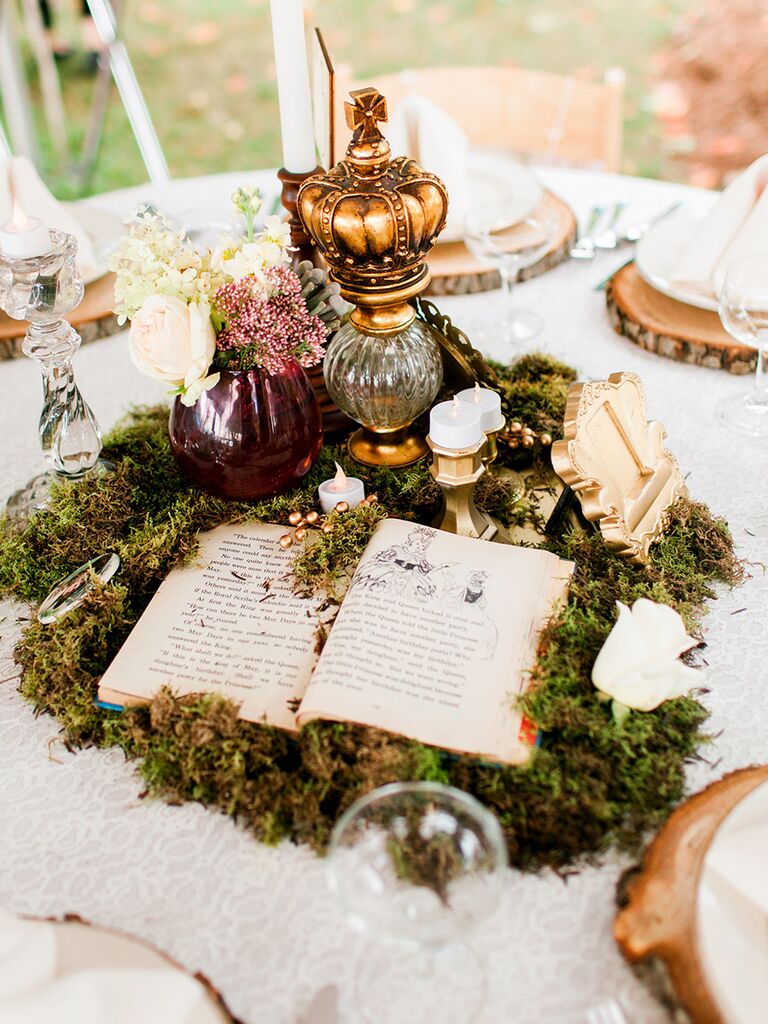 Place your favorite volumes open faced on the tables.
From: A Whimsical Backyard Wedding at a Private Residence in Chelsea, Michigan
11. Library Card Catalog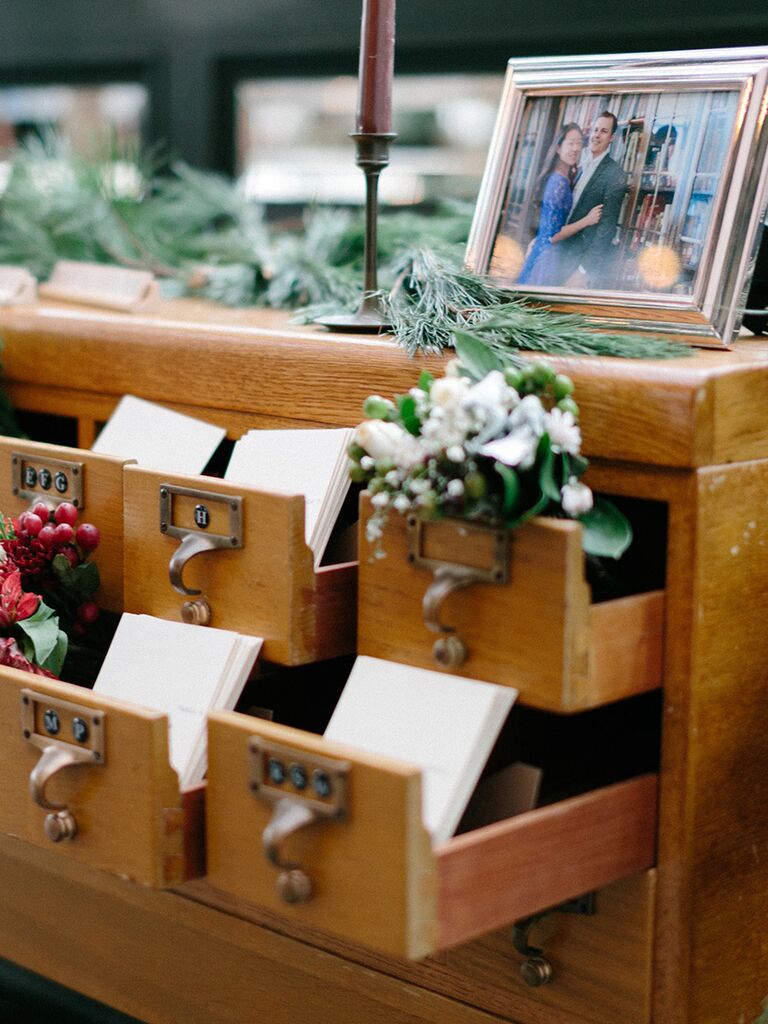 Let guests find their seating assignments on library cards displayed in a vintage card catalog.
12. Book Table Numbers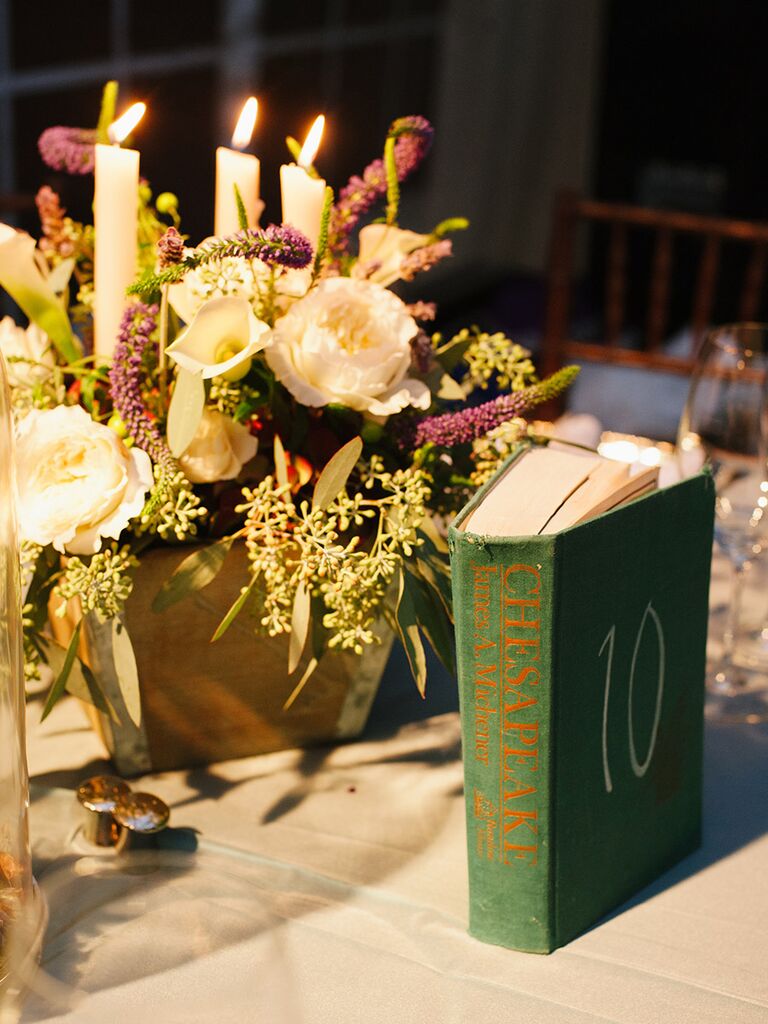 Choose a few of your favorite series to use as table numbers.
From: A Lavish, Sophisticated Wedding at a Private Residence near Charlottesville, Virginia
13. Novel-Inspired Ceremony Programs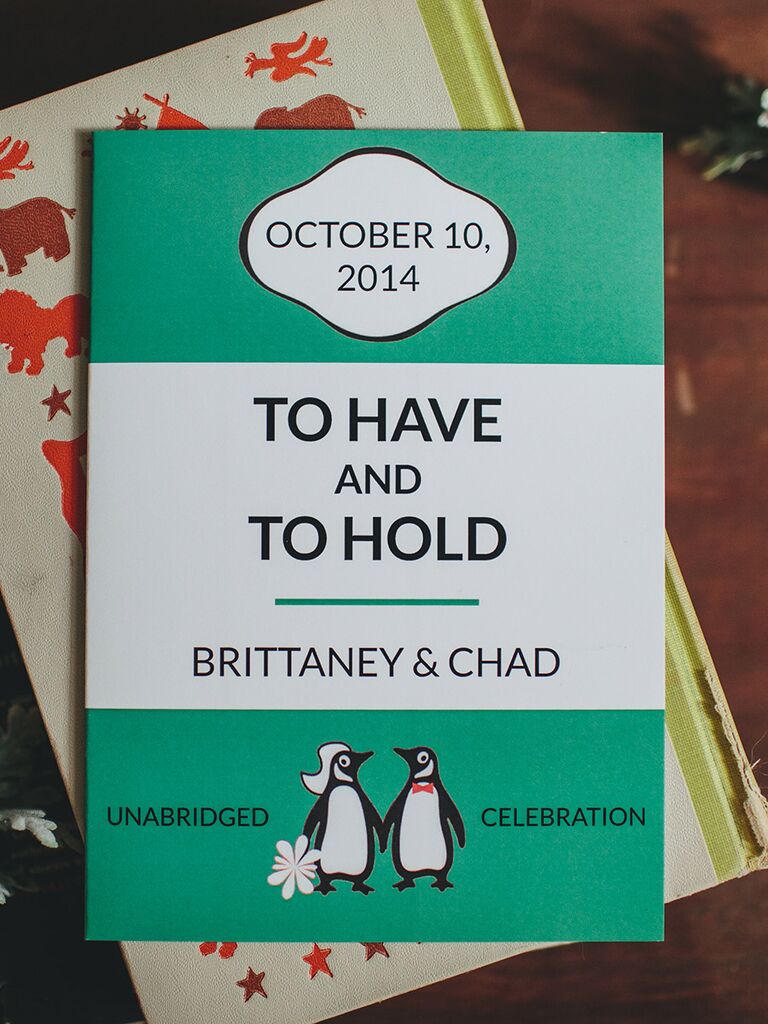 Customize your favorite book covers for adorable and unique ceremony programs or invitations.
From: A Literary-Inspired Garden Wedding at Calamigos Ranch in Malibu, California
14. Book Towers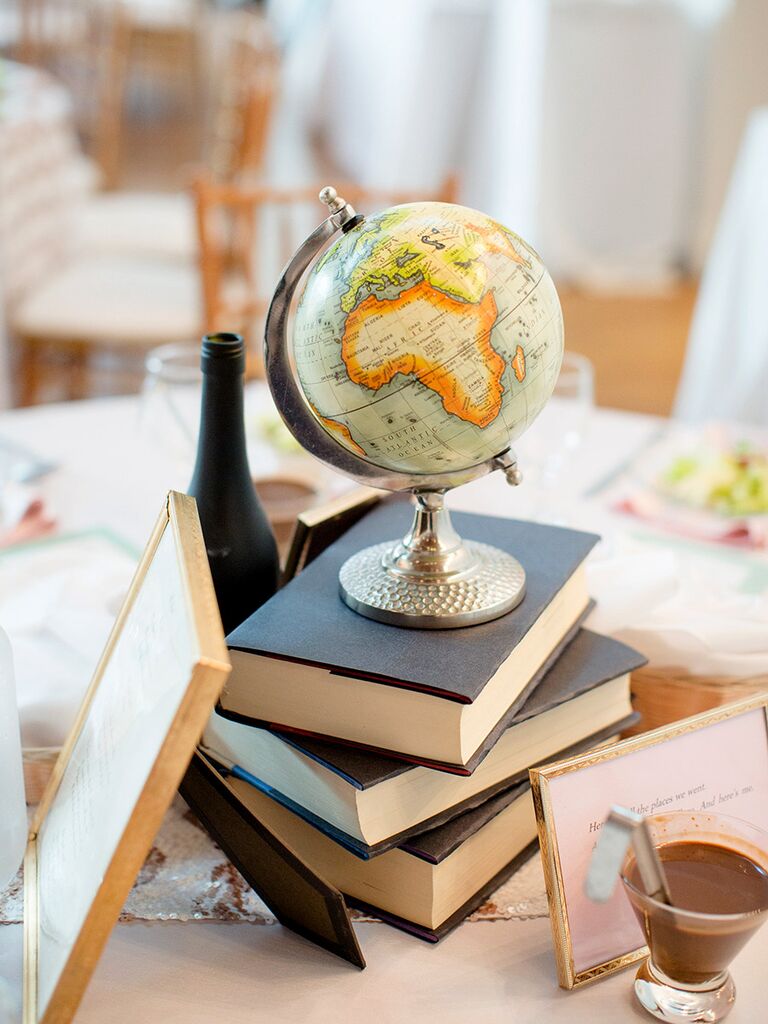 Use books and other meaningful details, like a globe, to highlight the center of your tables. Trust us, you won't even miss the flowers.
From: A Rooftop Spring Wedding at Foundation for the Carolinas in Charlotte, North Carolina