Why My Wedding Date Is Especially Significant
by Rebekah Gregory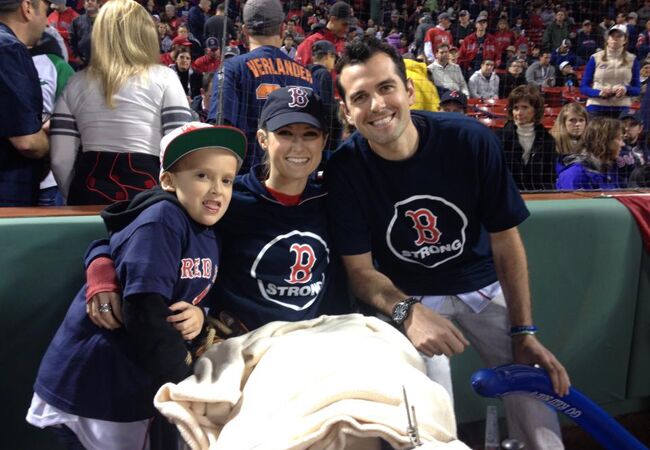 This is the sixth installment in a series of posts from The Knot Dream Wedding bride-to-be Rebekah Gregory. Follow our blog for weekly updates on everything from the proposal to her wedding planning and be sure to vote each week on the latest details: TheKnot.com/DreamWedding. Plus, don't forget to tune in on April 4 to watch Rebekah and Pete's wedding streamed LIVE on TheKnot.com.
Someone asked me the other day if April was going to be a hard month for Pete and me. And with the anniversary of the bombing quickly approaching on the 15th, it's hard not to reflect back to the events that changed our lives just shy of one year ago.
Reporters are trying to get their stories. Bostonians are lining up tribute ceremonies for the survivors. (I still refuse to call anyone a victim.) And everyone is preparing to go back to the spot where our world literally blew up in front of our eyes.
I would be lying if I said I hadn't thought about it. And I would be an even bigger liar if I said I hadn't cried about it. After all, I'm a human with emotions and my entire world changed in one day. I went from being independent in every aspect of my life, to relying on someone else to do nearly everything for me. (That's a major deal if you are as stubborn as I am.)
But even with all of these thoughts trying to cloud my head, the month of April is and always will be so much more to me. Every year when this time comes, I will be celebrating spending another great year with the love of my life.
You see April 15th is in fact the anniversary of the bombing, but April 4th — that is my wedding day. And that will be what I remember most about the month of April every single year from here on out.
It seems to be very fitting too, that this week America voted on our flowers, because what signifies a new and beautiful life more than blooming flowers? When Pete and I look around our ceremony and reception we will see the perfect Whimsical Woodland arrangements that will essentially mark the start of our new beginning with one other. And with everything that we have been through this past year, we are more than ready for this next step. Pete DiMartino has proven that he will be there for me no matter what, and I can't wait to see how our marriage blossoms throughout the many years ahead. Eight days y'all!
See The Latest On The Knot Dream Wedding:
> See all the winning details for the Dream Wedding
> Vote for the wedding cake!
> I have never felt more beautiful than I do now… Here's why