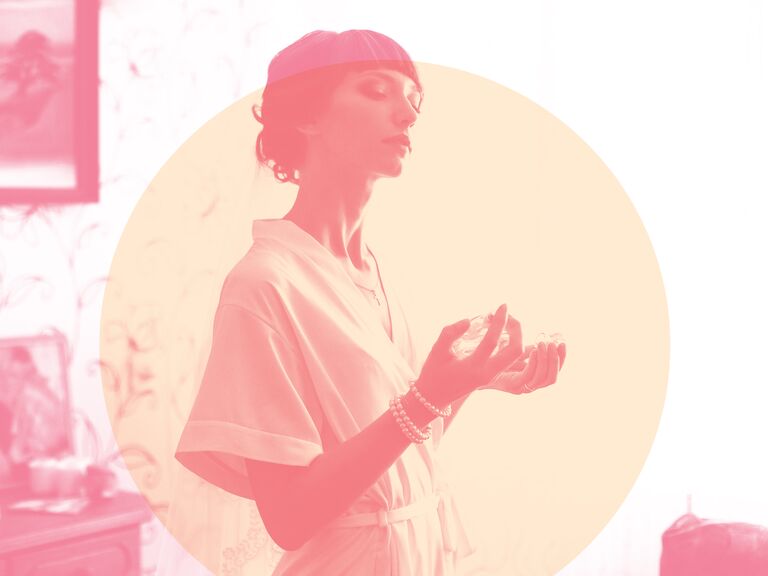 Your wedding day scent should be a natural extension of your signature fragrance, but how do you find the right one for you? First, get the facts. Second, start spraying! Enlist your mom or a friend to come with you—to double the available body surface for testing—and follow your nose to pick up a fragrance you like. Below, some helpful hints for making sense of scents.
Fragrance Glossary
Perfume (aka parfum): the most potent and usually the most expensive product in the fragrance family. It has a higher concentration of oil, so a little goes a long way—and you won't run out as quickly.
Eau de Parfum: This scent type falls next in the potency arena. It's not quite a perfume, but still goes the extra mile.
Eau de Toilette and Eau de Cologne: Somewhat weaker and more watered down than perfume, both eau de toilette and eau de cologne are usually available in convenient spray bottles. Keep in mind, though, that while the bottles may be larger and priced similarly to smaller versions containing the same scent, the bigger bottles are less concentrated, so you're not necessarily getting more for your money.
Body Splash: This has the lowest concentration of scented oil and disappears into the skin, offering a lighter scent.
Finding the One
If you're thinking about wearing a new scent for your wedding day, start experimenting at least a month before your wedding—just in case your nose leads you to something that causes an allergic reaction.
Sniff a scent on your skin before you buy it. You can't judge a fragrance by how it smells in the bottle or on a scent card.
Spray on the scent and letting it sit on your skin. Your body heat and oils will affect how it smells. Let the fragrance develop for a minute or two before putting it to a serious sniff test. Have your shopping buddy tell you what they think too.
Let your partner give their two cents. You don't want to wear a scent that they may be allergic to or just don't like.  
Don't overwhelm your senses by sampling too many perfumes in one day. If you don't find one the first day out, make another trip.
Wear It Well
For staying power, apply fragrance in layers (different products, same scent). Start with a body wash, then slather on the scented moisturizer, and end with the perfume.
Put fragrance on your pulse points—your wrists, behind your ears, in the bend of your elbows and on your ankles. These spots generate the most heat and will give off the scent longer.
As a general rule, lighter scents should be worn in warmer weather. Heat intensifies fragrances, so a heavy perfume on a hot, humid day may be over the top.
Perfumes should not be exposed to extreme cold or heat—adverse temperatures may change how a scent smells.
Don't overdo it. People should see you before they smell you.
Looking for a makeup artist? Find one here. 
The Knot and Vera Wang Embrace present Embrace the Moment, a sponsored series full of tips and ideas to help you (and your bridesmaids) find a signature scent for the wedding day. Visit VeraWang.com to learn more about Embrace fragrances.