38 Flower Bridal Crowns That Are Perfect for Spring (or Any Season, Really)
Spring is finally here, which means blooming season is about to be in full swing.
Whether you're dreaming of a seaside beach wedding, woodland fête or a backyard bohemian bash, there's a flower bridal crown to suite your style. Spring is officially here, which means the start of anemone, lilac, tulip and azalea season (among many others)! Celebrate the season's return by ogling these amazing flower bridal crowns.
1. A Big, Bright Bohemian Flower Crown
A mix of large and small blooms with a bit of greenrey, like these eucalyptus leaves, orange ranunculus, pink hypericum berries and purple wax flowers make a bold statement. And when it comes to boho blooms? The brighter, the better.
2. Something Sweet and Simple
A simple crown of greenery and baby's breath is about as ethereal as you can get, especially when you're all dolled up in a white gown.
3. Beach Chic with Garden Roses
Are you tying the knot amidst gusts of wind? A flower crown makes for a beautiful veil substitute if you're looking for something that won't get swept up in the weather.
4. Loose Waves with Daisies
Want to show off your locks, but don't want to give up using florals? Ask your hairdresser to apply single stems throughout your hairstyle for a garden-fresh look that pulls your braid and blooms together.
5. Finished with a Feather
Finish off your flower crown with a personal detail that makes it totally "you." A feather, lace trimmings or piece of jewelry will do the trick.
6. Statement Floral Headband
For a different take on the flower crown, pick one big statement stem and fasten it to a headband. It's perfect for the kiddos in the wedding party who are sure to be running around, or for the bride who wants to switch up her hairstyle for a new reception look.
7. Flower Crown Jewelry
More of a jewelry kind of girl? There are plenty of pearl, gem and crystal encrusted headpieces that give you the look of a flower crown with the feeling of a shiny accessory.
8. Winter Berry Crown
Flowers not your thing? Berries are just as stunning: try Viburnum dentate berries, pepper berries, berzelia or brunia berries for a textured look that's more woodland than garden.
9. Tropical Flower Crown
For a destination wedding, get inspired by the local blooms. Not only is it a great nod to the selected locale, but it may be less expensive than chosing your stems elsewhere and shipping them.
10. Matching Wedding Party Crowns
If you're going with the mismatched wedding party look, you can give your girls one accessory that will tie everyone together and stand out from the crowd.
Find your kind of venue
From barns to ballrooms, discover reception venues that feel like you.
11. Lush Pink Blooms
We love the look of different flowers in the same color, like this bundle of ranunculuses and astilbe, arranged together with a eucalyptus wreath—the different textures and shapes are enough to set them apart while still looking cohesive.
12. Woodland Wedding Flower Crown
The perfect flower crown for a woodland wedding? A small halo of evergreen leaves and pale pink carnations (they're sturdy and long-lasting, perfect for an all-night accessory).
13. Matching Bridal Bouquet and Flower Crown
Use the same florals in your bouquet and headpiece for a totally pulled together look, like these gardenias, blush roses, and peach hypericum berries that create synergy between both arrangements.
14. Pops of Pink and Purple
A simple garden rose flower crown can be dressed up with a couple bright pops of color—take the look one step further by applying a matching lip color.
15. Succulent Accents
For something a little more offbeat, add a couple succulents to your flower crown. Since they don't have petals, they'll stay in great condition no matter the weather!
16. Romantic Updo
Give your messy updo even more of romantic vibes with a flower crown of daisies, pink astilbe and roses.
17. Simple Greenery
A greenery crown might be perfect for that hot, midsummer wedding if you're worried about wilty blooms.
18. Styled With Half-Up Waves
The perfect accessory for a half-up wavy bridal hairstyle? A simple flower crown of greenery and small white blooms.
19. Same Color, Different Sizes
For a very put-together flower crown, choose one main floral color but keeps things interesting with different varieties of blooms. Playing with petal shapes and sizes will create a sense depth within a single color palette.
20. To The Side
If you don't want a full flower crown, ask your florist to cluster a few blooms on the side of a crown of greenery. Consider it the minimalist take on the boho trend.
21. Crown of Ivy
Ivy is a deeper shade of green sometimes boardering on a deep blue hue, which makes it perfect for a moodier color palette.
22. Styled With a Veil
Opting for a flower crown doesn't mean you have to forgo a traditional veil—you can have them both!
23. Oversize Bohemian Bridal Crown
Bring the drama with an oversize bohemian flower bridal crown crafted from peonies (it'll pair perfectly with soft, loose waves and a veil).
24. Red Garden Rose Flower Crown
This Frida Kahlo-inspired flower bridal crown was both classic and vibrant, crafted from red garden roses that perfectly highlighted the bride's long, romantic waves.
25. Vibrant Multicolor
You certainly don't have to stick to one shade or flower. Pluck inspiration from all of your favorite blooms by donning a vibrant multicolor flower bridal crown like this one.
26. Bohemian Baby's Breath Bridal Crown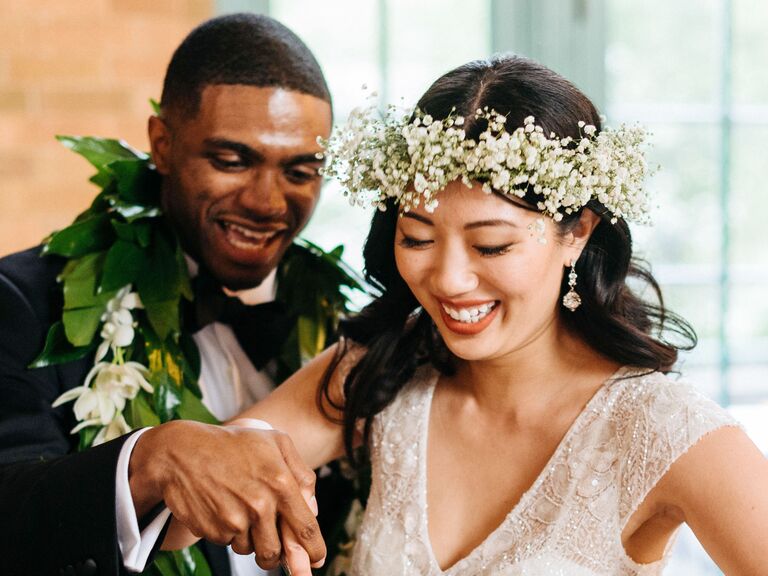 Baby's breath is back in a big way—a baby's breath bridal crown might feel ethereal and dainty, but it's sure to make a major statement.
27. Greenery Crown Styled With a Pixie Cut
Pair a pixie cut with a gorgeous bridal crown, like this one made of fresh greenery.
28. Statement-Making Flower Crown
Match your flower crown with your color palette, like this bride did with her stunning wine and sage-hued bridal crown.
29. Lush Forest Crown
Adorn your locks with a whimsical woodland bridal crown crafted from a textured mix of greenery, waxflowers and berries (and a veil for good measure).
30. White Floral Crown With Half-Up Hair
Pair your half-up hairstyle with a white floral bridal crown that complements your gown.
31. Pastel-Colored Blooms
Wear your bridal crown as a headband (this one's crafted from twine) over soft, loose waves.
32. Atop a Loose, Romantic Updo
Messy-yet-polished updos are in—top yours off with a floral bridal crown and simple veil.
33. Paired With a Braided Updo
The only thing better than a stunningly intriciate braided updo? A stunningly intricate braided updo paired with a stunning burgundy bridal flower crown.
34. Piecey Updo With Lisianthus, Lavender and Eucalyptus
Put together a textured crown atop a piecey updo.