These 30 Bridal Shower Party Favors Make the Perfect Thank-You Gifts
And they're all affordable.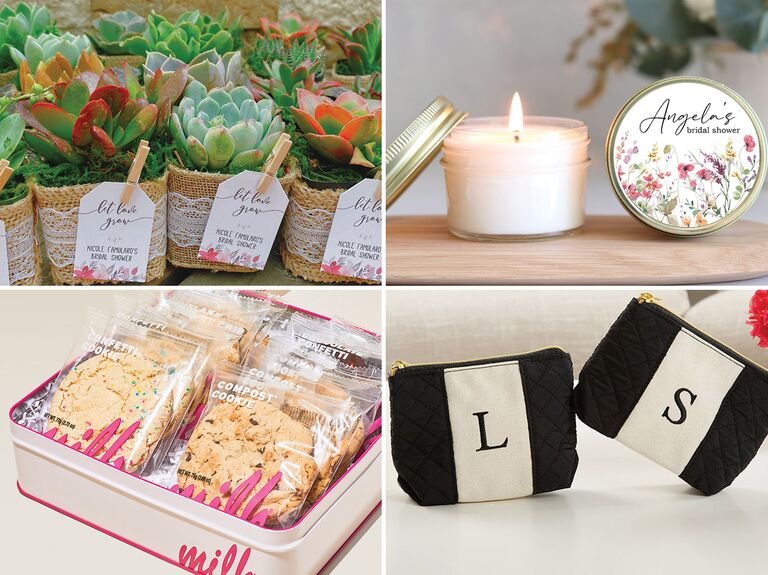 We have included third party products to help you navigate and enjoy life's biggest moments. Purchases made through links on this page may earn us a commission.
Do you need to give out party favors at prewedding events? While it's not necessary, it's always a welcome gesture. Especially at a gift-giving event like a wedding shower. Couple shower or bridal shower favors let you instantly thank your guests for coming and supporting your relationship. Plus, it'll get them extra excited for the big day ahead. Favors for a bridal shower don't have to be expensive to be appreciated. From cute bottle openers to sweet-smelling lotion or soap, to edible gifts for instant gratification, we have bridal shower favor ideas below for all budgets and event themes. Plus, we dive more into wedding shower favor etiquette.
In this article:
The Best Bridal Shower Party Favor Ideas
From personalized glassware and great-smelling candles to delicious takeaway desserts, we've gathered the best bridal shower gifts for your guests—all at affordable prices.
1. Heart-Shaped Measuring Spoons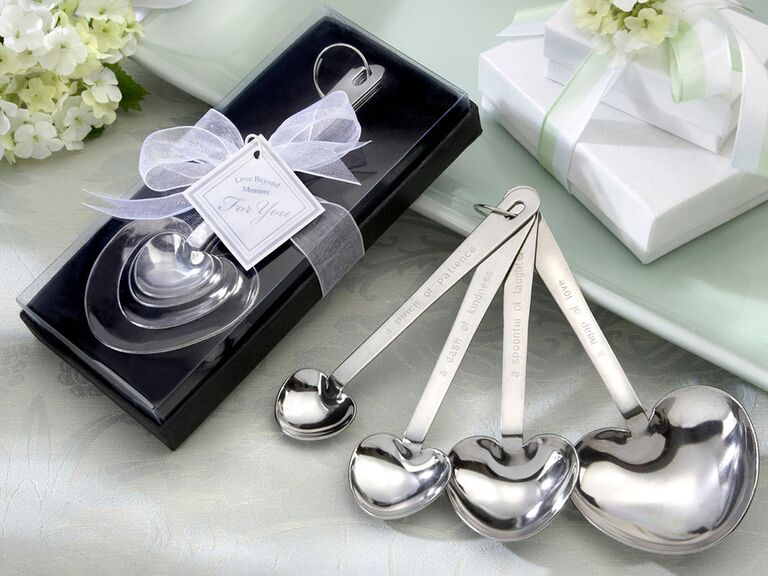 Spread the love with these unique bridal shower favors: heart-shaped measuring spoons. The stainless steel utensils have "measures of love" on one side and traditional measurements on the other. If you buy at least six sets, you can personalize the gift boxes with optional favor tags. It's a super sweet gift to tuck into bridal shower goodie bags.
2. Bite-Sized Cupcakes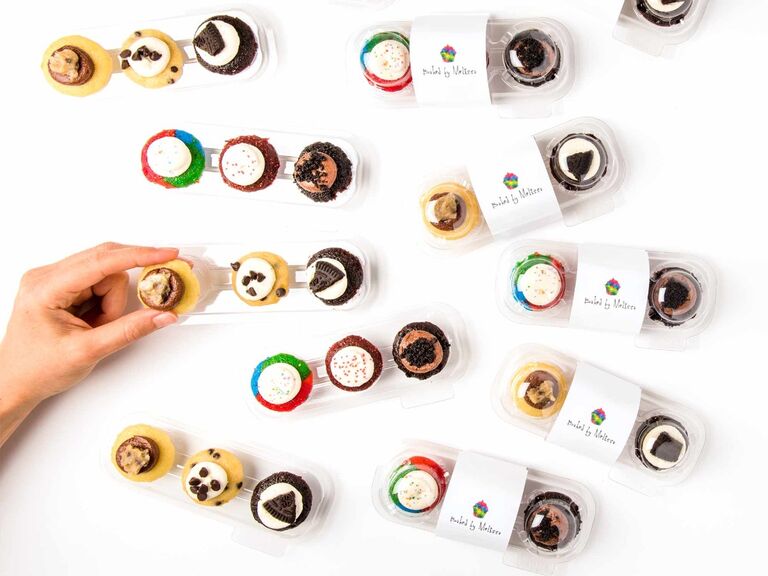 If you haven't decided on a dessert for your wedding shower yet, consider these cutie packages of three mini cupcakes from Baked By Melisssa for guests to take home. You'll get six packs with Triple Chocolate Fudge, Red Velvet and Tie-Dye and six packs with Chocolate Chip Pancake, Cookies & Cream and Cookie Dough. They're so yummy your guests will want more than just three. Best of all, there are gluten-free, nut-free and vegan options available to accommodate all your guests' dietary needs without worry.
3. Personal Wine Bottles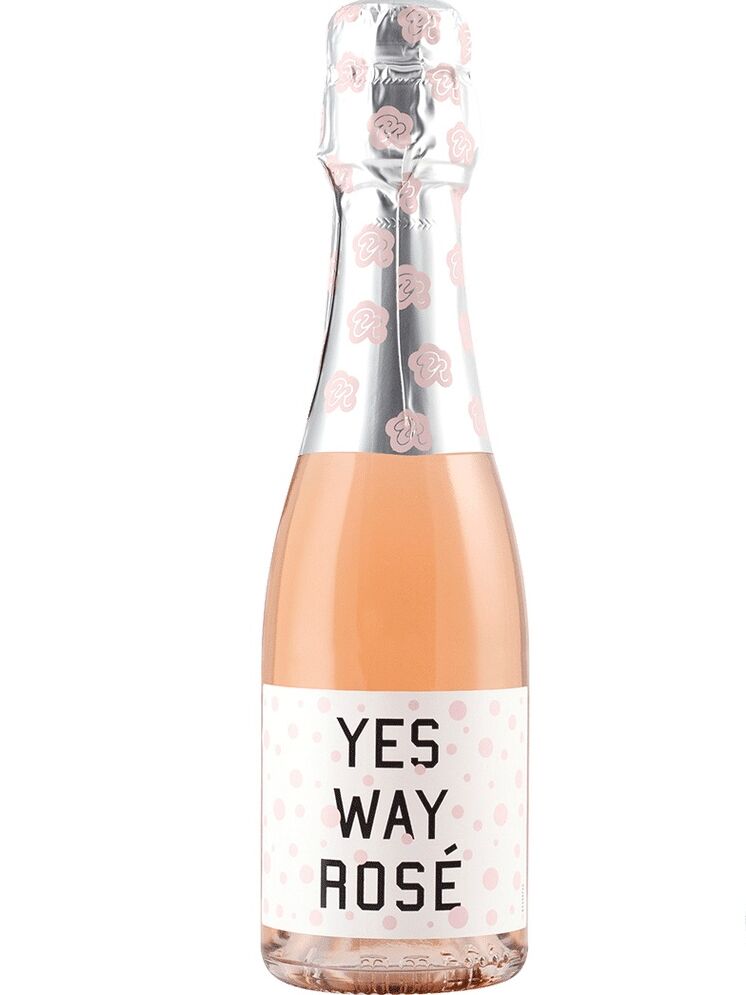 Nothing says "party" like wine—and these mini bottles of sparkling rosé are a cute favor to put at everyone's place setting. While the bottle is already adorably decorated with roses and the phrase "yes way rosé," you could also shop for custom mini bottle labels to make them your own. You'll get major brownie points for these seriously creative bridal shower favors!
4. Cotton Candy Cocktail Glitter Bombs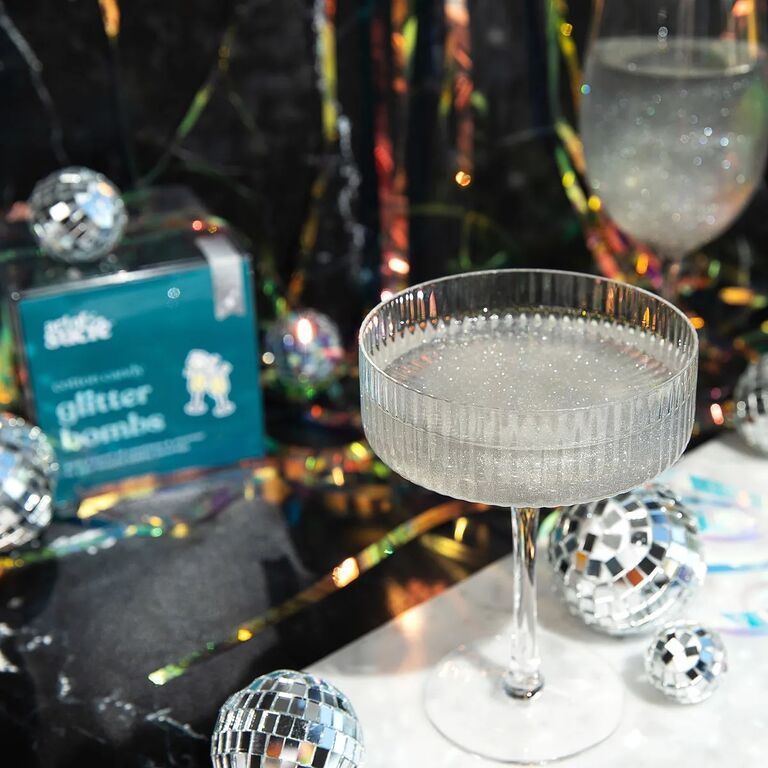 Planning a brunch-themed wedding shower? These cotton candy glitter bombs are a must-have accompaniment to mimosas. Simply drop the silver- or gold-dusted cotton candy puff into each guest's champagne flute, then pour bubbly over the top. They'll feel ultra glam sipping on shimmery cocktails and toasting your upcoming nuptials.
5. Personalized Stemless Wine Glasses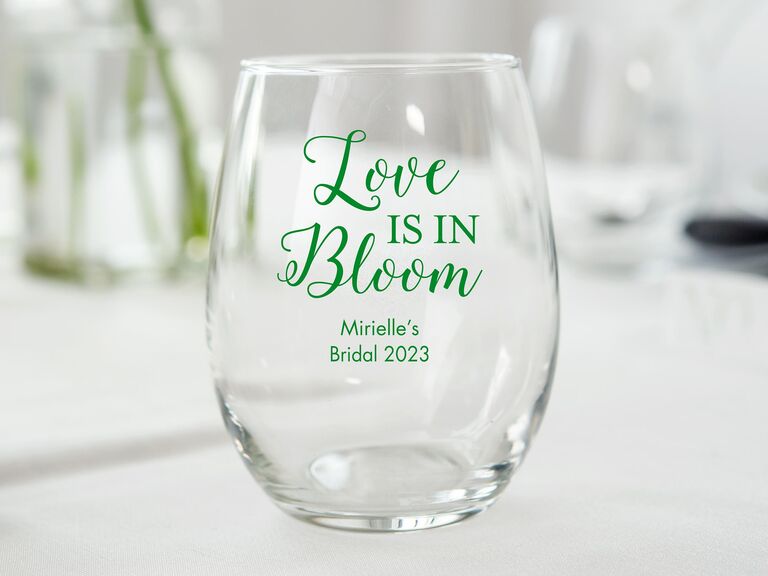 Customized drinkware makes classic couple shower favors. Guests can use it at the event—which can save you money on tableware—and take it home for wine nights. Personalize it with the couple's names and a sweet saying like, "Love is in bloom." Plus, these are a steal at under $2 each.
6. Bamboo Cheese Boards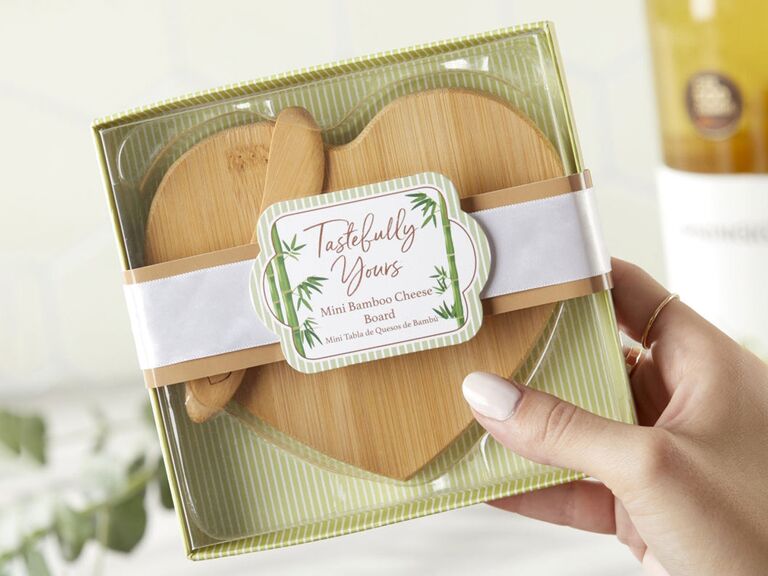 Do you and your fiancé go together like meat and cheese? These practical and unique heart-shaped mini cheese boards are clever wedding shower or bridal shower party favors. Each gift is housed in a stylish striped sage-green box and comes with a matching carved bamboo spreader. It'll be your guest's favorite way of serving their mid-day snack in no time. We love useful bridal shower favors!
7. Personalized Mason Jar Candles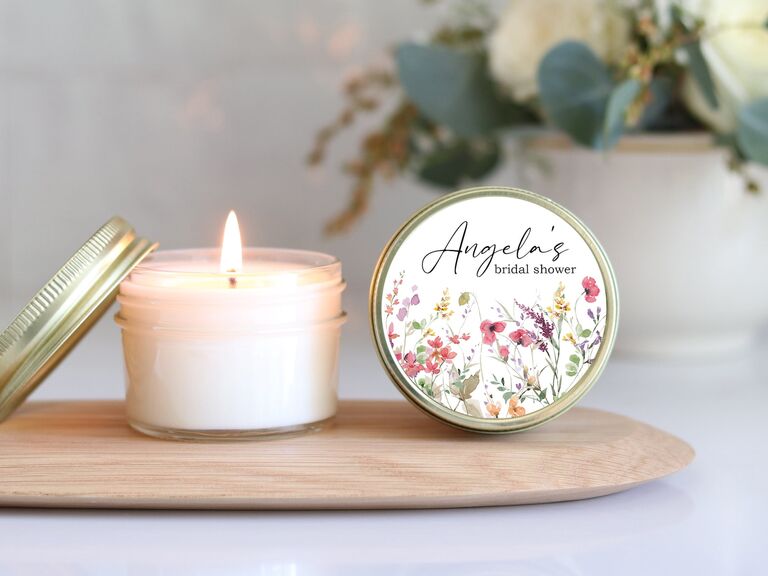 Candles make easy, crowd-pleasing gifts for bridal shower guests. These four-ounce soy wax candles come in rustic mason jars with a personalized label on the lid. And, for an extra fee, the seller can prepackage each candle in a gift box with matches. It's a great option if you're buying for a crowd, thanks to their bulk discount—10% off orders of 48 or more, 15% off 120 or more and 20% off 300 or more. All the more reason to scoop up these bridal shower favors from Etsy.
8. Assorted Face Masks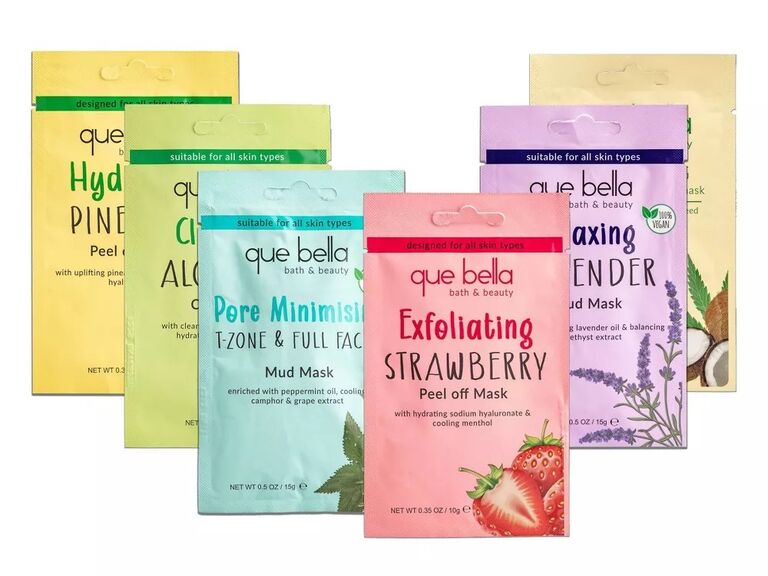 If you want to pamper your friends and family before the wedding, hand out face masks as a bridal or couples shower favor. For just $10, you'll receive six different masks—from moisturizing aloe to exfoliating strawberry. Display them on a favor table so guests can pick out the mask of their choice before heading out. Talk about thoughtful bridal shower guest gifts.
9. Luxe Hand Lotions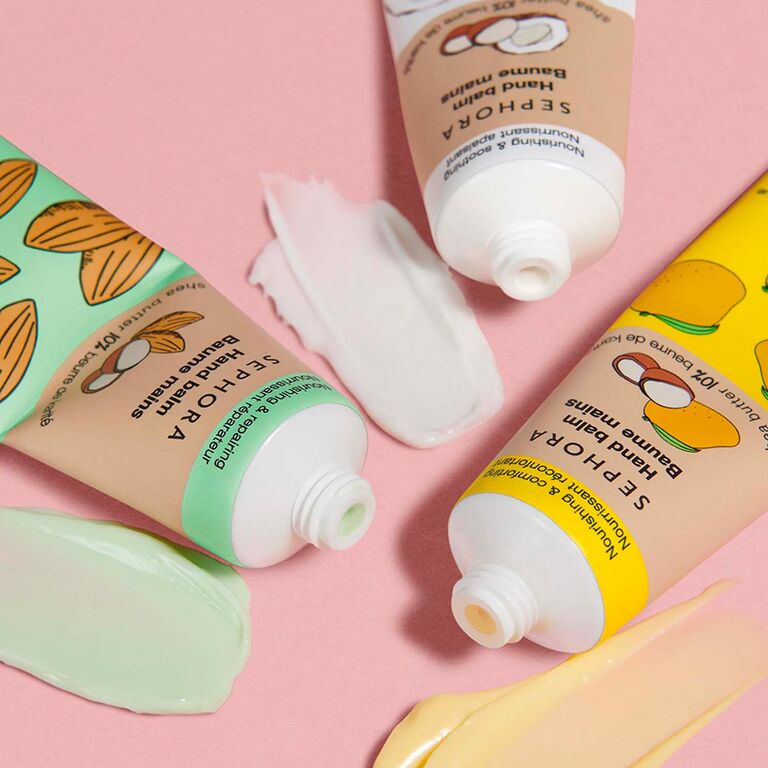 Give your friends and family a gift they can use on the regular, like this pampering mini hand balm. Made with shea butter and plant-based ingredients, these bridal shower favors for guests will leave their skin feeling silky smooth and ultra-hydrated. Choose from three lovely scents: Coconut, Mango Butter and Almond Milk—perfect for a tropical-themed soirée.
10. Sugar Body Scrubs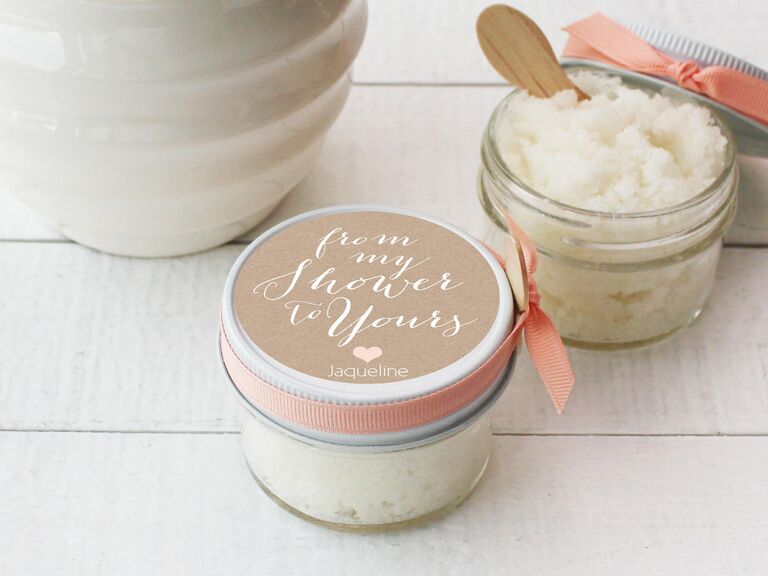 Treat your guests to a sugar scrub they can incorporate into their self-care routine. These thank-you gifts for a bridal shower are handmade using natural ingredients (including pure cane sugar, coconut oil and cold-pressed olive oil) and packaged in a small jar. Choose your lid and ribbon color, then add a personalized label for extra-special bridal shower take-home gifts.
11. Velvet Hair Scrunchies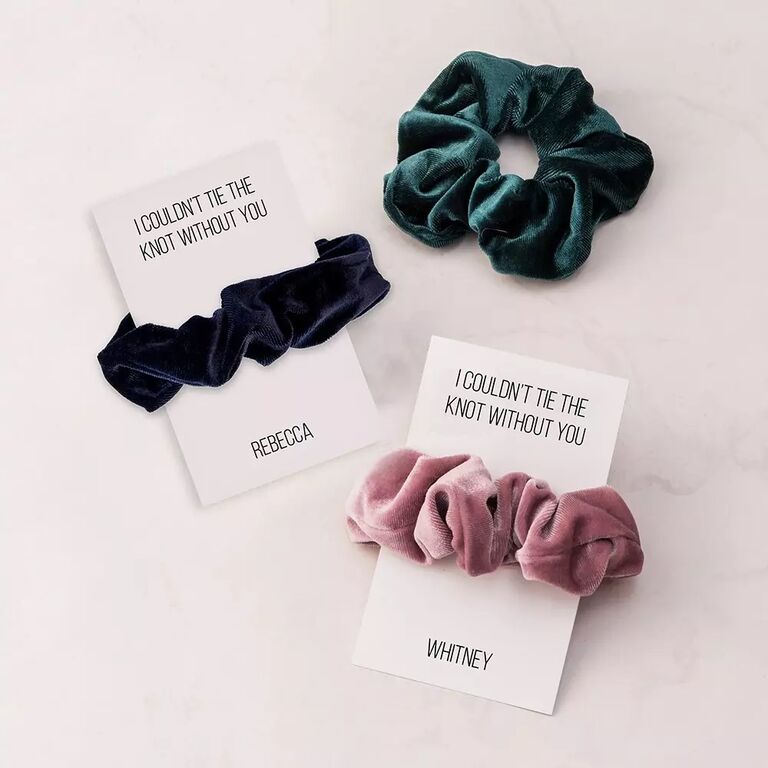 You get a scrunchie, you get a scrunchie, everybody gets a scrunchie! We're obsessed with these custom velvet hair ties, which are available in a bunch of lovely shades—from Hunter Green to Blush Pink. Plus, each one comes on an, "I couldn't tie the knot without you" card that you can further personalize with each guest's name. How thoughtful is that for bridal shower gifts for guests?
12. Fragranced Lip Balms
Treat your guests to these unique lip balms as bridal shower souvenirs and they'll definitely feel special. Each one is encased in a vintage-inspired tin that's pretty enough to become a part of your party's table decor. Order an assortment of balms so your guests can choose their favorite fragrance.
13. Monogram Makeup Bags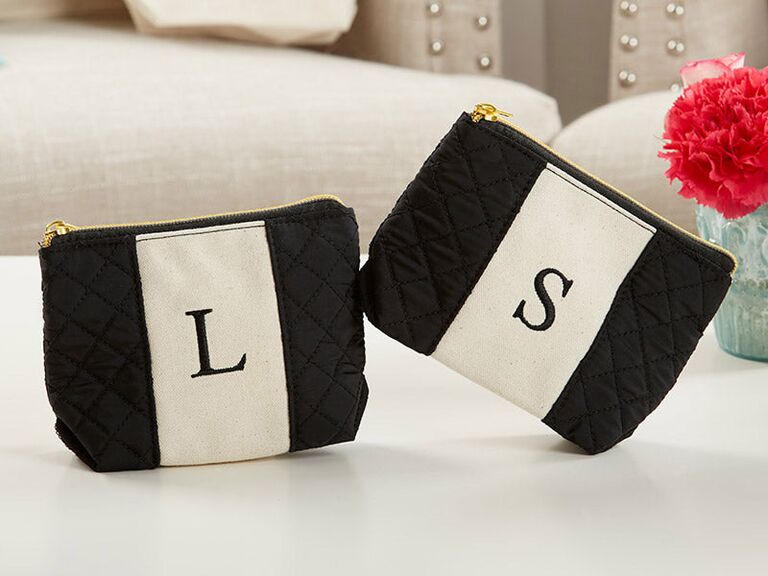 If you're looking for bridal shower gift bag ideas, stop scrolling. A canvas and quilted makeup bag is the perfect dual-purpose goodie bag. Plus, it's monogrammed. Fill it with a few spa and beauty goodies to shower your shower guests with some self-care.
14. Milk Bar Cookies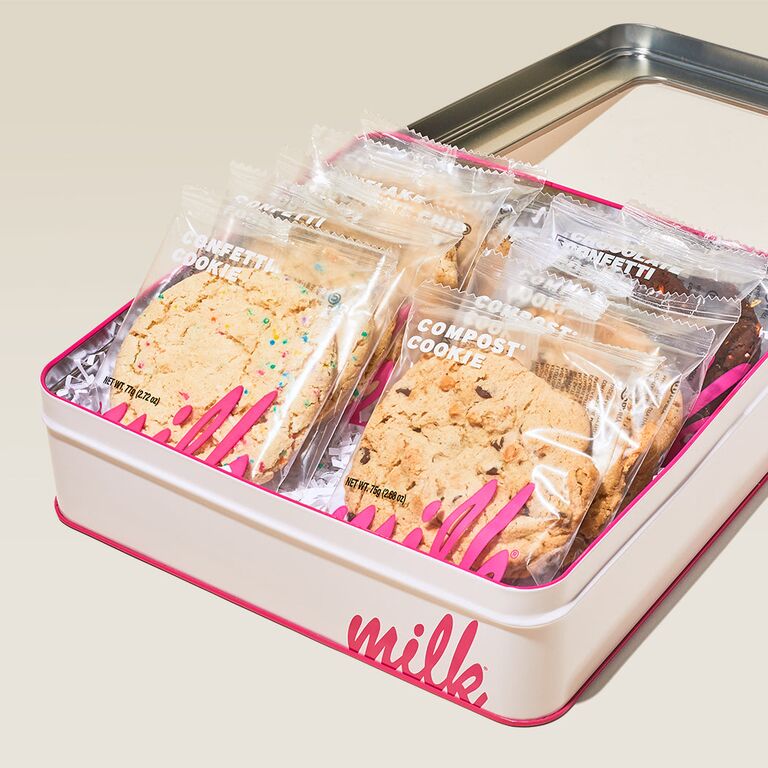 Searching for individually wrapped edible party favors for a wedding shower? You have to consider this assortment of Milk Bar's best-selling, cult-favorite flavors. Each tin comes with 12 wrapped cookies in four mouthwatering varieties: Compost (aka a chocolate chip, pretzel, potato chip, graham cracker, coffee, oat and butterscotch cookie), Cornflake Chocolate Chip Marshmallow, Chocolate Confetti and Vanilla Confetti. Your guests will become instant fans (if they aren't already)!
15. Cute Coffee Glasses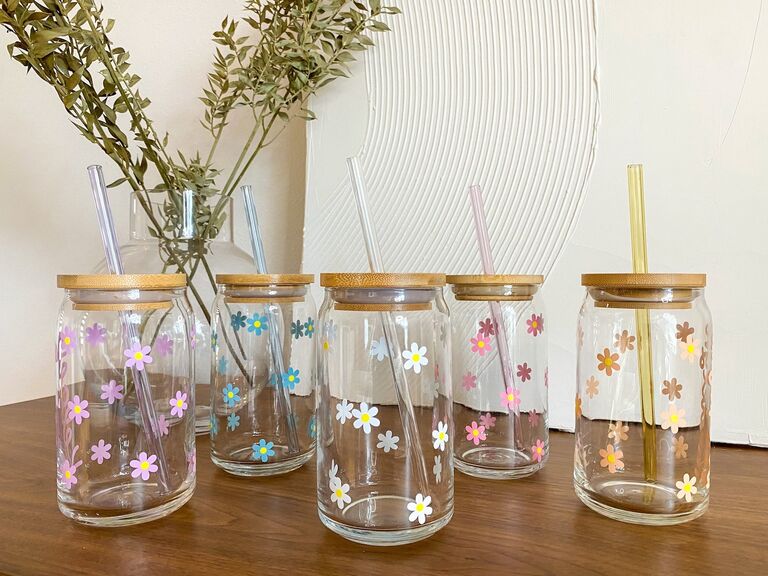 The best favors for a wedding shower are the ones that can be used over and over again—and these retro flower cups definitely fit the bill. The floral design comes in 18 pretty colors—including purple, soft pink and mint green—to match any party color scheme. You can add on a bamboo lid and metal or glass straw, or even personalize each with your guests' names. They'll be sipping iced coffee out of the charming glassware every morning—especially the day after a long night celebrating your nuptials.
16. Loose Tea Jars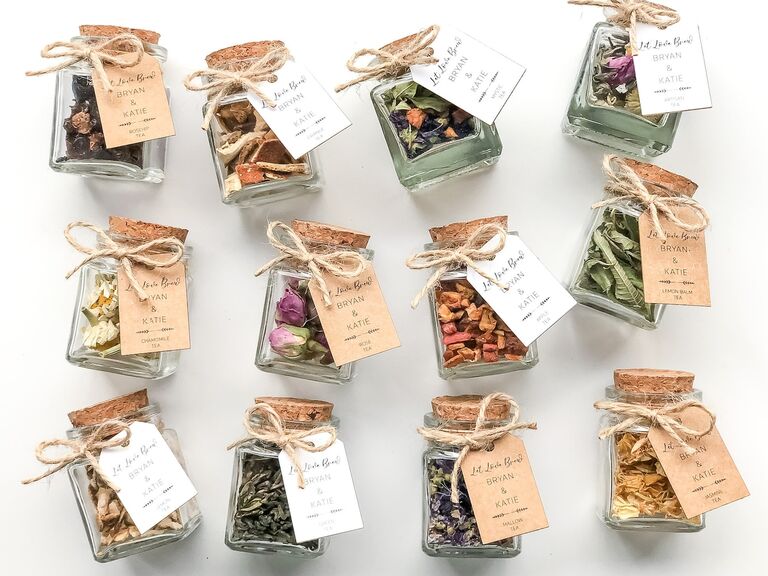 Wrap up your tea-party bridal shower with these sweet tea favors for your guests. Each jar can be filled with your chosen tea flavor, whether that's chamomile or lemon. Personalize your tags with the couple's name and event date—they're available in kraft or white paper. These are such elegant bridal shower favors.
17. Tea Bag Caddies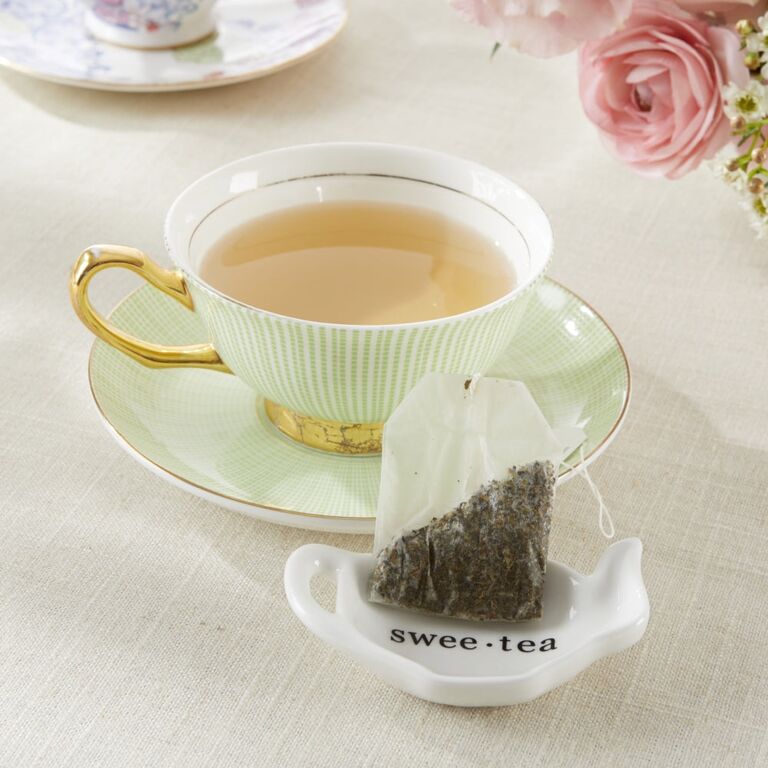 Speaking of tea-themed ideas for bridal shower favors, these ceramic tea bag caddies are a cute and practical option. The small, teapot-shaped dish is imprinted with the phrase: "swee-tea," so guests know exactly where to put their tea bag once they're done steeping it. Each comes in a gift box with a black-and-white, polka-dot ribbon and bow with a "for you" tag.
18. Custom Honey Jars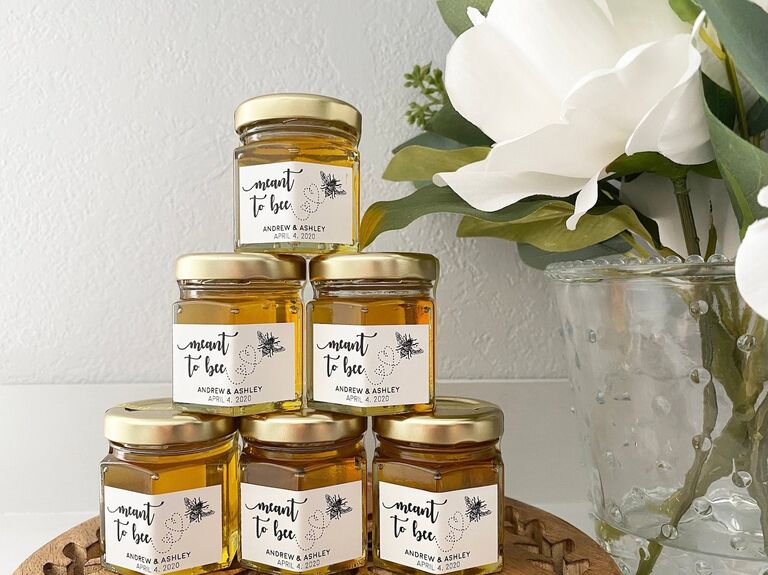 Show family and friends that the couple was "meant to bee" with these charming bridal shower honey pots. The wildflower honey comes in small glass jars, which you can customize with labels and ribbon or twine. And, for an additional cost, you can add wooden dippers. Choose from a long list of cute label phrases to add an extra special touch to these party favors for a bridal shower, including "bride to bee," "found my honey" and "love is sweet."
19. Mini Jam Jars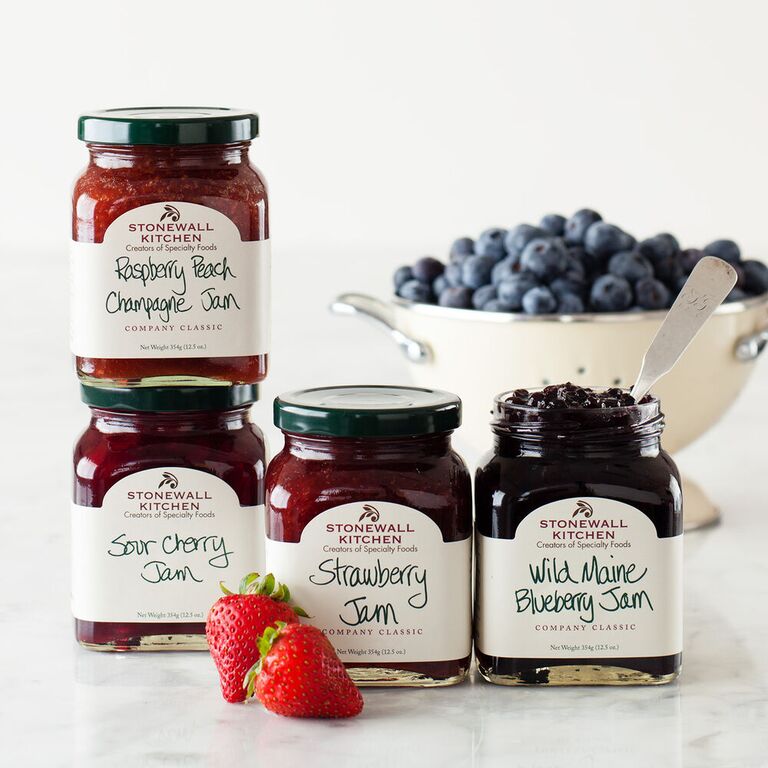 Your guests will be thrilled to pick up their mini jams at the end of your wedding shower. Each box includes four yummy jam flavors— Raspberry Peach Champagne, Strawberry, Wild Maine Blueberry and Sour Cherry—which you can split up amongst your attendees. Whether they spread it on their morning toast or use it on a charcuterie board, these thoughtful bridal shower giveaways won't get stashed in the back of their cupboards.
20. "Cheers" Bottle Openers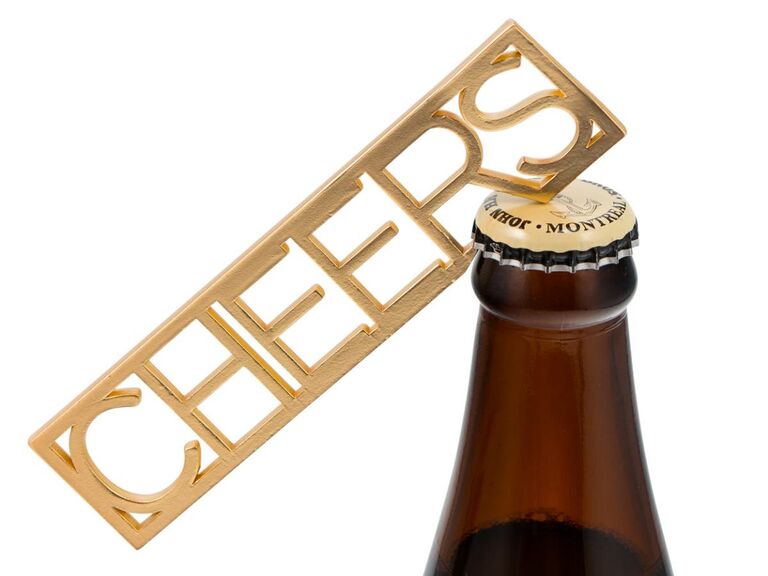 This adorable bottle opener favor will come in handy at every party your guests attend. The gold alloy metal opener says "cheers" to really emphasize the celebratory occasions. Your loved ones won't leave this bridal shower souvenir behind.
21. Handmade Soap Bars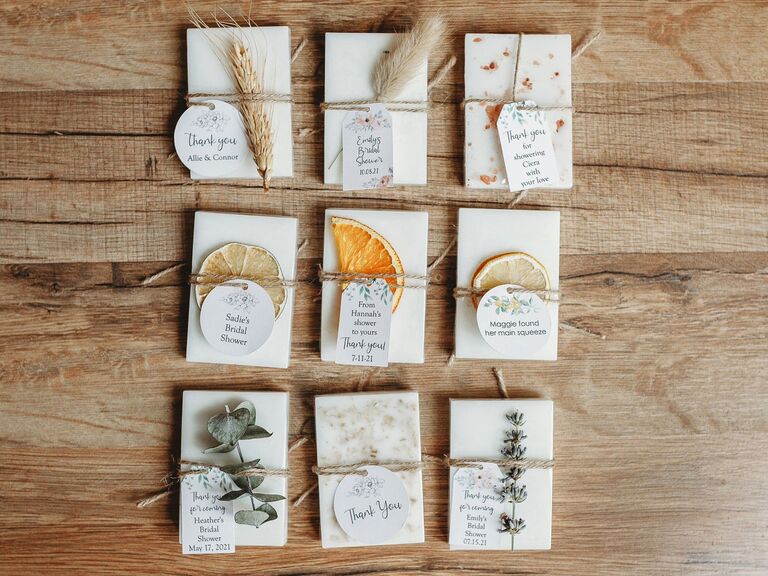 Paired with creative tags featuring phrases like, "showering you with love," these goat milk soap bars are excellent bridal shower giveaways. Choose from eight different scents which range from White Sage Lavender to Coconut Lime Verbena, and then select a decorative add-on, like a dried orange slice or a lavender sprig. Each pretty soap comes wrapped in cellophane and tied with rustic twine.
22. Glitter Compact Mirrors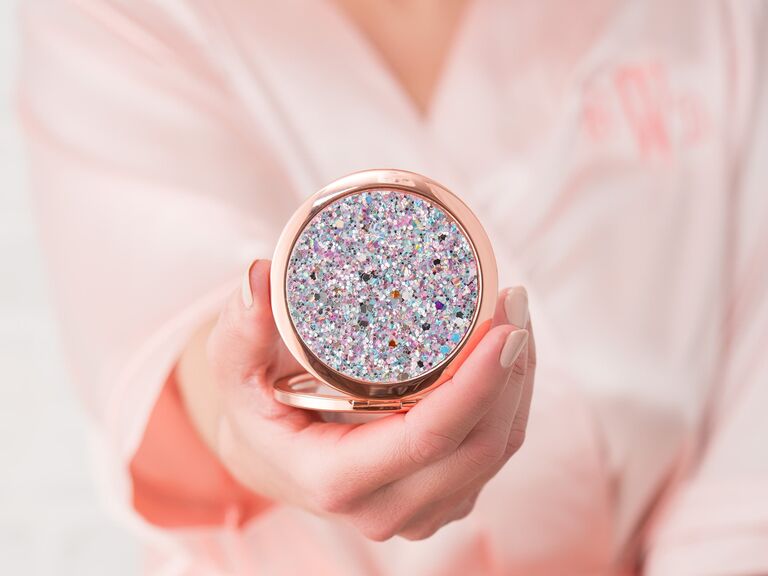 If you're looking for more thank-you gift ideas, an elegant compact mirror is a practical choice. These come in gold, rose gold or silver and feature a rainbow glitter lid. For an extra charge, you can have it engraved with their name or a short note to create a meaningful keepsake.
23. Gua Sha Tools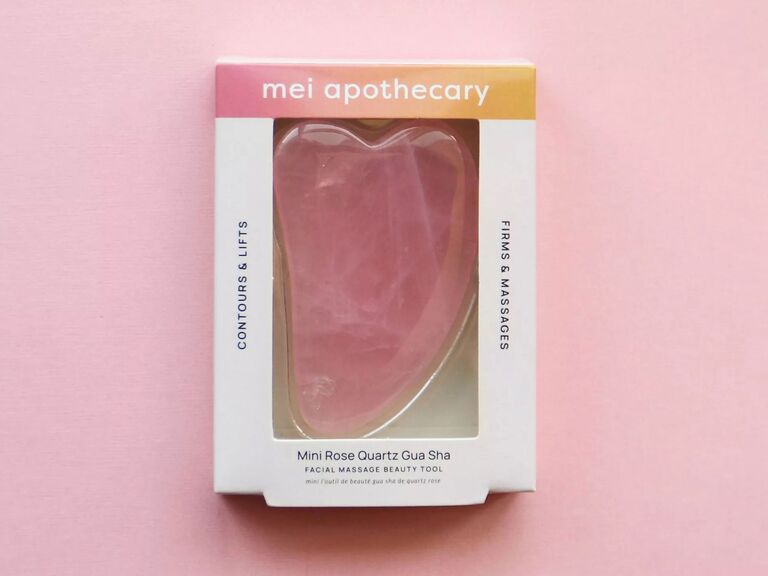 If you're unfamiliar with a gua sha, the massaging stone is a miracle worker when it comes to depuffing the face and relieving tension. This rose quartz beauty tool is a creative wedding shower favor that'll elevate your guests' skincare routines—just in time for wedding day pictures.
24. Concrete Trinket Dishes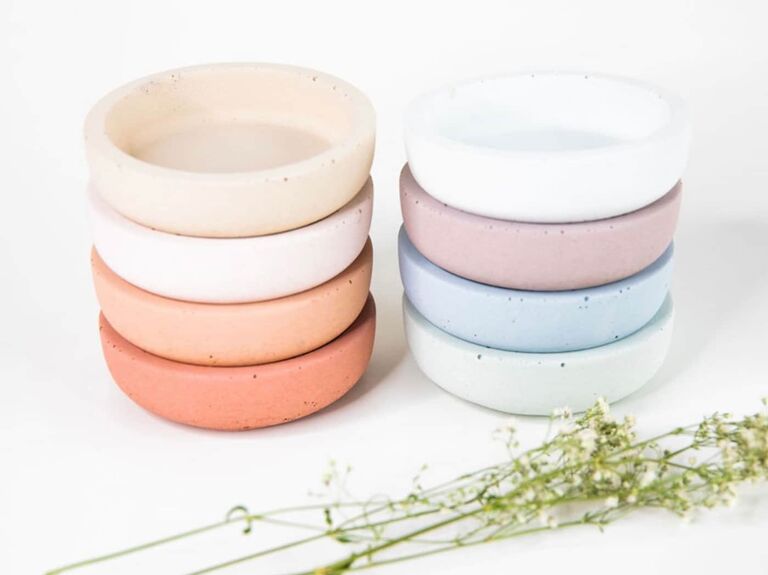 A ring dish isn't just a classic gift for couples, it's also a cute gift for wedding shower guests. These trendy trinket dishes are crafted from colorful concrete and have rubber feet so they don't scratch surfaces. Guests can use it to store their own precious baubles or daily essentials like keys.
25. Mini Nutella Jars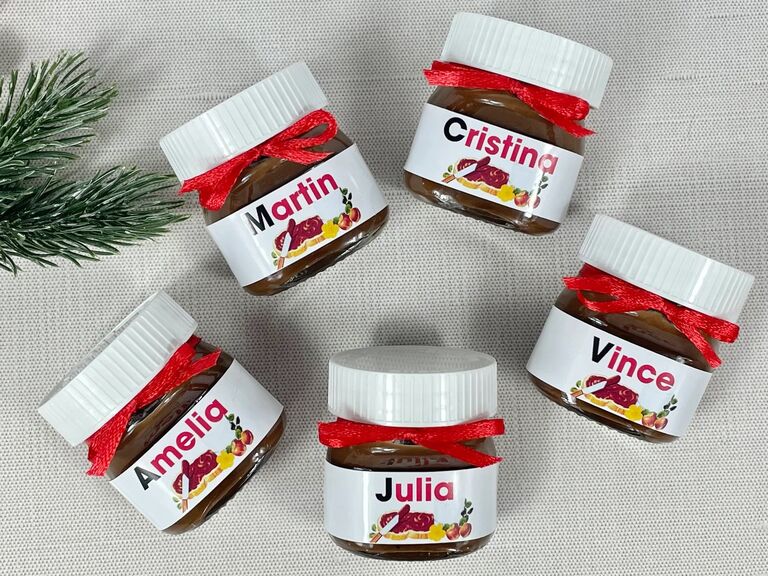 Nutella is undoubtedly delicious and we guarantee that your guests will devour these mini personalized Nutella jars if you choose them as your unique favors for a bridal shower. Each glass container is adorable on its own, but you can add a decorative ribbon for just a few cents extra. Your friends and family will be late-night-snacking on this sweet bridal shower favor!
26. Tiny Succulents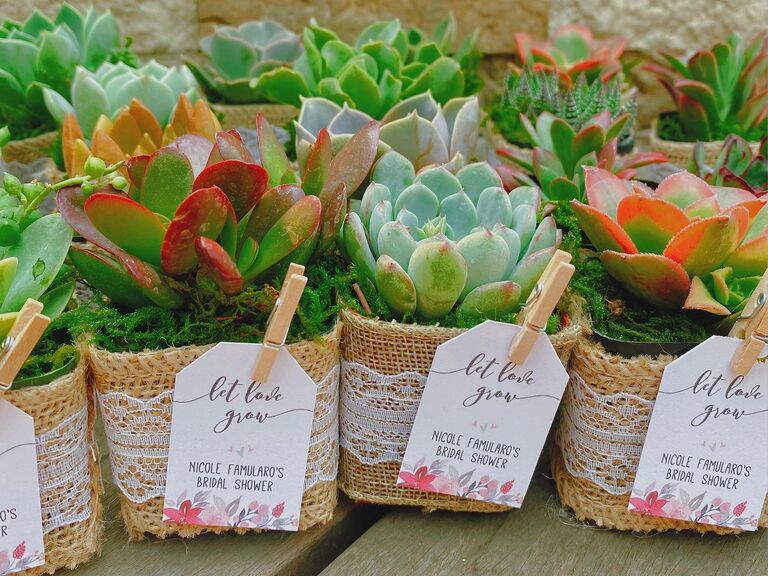 Succulents make any space more delightful. They can be used as bridal shower centerpieces, then taken home as cute bridal shower favors. These bulk bridal shower favors come in a set of 25. Even if you add boxes and personalized tags, they still can be under $6 each, making them cheap bridal shower favors that look expensive.
27. Blooming Lollipops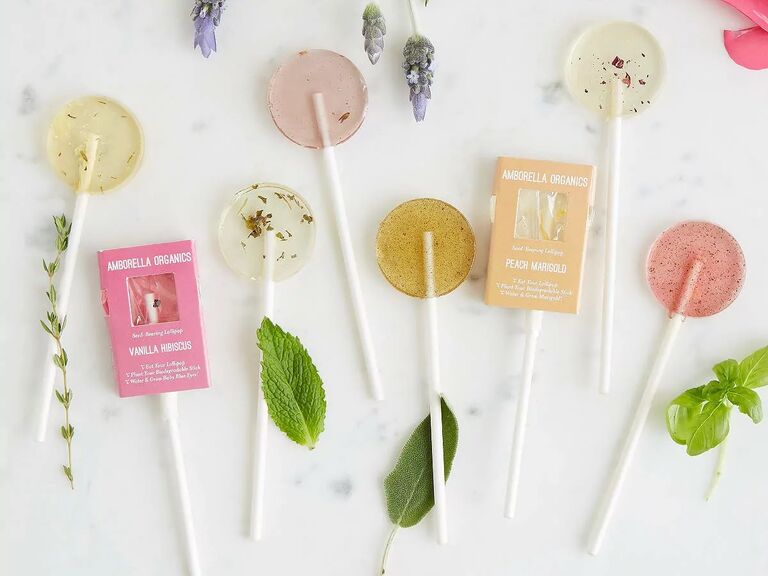 Gift your group take-home treats with these garden-inspired lollipops. They come in eight yummy flavors—including Champagne & Roses and Lavender & Lemongrass—but that's not even the best part. After the party, your guests can plant the seed-embedded sticks to grow an herb or flower. All they need to do is place the leftover stick horizontally in organic soil and cover it completely. Then, in about three months, they'll have their own plant that they can show off! Talk about bang for your buck.
28. Luggage Tags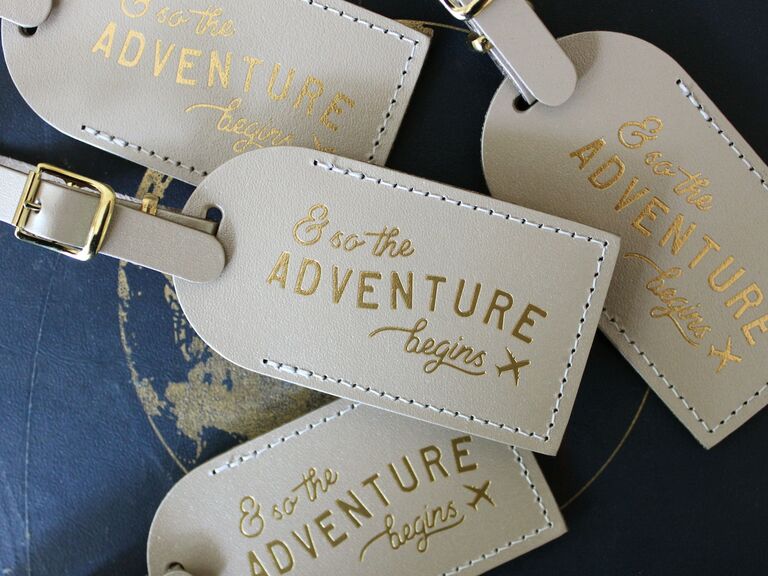 If the couple's planning a destination wedding, these cute luggage tags will make practical gifts for all of your attendees. Made of bonded leather, each tag is foil-stamped with the fun phrase: "& so the adventure begins." Choose your favorite color combination and then buy them in bulk.
29. Popcorn Bags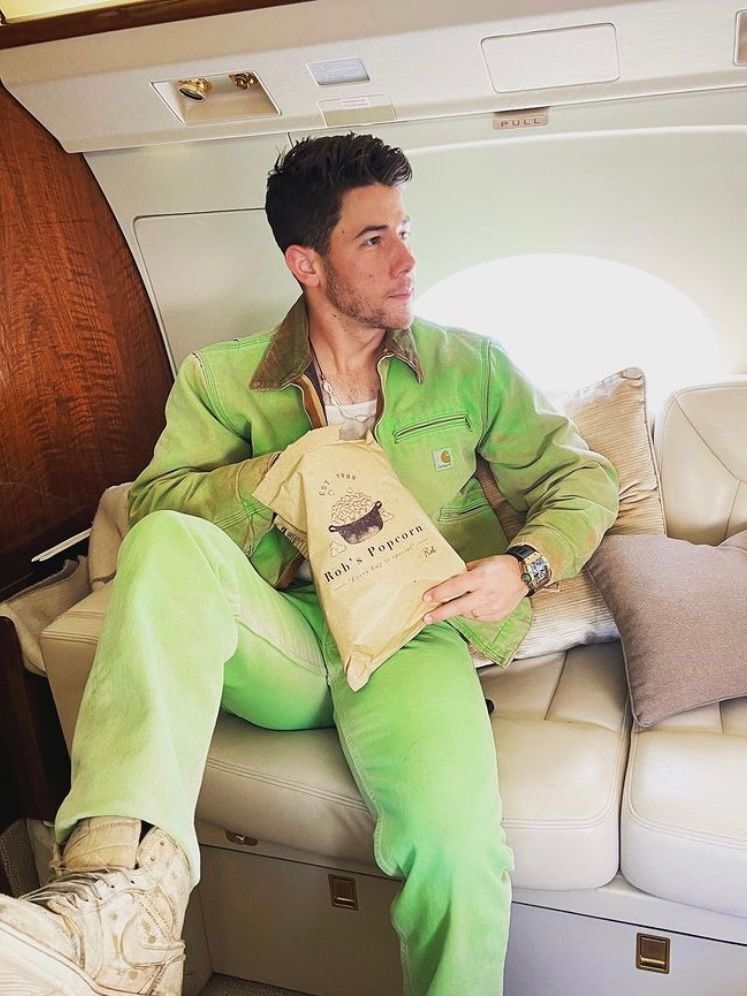 Throwing a throwback-themed party? Treat your guests to the Jonas Brothers' favorite tour snack: Rob's Backstage Popcorn. Kevin, Nick and Joe are right—it's all the rave. Give each guest their own bag as a delicious takeaway treat.
30. Champagne Gummy Bears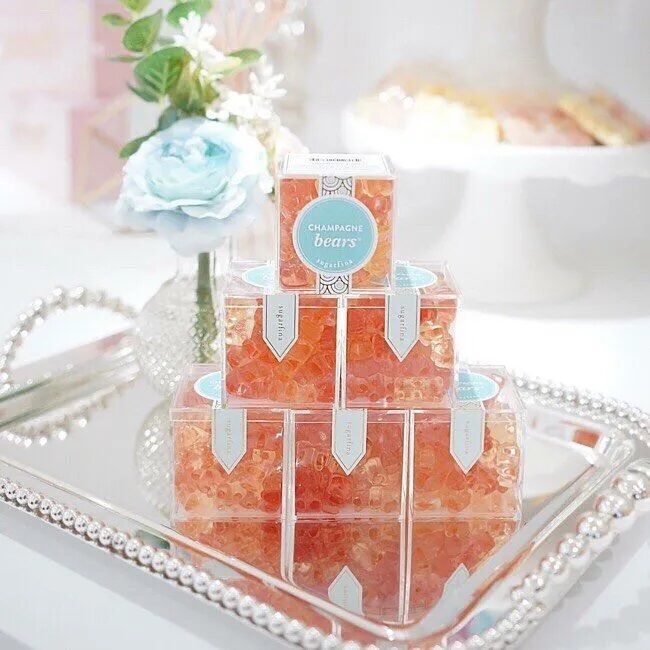 Raise a toast to the upcoming wedding with these festive champagne-flavored gummy bears. They come in three individually wrapped sizes or you can buy a two-and-a-half pound bag—it all depends on your budget and your guests' sweet tooths. It's a bridal shower guest gift that won't last for long!
Bridal Shower Favor Frequently Asked Questions
Whether you're hosting a bridal shower brunch or a coed backyard BBQ, there are plenty of unique and affordable party favors that'll seriously wow your guests. But before you add to cart, here are some answers to the most-asked questions about wedding shower favors.