42 Cute Bridal Shower Favor Ideas
We rounded up the best wedding shower favors for every style, budget and theme.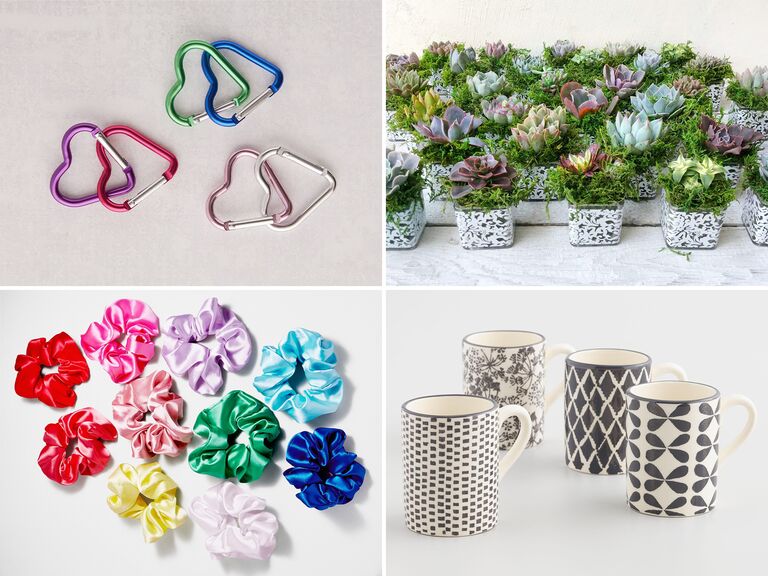 We have included third party products to help you navigate and enjoy life's biggest moments. Purchases made through links on this page may earn us a commission.
If you ask us, the bridal shower is one of the best parts of wedding planning: It's a low-pressure party where the guest of honor gets to hang out with all their close friends and family, and everybody mingles and gets to know each other before the wedding. There's usually a game or two (preferably with cute prizes!), present exchanging and some yummy bites. Giving out bridal shower favors at your event isn't necessary, but it's a nice bookend to a party. Our favorite bridal shower party favors? Anything that guests can actually use—bonus points if they're also on-theme! For our top bridal shower favor ideas and some serious inspiration, read on.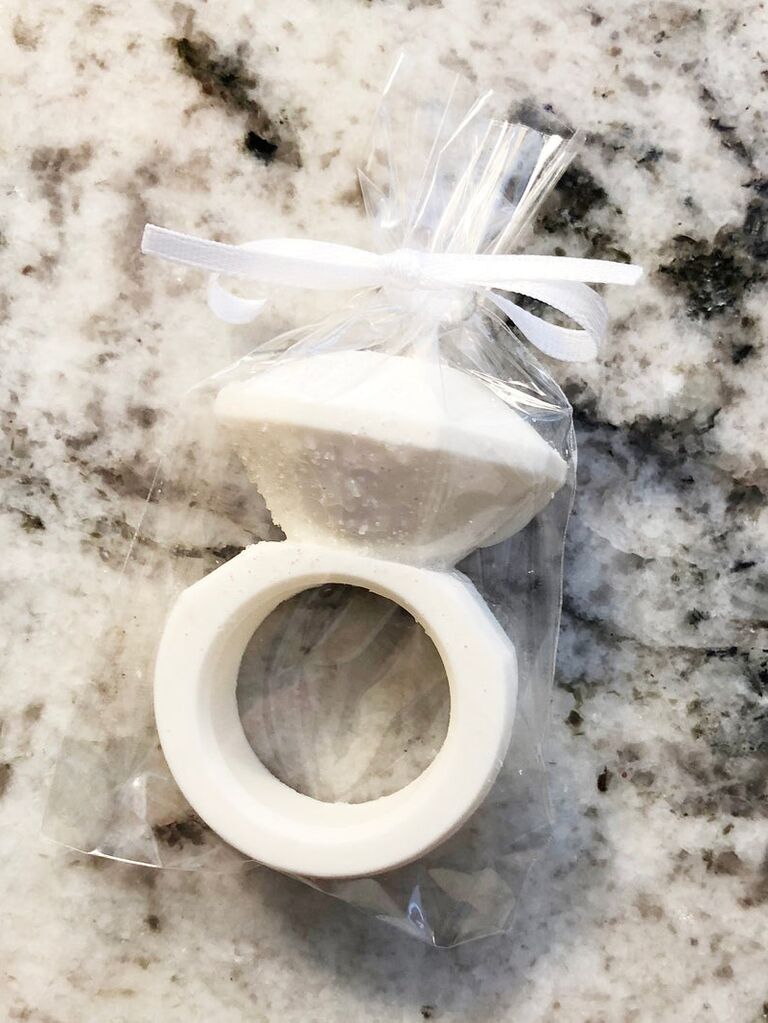 Gift your group take-home treats with these adorable chocolate diamond rings. They're sure to satisfy your bridal shower guests' sweet tooths (and look cute in selfies too).
Diamond Chocolates chocolate engagement ring party favors, $23 for a set of 8 individually wrapped chocolates, Etsy.com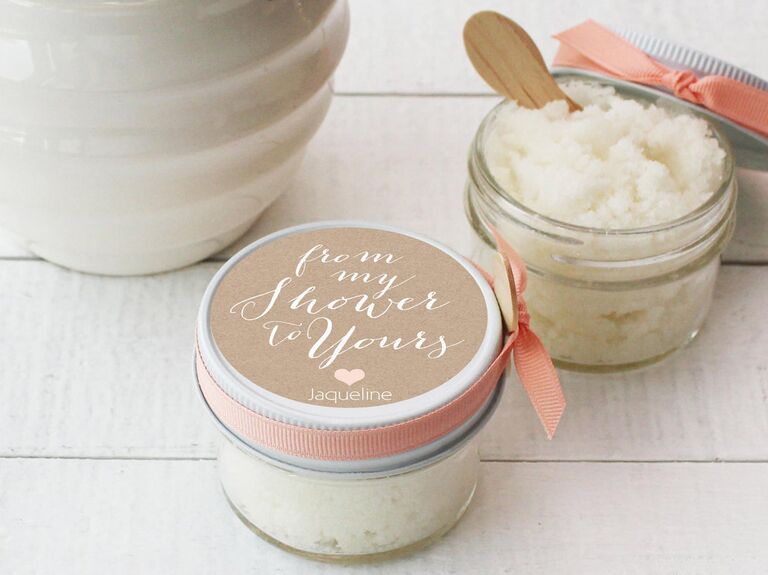 Impart some self-care-inspired products on your bridal shower guests, like these vanilla sugar scrubs that are perfect for a long shower or bath. You can customize each jar's ribbon color and lid color to match the rest of the celebration's décor.
Lulu Sugar sugar scrub bridal shower favors, $7 each, Etsy.com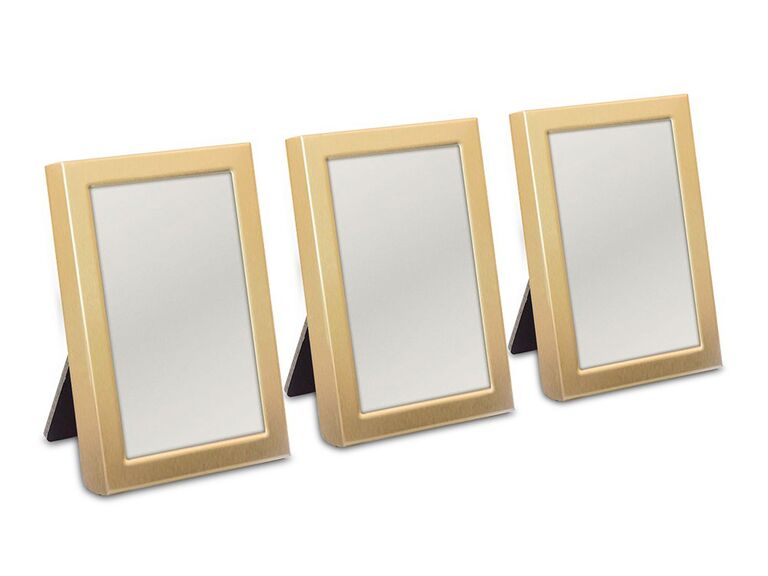 Take instant photos at your bridal shower, then gift these tiny photo frames so guests can save and display the memories.
The Knot Shop mini photo frame favor in Gold or Silver Easel Back, from $1 each, TheKnotShop.com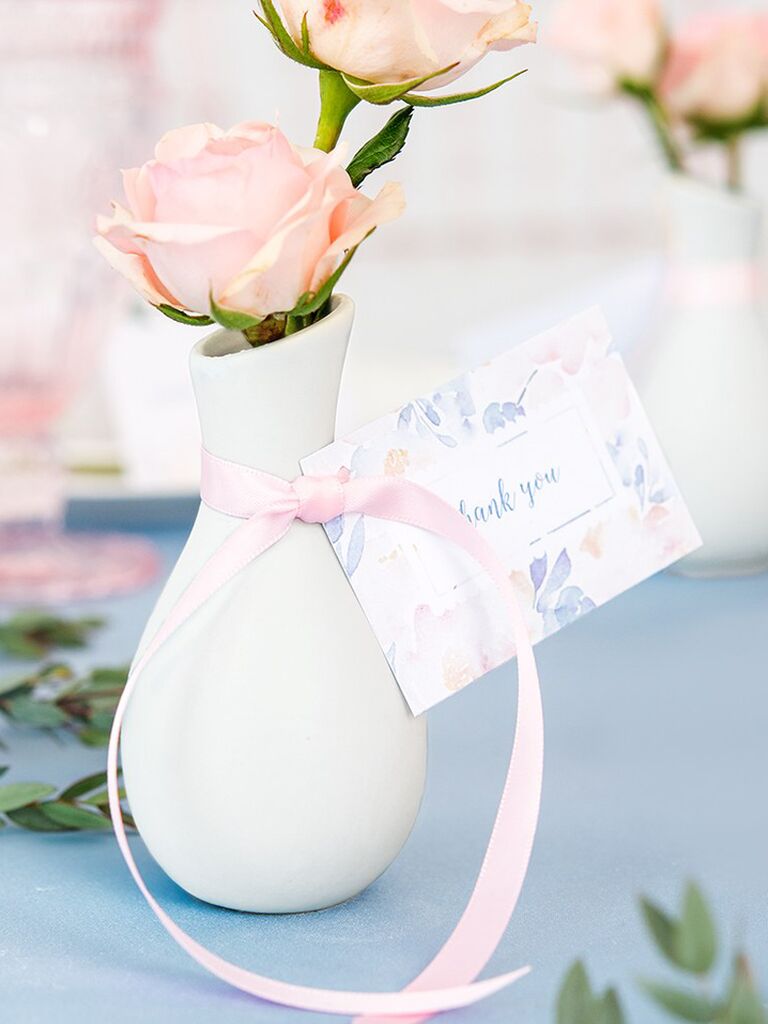 Pair these little bud vases with a fresh bloom or two for a unique spring or summer bridal shower favor.
The Knot Shop mini bud vases, from $2 each, TheKnotShop.com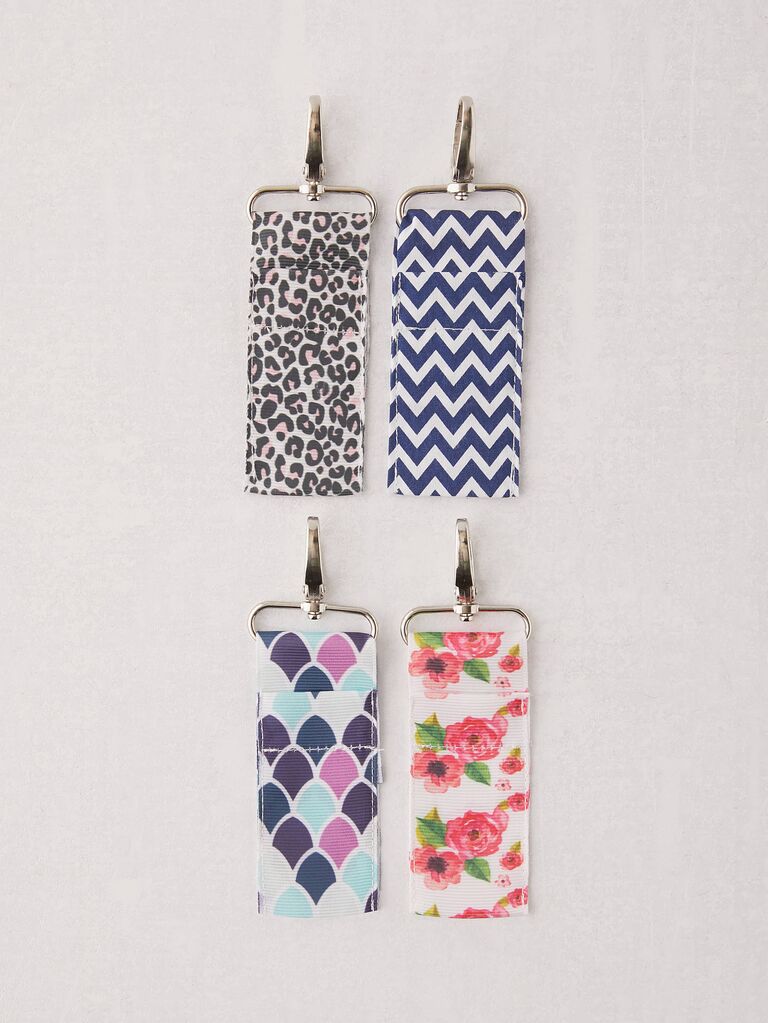 They'll never lose their lip balm again, all thanks to these adorable sleeves. The creative bridal shower party favors clip onto backpacks, keys and more with ease.
Urban Outfitters lip balm pocket keychain, $5, UrbanOutfitters.com
Pick up some champagne splits from your local party store. Then, decorate them with a custom lable for celebratory bridal shower gifts for guests.
Shop WDD personalized bridal shower mini champagne labels, from $14, Etsy.com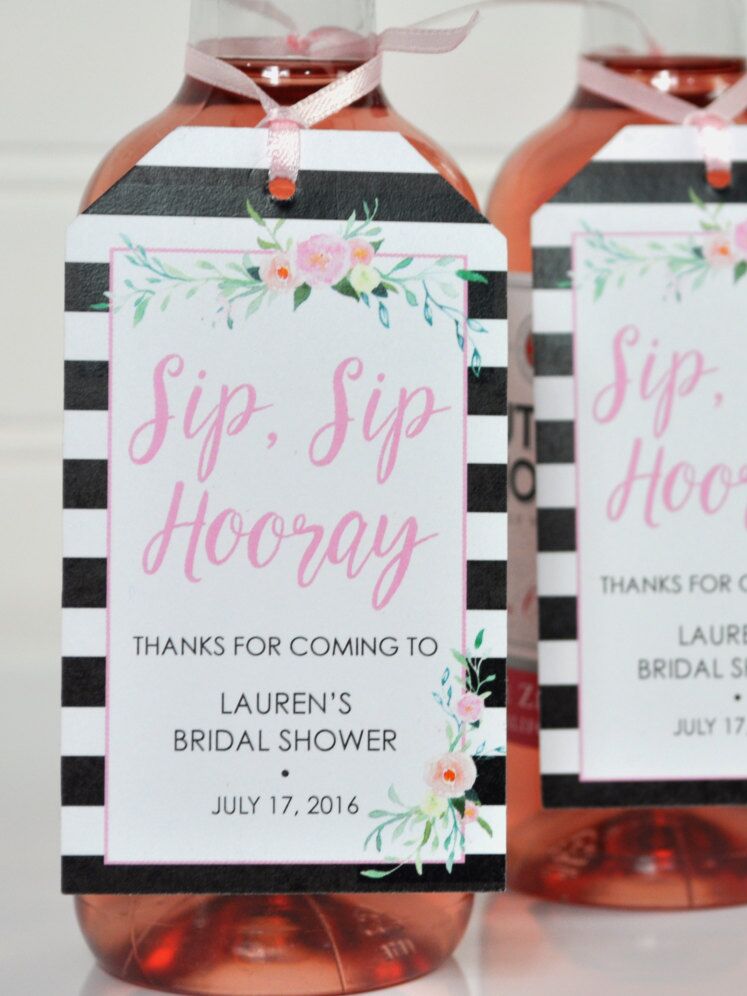 Or, dress up mini bottles of rosé or champagne with personalized tags for your crew.
So Sweet Party Shop bridal shower favor tags for mini wine bottles, $12 for a set of 12, Etsy.com
If your bridal shower is tropical themed or you just love a good pineapple, fill these boxes with little treats like candy.
The Knot Shop tropical pineapple party favor boxes, $9 for a set of 12, TheKnotShop.com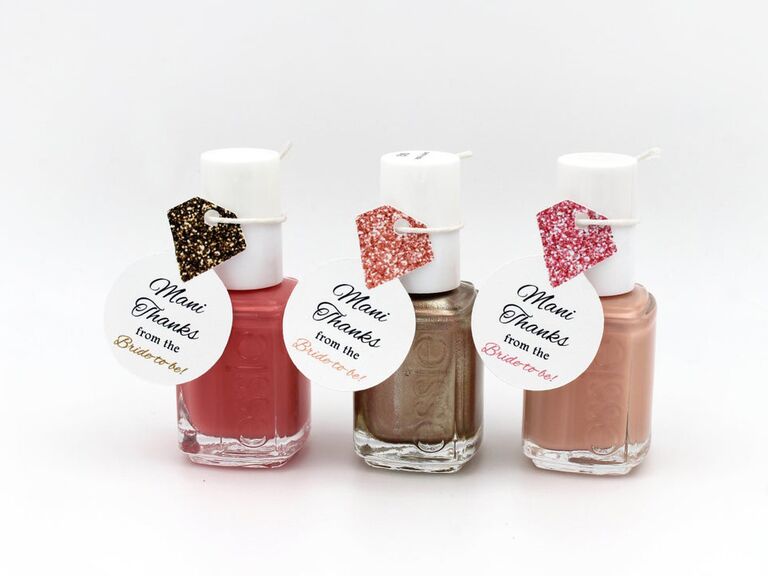 Nail polish and puns? It's the perfect pair. Use these "mani thanks" tags, which you can customize with the glitter color of your choice, on bottles of high-end nail polish for a luxe treat.
Pink Fox Papercrafts nail polish favor tags, from $10, Etsy.com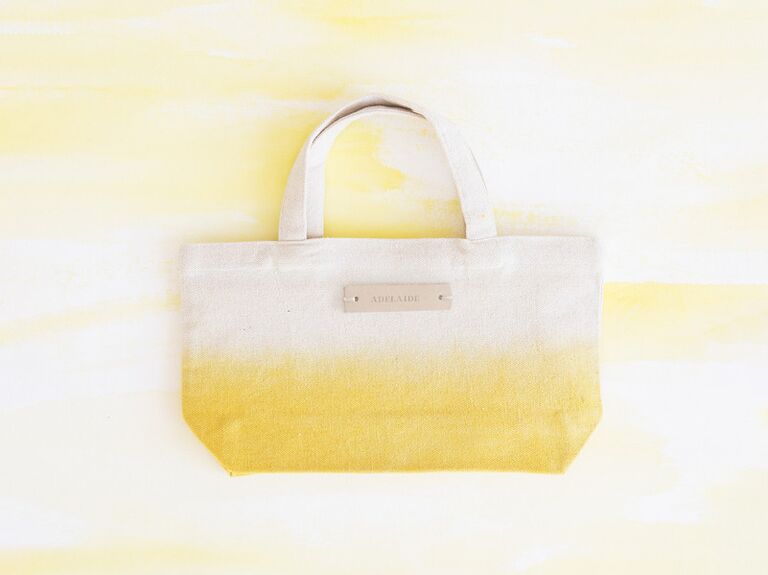 A tote bag is a universally great gift since it can be used for work, baby supplies, a trip to the beach and so much more. We personally love this happy yellow style, perfect for a trendy lemon-themed shower.
Minted lemon dip-dyed canvas tote, from $7, Minted.com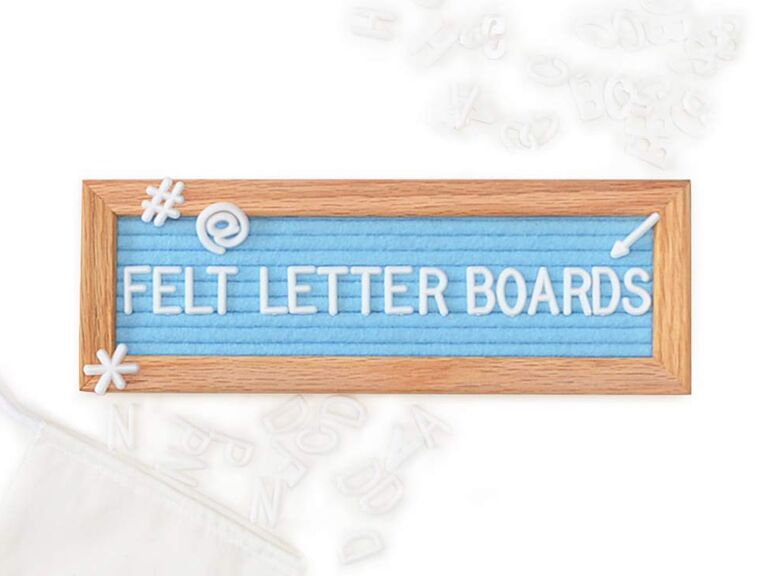 Use these mini felt boards as place cards at the bridal shower, then surprise everybody by telling them they're allowed to take them home! (Just don't forget to pass along the accompanying letter packs too.)
Felt Like Sharing changeable felt letter board in 10 x 3.5 inches, $10, Amazon.com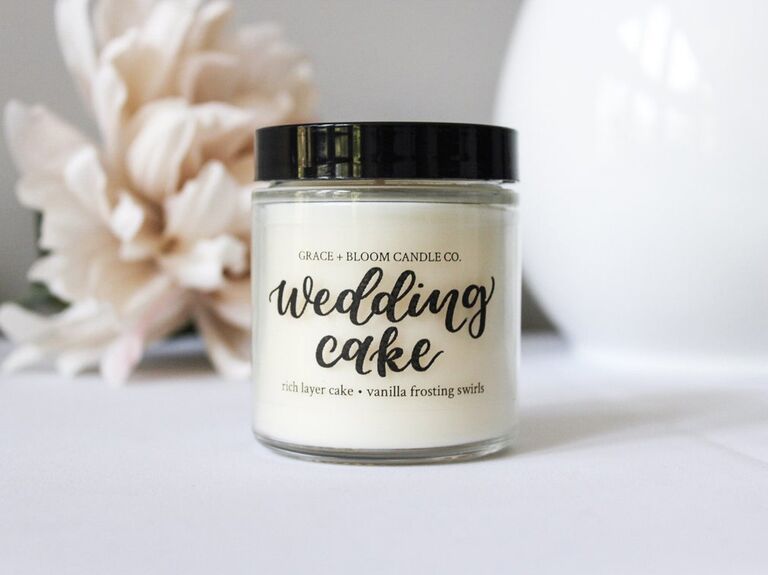 A candle is an easy crowd-pleasing gift, and this sweet one nods to the upcoming nuptials.
Grace + Bloom wedding cake soy candle bridal shower party favor, $8, Etsy.com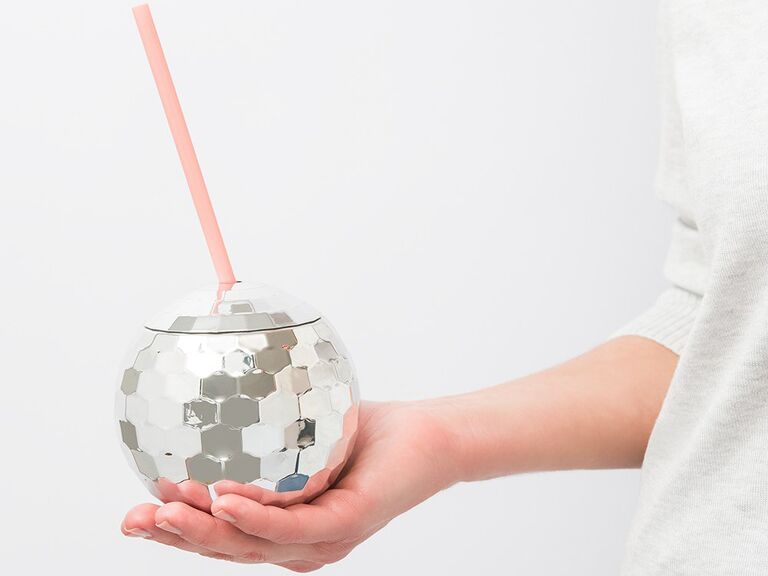 Disco details are hot, hot, hot right now, which means guests will obsess over this sparkly sipper.
The Knot Shop bridal party disco ball tumbler cup, $10, TheKnotShop.com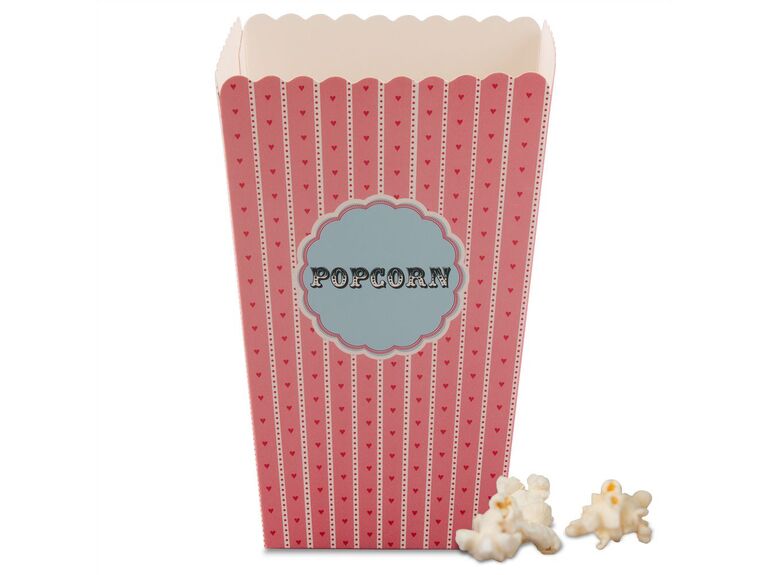 A vintage-looking box can be filled with candy, instant popcorn and other movie favorites.
The Knot Shop novelty popcorn boxes, $8 for a set of 12, TheKnotShop.com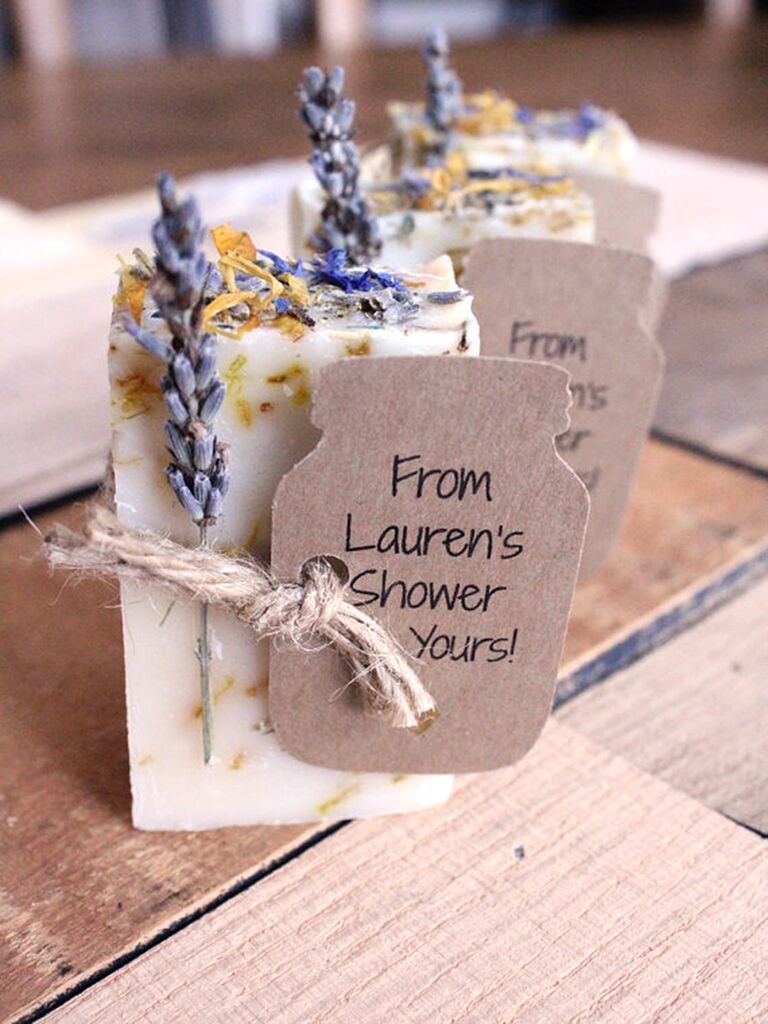 Paired with a cute tag, these scented soap bars are the perfect bridal shower thank-you gift for guests.
Brownies and Ginger rustic bridal shower lavender soap favor, $4, Etsy.com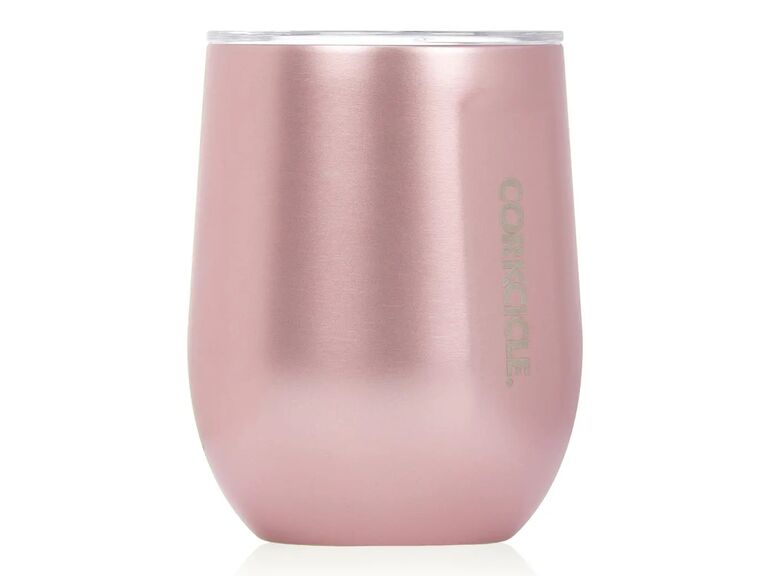 Adventurers and wine lovers alike will be so happy to receive this durable, insulated wine glass that promises to keep their drink cold for hours. Plus, check out that chic rose gold finish! Do note that this gift is pricier than some others—consider it for a bridal shower with a smaller guest list.
Corkcicle insulated stainless steel stemless wine glass in Rose Metallic, $28, Nordstrom.com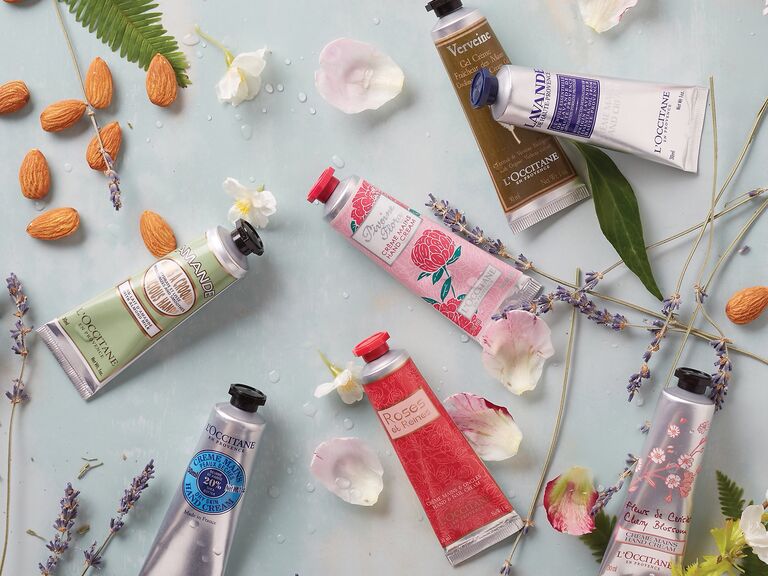 Choose from multiple delicious-smelling scents of this super-luxe-feeling mini hand lotion.
L'Occitane mini hand creams, $12 each, Sephora.com
Wrap up an out-of-this-world bridal shower by gifting your guests too-cute, celestial-shaped tea bags.
Jacqueline Aliotti celestial-shaped tea bags, $30 for a set of 15 tea bags, UncommonGoods.com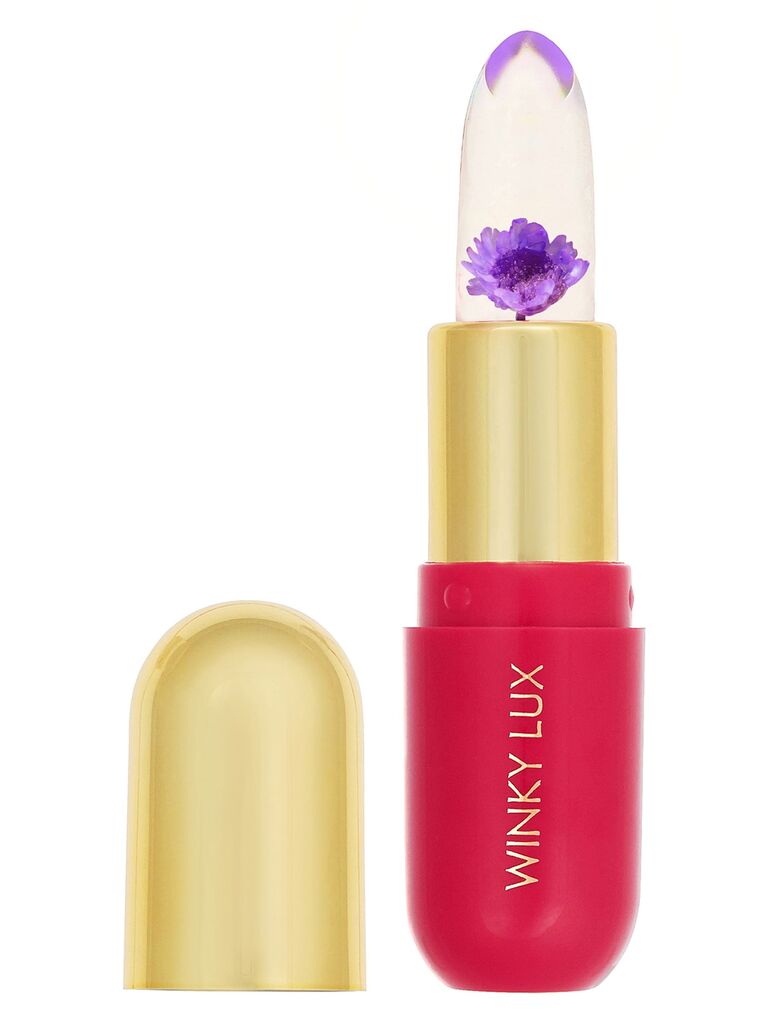 Treat your guests to these unique lip balms and they'll definitely feel special. They're made with real flowers and react to each attendee's skin pH for a custom color—how cool!
Winky Lux flower balm, $16, Nordstrom.com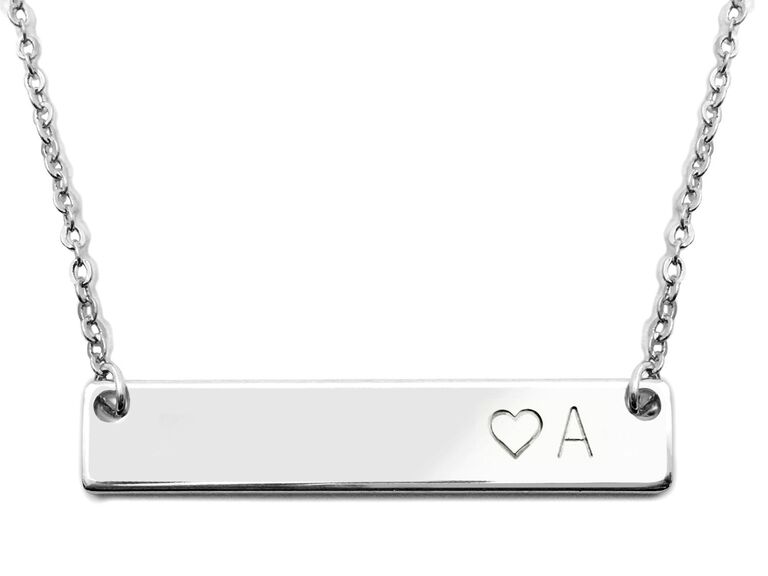 If your bridal shower is more intimate, honor each guest with a necklace engraved with their first initial.
MignonandMignon silver initial bar necklace with a heart, $15, Amazon.com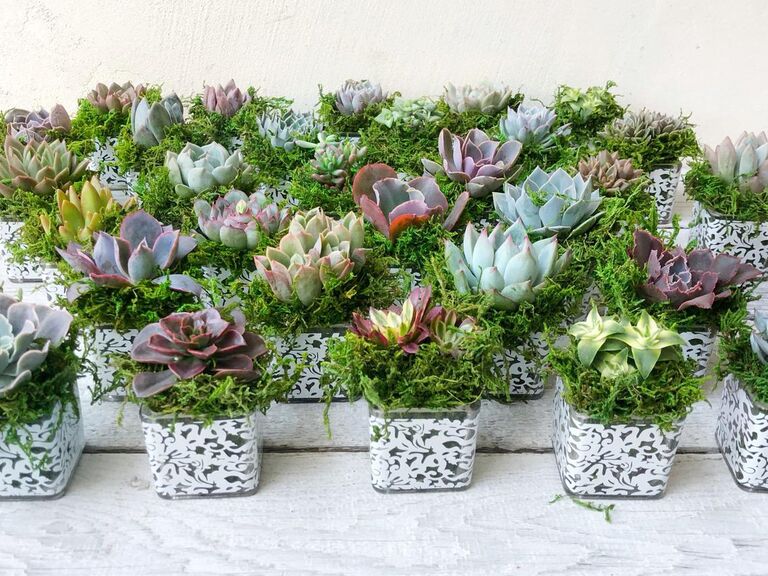 Succulents make any space more delightful. These wedding shower favors can be used as centerpieces, then taken home as plant babies.
Succulent Artworks 2.5" succulent rosette favors, from $8 each, Etsy.com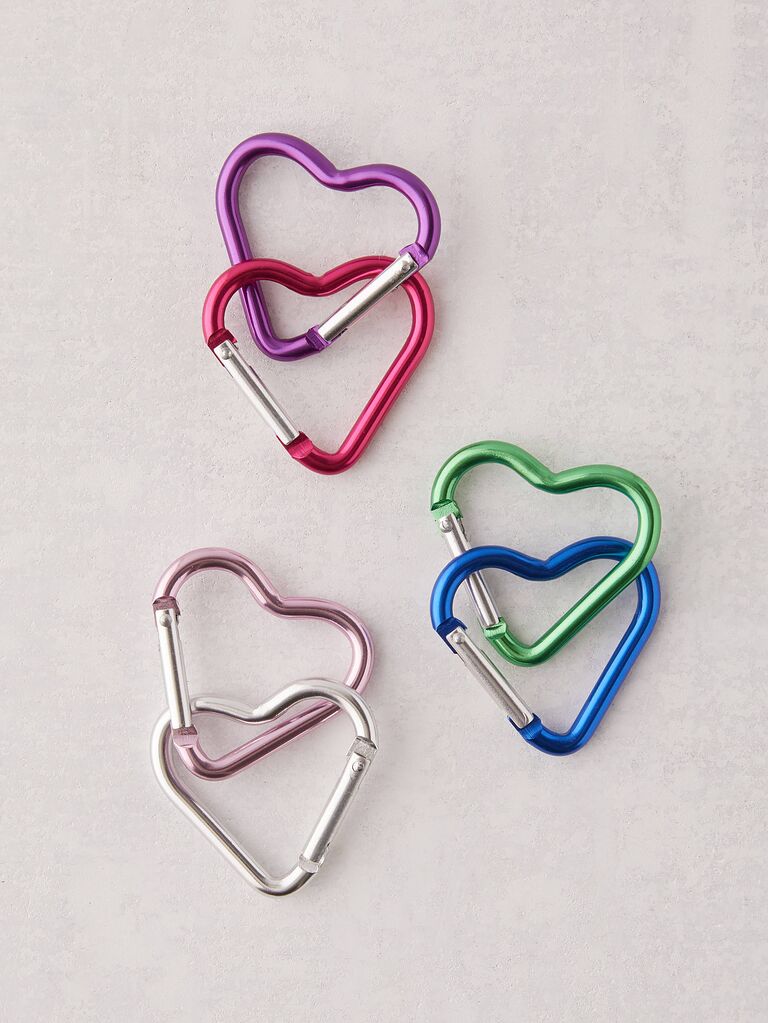 These heart-shaped carabiners in assorted colors are sure to spread the love.
Urban Outfitters heart carabiner clip set, $5, UrbanOutfitters.com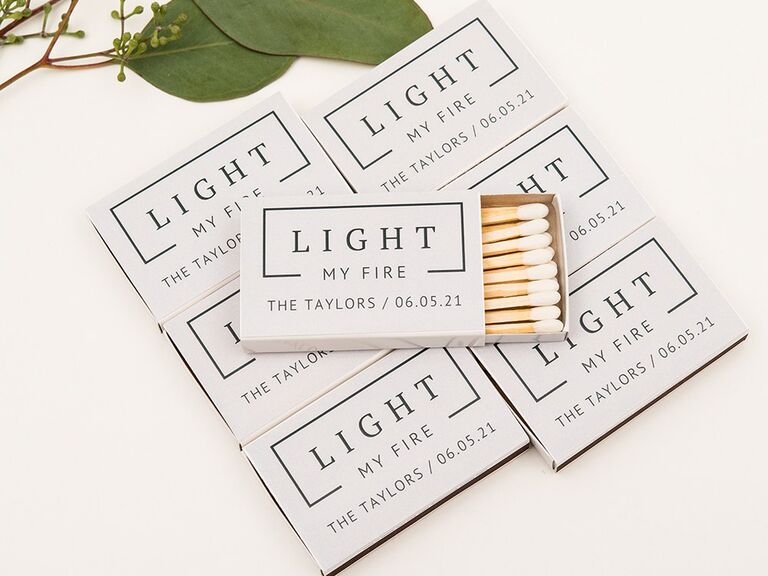 Pick up a pack of tea candles at your local craft store and pair them with a customized box of matches with a cute phrase like "light my fire."
The Knot Shop custom matchbox wedding favors in Rustic Love, $1 each, TheKnotShop.com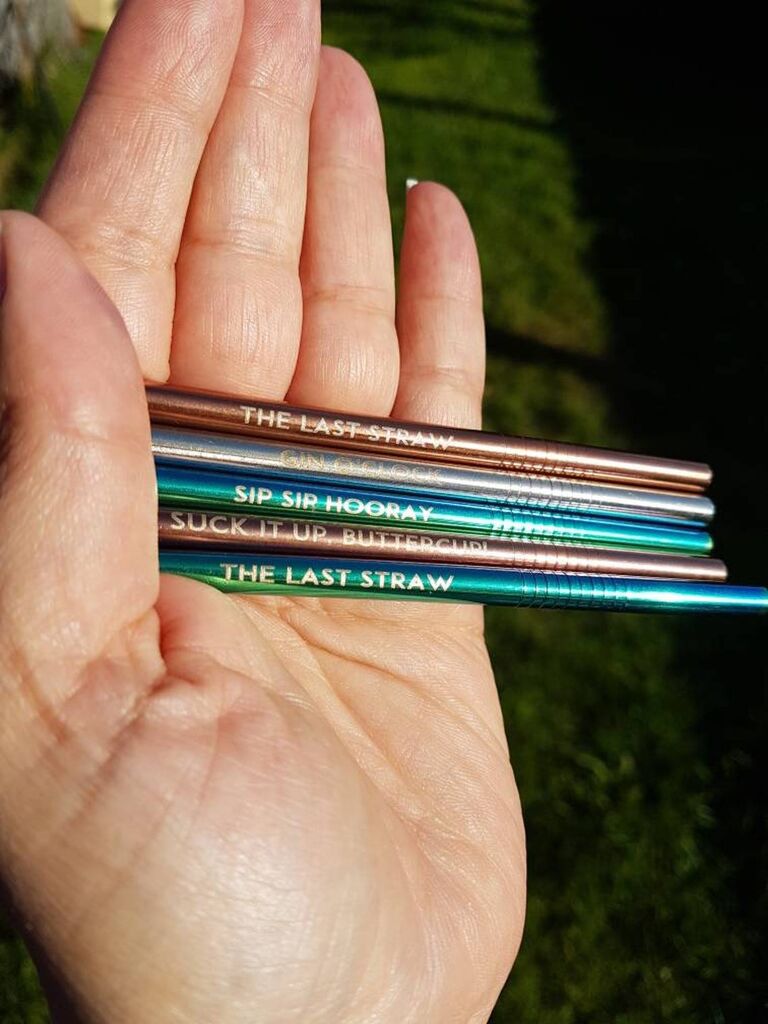 Searching for eco-friendly party favors? Try these reusable straws, which you can get engraved with a punny phrase.
Ever So Pretty Designs personalized stainless steel straws, $7 each, Etsy.com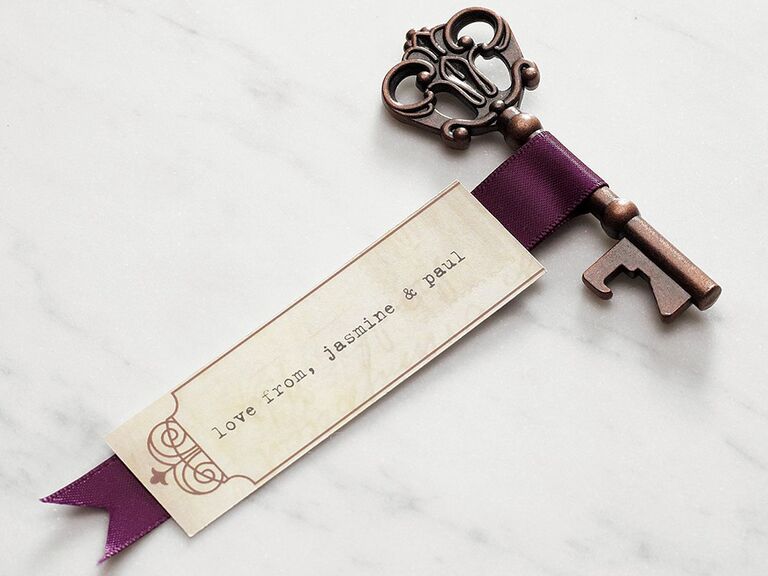 You can never have too many bottle openers, and this vintage key-shaped one (ideal for a romantic theme) won't get lost in the junk drawer.
The Knot Shop antique key bottle opener wedding favor, from $1, TheKnotShop.com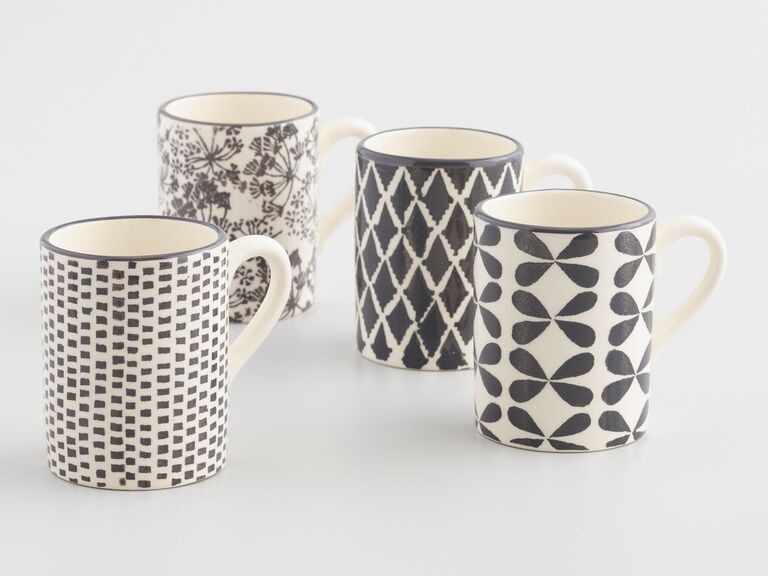 You can tie these pretty mugs into the rest of your event's décor. Buy a few sets and split them up amongst guests.
World Market charcoal and ivory Alvaro mugs, $32 for a set of 4, WorldMarket.com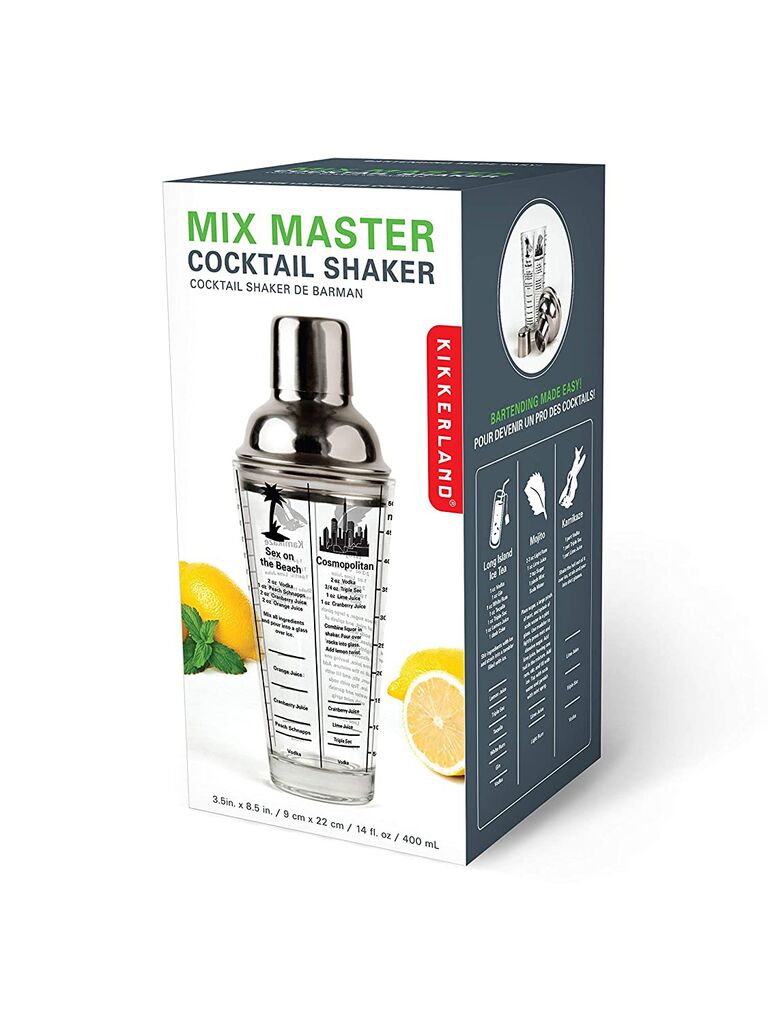 This nifty drink shaker has the recipes for a few key cocktails on its outer walls for easy reference. It's an excellent takeaway for a mixology-themed party.
Kikkerland Mix Master cocktail shaker, $15, Amazon.com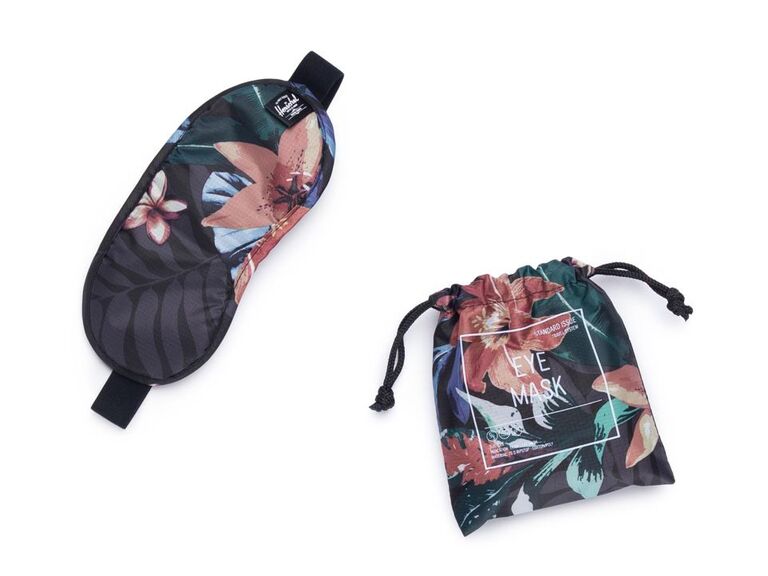 A sleep mask is perfect for travel—especially if it's going to be a destination wedding. The tropical print is Instagram-ready, but there are other patterns and solid colors to choose from too, so you can pick the right design for each celebrant.
Herschel Supply Co. eye mask in Summer Floral Black, $10, Herschel.com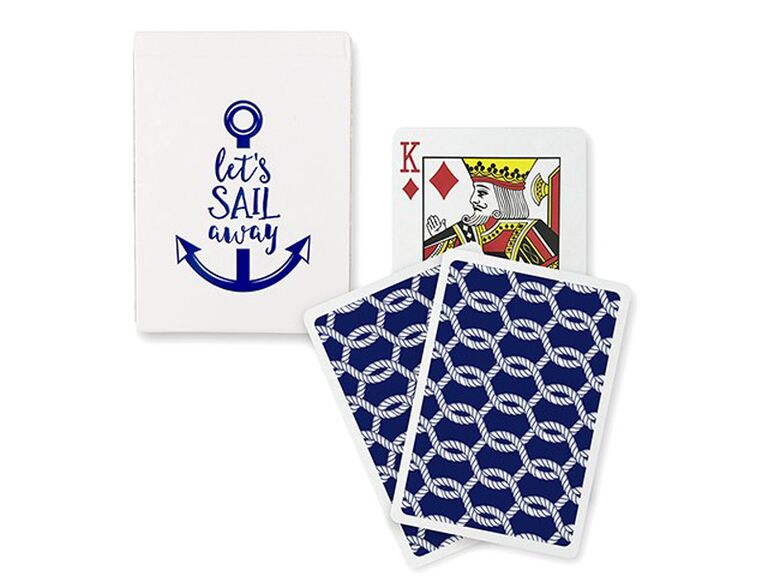 Everyone needs a deck of cards for impromptu game nights, so personalize this nautical-looking deck for your guests.
The Knot Shop navy foil Let's Sail Away playing cards, $2 per deck, TheKnotShop.com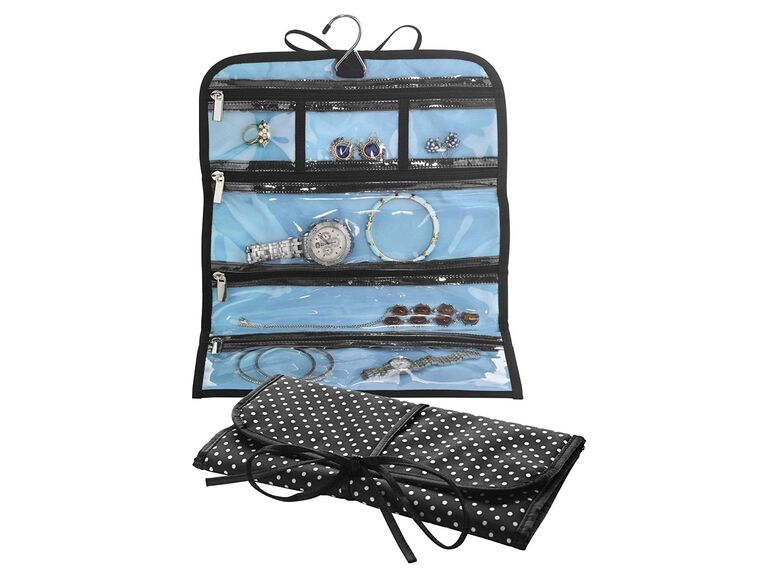 Traveling with jewelry can be a pain, but this chic, compact holder prevents necklaces from getting tangled. They can use it for a bachelorette party getaway and beyond.
Conair travel jewelry roll bag, $11, Amazon.com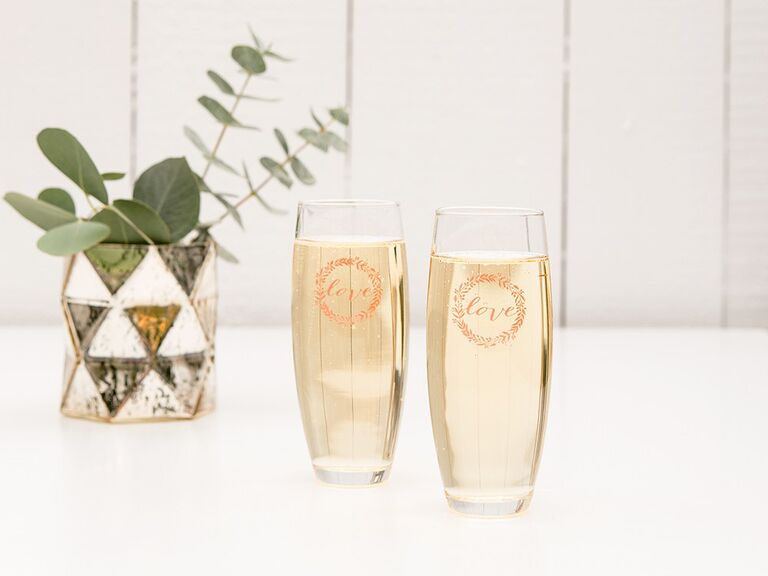 Get these flutes printed with the design of your choice—you choose everything from the phrase to the text color to the logo font.
The Knot Shop personalized stemless toasting flute favor gift, from $2 each, TheKnotShop.com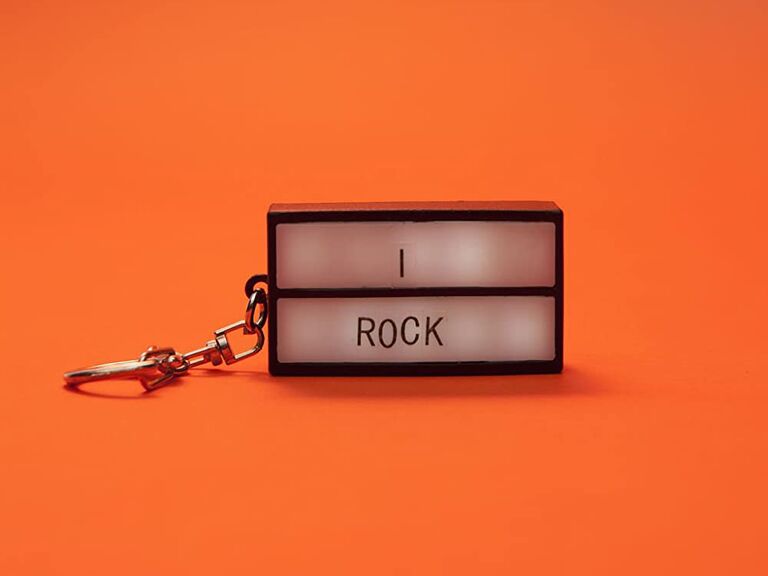 This mini light box comes with 72 characters, so bridal shower guests can personalize their keychains as they see fit. How fun!
Kikkerland light box keychain, $11, Amazon.com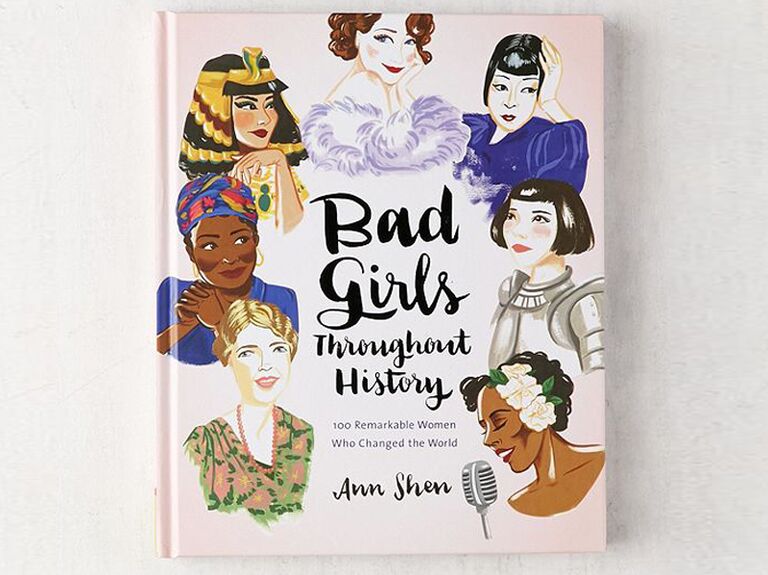 Give an out-of-the-box favor with this girl-power book. It features illustrations and stories of 100 different woman who changed the course of history.
Bad Girls Throughout History by Ann Shen, $20, UrbanOutfitters.com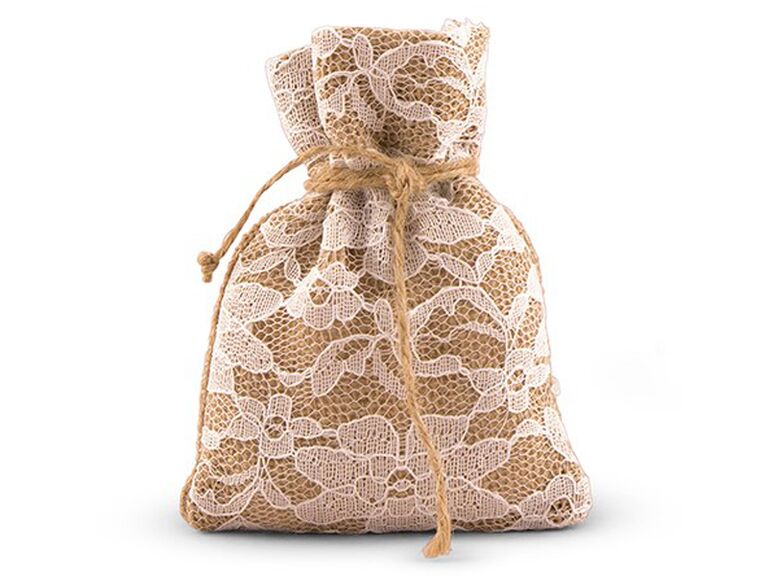 A rustic or country event needs touches of burlap or lace, and these little sachets offer both. Fill them with whatever you please to surprise guests.
The Knot Shop rustic chic burlap and lace drawstring favor bag, from $1 each, TheKnotShop.com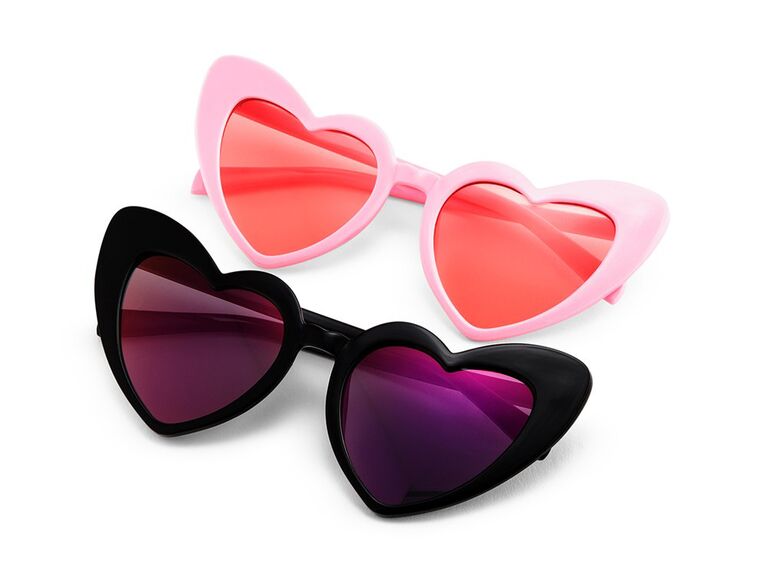 Glasses shaped like hearts make for a cute bridal shower photo-op.
The Knot Shop unique shaped sunglasses in Heart Eyes, $3 each, TheKnotShop.com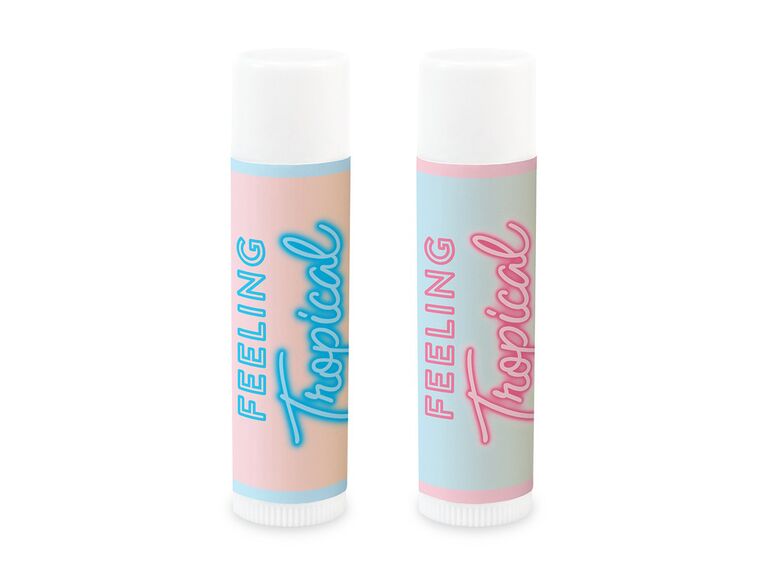 These vanilla-flavored lip balms come with retro, tropical wrappers that are super-fun. And a person can never have too many lip balms, right? (Hence why we've included multiple on this list.)
The Knot Shop Summer Vibes assorted personalized lip balm, from $2 each, TheKnotShop.com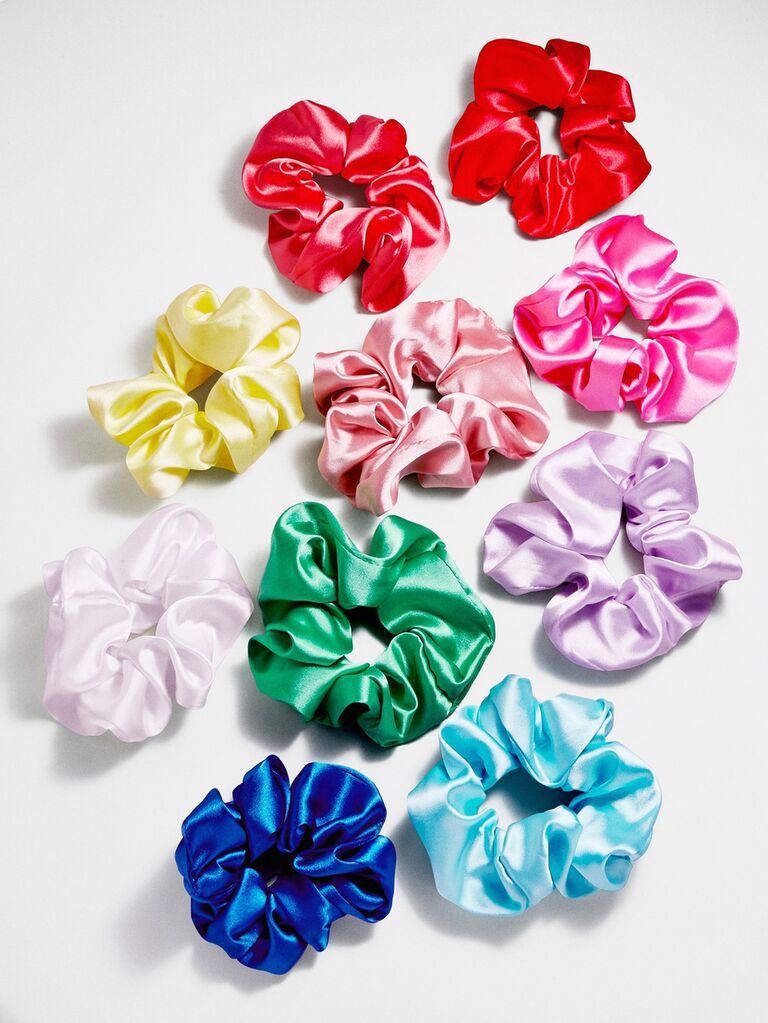 You get a scrunchie, you get a scrunchie, everybody gets a '90s-inspired scrunchie! Hello, sweet nostalgia.
BaubleBar The Ultimate scrunchie set, $24 for a set of 10, BaubleBar.com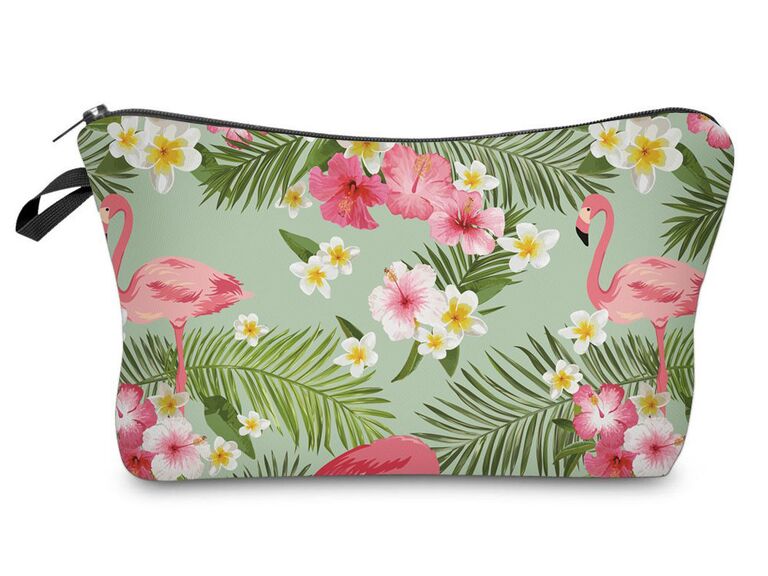 This bridal shower favor-worthy makeup bag is adorned with flamingos and tropical foliage. (And there are other adorable prints where that came from ... we're talking llamas, pugs and more.)
Loomiloo waterproof roomy makeup bag, $7, Amazon.com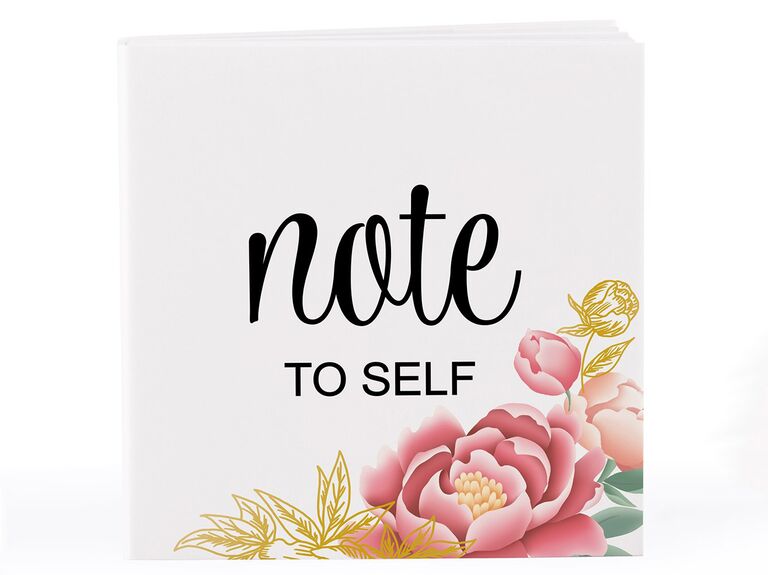 These miniature notebooks are perfect for guests who enjoy making to-do lists and writing out notes. Available in a variety of designs, they'll add a personalized touch to your occasion.
The Knot Shop floral print notebook favor, from $2 each, TheKnotShop.com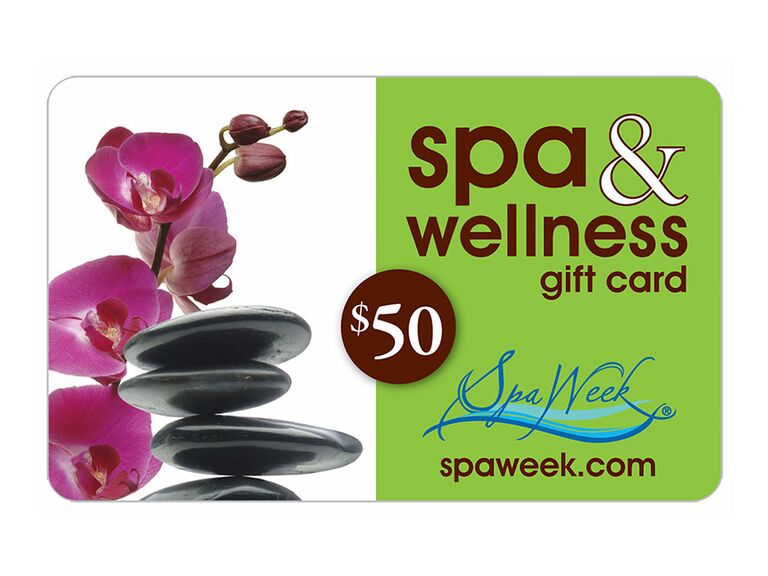 Your guests can choose from thousands of locations when you gift them a voucher for a spa treatment or service of their choice.
Spa Week gift card, from $10, SpaWeek.com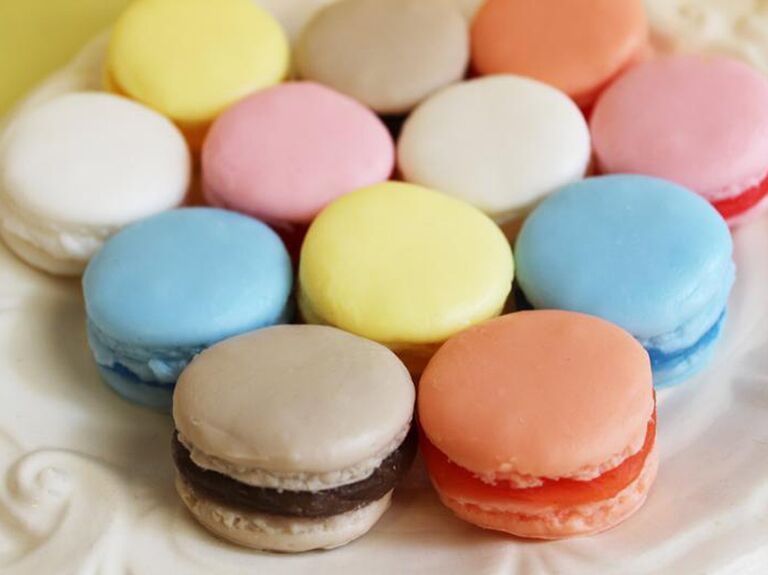 Rejuvenate the francophiles at your bridal shower with these mini macaron-style soap sets. These brightly colored soaps come in an array of refreshing aromas.
Love Lee Soaps French macaron soap mini set, $10 for a set of 6, Etsy.com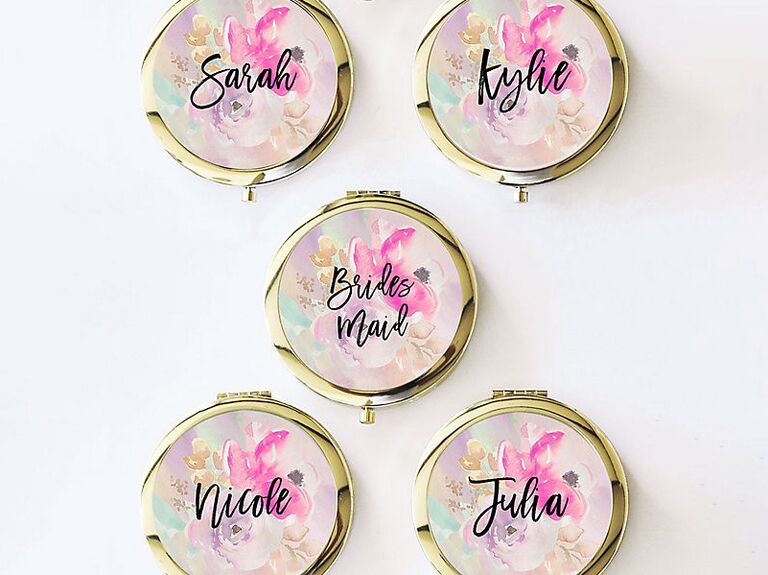 This compact mirror features a floral design on the front and can be personalized with a first initial.
David's Bridal personalized floral compacts, $10 each, DavidsBridal.com