26 Memorable Bridal Shower Food Ideas That'll Wow Your Guests
Here's how to level up your party menu.
Food is, unsurprisingly, a must-have for a great party. So, if you're tasked with hosting a bridal shower for your best friend or a close family member, creating the menu is just as important as any other task on your to-do list. Your bridal shower food ideas can be as classic or as creative as you like, depending on the party theme and the bride's personal tastes. We've tapped industry experts to share their favorite food ideas for bridal showers, including crowd-pleasing appetizers and interactive food stations that will take your party to the next level.
In this article:
Tips on What to Serve at a Wedding Shower
Figuring what to serve at a bridal shower might seem like it takes a lot of preparation, but it's easier than you think. Follow these tips to narrow down your menu.
It's okay not to serve a sit-down meal.
Traditionally, bridal shower food etiquette doesn't require a formal, sit-down meal. Not only would this be a lofty expense for the host, it's not always necessary given the style of the event. Since wedding showers often occur in the late morning or early afternoon, spreads of appetizers, hors d'oeuvres and finger foods usually suffice.
Consider the bride's menu preferences.
Before you make the final arrangements, we recommend looping the bride in to review your bridal shower food ideas. This helps you avoid any mishaps, like adding something she doesn't like to the menu or serving food that could cause an allergic reaction for a relative.
Choose the menu based on the party location, theme and time.
As the host, what you serve is up to your discretion, but the menu should generally make sense with the rest of the party details. A traditional bridal shower would call for a more buttoned-up menu (think crudites and salad), while a uniquely themed party, like a backyard barbeque, gives you more wiggle room for foods like fried chicken or cornbread.
The time of day when the party takes place will also affect your menu. For morning and midday parties, lighter fare, brunch foods and coffee are all appropriate. In the late afternoon or evening, you can serve more substantial foods and cocktails (if that's your style).
Ask friends and family to help out.
Hosting a bridal shower is usually a team effort between the maid of honor and a few of the bride's close relatives. If you feel comfortable enough, you can ask some of the guests to bring dishes or desserts for a potluck-style party.
When in doubt, hire a professional.
If you're not a whiz in the kitchen, there's no reason to stress about the food for the bridal shower. Reach out to local catering companies and private chefs to see if they'd be able to provide food within your budget (hint: we have thousands of vendors on The Knot Marketplace). You can also consider professional catering from a nearby restaurant, especially if there's one you know the bride loves.
Creative Bridal Shower Food Ideas
When you want to impress the bride and the guests, these creative bridal shower food ideas will catch their attention in the best way.
1. Açai Bowls
For a tropical spin on traditional ice cream cones, treat your VIPs to fresh açai or smoothie bowls. With toppings like seasonal fruit, granola, shaved coconut and cacao nibs, guests will feel like they've been transported to a Hawaiian resort.
2. Fresh Ceviche
An outdoor celebration—especially in the midst of summer—should include fresh food inspired by the best ingredients of the season. "Now that many people are entertaining outdoors, the focus is on daytime gathering, which makes the fare lighter and brighter," says Shaun Roberts, Vice President of Sales at NYC-based catering company Great Performances. "Opt for simple and recognizable foods, but extremely well-sourced and curated ingredients—snapper ceviche comes to mind."
3. Dessert and Wine Pairings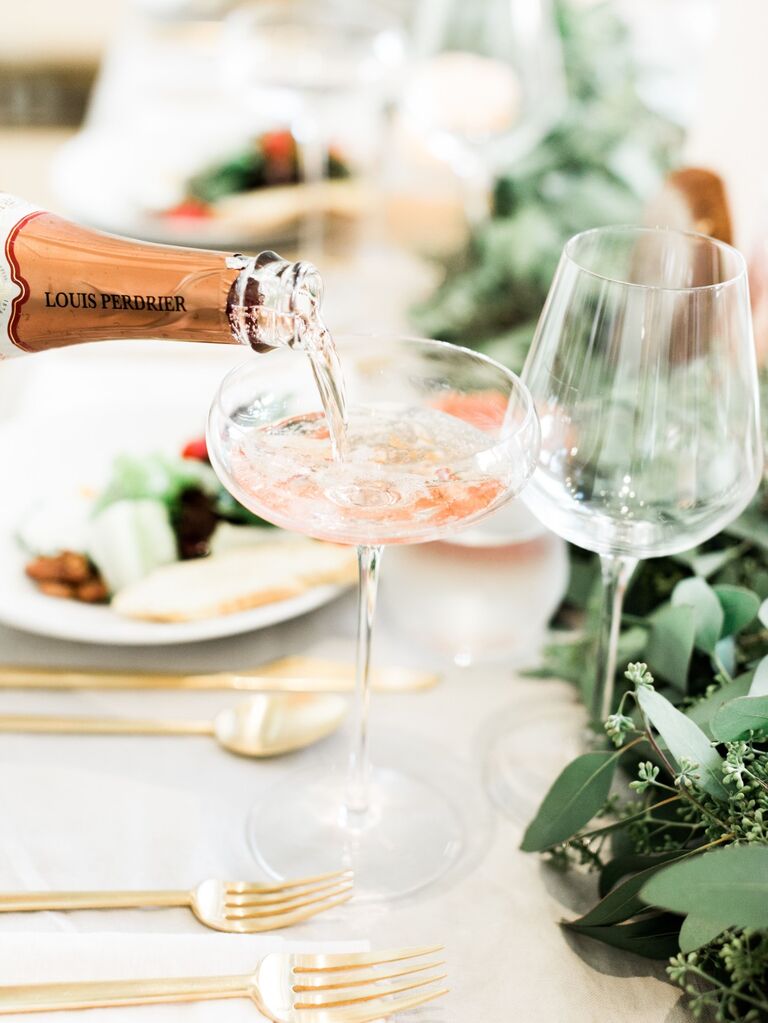 If the groom- or bride-to-be is an oenophile, stimulate their senses by arranging dessert and wine pairings based on their favorite blends. "Create a tasting station where each dessert is paired with a sample of one of their favorite wines," says Erin Emmett, Founder and Pastry Chef of Pistachio Culinary Studio in New York City. "You might pair something sparkling with a strawberry basil macaron; Riesling with a peach and almond tartlet; Pinot with a dark chocolate truffle; or Bourbon with a bite-sized bread pudding." To give this bridal shower food idea a localized spin, source the wines and spirits from a local vineyard or distillery, and tap a nearby dessert shop for the bite-sized treats.
Find your kind of venue
From barns to ballrooms, discover reception venues that feel like you.
4. Popcorn Bar
Give your party guests something to snack on in between the bridal shower games and opening of gifts. A self-serve popcorn station is extra tempting when you add paper bags or cones, along with various toppings like chocolate syrup or powdered seasoning.
5. Pre-Portioned Salads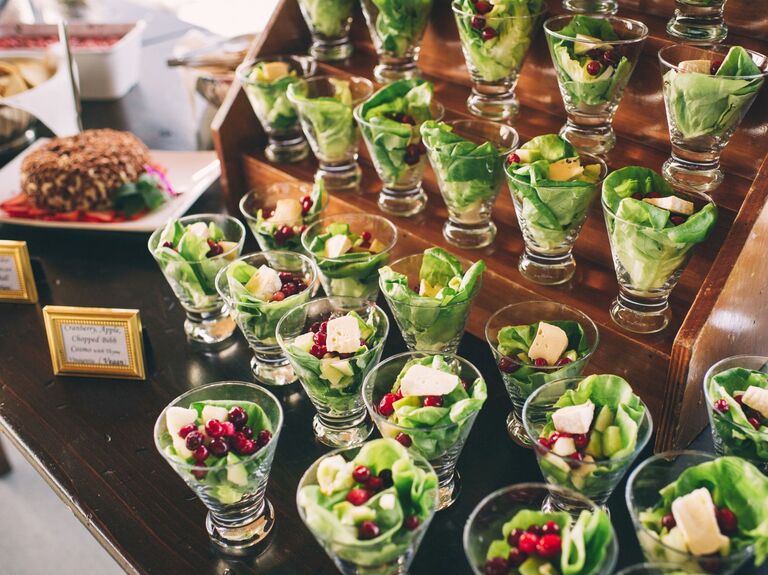 Keep the line for food moving by setting out pre-portioned salads on your party buffet table. Miniature bowls or nice cocktail glasses will add a decorative touch, and you can create a separate station for dressings and toppings nearby.
6. Bacon Breadsticks
This three-in-one appetizer combines a variety of flavors, and we love the gourmet look. The single servings of soup are topped with bacon-wrapped breadsticks that guests can dip and munch on.
7. Fruit and Cheese Skewers
When it comes to light bites, such as pieces of fresh fruit or cheese, it's easier to serve them on skewers rather than dealing with tongs or finicky toothpicks. Present them in cute paper cartons or cups to grab and go.
Simple Bridal Shower Food Ideas
If you prefer to stick to the basics, there's nothing wrong with that. Refer to these easy bridal shower food ideas, including tried-and-true favorites like finger sandwiches and quiche.
8. Charcuterie Board Station
Open your Instagram feed on any given weekend and you'll likely see one or two of your friends indulging in a lavish cheese board. Charcuterie spreads are having a moment, and we love the idea of treating your guests to an Instagram-worthy arrangement of various meats, cheeses, veggies and creative garnishes. Not only is this bridal shower food idea perfect for grazing, it'll give guests plenty of photo opportunities. (And luckily for you, you can DIY it if you're feeling creative—check out our guide on how to make a charcuterie spread for wedding events.)
9. Pinwheel Sandwiches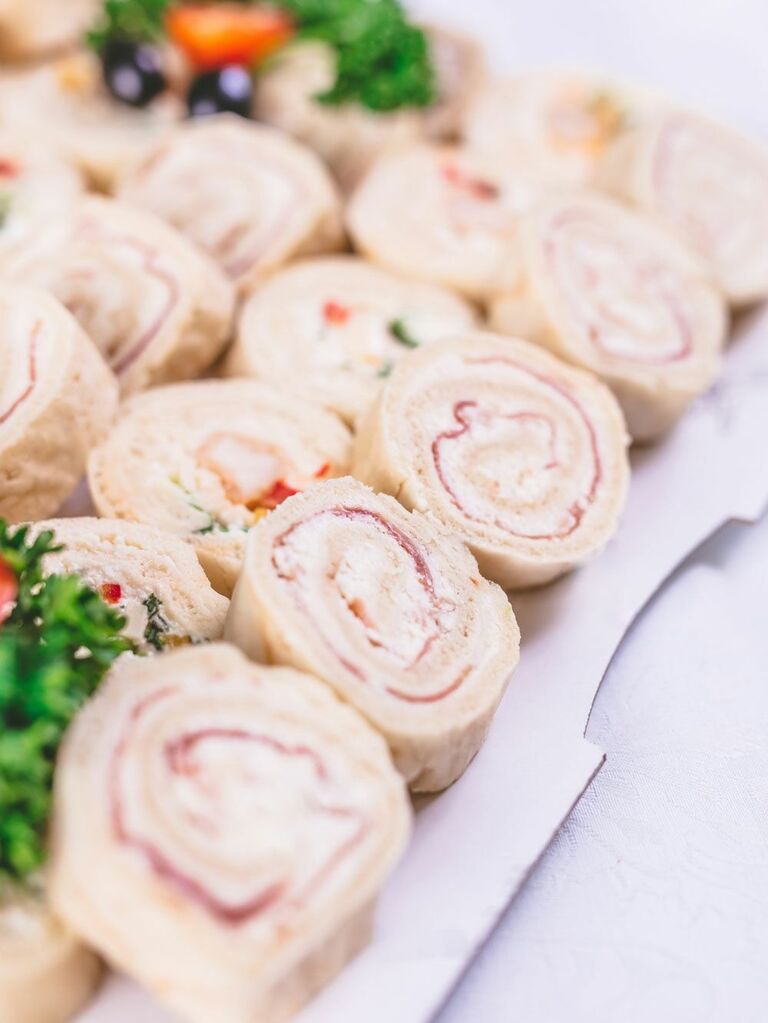 For something a little more filling, finger sandwiches are a no-fail food idea for a bridal shower. Layers of cream cheese and cucumbers would make for a nice, delicate snack, though you could opt for heartier pinwheels with ham or turkey and cheese to give your crew plenty of options to keep them satisfied throughout the event.
10. Bite-Sized Grilled Cheese
Warm, toasted grilled cheese sandwiches are perfect for fall and winter bridal showers. Cut them into bite-sized triangles so the melted cheese doesn't get too messy when guests are eating.
11. Seasonal Skewers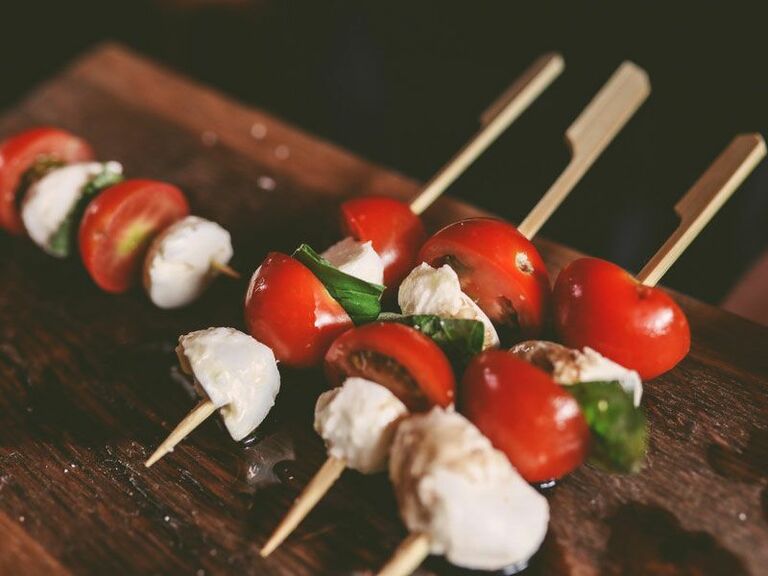 In lieu of a multi-course dinner, options like skewers will allow guests to take their food on the go as they play games and chat with others. (Pro tip: It's also easy to hold a skewer in one hand and a drink in the other.) Lean into seasonal pairings based on when the party is happening, like fresh fruit skewers for spring, Hawaiian kebabs for summer or a Mediterranean veggie medley in the fall. This simple bridal shower food idea is easy to supply and easy to eat, making it a great choice for no-fuss events.
12. Flatbread Pizzas
Skip the traditional pizza party in favor of personalized flatbreads for guests to enjoy. While you can stick with the basics, like mozzarella and balsamic Caprese flatbreads, consider experimenting with unique pairings too, like goat cheese and peaches or aged cheddar, pancetta and apple slices.
13. Miniature Quiches
Complement a brunch bridal shower menu with mini quiches or sous vide bites. Be sure to have a variety of flavors, including meat and veggie options so there's something for everyone.
14. Salmon Bites
This is an easy bridal shower food idea if you're looking for light summertime hors d'oeuvres. Pair smoked salmon slices (or prosciutto, if you're avoiding seafood) with mozzarella cheese and multigrain crackers. Garnish with fresh chives or arugula.
15. Brunch Station
Who says breakfast has to be saved for one time of day? Whether you're planning an elegant brunch-themed celebration or the couple has a penchant for breakfast food, you can't go wrong with delectable snacks like pancakes, waffles, scones, fruit and pastries. And, of course, your breakfast menu won't be complete without fun brunch cocktails like mimosas, Bloody Marys, bellinis and boozy iced coffee.
16. Lobster Rolls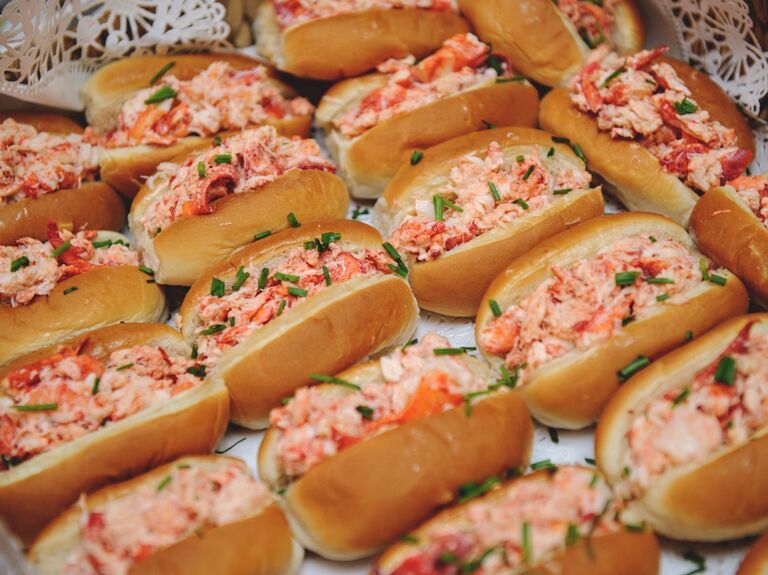 If you're going for a coastal theme or the party's taking place at a waterfront venue, lobster rolls are a no-brainer. They're low maintenance on your part, but they're always a crowd pleaser for guests.
17. Fruit Parfaits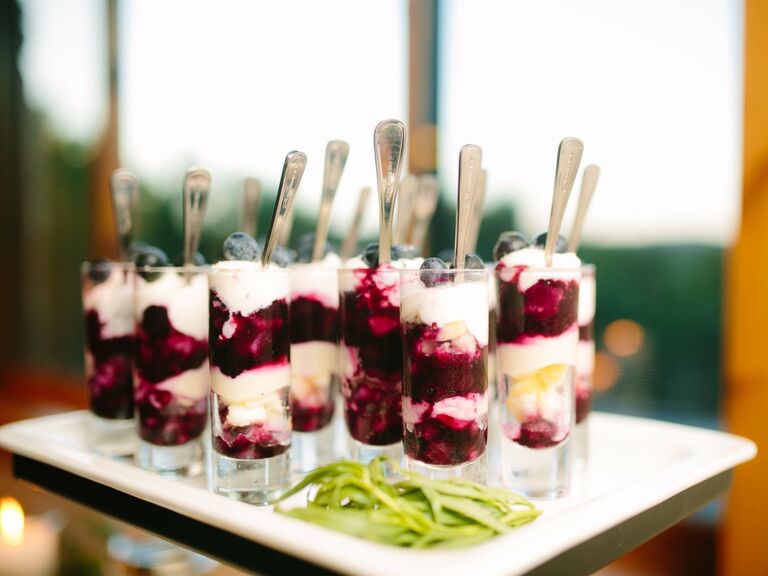 Your party will no doubt include a bridal shower cake, cupcakes or cookies, but fruit and yogurt parfaits are another option for your dessert spread. You can prep them ahead of time or provide the ingredients for guests to make their own at a brunch time party.
18. Soup or Gazpacho Bowls
You can't go wrong with a hearty soup or tasty gazpacho, depending on the party season. Serve the pre-portioned bowls along with other appetizers, like salad, bread and sandwiches.
Fun Bridal Shower Food Ideas
Create a memorable experience for guests with interactive snack stations, themed meals and other fun bridal shower food ideas.
19. Mobile Beverage Bar
While not technically food, beverages are another element of the menu to take into consideration. Though alcohol isn't necessary for a bridal shower, it is a nice offering for guests. And, while you can go the traditional route with champagne, wine or spritzers, an interactive experience would serve as yet another exciting activity. Enter: a mobile bar. Some companies have converted bars that travel for different events, creating a unique, Instagram-worthy installment.
"A converted mobile bar's vintage design or aesthetic creates next-level details that will make your bridal shower memorable," says Weston Holm, co-founder of Blue Clover Distillery in Scottsdale, Arizona. "You can impress guests with an unparalleled beverage experience by creating your own custom cocktails, like a brunch spritz, a menu that's centered around farm-to-table beverages, bubbles and wine or beer."
20. Interactive Seafood Station
When hosting an outdoor event—especially near the coast—you can't go wrong with fresh seafood. "Consider an interactive seafood station paired with lots of local, seasonal offers such as a grilled corn and cotija salad or tomato, peppers and chiles salad," says Roberts.
You might also consider doing a raw bar or a sushi bar if the to-be-weds have a cultured palette. If you are planning on adding a few adventurous food options to your menu, though, be sure to add a few universally loved meals or snacks as well so all guests feel taken care of.
21. Fast Food Catering
Your bridal shower food doesn't have to be traditional. If the couple has a favorite fast food restaurant, hire them to cater a spread for the prewedding celebration. Not only is this easier for you, utilizing their favorite restaurant will make the event feel that much more personalized.
22. Mac & Cheese Station
We're all about comfort food, and there's no denying that a mac and cheese bar will be the talk of the day. With a cheesy base, allow guests to customize their snack with breadcrumbs, chives, hot sauce, veggies, bacon and even more cheese. Once they've tried this fun bridal shower food idea, everyone will rave about your unforgettable party.
23. Afternoon Tea Party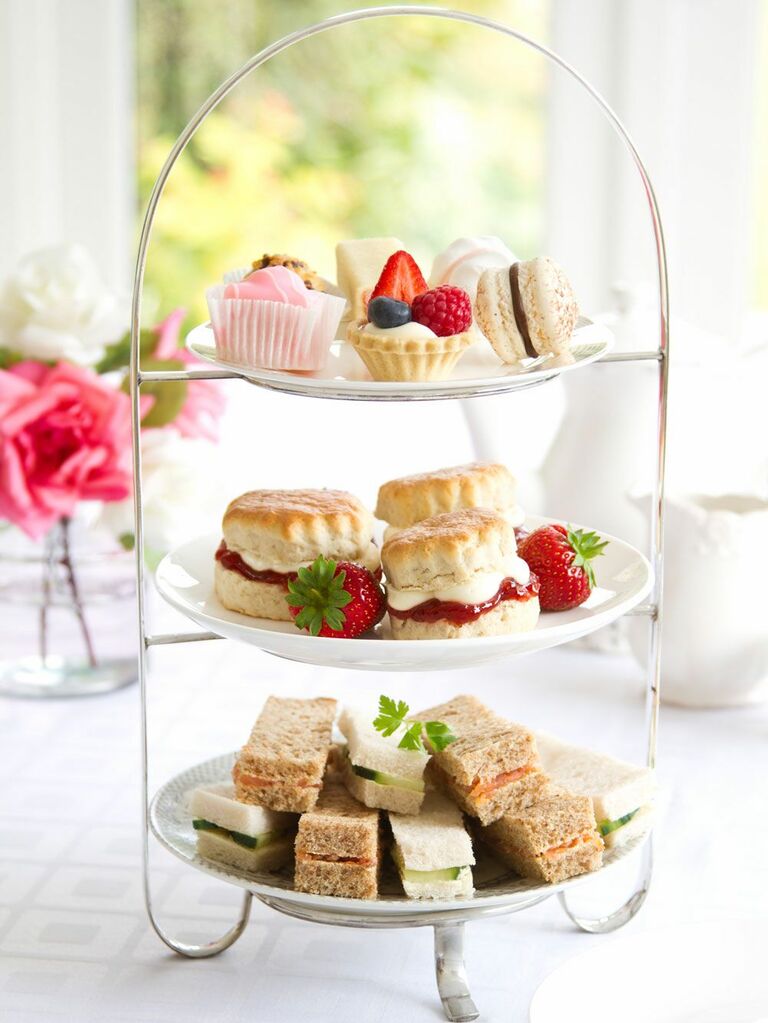 Your bridal shower theme can offer plenty of inspiration for the food you serve. If you're throwing a garden-inspired or Bridgerton-themed bridal shower, for example, a tea party menu is a must. "The overall nature of Bridgerton is hyper-romantic, and people want to capture that elegance and refinement," says Roberts. "This menu would include delicate bites like tea sandwiches, miniature scones and cakes with bright, whimsical colors."
24. Soft Pretzels
It's a known fact that soft pretzels are universally loved. For shower hosts that are looking to serve a variety of snacks and easy-to-eat party food, you can't go wrong with soft pretzels. Dipping sauces like queso and grainy mustard will keep your guests happy—but to take it up a notch, try hanging your snacks from an interactive display to create a spectacle.
25. Mini Tacos with Tequila Shots
If the bride is up for serving shots or margaritas at her bridal shower, pair the drinks with miniature tacos for an adorably festive combo. A few alternative pairings you could try: lemonade and pretzels, sweet tea and fries or wine and risotto balls.
26. Chicken & Waffles
Balance sweet and salty flavors with this comfort food dish that always hits the spot. It's a simple bridal shower food idea if you're going for an inviting and homey atmosphere.