He Said/She Said: A Bride & Groom-to-be Respond to Questions About Their Upcoming Wedding Day
by Jamie Miles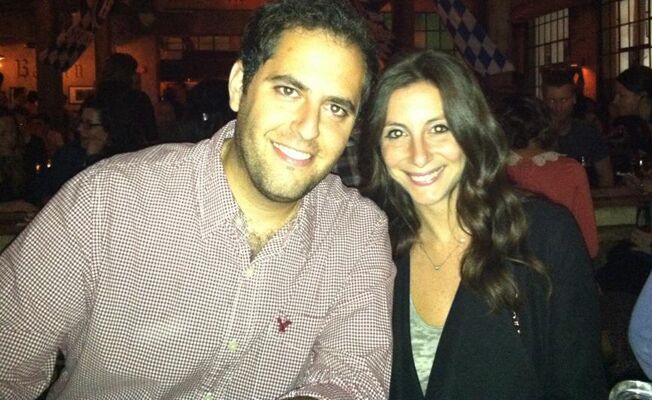 Couples don't always agree on every wedding detail. We asked a bride and groom-to-be to share their thoughts on everything from the first time they met to the party planning and what they're looking forward to most about their wedding day! See how one couple's responses compare.
The Bride-to-be: Caryn Gordon, 27
The Groom-to-be: Matthew Weiss, 27
When did you get engaged?
She said: June 1, 2011- see our story here!
He said: June 1, 2011 – the night Johan Santana threw the first no-hitter in Mets history.
How did you first meet?
She said: Sleep-away camp in the Poconos when we were 13
He said: We met at sleep away camp, Cedar Lake, when we were 13.
When/how did you first fall in love with your significant other?
She sad: Probably at a youth group dance when we were 15… and many more times since.
He said: Over the course of many years being friends in our early 20s.
What's the most memorable date you've had?
She said: There are so many! One for the books was the day we spent together in London in 2006 when we both studied abroad, and a more recent memorable date was when we went to the Mets game the Sunday after we got engaged!
He said: Wegman's and Applebees when we were 15.
What quality do you most admire about the other person?
She said: His passion for things he's interested in and willingness to learn about things that I am…in addition to being smart, kind, thoughtful and loving.
He said: Her youthful spirit. She never fails to do something funny that makes me smile.
What was the best engagement present you received?
She said: A fiance! Oh, real gift you mean? My best friend (who is married 1 year) made us an "Engagement Survival Kit" which was a basket filled with items that each had a different meaning, from a funny movie to cake mix. Each item was for a different emotion during this amazing yet, stressful year.
He said: A slow-cooker. We got like 7 of them!
What was the weirdest/worst engagement present?
She said: Because of a technical glitch we received 3 giant crock pots off our registry. It was pretty hilarious to open one after another.
He said: A flameless colored candle set. What on earth is that?
How would you describe the style of your wedding?
She said: Traditional, elegant and hopefully fun! We want this to be an event for all our loved ones to truly enjoy.
He said: Classic.
What's been the most fun detail of your wedding to plan?
She said: We are still in the early stages but, so far the band has been the most exciting to book. Now that we have signed with one, I can actually start to picture how the day will come together!
He said: The food! The menu has like 15 pages of hor's devoures.
What's been the most difficult detail of your wedding to agree upon?
She said: Hmmmm I don't know if we have one….yet!
He said: It's all been easy (wink, wink)!
What do you look most forward to: the wedding day, the wedding night, the honeymoon?
She said: Option D. Being married! I will be excited for the wedding day and to share that with all of our friends and family but, what I'm most looking forward to is starting a life together with such a wonderful send off into marriage.
He said: The wedding ceremony. Being together under the chuppah, just Caryn and I …and the rabbi of course!
What will be the most unique detail at your wedding ceremony/reception?
She said: We are hoping to send our guests home with a certain (secret) goodnight treat. If we can pull it off, it would be very special!
He said: Drinking wine that was made by my great-great grandfather during prohibition.
How did you/do you plan to celebrate your bachelor/bachelorette parties?
She said: Something BBQ-related for Matt, I'm sure! For me, whatever the ladies plan!
He said: Possibly a Big Blue travel road trip – seeing the Giants play an away game (depends on the 2013 schedule).
What moment of your wedding day are you most anticipating?
She said: Standing side by side in front of all of our guests!!! Also, the first dance will have a lot of meaning for us.
He said: The Horah.
How will you feel when the wedding planning is all over?
She said: Excited to relax and then…plan the next thing!
He said: Happy for Caryn!
What are your honeymoon plans?
She said: Something low key. A few days someplace warm and relaxing…some would call it a mini-moon. Then maybe a big trip the following summer!
He said: Mini-moon, even though it kills me to say that phrase, and then a longer European trip the following spring.
> He Said/She Said: Another Couple Answers Questions On Their Upcoming Wedding Day
> Real Wedding Galleries