He Said/She Said: A Bride & Groom-to-be Respond to Questions About Their Upcoming Wedding Day
by Jamie Miles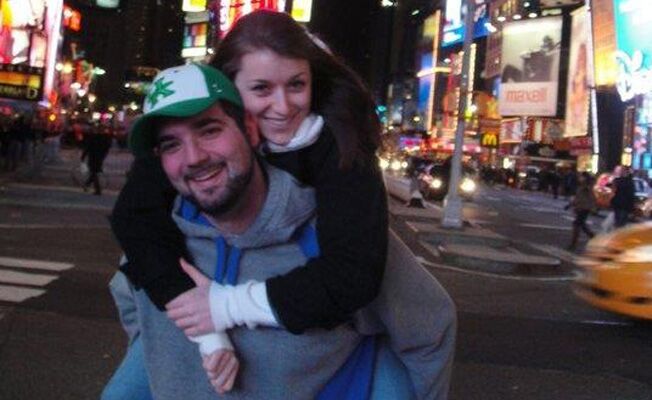 Couples don't always agree on every wedding detail. We asked a bride and groom-to-be to share their thoughts on everything from the first time they met to the party planning and what they're looking forward to most about their wedding day! See how one couple's responses compare.
The Bride-to-be: Rebecca Sametz, 23
The Groom-to-be: David Grassi, 25
When did you get engaged?
She said: July 29, 2012
He said: July 29, 2012
How did you first meet?
She said: We met while attending the University of Kentucky basketball lottery where we had mutual friends there.
He said: One of my closest friends had a huge crush on Becka, and he kept bringing her over to my house for parties and movie nights and football games. Looking back it wasn't the smartest move he's ever made.
When/how did you first fall in love with your significant other?
She sad: I fell in love with David during the months that I lived with him in New Jersey the summer before I started graduate school in Michigan. His warm heart and dedication to our relationship was displayed and I always told myself that when I find someone that I can be with 24/7, that was the man that I was going to marry.
He said: I don't remember the exact time or place or memory that made me fall in love with her, but I do remember when I realized I was. One weekend a few friends came to visit me in NJ, and we made a trip to NYC. The whole time I was there I wouldn't shut up about her. Every store we went to I was looking for things to buy her, every interesting thing I saw I wanted to tell her about, every joke I told I kept waiting to hear her laugh. We had been doing the long-distance thing for months at this point, and it was that weekend that I realized that I loved her, and never wanted to spend another day without her.
What's the most memorable date you've had?
She said: The night that we went to New York City and went on a carriage ride and got to go ice skating in the park. We laughed for hours and got a chance to snuggle under the blanket together while riding around downtown New York City.
He said: To me it was our 1 year anniversary. I took her to NYC to do all the cute things you see in the movies. We went ice skating, went on a carriage ride in Central Park and had a nice dinner — the whole shebang.
What quality do you most admire about the other person?
She said: The quality that I admire most about David is his personality. No matter what, he always knows what kind of day that I am having. Good or bad, he can make me smile — his goofy personality always makes that happen!
He said: I admire most her ability to adapt to any social situation. Whether it's a reunion with my old high school friends, or dinner with my second cousin twice removed, she can get along, and have a conversation with anyone. It really makes me want to bring her everywhere with me.
What was the best engagement present you received?
She said: I don't think that we got any engagement presents other than a wonderful centerpiece from my family that had peacock feathers in there just like the theme of our wedding.
He said: Well we didn't get many engagement presents. But we did get a few relatives who slipped checks in with the congratulatory cards, and with that money I bought a grill. So I vote the grill.
What was the weirdest/worst engagement present?
She said: None.
He said: Her mom had flowers waiting for us when we got back from the weekend we got engaged. Because Becka loved the colors of peacock feathers, and we knew we wanted them involved in our wedding, these feathers were a dominant part of the arrangement. It was a really sweet thought, but it looked like someone shot a bird and stuffed it into a vase. It was just odd.
How would you describe the style of your wedding?
She said: David and I are very much kids at heart. We enjoy laughing and having a good time, so we want a classy wedding but one that will also display our personality. For example, our wedding is a peacock theme but our save the dates are going to be like a film reel. We are going to put on different costumes and make funny faces!
He said: Loud. We're both very outgoing people, and with the colors in the wedding (Royal Purple and Lime Green) the best way I can describe what will transpire, both visual and aurally, is just loud.
What's been the most fun detail of your wedding to plan?
She said: Well, I know what David would say (the cake testing), but I enjoyed looking at the different venues and being able to picture our magical day together.
He said: Picking out the catering has been my favorite part so far. Stations, buffet or plated dinners, what type of food, all the options involved… the candy bar!!!
What's been the most difficult detail of your wedding to agree upon?
She said: When to have the wedding. I wanted to have the wedding right away, and he wanted to wait until I was completely done with school so that we can go straight to our honeymoon without having to wait. I eventually gave in because in the end, as long as I am with him, it doesn't matter when or where we get married!
He said: The date. We have been bickering about when to have the wedding since we started dating it seems like. She would have it tomorrow in Vegas if she could and I want plenty of time to plan an elaborate event.
What do you look most forward to: the wedding day, the wedding night, the honeymoon?
She said: The honeymoon — because that will be the first time that we get a chance to be together as husband and wife without any distractions!
He said: I think the wedding day, mostly for the reception. The ceremony I will just be nervous, the honeymoon I will probably not remember, but the reception I just want to enjoy introducing my new wife to all my friends and family and enjoy the time spent with all of them.
What will be the most unique detail at your wedding ceremony/reception?
She said: We are getting married at Keeneland Horse Park, so that is definitely something different. But the main thing that I believe is different are the centerpieces that my mom created all by herself. She wanted to be able to contribute to the wedding and she is definitely a woman of style! My mother did a wonderful job displaying our fun personalities.
He said: I think it would have to be the colors. It's not often you see Lime Green and Royal Purple paired. It should be an interesting combination, but it fits us. Lime green is her favorite color, and royal purple is mine. Some people have poked fun at them for being Barney colors, but I prefer to think of the Joker from Batman.
What moment of your wedding day are you most anticipating?
She said: That first kiss as husband and wife. I can't wait for the fireworks to go off and to kick off the next chapter of our lives together.
He said: I know it makes me sound like a fat kid, but the food. We're going to have a candy bar, and a variety of ethic food stations, and what I can only imagine will be an epic cake. I know most people say you won't have time to eat. I will make time!
How will you feel when the wedding planning is all over?
She said: I'm not sure. I am assuming based off of other stories and advice from friends that I am going to definitely be relieved that it is over, but up to this point I am enjoying every minute of it!
He said: Poor. I'm sure everyone knows all the costs involved. So after the DJ, the reception, reserving the church, the limo, the rehearsal dinner, the flowers, the honeymoon… I'm predicting the overwhelming feeling I will have will be the pain in my wallet.
What are your honeymoon plans?
She said: We would like to go to Jamaica for our honeymoon (or at least I want to!). We just want an all-paid resort honeymoon where we do not need to worry about the expenses, but can just focus on our time together.
He said: I'm still searching but I'm hoping to find an overwater bungalow in the Caribbean. I want something secluded and not terribly far away, and all inclusive. Still searching but that is my dream honeymoon location.
> He Said/She Said: Another Couple Answers Questions On Their Upcoming Wedding Day
> Real Wedding Ideas to Inspire Your Planning