A Bride Hitchhiked to Her Wedding After Getting a Flat Tire
It would take way more than a flat tire to keep this bride from getting married.
by Maggie Seaver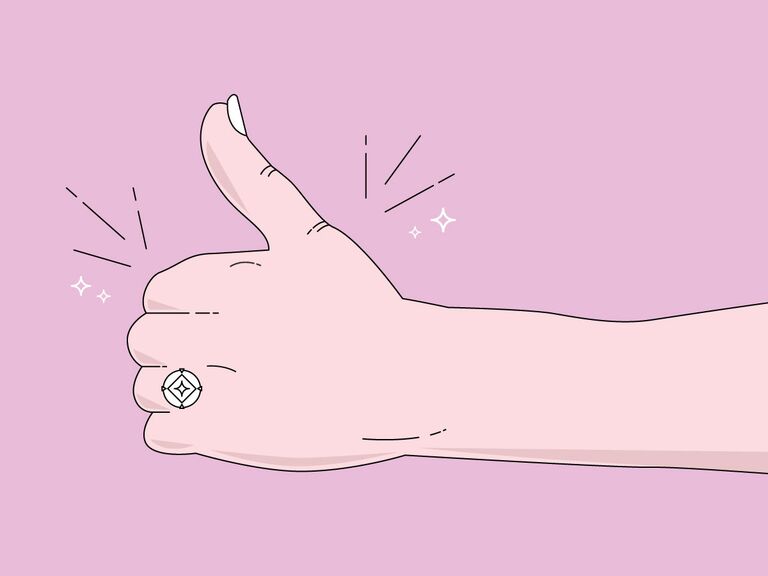 When the limo shuttling you and your wedding party to the ceremony venue pops a tire, what do you do? Give up and turn around? Wait hours for a tow truck or tire replacement? Not a chance for recent bride Angelique Arsenault from Brookline, New Hampshire.
On the way to the ceremony, Arsenault's limo got a flat tire on the side of a fairly quiet and rural road in Brookline. "The limo driver gets out of the car, I'm like, 'It's fine. Maybe he just hit something,'" Katie Queen, the maid of honor, told WBZ. "He gets back in, opens up the back window and says, 'You have a flat tire.'"
But this didn't deter the group, who stayed lighthearted about the situation. Instead of losing their cool, the bride said they actually "just laughed about it." More than that, they popped a little bubbly and Arsenault stuck her hitchhiker thumb up to flag down some help.
Bride from Brookline ends up hitchhiking after limo gets a flat https://t.co/YXf1KiQ1gs pic.twitter.com/GxV6hZarIc

— WMUR TV (@WMUR9) September 13, 2016
A hitchhiking bride got a lift from a Good Samaritan to her wedding in New Hampshire https://t.co/F36lnMiPc0 pic.twitter.com/SocKn45pVs

— WBZ Boston News (@cbsboston) September 12, 2016
Several cars drove by the stranded wedding crew without stopping, slowing their pace only to grab pictures of the hitchhiking bride. Finally, a man named Jay driving his car full of kids offered to help. He dropped his kids at home and swung right back around to bring the bride and her party to the wedding several miles out of the away.
Only half an hour behind schedule (not bad, considering), Angelique made it to The Mile Away venue where her groom, Jarrod Dunning, and guests were waiting—and it's all thanks to the kindness of a passerby who was willing to lend a hand on their important day.
"It pretty much made the whole day," Angelique said of the wedding day blip."Everyone was laughing all night about it. It's going to be a story we'll remember forever." Sometimes mishaps make the best memories, especially if you have a little champagne to tide you over. Congrats Angelique and Jarrod!