This Mass Lesbian Wedding and Vow Renewal Is the Most Joyful Thing We've Seen
More than 100 women flocked to Provincetown, Massachusetts to tie the knot and renew their vows. Read the amazing story here.
by Maggie Seaver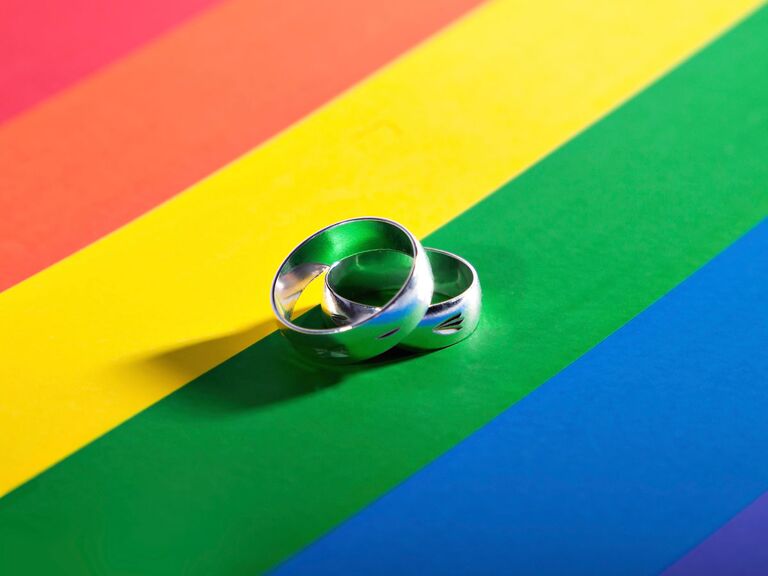 On Saturday, October 15, Provincetown, Massachusetts, welcomed 106 lesbian women participating in the inaugural Bride Pride event. Among the 53 same-sex couples, 25 of them said "I do" for the first time while 28 of them renewed their vows, with comedian-activist Kate Clinton as their officiant. The event fell on the same weekend as the town's 32nd annual Women's Week, hosted by co-owners of local bed-and-breakfast Roux Provincetown, Alli Baldwin and Ilene Mitnick.
After 14 years of marriage, Baldwin and Mitnick decided to plan their own intimate vow renewal, inviting only a few couples to join in on the ceremony. But eventually, the event expanded as the couple realized what an incredible opportunity it would be for their town and same-sex couples, since Provincetown is already known as a beach getaway for the LGBT community and Women's Week would already be hosting special lesbian-centric events for visitors.
"Initially, we envisioned a quiet ceremony, but we're passionate about Provincetown and we're passionate about introducing new and more women to this amazing place, so we invited the planet," Baldwin told The Huffington Post. "We have a vision to have Provincetown be known as a destination for queer women year-round." Baldwin also reflected on how moving it was to witness so many happy couples reciting their vows and committing to one another, whether for the first or fifth time. "I remember—many of us remember—a time when the thought of same-sex marriage was unthinkable. It's one of the reasons we wanted to do this," she says. "To me, seeing same-sex couples marry will forever be a powerful thing." We couldn't agree more!
Check out Instagram pics from the Bride Pride ceremony below and watch the video on the Bride Pride Facebook page here.