Bride Wears 115-Year-Old Wedding Dress…Would You?
by Heather Hall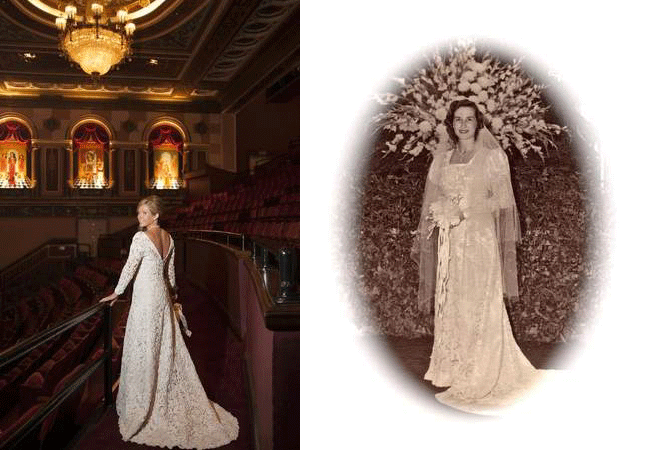 photo by
ShreveportTimes.com
Talk about a fashionable investment! Louisiana bride Shannon Catherine Shea was the 20th family member to wear a 115-year-old Battenburg Rose Point lace wedding dress when she married Christopher Troy Bamburg in Benton, LA, this past weekend. The floor-length, cream-colored sheath gown was originally worn by Shannon's great-great-great-great Aunt Mary Heard of Rome, GA, according to the Shreveport Times. Heard first purchased the dress in while on honeymoon in Brussels to wear to an event invited by the queen and the tradition began when a niece fell in love with the special gown and "asked if one day she might wear it for her wedding dress," said Shannon's mother, Jane Shea.
Throughout the years the dress has been altered for fit and fashion, but has been preserved well. Shannon only wore the gown for the ceremony, then changed into a Great Gatsby-inspired frock for the reception since the lace is old and delicate.
In the photo above, Shannon is posing for her wedding portraits in the gown and her grandmother, Betty Rose Fambro, the sixth bride to wear the dress (in 1952) is on the right.
Would you consider wearing a vintage gown for your wedding? What about other vintage elements like a veil or jewelry? Tell us about it below!
Want more?
> Vintage Wedding Dress Shopping Dos & Don'ts
> 7 Vintage Wedding Edition Barbies