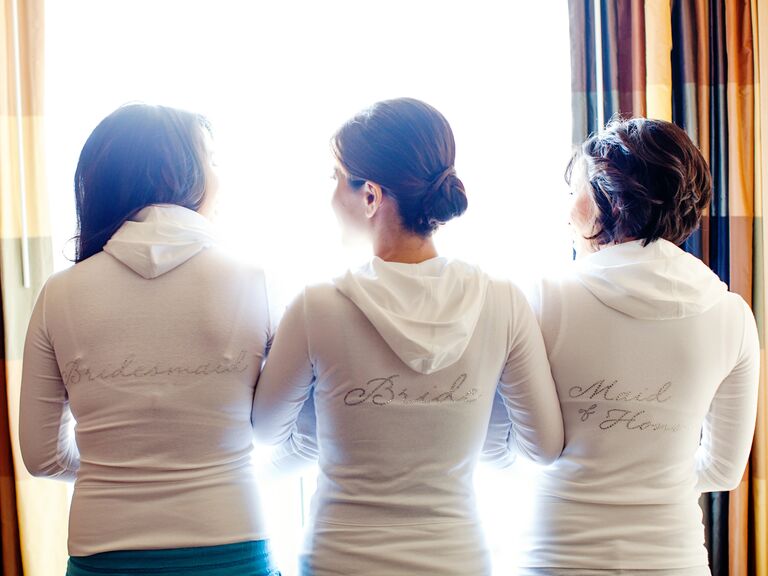 Stumped when it comes to choosing bridesmaid gifts? We get it! After all, when was the last time you needed to buy the most important women in your life a present at the same time? We're guessing never. But don't stress. The truth is, while doling out a gift to each member of your bridal party -- typically during the rehearsal dinner -- is traditional, exactly what you give can be anything but. In fact, sometimes the best presents aren't even actual things (love ya, spa gift cards).
Wine Is Always Fine
"My husband and I treated our bridal party to a full-day wine tour through Napa and Sonoma that included a vineyard picnic lunch, a champagne tour and even a tasting in a cave! We had a destination wedding and this gave everyone a chance to meet early on in the trip." -- Jessica Murphy Aleksy
"I got my girls personalized infinity bracelets and tickets for a wine tasting river cruise."-- Beckie Rineholt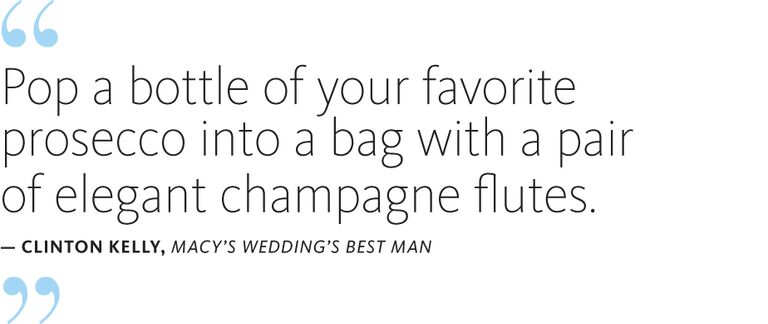 Get Her Beauty On!

"I love the idea of giving bridesmaids PJ sets they can all wear to get ready together on the day." -- Camille Styles, CamilleStyles.com

"Gift each lady a cool clutch that'll show off her personality at the main event. Stock it with beauty must-haves like lip gloss, mini hair spray and tissues." -- Clinton Kelly
"My sister gave us perfume samples along with a gift certificate to buy the full-size of whichever scent we liked best." -- Madison Rose Mulvihill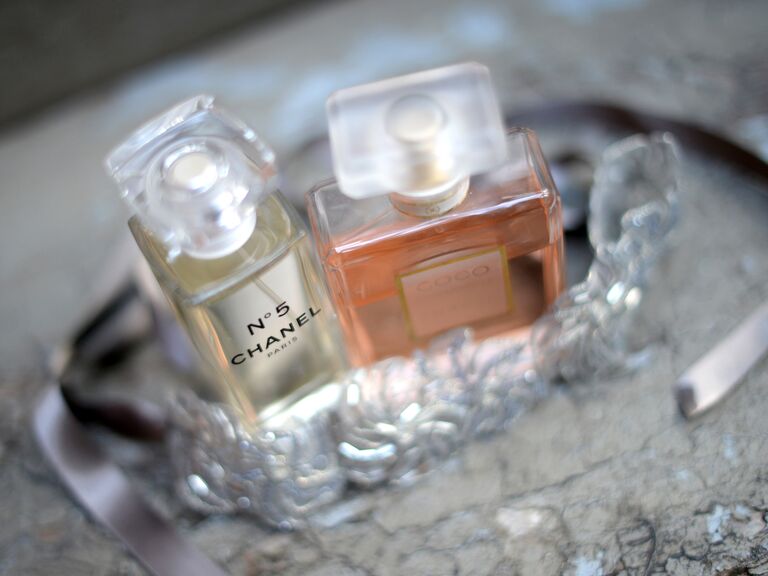 Lauren Carroll Photography
Treat Her to a One-Day Vacay!

"My friend gave each bridesmaid a gift certificate to a local spa in her city -- best gift ever!" -- Kristin Ashman
A spa day with the bride at the Caudalie Spa at The Plaza. It was a truly memorable experience!" -- Maryanne Rektorik Richter
Choose Her Shoes
"I got married in England in April, when the weather is hit or miss. So I gave each of my eight bridesmaids bright yellow Hunter wellington boots and Havaianas flip-flops and tied them together with a ribbon and a note that said, 'Come rain or shine, you'll always be my friend.' " -- Sarah Ivens
"My bridesmaids are getting cowgirl boots, pearl necklaces and burlap bags filled with wedding day essentials." -- Kelsey Nicole Adkins
"For a winter wedding in Sun Valley, Idaho, the bride gave us UGG boots with a ski patch on the back that commemorated the wedding date." -- Kelly Mickle Rowe

"My friend gave us each a pair of gold Jack Rogers Navajo sandals, which I'd coveted ever since seeing photos of Jackie O in them. We wore them in the wedding, and I've worn them every summer since!" -- Emily Johnson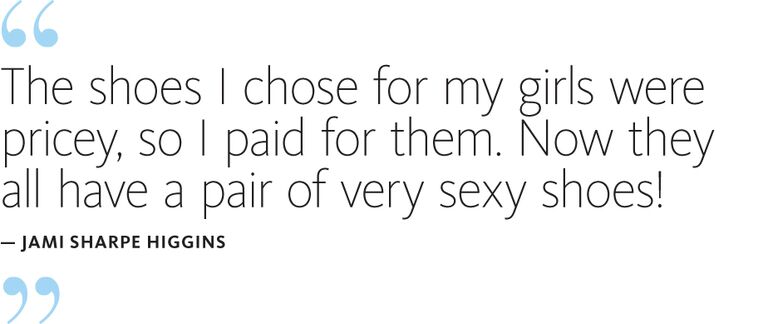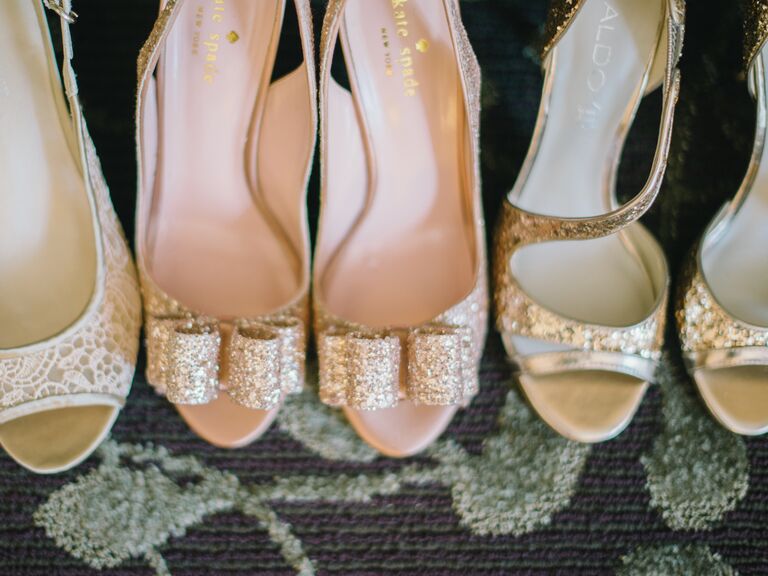 Delbarr Moradi Photography
Make Her Home Happy

"My friend Heather gave us a throw blanket to match each of our living rooms, embroidered with our initials. It's a beautiful addition to our home that reminds me of a wonderful time." -- Cara Clinton-Vollmer

"I gave my bridesmaids personalized hangers -- I wanted something different and useful." -- Laura Smith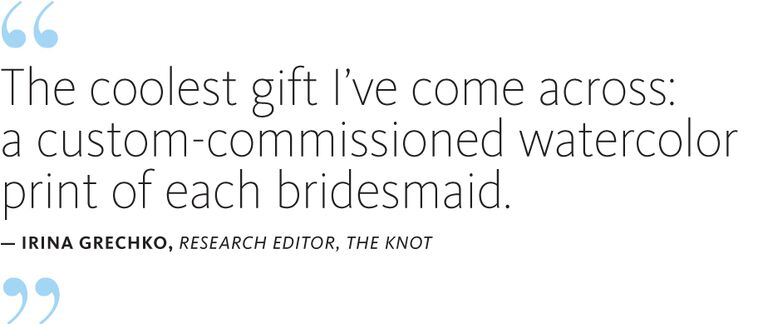 Comfy Duds -- Always a Do

"My friend gave us monogrammed zip-up hoodies. They were so cute and perfect! " -- Morris Stephanie
"I got each of my friends a monogrammed waffle robe, water bottle and, because our wedding is in the summer, a canvas beach bag." -- Emily Rodney
Show You Care With a Keepsake

"A male friend who also works in publishing gave me a silver bookmark from Tiffany & Co. engraved with my initials when I served in his wedding party. I think of that friendship every time I see it in my jewelry box." -- Page Dickinson Edmunds
"My friend Elizabeth Hammond Pyle, who writes the lovely blog Bottle Branch, made individual needlepoint travel jewelry pouches for each bridesmaid. Years and years later, I still use and love it!" -- Lisa Moran
Bling -- Always a Good Thing!
"My best friend gave all of us the pearl jewelry we wore -- simple white studs and a matching strand. They're a lovely keepsake to pass down to my daughters and granddaughters one day." -- Sarah Bruning
"My very stylish friend gave each of us small gold cuff bracelets engraved with our first initial. They look very much like bracelets my friend wears, so each time I wear mine, I think fondly of my wonderful friend and feel chicly accessorized!" -- Anna Maltby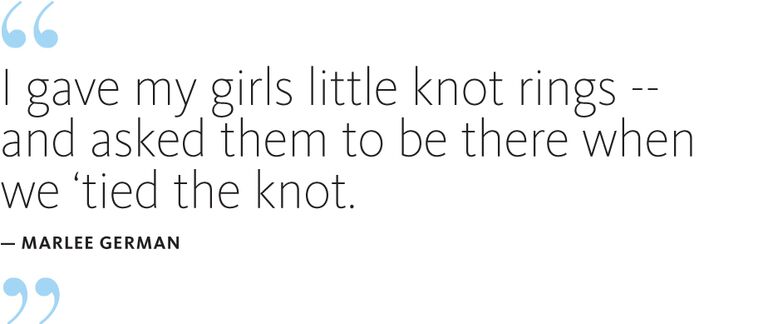 "When I served as her maid of honor, my identical twin sister gave me diamond earrings -- a very special, thoughtful, extravagant gift that meant a lot to me." -- Selina Regan Molineaux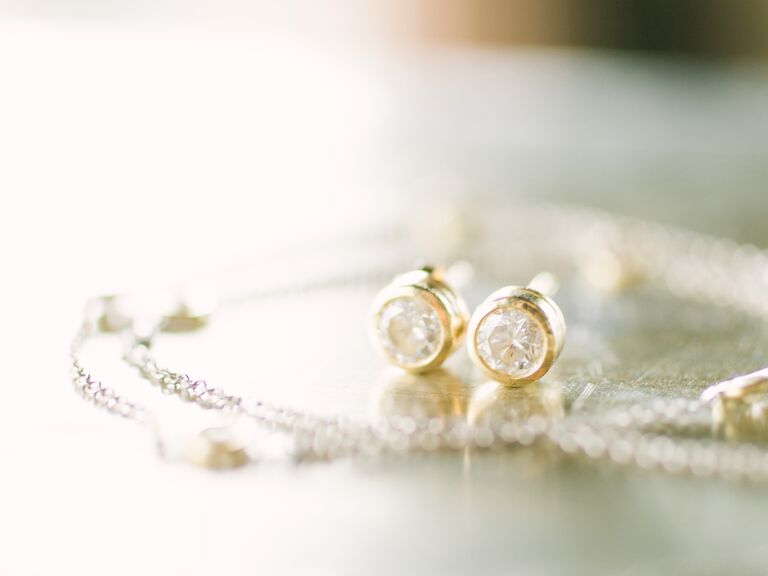 Give Her Your Focus

"A Polaroid camera was one of the most surprising, fun gifts I've ever received. It was such a fun way to document the day!" -- Alaina Kaczmarski, cofounder and editor, TheEverygirl.com
Be Her Flower Girl

"I love when brides send a bouquet of flowers to their bridesmaids at work on an ordinary day to let them know how lucky she is to have them in her life." -- Elizabeth Haney
Pony Up for the Dress…
"The bride paid for our dresses and day-of hair and makeup. I will never forget her kindness, especially because I was just out of college and broke!" -- Lauren Kay, senior style editor, The Knot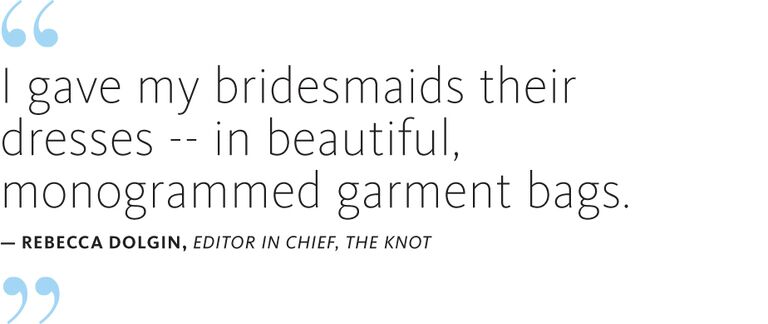 ...Or Let Pals Pick Their Own
"The best gift I received was being able to choose my own black dress -- I wear it often!" -- Jessie Wohlgemuth
The Knot and Macy's teamed up to bring you Elements of Style, your guide to pulling off every facet of your wedding—from your look to your registry—with effortless style. Visit Macys.com to see how Macy's can be your one-stop wedding shop.