10 Wedding-Worthy Lipsticks You'll Love
Liven up your lips with these festive shades at every price.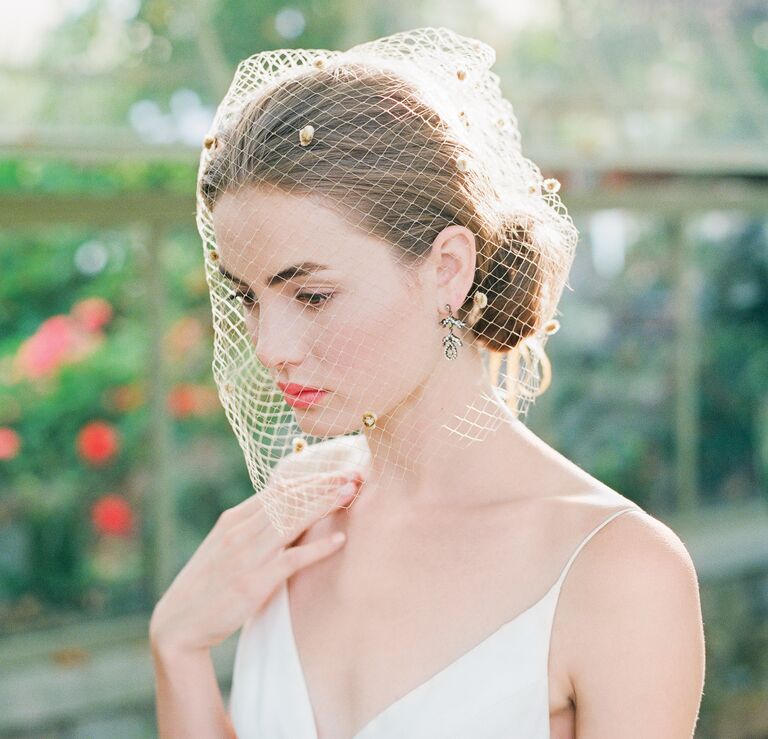 Lipstick truly is the unsung hero of any bridal beauty routine. Why do we love lipstick so much? It's a win-win beauty situation: If you don't usually wear makeup, lipstick is a simple way to illuminate your face, accentuate your smile and feel instantly glam. If you're a lipstick lover, there are tons of colors, finishes and formulas out there to experiment with, meaning you'll never get bored. Basically, a tube of lipstick is never a bad investment—it's an easy (and inexpensive) way to upgrade your look and have a little fun in the process.
And, while this may come as a surprise, you don't have to shy away from bold lips on your wedding day. The trick to pulling off vivid lip color as a bride is maintenance: Make sure to reapply every couple of hours, and invest in a matching lip liner to keep the color from traveling outside your lips. If you want a more traditional look for your ceremony, stick with a neutral lip and switch to a bolder shade for your reception and after-party. Another thought: If you're getting married in warmer weather, opt for a longwear stain with a matte finish that will stay put in the heat and humidity better than a more traditional formula. Finally, skip the glitter on your wedding day—a lipstick with too much shimmer won't photograph as well.
From more subdued coral to retro red and nontraditional violet, there's a perfect shade of lipstick for every wedding style. Shop some of our favorite shades below.
Coral Pink Lipsticks
A more subtle pink with coral undertones won't feel over the top and will keep you from looking washed out in all of your wedding photos.
Splurge: Yves Saint Laurent Rouge Volupté lipstick in Peach Passion, $36, Sephora.com
Save: Ulta Lipstick in Coral Sands, $8, Ulta.com
Tangerine Lipsticks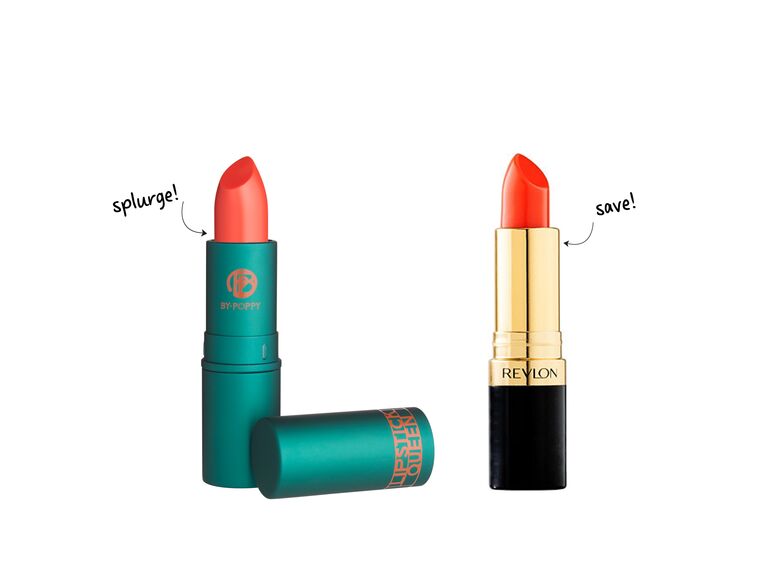 A bold tangerine lip may be intimidating at first, but this juicy orange color is just as flattering as coral. Pair with warm blush (we love NARS Orgasm) for a refreshing glow.
Splurge: Lipstick Queen Jungle Queen lipstick in Pop-Papaya Coral, $24, LipstickQueen.com
Save: Revlon Super Lustrous lipstick in Carnival Shine, $9, Ulta.com
Fuchsia Lipsticks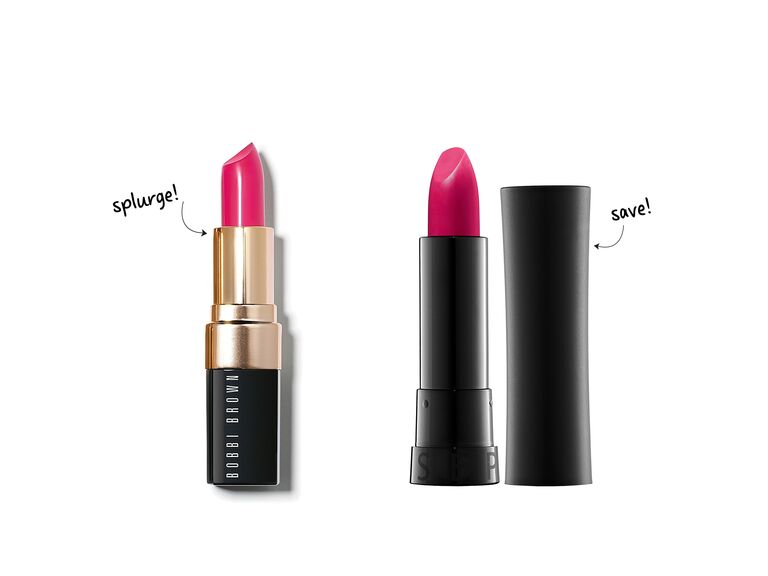 A vibrant shade that still feels playful, fuchsia is the happy medium between red and light pink. A brighter shade works with fair skin tones, while one with more purple undertones pops against darker complexions.
Splurge: Bobbi Brown Lipstick in Neon Pink, $28, Nordstrom.com
Save: Sephora Collection Rouge Cream lipstick in Love Test 11, $13, Sephora.com
Violet Lipsticks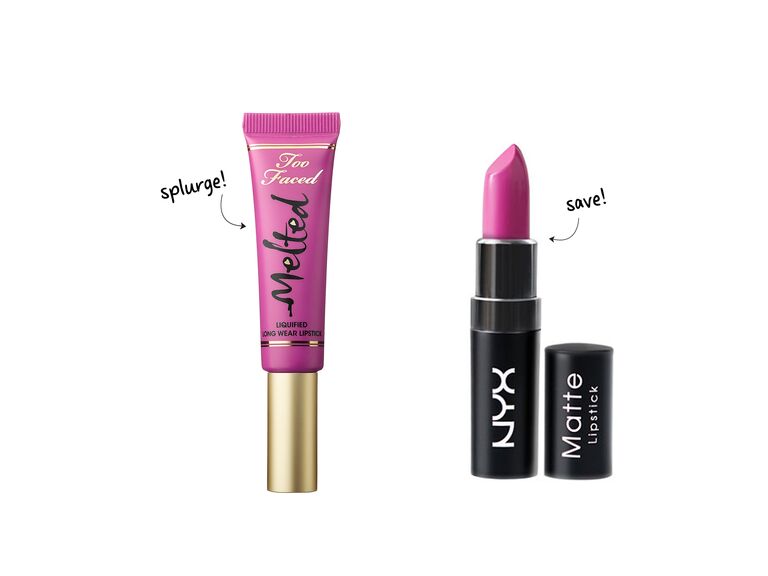 Vivid purple is the perfect hue for beauty risk-takers. Apply more than one coat for a bold, opaque look, or keep it toned down with just a sheer wash of color.
Splurge: Too Faced Melted lipstick in Melted Violet, $21, TooFaced.com
Save: NYX Cosmetics Matte lipstick in Shocking Pink, $6, Ulta.com
Red Lipsticks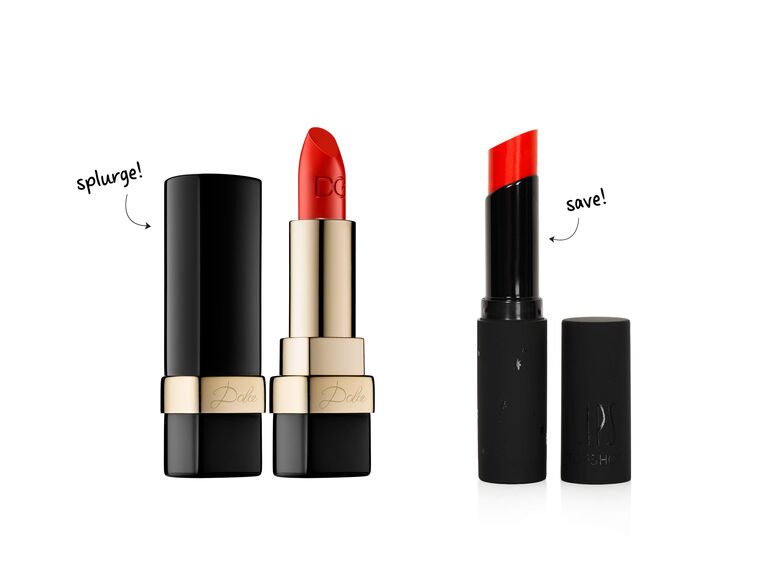 Red lips are a timeless, elegant statement—even on your wedding day. To give this classic hue a fresher feel, opt for an of-the-moment red-orange shade.
Splurge: Dolce & Gabbana Dolce Matte Red lipstick in Fire, $37, Sephora.com
Save: Topshop Sheer lipstick in Red Alert, $12, Topshop.com
Want more? Check out more bridal beauty tips here!