3 Budget Tips for Broke Bridesmaids and Groomsmen
Being asked to stand next to the couple is an honor, but it can rack up a bill.
by Carrie Anton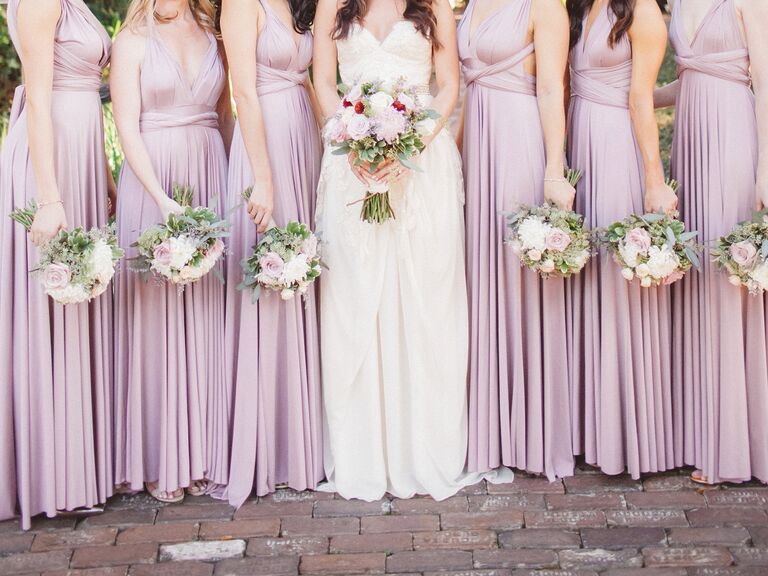 photo by
J Photography By Jessi Caparella
According to The Knot Real Weddings Study, the national average cost of a wedding is $35,329. But anyone who's been in a wedding party knows costs extend beyond the couple. Bridesmaids and groomsmen can easily shell out upward of $1,000 to stand by their loved one's side. But what do you do when funds are low (or basically nonexistent) and the couple requests your presence at the altar?

"It's always best to be honest and up front as to not hurt the bride's or groom's feelings in any way," says Angela Simpson, owner and lead coordinator for XOXO Weddings and Events LLC. "Sometimes, the couple may be able to assist in covering some of the costs. If there's an open conversation about it, at least they can set aside any assumptions and determine if there's a resolution or not."
1. Save, Save, Save
If you have a small rainy day fund to draw from, but not sure if it's enough to play an important role in the wedding, do the math. Simpson says while many wedding party members consider things like their attire and a wedding gift, there are other costs that get easily overlooked.
"Most often forgotten are the expenses of their responsibilities to the couple, such as hosting a bridal shower and bachelor or bachelorette party—and we know how expensive those events can be," Simpson says. "Not to mention the day-of expenses for the bridesmaids, such as hair, makeup, manicures and pedicures. While not always mandatory, these have become a standard for most weddings."
2. Cut Costs
Even if your bank account isn't equipped to make it rain, that doesn't mean you're an automatic "no" to join the wedding party. With full transparency of your money situation, offer suggestions to the couple that could reduce costs for you or even the entire wedding party. For example, if you know the bride has her heart set on a certain style of gown for her girls, research online to see if you can find it for less money than a local brick and mortar's price tag, or look into renting them. Or if you're a self-proclaimed DIY pro, offer up your sewing or other crafty skills to make handmade pieces for the bridesmaids at a fraction of the cost.
3. Play a Different Part

If your savings is nothing but a big ol' goose egg, it might be best to leave the bridesmaid or groomsman role to someone else. Still, that doesn't mean you can't play an important role in the couple's day.
"There are many ways you can help that won't cost you money, but will demand more of your time," Simpson says. "Maybe you have a green thumb and can offer to arrange her centerpieces and make the corsages and boutonnieres. Maybe you have impeccable handwriting and can address her invitations and help write her thank-you notes. Or maybe you're great with logistics and can offer to assist in setting up on the day of the wedding." You can also offer to do a reading at the ceremony, or make a speech at the rehearsal dinner or reception. 
While being front and center in the wedding party may seem like the favored part to play, remember it takes a village to put on a wedding. Don't overlook the contribution you can make to the couple's day that doesn't have to break the bank or cause you undue stress at what should be a happy and celebratory event.
Want to know how much it costs to attend a wedding? Get the scoop here.