The Real Cost of a Counterfeit Wedding Dress
Believe it or not, there's a whole black market behind these white dresses. Read this before you go shopping so you don't get duped.
by Cristina Tudino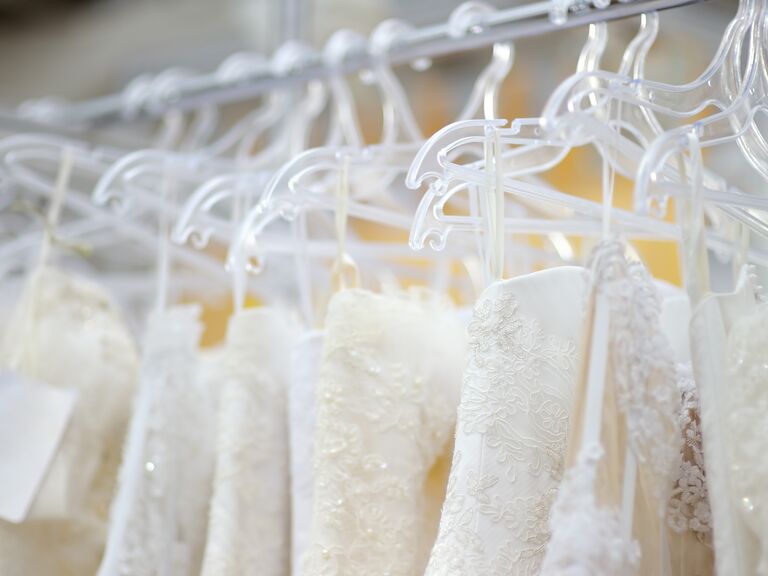 "We make fast." That was the response Ashley Kelley received to her frantic emails to EastBridal.com, the website she had purchased her bridal gown from, when it didn't arrive on the date promised. With her wedding just weeks away, these cursory replies offered little reassurance. "I began to think it would never show up," says the 20-year-old student in San Antonio. When it finally did arrive, wrinkled and crammed into a big FedEx envelope, Kelley was far from relieved. "There was tacky lace netting haphazardly stitched on, with string sticking out all over the place," she says. "There was no way I could wear it!"
The Allure of a Low Price Tag
Kelley is one of a growing number of brides getting scammed by websites selling counterfeit gowns. "These sites are set up to confuse and cheat consumers," says Steve Lang, CEO of Mon Cheri Bridals. In order to lure brides, they pay to get prime ad placement on popular search engines, and then use keyword optimization so they appear every time someone searches for, say, "cheap Allure bridal gowns."
Who's Behind the Fake Gowns
Lang says the majority of the factories are in China. Larry Warshaw, owner of Sincerity Bridal, reports that one factory in Suzhou with 250 workers can produce 350 dresses in one day. Over the past few years, the number of these sites has multiplied exponentially from 20 or 30 to over 300. They display stolen photos of designer dresses and use the correct brand names and style numbers to convince buyers they're getting the real deal for drastically less.
Even Less Than What You Pay For
Most replica dresses are made so fast and with such inferior materials that they quite literally fall apart—if they even arrive in the first place. Harper Della-Piana, designer and owner of SEAMS Couture in Wenham, Massachusetts, describes a replica dress a woman brought into her shop. "Parts of the dress were actually glued on. I don't know how long it would last on a wedding day," she says. What's more, the bride couldn't believe it was going to cost more to fix the dress than what she actually paid for it. Understanding why the real deal costs as much as it does might dissuade someone from thinking she could buy that $1,000 Maggie Sottero dress for $200. "Besides the fact that the materials are more expensive, these dresses average anywhere from 70 to 150 hours of labor," Della-Piana explains.
Little Recourse for Duped Brides
The customer service for these sites is limited to basically nonexistent. Despite promises of a "100 percent guarantee," many brides are refused refunds—that is, if they can ever reach a representative. There's been legislation in the works—namely, the Innovative Design Protection and Piracy Prevention Act, which protects fashion designs—"but good luck trying to enforce your rights against someone overseas," says Susan Scafidi, a fashion law professor at Fordham University. You can also try to complain to the Federal Trade Commission, but "they won't get your money back," says Jeremy Gin, CEO and cofounder of SiteJabber.com.
Too Good to Be True
Though there have been efforts to shut these sites down, much of the responsibility ultimately lies on the brides. After experiencing the scam firsthand, Kelley warns brides to check where their dress is coming from. "If it seems shady, it probably is," she says. In the end, Kelley decided to throw the counterfeit gown away and be done with it. "We were tired of playing their stupid games."