Can I Register For Thrift Store Wedding Gifts?
by Simone Hill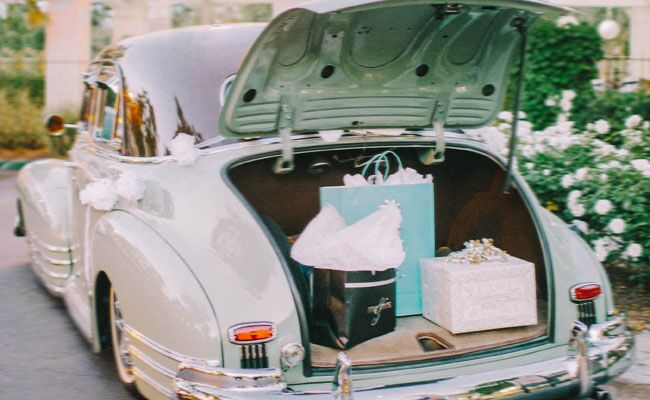 photo by
Mariel Hannah Photo
You want your wedding gifts to match your style, but the look you're going for is kitschy and eclectic and you'd prefer things secondhand, figuring out where and how to register can get a little tricky. Right now, our etiquette community board is buzzing on the topic of thrift store registries and the best way to register or let guests know that you're not exactly looking for something brand new or that you'd prefer a hodge podge mix of dinnerware instead of a cohesive set. If you're looking to go this route with your registry, here's our advice:
Think bridal shower.
Instead of a traditional tea party or around-the-clock themed bridal shower let whomever is hosting for you know that you'd be thrilled to have a flea market or garage sale-theme where everyone brings something found or used for the to-be-weds. Cute right? This will help get the word out about your style.
Keep your registry small.
For your wedding, make a traditional registry that includes just a few things that you might want brand new like towels and sheets. Items like glasses and plates can typically be purchased in sets of four or six, and most couples just register for a few sets of the same item. Instead, you could register for a few sets in different colors or for sets that coordinate, but don't match exactly. When registry gifts run out, many guests will probably gift cash, so you can hit the thrift store and pick out exactly the items you want. If guests ask what you'd like then it's fine to let them know that, actually, you love unique thrift store items (like a retro 70s style-fondue set). Your guests will be excited knowing that they're getting something you'll actually love and use.
Use a universal registry.
Some registries (like Amazon.com) also have the option for you to write in items you want, but not link to an actual product, so you could add things like "Set of 12 colorful, mismatched plates," and let your guests get creative with the gifting. Another great registry option is Etsy.com which has a lot of vintage and handcrafted goods, which is perfect if you love that thrift store look.
Have other ideas? Join the conversation about thrift store registries!
Want more? Of course you do!
> 10 registry ideas you didn't think of