The Best Caribbean Islands for Foodies
Get ready to eat your hearts out on your honeymoon.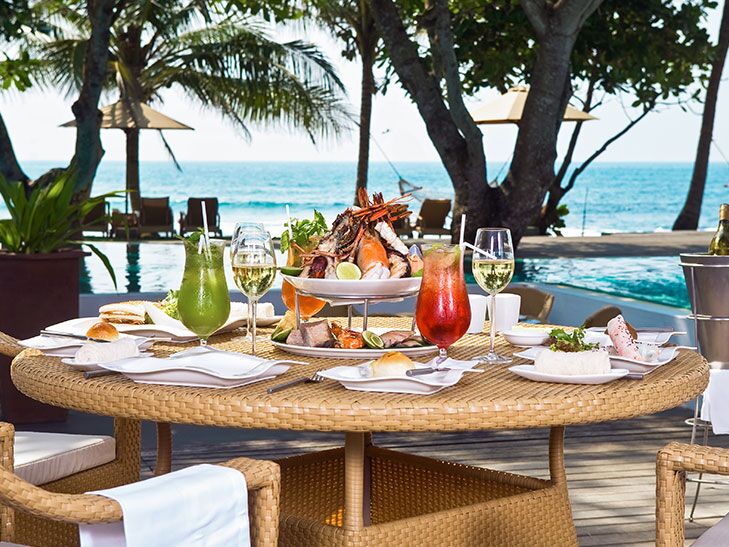 If you're the kind of couple who've hardly finished with one meal and are already excitedly planning the next one, these destinations should definitely make your honeymoon shortlist. Sure, the surroundings are paradise—and that's why you'll want to escape to them for some post-wedding bliss—but so is the world-class cuisine.
Anguilla
Why: Up until the 1960s, Anguilla had no electricity or phone service. Now it's said the tiny 35-square-mile island has more restaurants per acre than Manhattan. Quantity doesn't always mean quality, but here you won't be disappointed. Spend your days on one of its 33 super secluded beaches (Shoal Bay is often listed among the world's most beautiful) and spend your evenings noshing dishes influenced by a blend of Caribbean, French, African, Spanish and English cuisines.
Don't miss: Crawfish, plantains, coconut cake and fruit coladas like you've never tasted before
Where to go: Break bread with the locals at Smokey's at the Cove or with the family that runs Tasty's. For just-caught fare (seriously, it may have been wriggling moments before), you'll want to check out Scilly Cay. When you're ready to get down to fine dining, make ressies at Blanchards, Le Bistro at Santorini or Malliouhana. The latter hosts a weekly "rummelier" (that's fancy speak for rum tasting).
Saint Martin/Sint Maarten
Why: While the two of you set out to discover if this intimate island lives up to its hype as the gourmet capital of the West Indies, you'll fill up on mouth-watering food and still have time to chill in the sun. Stay near Grand Case on its French side (the island is a colony of both France and the Netherlands). Get breakfast at bakeries that rival those found in Paris, grab a grilled lunch at an open-air "lolo" or dine at a restaurant where Gallic flavors marry Caribbean ones for a cuisine—you'll quickly settle any doubts about this locale's reputation once and for all.
Don't miss: Grilled spiny lobster, accra fritters, christophine squash and cocktails featuring the local guavaberry liqueur
Where to go: Head to Marigot for croissants at La Sucrière, but save room for a lolo lunch at Talk of the Town or Sky's the Limit. When you're ready to really see what all the fuss is about, book a table at Le Cottage, L'Auberge Gourmande, Le Pressoir or Le Tastevin.
St. Barts
Why: A home away from home for master chefs such as Jean-Georges Vongerichten, this getaway is one of the best in the Caribbean for splurging on upscale neo-Creole cuisine all while spotting celebs like Kendall Jenner, Leonardo DiCaprio and Pippa Middleton. What it delivers in glitz and glamour, it also makes up for with plenty of toes-in-the-sand dining spots that'll feed your appetites—and the need to unwind.
Don't miss: Mahi mahi in coconut milk and the rum-based Ti punch
Where to go: Indulge at swanky hotspots On the Rocks, Le Toiny Restaurant, Le Tamarin, Taïwana or La Case De L'Isle. If you want to eat like a chef, you'll love Maya's, a restaurant they often cite as an inspiration. When you're ready for something less buttoned-up, pull up a chair beachside at La Plage or Do Brazil or join the crazy revelry at Le Ti (known for dancing on the tables and flamboyant fashion shows, all while the sun still shines).
Martinique
Why: Spanning 436 square miles and with roads full of hairpin turns, table-hopping on this hilly volcanic island (with its still-smoldering Mount Pelée) is an adventure. But you'll be well-rewarded for the risk. Most of the ingredients that go into the French Creole cuisine are grown in the rugged landscape and plucked by chefs that are also homegrown. The results? Provincial-meets-haute cuisine that you won't find anywhere else.
Don't miss: Boudin Creole sausage, Colombo de Martinique curry stew, blanc manger au coco dessert and papaya juice
Where to go: Le Petibonum's chef, Guy Ferdinand, is a local institution. Equally beloved are Le Brédas, Plein Soleil restaurant and La Table de Mamy Nounou. For a voyage worthy of Robinson Crusoe, call ahead to La Maison de L'Ilet Oscar, where you'll be whisked off by boat to a private island to feast on fresh catch. Don't leave your sweet tooth behind; Ziouka Glaces tops everyone's faves list for ice cream made with local vanilla beans and fruits.
St. Lucia
Why: The scenery? The food? The scenery? The food? Trust us, upon returning from this island just south of Martinique, you'll have a hard time figuring out what to rave about first. Fortunately, when it comes to sitting down for a meal, you won't have to choose one over the other. Many of this island's most delicious restaurants take advantage of the unbelievably romantic backdrops, including the famous Piton mountains that rise majestically into the sky.
Don't miss: Salt fish and green figs, which tastes way yummier than it sounds, as well as the meaty souse stew, crispy breadfruit  and chocolate tea
Where to go: While there are gems (Coal Pot, the Cliff at Cap Maison and Rainforest Hideaway come to mind) on the northern part of the island, stay in its southern portion to truly dine in paradise. Apsara at Trou au Diable (ask to book the ultimately cozy private gazebo for two), Dasheene, Jade Mountain or Boucan (based at the Hotel Chocolat, the menu revolves around the rare cacao grown on the property) are all must-visit spots. Take a night off from fine dining to let loose at the Anse la Raye "jump up," a street party offering plenty of fried fish, beats and people watching.
Turks & Caicos
Why: Fact: Turks & Caicos is technically located in the Atlantic. But it won't take two newlyweds long to see why its 40 islands and cays are considered Caribbean to the core. Here there are warm waters in every shade of light blue, powdery white sand blanketing the shores and incredibly flavorful ocean-to-table cuisine that's especially making a comeback on the popular getaway destination of Providenciales.
Don't miss: Conch every which way (in fritters, in salad, in stew...), pigeon peas and grits, gingerbread and daiquiris
Where to go: Book your plane tickets and then book a ressie at Coco Bistro; the food is so good here, tables are reserved well in advance. You'll fall in love with the views—and the menu—at Magnolia and Infiniti Bar. Other restaurants to add to your list are Mr. Grouper, Hemingway's and Crackpot Kitchen (Chef Nik became a local star for his cooking show before setting up shop). Looking for something more low-key? Hit up Da Conch Shack or Bugaloo's Conch Crawl.  
Cayman Islands
Why: Swimming with stingrays, luxury shopping, snapping underwater selfies among sea turtles, booking side-by-side massages at a spa and holding hands while strolling along the actual five-and-a-half miles of Seven Mile Beach—you'll have so much to do on Grand Cayman, the largest island in this archipelago, that eating could become an afterthought. Keep your foodie focus. You'll be glad you did when you return home boasting about the "Old Caymanian" dishes, with their eclectic mix of British, Jamaican and Central American influences.
Don't miss: Fried land crab, ceviche "Cayman style" (that's fresh fish marinated in orange juice, lime and Scotch bonnet sauce), custard-topped cornbread, "heavy cake" (made from coconut, cassava, sugar and spices) and the local Caybrew beer
Where to go: Blue by Eric Ripert lives up to its world-renowned reputation. Visitors also swear by Grand Old House, Cracked Conch, Duke's and The Brasserie (the restaurant has its very own deep sea fishing boat and garden). You'll think you've died and gone to heaven—or maybe it's just all those mudslides you're drinking—at Rum Point's Wreck Bar. For food that's as authentic to the area as it comes, make the trek to Vivine's Kitchen.
Jamaica
Why: The island has always been a gastronome's getaway for its tangy jerk chicken, meat patties and more. But with a growing interest in local agriculture here, farmers are now delivering an unheard-of quality and variety to the ingredients going into the cuisine, even at its roadside stalls. Stay near Kingston or Montego Bay and you'll have easy access to the best of both worlds.
Don't miss: Jerk chicken, Jamaican patties, bammy pancakes, callaloo stew (a side dish made from a spinach-like leaf grown locally), festival bread, gizzada tarts and ginger beer
Where to go: You'll feel like lovebirds under the trees at the picturesque and tasty Sugar Mill Restaurant. For the real-deal jerk, ask the locals to direct you to Scotchies or MVP Smokehouse. Dine literally on the water at The HouseBoat Grill. On Thursdays, Jack Sprat hosts movie nights.
Puerto Rico
Why: Protein and starch? That's not typical island fare, which is maybe why heavy Puerto Rican cuisine (think chicken, pork, roasted pig, rice and yucca) hasn't been popular with vacationers. That's now beginning to change, especially around San Juan. Work up an appetite swimming in the temperate waters, walking the charming cobblestone streets of the old city, taking in the breathtaking views at the historic Castillo San Felipe del Morro or with a day trip to El Yunque—then reward yourselves with a feast at one of the restaurants that's evolving local recipes and finally attracting well-deserved accolades.
Don't miss: Mofongo mash, bacalaitos (cod fritters), coconut and cinnamon tembleque custard and coquito coconut and rum egg nog
Where to go: On the first Sunday of every month, get coffee and a rohlik (Puerto Rico's croissant)  and stroll among the locals at Condado's El Mercado Urbano market. Not staying at the Hotel Convento? Take in its beauty over lunch at its delicious Patio del Níspero (another popular spot is El Jibarito). To see why this place is now on the foodie map, make reservations at the James Beard-nominated Jose Enrique, 1919 or Marmalade. And you won't want to miss cocktail hour at The Mezzanine at St. Germain.