You Won't Believe the Cost and Carat Size of These Celebrity Engagement Rings
These world-renowned sparklers put the "ice" in price.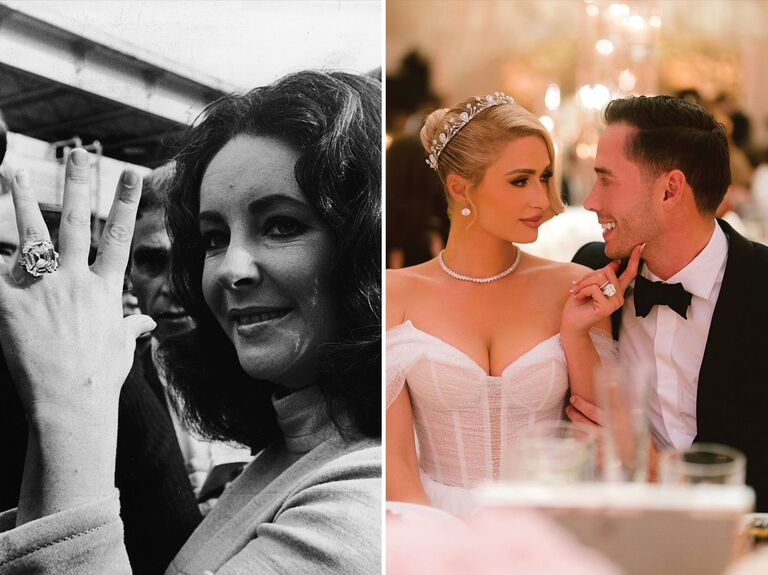 When it comes to celebrity engagement rings, it's hard not to get jealous—like, really jealous—of their eye-catching bling. After all, there's no denying how fun it is to stare at the big, expensive rings of the rich and famous. Plus, let's be real: You've probably wondered exactly how much Hailey Bieber's engagement ring costs or how many carats sit on Beyoncé's finger. (Don't deny it, we know you have.)
For fellow jewelry lovers who have an obsession with tracking expensive celebrity wedding rings, you're in luck. We've done the research to compile the most iconic celebrity engagement rings, along with their price tag and carat size, so you can ogle your favorite rocks some more. (Or, if you feel so inclined, you can *accidentally* send a screenshot to your S.O. You know, for future inspiration purposes. We won't judge!)
The Most Expensive Engagement Rings Ever (Yup, We've Ranked 'Em)
Unfortunately, we don't know the exact value of every single engagement ring in the history of time. What we do know, however, is that there are designers and jewelry experts around the world who are uniquely skilled at estimating the costs and carat sizes of celebrity engagement rings. In this list, we've compiled their expertise to curate the ultimate list of the most expensive engagement rings ever, worn by celebrities and historical figures. Then, keep scrolling for all the details we know about each sparker.
Grace Kelly's Engagement Ring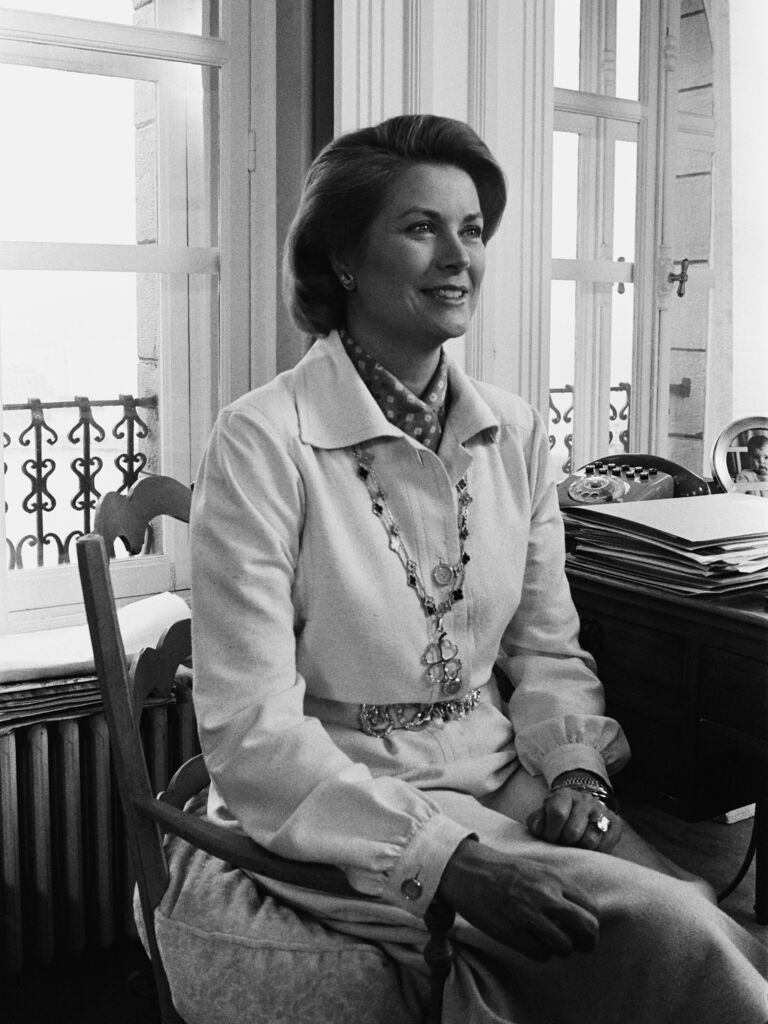 Grace Kelly is synonymous with Old Hollywood glamor, and her engagement ring is a perfect example of why. Before the American actress wed Prince Rainier III of Monaco in 1956, the royal presented her with the most expensive engagement ring of all time. The impressive Cartier sparkler was a 10.48-carat emerald-cut flanked by two baguette-cut side stones. According to Jewellry Box, this celebrity engagement ring is worth an estimated $38.8 million today.
Just like her wedding dress would go on to inspire countless brides around the world, Grace Kelly's engagement ring did the same. Similar styles have been worn by celebs like Amal Clooney, Jennifer Lopez, Kim Kardashian and Liz Taylor.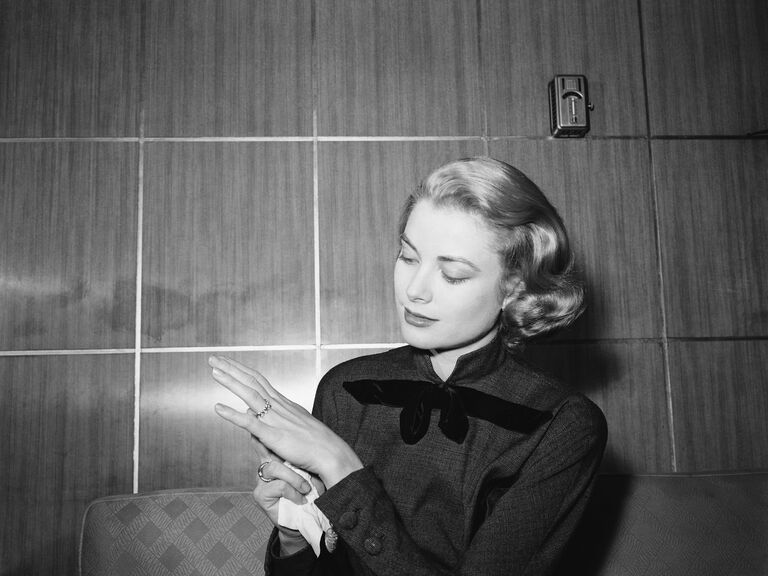 Interestingly enough, that wasn't the only engagement ring the Princess of Monaco owned. Before she wore the emerald-cut sparkler, her fiancé gifted her a Cartier eternity band with heirloom rubies and diamonds, which symbolized his home country's flag. While we don't know the official story behind this lesser-known ring, some say it was meant to be a stand-in until the second was commissioned.
Jackie Kennedy Onassis' Engagement Ring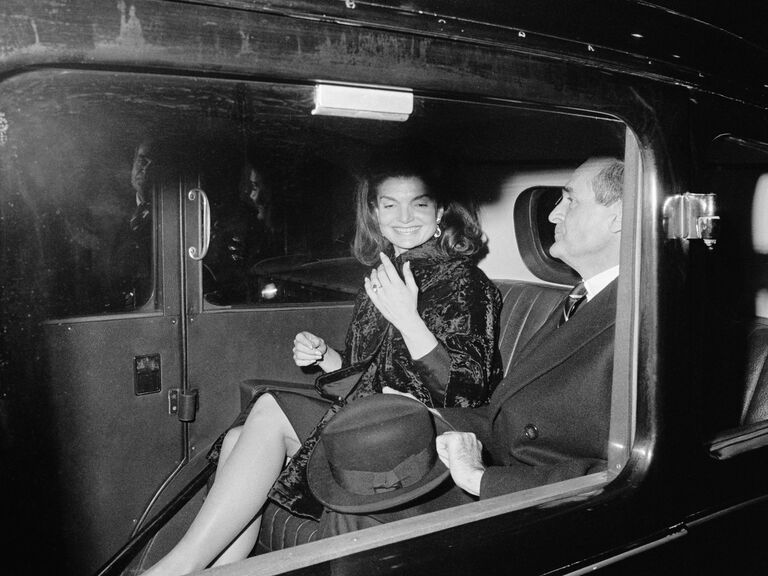 Long before toi-et-moi engagement rings became a mainstream trend, Jackie Kennedy received a two-stone sparkler from John F. Kennedy. But believe it or not, that wasn't the most expensive engagement ring she owned. Following the tragic death of her first husband, Jackie Kennedy would go on to marry Aristotle Onassis in 1968—one of the world's richest men at the time. He proposed to the former first lady with a jaw-dropping 40-carat Lesotho III diamond ring from Harry Winston. The celebrity engagement ring ultimately sold for $2.6 million at an auction in 1996. Today, it's estimated to be worth around $22 million.
Mariah Carey's Engagement Ring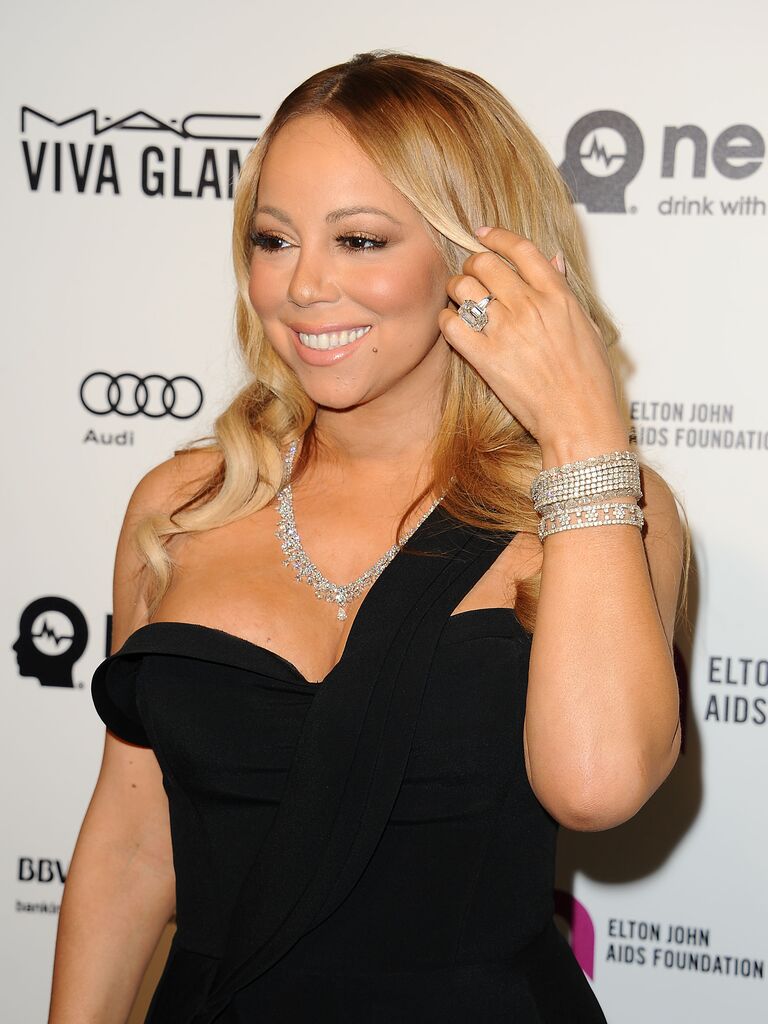 Mariah Carey was once the owner of one of the most expensive engagement rings of all time. When the singer got engaged to Australian billionaire James Packer in 2016, he presented her with a massive 35-carat diamond engagement ring set on a platinum band. Seemingly inspired by Grace Kelly's famous engagement ring, Carey's sparkler featured an emerald-cut center stone flanked by baguette tapered side stones. It was designed by Carey's close friend, jeweler Wilfredo Rosado. Shortly after news of the proposal went public, Rosado told Vogue that this celebrity engagement ring was "the most challenging piece of jewelry I've ever designed."
When Carey and Packer split in October of that year, the famed songstress kept the bauble as part of their settlement. Although she sold it in 2018 for $2.1 million, experts say its actual value is around $10 million.
Elizabeth Taylor's Engagement Ring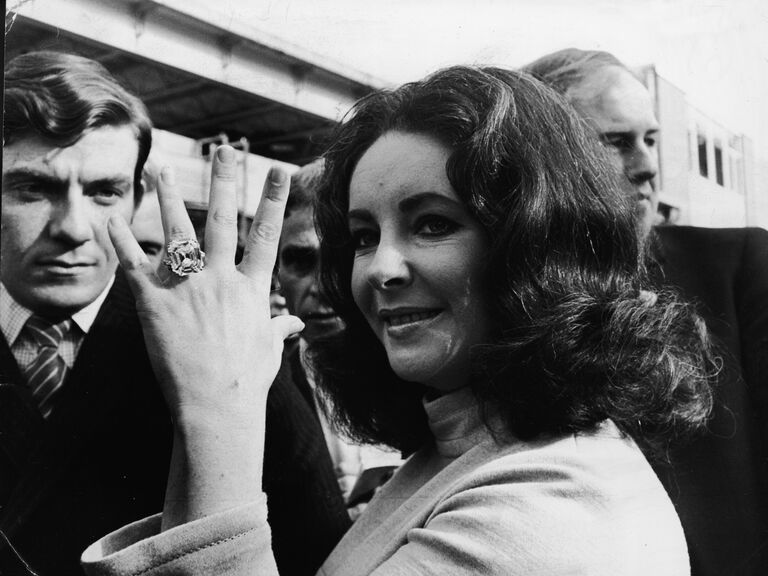 Of all of Hollywood icon Elizabeth Taylor's iconic jewelry, her gigantic diamond from Richard Burton takes the cake for the largest and most expensive rock she ever received. It wasn't technically an engagement ring, since Taylor and Burton were already married at the time of its purchase. In 1968, four years into their marriage, he bought her the Krupp diamond: a 33.19-carat Asscher-cut stone that once belonged to actress Vera Krupp. Burton paid $305,000 for this famous engagement ring at the time, but in 2011 it was sold by Christie's for a whopping $8.8 million.
Beyoncé's Engagement Ring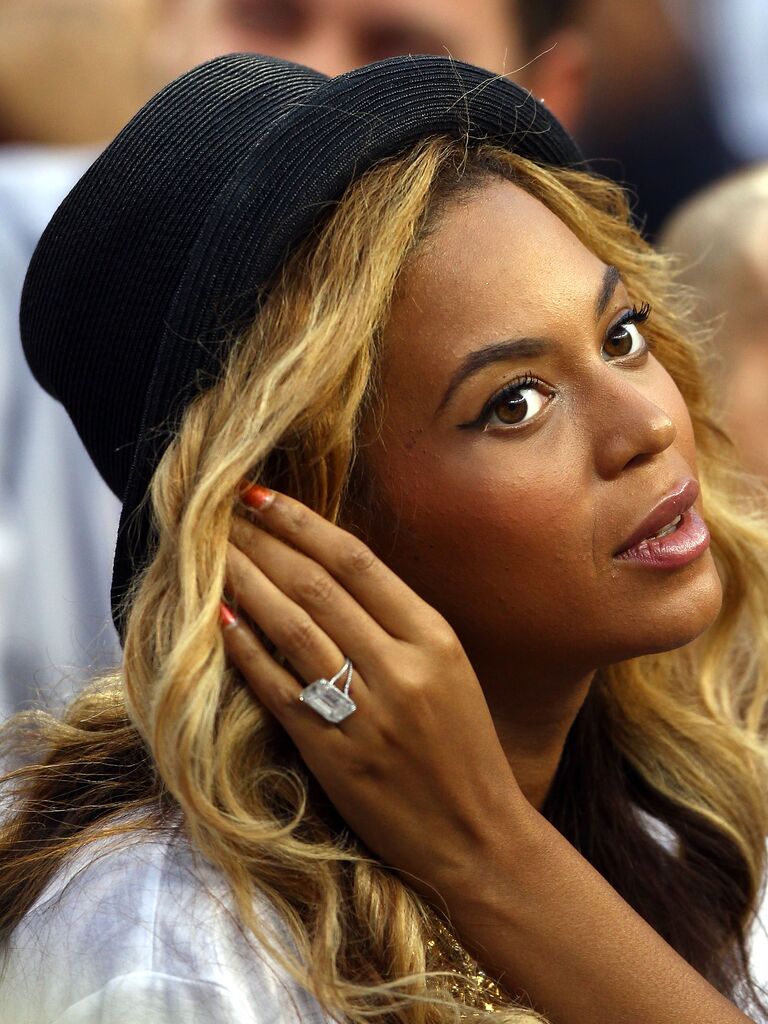 Renowned celebrity jeweler Lorraine Schwartz designed Beyoncé's 24-carat emerald-cut diamond engagement ring with a platinum split shank, which she received from her husband Jay Z. Beyoncé's flawless ring is estimated to cost about $5 million.
Jennifer Lopez's Engagement Ring
Jennifer Lopez has been the lucky wearer of some of the most expensive celebrity engagement rings of all time, but we're particularly obsessed with her latest from Ben Affleck. The actors were famously engaged in 2002, though they split just days before the wedding. Jennifer Lopez's first engagement ring from Ben Affleck was a 6.1-carat pink diamond ring designed by Harry Winston. Since pink diamonds are one of the rarest shades in the world, the ring was estimated to be worth about $2.5 million.
When Affleck proposed again in 2021, he popped the question with another rare diamond, this time in a shade of green. Jennifer Lopez's current engagement ring is a green square-shaped center stone, flanked by white trapezoid diamonds on either side. Jenny Luker, president of Platinum Guild International USA, said the estimated price is around $5 million.
Kim Kardashian's Engagement Ring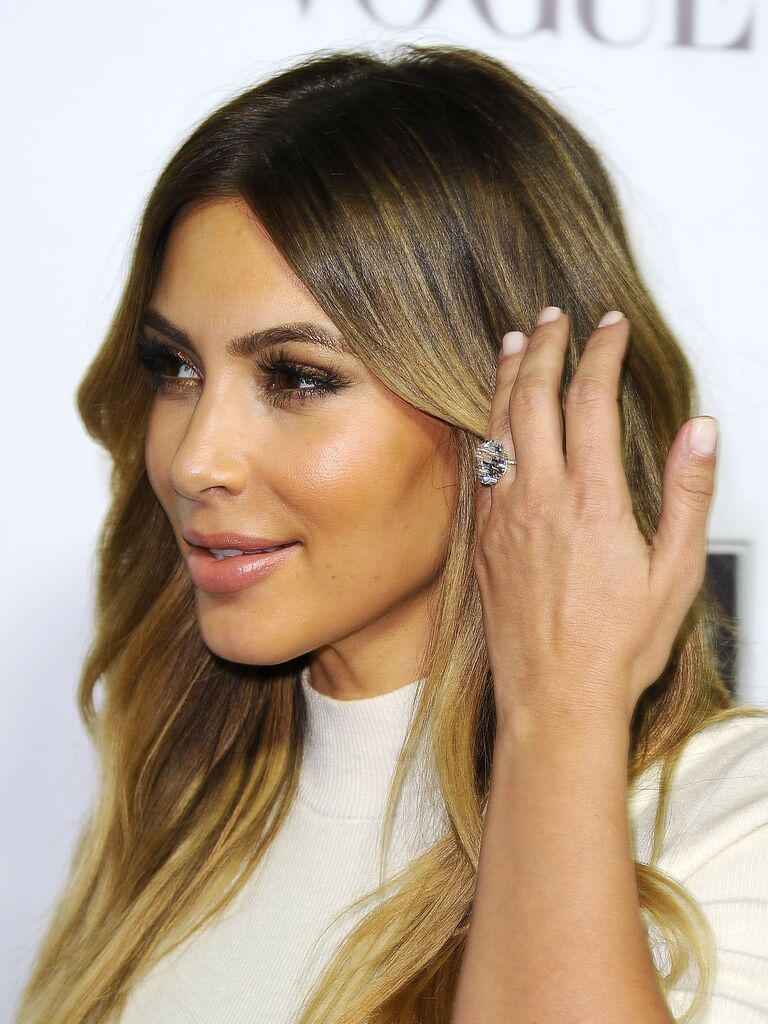 Kim Kardashian's giant engagement ring from former husband Kanye West is another Lorraine Schwartz creation. When it comes to the most amazing celebrity engagement rings, this one has certainly earned its spot at the top. It featured a massive cushion-cut diamond—a perfect D flawless type 2A rock, to be exact. The design also showcases a thin pavé band covered in twinkly diamonds. At approximately 15 carats, this dazzling engagement ring is estimated to cost between $2 million and $4 million.
Paris Hilton's Engagement Ring
The stars may be blind, but you will be too after staring at Paris Hilton's engagement ring. The socialite has worn a few expensive wedding rings throughout her life, but we're partial to her sparkler from Carter Reum. When the author proposed in February 2021, he presented Hilton with a stunning emerald-cut engagement ring flanked by baguette-cut and trapezoid accent diamonds. The 20-carat ring is estimated to be worth about $2 million.
This celebrity engagement ring was designed by Jean Dousset, the great-great-grandson of Louis-Francois Cartier. In an interview with The Knot, Dousset exclusively shared more about the inspiration for this notable celebrity engagement ring. "The one key element of this ring was that Carter was heavily invested [in the process] so that he could add as much sentiment as possible in the idealization and crafting of the ring," he told us. "His focus was on how many details and personal touches, big and small, that he could add to the ring to represent how much he loves Paris. We tend to mostly work with sentimental clients that want to create and present an engagement ring full of symbols."
Serena Williams' Engagement Ring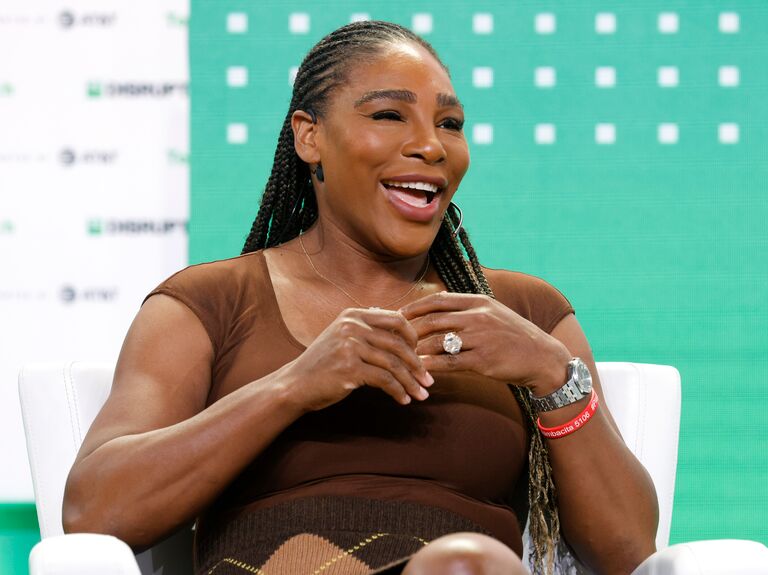 Tennis champion Serena Williams fittingly debuted her massive engagement ring from Reddit co-founder Alexis Ohanian on Reddit. The sparkler is a three-stone ring set in a platinum band. Experts speculate the emerald-cut diamond is valued at around $2 million dollars and appears to weigh about 12 carats.
Blake Lively's Engagement Ring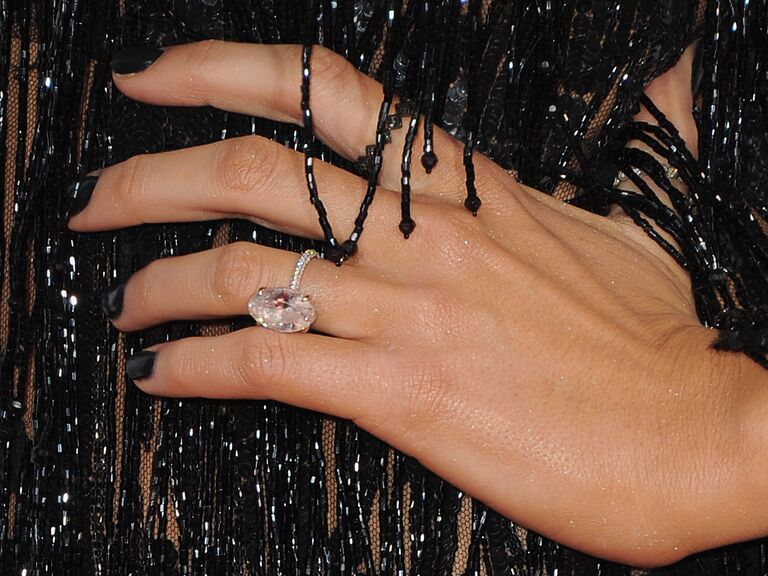 Blake Lively's 12-carat oval diamond engagement ring from actor Ryan Reynolds is largely credited for accelerating the oval engagement ring trend in recent years, thus earning its title as one of our all-time favorite celebrity engagement rings. Designed by Lorraine Schwartz, Lively's trendsetting pink oval diamond is estimated to be valued at just over $2 million.
Ciara's Engagement Ring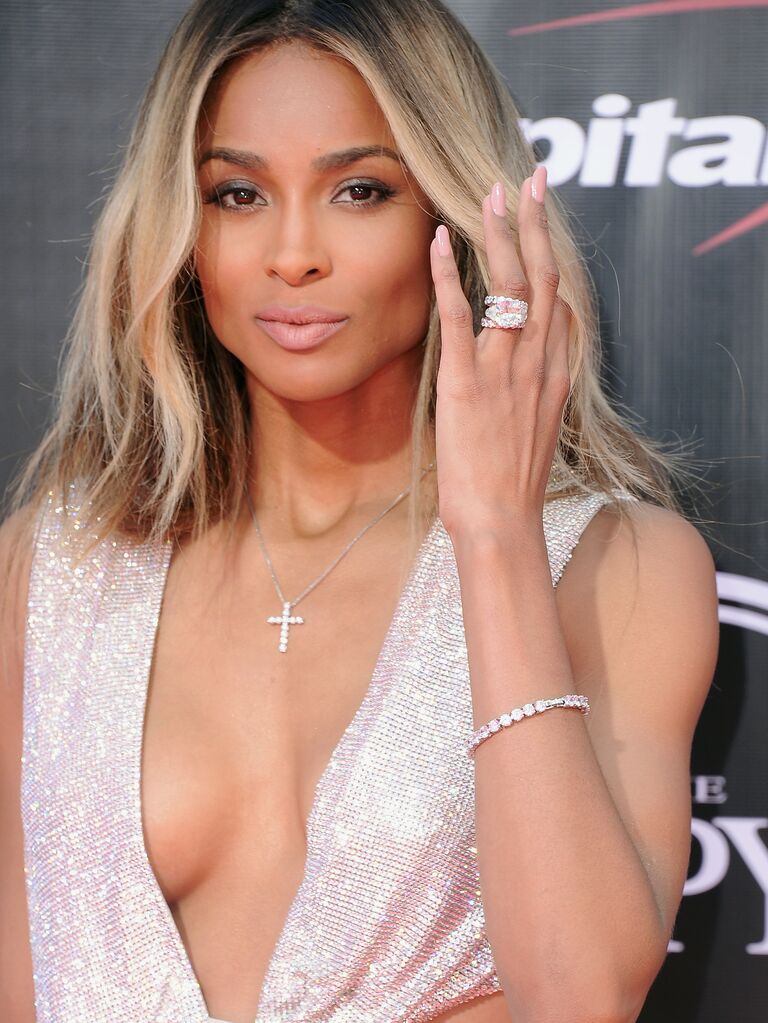 Ciara's engagement ring from football player Russell Wilson is 16 stunning carats and is worth about $2 million. Her expensive wedding ring features one glorious brilliant-cut diamond nestled between two side stones.
Kate Upton's Engagement Ring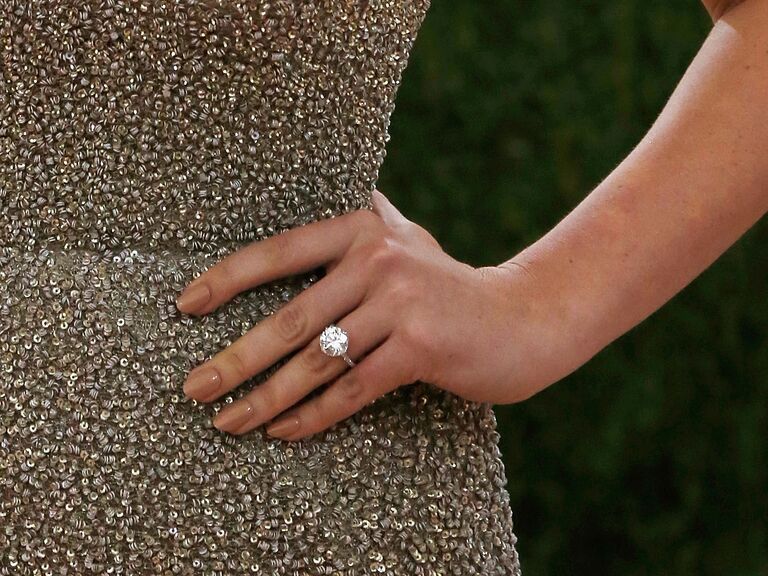 Baseball player Justin Verlander went to Los Angeles–based jeweler Anita Ko and spent about $1.5 million on a timeless 8-carat round-cut engagement ring for Kate Upton. The gorgeous ring has a six-prong setting on a platinum band, which is sure to catch anyone's attention.
Jennifer Aniston's Engagement Ring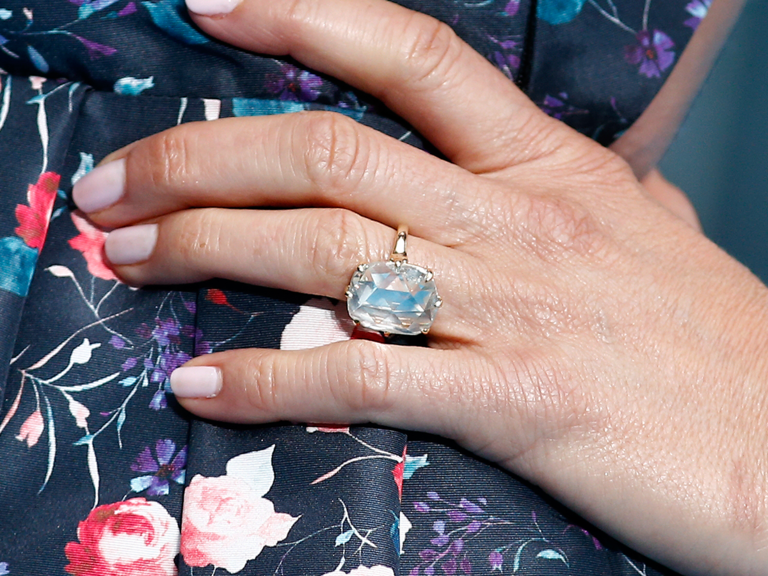 While Justin Theroux and Jennifer Aniston are no longer married, that doesn't make her engagement ring any less impressive. Before the couple said "I do," the Friends actress wore a giant 9-carat cushion-cut diamond from the actor, which was rumored to have cost upwards of $1 million.
Gabrielle Union's Engagement Ring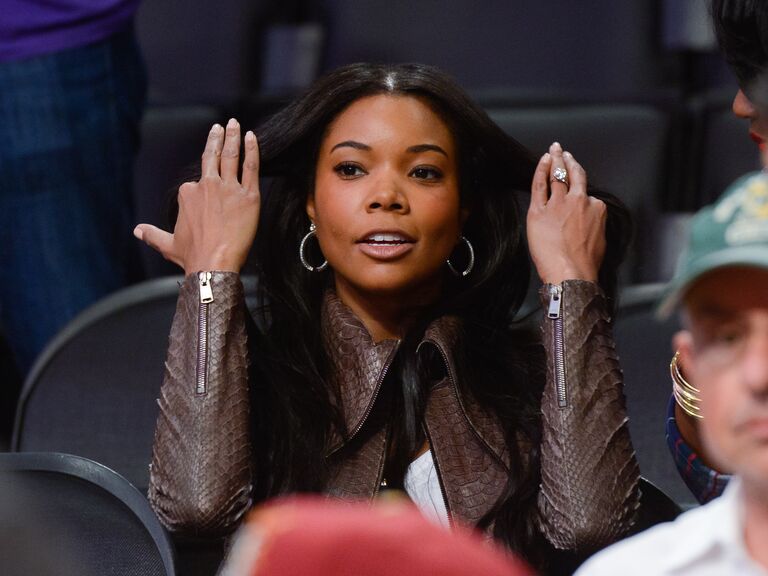 Basketball player Dwyane Wade proposed to actress Gabrielle Union with a massive 8.5-carat diamond engagement ring that's valued to be about $1 million. This expensive engagement ring is a dramatic cushion-cut diamond that certainly steals the show. Even sweeter? Wade was accompanied by his two sons during the sentimental proposal.
Amal Clooney's Engagement Ring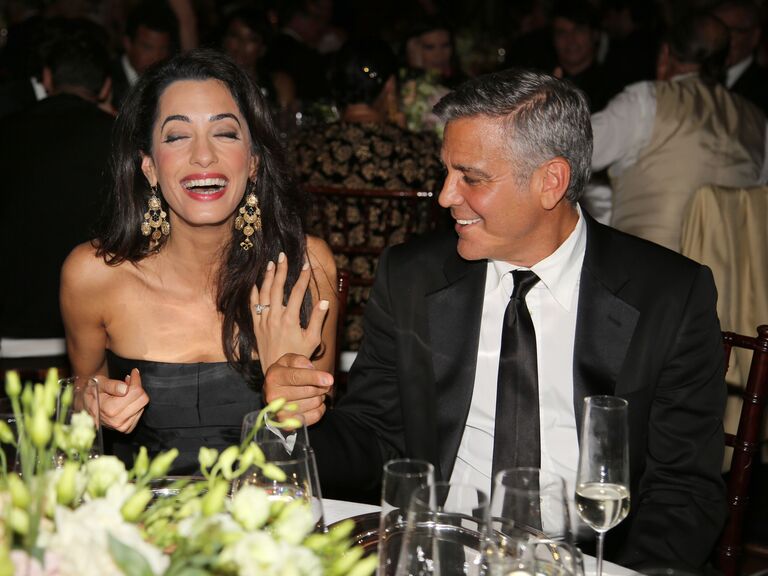 George Clooney proposed to human rights lawyer Amal Alamuddin with a 7-carat emerald cut engagement ring by Jacob Arabo of Jacob & Co. This striking celebrity engagement ring boasts tapered baguette diamond details on either side of the main rock, and it allegedly cost Clooney around $750,000.
Hailey Bieber's Engagement Ring
Justin Bieber proposed to model Hailey Baldwin in the Bahamas with a large oval diamond engagement ring custom designed by Jack Solow of Solow & Co. Inc Diamond Jewelers. The eye-catching celebrity engagement ring is a solitaire ring with a yellow gold band. According to experts, Baldwin's ring is between 4 to 8 carats with a price tag of up to $500,000, depending on the clarity of the stone.
Kate Middleton's Engagement Ring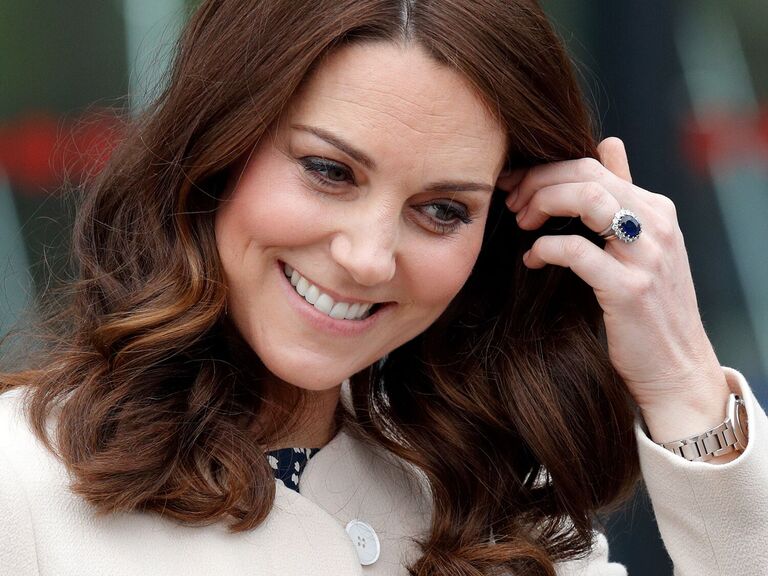 Prince William proposed to his college sweetheart Kate Middleton, now the Princess of Wales, with Princess Diana's iconic sapphire and diamond engagement ring designed by Garrard. The celebrity engagement ring features an oval sapphire as the centerpiece, surrounded by 14 sparkly solitaire diamonds in a white gold setting. Experts guess this famous royal engagement ring is about 12 carats and is now worth approximately $400,000.
Sofia Richie's Engagement Ring
All eyes were on Sofia Richie when her wedding took over social media in April 2023, but we couldn't stop staring at her dazzling ring from music executive Elliot Grainge. Sofia Richie's engagement ring is a timeless emerald-cut center stone set on a platinum band. Barry Verragio, CEO of jewelry brand Verragio, previously told The Knot that this celebrity engagement ring appears to be 5 carats in size. Various diamond experts estimate that it's valued between $300,000 and $400,000.
Meghan Markle's Engagement Ring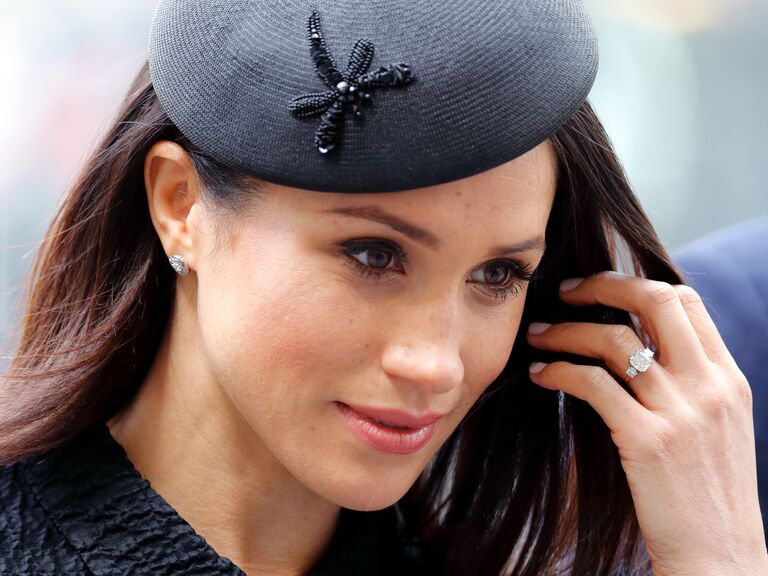 Meghan Markle's three-stone diamond engagement ring from Prince Harry weighs approximately 6 carats and is estimated to cost $350,000. What's more, the ring also has profound personal significance to the couple. Prince Harry worked with jeweler Cleave and Company to design a one-of-a-kind ring featuring a gorgeous cushion-cut center stone sourced from Botswana, one of the couple's favorite destinations. The center stone is also flanked by two smaller diamonds sourced from a brooch in his late mother Princess Diana's personal collection.
Although this celebrity engagement ring is an undeniable show-stopper, the Duchess of Sussex stepped out with a redesigned version in 2019. It appeared as though she traded in the original yellow gold band for a dainty pave diamond band and added to her ring stack with another band.
Carrie Underwood's Engagement Ring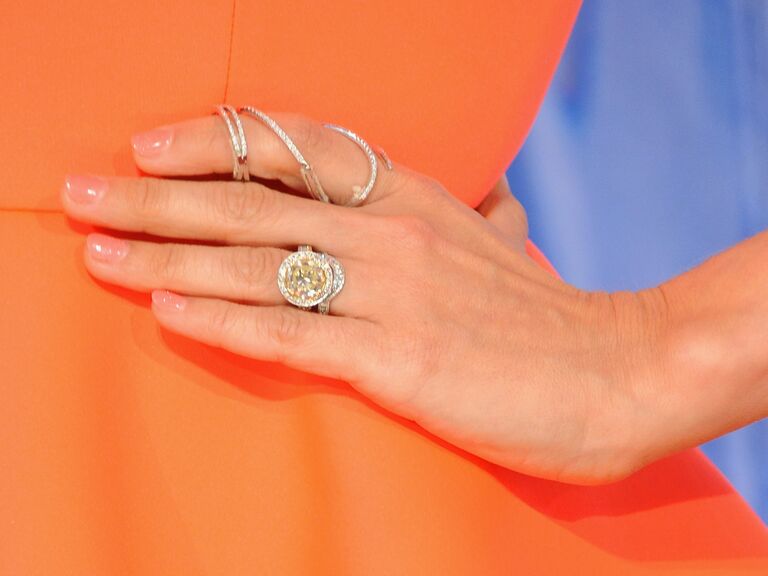 Hockey player Mike Fisher proposed to country music star Carrie Underwood with a sizable yellow round-cut diamond engagement ring in 2009. According to the International Gem Society, Underwood's center stone alone weighs about 5 carats, while the total ring includes 12 carats worth of diamonds. The ring reportedly costs about $150,000.