Wedding Fitness Tips from Celebrity Trainer Harley Pasternak
Workout guru Harley Pasternak has trained everyone from Jessica Simpson to Miley Cyrus, but now he's giving us his best tips for losing and maintaining weight before the wedding -- and they're surprisingly easy.
by Rachel Torgerson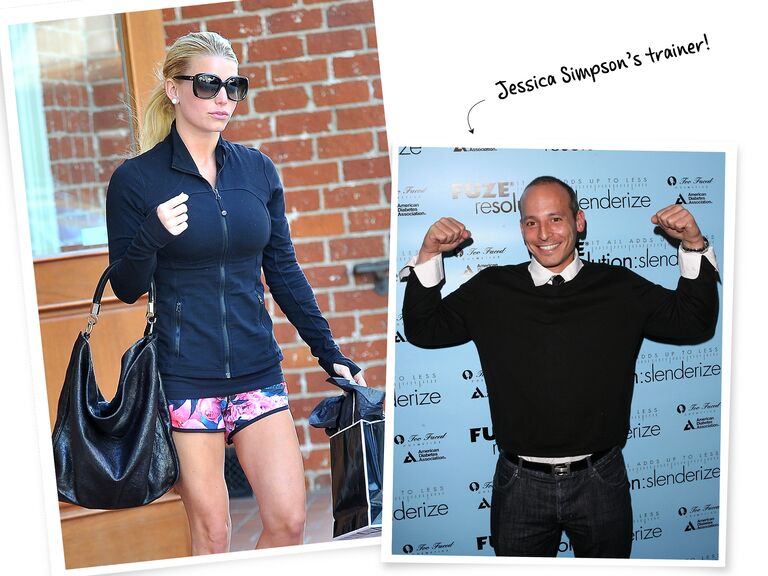 Splash News; Getty Images
Not everyone who's engaged wants to lose weight before their wedding day. But if you do, then celeb trainer Harley Pasternak has your back with some surprisingly easy steps to follow when it comes to wedding weight loss. For one, you don't need to go to the gym to see fast results. Below, our eye-opening interview with the genius behind Jessica Simpson and plenty of other A-lister's bodies.
Q: If you're looking to lose weight before the wedding, how much time should you give yourself to see results?
A: As soon as you set the date, [you should begin]! You should focus more on doing the right things, not weighing a certain amount. It's better to have more time so you can be moderate in your [weight loss] approach.
Q: Do you have any 'super foods' that you swear by?
A: Avocados, Greek yogurt, salmon, chia and almonds.
Q: What types of workouts yield the best results?
A: Walking at least 10,000 steps a day (get a FitBit), and as per [my book], The Body Reset Diet, pick a different body part each day and do at least one resistance exercise for at least 3 sets of 20 reps.
Q: As you progress in your fitness routine and become stronger, do you recommend increasing intensity?
A: Over time, you should vary the exercises per body part and gradually increase the reps, sets and resistance.
Q: How do you get and stay motivated?
A: While a wedding is certainly a great goal-based motivator (everyone wants to look their best on their wedding day), big goals like losing 20 pounds or two dress sizes can end up being discouraging if you don't see results immediately, or if the goal seems too daunting. I recommend to my clients that they evaluate themselves daily with a 'report card,' focusing on what they can control, rather than putting all their energy into a goal that's far down the road."
Q: If working out seems like more of a chore, how can you change your perspective?
A: You don't have to kill yourself in boot camps and spin classes or buy a gym membership to workout. In fact, super-intense workouts can actually be counter-productive to your weight loss goals. All you need to do is be active all day (hit at least 10,000 steps) and do at least 5 minutes of simple resistance exercises a day. You can do those at home, at your office -- anywhere, anytime.
Q: Once you've lost weight, what workouts and foods do you recommend to maintain the body you have?
A: I recommend using The Body Reset Diet to (healthfully) lose weight rapidly, and then keep it off for the wedding. Since it was designed for the busiest lifestyles, you can stay on track, even as things get more and more hectic approaching your wedding.