Wedding Centerpiece Ideas That Are Instagram-Worthy
Pretty as a picture.
PHOTO BY JULIETA,TARA BIELECKI PHOTOGRAPHY,Julie Mikos - Photographer
You've likely thought through what you're serving to your guests for your wedding menu. But you'll also need to consider the wedding décor. Your guests will be enjoying the food, but they'll also be looking at your wedding centerpieces throughout the night. If you're stumped on what to do for the tablescape, we rounded up 57 wedding centerpiece ideas to help you get inspired. Whether you want a floral centerpiece or a collection of vintage books, we have ideas for every kind of couple (and every kind of wedding).
Whatever style you end up choosing, keep in mind you'll want your guests to be able to see and speak to each other. Work with a professional florist or your expert wedding planner to come up with a plan that looks amazing and allows for conversation. See 57 wedding centerpieces that are totally Instagram-worthy, below.
In this article:
Simple Wedding Centerpieces
Among your place settings, food, table numbers and escort cards, your tablescapes are rife with dinnerware. Keep your centerpiece simple instead, opting for a minimalist setup. Here are several simple wedding flower centerpieces or greenery wedding centerpieces, below.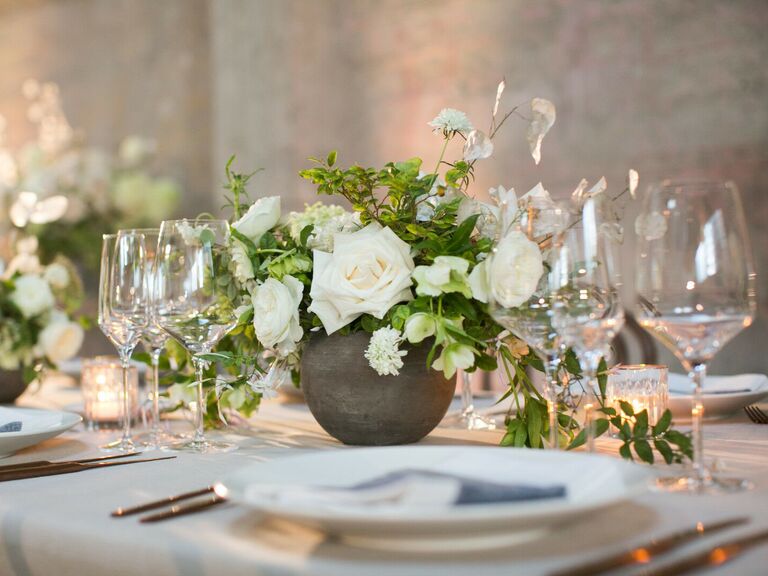 White roses and green go together like you and your boo—they're a perfect match. Plus they work with any color palette or style.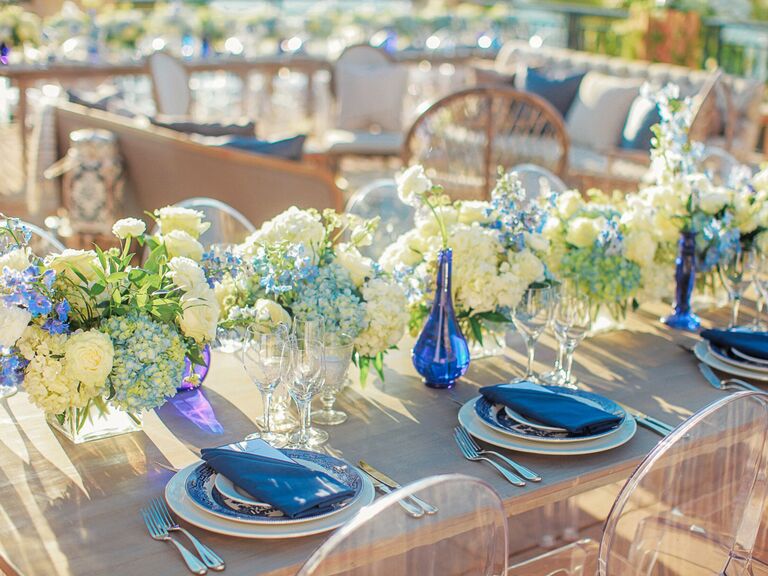 We love hydrangea wedding centerpieces because they're stunning and they smell amazing. The combination of white and blue is fresh and fun—particularly perfect for an outdoor celebration.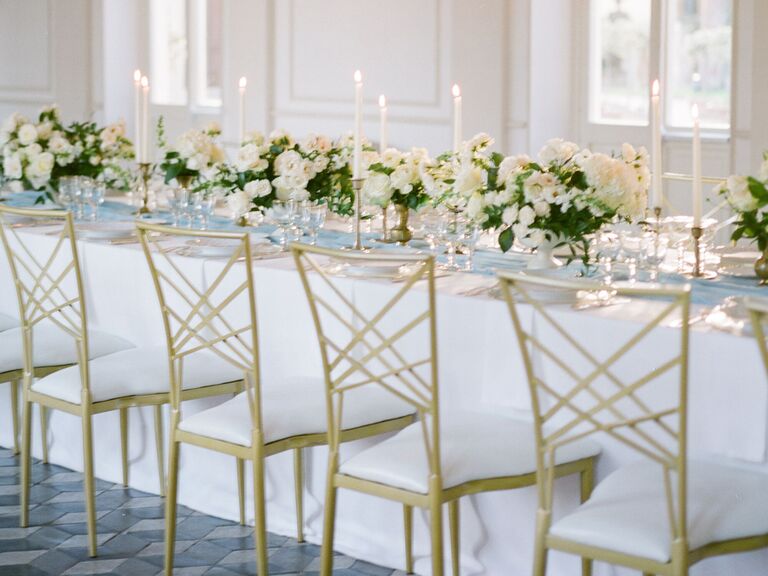 Mix small white blooms with your favorite greenery for a simple and pretty wedding centerpiece. Intersperse candles in between for a sophisticated touch.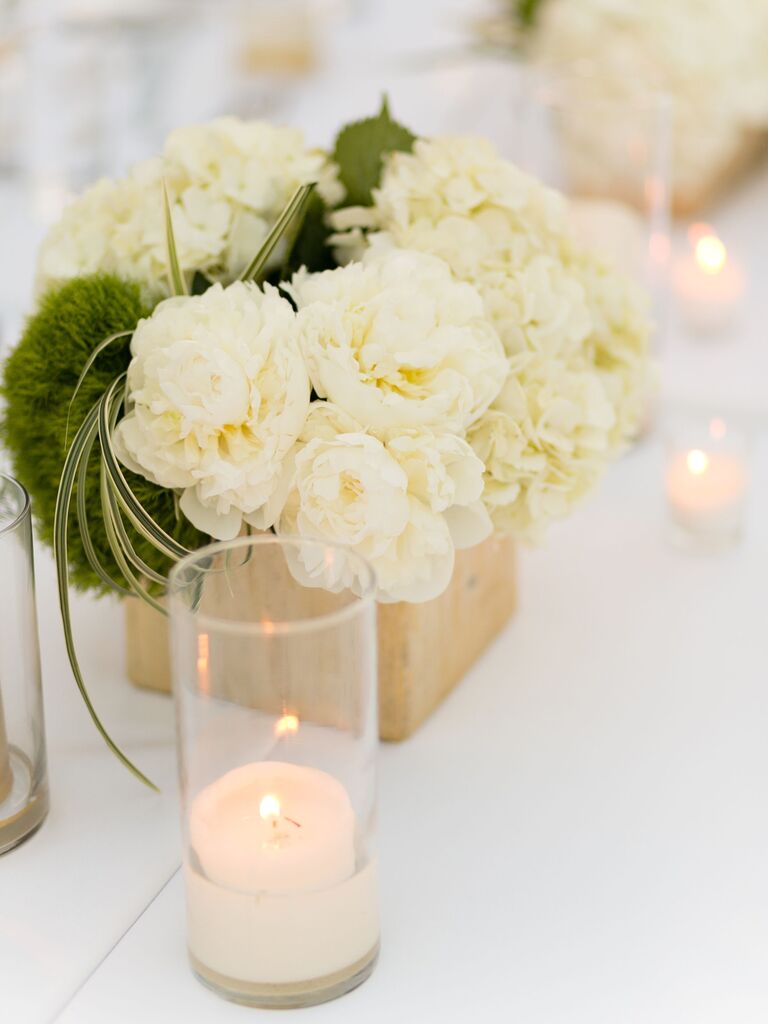 This wedding centerpiece only requires a few flowers. Pair hydrangeas with peonies and add in greenery of your choice (we love the idea of moss here). It's a simple wedding centerpiece that looks intricate.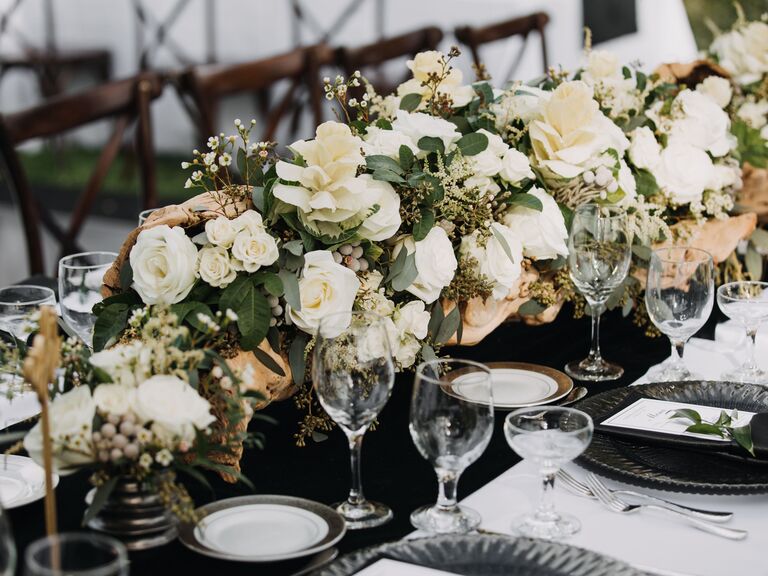 An easy way to amp up your wedding flower centerpiece? Add a driftwood accent to the bottom.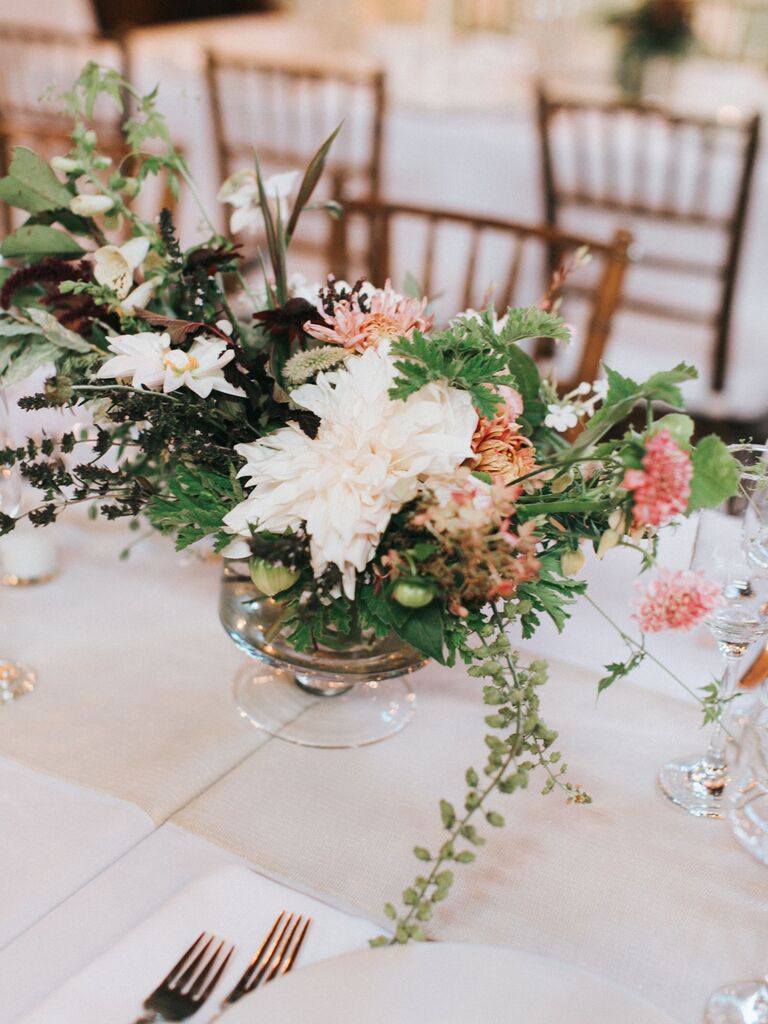 Let your dahlias (or flower of choice) shine by pairing them with delicate, tiny blossoms. We love the idea of incorporating darker hues to make the centerpiece a little more edgy.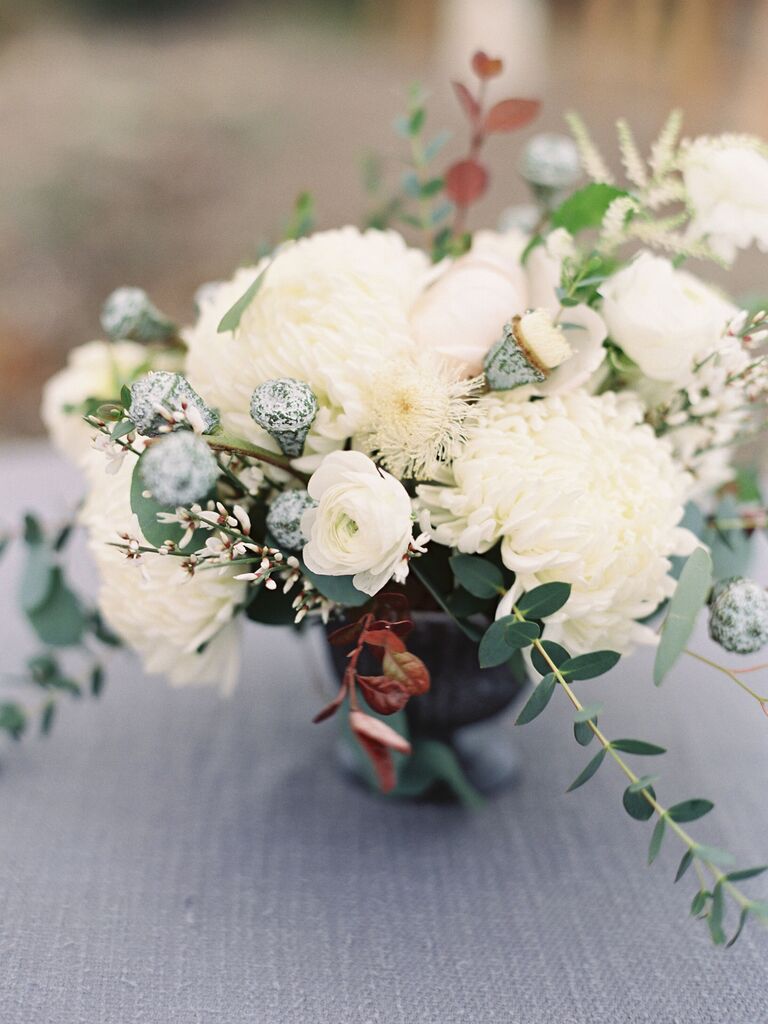 Keep your wedding centerpieces simple but interesting by playing with textures. Mix something soft (like chrysanthemums) with something edgy (like proteas) and something simple (like eucalyptus).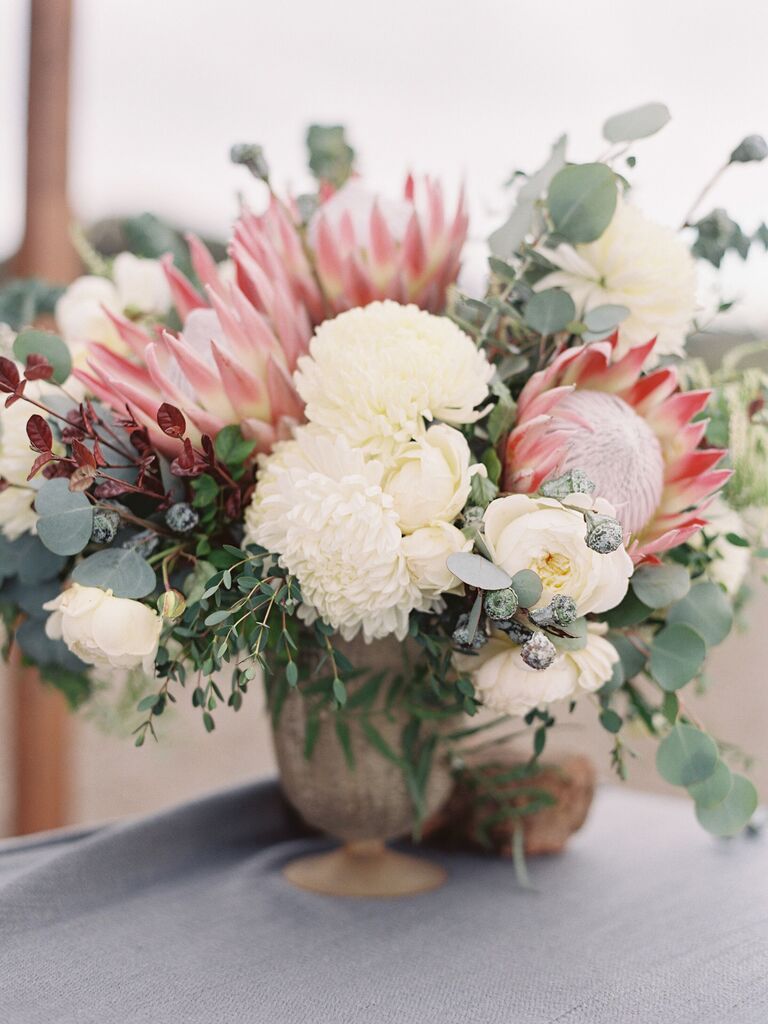 You can make a simple wedding centerpiece look complex by incorporating a bold color. We love the idea of mixing white and red together.
For a simple, bohemian wedding centerpiece, sprinkle in wildflowers alongside bigger blooms (like peonies).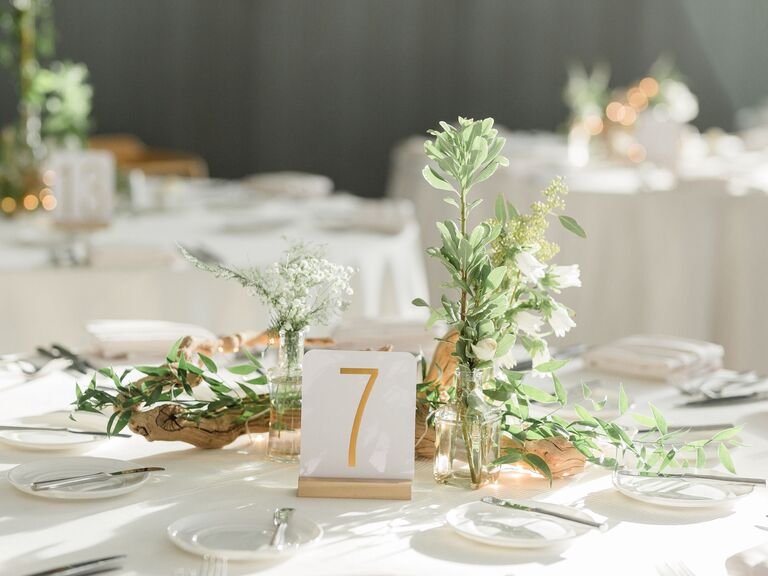 You don't have to have a ton of florals in your wedding centerpiece. Check out this design, which consists of greenery and baby's breath.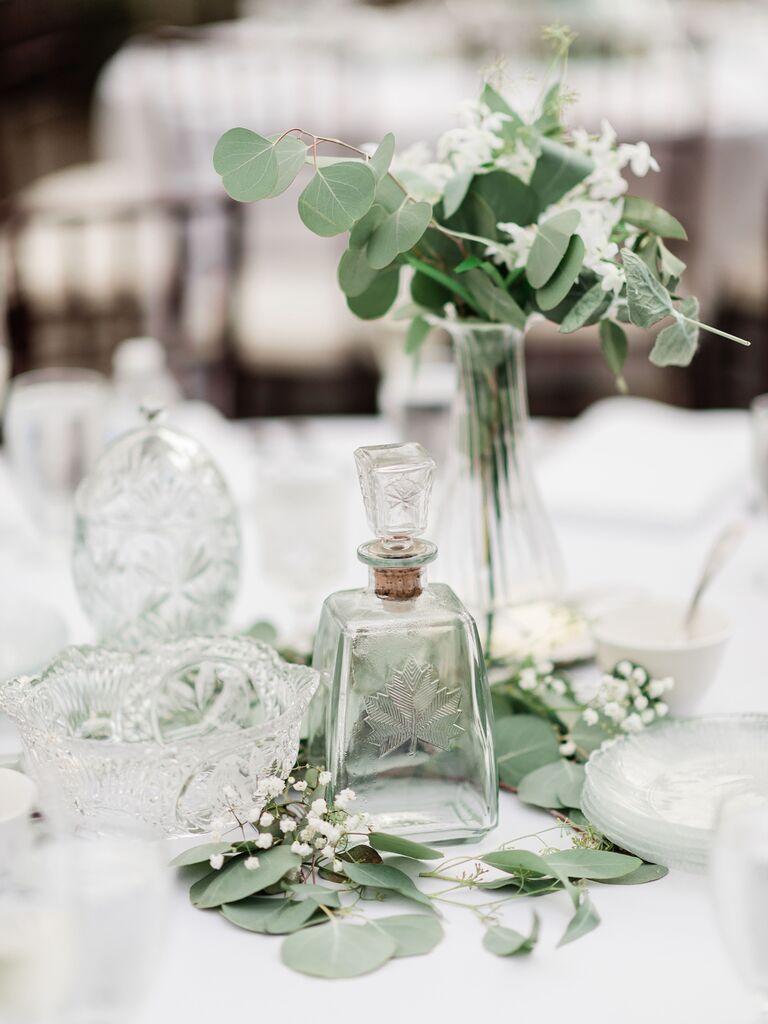 Calling all minimalists. Place eucalyptus in glass jars for an effortlessly gorgeous centerpiece.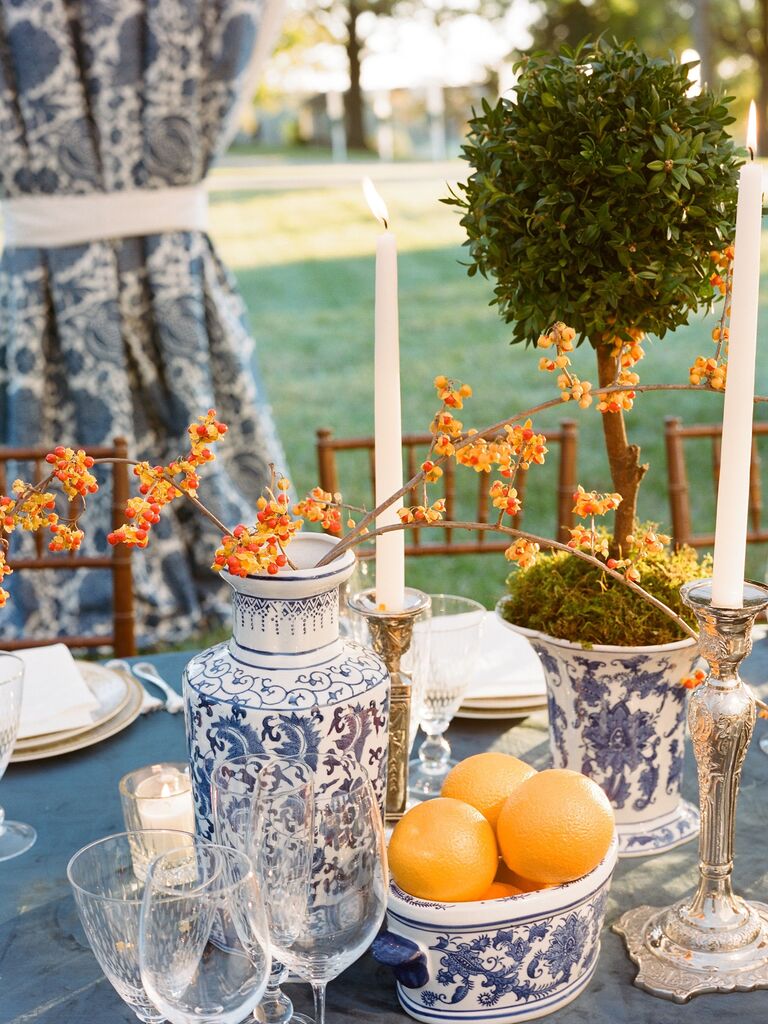 An easy way to achieve a simple, show-stopping wedding centerpiece is by using decorative vases. Pair with your favorite bold color for a Insta-worthy effect.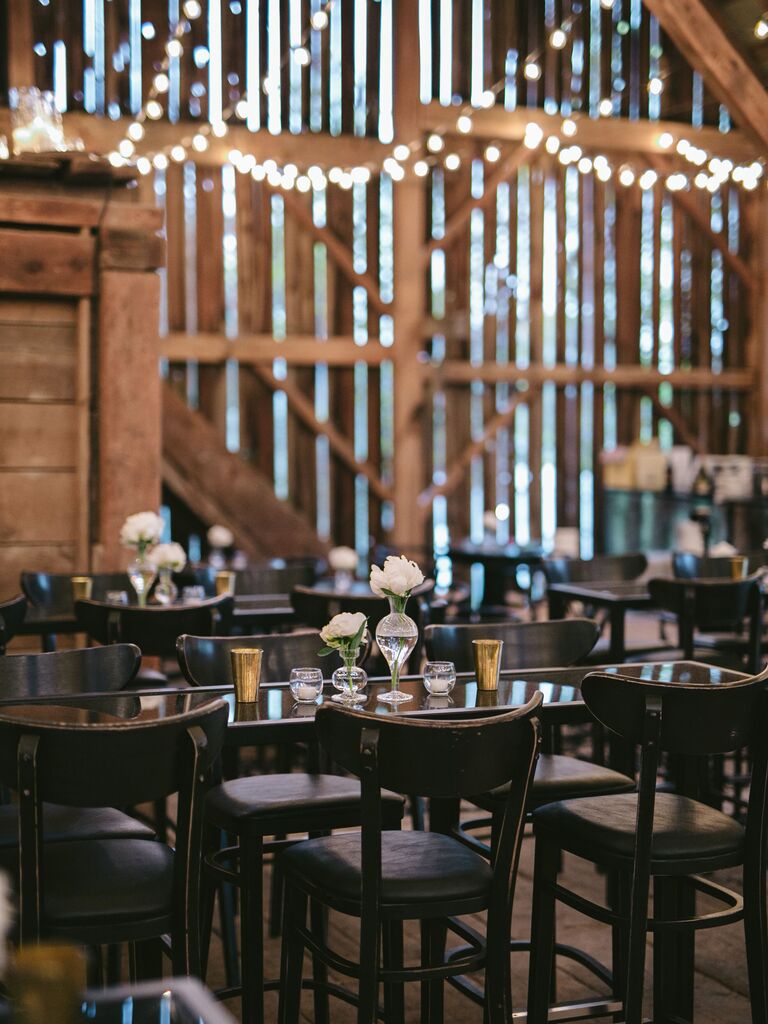 Your wedding centerpiece doesn't have to be a full-on bouquet. Place one or two flowers in glass vases for understated and gorgeous table decor.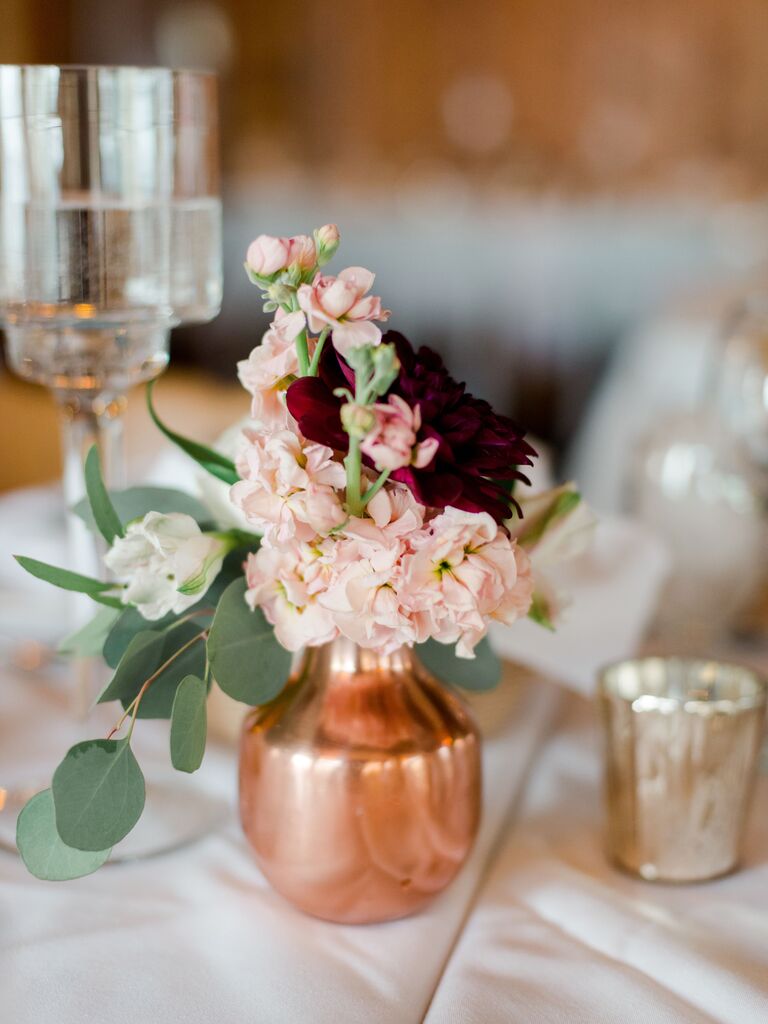 Create a mini bouquet by using just one or two stems of each flower. Place in a colorful vase (like this rose gold one) for a perfectly petite wedding centerpiece.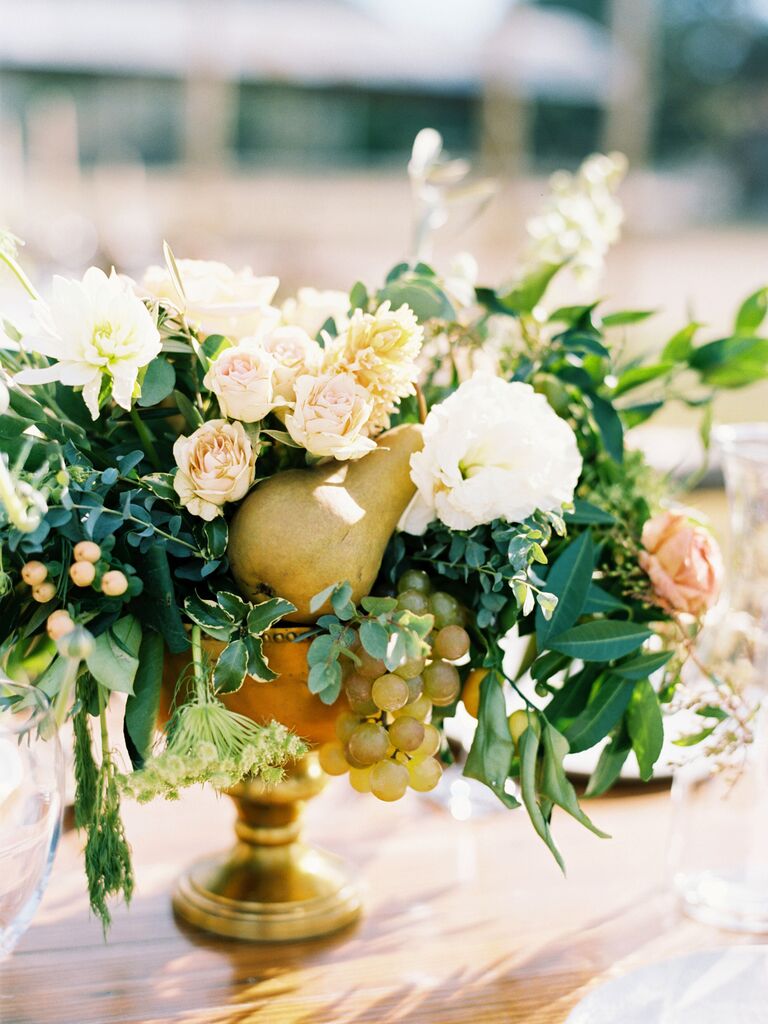 Here's a creative wedding centerpiece idea: use fresh fruit. If your wedding location is known for its apples, pears or grapes, it's a cute way to pay homage to the place you exchanged vows.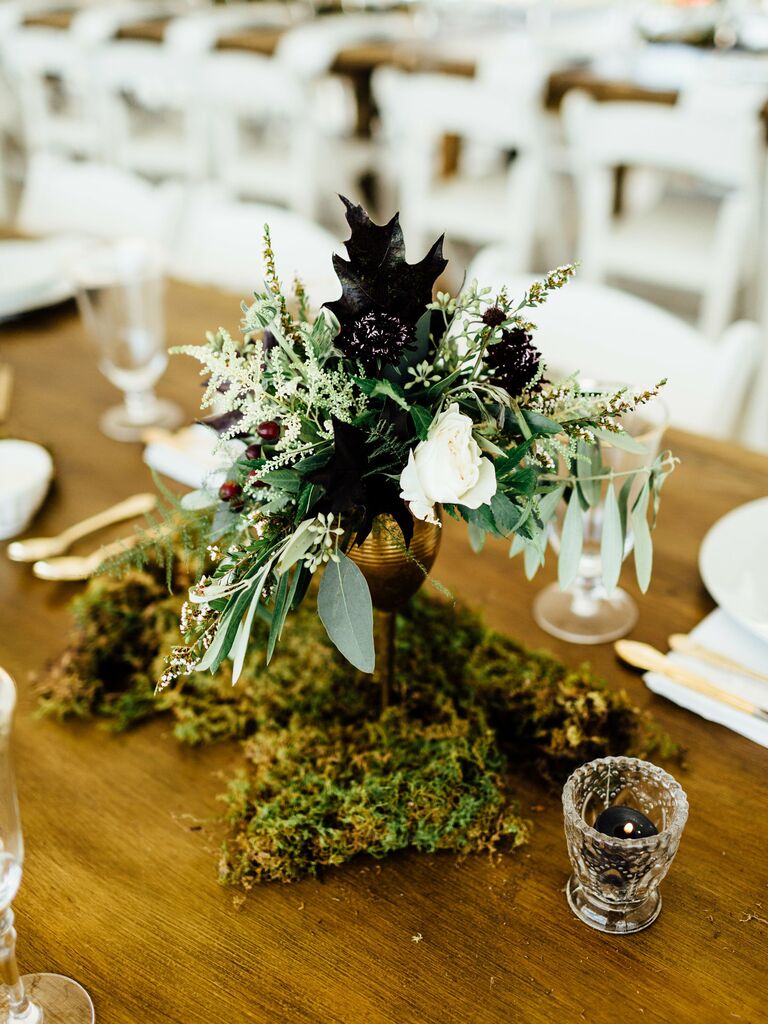 Searching for a simple rustic wedding centerpiece? Consider this combination of moss, greenery and leaves.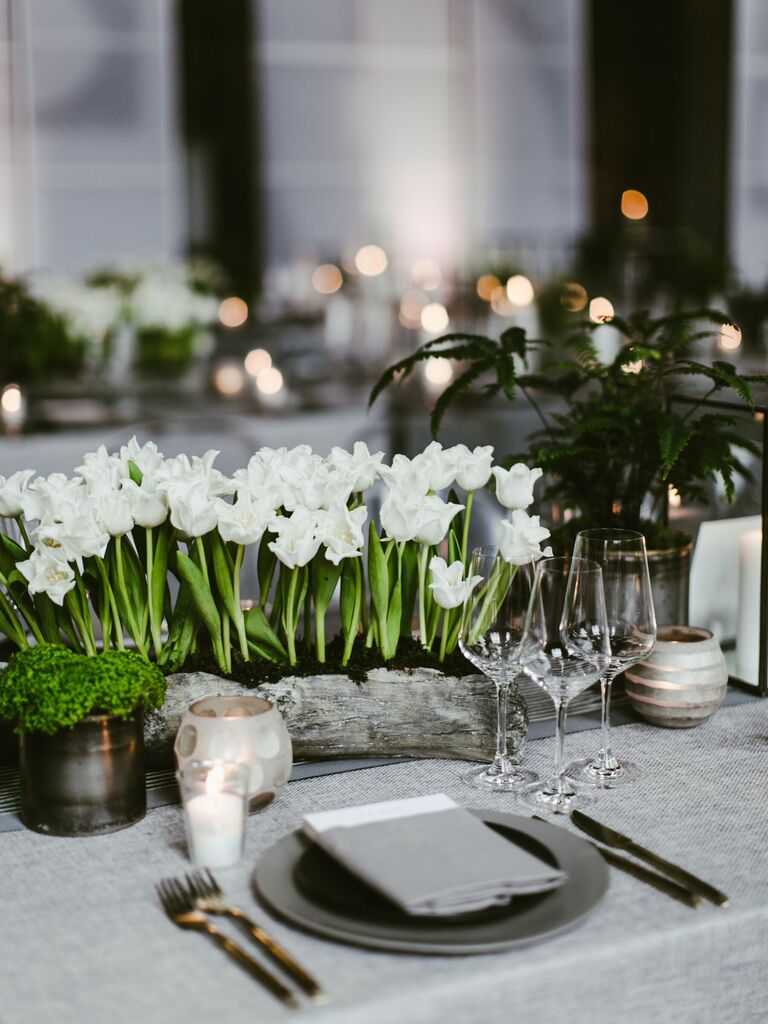 Keep things simple by using one kind of flower. We love this adorably chic trough of tulips!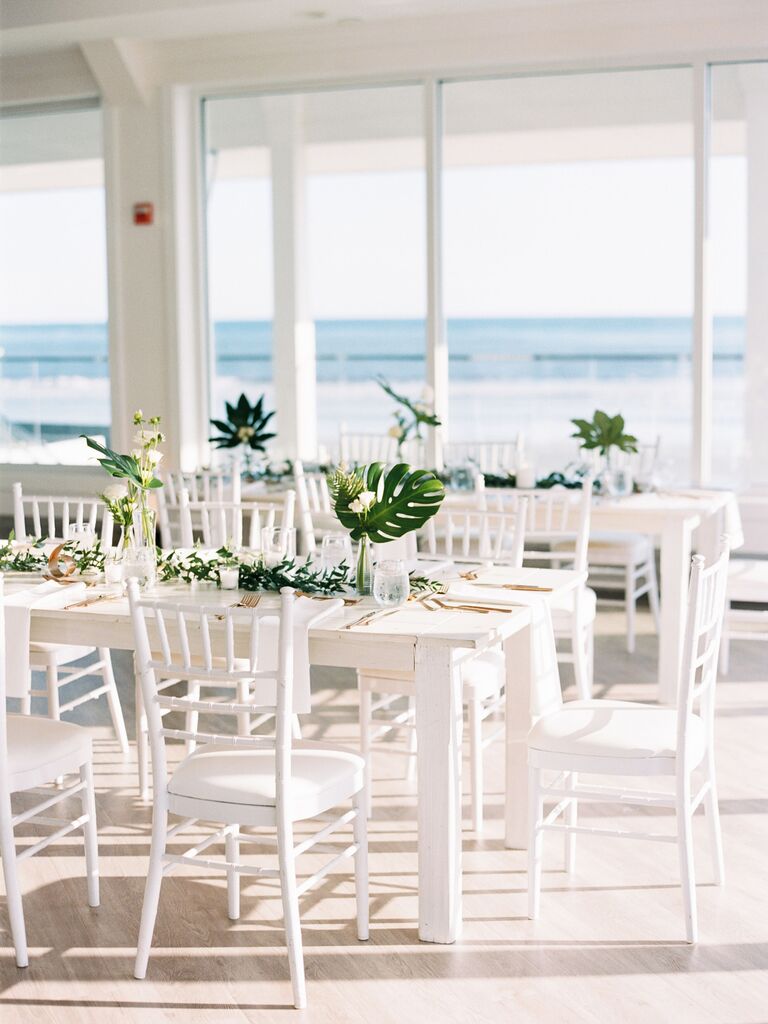 Exchanging vows somewhere tropical? Consider using palm leaves for a beach wedding centerpiece. It's a creative way to personalize your wedding, and they'll capture the seaside vibe you're after.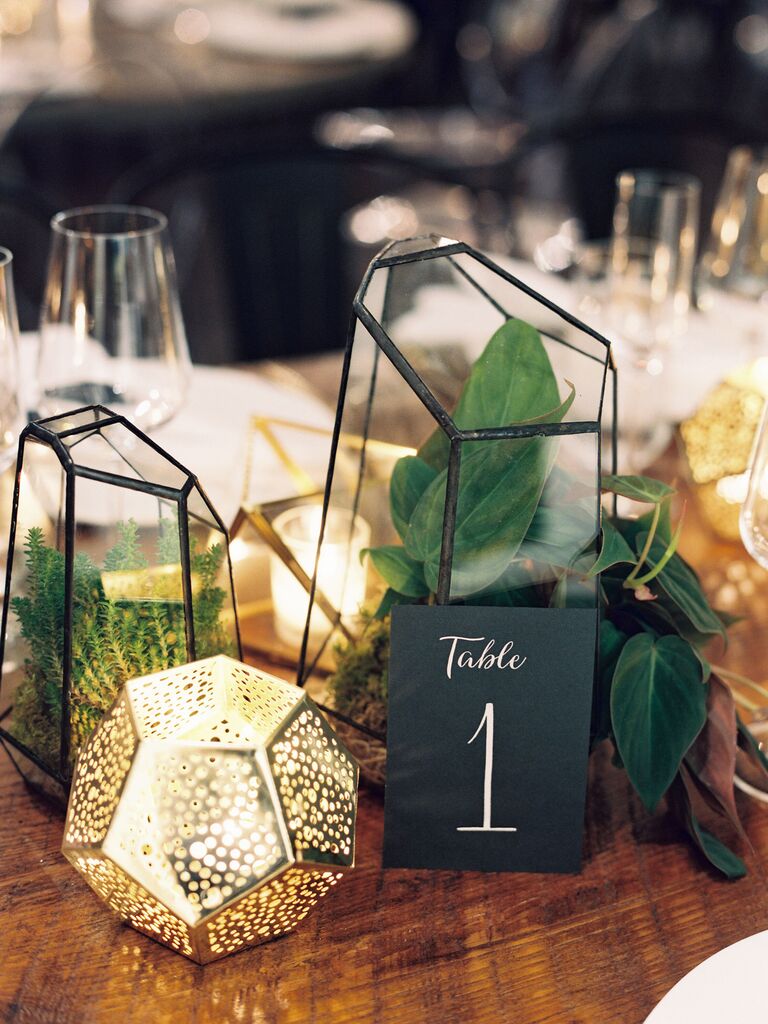 Amp up simple greens by placing them inside pretty terrariums.
Elegant Wedding Centerpieces
If you want to amp up your tablescape, consider one of these elegant wedding centerpieces. They'll bring the drama and glamour you're searching for—without blocking your guests' view.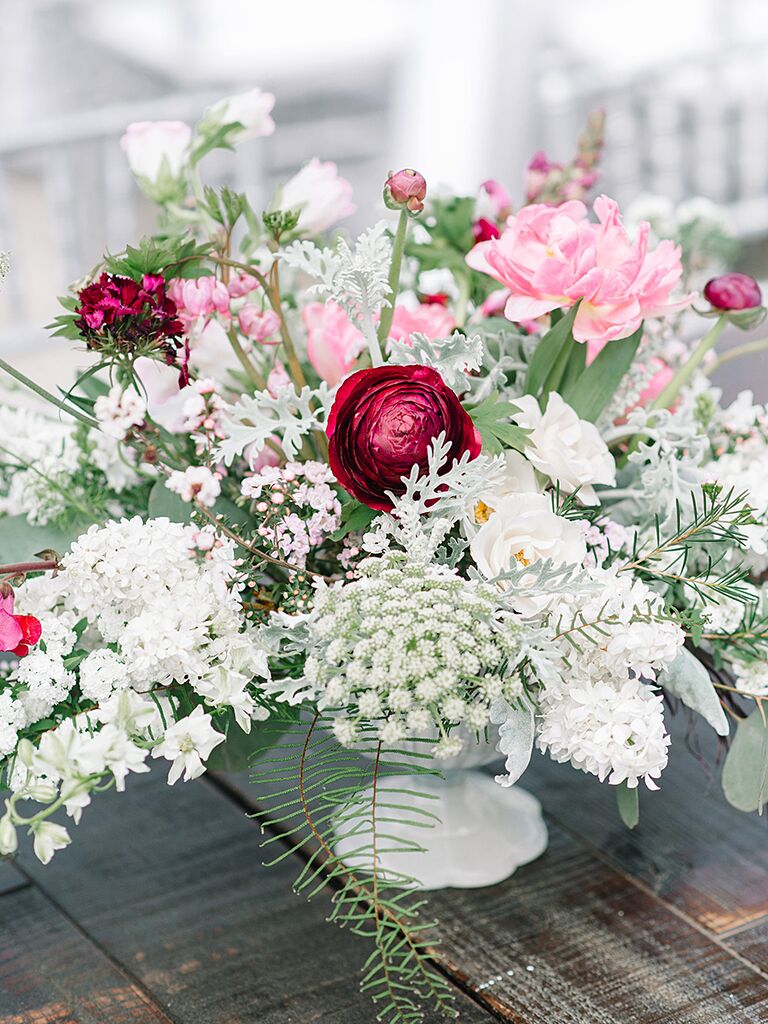 Put your centerpieces on display with pedestal vases. They're perfect for arrangements with low-hanging elements like jasmine vine or seeded eucalyptus. If you're hosting a black-tie affair, opt for pedestals in silver or gold to elevate the blooms.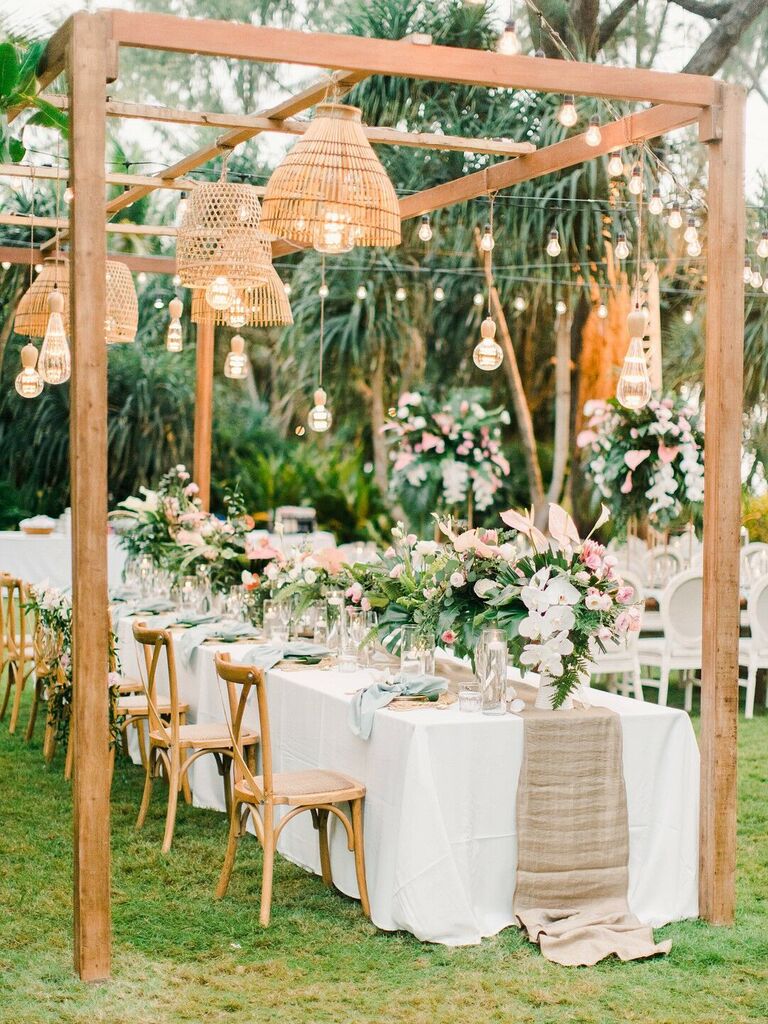 Nothing says elegance like orchids. Combine them with tropical greens for the ultimate beach wedding centerpiece.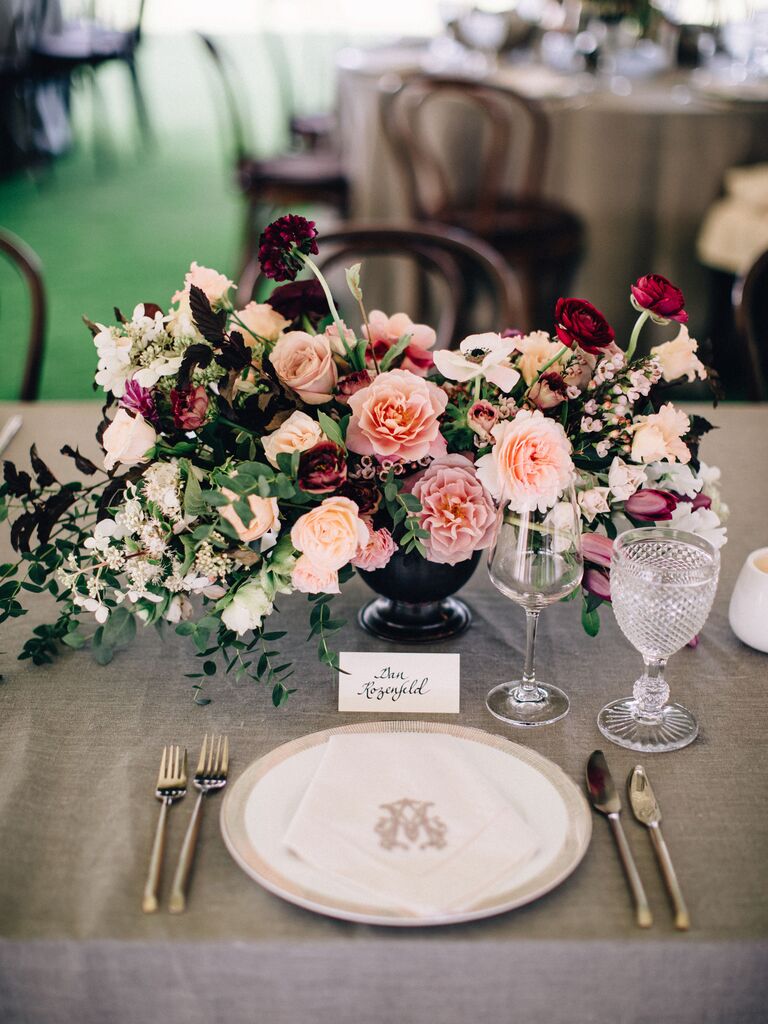 Combine different shades of roses for a pretty gradient effect. Complement with greens of your choice.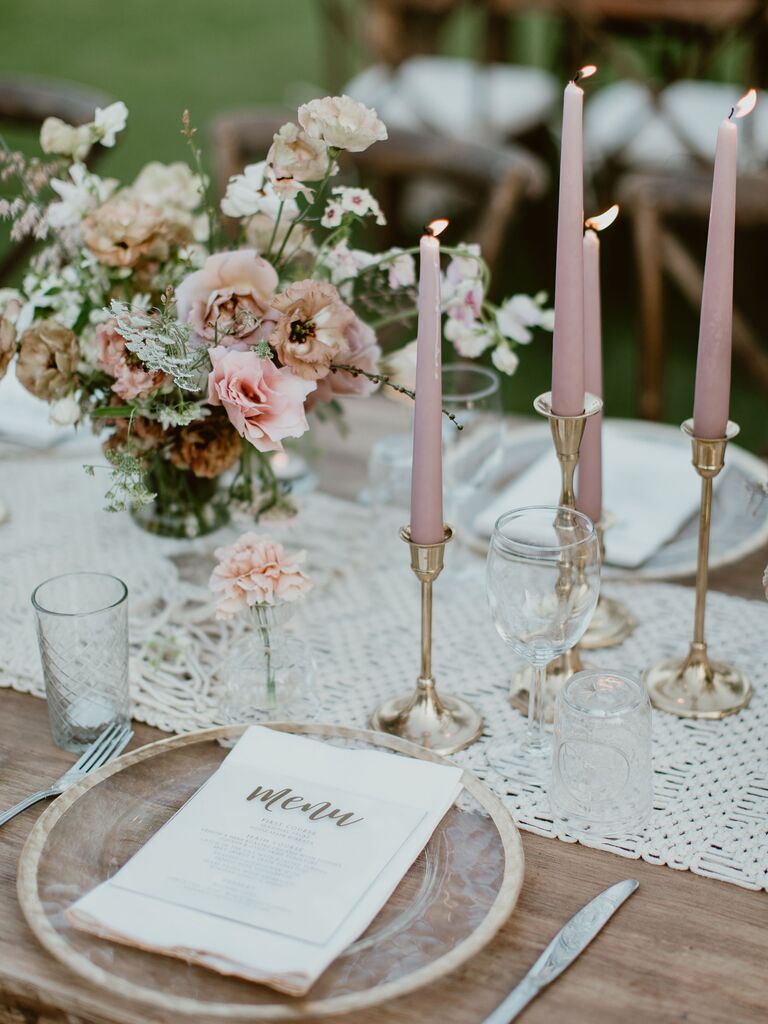 Elegant, but never boring. Match your candles to the colors of your flowers for a sophisticated-yet-chic effect.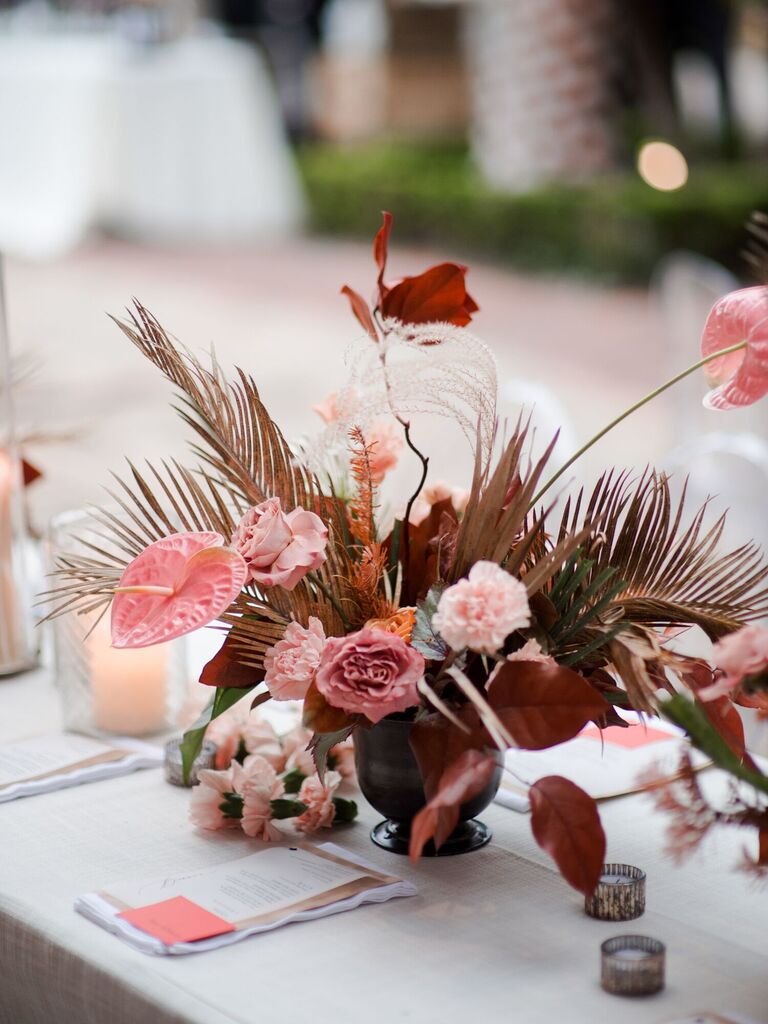 Create a unique wedding centerpiece by combining roses with anthuriums and ferns.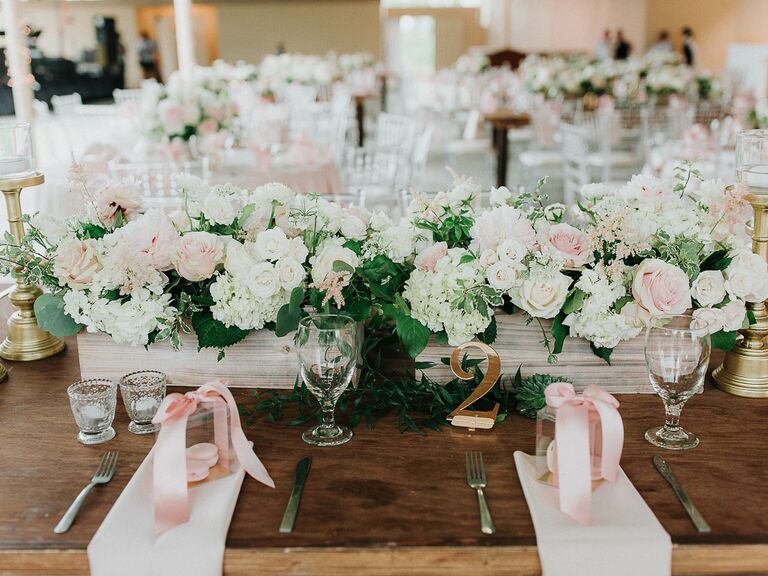 Capture rustic elegance by placing pastel-colored blooms in a wooden box.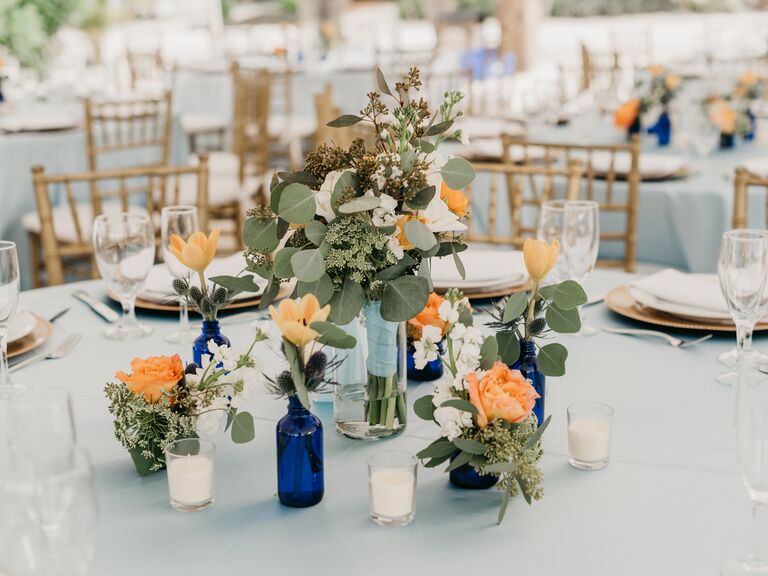 Aiming for a vintage vibe? Use colored glass bottles for a unique and elegant wedding centerpiece.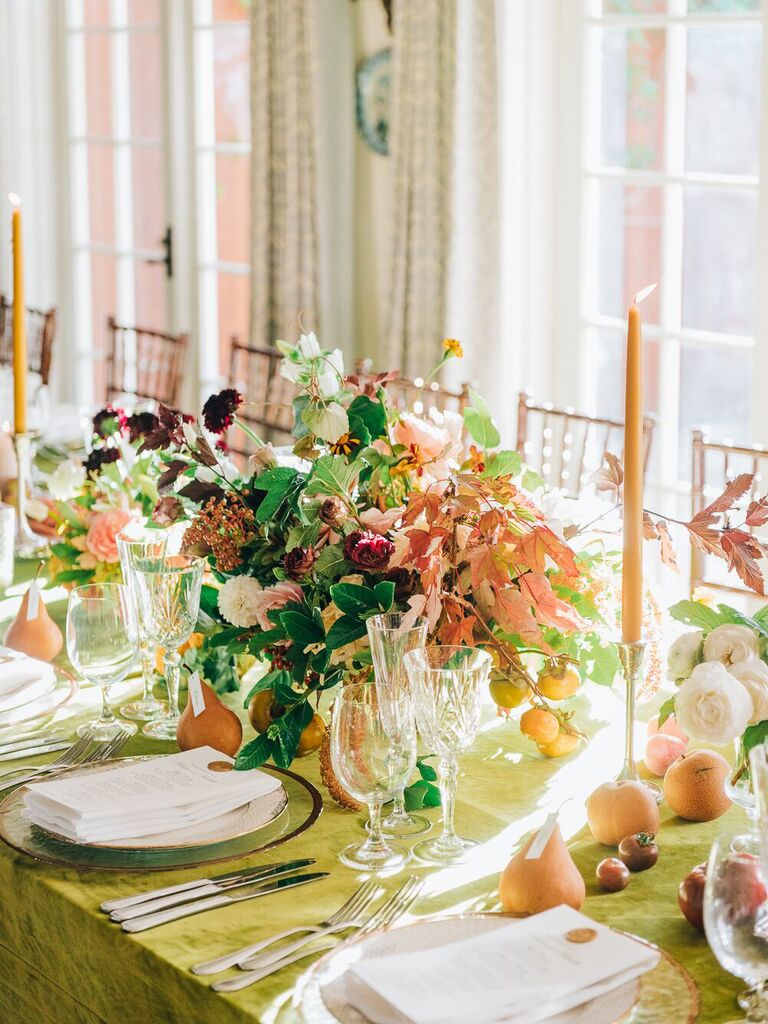 Mix wildflowers, leaves and greenery together in a pretty vase for an elegant, bohemian wedding centerpiece.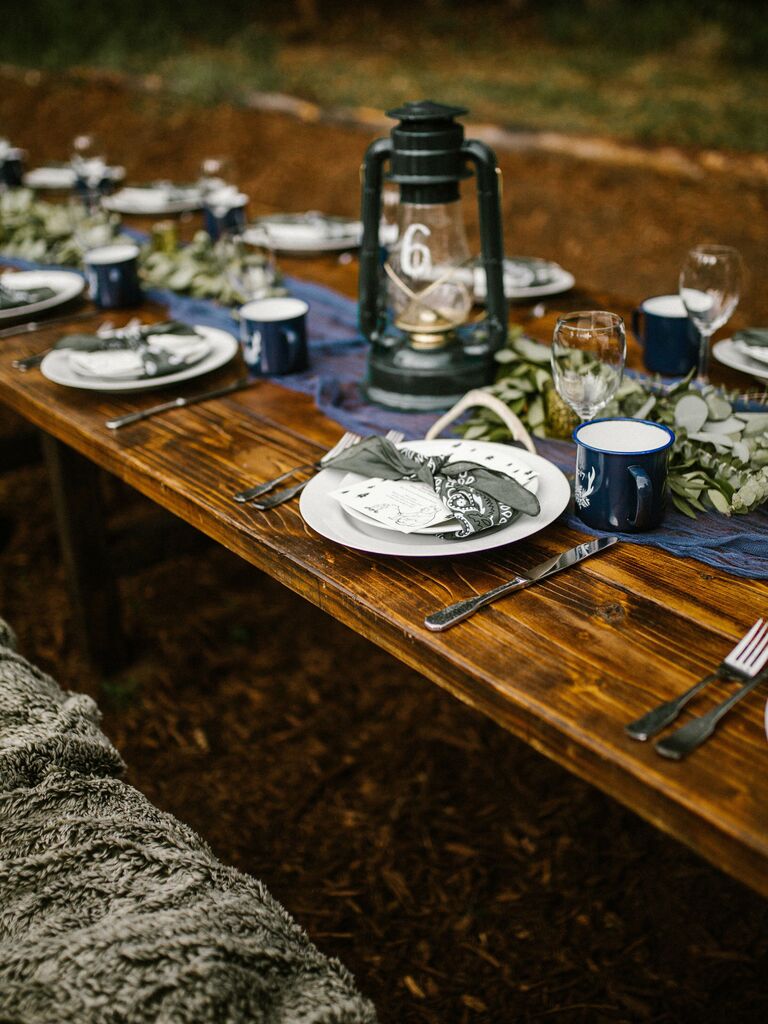 If you're aiming for a super-rustic vibe but don't want to lose sophistication, accent lanterns with pretty greenery.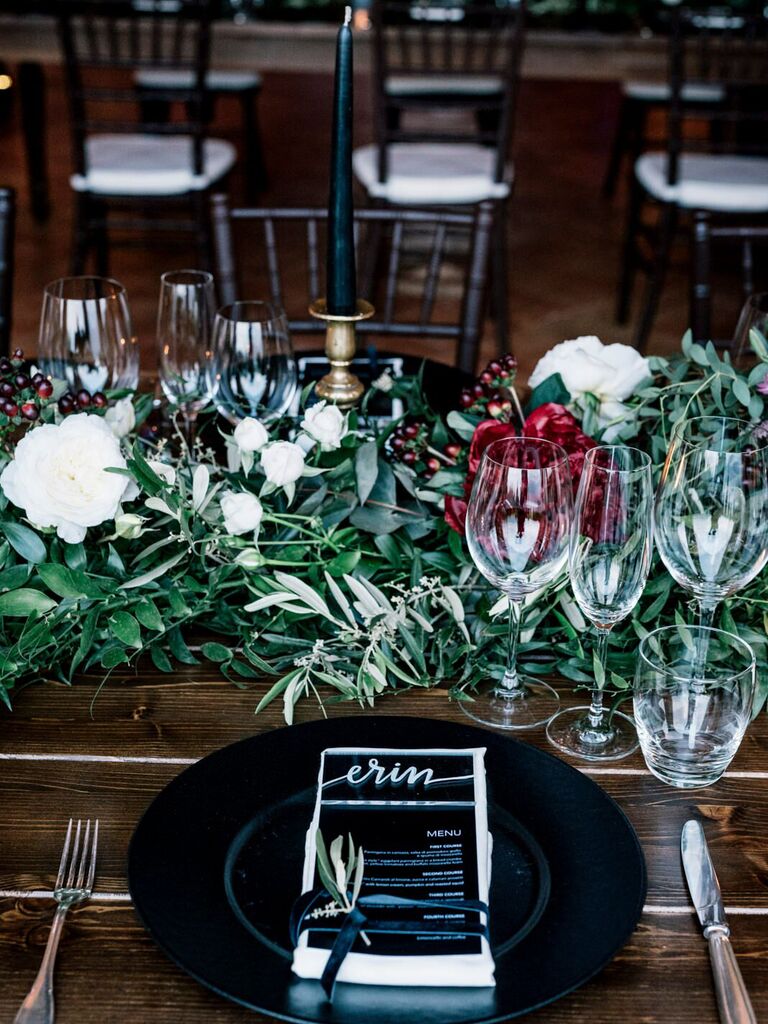 Let your dark and moody color palette shine by incorporating lots of greenery and a few bright blooms.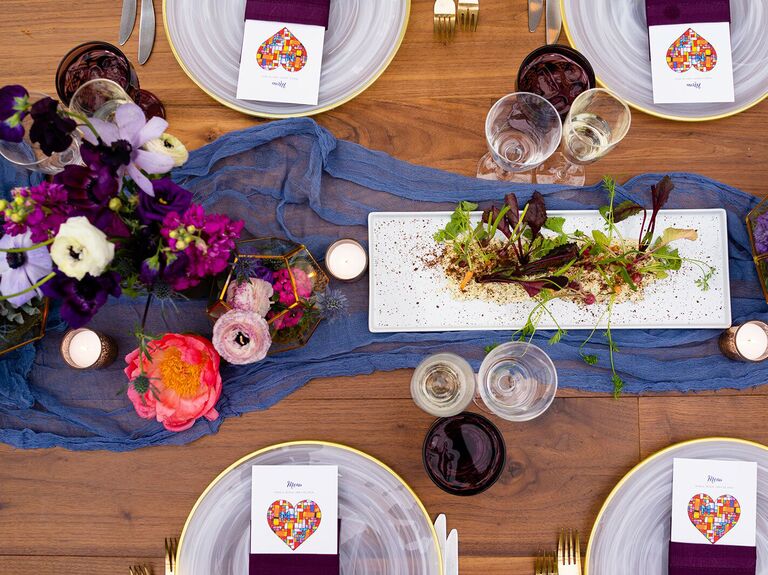 Bright colors can still be elegant. Group similar colored-flowers together and accent them with a sheer runner and votive candles.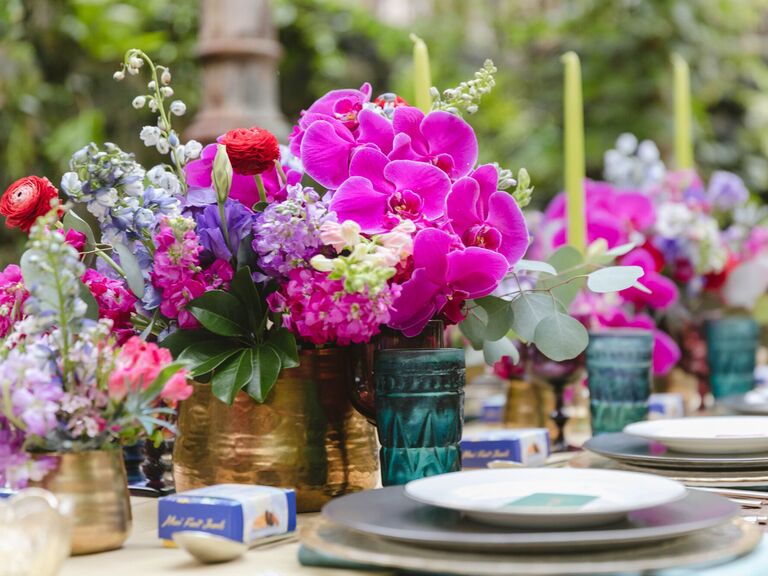 For jewel-toned flowers, the key is to make one flower the focus and surround it with smaller blooms. We love the idea of using a metallic vase for extra elegance.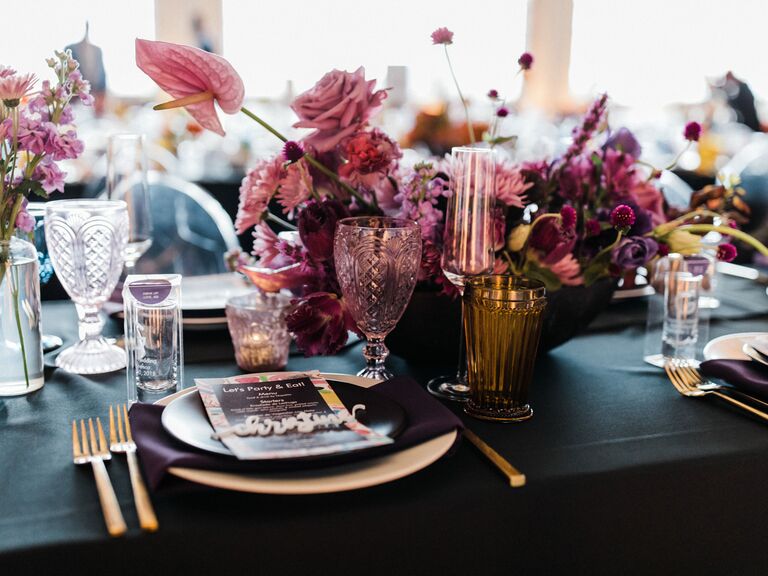 Make a whimsical floral arrangement look elegant by using monochromatic blooms.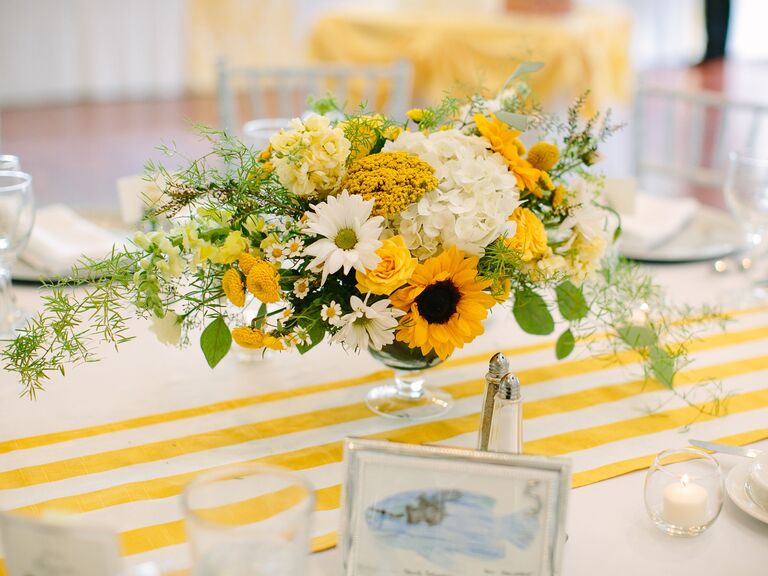 Sunflowers and daisies can become elegant with the help of hydrangeas and pretty greenery.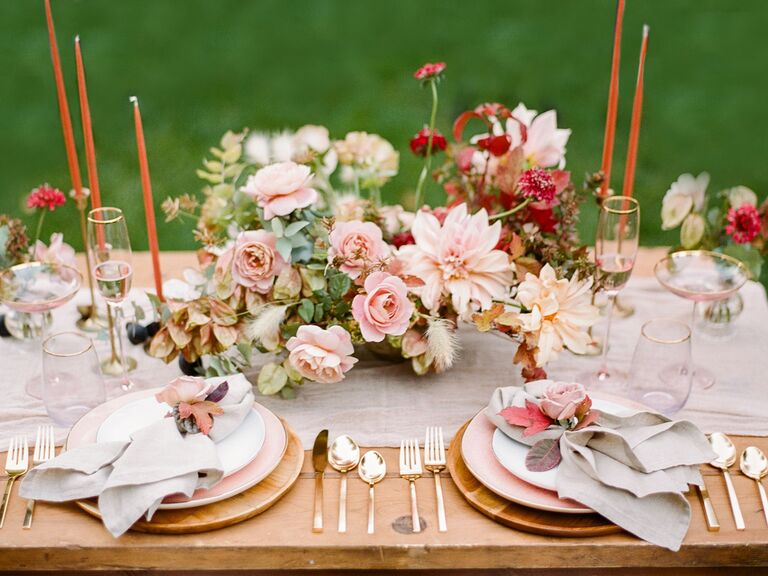 Pair dahlias and peonies together for an undeniably elegant wedding centerpiece.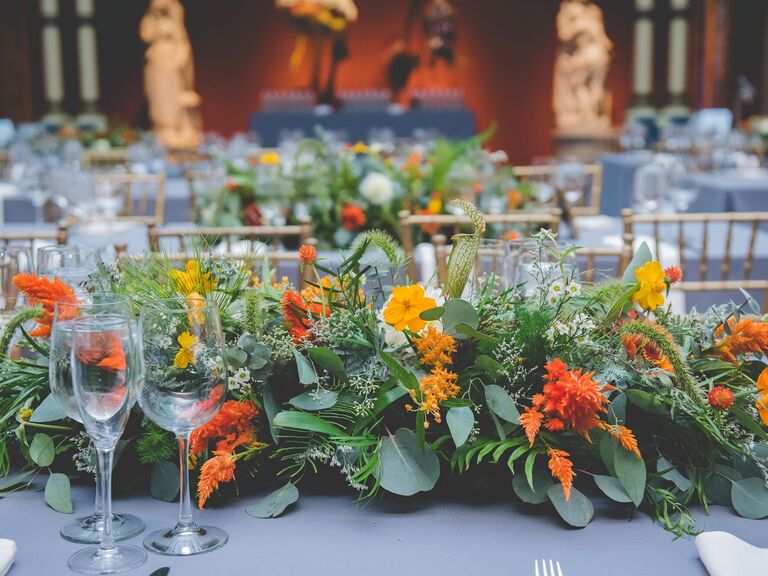 Sunny, bright hues like yellow and orange can appear elegant when mixed with gorgeous greens.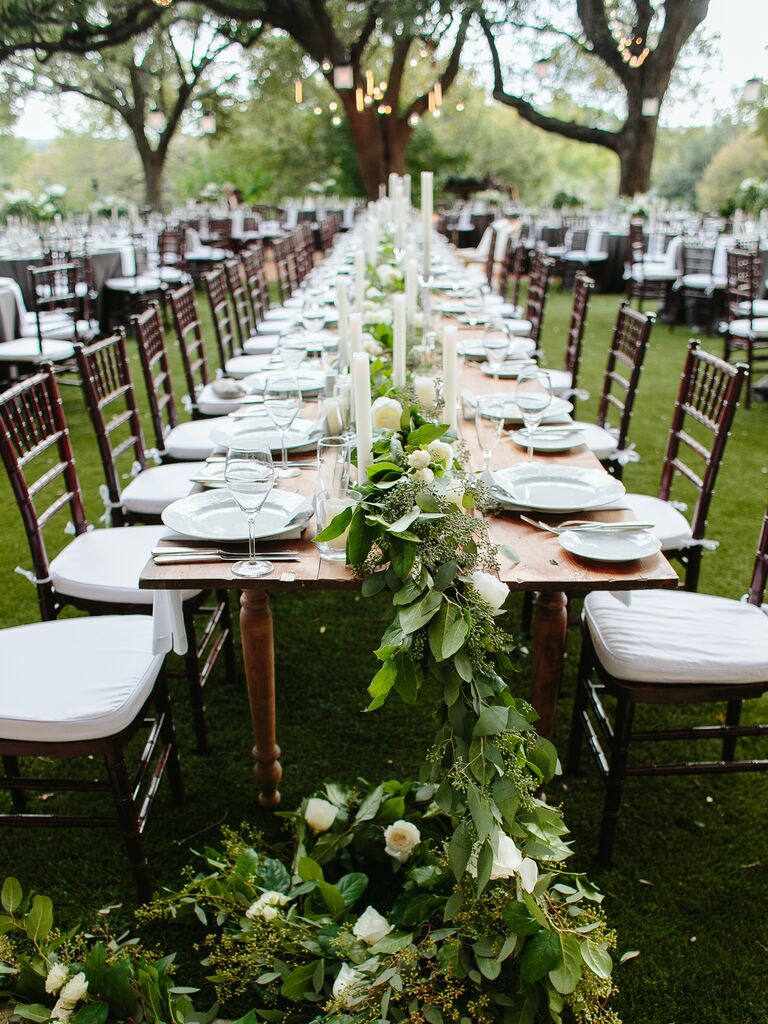 There's something so timeless about an all-white reception with natural greenery. Add some ambience to a formal table with long, elegant taper candles. Pair the candlesticks with lush, but low, centerpieces to create a real wow factor.
Tall Wedding Centerpieces
Want to do something unexpected for your wedding centerpieces? Consider tall wedding centerpieces. While they're normally associated with glamorous ballroom settings, they work for a variety of venues and styles. We rounded up tall boho wedding centerpieces, romantic wedding centerpieces and greenery wedding centerpieces.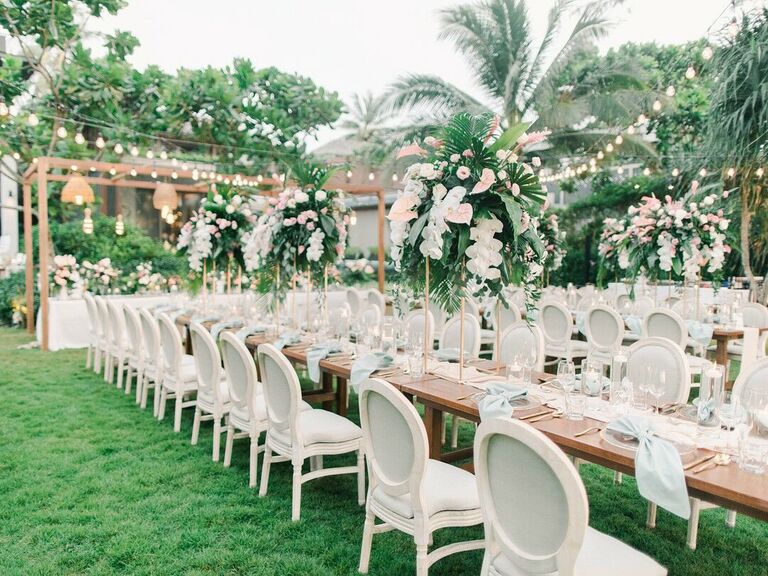 Orchids look best when they're hanging down, which is why a tall wedding centerpiece is perfect for them. Lift them up and combine them with tropical greens and colorful blooms for a picturesque wedding table.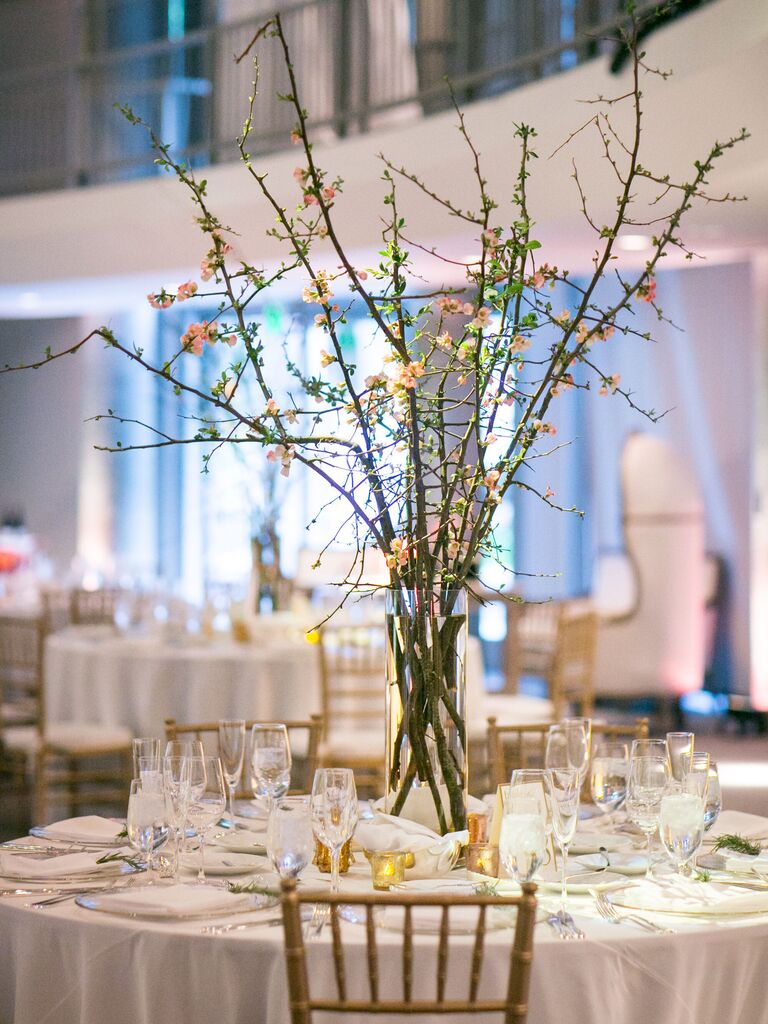 Tall, thin branches are perfect for cold-weather nuptials in particular. It's a unique and pretty tall wedding centerpiece idea.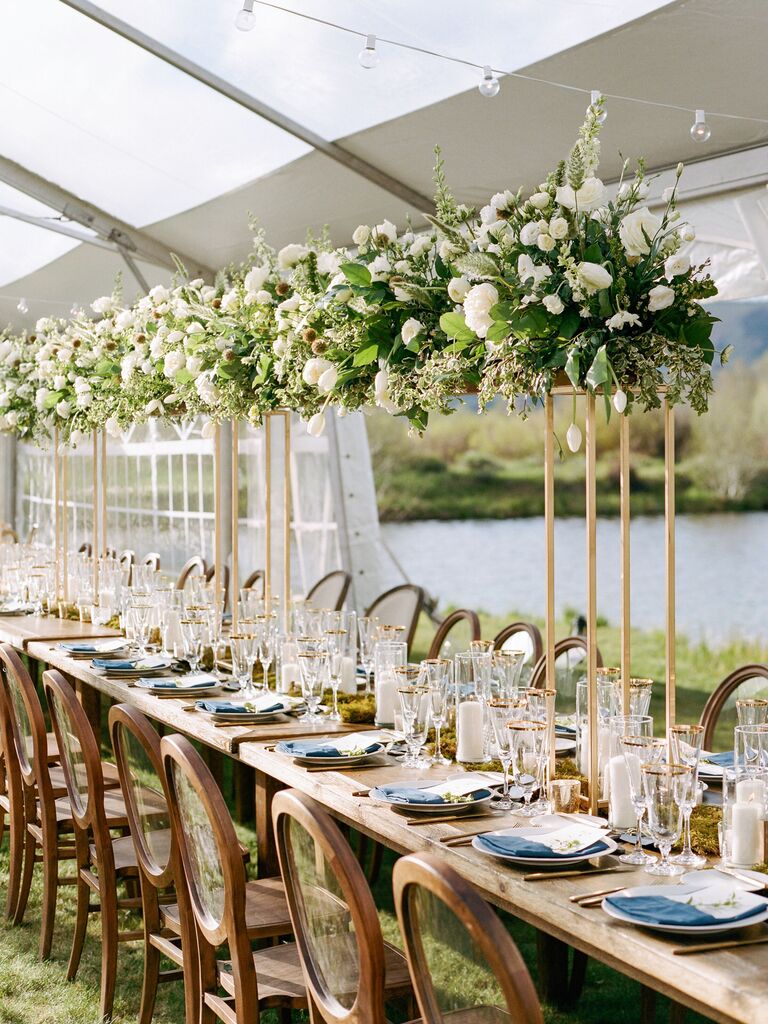 Elevated white and green florals are the perfect mix of simple and glam.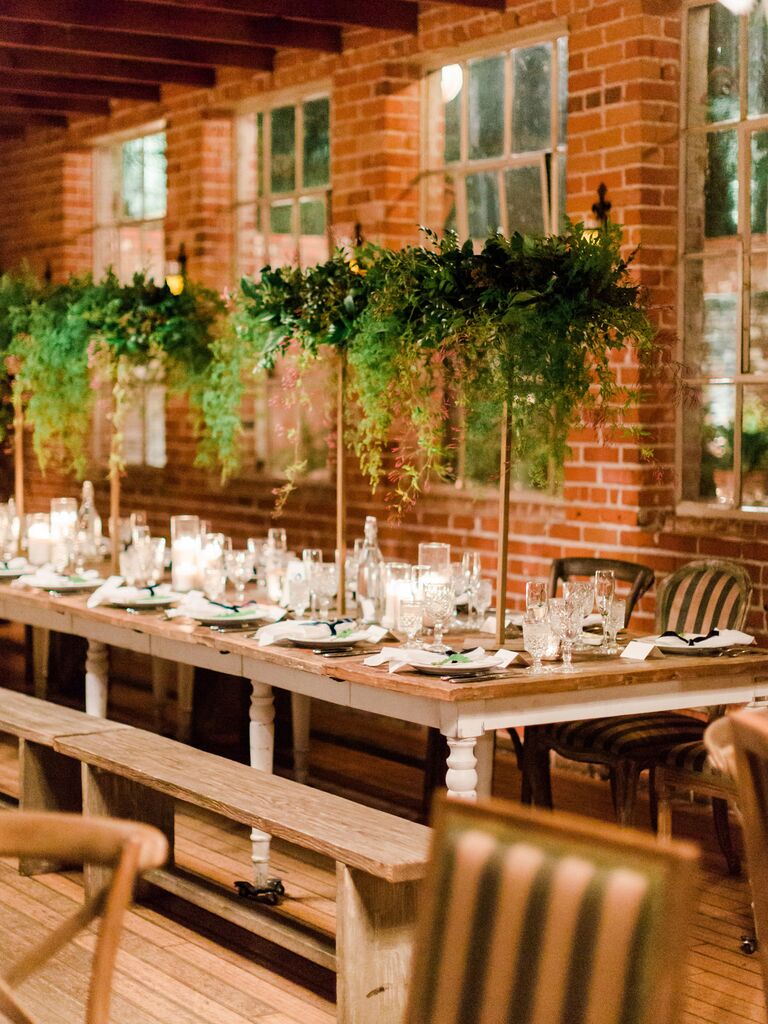 You can still create a rustic wedding centerpiece and go tall. Consider draping greenery atop wooden structures for a chic vibe.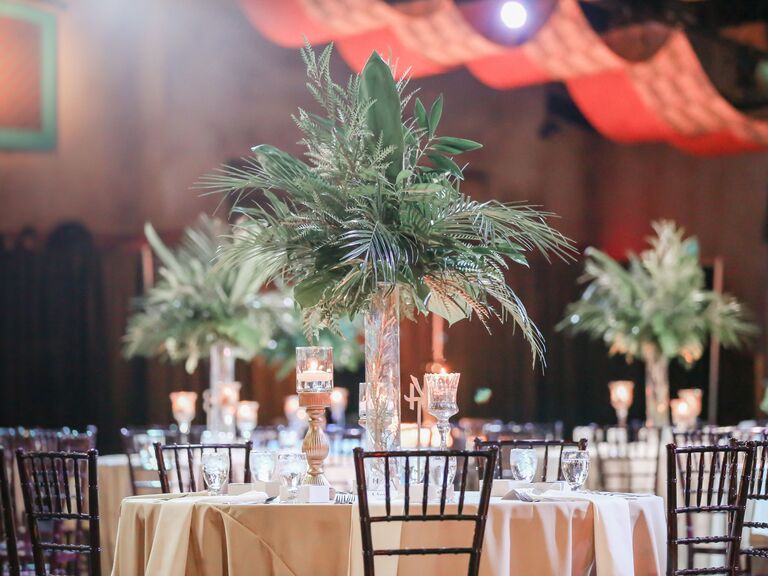 Another great beach wedding centerpiece idea? Tall palm leafs. It creates the effect of mini palm trees—how cute is that?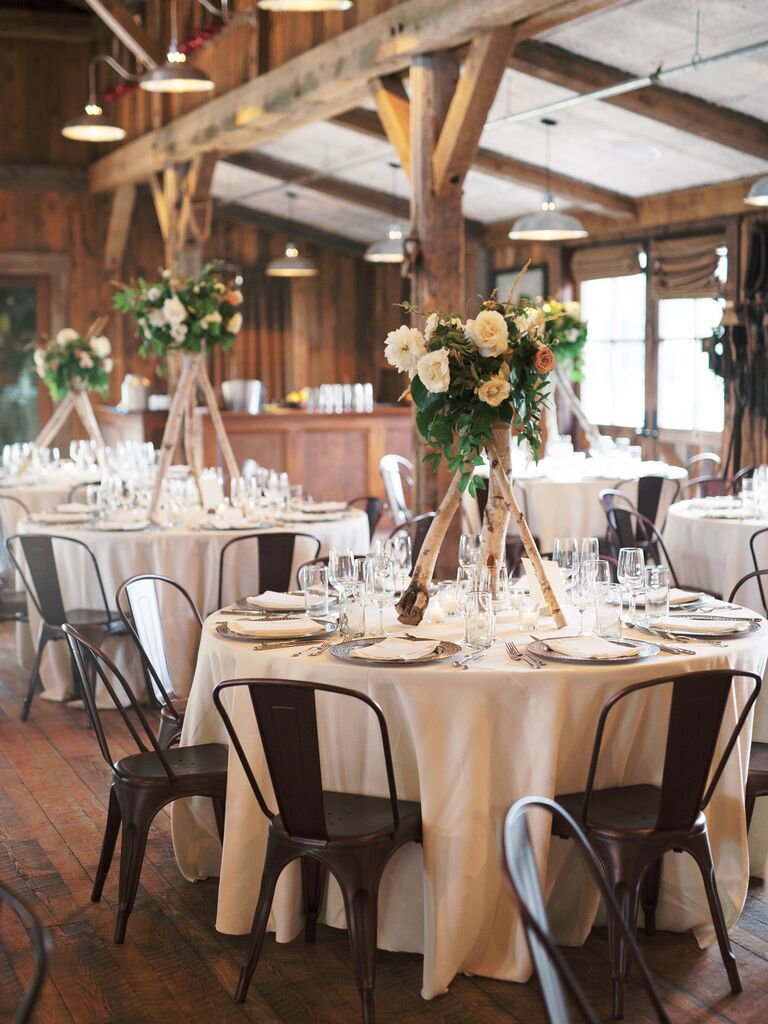 Make your tall wedding centerpieces rustic by incorporating wooden details.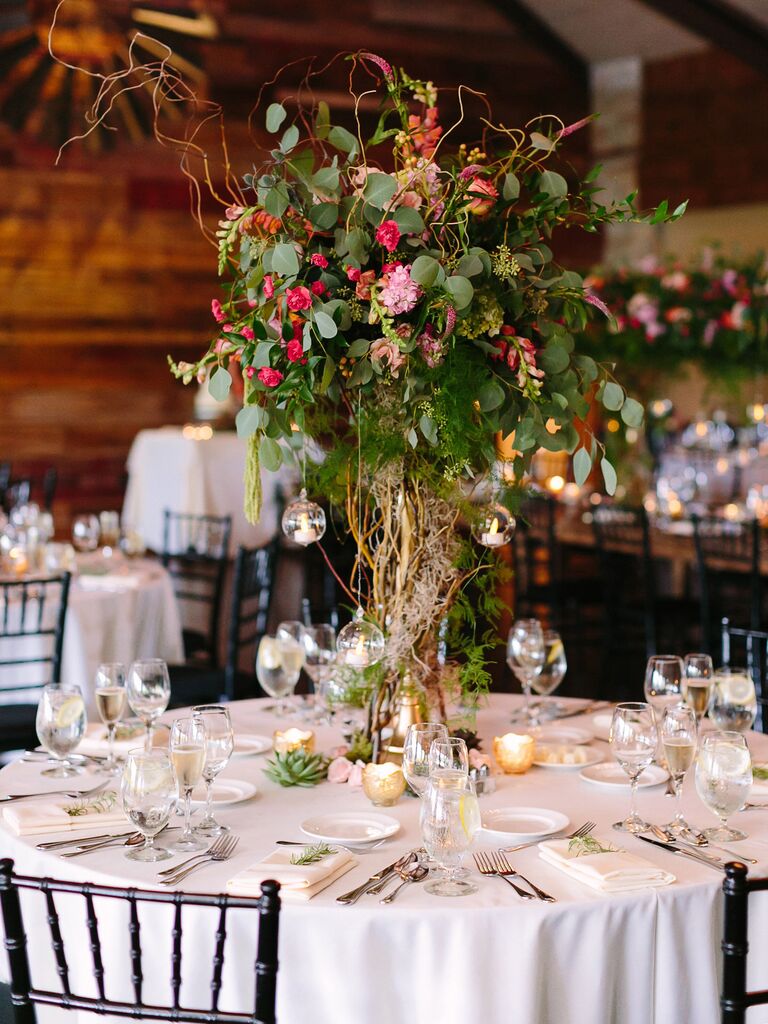 Here's a boho wedding centerpiece your guests won't forget. The curly branches, draped flowers and hanging candles create a piece that's chic and unique.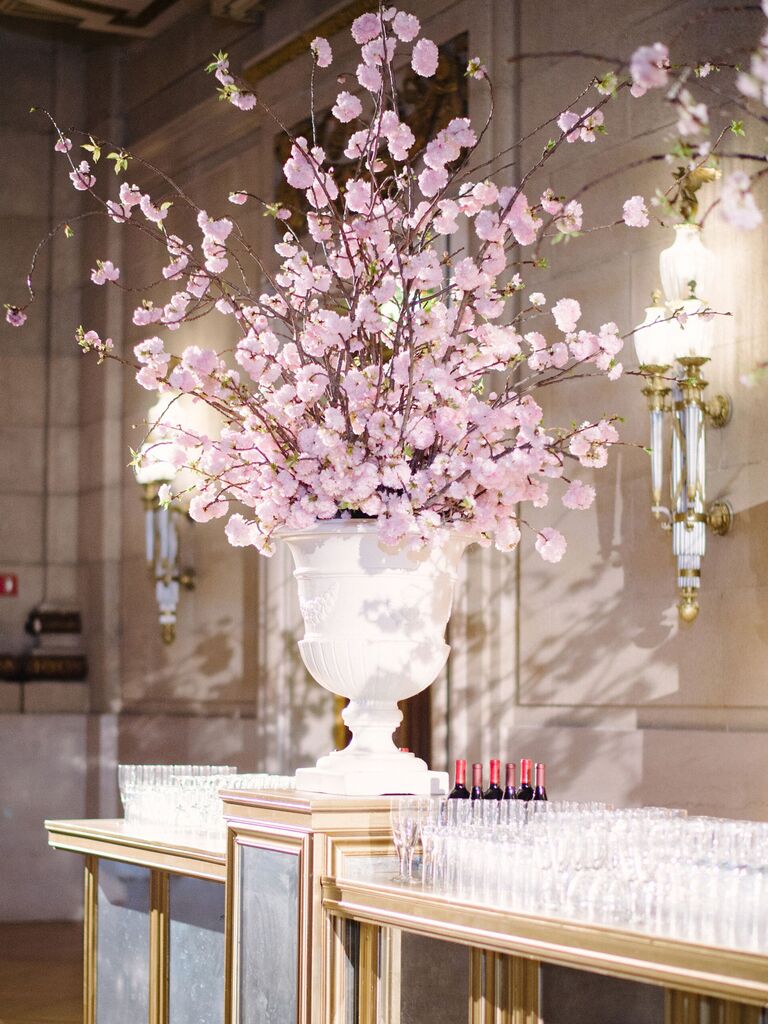 If blush is one of your wedding colors, consider a tall wedding centerpiece filled with cherry blossoms.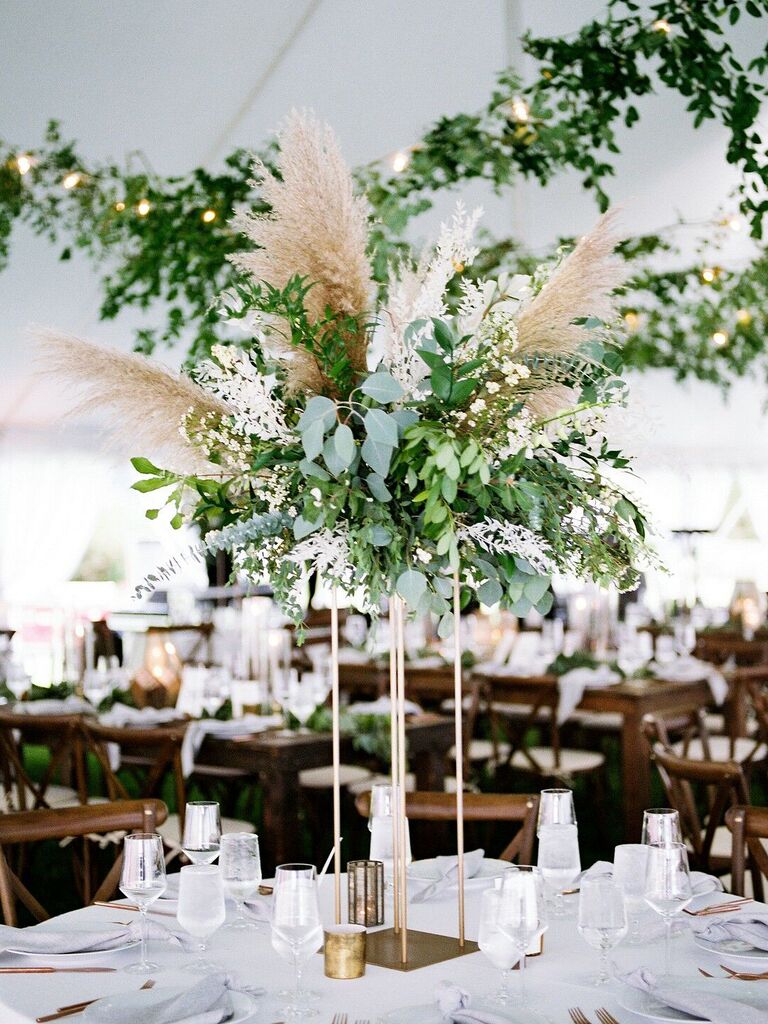 This arrangement, with greenery and pampas grass, makes for the ultimate boho wedding centerpiece.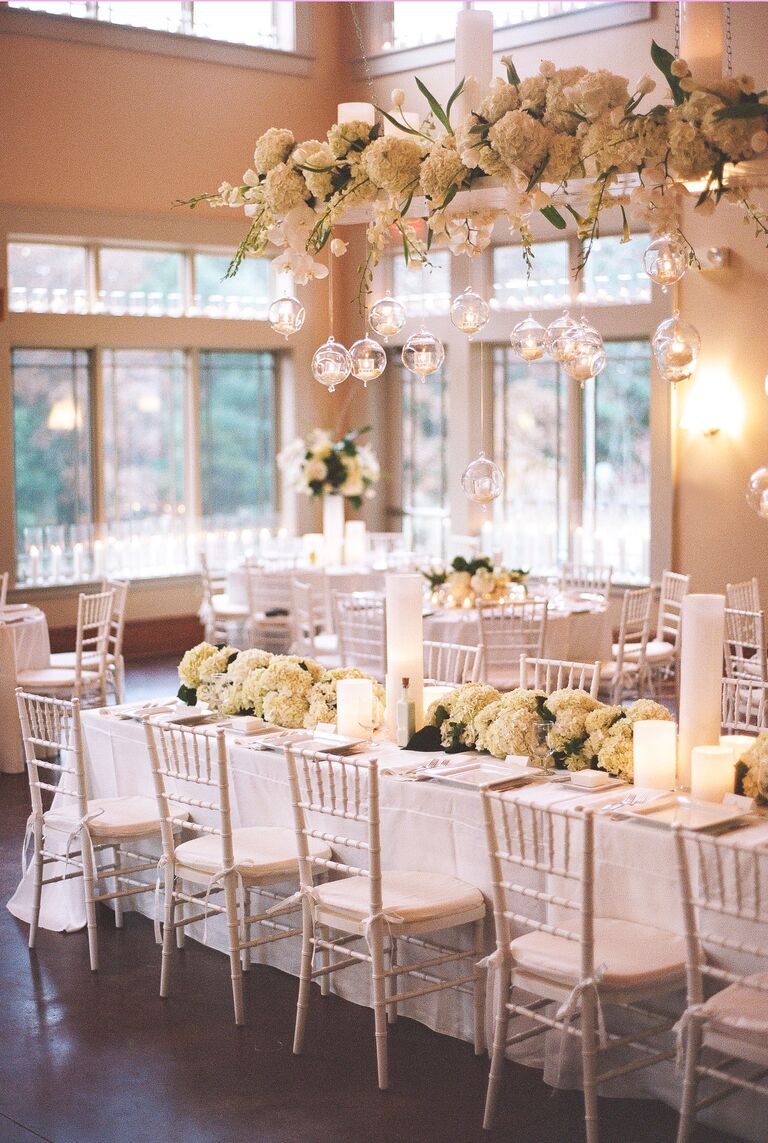 How can hanging flowers not wow you? Draw your guests eyes' upward with floral installations. Suspended hydrangeas mimic the table arrangements, while hanging candles add a romantic ambience.
Unique Wedding Centerpieces
Maybe flowers aren't for you. Good news: the options are endless when it comes to wedding centerpieces. With everything from books to kale to lollipops, we've got unique wedding centerpiece ideas that are just as creative and quirky as you and your S.O.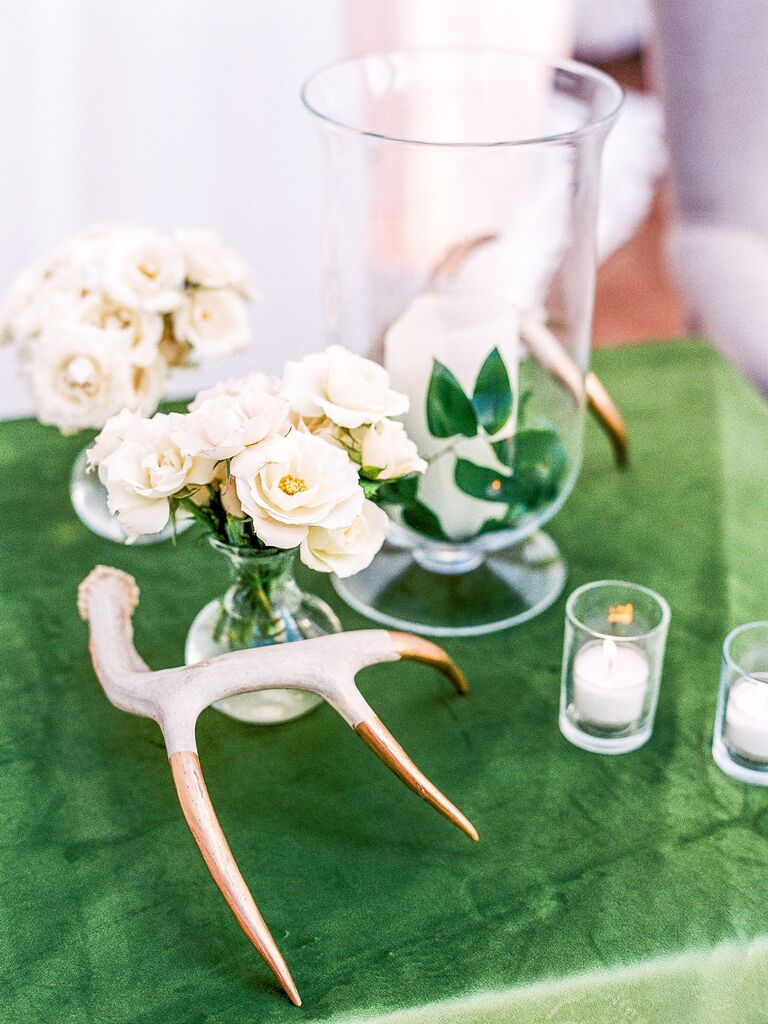 If you and your boo love the outdoors, pay homage to that with your wedding centerpieces. We love these cute gold antlers.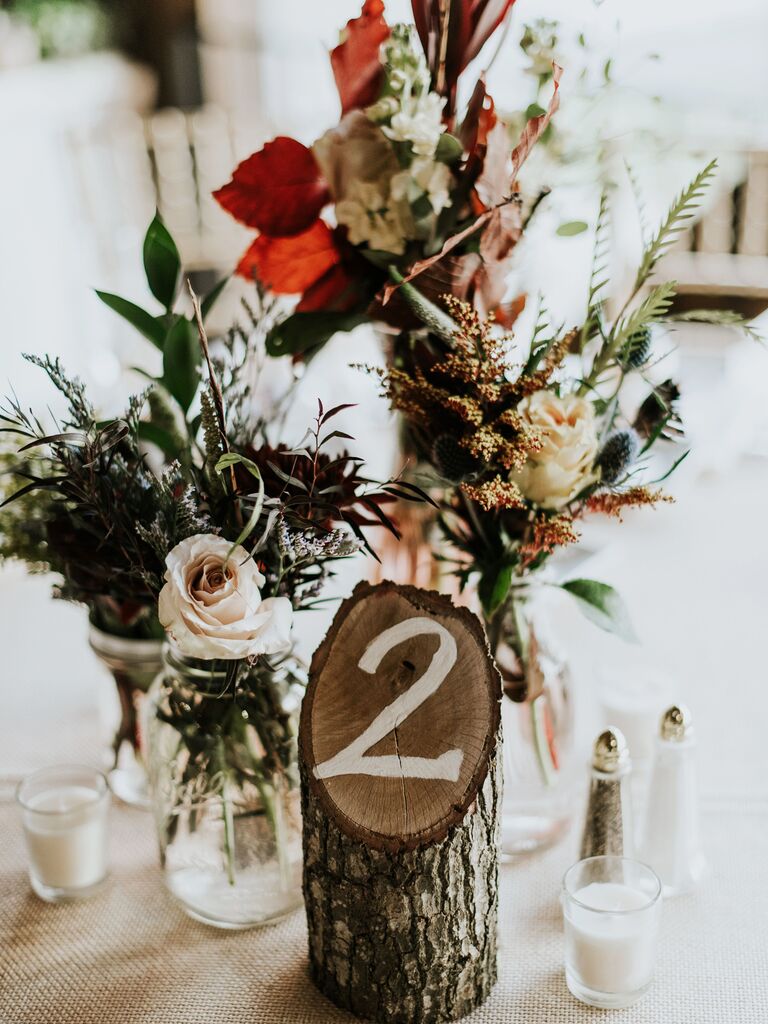 Calling all camping couples. Show your love of nature with a wooden stump. It's a quirky and cute wedding centerpiece idea.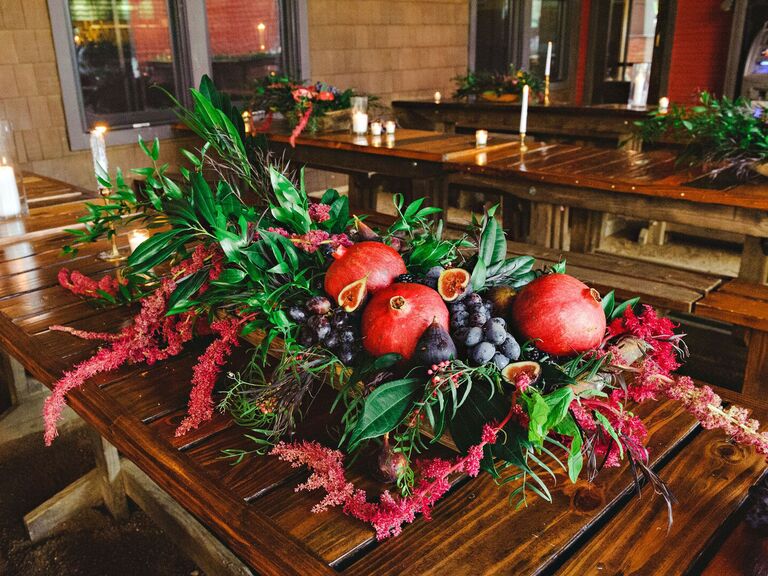 Here's a unique fall wedding centerpiece. Use seasonal fruit—pomegranates, grapes and figs—and greenery.
Go bold. Use spiky-looking flowers for an edgy-yet-pretty wedding centerpiece.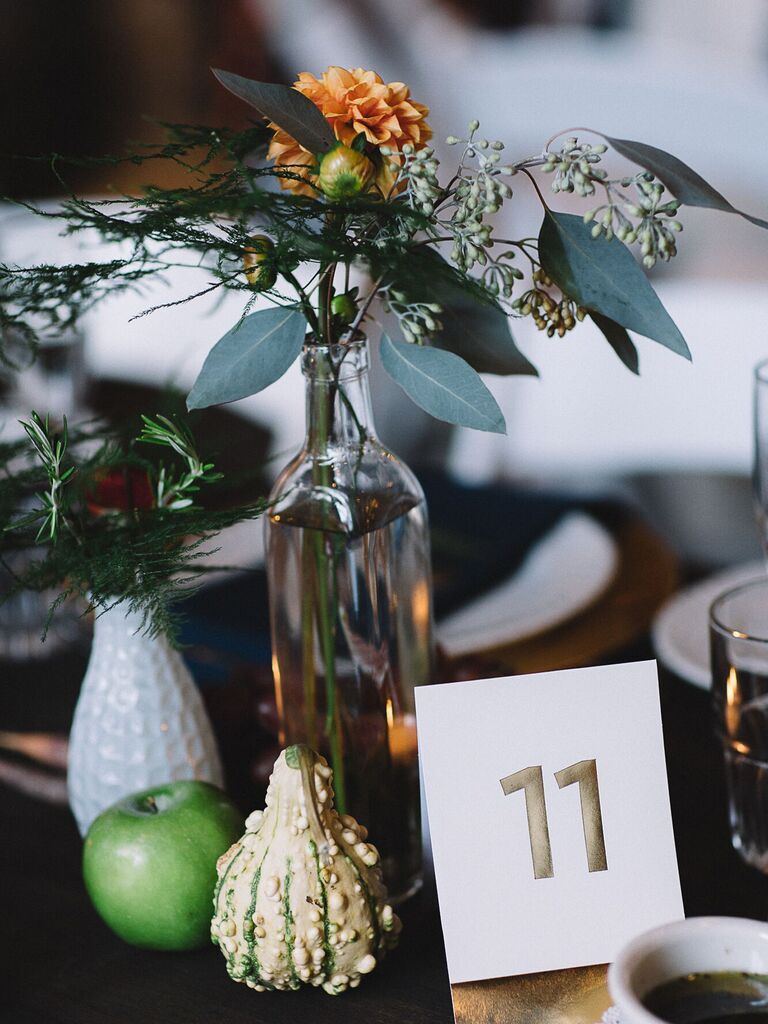 If you're incorporating seasonal or local produce, let it have the spotlight. Accent it with simple and sparse arrangement in a glass bottle.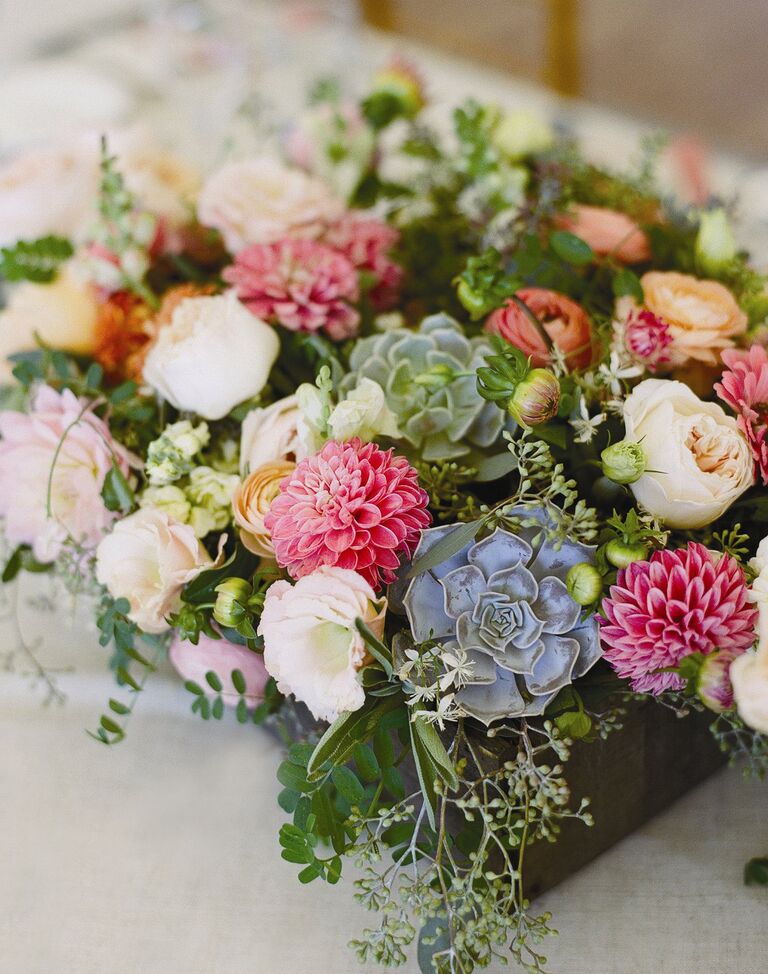 Succulents add texture to an all-flower arrangement. Pair them with classic blooms, like roses, dahlias and seeded eucalyptus, to keep the arrangement from veering too desert chic. Low, boxed centerpieces allow for easy conversation among guests.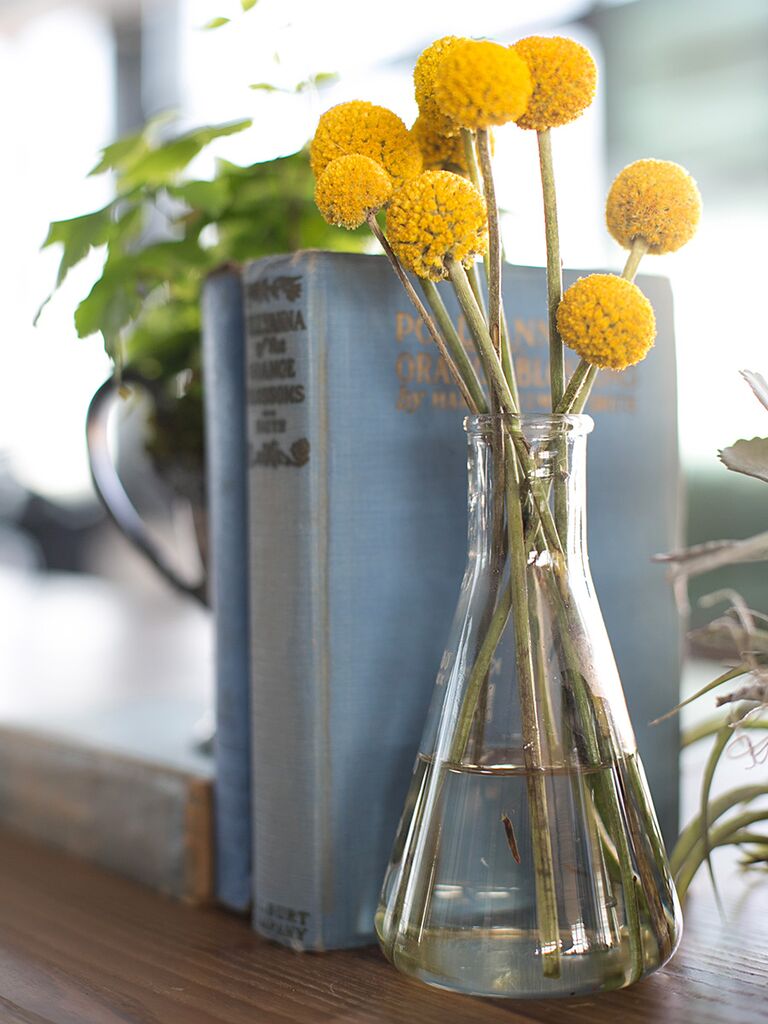 Add an antique touch to your florals by stacking some old books in the center of your tables. Pair with brass candleholders and simple tapers for a classic style. Bonus: When you add accessories to the table, you can pare down on your blooms—instant savings.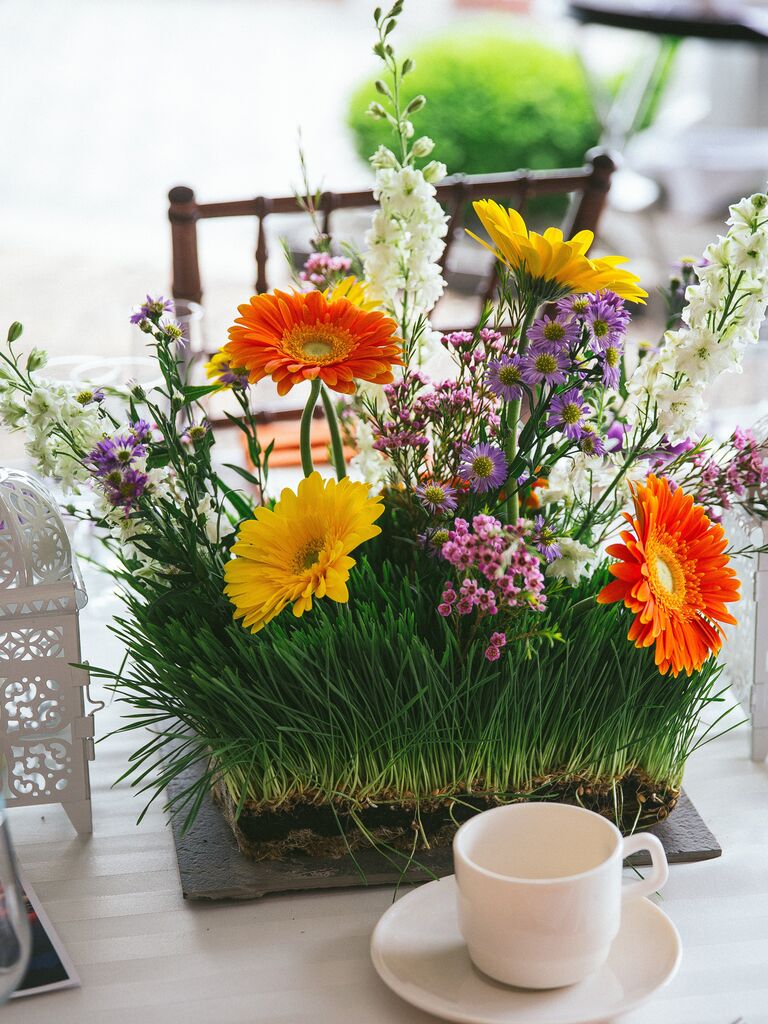 Give your arrangement a just-picked look by adding florals to a base of wheatgrass. You can use fewer stems while still creating a lush centerpiece. We love this style for a garden wedding or even a backyard bridal shower.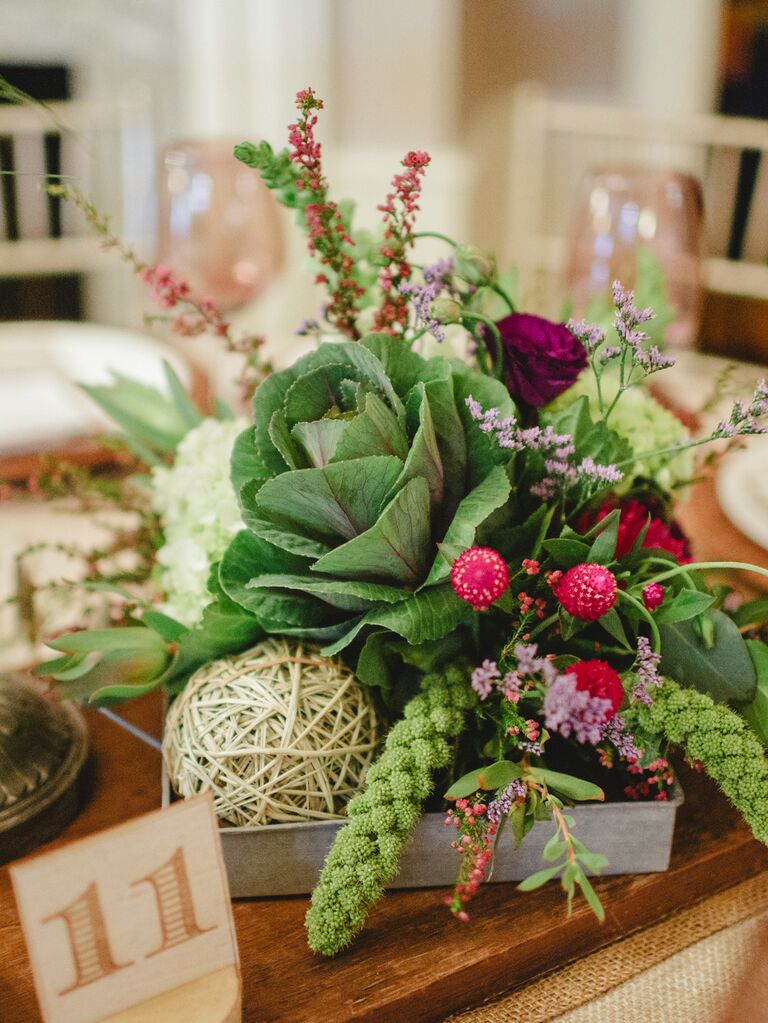 Edible arrangements are having a moment. We love the addition of ornamental kale and berries to this rustic centerpiece. Play with in-season vegetables and fruits or even give a nod to your dinner menu with your edible additions.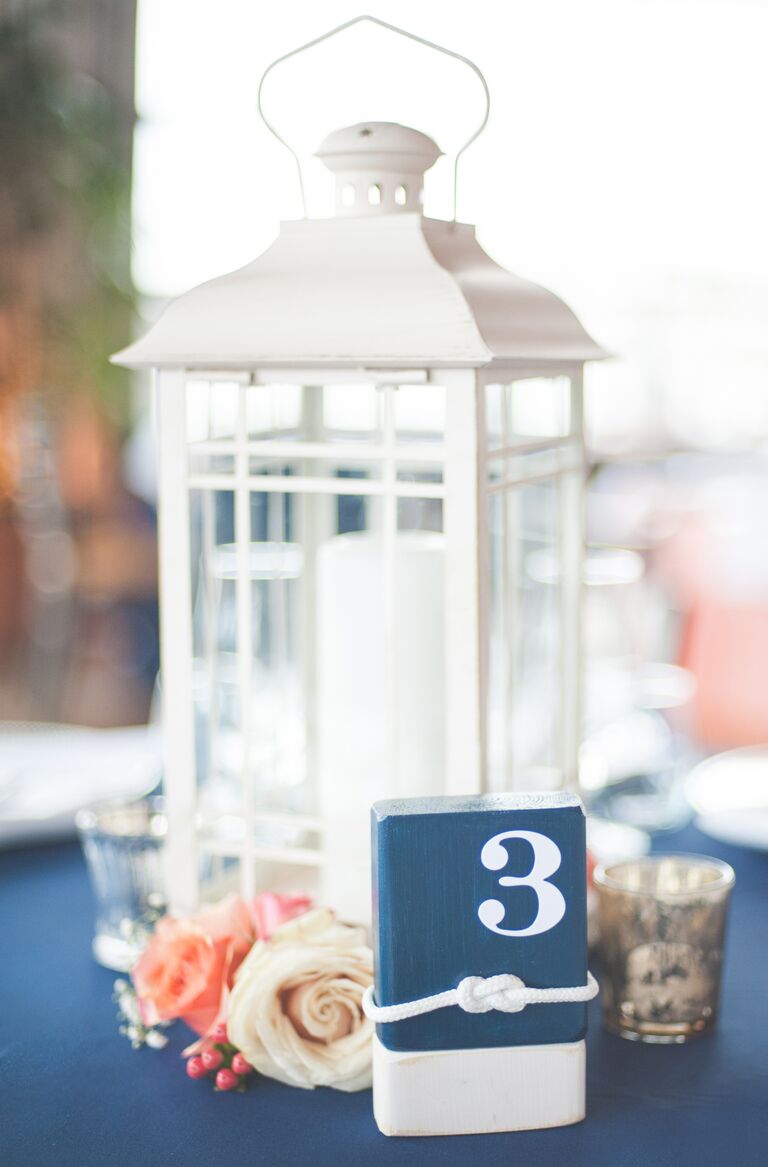 Hosting a beachside affair? Keep the flowers simple and opt for statement lanterns. Thanks to glass panes, your candles will stay lit—even with a stiff ocean breeze. Soften the look with a few flowers or other nautical accessories.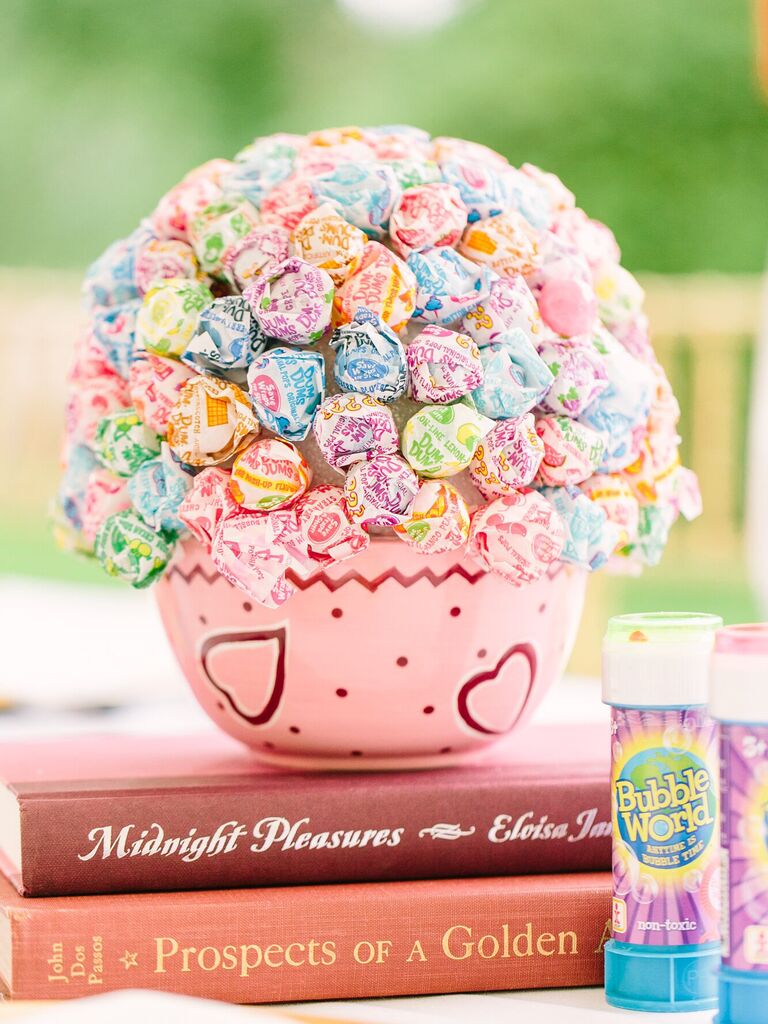 How sweet it is. If you're not into flowers, consider using lollipops instead.