Changing Your Name? 5 Answers to Your Most Commonly Asked Questions
by Jamie Miles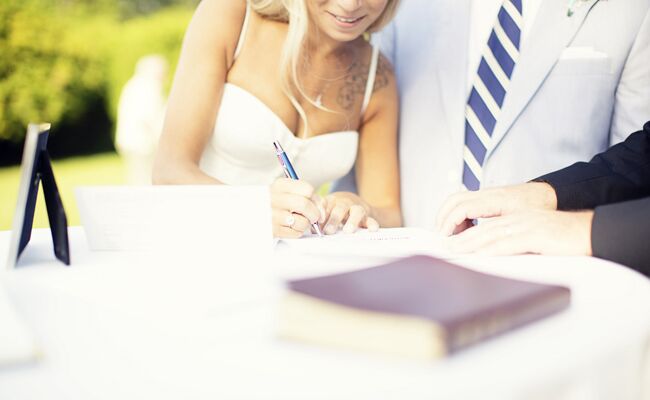 If you're one of the 80% of couples who have decided to change your name after the wedding, this is for you. To help demystify the process we asked Jake Wolff and Josh Gelb, the experts behind the name change service HitchSwitch. Here, answers to the most commonly asked name change questions.
1. When should I change my name?
Even though you may be anxious to change your name, you must wait until you receive your official marriage certificate to begin the process. You can start preparing at any time and researching next steps, but you must have a certified license before you start changing your name on documents. Call the clerk's office where your license was filed to get copies if one wasn't sent to you automatically.
2. What documents do I change my name on first?
You should start by changing your name on your Social Security Card (via the Social Security Administration or SSA) — Jake and Josh call this the "gatekeeper step." Next, they recommend changing your photo identifications including your passport and driver's license followed by all of your accounts and records including bank accounts, loans and mortgages, credit cards, utility companies, subscriptions and memberships.
3. If I'm hyphenating do I need to go through a formal name-change process?
Yes! A hyphenated name is legally considered a new name so you still must go through the process.
4. How do I let friends and family know my new name?
Most newlyweds create a new email address and send an email to extended family and friends to make them aware of the change — especially if your email has changed. A fun idea: Some of Jake and Josh's clients throw name change parties as a fun and creative way to celebrate the new one!
5. What name should I use on my honeymoon reservations?
If you are leaving on your honeymoon soon after your wedding, book your travel under your maiden name and use your old passport or driver's license then wait to change it until you return, says Jake and Josh. If you are leaving for your honeymoon six months or more after your wedding, they recommend booking your travel under your new name since you'll have plenty of time to change your name prior to departing. Take note: It is required that your photo ID match your boarding pass so remember to book accordingly! Don't rush to use your new name before it's changed legally or you may run into a hassle at the airport.
Are you changing your last name? Tell us below!
More from The Knot:
> The easiest way to change your name…Hitchswitch Name Change!
> 10 to-dos to take care of after the honeymoon!
> 12 things all brides have Googled