$10K Wedding Budget Challenge: Milwaukee, Wisconsin $10K Budget Wedding
Sure, we know the average wedding will run about $27,000, but that didn't stop us from asking wedding coordinators all over the country to accept The Knot $10K Wedding Budget Challenge. Here, Monica Gill of The White Box of Wedding Design shows us how to do it in Milwaukee.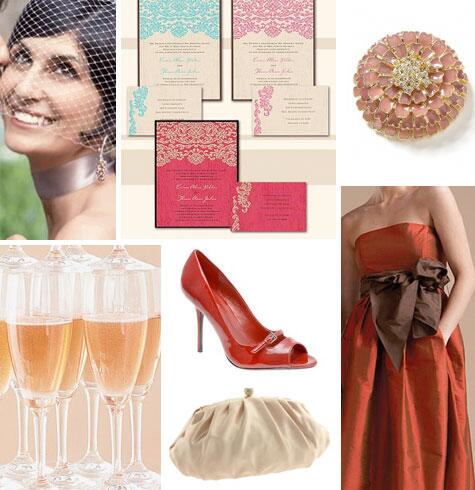 The Setting
Host your wedding at Cuvée, a trendy champagne bar in Milwaukee's Third Ward. With exposed brick walls and a loft-like feel, this space is the ultimate setting for a cocktail reception for 80 guests. Both the ceremony and wedding reception would happen on a Thursday night, a time that's just as trendy as the location.
The Ceremony
For a personal touch, ask a clergy member who's close to your family to officiate at your ceremony and donate to their place of worship as a thank-you. A pricey string quartet doesn't fit the vibe of the hip locale anyway, so hire a DJ from All-Star Music to spin throughout your wedding day.
The Reception Decor
Small tables from Canopies event rental will help keep the mood intimate and LAMPAN table lamps from IKEA will cast a romantic glow over each table. Don't worry about unsightly electric cords -- they'll have discreet access to outlets if you place the tables around the perimeter of the room. To facilitate mingling and add texture to the room, use cabaret tables and top them with shadowbox photo frames. You can fill each one with a different photo snippet from your love story (save cash by printing them out at home).
Full and dramatic lamour linens from BBJ Linen will drape the tables -- no traditional sashed tables here! To save, pick a trustworthy friend to pick up and drop off these linens. That way, there are no delivery fees. Cards from TableTopics (found at Broadway Paper) will await guests at each cocktail table, encouraging them to get chatting.
The Food
Once the ceremony is over, your DJ can immediately get the party started. The upbeat tunes, along with passed champagne, will lure the 80 guests out of their ceremony chairs and into the reception area. Throughout the evening, offer an open bar of mixed drinks, house wine, beer, and soda. Because the wedding will take place later in the day (read: after dinner), a fantastic array of chocolates from Indulgence Chocolatiers will be the perfect edible for this sophisticated venue.
The Photography
Of course you won't skimp on photography (the pictures are all that'll be left at the end of the night!). Since the ceremony and reception will be in the same place without a break in between, you'll only need five hours of shooting, and MThree Studio can provide that. After the wedding, you'll get a disc of high-resolution images so you can make your own prints.
The Attire
In the loft-like space, a big, poufy dress would be out of place. Instead, pick one of Jim Hjelm's gorgeous white or ivory bridesmaid gowns and order it from Miss Ruby. For your underpinnings -- and for wedding night fun! -- you'll want to go with some racy undergarments, such as a Hanky Panky thong from Miss Groove Intimate. For shoes, check out Aldo for amazing deals on white, ivory, or metallic heels that you'll actually wear again. Head to Tall Poppies, Ltd. Jewelry Designs to find a funky headpiece with wide netting that you can wear as a blusher. Add a custom comb to give your look a little extra glam.
The Formalwear
To up the formality of your cocktail reception, have your groom sport a tux. He can rent one, as well as shoes and all the trimmings, from Men's Wearhouse.
The Bouquets and Boutonnieres
Forget the traditional bridal bouquet. A cute clutch from Nordstrom.com will suit this fashion-forward scene much better. The maid of honor can carry a clutch too, but make sure it's slightly different to let you shine. The men can skip the boutonnieres and get silk handkerchiefs from Men's Wearhouse to tuck into their breast pockets. And instead of corsages, buy sparkly brooches for your moms from Banana Republic. They can double as thank-you gifts.
The Hair & Makeup
A senior student at The Institute of Beauty and Wellness can create an elegant updo that'll complement your blusher-and-comb combo. Just be sure to schedule a trial run first. Before the wedding, head to Macy's for a makeup consultation and pick up a Bobbi Brown Bridal Kit with all the day-of essentials. Do your own makeup on your wedding day or enlist a bridesmaid or a close friend to help.
The Stationery
The ultra-chic venue calls for custom invites with major personality. Whether it's a high-impact invite on dark card stock with light lettering or a fashionable damask print in bright colors, J. Invites will create invitations that show off your style and set the tone for your sleek event.
BUDGET BREAKDOWN
Ceremony: $750
Venue rental for Thursday evening: $500
Cuvée champagne bar & lounge, CuveeMKE.com

Officiant donation: $150

Marriage license: $100
Reception Total: $3,642.98
16 8" x 8" black Wide Float Frames: $163.68
Target, Target.com

12 LAMPAN lamps and light bulbs: $80
IKEA, IKEA.com

12 cocktail tables, 6 cabaret tables, and delivery: $203.03
Canopies, CanopiesEvents.com

12 96" round lamour linens and 6 132" round lamour linens (includes processing fee): $435.71
BBJ Linen, BBJLinen.com

TableTopics: $26.40
Broadway Paper, BroadwayPaper.com

640 pieces of assorted chocolate confections (8 per guest), delivery, and setup: $1,106.16
Indulgence Chocolatiers, IndulgenceChocolatiers.com

Limited hosted (house) bar (including champagne, bartender fee, gratuity, and tax) $2,694.16
Cuvée champagne bar & lounge, CuveeMKE.com
Photography: $2,270.40
Package D (includes 1 photographer for 5 hours, plus CD of high-res images): $2,270.40
MThree Studio, MThreeStudio.com
Music: $750
DJ (up to 7 hours on Thursday night, plus tip): $750
All-Star Music, All-StarMusic.net
Attire: $756.11
Jim Hjelm bridesmaid dress: $316.80
Miss Ruby boutique, MissRubyBoutique.com

Plain comb and blusher veil: $50
Tall Poppies, Ltd. Jewelry Designs, TallPoppiesJewelry.com

Shoes: $63.36
Aldo, AldoShoes.com

Hanky Panky thong: $19.01
Miss Groove, MissGroove.com

Groom's tuxedo and accoutrements: $105.60
Men's Wearhouse, MensWearhouse.com for stores

Pocket squares for the groom, best man, and fathers: $29.53
Men's Wearhouse, MensWearhouse.com for stores

Clutches for the bride and maid of honor: $100
Nordstrom, Nordstrom.com

Brooch for mothers: $71.81
Banana Republic, BananaRepublic.com
Hair & Makeup: $149.20
Updo, trial, and tip: $70
The Institute of Beauty and Wellness, InstituteBW.com

Bobbi Brown Bridal Kit: $79.20
Macy's, Macys.com
Stationery: $306
50 custom invitations: $264
J. Invites, JInvites.com

$.42 stamps for 50 invites and 50 reply cards: $42
USPS.com
GRAND TOTAL: $9,730.85