$10K Wedding Budget Challenge: New York City $10K Budget Wedding
TheKnot.com $10K Wedding Budget Challenge: New York City
In a city where the average cost of a wedding happens to fall around the $50K mark (not including the honeymoon!), the task of planning a chic wedding on $10K seems close to impossible. But it can be done -- with her insider knowledge and creativity, talented New York City-based wedding planner Soraya Jollon of SORAYA weddings & celebrations shows you how. Here's the Plan for a $10K Wedding in New York City.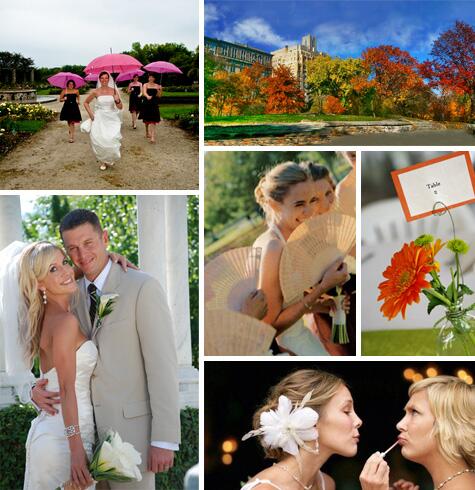 The Setting
The wedding ceremony can take place outside in Central Park on Summit Rock at 11 a.m. on a Saturday morning anywhere from late spring through early fall. Afterward, you and your 100 guests will travel together via the "C" subway line to Tribeca's Thalassa Restaurant for lunch.
The Ceremony
Guests will gather preceremony in the rustic amphitheater of Summit Rock rain or shine for self-serve "Thank you for getting up so early on a Saturday" doughnut holes and coffee. In case of rain or scorching sun, golf umbrellas will be provided for guests. Bonus: The umbrellas will also serve as the wedding favors. If the weather doesn't require umbrellas, bring them to the restaurant and display them next to a sign thanking guests for keeping stormy skies at bay on your wedding day.
The Photographer
You can save big bucks by hiring a professional photographer who's building their event portfolio (meaning they might be a fine art photographer or photojournalist primarily but are looking to do more work in events). Because the wedding will be during the day and require four hours of shooting time (10:30 a.m. to 2:30 p.m.), most photographers, like the ones at Chadwick Wedding Photography, will be a bit more flexible on pricing.
The Videography
Your best bet is to register for a Flip Ultra video camera (it holds up to an hour of video and is easy to use) and then hand it to your most tech-savvy friend to record the ceremony, your first dance, and any speeches.
The Gown
This outdoor wedding calls for a flirty, gorgeous wedding dress. Great sources for just such dresses are Calypso Christiane Celle and Nordstrom. Another great resource is Once Wed for new or nearly new wedding gowns at all price points. Accessorize with sandals.
The Formalwear
This will be a casual daytime wedding, so the groom can wear a navy or tan suit that's already in his closet and then splurge on a new shirt. Skip the tie though!
The Hair & Makeup
Get a blowout on Friday evening at the ultra-affordable V2 Salon on the Lower East Side. Then loosely style your hair in a slightly messy, casual style (think half-up, half-down). A few twirls of the curling iron and spritzes of hairspray should do the trick. Hold it all together with a large flower pin. Check out Lo Boheme on Etsy.com for some gorgeous choices.
For your makeup, make an appointment at one of the makeup counters at Bloomingdale's for a free makeup application. Plan on buying a product (the same powder or lip color would be ideal for touch-ups). You might also want to do a trial a couple of weeks before so you know you'll get the look you want on the day-of.
The Officiant
Ask your clergy member of choice to preside over your outdoor ceremony. The officiant should register in NYC (the cost is $15) to legally perform your ceremony in the state of New York.
The Ceremony Flowers
The gorgeous park setting (not to mention the colorful umbrellas) means there's no need for ceremony decor. You'll need four boutonnieres for the groom, best man, and two fathers and two flower-embellished paper fans for the bride and maid of honor to carry during the ceremony. Everything will be made by the talented floral designers at Inbetween Greens.
The Ceremony Music
At the start of the ceremony, your guests will gather in a semicircle on Summit Rock, and a lone trumpeter from The Juilliard School will herald the arrival of all the ceremony VIPs at the center of the circle. Then you and your groom can exchange vows.
The Transportation & First Dance
At the end of the ceremony, the trumpeter will lead the two of you, your guests, and the photographer Pied Piper-style down the winding path at the south end of Summit Rock out of Central Park to the subway stop at the American Museum of Natural History. This subway station has wonderful tile mosaics that provide a great backdrop for candid photos. You can also have your first dance right there on the subway platform as you wait for the "C" train to take the party downtown.
The Reception
Your trumpeter can continue to serenade you and your guests on the subway ride and then lead everyone from the Canal Street station to Thalassa Restaurant in Tribeca for the wedding lunch. Schedule your three-course reception meal (including wine, beer, and soft drinks) from 12:30 to 3 p.m.
The Reception Music
For ambience, play a custom mix of tunes on your iPod through the restaurant's sound system. As added entertainment, sprinkle "roast or toast" speeches by your loved ones throughout the reception.
The Reception Decor
For the table decor, wrap square glass vases with a ribbon and set them at each guest's place setting, then float a large flower (think vibrant gladiolas!) in each vase. Add an imprintable sticker, marked with each guest's name, so vases can double as place cards. Gather some crafty friends to help you assemble the vases in the weeks before. The morning of the wedding (early!), have a few friends to deliver the vases to the restaurant, add water, drop a flower into each vase, and arrange them on the tables according to the seating chart.
Consider making accordion-style table name signs out of inexpensive decorative paper from Paper-Source.com. Tables can be named after words that signify your relationship or the theme of the day (think trust, love, faith, joy, fun, luck, and dream). Because you'll only have 100 guests, you can forgo escort cards and encourage guests to mingle as they look for their place cards on the tables.
The Stationery
One word -- Etsy! A great shop to try for vibrant but modestly priced invitations is Decadent Designs. You can opt for a simple invitation plus a reply card and envelope in your wedding colors.
BUDGET BREAKDOWN
Ceremony: $150
Officiant registration and marriage license: $50
Office of the City Clerk, CityClerk.NYC.gov

Park permit: $25
Central Park Summit Rock, CentralParkNYC.org/SummitRock

Doughnut holes and coffee: $75
Dunkin' Donuts, DunkinDonuts.com for stores
Reception: $6,500
All-inclusive lunch: $6,500 (including tax and gratuity)
Thalassa Restaurant, ThalassaNYC.com
Photography & Videography: $500
"Recession Special" (1 photographer for 4 hours, plus data DVD of high-res, un-retouched images): $500
Chadwick Wedding Photography, ChadwickWeddings.com

Flip Ultra video camera: $0
Register for it! (Check it out at TheFlip.com.)
Flowers & Decor: $835.37
100 3" glass cube vases: $287.57 (including tax and shipping)
Wholesale Flowers and Supplies, WholesaleFlowersandSupplies.com

30 yards of 1/4" papaya satin ribbon, 13 packages of curry dots bracket labels, 1 roll of "Butterfly Migration" paper: $93.80
Paper Source, Paper-Source.com

100 gladiolas: $300
Chelsea Flower Market, (212) 620-7500

Bouquets & boutonnieres: $134
Inbetween Greens, InbetweenGreens.com

Cab to restaurant to deliver flowers: $20 (including tip)
Music: $420
Trumpeter (2 hours): $420
The Juilliard School, Juilliard.edu

iPod: $0
You already own one!
Attire: $596.85
Wedding dress: $390.15
Strapless silk gown from BCBGMAXAZRIA, Nordstrom.com

Bride's shoes: $60
"Padda" sandals in silver, AldoShoes.com

Groom's shirt: $100.70
CliffordX dress shirt in white from Boss, Macys.com for stores

Hair clip: $46 (including shipping)
Lo Boheme, LoBoheme.Etsy.com
Hair & Makeup: $60.63
Blowout: $25 (including tip)
V2 Salon, (212) 226-7690

Lancome Dual Finish Powder Makeup (purchased at free application): $35.63
Bloomingdale's, Bloomingdales.com for stores
Favors: $432.53
50 Wilson Golf 68" double canopy umbrellas: $432.53 (including tax and shipping)
RockBottomGolf.com
Stationery: $231
50 sets of fuchsia damask invitations: $189 (including shipping)
Decadent Designs, DecadentDesigns.Etsy.com

Postage for 50 invites and 50 reply cards: $42
USPS.com
GRAND TOTAL: $9,726.38
Where applicable, the NYC sales tax of 8.375% has been included in the budget and the gratuity has been included in the reception total. In other words, the cash outlay really does come in at $10K (not $10K+)!