How to Find a Wedding Veil That Highlights Your Face Shape
Stuck on what kind of veil to wear? Let that lovely face of yours lead the way.
by The Knot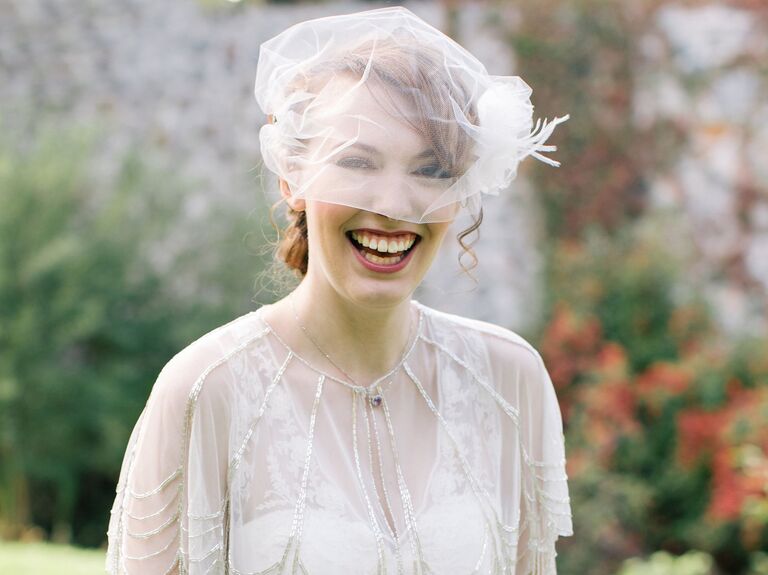 SARAH ROSE BURNS PHOTOGRAPHY
Once you say "yes" to finishing your wedding day look with a veil, you'll want to choose one that best highlights your gorgeous face. You might not need any help in the veil department—maybe you plan to revive your mom's headpiece or have already found the perfect one to complement your dress. But if you're really stuck on what type of wedding veil to wear, remember this helpful tip: Along with your wedding vibe, hairstyle and day-of ensemble, your unique bone structure can steer you in the right direction. After all, your veil should be both comfortable and flattering, framing your features and fitting seamlessly into your overall look.
Now for the basics. Most people's faces fall into one of these eight shape categories: oval, round, oblong, heart, diamond, square, rectangle and triangle. The first four shapes will have softer and more curved lines, while the last four are typically more angular. To determine your own face shape, pull your hair away from your face and study the outer edge. Here's how to determine the shape of your face, and which wedding veil styles will accentuate your features best. One general rule of thumb to note: Opposites attract.
Round Face 
If your face is round, there will essentially be an equal distance all around (using your nose as a centerpoint). So it'll be as wide as it is long, with rounded edges. A round, or full face will benefit from a veil that falls along the sides of the face, which will work to frame it instead of overwhelm it. A simple, streamlined tulle veil or a face-hugging mantilla veil always looks beautiful.

Oval or Diamond Face
If your face is more of an oval shape, it'll be slightly longer than is it wide, with soft, curved edges. On a diamond-shaped face, the widest point will be your cheek bones and the narrowest will be your chin and forehead (and have sharper features than an oval). Oval and diamond faces are very symmetrical and honestly work well with any veil style, from a cropped blusher to a sweeping cathedral.
Oblong Face
An oblong face basically looks like an elongated oval. Many oblongs are mistaken for ovals, but when placed next to a true oval you can see that an oblong has added length. Complement your regal oblong face with a bit of width. Look for a waterfall, or layered veil paired with a wide tiara, wreath or bun wrap.

Heart-Shaped (or Triangular) Face
If your face has soft curves and is widest at the eye, temple and cheek area, but narrow at the chin, you have a heart-shaped face. Feel free to add a little width to your jawline with a back piece, like a flyaway, waltz or ballet veil, where the fullness of the piece will actually work its magic from behind your neckline without adding unnecessary volume on top. As for your hair, a simple chignon will look stunning.
Square Face
Those with a square-shaped face will notice they're level at the forehead and down the sides, and that their jaw and chin are probably strong and angular. If the distance from the top of your face to your chin pretty much matches the width, you have a gorgeous square face. To add softness and romance, a longer veil complete with relaxed tendrils will do the trick (a signature hairstyle of Duchess Meghan of Sussex). Want to give your striking features the spotlight? Show off your angles with a short veil, like a blusher or birdcage.

Rectangular Face
If your face is rectangular, it'll look similar to a square with sharp angles, but obviously more length. Don't be afraid to play with a voluminous veil, like a double-layer tulle veil, which will accentuate your face's defined symmetry.
And remember, these are more like guidelines for anyone who needs another determining factor to decide on a veil style. If you fall in love with a veil that doesn't match perfectly with one of these suggestions, don't think twice about it. Long story short, rock the veil you love.