25 Classic Wedding Ideas That Will Always Be In Style
Skip the ultra-trendy aesthetic for these details that stand the test of time.
As much as we love scoping out the newest, most exciting wedding trends, there's something to be said about planning a wedding that focuses on chic, time-honored design instead. If you're thinking about having a classic wedding theme, you're probably the type of person who's fine with skipping the latest craze in favor of something you know you'll still love years down the road, and we can't argue with that. Classic weddings can be incredibly beautiful and luxurious, especially when you pull in elements that hearken back to the glamour of decades past (think champagne towers, sparkling chandeliers and a Rolls Royce getaway car). Our guide to classic wedding style is filled with ideas that are both modern and timeless, so that your special day feels like you right now—and you in 50 years.
In this article:
What Is a Classic Wedding Theme?
This aesthetic foregoes anything too trendy (sorry, pampas grass and neon signs) in favor of details that have been en vogue for decades. For starters, think of famous wedding movies, like "The Sound of Music," "The Graduate" and "Father of the Bride," or pull inspiration from royal weddings to get a sense of what has held up over the years. Don't feel tempted to incorporate something into your wedding day just because it's buzzy or you think it will wow your guests—make sure you genuinely love every detail you choose.
Classic Wedding Venues
The setting for your big day holds a lot of influence over how your wedding looks and feels. Before you can start the bulk of your wedding planning, you'll need to choose a wedding venue. For classic themes, look to locations that have traditional architecture, such as historic estates, country clubs or grand hotel ballrooms. If you want an outdoor wedding venue, consider a formal garden (bonus if it has details like fountains and statues) or a picturesque vineyard.
Classic Wedding Attire
The dress code for a classic wedding theme tends to be on the formal side, although you don't need to have a black tie wedding unless you want. Tuxedos, ball gowns and three-piece suits are all good options for a classic wedding—avoid wearing anything that's a fleeting trend or overly flashy. Stick to pieces made from elegant fabrics, like silk and lace, for the most polished look.
For your wedding party, midi-length and long bridesmaid dresses will complement a fancier vibe. Groomsmen can accessorize with neckties or bow ties, depending on whether they're wearing a suit or tux.
Classic Wedding Colors
For a classic wedding color palette, there's nothing more timeless than black and white. This combo is versatile enough to use as-is, or you can build it out by adding one or two accent colors. Pastel tones are also extremely popular for classic weddings—incorporate hints of blush, dusty blue, lilac, sage green or soft yellow into stationery, flower arrangements and decor to add color in an understated way. Finally, use metallic silver or gold accents to give your color palette a touch of shimmer.
Classic Wedding Flowers
Not only are roses among the most popular wedding flowers of all time, they're also some of the most classic blooms, and for good reason. Their full, lush shape instantly evokes a sense of romance, and they come in a rainbow of colors (not to mention the amazing fragrance of some garden rose varieties). An added bonus? Roses are available year-round, which makes them easier for your wedding florist to source. Peonies, hydrangeas, anemones, calla lilies and hyacinths are a few additional classic wedding flowers to consider. Some types of greenery also look gorgeous in classic floral arrangements, including smilax, eucalyptus, dusty miller and pittosporum.
Classic Wedding Decor
While it's true that you may want to avoid some of the more modern wedding trends, having a classic wedding theme doesn't mean your decor has to be stuffy or boring. It's totally possible to focus on traditional wedding elements that won't look outdated in 10 or 20 years and make your special day feel like a true reflection of yourselves.
When it comes to the larger decorative details, like the color palette, table linens, flower arrangements, lighting installations and rental furniture, take a more classic approach. These details are the most noticeable when your guests first enter the wedding space, which means they'll have greater influence of the overall aesthetic. Smaller details, like table numbers, escort cards, signage and wedding favors, are great opportunities to incorporate a trendy element or add something more modern and unexpected.
Your reception table settings are another way to up the ante for a swankier soiree. For the most formal effect, each place setting should include a charger plate, dinner plate (use china with touches of gold or silver for the fanciest look), crystal stemware and flatware for multiple courses. Round tables are more traditional, while long rectangular banquet tables add drama and are a bit on the trendier side.
Classic Wedding Food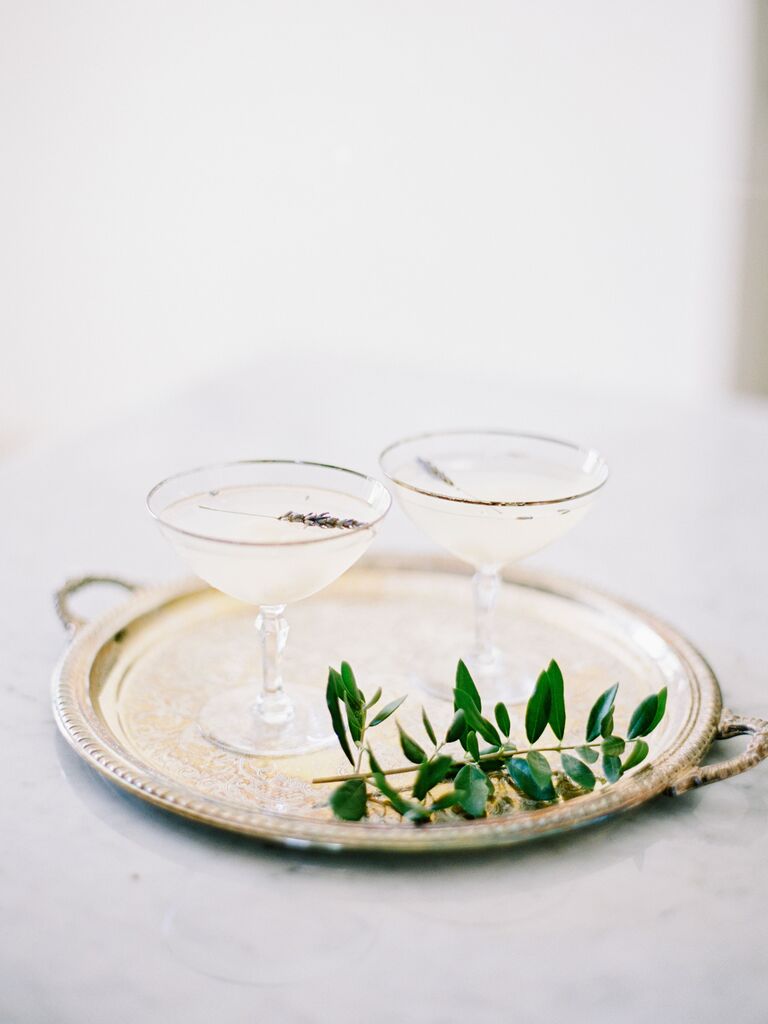 Serving a plated, sit-down meal is typically more formal than a buffet or food stations. Most plated meals are served in multiple courses: an appetizer course (such as a salad, soup or bread) followed by the main course (typically meat or fish, with at least one vegetarian or vegan option). Guests select their meals in advance when they send their RSVP cards, and the food is served to each table by waiters or catering staff.
At the bar, champagne served in flutes or old-fashioned coupes is a must. You can also work with your bartender to create a signature drink or two—try putting your own spin on classic cocktails like whiskey sours, mojitos, martinis or sangria.
Classic Wedding Theme Inspiration
Need even more decor ideas? Check out these real wedding photos to see how to bring a classic chic wedding theme to life.
Classic Wedding Invitations with Envelope Liner
Calligraphy, embossing and gold foil are just some of the most popular design details for classic wedding invitations. Finish your stationery suite by adding printed envelope liners that showcase your color scheme or a motif from your wedding decor.
Emerald-Cut Engagement Ring
Although brilliant cuts and other round shapes are often labeled as the most classic types of engagement rings, emerald cuts are another option. They evoke a sense of vintage glamour and look stunning as single-stone rings or in multi-stone designs.
Sparkly Wedding Shoes
Whether you're wearing a tulle ball gown or a fitted lace style, a classic wedding dress can always use a touch of sparkle. Look for shoes featuring rhinestones or beading to make your ensemble feel extra-special.
Long Bridesmaid Dresses
Outfit your bridal party in floor-length gowns for the most formal, traditional look. While their dresses don't have to match exactly, we recommend choosing one color or type of fabric for a cohesive effect.
White Wedding Bouquet
An all-white bouquet truly never goes out of style. Luckily, there are dozens of different white wedding flowers you can choose from, including the garden roses, tulips, ranunculus and astilbe pictured here.
Timeless Wedding Updo
Need wedding hairstyle inspo for your classic theme? A sleek, low chignon works for all hair types and lengths (if your tresses are on the shorter side, ask your hairstylist about adding temporary extensions). Finish the elegant updo with a decorative comb, barrette or fresh flowers.
Black Tuxedo
The black tuxedo has been a symbol of special occasions for centuries. Tuxes are easily distinguishable from suits by the satin trim that adorns their jacket lapels and the sides of the pant legs. Stick with basic accessories, like a bow tie, cummerbund and patent leather shoes to achieve a timeless look.
Garden Wedding Venue
Tap into a timeless Old World aesthetic by exchange your vows in an Italianate or French-style garden. Simple white folding chairs provide seating without distracting from the natural surroundings.
Classical Wedding Ceremony Music
No wedding ceremony is complete without music. If contemporary tunes don't fit the vibe of your special day, hire a harpist, guitarist or string quartet to perform classical and instrumental selections instead.
Sailcloth Wedding Reception Tent
This classy wedding tent, also called a Sperry tent, feels especially timeless since it's made from heavy-duty sailcloth rather than vinyl. Details like varnished wood poles and flags on top add the finishing touches.
Calligraphy Wedding Escort Cards
A creative escort card display can be a great focal point, but there's nothing wrong with keeping things simple too. Handwritten escort cards from a professional calligrapher are always sophisticated.
Mirror Wedding Sign
Use a mirrored sign in an antique gold frame to showcase a favorite love quote or present your seating chart.
Gold Chiavari Chairs
You can't get more classic than Chiavari chairs. A go-to seating option for glamorous weddings and luxe themes, Chiavari chairs are available in dozens of colors and finishes, from metallic gold and silver to dark wood, whitewashed gray and clear acrylic. Cushions provide comfort and decorative flair.
White Flower Centerpiece with Greenery
This low centerpiece is a gorgeous example of how to mesh trendy, garden-style arrangements with a classic wedding theme. The all-white florals ground the arrangement and keep it from looking too busy, while eucalyptus and other greenery build out the romantic, organic shape.
Crystal Chandeliers
Choose a venue with sparkling chandeliers to bring a classic fairytale element to your wedding day. If your venue doesn't have chandeliers in place, or if you're hosting your reception beneath a tent, look into renting them as part of your decor.
Monogrammed Signature Cocktail Toppers
Monograms are another must-have detail for any classic, chic wedding theme. You can go the traditional route by monogramming your wedding stationery, napkins or dance floor, but we love this initialed drink topper as an unexpected alternative (it's edible!).
White Fondant Wedding Cake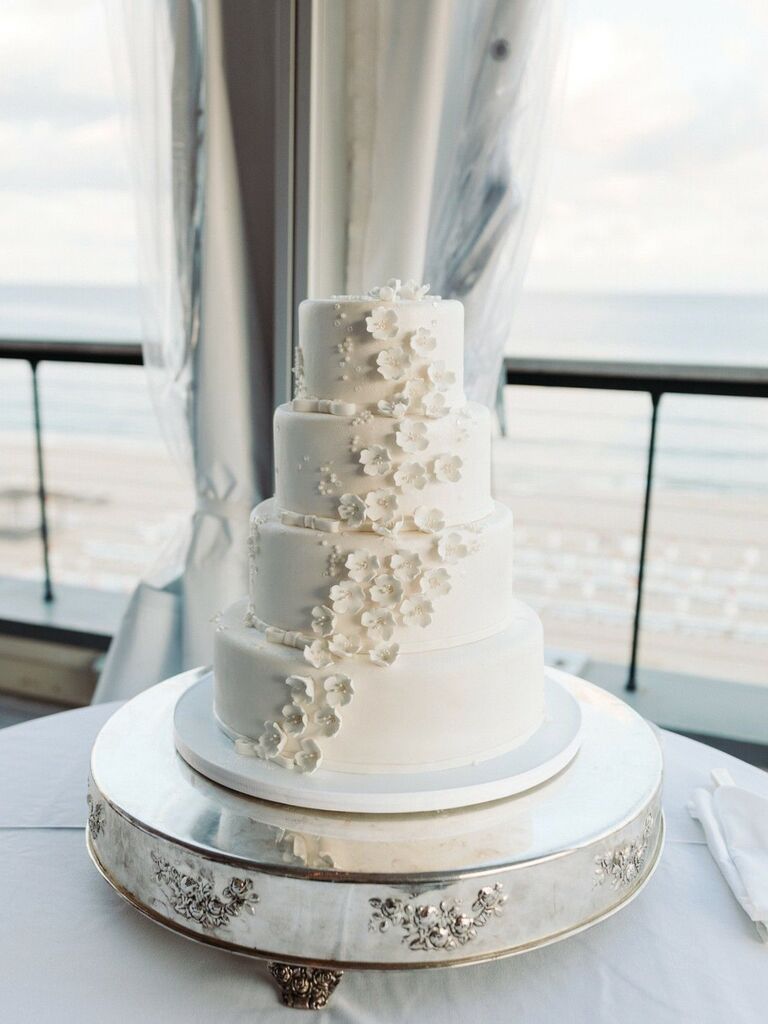 Fondant gives your wedding cake a smooth, seamless finish, which makes it a popular choice for classic and timeless themes. Decorative cake techniques like hand-piping, sugar flowers or latticework will help you customize the overall design.
Checkered Dance Floor
Depending on your wedding venue, you may need to supply your own dance floor. Black-and-white checkerboard tiles evoke a nostalgic look that's perfect for classic weddings.
Vintage Wedding Getaway Car
Ride off into the sunset (just like the lead characters in any iconic classic film) by renting an antique car for your nuptials. It's a memorable photo op for you and your guests, even if you only go for a short drive around the venue. Don't forget the 'just married' decorations.