JSU Head Football Coach Officiated a Wedding After a Game—Watch the Full Video Here
Jacksonville State University band member alums had the head football coach officiate their wedding on the field. How awesome is that?
by maggie Seaver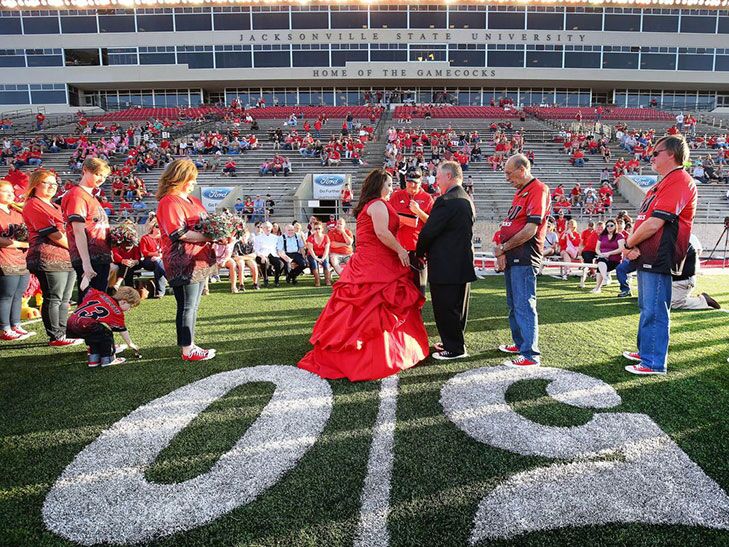 John Grass, head coach of the Jacksonville State University football team, had quite a full day on Saturday. On his to-do list: Beat Tennessee Tech on JSU's home turf Burgess-Snow Field, appear for post-game interviews and, finally, head back to the field to officiate a wedding. Bet you didn't see that coming.
Denise Rooney Thomas and Greg LaFoleltte, Dallas residents and former members of JSU's band, the Marching Southerners, got engaged in January and knew the perfect setting to get married—on the 50-yard line of their alma mater's field. That's where Coach Grass came into the equation.
"A few weeks ago the couple asked if I would be willing to marry them,"  Grass told FOX Sports. "To get ordained, I clicked online and was able to do that really quickly." (See, we told you it was easy to have a friend get ordained to marry you!)  
So, after Saturday's game, while Grass was busy at his post-game press conference, Denise, Greg and all 450 members of the Marching Southerners got organized for the ceremony. With the school's mascot, Cocky the gamecock, as the ring bearer and Denise in a cherry-red ball gown (repping JSU's colors, of course), the couple was married at their dream spot with Grass doing the honors—the ultimate stamp of personalization.
@ClayTravis There's a wedding going on at Jacksonville State and #JSUGamecocks head coach is officiating. pic.twitter.com/r55XFD9HJ6

— Jerry Felts (@oneandonlyphoob) October 8, 2016
"It was a privilege and a blessing," Grass said of the special ceremony. But as for maintaining a side gig officiating weddings, Grass admitted, "I've always wanted to say, 'You may kiss the bride,' but I think I'll scratch this off the bucket list and put the license away."
Watch a full clip of the wedding ceremony here.