This Comedian's Take On Maid Of Honor Speeches Is Hilarious (Plus 10 Toasting Dos and Don'ts)
by Kristin Doherty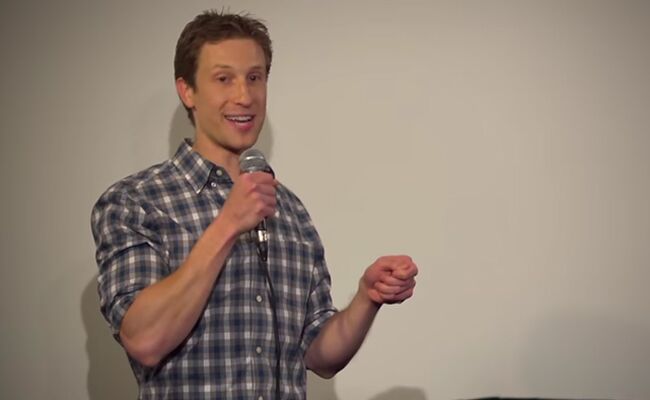 If you've ever had to sit through a bad wedding toast, you'll get Comedian Owen Weber's point of view. Watch the video and see what we're talking about. And if you have a bridesmaid or groomsman worried about their wedding toast, send them our tips for the taking below.
DON'T mess with your dress or hair.
Before the toast, step into the bathroom to touch up your makeup, hair and outfit so you won't fidget while speaking.
DO introduce yourself.
Even if you're related to the bride or have known her since birth, some guests (especially on the groom's side) might not know who you are. Start with your name and how you know the couple.
DON'T say too many clichés.
Use your own words to make the toast much more personal. The bride and groom might actually be "a match made in heaven" and they might "live happily ever after," but these overused idioms don't really say much.
DO tell a story about the couple.
Whether it's how they met, how they got engaged or when you could tell they were a perfect fit, everyone in the room will appreciate a nostalgic (and appropriate!) story.
DON'T use a quote if it doesn't fit.
We're all for using a good love quote to start or end a speech. But if you're going to use one, take the time to find one that's perfect for the occasion and the couple.
DO keep it short and sweet.
Usually two to three minutes is the perfect length for a wedding toast.
DON'T sob through the speech.
A few tears are OK — getting emotional can be sweet and sentimental if you can keep it together! Practicing your toast will help keep bawling at bay.
DO take it seriously.
Write your speech ahead of time, make notecards if you can't memorize it and practice, practice, practice!
DON'T make it about you.
We get it: Since you're so close to the bride, this feels like a big day for you too. Just remember that the guests are there to celebrate the newlyweds — not your friendship with the bride (that's what the bachelorette party is for!).
DON'T forget to toast the couple at the end!
It's not just a sweet speech; it's a toast! Remember to lead guests in raising a glass to the happy couple. It's a fail-proof ending to the perfect MOH speech.
More links for your maid of honor!
> 10 Creative Bachelorette Party Ideas