12 Things Wedding Planners Wish You Knew
Here's what the pros want you to know.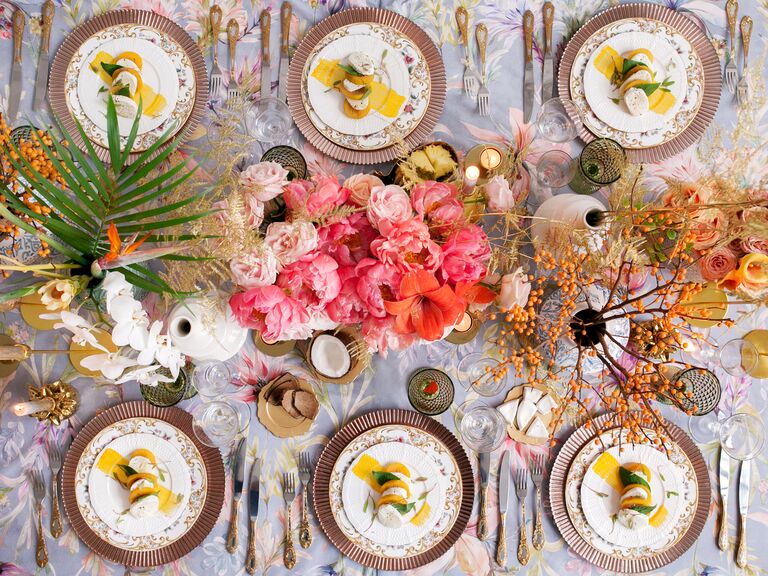 Vadim Kuzubov
Wedding planners have seen it all, which is why they know how to handle even the most outlandish situations the day-of. If hiring a wedding planner is on your checklist, then rest assured: you'll have an expert help you navigate this special time period. While planners handle everything from budgeting to day-of disasters, there are some unspoken things they wish you knew. We've talked to the pros directly to round up 12 key confessions of wedding planners. Keep these tips in mind as you start your wedding preparation—your planner will thank you.
1. They're Not Your Therapist
Maybe you want a small, lowkey outdoors ceremony, but other members of your family are picturing a huge, grand ballroom soiree (it's a tale as old as time). While your wedding planner is there to mediate and offer up creative suggestions, they are not your therapist. They likely won't answer your calls in the middle of the night or listen to you complain about your in-laws for hours. In short: Most planners prefer to avoid involvement in your personal drama, but they can help all parties involved in wedding logistics likely come to an agreement. If you feel that you need counseling regarding your relationship, check out the #1 marriage health app Lasting for initial guidance on how to navigate common issues with engaged couples.
2. They Want You to Focus on Your Relationship
One of the most common confessions from wedding planners? Even though wedding planning can be stressful and dramatic, it's important to remember why you're getting married. "This is such a unique and special time in your life. Feel it and feel gratitude for it," says planner Jung Lee of Fête. "I think so many people get caught up in the planning process that they focus more on the negatives. But the fact that you've found each other, you're engaged, and you're now planning your wedding—that is the most important thing."
Meyer says that focusing on the real reason you're planning a wedding will also help with any disagreements that come up. "As long as we can agree that it's about the love in the room, that's why we're here, that's why we're doing this, I often find that from that point, I can get everyone on board."
3. They Know When Couples Have Foundational Issues
Planning a wedding, just like a marriage, requires communication and compromise. Planners have dealt with a range of couples, and will sometimes observe how you and your partner communicate throughout the process.
One planner recalls working with a couple who refused to compromise on anything. They wouldn't hear each other out, and they weren't willing to meet in the middle despite the planner's best efforts. The pro immediately knew the couple's relationship wasn't going to be successful. While an experienced planner might be able to temporarily mediate situations, it's up to the couple to compromise and communicate. After all, your planner can only do so much.
4. They Want You to Define "Fun"
Jove Meyer, owner and creative director of Jove Meyer Events, says couples always tell him they want their wedding to be fun, but some don't even know how to describe their version of that word. Every couple is different, which is why it's important to think through what's special to you and your partner.
"How do you have fun? What's your definition of fun?" he asks. Whether you're math lovers who want to hand out fun problems for your guests to solve, or you have ABBA dance parties on the regular in your living room, your wedding should reflect how you like to celebrate as a couple.
5. They Want to See Your Home
When Meyer wants to understand a couple's aesthetic, his go-to spot to explore is their home. When it comes to personal style and preferences, what better place to look to for inspiration? It will reveal your favorite colors, favorite flowers, and favorite memories—all in one convenient location.
"I love going to people's apartments to see who they really are," Meyer says. I think someone's apartment shows a lot about them—who they are and what makes them tick."
6. They Want You to Be Yourself
Your wedding day is your day, which means it should reflect you and your partner's personalities. It's easy for to-be-weds to default to what they've seen in movies, magazines or TV (read: white dress, aisle with two sides, chicken or fish—you get the idea). But Meyer encourages couples should think outside the box for their weddings and do what feels right to them.
"I really wish couples knew that they don't have to feel the pressures of what has been done," he explains. "I'm not saying do something different just for the sake of doing something different, but I'm saying do what feels right to you. Don't just do what you think you have to do. That's not the way to have a wedding that's authentically yours."
7. They Need You to Prioritize
In a perfect world, you would have everything you've imagined and more on your wedding day. But factor in different things like timing, weather, venue limitations and budget—and sometimes it's just not possible. The good news? A professional planner can help you brainstorm creative ways to make the most out of your wedding day. But before they can do that, they need to know what matters the most to you. Is it the view? The food? The music? Lee says the first thing couples need to do is make a list of what's most important on the wedding day in order to save time and energy. "Everything is important, but you need to prioritize because it's impossible to do all of the 1,500 things that you want. Something's got to give just realistically."
According to The Knot Worldwide's 2019 Global Weddings Report, French couples will prioritize catering, while the majority of couples marrying in Italy will prioritize florists (more than any other country in the world). Sit down with your partner and make a list of what aspects of the wedding are most valuable to you, whether it be photography, catering or an incredible live band.
8. They Can Work With Your Budget—No Matter What it Is
A major confession from wedding planners? It's not about how much money you have, it's about what you do with it. Lee says that the size of your budget doesn't ultimately determine how great your wedding will be. "I never believe that the more money you spend, the better your wedding will be. It's what you do with the money." A professional planner can help you maximize your budget to give you an amazing wedding day.
If you're limited on budget, investing in a wedding planner can actually help get the most bang for your buck. A common misconception is believing that hiring a planner will send you over budget, but that's not the case. A major benefit of working with a wedding planner is they'll actually help you keep your spending in check and even work with their vendor network to bring your aesthetic to life.
9. They Want You to Be Nice
Wedding planning can be stressful—there's no doubt about that. But taking out your exhaustion or frustration on your vendors will only do more harm than good. "I always say: You'll catch more flies with honey than with vinegar," planner Danielle Couick of Magnolia Bluebird Design & Events laughs. Your vendors are professionals who want to provide you with great service. Remember to treat them well and be kind to them. According to the pros, it really does make a difference.
10. They Appreciate Gratitude
On the list of confessions from wedding planners, this one may seem small. But it makes a huge difference. Set aside some time at the end of your reception to thank your guests, Lee says. "Don't just thank them for coming and call out all of the places that they're coming from, go beyond that. Explain what it means to have the most important people in their lives together in that space. That will give the event so much more heart and soul."
But beyond thank you guests, your wedding planners also love to hear some gratitude from clients. While tipping other vendors is expected, tipping your wedding planner is at your discretion. Another great way to show your appreciation is by writing a thank you note (Jacobs recommends writing one to all of your vendors). They also appreciate a positive review on The Knot Marketplace so that other couples can find their great services.
11. They Want You to Take a Step Back
Lee says one of the biggest mistakes couples make is getting lost in the minutiae of the wedding. "When you get caught in the weeds with all the details and you're not seeing the bigger picture, your wedding will suffer as a result," says the pro.
Her fix? Start with the most important big ideas and build out the rest of your wedding from there. Ultimately, the smaller details aren't what make the party, Lee says. "I love décor. It's my passion. But what really makes the party is the tone the couple sets, the timing of the event, and the music. And those things, they're not in your budget."
12. They Want You to Speak Up
Couick says that so many couples always apologize for not knowing what they're doing during wedding planning. Rather than feeling embarrassed about not knowing the difference between a ranunculus or a rose, ask your planner—and be kind to yourself about it. "Couples should give themselves grace and be okay with themselves if they don't know the answer to everything. It's fine to ask questions."
Amy Shey Jacobs, founder of Chandelier Events, agrees, adding that couples should always speak their minds. Contrary to what certain movies or TV shows might portray, most wedding planners do not want to completely overhaul your wedding. These pros are set on making sure that you have the best experience possible. But they can't do that unless you tell them what you're thinking, says. "Tell me what you like and tell me what you don't like. It will help me do my job better," Jacobs says. Your wedding planner can't read your mind, so clear and honest communication is the best way to ensure you'll get your dream wedding.