6 Ways to Make Cooking at Home a Little Easier (and a Lot More Enjoyable)
One bride-to-be shares her tips for getting busier in the kitchen.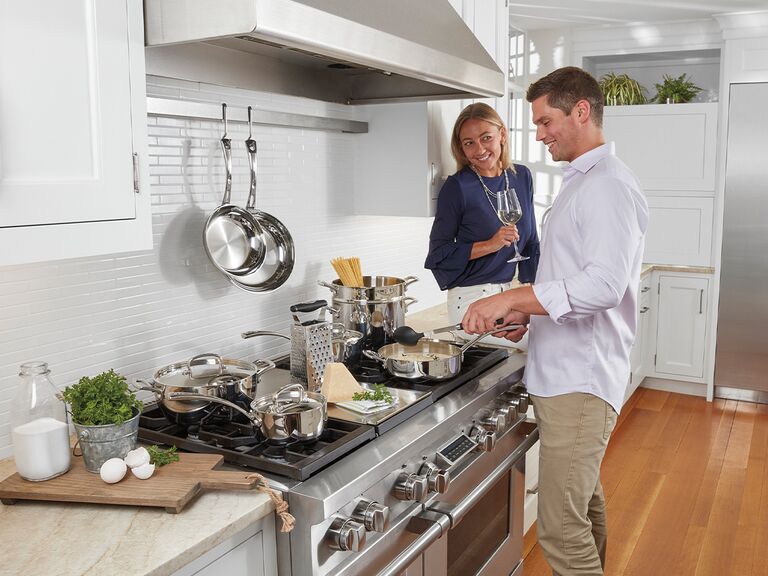 I'm slightly ashamed to admit this, but I hardly ever cook dinner. Maybe that doesn't seem like a big deal—after all, there's a reason why so many food delivery apps exist—but I work at a food magazine! I write about home cooking daily, and I know I should practice what I preach. But I often work late, and now that my fiancé and I are planning a wedding, my free hours are usually dedicated to researching florists…or trying to convince my mom that those third cousins I've never met don't deserve spots on our guest list.
That said, we both love to cook and bake, and I've learned a thing or two working in food publishing. I know what pans every cook should have, the dishes that make food look good for the 'gram (spoiler alert: white porcelain) and which appliances and gadgets are must-haves. This year, I'm vowing to spend more time in the kitchen. These tips and smart registry picks can help you do the same—no matter what else is on your plate.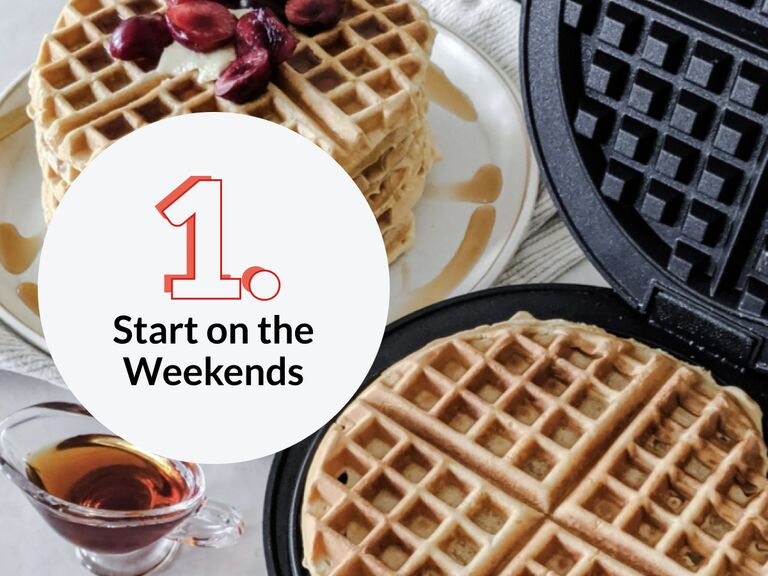 If your workdays are jam-packed, start developing your cooking habit on days when you have time off. Set aside a few hours to try making a new recipe together, ideally one that yields enough food to last a couple of days. One of my favorite meals to make is brunch, but I also like making big-batch soups and stews that I can easily reheat for lunch.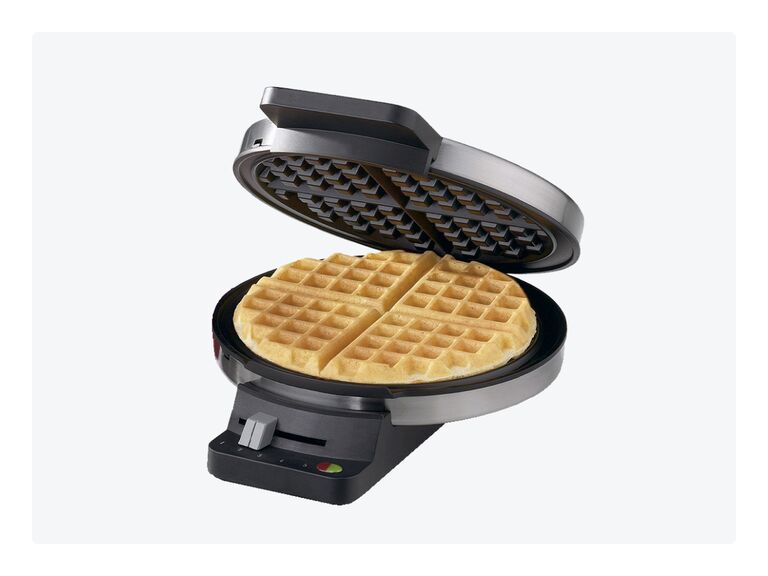 This classic waffle maker has five different browning settings, so you can please even your pickiest brunch guest.
Watch the video below for more cooking tips.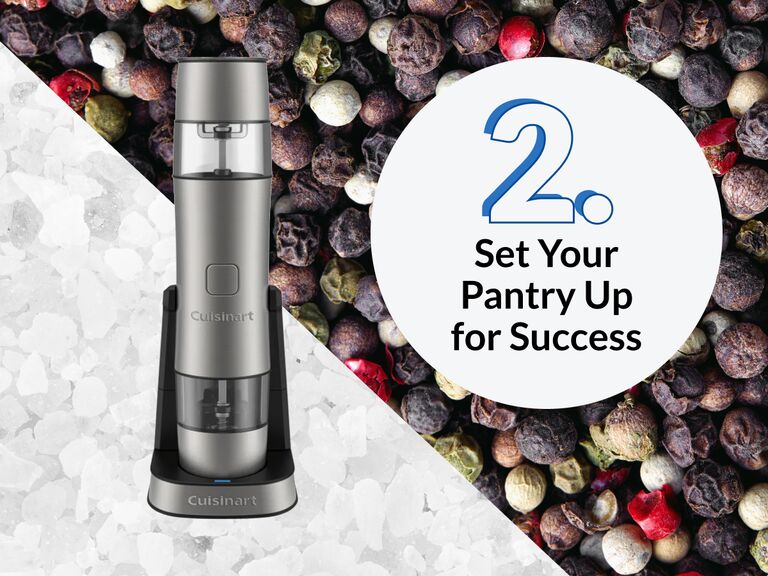 Most recipes call for pantry staples like salt, pepper and olive oil, so it's a no-brainer to always keep them on hand. But also think about the ingredients you like and use the most and make a point to take inventory before every trip to the grocery store. Then look for more recipes that'll make use of these foods. Having a few go-to dishes you can make with items already in your pantry should motivate you to cook, even if you're short on time. Never underestimate the power of not having to make yet another trip to the store.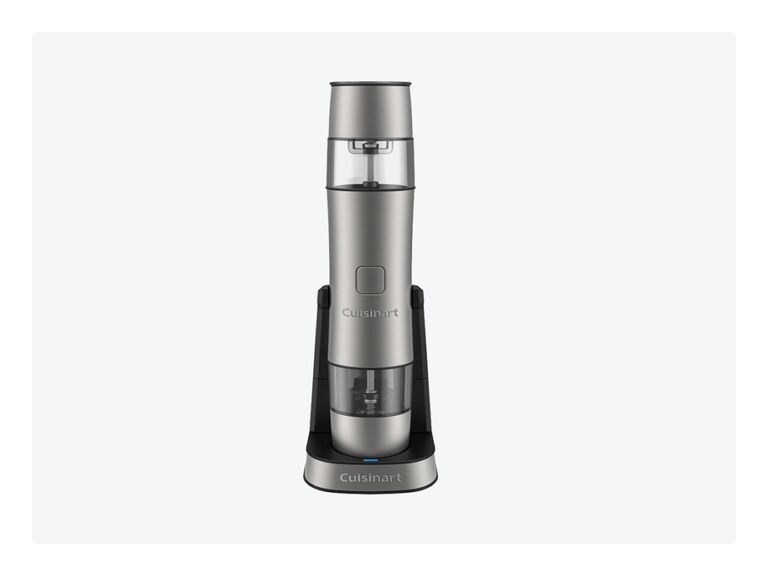 Use freshly ground black pepper and kosher or sea salt rather than table salt: They're more flavorful, which means you can use less. This rechargeable mill does all the work for you, easily adjusting from coarse to fine grinds.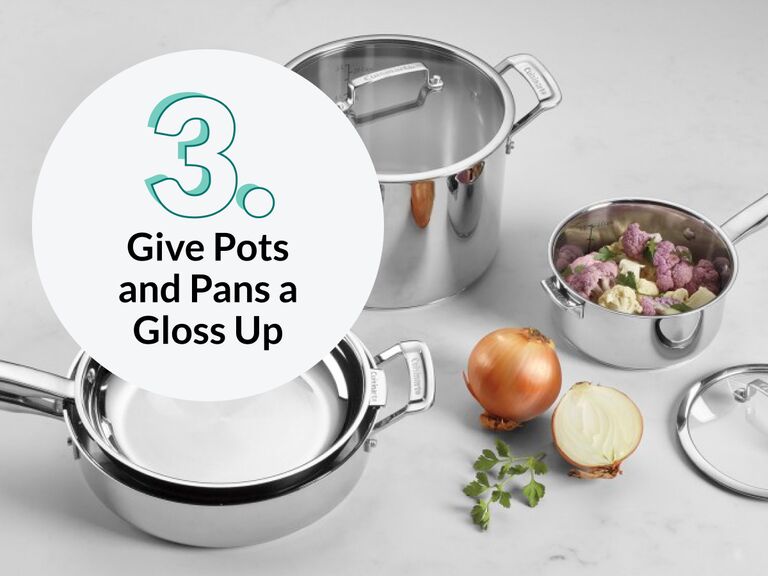 For years, I cooked in hand-me-down pots and pans. Scratched, mottled and ever-so-slightly rusted, my mismatched collection depressed me every time I went to use it. That all changed when I invested in a set of durable stainless steel cookware. Suddenly, boiling pasta became more appealing—probably because I was finally using the right-sized pot with a handle that didn't wobble every time I picked it up.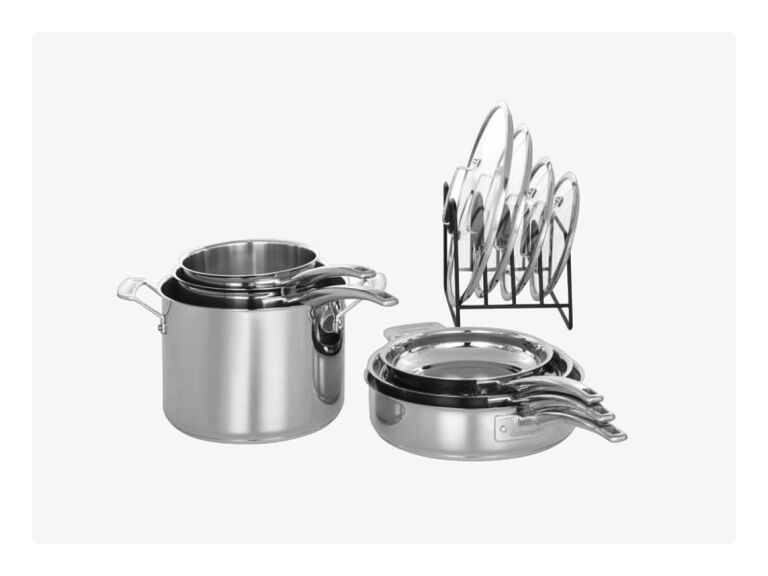 The pots and pans in this 11-piece set nest inside one another to save cabinet space, and it even comes with an organizer rack for the lids.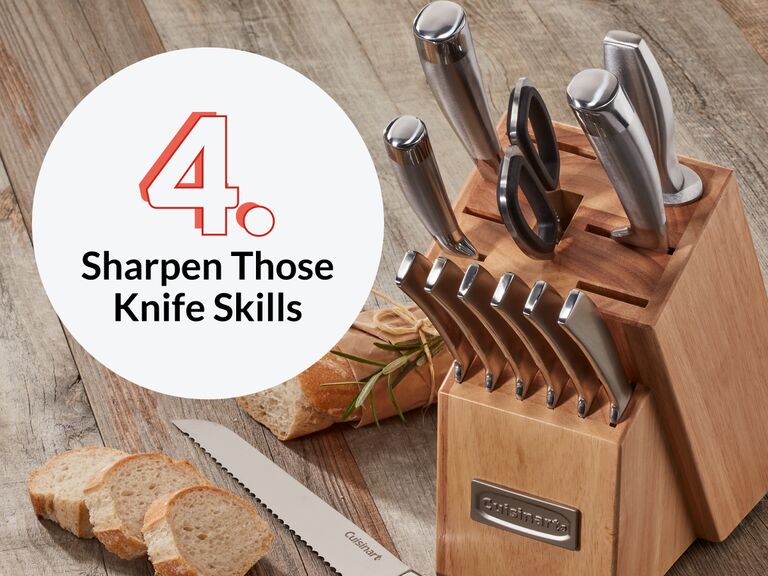 Until I learned how to properly chop and dice, cooking felt like an interminable task that put my patience (and fingers) at risk. Recipes that promised to take 30 minutes would take me an hour, leaving me frustrated and my nerves frayed. Eventually I took a knife skills class at a cooking school, then I took another (and another) until I felt confident. I also made a point to get myself a solid chef's knife, serrated knife and paring knife—because having the right tools is half the battle.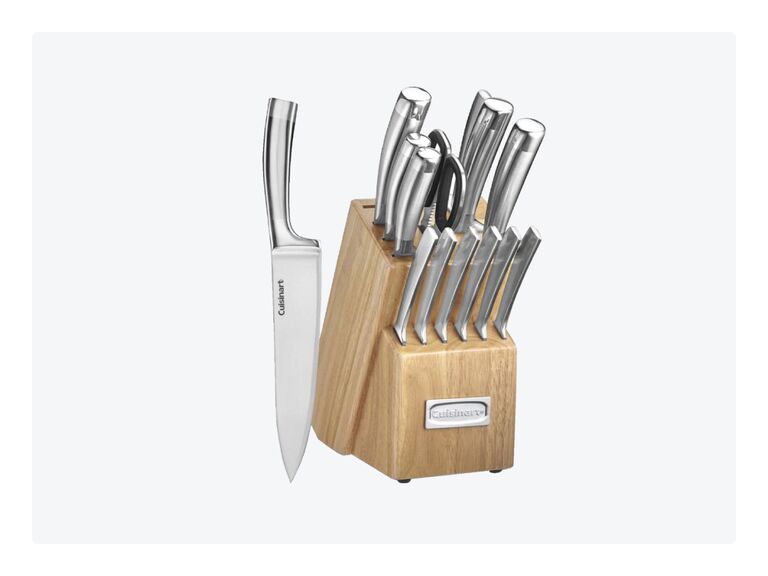 A sleek set like this has all the knives you'll need to prep your meals, plus a honing tool and six steak knives. Depending on how often you use them, get knives sharpened by a pro once or twice a year.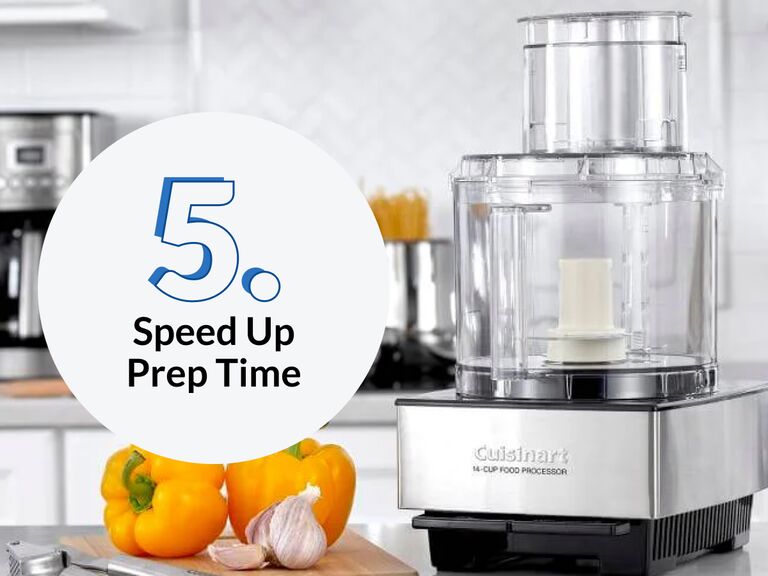 Any tool that makes shredding cheese or slicing and dicing veggies quicker is a must in my book. (I may have knife skills, but I still lack patience!) A food processor can handle all these tasks and more, often in mere seconds. Cleanup is equally as fast, since typically, all the parts minus the motorized base are dishwasher-safe.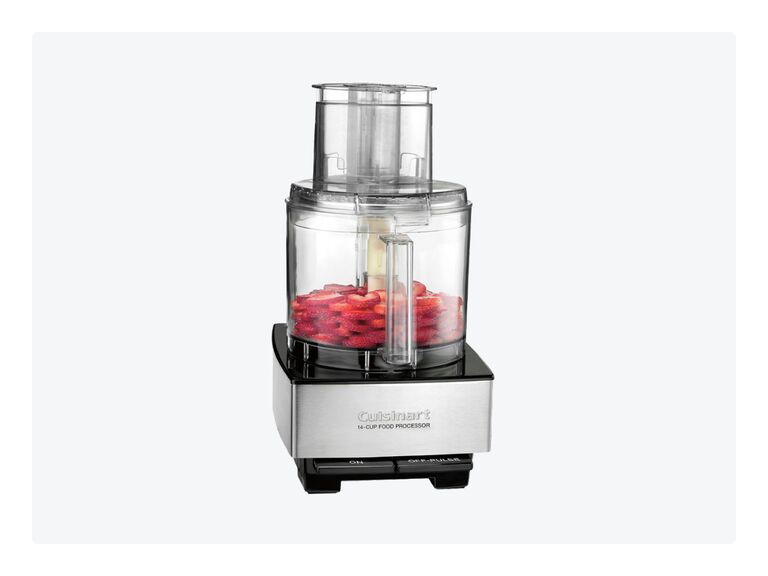 Get the largest capacity food processor you can fit in your kitchen, even if you don't do a ton of entertaining (this one holds 14 cups!). Trust me: For years, I used a mini version and had to make everything in batches, which was messy and time-consuming.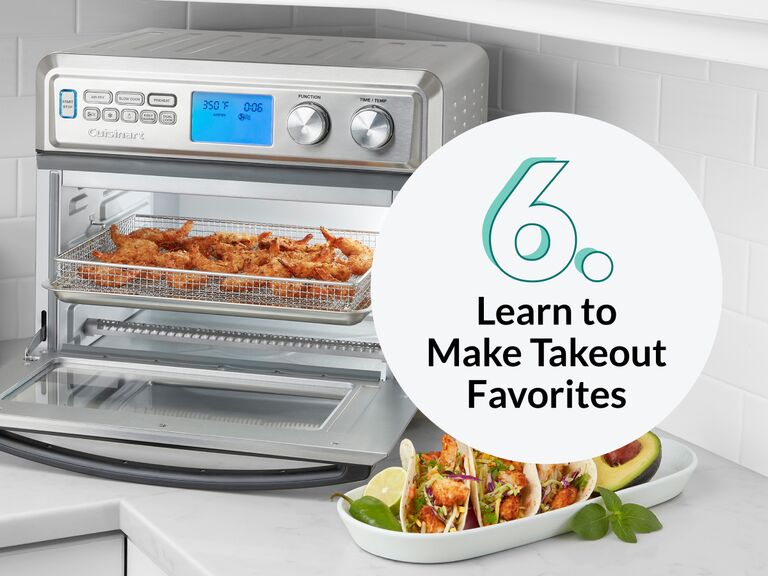 Do you always order in pizza? Ramen? Burgers? Think about your favorites, then research easy recipes (and register for any specific gear you'll need) so you can make them in your own kitchen. Your homemade versions might not taste exactly the same as takeout, but they'll give you a level of control over your food—like spice level and portion size—that you'd never get from delivery. Also: bragging rights!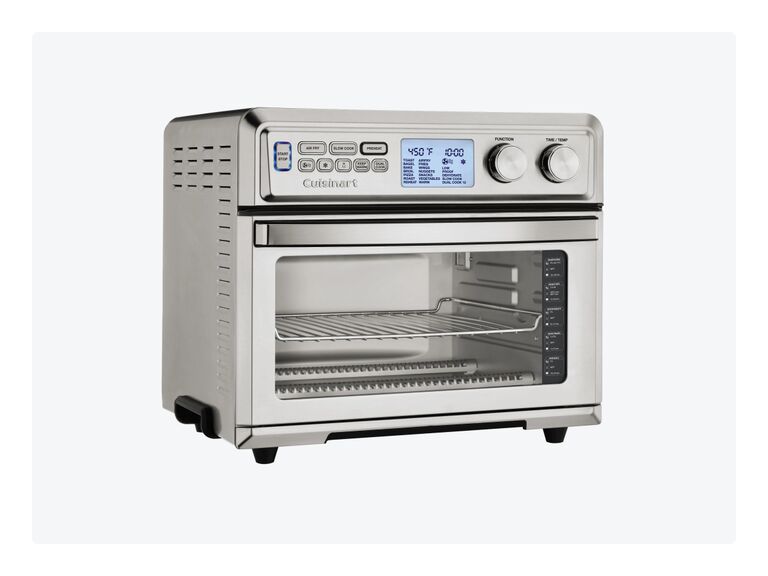 Takeout fries are usually a disappointment: cold and/or soggy by the time they get to your kitchen table. Enter the air fryer—you can make your own fresh crispy fries in minutes. This one multitasks as a toaster, convection oven and pizza oven, truly earning its space on the counter.
Get more real-life tips and smart registry ideas that'll help you stock your ideal newlywed kitchen.