50 Country Wedding Ideas for Bucolic Celebrations That Wow
Whether you love the rustic Rocky Mountains or England's pastoral countryside, there's a country-inspired idea here for everyone, with need-to-know tips from the experts.
Given that much of the United States' landscape is either mountainous or farmland, it's no surprise that so many couples look to the countryside for wedding inspiration when deciding on a celebration theme. However, country-inspired weddings have evolved significantly over the years. While mason jars, hay bales and DIY burlap centerpieces once reigned supreme, the country aesthetic has grown more refined as of late. Along with some of our favorite industry experts, we're here to show you just how to elegantly incorporate country motifs into your event in a timeless way that'll wow your wedding guests.
Cassy Anderson of Cassy Rose Events encourages to-be-weds to remember "that the 'country' is just as much about the feel of the experience as it is about the physical elements. Many may find that they are drawn less to the 'country' aesthetic and more to the beauty of American craftsmanship and of an environment that feels welcoming and warm. Try and steer clear of trite representations and rather incorporate more rustic elements in modern ways. For example, instead of the overdone (but delicious) pie station for dessert, work with your mixologist to come up with delicious specialty cocktails like an apple pie bourbon sweet tea. Serve it up in a specialty glass, and you've got yourself a fresh cocktail with a hint of country flair." She goes on to note that "not all design elements need to be incorporated evenly into every aspect of the event. This is true for colors as well as textures. For country weddings specifically, this is especially important and, frankly, a little of anything goes a long way. If you've fallen in love with a lace gown, go for it! But don't feel bound now to incorporating lace into the invitation pattern and the cake design, etc. For every 'traditional; element you incorporate, look to juxtapose it with something unexpected to avoid things feeling tired. For instance, consider charming leather 'straps' instead of formal napkin rings. Or, wrapping the bar in a weathered wood to add a refined touch to an otherwise common design feature." Bearing this advice in mind will help you and your partner create a wedding that feels bucolic without feeling tired or overdone. Ahead you'll find all the ideas you need to start bringing your country wedding plans together.
In this story:
The Difference Between Country and Rustic Weddings
It should be noted that country weddings are not synonymous with rustic weddings, although the two styles share many similarities. As Anderson noted, a country wedding is all-encompassing of both design elements and a down-to-earth feeling. Meanwhile, rustic is strictly a design style, focusing on natural and verdant elements. For example, you may include rustic tablescapes in your country wedding design, but the tablescapes alone don't give the reception its country feel. Layering in warm hospitality, thoughtful personalization and a focus on community will give the otherwise straightforward rustic look a country feel. Similarly, a country wedding doesn't have to have a by-the-book rustic aesthetic. Think of the English countryside's romance or the sprawling lavender fields of Provence, France. These locales lend themselves just to a country wedding just as well as the Texas Hill Country does. Simply put, both Grant Wood's American Gothic and Vincert Van Gogh's Starry Night could be sources of inspiration for amazing country wedding celebrations.
Country Wedding Portrait Ideas
Your wedding portraits are images you'll look back on for years to come through wedding albums and prints ordered for your home. Bring a bit of personality to these images by imbuing them with the countryside feel the rest of your celebration is showcasing.
1. Field Wedding Portraits
The joy was absolutely palpable as these grooms took a spin in a field during sunset.
2. Wedding Portraits with Goats
At this outdoor wedding, the couple took a stroll with two goats—that's about as close to country life as you can get on your wedding day.
3. Couple Portraits in a Lavender Field
Although this couple's country style wedding took place in California, portraits taken in a lavender field paid homage to the French countryside. Kristen Gosselin of KG Events & Design agrees: "When designing your modern country wedding, take a few design cues from the French. French country style never goes out of style. It perfectly mixes a refined vibe with the calm, serene feeling of the country."
4. Wedding Day Portraits in a Field
For portraits during this couple's country style wedding in Kansas, the photographer had the grooms take a stroll through tall grass.
Country-Inspired Wedding Stationery Ideas
From your invitations to day-of items like programs and signage, your stationery design plays a key role in communicating, and reinforcing, your chosen wedding theme.
5. Antler Monogram Rustic Stationery
A custom monogram, featuring an antler motif, added a country feel to this couple's stationery. The monogram popped up multiple times in the wedding decorations—from the cookie wedding favors to custom koozies and even a sign on the couple's getaway car.
6. Desert Cacti Stationery Idea
A cactus illustration graced the program booklets at this beautiful wedding in rural Texas.
7. Mountain-Inspired Stationery
Not only did this wedding invitation feel natural and bucolic, styling the flat-lay with a pair of cowboy boots added to the country feel.
8. Wood Camping Signage
Instead of a traditional seating chart, this couple had a sign guiding guests to the tents they'd be residing in during the weekend-long camping wedding.
9. Monogrammed Pillow for Lounge Area
Magnolia leaves and antlers give the throw pillow seen as part of one couple's lounge furniture set up a Southern-meets-country feel.
Country Wedding Fashion Inspiration
As we discussed previously, a country wedding is about more than decor design, it extends to the overarching feel and style of the entire wedding, and fashion choices are part of that.
10. Wedding Cowboy Boots
Cowboy boots instantly add a dose of festive personality to any wedding day outfit. This bride chose white cowboy boots for her day-of attire. Consider outfitting your wedding party or bridesmaids in cowboy boots and cowboy hats as well to further accentuate the look.
11. Countryside Summer Attire
Often a black-tie tuxedo may feel out of place at a rustic country wedding. This groom's khaki outfit (which coordinated with the ring bearer's look) matched the couple's summer at-home wedding beautifully.
Country-Inspired Wedding Flower Ideas
Flowers are a big part of any wedding, but when it comes to country weddings, your flower arrangements are a great place to further convey the relaxed, down-to-earth feeling you're going for.
12. Loose Floral Arrangement
Selecting ideal flower varieties can be an overwhelming task. To make it easier, think about the types of flowers that occur naturally in the countryside. Here, the floral designer incorporated thistle and various greenery to bring a verdant feel to the arrangement.
13. Rustic Aisle Floral Arrangement
The loose, organic style of these ceremony aisle arrangements hit the nail on the head. If you want a wedding that feels relaxed and homey, uber modern arrangements aren't the way to go.
14. Loose Fall Wedding Bouquet
Soft hues of peach, caramel and green brought the bride's bouquet at this elegant wedding in Texas to life.
15. Getaway Bike with Flower Arrangement
Few things sound more romantic than a tandem bike ride through the English countryside. If you can't make it to England for your nuptials, plan an elegant wedding with a bike grand exit instead.
16. Modern Country Centerpieces
Berries and vines gave these centerpieces a foraged wildflower look.
Country Wedding Ideas with Animals
Thinking about inviting some four-legged VIPs to the wedding? Let these animal-friendly wedding ideas inspire your own wedding guest list.
17. Horse at Wedding
No farm wedding is complete without a horse for your grand entrance or exit. This equine rocked a floral mane for the big day.
18. Llamas at Country Wedding
When you book a llama farm as your wedding venue, wedding portraits with the furry creatures are a must.
19. Wedding Portraits with Livestock
During the portrait session at this farm wedding, the bride and groom took a moment to befriend a four-legged wedding crasher.
20. Horse Stable Wedding Venue
Horse lovers, tying the knot in a stable (that's be thoroughly cleaned) is a great way to honor your love of all things equestrian.
21. Wedding Exit on Horseback
This couple departed their rustic chic outdoor wedding on horseback.
22. Model Horse Table Numbers
Calligraphed model horses served as table numbers and eye-catching additions to the centerpieces at this rustic chic wedding.
23. Model Horse Escort Cards
Guests also departed the wedding with calligraphed model horses that doubled as escort cards and wedding favors.
Country-Inspired Wedding Ceremony Ideas
Bring a country aesthetic into your wedding day from the very get go by infusing your vow exchange with bucolic touches.
24. Woodsy Chapel Fram
This wood frame structure is the perfect backdrop for a woodsy vow exchange.
25. Field of Wildflowers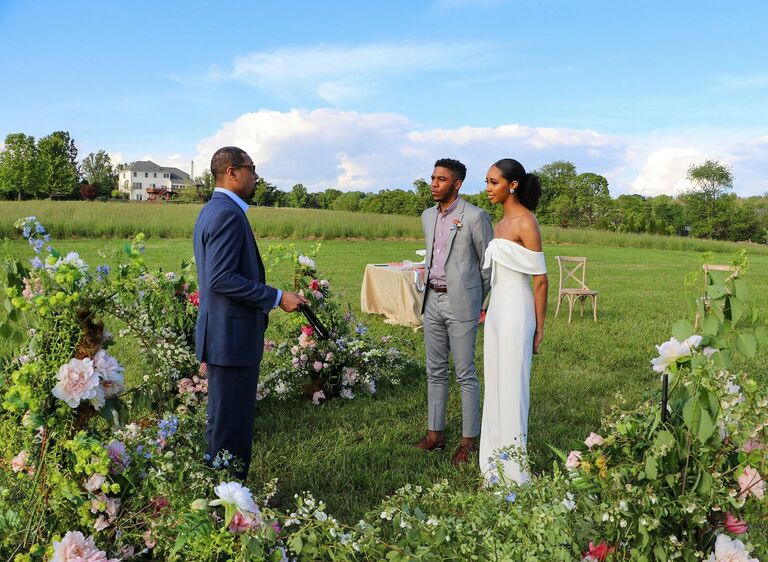 A countryside field of wildflowers served as the ideal location for this couple's minimony.
26. Vow Exchange in the Mountains
Wood cross-back chairs and a wood altar arch blended with this rustic wedding's surrounding mountain landscape.
27. English Countryside Wedding Ceremony
The lush flowers lining the aisle at this wedding ceremony instantly transport us to wildflower fields in the English countryside.
28. Plant Watering Unity Ceremony
The countryside can inform each and every detail of your rustic wedding, including your unity ceremony. This couple opted to water a small sapling during their outdoor ceremony.
29. Rustic Wedding Ceremony in the Desert
Potted plants, blankets and wood furniture brought cohesion and personality to this outdoor ceremony in the middle of a desert.
30. Covered Bridge Wedding Ceremony
Much of the countryside in Pennsylvania and the surrounding regions features historic covered bridges. This couple chose to highlight one such bridge by using it as the backdrop for their outdoor wedding ceremony.
Country Wedding Cocktail Hour Inspiration
Cocktail hour may be a transitional part of the wedding celebration, but plans for an amazing cocktail hour shouldn't be overlooked. From serving a country-inspired signature cocktail to designing mercantile-worthy lounge groupings, there are numerous ways to bring the countryside into your cocktail hour plans.
31. Vintage Truck Guest Book Table
Storied, aged items tend to lend themselves well to a country aesthetic. Here, instead of a traditional guest book table, the couple used the bed of a vintage pickup truck to hold their guest book.
32. Luminaria Pathway
A pathway of luminaria guided guests from the ceremony space to the reception at this bucolic venue.
33. Evergreen Tree Grove
While many country and rustic wedding ideas tend to include wood, from tree stumps to pallets, think about how you can bring living trees and fresh natural elements into your day, too.
34. Upscale Country Cocktail Bar
Yet another reminder that country weddings don't have to have an overly rustic wedding theme. This romantic cocktail hour setup overlooked a serene mountain scene.
35. Mismatched Lounge Furniture
Selecting mercantile-inspired rustic chic wedding details can help further reinforce your country aesthetic, as this mismatched lounge grouping did.
Country-Inspired Wedding Reception Decor Ideas
Gone are the days of burlap, twine, mason jars and hay bales just because everyone else is using them. While there may be a way to incorporate a tasteful mason jar here or there, we're in favor of making wedding decor design decisions with personalization and intentionality in mind. Don't merely scroll through Pinterest to copy what every other to-be-wed is doing, spend some time brainstorming ways to plan a country wedding reception that reflects your style and your interests. If in the end that means you choose to bring in twine or tree stump details tastefully, so be it! Just make sure you plan your wedding, your way.
36. Linen Table Runner
Instead of tablecloths, these farm tables got an elegant upgrade via gauzy linen table runners. Nora Sheils of Rock Paper Coin and Bridal Bliss asks to-be-weds to "please, whatever you do, avoid burlap for country weddings. This was so overdone a few years back that I never want to see that texture again! Plus, it lends itself to a more casual celebration. Instead, consider utilizing a looser yet refined woven fabric in your napkins and linens."
37. Wood Reception Chairs
Honey-hued wood cross-back chairs added warm to this reception table design.
38. Fern Decor Motif
A great way to reinforce your aesthetic is to find multiple places throughout the wedding design to utilize a given motif. Here, ferns made an appearance in both the centerpieces and on the menu cards.
39. Truck Getaway Vehicle
A vintage pickup truck, decked out with a pennant garland, is a great getaway option for couples saying "I do" at a barn wedding venue.
40. Linen Tablecloths
Country and rustic wedding themes don't need to include wood farm tables. This country wedding elegantly incorporated a neutral wedding color palette through the cream tablecloths and soft draping.
41. Rustic Chandeliers
Chandeliers decked out with loose greenery wowed at this fall wedding.
42. White Barn Wedding Venue
This couple said "I do" at a refined all-white barn wedding venue.
43. Glowing String Lights
As the sun set, string lights added a warm ambience to this outdoor wedding.
Country Wedding Cake Ideas
A wedding cake is a staple of most weddings and yet another great spot to reinforce your wedding colors and chosen wedding theme. From picking festive cake toppers to accenting your dessert with wildflowers, options for your country wedding cake are endless.
44. Wildflower Wedding Cake
Pressed wildflowers brought a whimsical vibe to this wedding cake duo.
45. Wildflower-Filled Wedding Cake Table Display
While this wedding cake is beautiful all on its own, the dramatic flower-filled cake table display really knocked it out of the park.
46. Minimal Country Wedding Cake
Sometimes less is more. Here, a simple sprig of greenery and some fresh fruit are all the wedding cake needed.
47. Cake with Ferns and Baby's Breath
Ferns and baby's breath brought a decidedly country feel to this three-tier semi-naked wedding cake set atop a gilded cake plateau.
48. Modern Country Wedding Cake
Peach roses and fresh greenery finished off this simple white three-tier cake on a gold cake stand.
49. Single-Tier Country Wedding Cake
Dried grasses complemented the cake's mottled icing, further reinforcing the rustic chic wedding theme.
50. Minimal Fern Wedding Cake
Just a few fern leaves gave this crisp and clean wedding cake a subtle country look.