This Couple Got Married on a Delta Flight
Here's what it really looks like when love is in the air.
by Catherine Jessee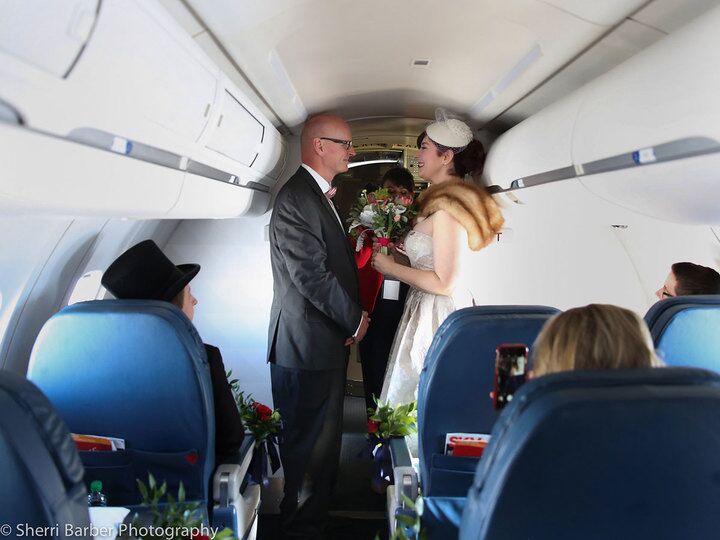 This couple didn't have to look any further than Delta Airlines to find their wedding venue. In an intimate, in-flight ceremony between their home city of Cincinnati and Washington, DC, Ken Nilsen and Tracy Bellman, who had blocked out the entire first class section for the occasion, exchanged vows in front of close friends and family. Why the unconventional choice? They're both self-proclaimed travel buffs, so when Nilsen was awarded Diamond Medallion status (Delta's program for elite frequent flyers) he took Tracy on a trip to Paris to propose at the Eiffel Tower. When it came time for the wedding, they knew they wanted to do something off the beaten runway—er—path.  
According to Nilsen, travel is one of the main things that defines their relationship. "She's the creative artist and I'm a nerdy actuary, so we're very different," he told Delta. "Something that we've always had in common was travel, so getting married on a plane just seemed to be a perfect fit."

Just because the wedding was in the air didn't mean it didn't have all the traditional flourishes. From sweet invitations placed on each guest's seat to in-air drinks for the entire wedding party, the Delta crew made sure everything was smooth sailing. Bellman, who happens to be a wedding cake baker herself, looked stunning in a white high-low gown, matching fascinator veil, pink heels and an elegant fur wrap.
And it gets better—when the newlyweds landed in DC, they strolled out on a rose-petal-covered carpet to share cake and champagne with their wedding party at Delta's Mile High Club. As for their honeymoon, the couple plans to travel to: Cozumel, Mexico; Denmark; Las Vegas; Paris; and Cape Town, South Africa.
No matter where you're walking down the aisle, it's pretty awesome this couple incorporated their love of adventure into their nuptials, especially when most couples say traveling makes them happier than anything else. "I'm in the wedding industry," Bellman told Delta. "I've seen it all, and we just wanted to do something different and uniquely us." We can get on board with that.
See photos from Ken and Tracy's mile-high nuptials here.