COVID Postponed Our Marriage, But Justice Ginsburg's Death Made It Feel Urgent
"All of our rights are now up for grabs."
Some love stories span life stages, while others span landmark Supreme Court rulings. For Camilla Claiborn Drake and Carolyn "Carl" Drake, theirs was a mix of bothwith a dash of interstate travel. "We've known each other for over a decade," notes Claiborn. "We met at Smith, a women's college, and very much an activist college."
"It's a story about timing," adds Drake. "We've been attracted to each other since we met, but we were in different places in our lives—the development of my professional career, I've prioritized more than other pieces of my life. I didn't know where I was going to end up for residency, so when Camilla reached out, she supported me through everything."
On a terrifically brisk day in Williamsburg, Brooklyn, Drake popped the question with a nearby photographer capturing the sunset engagement in Domino Park. "I was ready to propose and I knew that, but part of it was keeping it a secret from her as she stalked my calendar," she laughs. "I had to disguise it as my birthday dinner. I wanted to get dressed up, so I made her wait for months until it was my birthday, and I said I wanted to go to some super fancy restaurant and get drinks before. Then out popped our photographer [Sam Guilbeaux] from behind a bush, who captured our proposal. It was a beautiful cold afternoon, over the water with a sunset, and we had a quick photoshoot. I'm glad we were able to capture that."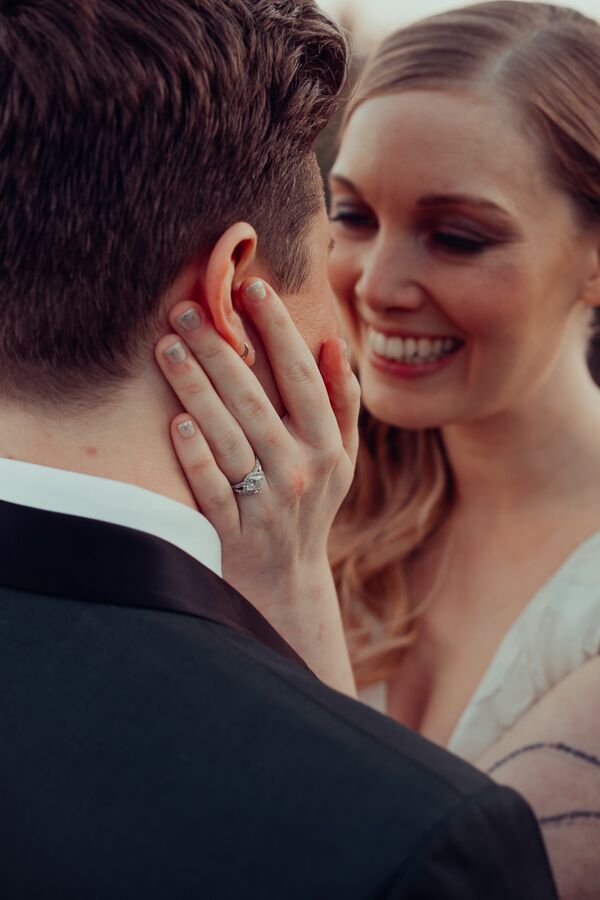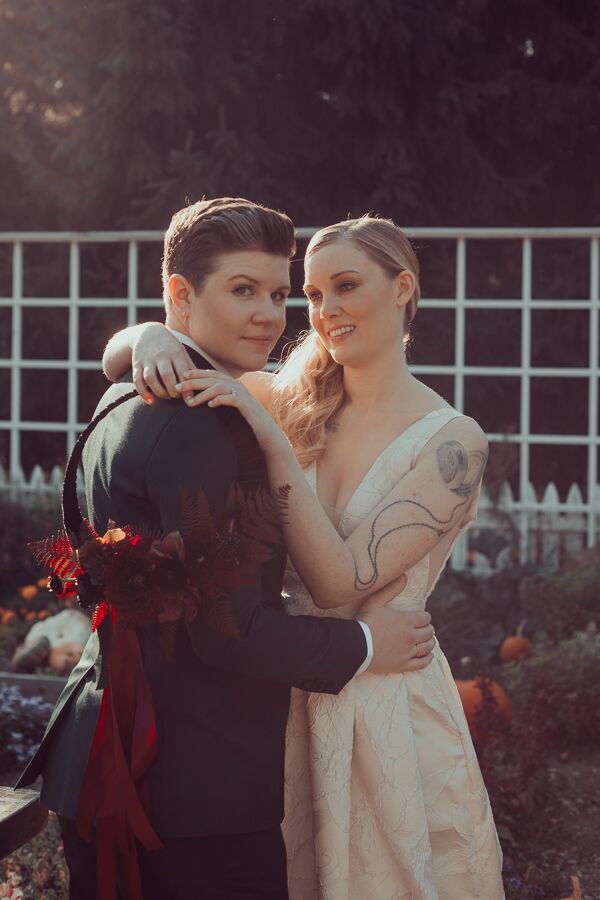 In March 2020, the coronavirus pandemic hit New York City with such ferocity, that as the couple was putting the final touches on their upcoming wedding, they suddenly faced another obstacle where Drake, then a chief resident, was called to the frontlines as a healthcare worker. "I spent many weeks this spring working in the [redacted] ICU," Drake recalls. "It was certainly one of the most formative and challenging experiences of my life."
The coronavirus and the nonstop exposure to sickness and death challenged the couple as they witnessed their relationship expand into a partnership of sudden, realistic need. As marriage licenses were temporarily halted with city municipal offices closed throughout the Greater New York City region, Claiborn and Drake suddenly faced the issue of wanting to legalize their marriage for rights they hadn't considered. From there, the pair carefully crafted an elopement while postponing their larger celebration. In September 2020, the death of Justice Ruth Bader Ginsburg startled the world and Drake and Claiborn suddenly felt an urgency to get married, so that they could secure the legal rights of marriage.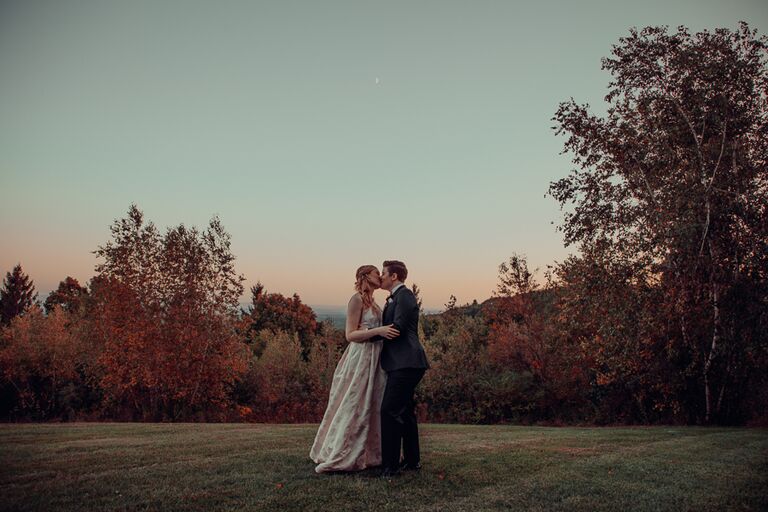 How COVID Shaped How We Perceive Marriage
The original plan was to marry before a few hundred loved ones in May in New York City, which they postponed indefinitely. COVID, however, made Drake and Claiborn realize that simple exercises such as hospital visitation rights weren't an option if they weren't legally married. "In my role as a hospital medicine physician, I am routinely exposed to death and dying," explains Drake, who's in her thirties. "If you will, 'Bad things happen to good people' or challenging things happen to good people, which is why I thought, in each stage of my life, I had to live my life and my values."
At the apex of COVID-19, NYC hospitals saw approximately 35,000 deaths. "The amount of death we saw in a very short period of time in March and April of this year absolutely impacted how important it felt to me that we go forward with our plans," says Drake. "COVID could very much be a very serious disease for young people. I didn't want, as a healthcare worker, to get exposed, be sick, and be in a place where I had regretted not being married to the person I loved the most."
"If we're not married, I'm worried about being able to visit Carl in the hospital if she gets sick, because who am I? So for us a lot of those things you'd assume you'd be able to be there for your partner if they get sick, we don't have those protections," says Claiborn. "We had a day—when we realized we couldn't legally get married and we thought it was really possible that one or both of us would get sick—we printed off living wills and signed them. And we met up and socially distanced with my brother to witness signing our wills.
"I still care for COVID patients routinely, and that's a whole other thing," says Drake. "It's an ongoing reminder, not in a scary way, but an important one, that I want to move forward with my life as much as I can—even when things are challenging."
Why RBG's Passing Made Marriage Feel Urgent
The couple proceeded with their plans to elope when they, like millions of longtime admirers of Justice Ginsburg, learned she had passed away on September 18, 2020. "When our May wedding wouldn't proceed as scheduled, it became clear to me as a physician: I don't know, yet, when as a state we'd be able to have in-person celebrations," says Drake. "So we made the choice to plan an elopement that would be virtually viewed by our family, and then we planned a big celebration party, whenever that's possible."
Drake pauses, "That morning, that was a huge day."
"I don't know that the right for us to get married will go away, but all of our other rights are now up for grabs: our rights to healthcare, workplace discrimination protections…" trails Claiborn. "It did feel like we needed to grab onto the minimal protections we're allowed to have. And we [acknowledge] we're a very privileged LGBT couple: We're white and we're employed during this time."
The entire process of legally marrying has been a learning opportunity, as it is for so many couples. "I didn't know how you get married," says Claiborn. "I learned how you apply, how you get your application, license, and you get your marriage certificate, and most couples are learning that as they go. For us, it wasn't until we went to the city clerk's office where I felt conscious that we were an unusual couple to them—maybe. And there was a moment of confusion about who's going to take whose last name? Those moments are so much more loaded for us. I would never think about those if we were a straight couple and I felt acutely aware of that when we were navigating the legal process."
"When we got our marriage certificate, it hit me that we have this right," she continues, "that we've only had for a few years."
Why We Were Intentional With Vendor Selection
With so much to 2020 alone, the pair wanted to be very specific about how they were spending their dollars for wedding-related events. "As a queer couple, it was really important to support minority-owned businesses in general… in terms of our literal investment of money and time and energy, it was a line in the sand for us that every vendor we worked with had to be a woman, a person of color, a small local business or another queer person," says Drake. "Those people are historically marginalized and that's where we wanted to spend our money. It was really important we feature marginalized voices across the board."
The couple knew immediately they had to hire wedding planner Jove Meyer of his own namesake planning firm and their proposal photographer Sam Guilbeaux of Light and Found Photography. "It was really important we support them," says Drake. As we take up space in the world and we take a stand as a queer couple, it felt important we bring a community along with us. It takes a village, as they say."
"We reached out to Jove and said, 'We hope that's something you're open to as we started with the elopement," Claiborn recalls. "I had really lost hope that it could be fun and truly a celebration, and not just an administrative task. Jove, from the first conversation, approached it with true creativity. He said, 'Let's put out there what you want to do… and yes, we can do it safely.' The positive creative approach made a difference for me and eloping." (Meyer recently launched an ally pledge on his website that openly expresses his commitment to working with creatives who are inclusive. )
The pair ended up staying true to their vision, hiring diverse, female-founded, local businesses to execute their wedding style. Female-founded vendors they worked with included Lillian Wright of Mimosa Floral Design Studio, a sustainability-focused Brooklyn floral design company, and their makeup artist Gina Michelle Beauty. The venue, Hudson Valley-based Cedar Lakes Estate, is also owned and operated by sisters Lisa Karvellas and Stephanie Karvellas Baynton. Rounding out the well-recommended list of vendors was Karla Villar of Once Upon a Vow, who served as the couple's officiant.
What LGBTQ+ Couples Consider While Planning
As with wedding planning in general, there's many decisions to make—but especially as an LGBTQ+ couple, aspects of the process looked different. Among the many factors, wedding day attire was a challenge. For Drake, it was finding a suit that was tailored and exceptional for the wedding day. For Claiborn, it was finding a dress knowing she'd be the only one in it. For both, the wedding day photography was another area of growth that they had to lean into.
"Relatively-speaking as a gender queer-[identified] person, thinking about what I was going to wear to get married was a much more difficult decision than most people," says Drake. "When I get fitted for a suit, like any person, you want it to be tailored and look great, and the process for a suit is a heteronormative one… I had known about Bindle & Keep [a company that specializes in tailored, gender-neutral suiting] for a long time."
"I took both of our mothers dress shopping, which was intense knowing I was the only one to be wearing a dress," says Claiborn. "We went all over the city, and the one I chose was a local, woman-owned shop called Schone Bride [in Brooklyn]. I think we pretty much knew that would be the one… And, it was wonderful to wear a woman-owned business in my neighborhood."
While each knew what her partner was wearing, they still shared a first look session. "Our photographer, Sam, helped us do a first look equivalent in our cabin, coming out of the doors," says Drake. "As a queer person, kissing my partner in front of the camera is a very vulnerable moment for me—and Sam is that person for me. It was really special that we had Sam shoot our wedding."
See the photos below.
As Told to Esther Lee