Vaccinations Are Suddenly Required at Your Venue. Now What?
We break it down for couples and guests.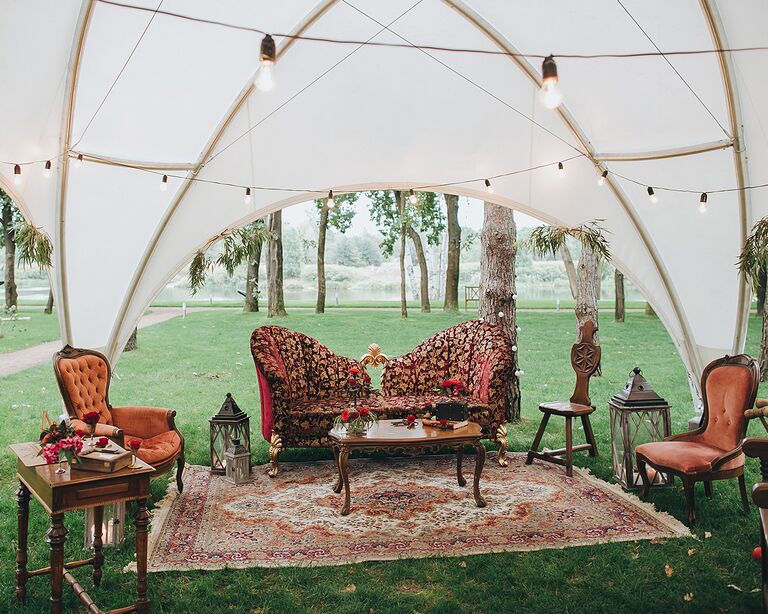 Alex Gukalov / Shutterstock
Weddings in 2021 have moved ahead, especially with the COVID vaccine's distribution to the general public across the US. However, with breakthrough cases and higher contagion levels of the Delta variant, couples and pros are facing ever-evolving rules like mask mandates in various regions and, most recently, vaccine requirements at venues. Starting in mid-September, cities like New York will require proof of vaccination at indoor gathering spaces like restaurants and entertainment venues.
According to The Knot internal data, updated in August 2021, close to one out of four couples are now requiring guests to be fully vaccinated to attend their wedding (up from 3% in the spring). With the updated requirements, this number is expected to rise. Here's what to do if you're attending or planning a wedding where vaccinations are required this fall.
In This Article:
Will My Wedding Happen in 2021?
As of now, yes. About 96% of all couples feel "very or somewhat confident" that their wedding will take place this fall. Half of couples are, however, feeling more concerned about COVID than they were two months ago, meaning couples should be open to incremental, possible changes.
In August, the CDC updated its guidelines encouraging mask use indoors even for vaccinated individuals. With evolving requirements, close to 20% of couples are now proactively making changes to their wedding. About half of all couples are diligently watching requirements as they're listed by local government offices. Meanwhile, another 28% are monitoring the situation.
Fully vaccinated individuals across the country will be able to attend upcoming weddings and events, though they're encouraged to do so safely. However, those who aren't fully vaccinated may confront roadblocks for attending an event. Some venues will be required to track vaccination status for entrance onto its premises, meaning pros and couples will be impacted. If your loved ones refuse to get vaccinated, have a conversation with them and consider what this could mean for guest attendance on your day.
What Should I Expect With Vaccine Requirements?
Within the last year, both couples and pros have adopted a stringent set of health and safety precautions for weddings and related events. The Knot Real Weddings Study found that the vast majority of to-be-weds (over 95% of couples), in fact, modified their weddings in 2020 to meet COVID-compliant standards. Since situations varied by state, similar rules regarding masks and social distancing were enforced according to each county. Again, couples and pros are back to diligently awaiting possible changes.
Since certain venues are required to keep track of vaccinations, couples, wedding vendors and guests need to stay informed and communicate accordingly. It has been highly recommended to create a wedding website FAQ page to help keep your loved ones stay up to date on what health and safety measures may be required.
If the Venue Requires Vaccinations: For Couples
The highest recommendation for couples is to communicate with their vendors and guests as frequently as possible. Contingency plans (if needed) will soften the blow of any unexpected, last-minute changes, especially with evolving guidelines.
With guest communication, leverage your wedding website and email updates to inform your loved ones about expectations. For example, if your venue requires vaccinations, you'll want to send a notice about this to all guests immediately.
Finally, implement health and safety measures, like face masks, hand sanitizer and/or routine COVID testing. Regardless of vaccination requirements, couples are encouraged to provide some level of PPE. Couples moving forward with a 2021 wedding should keep these factors in mind and stay close to their venues as they finalize planning details.
If the Venue Requires Vaccinations: For Guests
Guests are also encouraged to take measures to celebrate safely. With the exception of minimonies, weddings are still considered large group gatherings, according to CDC guidelines. While some regions are close to reaching herd immunity, vaccine hesitancy still poses a risk across the country as people travel. Coupled with ongoing spikes in COVID cases and deaths across US communities, caution is advised before deftly returning to pre-pandemic lifestyles.
As a 2021 wedding guest, check the couple's wedding website for frequent updates or possible answers addressing your concerns. If, for any reason, you feel deep discomfort attending a wedding due to ongoing changes, feel free to decline the invitation or to have a conversation with the couple about your RSVP status. The most important consideration of all is mitigating risk.