4 Creative Ways to Announce Your Engagement
Ready to announce your engagement? Think outside the wedding ring box, and make an announcement in a way that matches your personalities.
by Christa Vagnozzi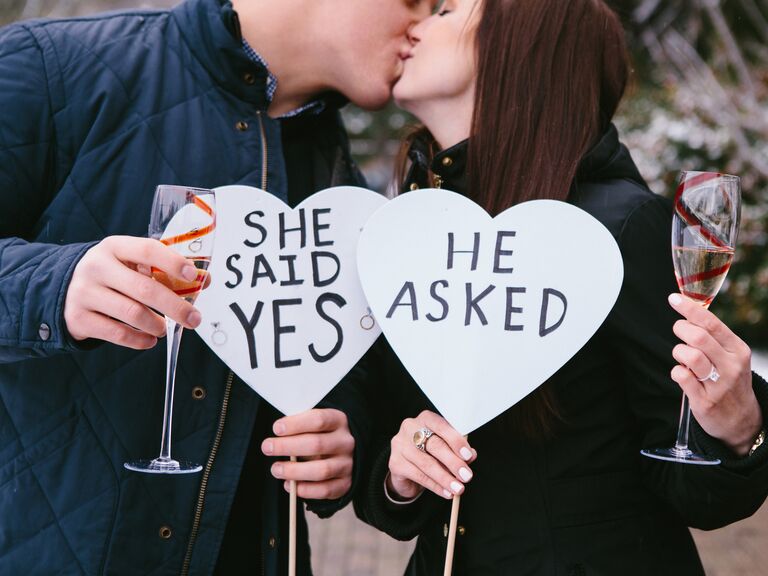 Your wedding will no doubt reflect your personality as a couple, but why wait until the big day? The way you reveal your engagement to others should say something about you as a couple. When the newspaper simply won't do, here's how to personalize your engagement announcement.
The Web-Savvy Couple
If you don't have one already, now is the time to publish a wedding blog. The hottest form of mass communication, blog pages get the word out fast and allow for quick feedback (and congratulations!). Create a free wedding web page to share every detail of the proposal, and then use it as an easy way to keep your guests updated on wedding plans.
The Entertainers
If you and your fiance are known far and wide (or at least within your group of friends) for throwing the best parties, announce your upcoming nuptials by hosting a surprise engagement party. Keep the secret long enough to gather your nearest and dearest, and your party promises to be anything but an everyday get-together. Host it at a favorite downtown restaurant, a local art gallery, or at a classy cocktail lounge, and share your good news with a champagne toast!
The Shy Guys
If you're not the type to draw attention to yourselves, consider making your announcement on a holiday. Think about the advantages: Your family and friends are already together, they're focused on the occasion, and your good news will only add to the festive atmosphere of the day. Announcing your engagement on a holiday will not only make the day more memorable for years to come, but it'll also ensure that you guys aren't all alone in the spotlight.
The Snap-Happy Couple
Did he propose on vacation? Then you probably have plenty of snapshots from your trip that you want to share with loved ones. If you used a digital camera, create an album on a photo-sharing website such as Shutterfly.com or Snapfish.com. Put together the story of the marriage proposal ("This is the view of the beach from our hotel," and "Here's a shot of the sunset on our first night"), leading to a picture of the two of you -- engaged! A final shot of you showing off your beautiful new ring will be a fitting way to end your engagement slideshow, and a great way to start a new chapter of your lives together.