Custom R2D2 Engagement Ring Proposal!
by Heather Hall
Attention all Star Wars, Charlie Brown, and proposal story fanatics! You are going to love this one.
We got wind of an extraordinary custom-made engagement ring inspired by the one and only R2D2 — and it's amazing. The couple's story began in a tattoo shop where the two love birds fell in love and both worked at the time. Bonding in their nerdiness, including their shared love for all things Star Wars and comic-related, Joe and Emily are now happily engaged to be married!
Not just any ordinary engagement ring would satisfy what Joe P. wanted when it came time to asking his girlfriend Emily to marry him. Instead, Joe took matters into his own hands and developed the ultimate ring for his soon-to-be new bride. Joe envisioned a one-of-a-kind ring that no geek princess could refuse — one inspired by R2D2 for his Star Wars-loving partner.
With an idea in mind, he put a request in to CustomMade.
Hello, my name is Joe. I am a Graphic Artist and Tattooer in the North Jersey metro area. I was recommended to this site by one of my closest friends and CustomMade builder Endless Design. This is my first project with CustomMade and I have to admit, I am really excited to get the ball rolling. I am looking for an enthusiastic professional to make my R2D2 themed engagement ring a reality… I am hoping to find a maker who can match my fanatical Star Wars enthusiasm. I believe this can and will be a truly unique piece for both us and your portfolio! Anxious, Joe P.
"Jedi Master" of jewelry design, Paul Michael, responded in extreme interest about the creative new project. The two began to work together (like Luke Skywalker partnering with Han Solo) to come up the perfect design for Emily. Once completed, Joe received the ring and was overwhelmed with excitement.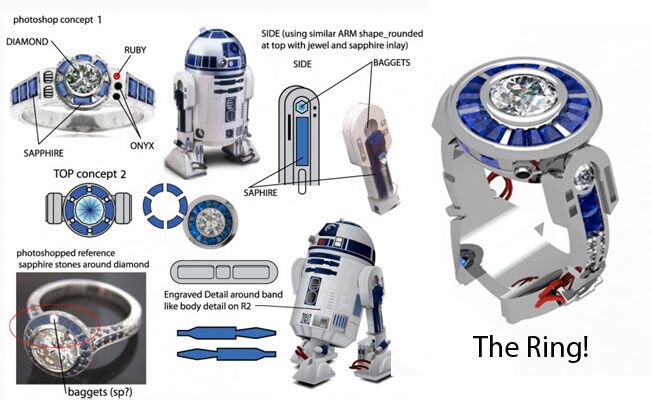 Now onto the proposal: Halloween neared and Emily asked Joe to partake in a couple's costume with her as Lucy Van Pelt and Joe dressed as Charlie Brown from Peanuts (so cute!). As all their friends gathered outside of the tattoo shop for a group photo in their Halloween-best, Joe popped the question. Be sure to watch the video above! We can't get enough of the joy in Joe's voice when he thanks Paul for such a unique piece.
This was the most important art project of my adult life… There is NO WAY [it] could have been completed without Paul Bieker and/or CustomMade! This website is a diamond in the rough – a serious collection of insanely talented craftsmen and women! Unfortunately, now people seem to be driven by bottom line price. My sympathies to those parties! CustomMade is bringing back the concept of handmade quality craftsmanship! Reviving the adage that "Good work isn't cheap and cheap work isn't good!" A million thank you's to Paul Michael Design. His work speaks for itself and his portfolio is a testament to his skill. The force is strong with him! … All my support and gratitude, Joe P.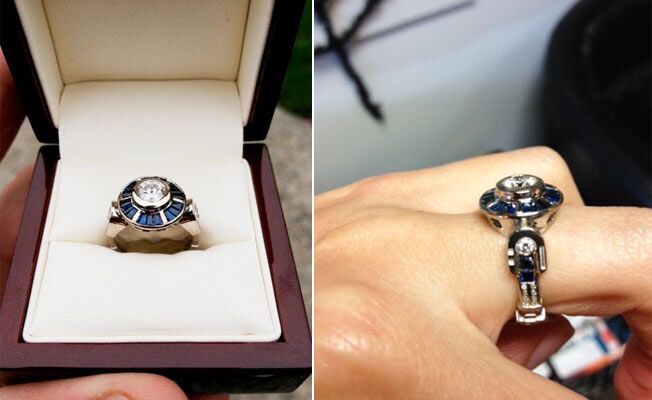 Congratulations to the happy geeks! We love this ring!
Like this?! Check these out:
> Superhero-Inspired Wedding Details
> Real Wedding: Star Wars Grooms Cake