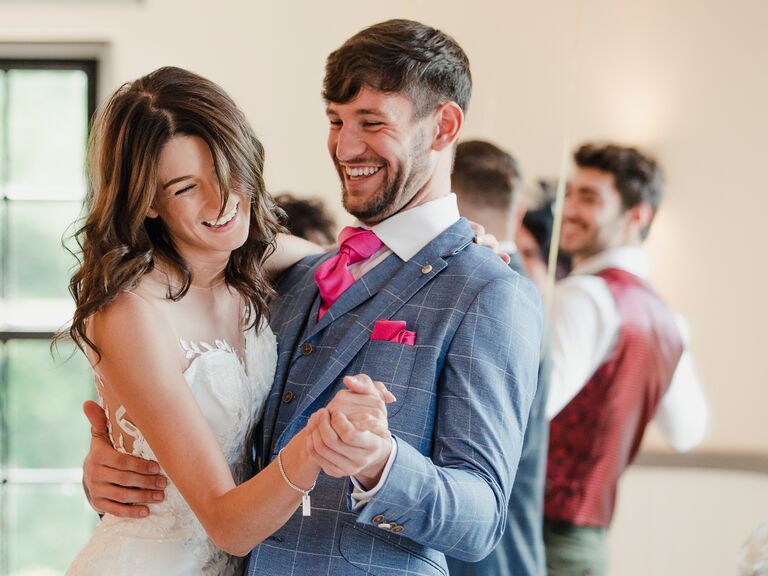 Whether you wear a suit and tie basically every day or only when you absolutely have to, your wedding is the perfect excuse to show off your personal style. And the best way to do that, in my opinion, is with a custom suit. I'm not talking the fancy-pants pinstripe banker look—although, if that's your thing, you do you—but rather a suit that's truly you down to the very last thread. Read on for five smart ways to inject some personality into your bespoke look, then check out the Men's Wearhouse custom service that offers hundreds of fabrics and other style details to choose from.
1. Get the Exact Fit You Want
We've all been there: standing in the fitting room trying on a piece we loved when it was hanging on the rack, only to have it look less than perfect once we put it on. You know that moment, right? The frustration is real. And also why the number one best thing about going custom is that you're getting a suit tailored perfectly for your body, with the cut or silhouette exactly how you like it: slim, straight, classic, whatever. No matter your style preferences—pants with a modern, slight crop at the ankle, a slim-fit jacket with longer arms, pants that are straight through the thigh but slim at the ankle—go custom, and you can have it.
2. Express Your Style With Color and Pattern
Once the fit is perfected, you get to pick the colors, patterns and textures for your suit. It's these characteristics that really make the difference between an off-the-rack suit and a custom one. Plus, there's no faster way to show off your personality than with color and pattern—so have fun with it! Make a statement with an unexpected combo, like a windowpane plaid suit lined with polka dots (going outside the box with the inside lining is a surefire way to make your look unique). On the other hand, if going custom is more about getting the fit and other suit details just right, you can absolutely stick with a classic hue in the fabric of your choice—a tan lightweight cotton works great for a summer wedding, for example.
3. Elevate Your Look With Thoughtful Details
You've probably heard the saying "It's all in the details," and that's particularly true when it comes to custom suits, especially if sartorial niceties are what make you tick. Being able to choose working buttonholes, add pick stitching around the lapel, and coordinate the thread color to the felt-back collar are all signs of true craftsmanship that are often hard to find in a ready-made suit. And then there are the all-important lapels. The most popular option is a notch lapel, while a peak lapel gives your suit a dressier vibe. At Men's Wearhouse, you can even have a personalized label—sporting your name or wedding date, for example—sewn onto the inside of the jacket. Not sure where to start? Expert stylists are on hand to guide you through all of your choices.
4. Pay Attention to the Pockets
When your suit has the right kind of pockets, right where you need them, you won't have to worry about losing your AirPods or loose change as you throw down on the dance floor. (Take it from someone who learned the hard way!) But pockets aren't just practical—you can choose the exact style you want on your jacket. For a black-tie event, a slit style (called a besom pocket) is considered the dressiest. For a more vintage look, try slanted hacking pockets. You could also add a ticket pocket, which is perfect for holding the aforementioned earbuds and loose change.
5. Play Around With Fun Accessories
Sure, a custom suit is more of an investment than a rental, but that's not to say you can't dream up new ways to style it with each wear. Switching up the accessories can totally change the look. Try accenting with a colorblocked pocket square; a treasured family heirloom, like the watch your father gave you; or a playful tie or pair of socks that nod to the event you're attending (think: whale patterns for a beach wedding). The bottom line: Have fun with your choices! You already nailed it with the custom suit, so finish off your look with the small touches that put your personality front and center.
Will Taylor is the founder of the blog Bright Bazaar. Read some of his takes on wedding style here and here, and get more advice for the guys with Groom Style from The Knot and Men's Wearhouse.