8 of the Cutest Wedding Dogs You'll Ever See
Is it even possible to look at a dog at a wedding and not say, "Aww?" The answer is a resounding no.
by Rachel Torgerson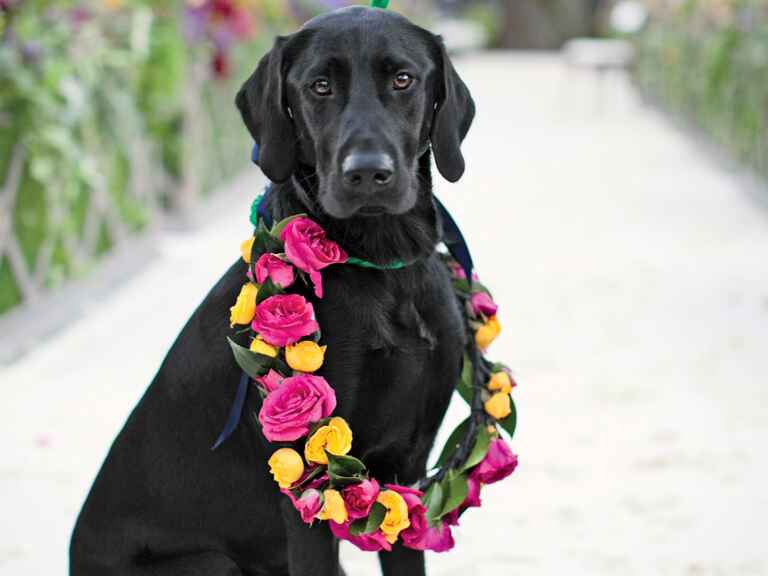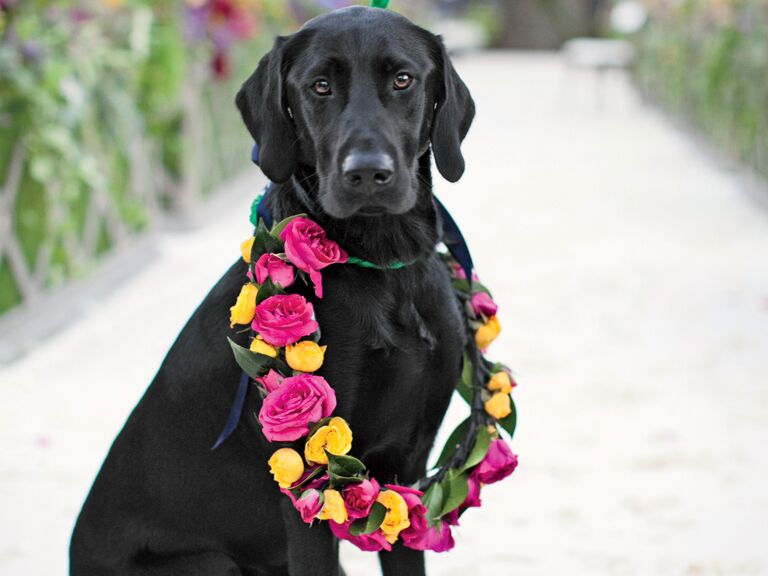 photo by
Bliss Weddings and Events
Your best friends are the ones you want standing up with you at your wedding, but what about your furry best friends? Assuming they're well-behaved, they're a delightful addition to the activities and, even more so, the wedding photos! Without further ado, here are some of our very favorite wedding dogs, like Charlie the black lab above, who had a prominent spot in Alicia and Tony's Chicago wedding. He was given this vibrant garland to wear and also was a big focus of the couple's decor.

Dogs Dressed in Tuxedos and Bow Ties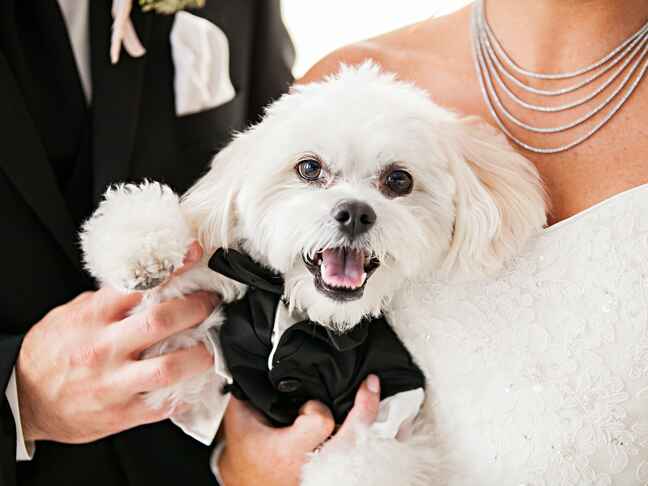 photo by
Lola Jo Photo Design
Okay you have to love Oliver, above, who made sure to dress in his classiest tux and tails for Jessica and Brody's wedding.
Dogs with customized chalkboard signs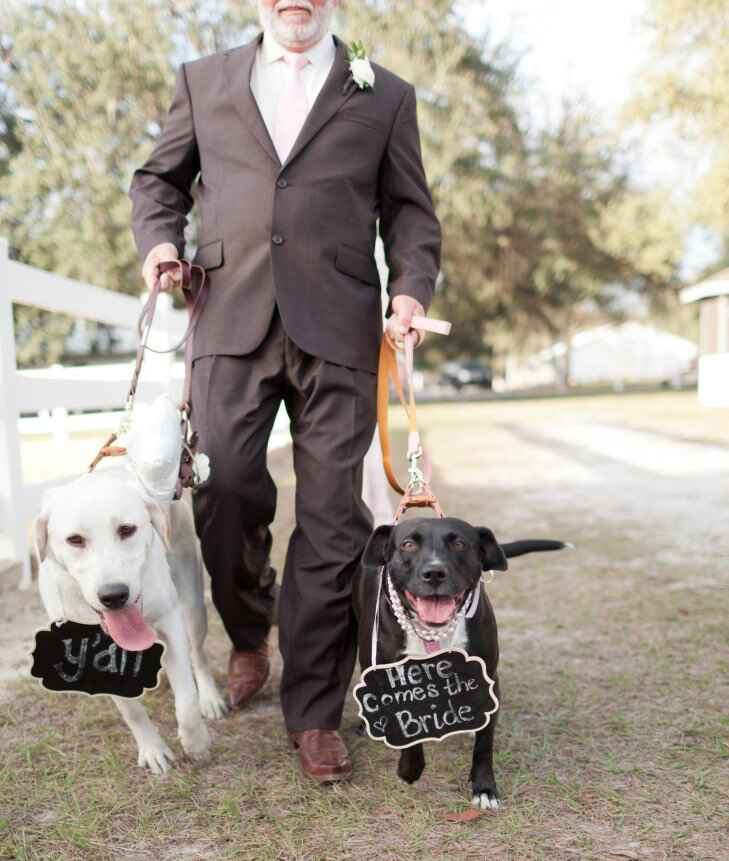 photo by
Andi Mans Photography
If going for a W-A-L-K is number one on your k-9's list, take a page out of Savannah and Robert's book and give them a statement-making collar sign.
From the album: A Romantic, Outdoor Wedding in Dade City, Florida
Dogs with matching flower crowns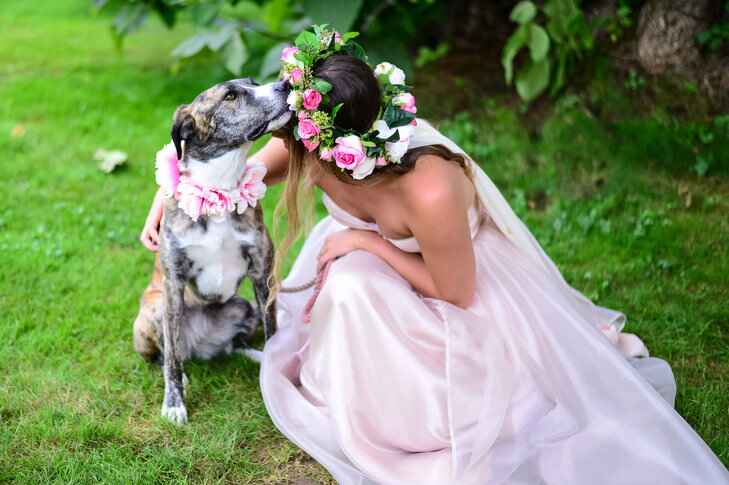 photo by
Kristen Conte Photography
You match with your bridesmaids and groomsmen, why not do the same with your pup-tendant? Brianna matched her spotted pooch with identical pink flower crowns, while her husband matched their other dog with a similar bow tie at their Connecticut festivities.
From the album: A Whimsical Bohemian Wedding at The Country Loft in Woodbury, Connecticut
Dog with bow tie leash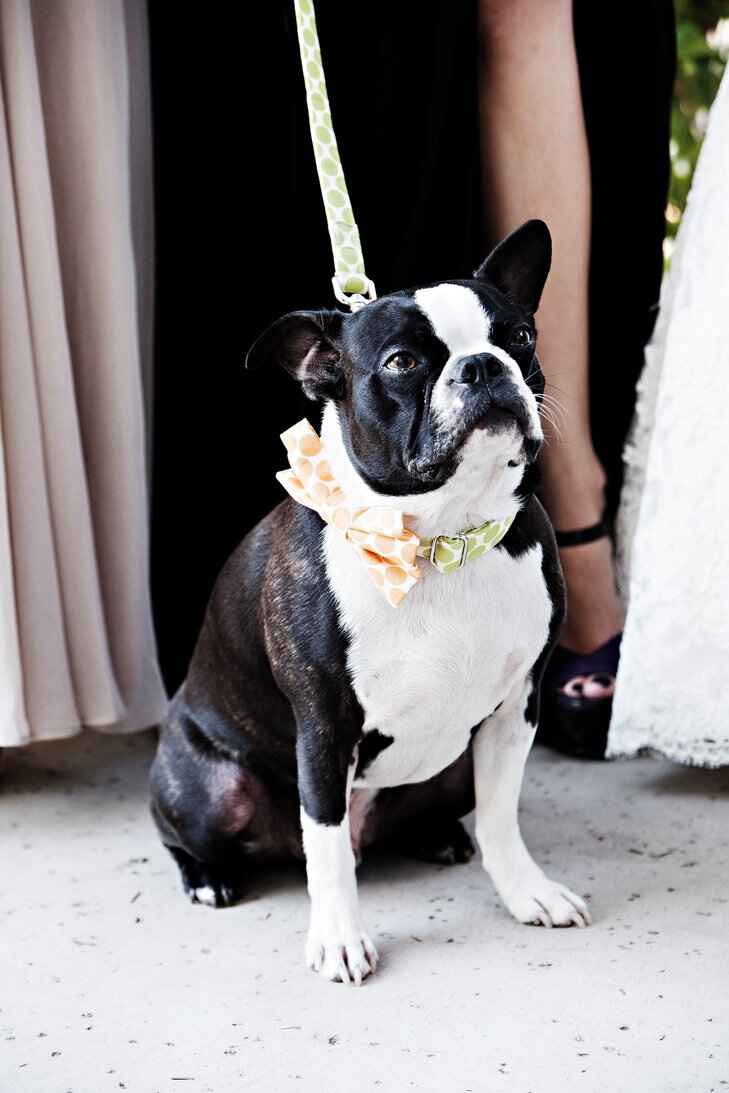 Gabriela and Luis's Boston Terrier added a preppy touch with his mixed pattern leash and bow tie combo at their Calistoga, California, wedding.
From the album: A Wine Country Wedding in Calistoga, California
Dog walking with rustic decor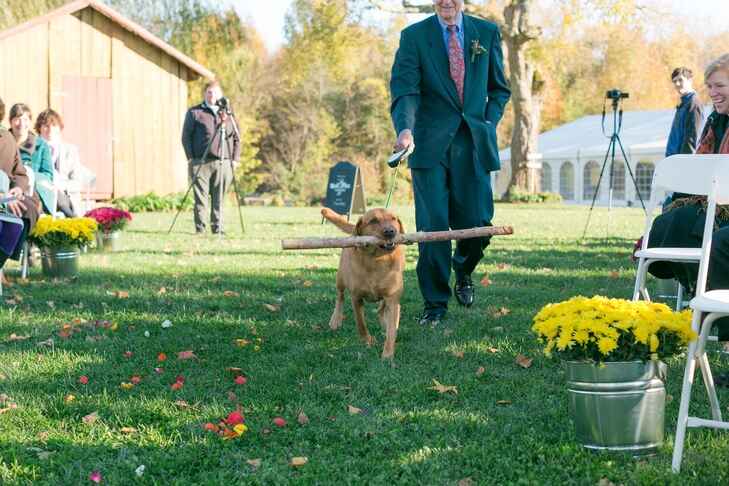 photo by
Karen Allen Photography
Okay, so maybe your pet can't carry a bouquet down the aisle, but that doesn't mean they can't take a piece of nature with them as they strut their stuff. Even though Kelsey and Andrew's puppy might have bitten off a little more than it could chew with it's choice of fetch material, the four-legged pal gave guests a lot to smile about at the Virginia nuptials.
From the album: A Festive Fall Wedding at Amber Grove in Moseley, Virginia
Dog with a burlap flower girl bandana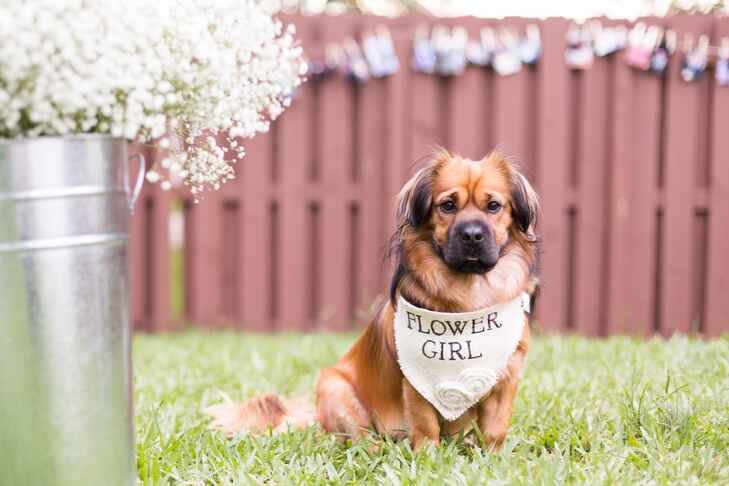 photo by
Stephanie Rawcliffe Photography
State the obvious with your puppy attire and tie a self-titled bandana around your flower girl or ring bearer's neck for the day, like Maria and Jason did.
From the album: A Surprise Rustic Backyard Wedding at a Private Residence in Lauderhill, Florida
Dog with pink hair accessories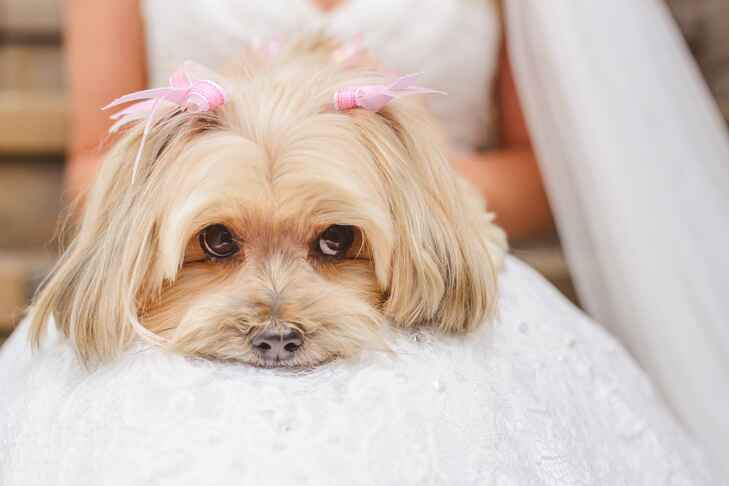 photo by
From The Hip Photo
Sometimes subtlety wins the day, which is definitely the case with Kaitlyn and Ryan's puppy Zoey, who accessorized demurely with tasteful pink bows in her ears at the couple's Arvada, Colorado, wedding.
From the album: A Rustic DIY Wedding at Raslston Crossing in Arvada, Colorado