6 Celebrity Danielle Frankel Wedding Dresses We Love
A-listers like Alexandra Daddario and Naomi Biden prove this is the ultimate "cool girl" bridal label.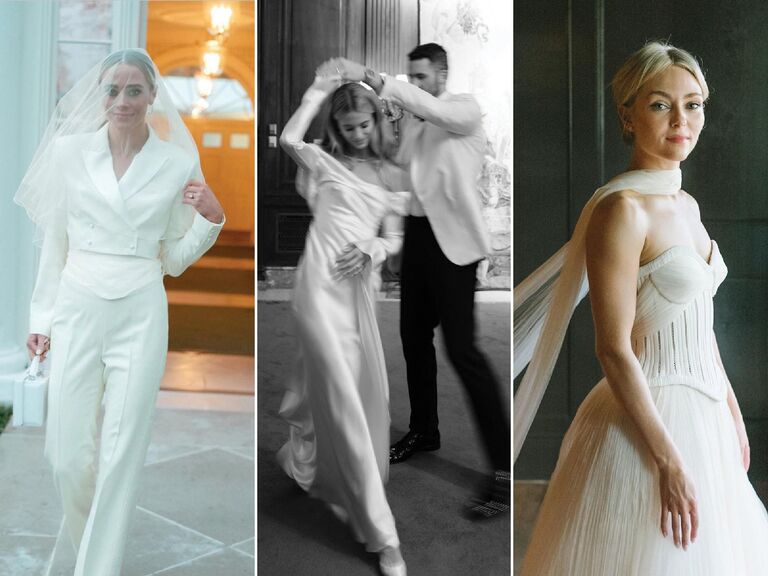 @daniellefrankelstudio / Instagram,@katebock / Instagram
Amid the rise of the "cool girl" wedding aesthetic taking over the internet, no brand encapsulates its effortless elegance quite like Danielle Frankel Bridal. The label, founded by Danielle Hirsch, seamlessly blends nostalgia and modernity through intricate and clean designs that are exquisitely fashion-forward, and, undeniably, cool. Before launching her own wedding brand, Hirsch was a designer for Vera Wang—and in 2019, she was selected by Vogue and the Council of Fashion Designers of America to be the first bridal designer to participate in the annual Fashion Fund.
Given the recent surge in popularity of Danielle Frankel wedding dresses, it's no surprise the brand has rapidly amassed an impressive repertoire of esteemed clientele. Here, we look back on six celebrities who wore a Danielle Frankel wedding dress. From Naomi Biden's sleek reception pantsuit to Alexandra Daddario's pleated lace gown, we can't get enough of these trendy ensembles.
Alexandra Daddario's Wedding Dress
Knowing she would face high temperatures on her New Orleans wedding day, actress Alexandra Daddario turned to Danielle Frankel for a dress that could withstand summertime in Louisiana. The White Lotus star married producer Andrew Form in June 2022, and, as it turns out, the conception for her wedding gown began over Instagram DMs. "I fell in love with Danielle Frankel's dresses," she told Vogue. "I followed them on Instagram. They sent me a message, and we chatted, and when I went to their studio, I just felt beautiful in everything. I chose my dress because it felt like it belonged in New Orleans and was the right choice for the Louisiana heat."
The bride selected Danielle Frankel's Scarlet wedding dress, a pleated silk wool gown with lace appliqué and tulle watteau. She wore her hair in a simple bun with a trailing embroidered veil, and completed her look with a white lace parasol—a particularly apropos accessory for a post-ceremony march through the French Quarter.
Naomi Biden's Rehearsal Dinner Outfit
President Joe Biden's granddaughter Naomi Biden wowed in the Ralph Lauren wedding dress she donned for her November 2022 wedding to Peter Neal. But before she slipped into the Grace Kelly-inspired ensemble to say her "I dos," she kicked off her wedding weekend in a custom Danielle Frankel pantsuit for the rehearsal dinner. The bride styled the strapless look two ways: first, with a structured cropped blazer overtop and a short veil, and later with a gauzy asymmetrical cape tied over her shoulders with a satin bow in the front.
Speaking to Vogue about her nuptials, Biden explained that she always envisioned getting married at home, though securing the White House grounds was an unexpected bonus. "We're so close to our families, so we always knew we'd get married in someone's backyard," she mused. "I think if my pop weren't president, it would probably be their house in Wilmington or Peter's family's backyard in Jackson [Wyoming].
Julia Garner's Wedding Dress
Actress Julia Garner wore not one, but two Danielle Frankel wedding dresses for her New York City Hall wedding to Foster the People musician Mark Foster in March 2020. Inspired by Sex and the City, the bride told Vogue she had two distinct visions for the occasion. "I love pantsuits, and I always thought that if I were to get married in a courthouse, I wanted to wear one," she said. "I wanted a Carrie Bradshaw moment. But of course for the party, I wanted something more soft and feminine." Despite knowing her ideal aesthetics, she was still without an outfit shortly before the big day arrived. "I started freaking out because I was getting married in 10 days and had nothing to wear," she continued. "When I was on a lunch break in my trailer [while shooting Ozark], I went on Instagram, and I got a DM from Danielle Frankel asking me if I had found a dress. I wrote her back, and we exchanged numbers. The next day we spoke on the phone, and I felt like I'd known her forever. It was an Instagram miracle!"
The digital connection turned out to be a moment of fate. Garner explained that she was a longtime fan of Danielle Frankel's bridal line, calling the designs "beautiful, modern, smart, classic, edgy, original, flattering, and powerful." She landed on two of the brand's wedding dresses, one of which was aptly named "Julia." For the legal proceedings, she wore Danielle Frankel's "Jamie" wedding dress, a high-neck mini frock with ruffled cuffs, which she layered over their "Dana" pants. As the intimate reception continued at Tribeca's Locanda Verde restaurant, she changed into the Julia: an asymmetrical mini dress with a sheer lace neckline and a satin skirt accented with lace trim.
AnnaSophia Robb's Wedding Dress
For their September 2022 wedding, actress AnnaSophia Robb and entertainment lawyer Trevor Paul invited guests to Inness, a luxury rustic property nestled between the Catskill and Shawangunk Mountains in New York's Hudson Valley. The harvest-inspired soirée was a three-day affair they described as "relaxed and inviting and peaceful."
The bride donned "Anika," an ethereal Danielle Frankel wedding dress. The gown had a cotton corseted bodice with a pleated tulle skirt, which she styled with a petite veil on her head and a gauzy neck scarf. The brand called AnnaSophia Robb's wedding look "magnetic" on Instagram, to which she replied, "Words cannot contain my gratitude and love for ya Danielle!" (In a sweet exchange, fellow Danielle Frankel bride Alexandra Daddario shared her love for Robb's look, commenting "Stunning.")
Kate Bock's Reception Dress
Like Naomi Biden, Kate Bock also wore a Ralph Lauren wedding dress on her wedding day—but she changed into two Danielle Frankel bridal looks for the second half of the party at the New York Public Library. The model, who married NBA star Kevin Love in June 2022, swapped her lace long sleeve dress for a drapey, off-the-shoulder silk wool gown for the reception. "I went to try on multiple dresses at different boutiques to get some ideas and shapes to give me inspiration for direction," Bock shared with People. "When I tried on this specific dress at Danielle Frankel, it was just perfect. I loved that it felt like I was just dripping in silk. It felt perfect for our old-school glamor-inspired night."
That wasn't her only Danielle Frankel wedding dress of the night. For the after-party, she changed into yet another look from the brand: a long sleeve frock with a mini skirt, which she paired with white strappy heels.
Georgia Fowler's Wedding Dress
Model Georgia Fowler wore three looks throughout her January 2023 wedding weekend at her husband Nathan Dalah's family farm in Australia. While she officially swapped vows in a Vivienne Westwood gown, she opted for a custom corseted Danielle Frankel wedding dress—which was reminiscent of AnnaSophia Robb's—for the day-after celebration. "I love the quirk, humor, and modernity of [Danielle Frankel's] gowns," Fowler told Vogue Australia. "She designs for the anti-bride who still appreciates true couture."
Although she says she "fell in love with every single one" of Frankel's creations, she landed on a strapless gown with a full skirt. "We thought we should add a touch of youthful fun to it though, [so] Danielle added in some custom accents—a neck scarf and a cut-out in the bodice," she added. "Tell me I would have chosen a tulle petticoat dress for my wedding and I wouldn't have believed you, yet Danielle's design was so perfectly me—and perfect for the farm location too."