10 Day Excursions in Mexico for Adventure-Seeking Honeymooners
Unforgettable side trips for when you're ready to give relaxation a rest.
by Cassie Kreitner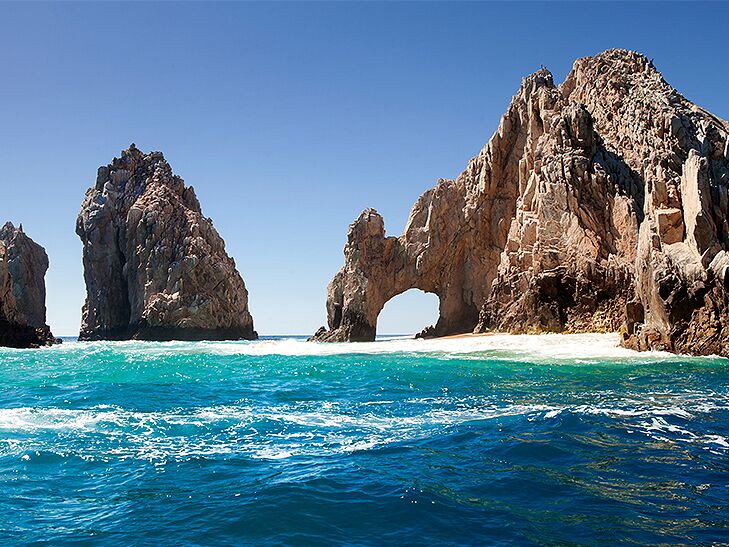 With easy access from its international airports to gorgeous beaches and romantic resorts, Mexico is a honeymoon no-brainer. But there's more to our south-of-the-border neighbor than lounge chairs, thatched umbrellas and tropical drinks. See for yourselves with one of these memorable outings.
Climb Mayan ruins
Want to gaze upon the landscape as Mayans did hundreds of years ago? Head to Coba's archaeological site that is the location of the Nohoch Mul pyramid, the Yucatán Peninsula's tallest and only remaining climbable ruin. Honeymooners who make the steep journey up 120 narrow steps will be awarded with sweeping views of the jungle and nearby lakes. Grip the guide rope to venture back down, then walk or bike along the settlement's original limestone roads to check out the other buildings that made up this once-bustling metropolis.
Submerge in cenotes
Discover one of the world's most unique aquatic experiences on a hike through the Río Secreto, Mexico's longest partially flooded cave near Playa del Carmen. Get outfitted in a wetsuit, lifejacket and safety helmet with a headlamp before heading down a spiral staircase to one of the nature reserve's 15 entrances. With more than seven miles of subterranean rivers and geological formations to explore, it will seem like you have the cavernous chambers and narrow passageways all to yourselves.
Travel the Tequila Trail
Before or after a trip to Puerto Vallarta's breathtaking coastline, spend a night strolling hand in hand in the historic city of Guadalajara. The next morning, hop aboard the Tequila Express train for a scenic ride through the Jalisco state's countryside. Get serenaded by mariachi bands as you pass through a picturesque valley flanked by mountains on either side. You'll stop to tour blue agave fields and tequila distilleries in and surrounding the historical town of Tequila, part of a UNESCO World Heritage Site. You can also opt for the Jose Cuervo Express, a separate train that transports you to the company's distillery (one of the oldest in Latin America), or you can tour—and taste—the region by car on the Spirit of Jalisco Tequila Distillery Tour.
Take a world-class dive
Grab your gear—and an underwater camera. You'll want to be prepared when you splash around in the warm aquamarine waters of Cozumel's National Marine Park, located on the southern tip of the island. This protected area of the Mesoamerican Barrier Reef, the world's second largest coral reef, is home to 105 types of coral and 262 species of tropical fish. You can swim out to it from the beach or book one of the many offshore tours available for every skill level.
Kayak around the Arch
Paddle past sea lions and pelicans out to Cabo San Lucas Bay, where you'll get near the famous three-story-tall rock formation known as "The Arch." Continue onto Land's End, the point where the Pacific Ocean meets the Sea of Cortez and where you'll feel like you've literally reached the ends of the earth. There you'll find a strip of fine sand only accessible by boat that is so romantic, you, too, will be calling it Lover's Beach.
Zipline through the jungle
Fly among the treetops on Mexico's longest and fastest ziplines. Vallarta Adventures takes you on an exhilarating aerial journey, where you'll travel at speeds of up to 60 mph, while its sister company, Cabo Adventures, offers a similar adventure through a UNESCO-protected desert biosphere. For honeymooners staying on the Yucatán Peninsula, get your adrenaline rush at Xplor, an adventure park in the Riviera Maya, where you'll swing on 14 ziplines both above and below ground—and even through the water.
Snorkel through a living reef
Travel to Cabo Pulmo, a fishing village 60 miles north of Cabo San Lucas. Described as "the aquarium of the world," this protected area on the shoreline of the National Marine Park includes a five-mile stretch of remote beaches and the clear waters stretching before it. Snorkel among an array of colorful coral and hundreds of tropical fish species at Mexico's only natural living reef; tours typically stop at three designated locations.
Take in the beauty of the Copper Canyons
You can easily spend an entire week in the Chihuahua state's majestic Copper Canyon region, a series of six canyons that make up an area about four times larger than the Grand Canyon. But newlyweds who'd like to see the highlights can choose among private half- or full-day tours from The 3 Amigos with activities to suit every adventure style. Walking to the foot of the Cusarare Waterfall, seeing interesting rock formations, taking a dip in hot springs or hiking to the bottom of canyons are just a few of the scenic options on these action-packed escapes.
Boat through the Biosphere
Get in touch with nature at the Sian Ka'an Biosphere Reserve, a UNESCO World Heritage Site a short drive from Tulum that protects a few dozen Mayan ruins and more than a million acres of wildlife. This vast park (twice the size of Rhode Island) is best explored by boat, where an experienced guide can steer you through the estuaries, lagoons, reefs and mangrove canals, while keeping an eye out for the fish, manatees, crocodiles, birds, monkeys and hundreds of other animals who live among these wetlands. Early evenings are an especially popular time to tour the reserve, when you can enjoy a cocktail or two at sea beneath a stunning romantic sunset.
Go whale watching in the Pacific
Located in the central part of the Baja California peninsula, the El Vizcaino Biosphere Reserve is Mexico's largest wildlife refuge. Among its gems is the Whale Sanctuary of El Vizcaino, a breeding ground for gray and blue whales, along with dolphins, seals, sea lions and turtles. Winter and early spring visitors can charter whale -watching excursions that depart from the Los Cabos area. Witnessing these massive whales breech—they can reach around 45 feet long—is definitely a moment you'll remember forever.