De Beers Launched A New Collection of Ethical Engagement Rings
And you can buy them right now.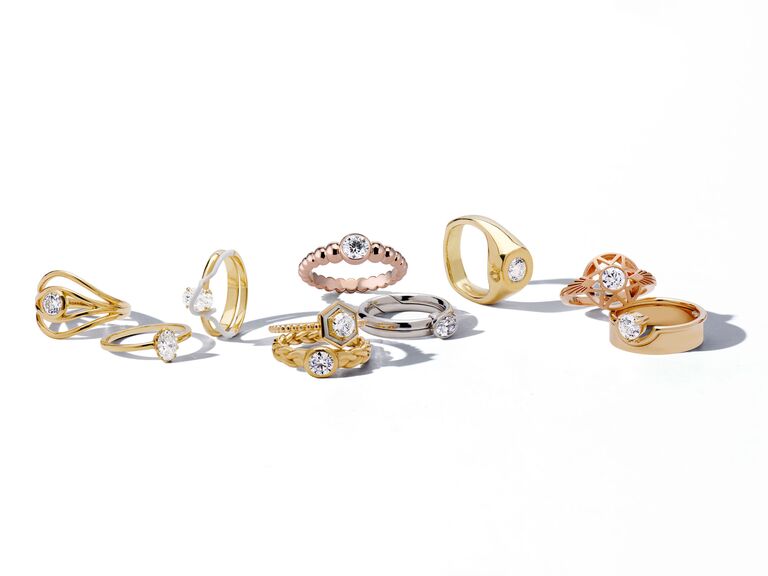 We have included third party products to help you navigate and enjoy life's biggest moments. Purchases made through links on this page may earn us a commission.
De Beers Group partnered with 10 independent designers to create a limited edition collection of ethically sourced engagement rings, available on Blue Nile. Called Ten/Ten, the new collab is all about re-imagining the traditional engagement ring using natural diamonds from Botswana with transparent, traceable origins. The end result? A collection of fiercely modern rings with fashion-forward flair, perfect for those in the market for an unexpected—and ethical— sparkler. Another plus: The entire collection is between $3,000 and $4,500, so these engagement rings also won't put you over budget. Below, a rundown of the designers and their rings, which you can add to your cart right now. 
ALMASIKA 
Named for a combination of  "almasi," the Swahili word for diamond, and "sika," meaning gold in several West African languages, ALMASIKA celebrates global cultures through jewelry. Born in France to West African parents, ALMASIKA designer Catherine Sarr worked in fine jewelry for several years before launching her own brand. "My jewels communicate from a cultural aspect, but I truly believe that provenance is equally important because it comes with a trust in us. A responsible value chain has been at a core of ALMASIKA since our inception," Sarr says in a press release. 
Sarr describes her aesthetic as "effortless and never too much," which also inspired her design for the Ten/Ten collection. The center diamond appears to float in a bezel setting, flanked by four wavy bands, and represents the energy and harmony of love.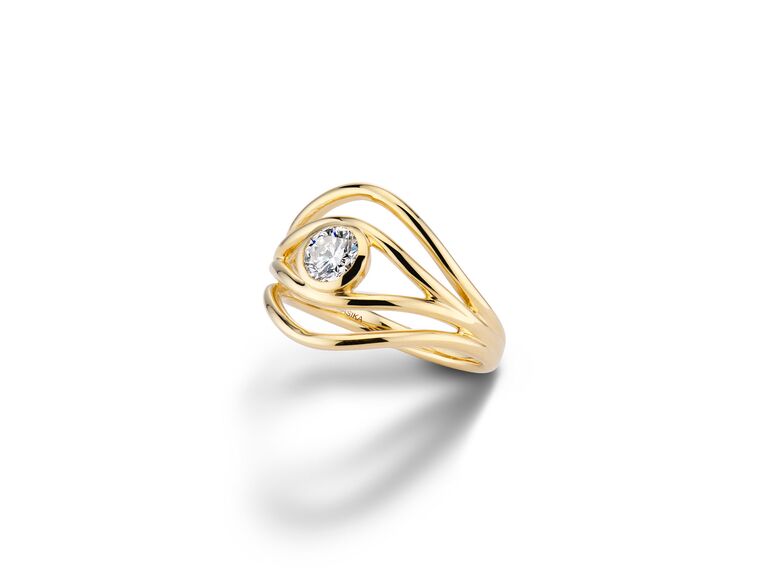 ALMASIKA 'Serene' Bezel-Set Diamond Engagement Ring in 18k Yellow Gold, $3,690, BlueNile.com
Aurora Lopez Mejia 
Originally a sculptor, Mexican-born Aurora Lopez Mejia entered the realm of fine jewelry accidentally, after friends asked for replicas of message-bearing rings she made for herself. Eventually, her business evolved from inscribed rings, bracelets and talismans to pieces with diamond center stones. Mejia became known for bezel settings, as well as  "recycling" diamonds that had been passed down from one generation to the next. 

For the Ten/Ten project, Mejia scaled down one of her popular bezel-set diamond styles, whose flat front and sloping sides riff on African tribal rings. She chose a single word to adorn the back of the ring's shank: LOVE. "It's the most important word, especially right now," she says in a press release. "Out of all of the words I've inscribed, it's the most powerful."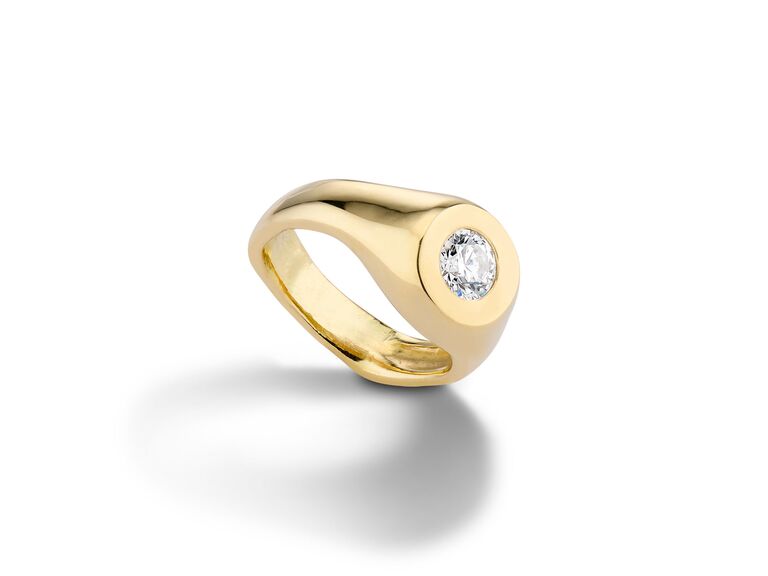 Aurora Lopez Mejia 'Mara' Bezel-Set Diamond Engagement Ring in 18k Yellow Gold, $3,990, BlueNile.com
Bea Bongiasca
Milanese designer Bea Bongiasca fell in love with whimsical jewelry design in high school, when she began crafting earrings from Japanese plastic toys. Today, Bongiasca's fantastical creations featuring candy-colored enamel work and vibrant stones have been worn by A-listers like Dua Lipa and La La Anthony—and have even landed her a place on Forbes' coveted "30 Under 30" list. 

Bongiasca kept it unconventional for the Ten/Ten collection. A removable, white-enamel casing stretches across the oval-cut diamond in her design, symbolizing interconnected partners. The unique design also gives the wearer two options: one funky, and one more classic. "The traditional gold ring, it's been done," says Bongiasca in a press release. "I started looking at vines. And began thinking of them as being intertwined."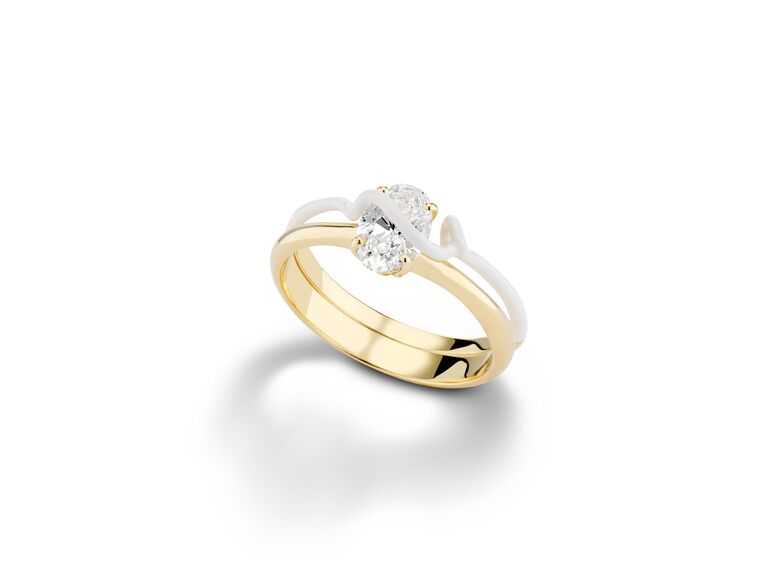 Bea Bongiasca 'You're So Mine' Prong-Set Diamond Engagement Ring in Enamel and 18k Yellow Gold, $3,390, BlueNile.com

Harwell Godfrey
After a career in advertising, Harwell Godfrey's hobby of creating jewelry eventually evolved into a fully fledged business. Based in San Francisco, her line has aesthetic roots in ancient textiles and patterns, and is known for its strong geometry and intricate inlay and enamel work.
Godfrey drew inspiration from her own engagement ring for Ten/Ten, which has a hexagonal halo. The "Motu" ring also features a mother of pearl halo and beaded details, which lend subtle sparkle and texture. Beyond intricate design, the symbolism of the engagement ring fascinates Godfrey. "It's a circle, right? So to me, that's wholeness, a continuum—and love is all of those things," she says in a press release.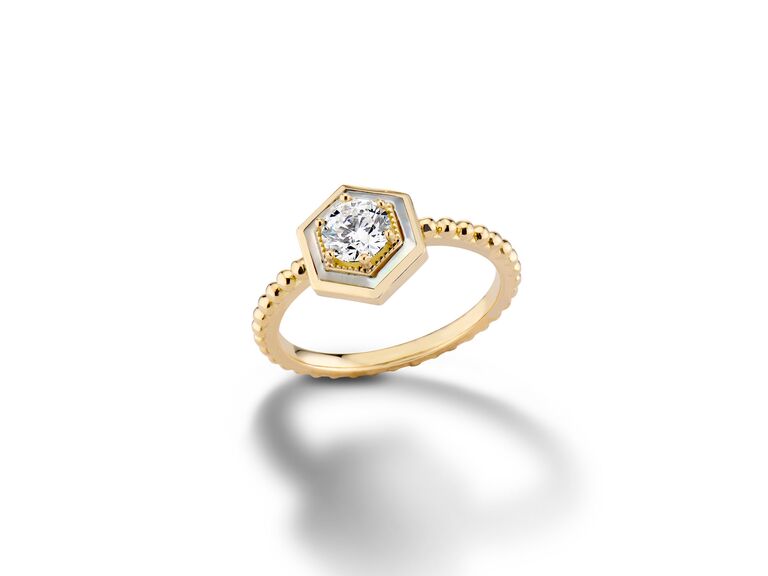 Harwell Godfrey 'Motu' Prong-Set Diamond and Mother-of-Pearl Engagement Ring in 18k Yellow Gold, $3,690, BlueNile.com
Lola Fenhirst
Lola Oladunjoye, founder and creative director of Lola Fenhirst, decided to pursue a more creative career after spending 18 years practicing intellectual property law in California's Silicon Valley. Now based in Paris, the Lola Fenhirst brand is known for jewels with an intentionally pared-down vibe, like beaded bands and rings with webs of gold filament. 

When it came to designing for Ten/Ten, Oladunjoye kept it simple with a bezel-set stone, a riff on her signature stackable bands. "I wanted to make sure I could do something quiet yet luxurious, reflective of my style," she says in a press release. "The beads graduate, then they descend again, I thought it would be a good metaphor for a union."
Lola Fenhirst 'The Union' Bezel-Set Diamond Engagement Ring in 18k Rose Gold, $3,590, BlueNile.com
Marla Aaron 
Fascinated by bridges, hardware and jewelry, Marla Aaron launched her own fine jewelry line in 2013. What began as a single fine jewelry lock has since expanded to become a multifaceted collection with a distinctly modern feel—and lots of interchangeable, moving parts. Handmade in New York City, her designs are a combination of a streamlined, industrial style, and the deeply personal and emotional jewelry of the Victorian and Georgian eras.

Aaron's streamlined, bezel-set diamond ring for Ten/Ten is actually much more complex than you might realize at first glance. An adaptation of her popular "Di Me" ring, the jewel opens to reveal two halves with engraved lettering inside. "Basically, all of our rings have messages or the ability to create a message," says Aaron in a press release. "This one is all about what you will say."
Marla Aaron 'DiMe Siempre' Bezel-Set Diamond Engagement Ring in Platinum, $4,390, BlueNile.com
Michelle Fantaci 
Launched in 2007 and handmade in New York, Michelle Fantaci's collection has instant heirloom quality. Her delicate, vintage-inspired charms, rings and bangles are meant to be lived in and layered for an eclectic effect. "I like putting objects together that might not necessarily match but speak to each other," she says. 

Fantaci's design for Ten/Ten carries on her signature antique style. Inspired by her favorite motif, a star, Fantaci added some of her signature touches, such as repeating shapes (circles and triangles). While she finds inspiration in the ancient symbolism of engagement rings, Fantaci was excited to create something  non-traditional. "I think it's fun to say we're continuing a custom by turning it on its head," she says in a press release.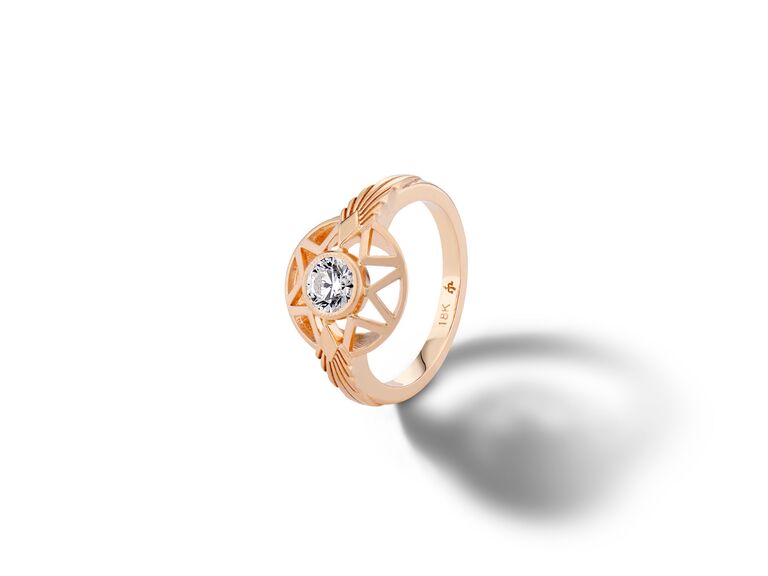 Michelle Fantaci 'Naledi' Bezel-Set Diamond Engagement Ring in 18k Rose Gold, $3,390, BlueNile.com
Pamela Love
Native New Yorker Pamela Love started creating jewelry in her Brooklyn apartment in 2006. Now, her collection runs the gamut from reimagined iconography (think: sacred hearts, Italian horns and scarabs) to modern signet rings and alternative bridal pieces. Her work is heavily influenced by folklore and symbolism, as well as global architecture. Love has collaborated with brands like Kith, Barneys, Opening Ceremony and J.Crew. 
The Ten/Ten project challenged Love to revisit the idea of commitment. "Romance has been celebrated since the beginning of humanity," she says in a press release. "We wanted to reference things that are ancient, that are old." Her braided ring gives a nod to several historical periods, from 18th century mourning jewelry to Etruscan motifs, and symbolizes the interweaving of lives. "It's the coming together of souls," she says.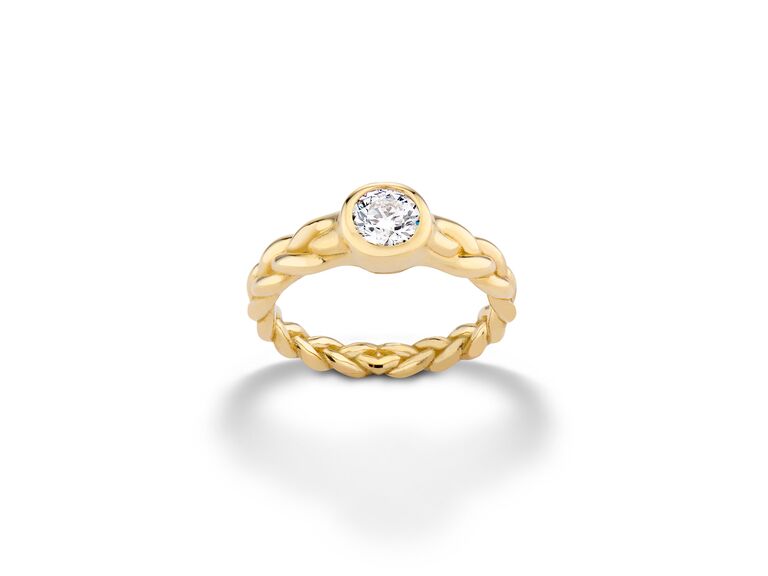 Pamela Love 'Treccia Ring' Diamond Engagement Ringin 18k Yellow Gold, $3,990, BlueNile.com
Platt Boutique Jewelry 
Founded in 2005 by brother and sister team Larry and Natasha, Platt Boutique Jewelry specializes in vintage engagement rings and unique antique jewelry. The Los Angeles-based boutique puts an emphasis on Art Deco jewels, as well as jewels from the Edwardian and Victorian eras. 

The Platt Boutique Jewelry design for Ten/Ten was heavily inspired by the antique jewelry at the core of the brand's collection.The oval diamond sits inside twelve prongs, reminiscent of a Victorian crown "Our idea was to make it modern, but with a take on antique craftsmanship," says Natasha in a press releases.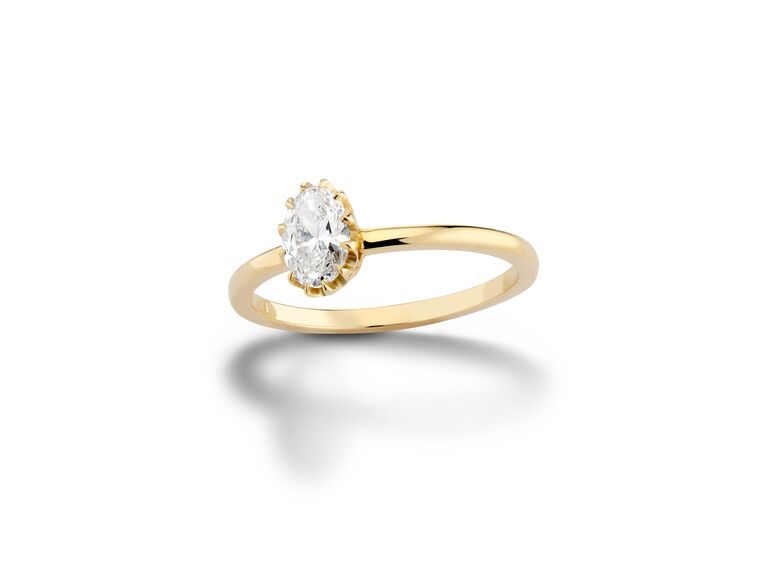 Platt Boutique Jewelry 'Heirloom' Prong-Set Diamond Engagement Ring in 18k Yellow Gold, $3,290, BlueNile.com
WWAKE
Wing Yau of WWAKE stumbled into jewelry design after studying sculpture and textiles at Rhode Island School of Design. Delicate, stackable opal rings first put her collection on the map in 2013. WWAKE now offers a range of jewels both delicate and bold, with elements that appear to float or otherwise play off the concept of movement. Also noteworthy is the brand's robust collection of modern bridal offerings, featuring unisex bands, colorful center stones and celestial-inspired cluster settings. 
 
Yau designed a pair of rings for the Ten/Ten project. A diamond sits atop a slim, geometric band, while a thicker band serves as a base. "One is delicate and ethereal, the other is heavy and grounded," says Yau. "That's the way that love should make you feel.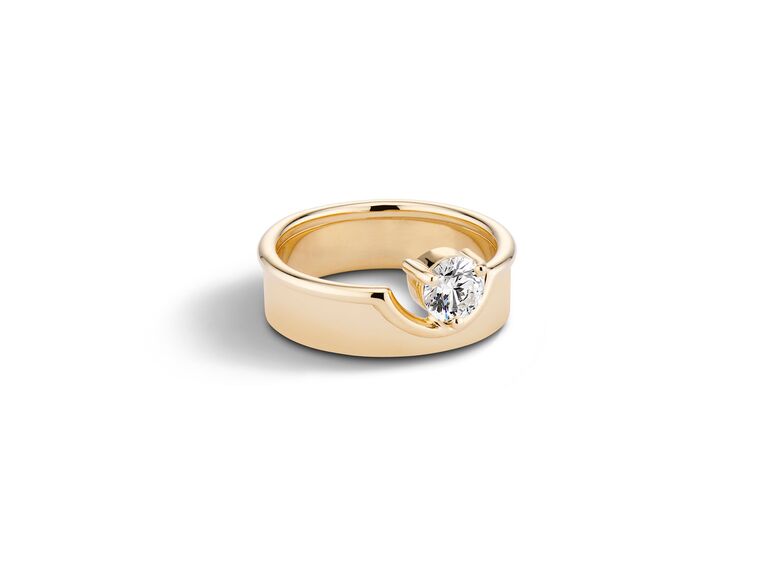 WWAKE 'The Duo Ring' Prong-Set Diamond Engagement Ring in 14k Fairmined Yellow Gold, $4,490, BlueNile.com