Registry Must-Haves for Dessert Lovers (Scan It Saturdays)
by Jamie Miles
If you're anything like me, you may have an inner sweet tooth just hankering to come out. Well, it's the weekend and you're allowed to indulge a bit and envision a registry list with some dessert serving staples. Our favorite? This clutch cake cutter! See more details below: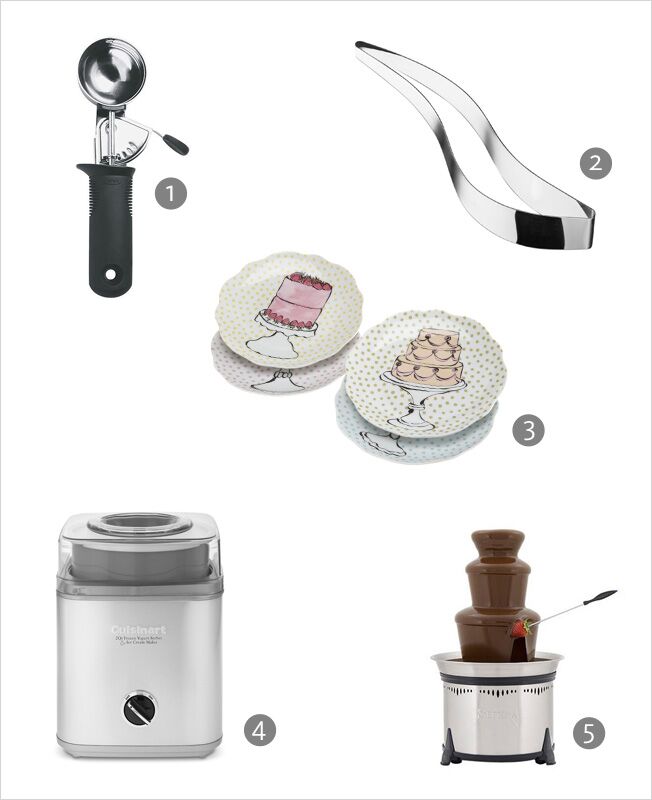 1- OXO Ice Cream Scoop
I scream, we all scream, for this trigger-shoot scoop. A necessity for all ice cream lovers!
$11,
Macys.com
2- Magisso Cake Server
This cake server was named a "Best Bet" by New York Mag. And what a brilliant tool this is! No one will have slice-envy since all the cake slices will be cut the same.
$45, Amazon.com
3- Rosanna Eat Dessert First Dessert Plates
We love these colorful dessert plates which encourage you to get right to the dessert!
$40, Amazon.com
4- Cuisinart Ice Cream Maker
Ben & Jerry's is great, but it's got nothing on homemade ice cream. Make your own sorbet, frozen yogurt or ice cream with this home appliance.
$130, Macys.com
5- Sephra Classic Home Fondue Fountain
This fondue fountain works for cheese and dressings, but who are we kidding– this device was MADE for chocolate. Break it out at a party and have everyone make their own chocolate covered strawberries.
$100, Target.com
> Get More Hot Registry Ideas!
> See 5 Fun Registry Ideas for Wine Lovers