Planning Tips for Getting Married in Hawaii
Maui-based planner Lorrie Betsill Nielson offers her top advice for Hawaii destination weddings.
by Stephanie Cain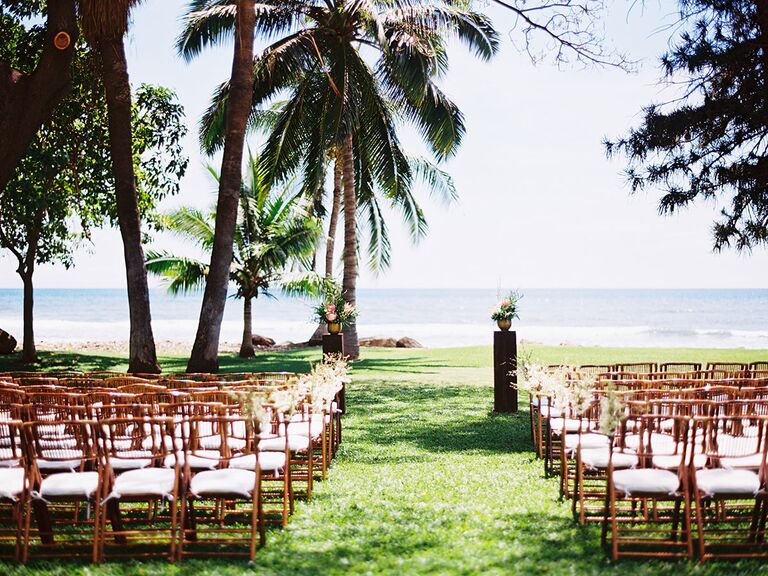 Lorrie Betsill Nielson, founder and creative director of Maui's Angels Destination Weddings and Events, has planned more than 500 weddings in Hawaii since she started her events business in 2011. We chatted with her to get the details on all things wedding planning on the islands of Hawaii.
What's unique about a Hawaiian destination wedding? 
These islands boast some of the most magical and serene backdrops in the world. The weather, the aloha spirit, the scenery and the simple fact that we are still a part of the US is a huge draw for destination wedding brides.
What details do couples typically include in their Hawaiian weddings? 
We tend to see greenery in the design to tie in the greenery that surrounds us. The infusion of Hawaiian flowers, such as orchids, proteas and eucalyptus, is very popular as well as Polynesian details that personalize the weddings like lei greeters and fire knife dancers. After all, the guests have traveled a long way to celebrate this special day with the couple so adding in personalized items or services to make it uniquely their own is always a hit.

What's challenging about planning a wedding in Hawaii?
With any destination wedding, it's the logistics of getting your guests here. Luckily, this is also the draw of a destination wedding baecause it often reduces your guest count instantly and lends itself to an intimate wedding where the wedding budget can go a long way.
What is the one ultimate insider tip you'd share with us about planning a destination wedding in Hawaii?
Limit your time searching the web. There is so much information which can unfortunately make the thought of having a destination wedding in Hawaii seem too overwhelming. That is not the case! Entrust in the professionals and talk to planners who will point you in all the right directions.
What are some of the things a couple need to know, logistically, about planning a wedding in Hawaii?
When choosing your venue, keep in mind the location of your guest accommodations. You don't want your guests driving over an hour to get to your venue in an unfamiliar place or to be stuck in a remote area such as Hana or The North Shore of Oahu. Keep in mind who your guests are and what areas would accommodate their needs the best. Some parts of the island are better centered around families and provide a variety of activities and amenities, while other parts offer 5-star accommodations with great dining and spa services for adults. And if inclement weather is at the top of a list of concerns, place a tent hold for peace of mind.
Lastly, what's one thing you can get in a wedding in Hawaii that you can't get anywhere else in the world?
Beautiful, comfortable weather almost year-round with hundreds of venues and beaches to choose from!